New Age Islam News Bureau
5 Sept 2019
• From 'Katateeb' To Scholarships: Girls' Education in Saudi Arabia Takes Quantum Leap
• Women Engineers to Give Beauty to the 'Bride of Red Sea' Parks
• UN Women To Extend Quality Social Services For Violence-hit Females
• Europe's Barely Clad Feminists Partner with Burqa-Wearing Islamists
• Jinsha Basheer, A Software Engineer In An MNC, Resigned Her Job To Continue Fight Against Crimes And Expose Them
• An Iraqi-Born Artist Rejects Identities Imposed on Women
• Sikh Labour MP Asks Boris Johnson to Apologise for 'Racist' Remarks against Muslim Women
• National Sports Council D-G Blasts Terengganu Exco over Comments About Female Gymnasts' Attire
• Israa Ghareeb: A Palestinian Woman Who Lost Her Life In The Name Of 'Honour'
• 259 Bangladesh Women Workers Waiting In Saudi Arabia to Return Home
Compiled by New Age Islam News Bureau
URL: https://www.newageislam.com/islam-women-feminism/first-egyptian-woman-freeze-her/d/119663
--------
'First' Egyptian Woman to Freeze Her Eggs Gets Green Light from Dar al-Iftaa
SEPTEMBER 4, 2019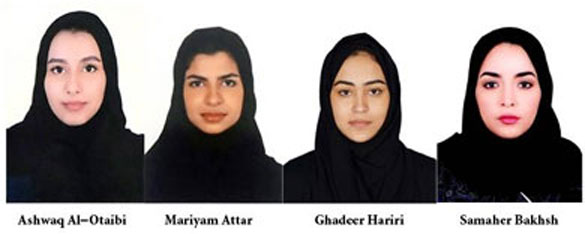 The Jeddah Mayoralty has appointed five Saudi female engineers in the General Administration of Parks and Public Utilities.
-------
Egyptian Facebook user Reem Mehanna took to the social media platform to publish a public video, sharing her experience with oocyte cryopreservation or egg-freezing.
In the video, Mehanna remarks that when she first decided to go through with the procedure, her OB-GYN told her that he believed she was the first woman in Egypt to opt for egg-freezing. The Facebook video, posted 3 weeks ago, has since gone viral, drawing both criticism and praise from users in Egypt.
Mehanna went on to detail how she underwent the procedure a few years ago, explaining that it entailed making several incisions along her abdomen to extract her eggs (oocytes), before reassuring viewers that they normally last from 20 to 30 years in their cryogenic state.
She also offered an explanation as to why she decided to go through with the procedure, saying: "I froze my eggs because I have always wanted to get married after the age of 30, so my career will have taken off, but I can't guarantee when I will fall in love with someone who is right for me. I could meet him when I'm 32 or 37, in which case I'll have no problem getting pregnant, but he could come along when I'm 46 or 47, at which point, conception will be challenging."
Reem Mehanna's video announcement (source: Facebook)
The social stigma around unmarried women past a certain age, has often driven many into unsuccessful marriages that usually end in divorce. "I completely reject this idea that women who haven't married past a certain age have to marry whoever and settle down because my biological clock is ticking. That was never an option for me," she says, adding that the reason she was telling her story is so that women who wish to put off marriage know that they have options.
Mehanna explained that, once she has settled down and decided to start a family, she would only consider using the frozen eggs through in vitro fertilization if she can't conceive naturally. She also added that cancer patients should consider getting the procedure done. "Women who should definitely opt for this procedure are those diagnosed with cancer, so they'll have time to do it before undergoing chemotherapy, because chemo causes infertility in many cases," she concluded.
Issues pertaining to women's reproductive health and rights, such as abortion, birth control, or even in vitro fertilization, have traditionally been highly controversial, and even polarizing, in Egyptian society.
Soon after Mehanna's story went viral, Dar al-Iftaa, Egypt's primary Shariah law legislature, issued an edict in favor of the procedure, reports Egypt Today. The organization deemed egg-freezing halal, provided the oocytes are only fertilized by the lawful husband's sperm in his lifetime, meaning they cannot be combined with the genetic material of a man outside the bonds of marriage or a deceased or an ex-husband. Dar al-Iftaa also stressed the importance of safeguarding and safekeeping of the eggs to prevent the mixing of lineages, which is strictly forbidden in Islam, and birth defects resulting from mishandling.
https://egyptianstreets.com/2019/09/04/first-egyptian-woman-to-freeze-her-eggs-gets-green-light-from-dar-al-iftaa/
--------
From 'Katateeb' To Scholarships: Girls' Education in Saudi Arabia Takes Quantum Leap
September 4, 2019
JEDDAH — Education in Saudi Arabia has taken great strides from the era of the simple Qur'anic schools (Katateeb), established by individual efforts or through support from Kingdom's founder King Abdul Aziz.
Today, it is no surprise, that the Kingdom boasts of more than 30,000 schools covering all cities, towns, villages, hamlets and remote areas, and there are six million boys and girls enrolled in general education.
When reviewing the story of education in the Kingdom, we must not forget the efforts exerted by the State on girls' education and how the wise leadership formulated and designed the curricula so as not to disturb the unique social fabric of our society.
This was a clear indication of their farsightedness and their clear vision of the future.
Initially, the idea of girls' education faced strong resistance from the conservative society and it became a hotly contested issue with both sides advancing their logic and reason with force.
From girls' education in the Qur'anic schools or at homes, the government in 1959 set up the "General Presidency of Girls' Education" under a royal decree issued by King Saud to be an official government organ responsible for planning, managing and supervising girls' education.
According to history books, the first government primary school for girls was opened in Dammam in 1960. In the same year, a number of girls' schools were opened in various parts of the Kingdom.
The private girl education preceded the government education by five years at least when Princess Effat Al-Thinayan opened the Dar Al-Hanan school in Jeddah in 1955.
The school attracted many girls and it provided an advanced education because Princess Effat was able to recruit qualified women teachers from neighboring Arab counties.
Some history books have recorded that Al-Najah (success) Private School in Jeddah was established a year ahead of Dar Al-Hanan.
In Riyadh, the charity foundation of the king's daughters was renamed the daughters' institute and then the Riyadh model institute for girls.
It started with a single classroom, which was opened in 1951, and accommodated 12 girls who were taught by two women teachers from Egypt.
King Saud University, which was established in 1957, provided Saudi women with an opportunity to have higher education.
In 1961, the university allowed girls to have distant learning at colleges of arts and administrative sciences. Other universities followed suit opening wide doors for girls to join them through distance learning program.
In the academic year 1970-71, the General Presidency of Girls' Education established a college for girls. It was the Riyadh Educational College.
A number of special sections for the girls were opened in the boy universities, which were affiliated to the ministry of education.
According to official figures, the number of girls in the universities at present is higher than the number of boys. The General Authority for Statistics (GaStat) said there were 107 girls against each 100 male students.
The Saudi women continued their education journey with limitless ambitions until the number of the scholarship girls in the US alone reached about 29,000.
Since the Scholarship Program of the Custodian of the Two Holy Mosques was launched, some 205,000 Saudi women had their higher education in a number of renowned universities around the world.
The government has provided women with opportunities to have high education so as to contribute their bit in nation-building with diligence and efficiency.
http://www.saudigazette.com.sa/article/576355
--------
Women Engineers to Give Beauty to the 'Bride of Red Sea' Parks
September 4, 2019
By Zain Anbar
JEDDAH — The Jeddah Mayoralty has appointed five Saudi female engineers in the General Administration of Parks and Public Utilities.
The newly appointed engineers are Ghadeer Hariri, Samaher Bakhsh, Mariyam Attar, Yara Bakhsh, and Ashwaq Al-Otaibi.
Mohammed Al-Baqami, spokesman of the mayoralty, told Okaz/Saudi Gazette that their appointment is part of the mayoralty's efforts to implement the Kingdom's Vision 2030 that aimed at expanding opportunities for the empowerment of women in various employment sectors.
Al-Baqami said the tasks of the engineers include designing and beautifying the gardens and managing the public utilities.
They will take charge of their responsibilities in the field within the coming weeks.
It is noteworthy that the Mayor of Jeddah governorate Saleh Al-Turki took last year several decisions appointing three women as heads of branch municipalities, in addition to director of the Department of Human Resources; director general of the Infrastructure Department and another engineer to take up customer service tasks.
http://saudigazette.com.sa/article/576413/SAUDI-ARABIA/Women-engineers-to-give-beauty-to-the-Bride-of-Red-Sea-parks
--------
UN Women To Extend Quality Social Services For Violence-hit Females
Fahad Shabbir
September 5, 2019
ISLAMABAD, (UrduPoint / Pakistan Point News - 5th Sep, 2019) :UN Women to extend quality social services for violence-hit females UN Women Pakistan has started a programme titled "Essential Service Package (ESP)" to provide quality social services for women and girls subject to violence in Pakistan.
According to an official, the aim of this programme was to provide greater access to a coordinated set of essential and quality multi-sectoral services for all women and girls who have experienced gender-based violence (GBV) across the country.
He said that ESP was being implemented through collaboration between UN Women, United Nations Population Fund (UNFPA), World Health Organization (WHO), United Nations Development Programme (UNDP) and United Nations office on Drugs and Crime (UNODC).
He said that UN Women, being the global lead agency for social services to victims and survivors of violence launched this programme in Pakistan with a key focus on social services.
The programme would provide health services, social services, police and justice sector to the victims of gender based violence, he told.
He said the motto of the program was "Women and girls have a right to live free from violence. But until that right is realized, they need support..."He said, "We know how difficult it is for survivors to have access to high quality services including health, justice and policing, and social services including shelter homes/Dar ul Amans (DuA)".
ESP was all about enhancing GBV survivors' access to a coordinated set of multi-sectoral services including social services, justice and policing, and health," he stated.
https://www.urdupoint.com/en/pakistan/un-women-to-extend-quality-social-services-fo-705440.html
--------
Europe's Barely Clad Feminists Partner with Burqa-Wearing Islamists
Giulio Meotti
September 4, 2019
A few weeks ago, Dutch Labour Party councilor in Amsterdam dressed up in a yellow niqab, the Islamic garment that covers a woman's body, during an LGBT rally.
Hendrik Jan Biemon and several other people dressed in different colored niqabs to symbolize the colors of the Pride movement and to defend these Muslim women's rights to cover themselves.
They held placards describing themselves as "burka queens". Europe's madness in a photograph. Nobody found time to tell these Dutch relativistic idiots of the fate Muslim homosexuals meet in their iown countries.
To protest against the ban on burkini in France, Muslim activists this week led to the closure of a swimming pool in Paris, not far from the Bataclan Theatre. They bathed veiled and accompanied by French feminist and transgender activists. "We will take a bath, even if the racists don't want us to!". Naturally, next came the banner "Stop Islamophobia".
The feminists said: "Our bodies belong to us". These are the same feminists who imposed on French students ridiculous books such as "Daddy Wears a Dress". For them, "domination" comes only from the white male heterosexual Europeans.
Fortunately, some Iranian girls are still out there to defend freedom and dignity against Islamic fundamentalism.
After she saw New Zealanders wearing the hijab in a show of solidarity following the Christchurch mosque attacks, Iranian activist Masih Alinejad attacked the Western feminists. Alinejad, who has lived in exile since 2009 and received death threats for her campaigning against Iran's obligatory wearing of hijabs, said: "I felt admiration that a prominent leader and women in New Zealand showed compassion to the Muslim community, but I also felt that you are using one of the most visible symbols of oppression for Muslim women in many countries for solidarity, and it also broke my heart. That is why I call on them to show their sisterhood and solidarity with us, who are being beaten up, imprisoned and punished for fighting against compulsory hijab as well".
The same day when one of the Iranian girls put her headscarf on a stick and waved it in public (she was arrested), three female politicians from the Netherlands landed in Iran obeying compulsory hijab law without challenging it.
Meanwhile, in the West, Islamic veils have become fashion. We have seen a Muslim woman wearing a hijab in Playboy, Nike releasing a "performance hijab" for athletes, Vogue Arabia which published its first-ever print issue and Mattel unveiling the world's first hijab-wearing Barbie doll.
Next time the Islamists could do us a favor and veil all their European companions. The circle of Western madness will be finally closed.
http://www.israelnationalnews.com/Articles/Article.aspx/24402
--------
Jinsha Basheer, A Software Engineer In An MNC, Resigned Her Job To Continue Fight Against Crimes And Expose Them
By Tanveer
September 04, 2019
A Muslim woman resigned her job and started uploading videos on social media fighting against injustices.
During her campaign, she received threats from various corners but she did not bother.
Jinsha, Techie
Jinsha Basheer was a software engineer working in a multinational company in Kerala. She belongs to Alipur in Kerala. Her husband is also a software engineer.
Cheating at Petrol Bunk
One day, she went to a petrol bunk to take fuel for her bike. She saw that the petrol bunk employee was cheating the customers by pouring less quantity of fuel.
"Not a Big Deal"
She picked up quarrel with that employee. The employee told her that there is no need to fight, cheating in this manner is normal (It was not a big deal). She was wonderstruck when she got this reply from the employee.
Social Media
In order to convey this message to the common public with an intention to create awareness, she took the video of the conversation and posted it on Facebook. She received more than 1000 likes, encouraged with it. Ms Basheer posted two more videos. They also got viral and within few months' lakhs of people started following her.
Reason to Resign
When her engagements increased, she resigned her job seven months back. So far, she has posted more than 150 videos. She started YouTube which has 54000 consumers.
At present, she has more than 3.36 lakh followers on her Facebook and 30 thousand members.
Even Earn Money
She told that every month, she uploads at least 20 videos. She has more than 10 lakh viewers. She earns more than Rs.70, 000 per month through her channel. She is not interested in earning money. Her aim is to continue fight against crimes and expose them. https://www.siasat.com/war-social-media-against-injustices-muslim-woman-resigns-1606012/
--------
An Iraqi-Born Artist Rejects Identities Imposed on Women
Heba Elkayal
04 Sep 2019
Not Quite Human, a new exhibition of works by the Kurdish-Iraqi female artist Hayv Kahraman, will open tomorrow, September 5, at the prestigious Jack Shainman Gallery in New York. As one of the commercial exhibitions marking the beginning of the art calendar's new year in New York, Kahraman's work offers a unique perspective on the topics of gender and refugees—particularly as those concepts pertain to someone from the Middle East. She is also one of the few artists originally from the region to be shown frequently in New York.
Kahraman's practice has been repeatedly applauded by collectors and critics alike for the wide range of the political and personal themes she tackles in her paintings. She confronts themes both personal to her experience as an Iraqi refugee—born in Baghdad, she was forced to leave Iraq in 1990 during the first Gulf War and came of age as a refugee growing up in Sweden—and as a woman now living in Los Angeles, navigating the assumptions placed on her by others in a post–9/11 world.
The themes she presents in her paintings embody a level of nuance from the experiences she has personally confronted from a young age, yet Kahraman's artworks are never trite statements on these themes, but rather an assertive refutation of the mistaken ideas imposed on her and others like her.
The motivations behind her recent work include one now prevalent in the art world. "The most fundamental way I can describe it is women are second-class citizens," she says. "I'm not approaching [my art] as a Middle Eastern woman, which is how Western audiences perceive me and assume that I was an oppressed Iraqi woman. I think it's more specific than that. We all know that women are shown less and paid less in the art world, and therefore we're fundamentally categorized as lesser beings."
The exhibition's title, Not Quite Human, serves as a double entendre to challenge the notion of "the Other," a categorization that has been implicitly placed by the West on peoples who do not fall within standard notions of identity. Historically, it has been this act of "othering" individuals and histories that has resulted in the exclusion of personal narratives and histories from academic canons and global conversations.
The exhibition's title can be read as a sarcastic response to this idea, asserting that, in fact, these subjects are indeed quite human. Kahraman's work from the inception of her career has confronted this habit by Westerners who attempt to negate the emotional trauma and experiences of refugees, and even local audiences who attempt to deny societal transgressions of gender inequality. Thus, her work serves as both a personal outlet of expression but also as a conduit for highly charged topics that affect a multitude of individual and personal histories.
Not Quite Human showcases both large-scale paintings and small sculptural pieces with the stylized figurative female subject she has come to be known for, contorted into positions like nimble circus performers. In the past, she was forced to self-censor her art in the Middle East, being told she could not show work with naked figures or representations of female genitalia. Over the years, however, she has introduced her figures in positions and degrees of nudity that remain true to her own painterly aesthetic and objective.
The figures' nudity and the detailed depiction of things such as body hair are not meant to titillate, but rather are honest expressions of the physical form. The subjects are posed into backhand stands, splits and other gymnastic feats. The legs, hands and shoulders of her subjects are contorted in her paintings, provoking a sensation of both great discomfort and wondrous curiosity.
Not Quite Human seems to riff on the notion of voyeuristic indulgence by viewers such as was found during a period of traveling "freak shows" once popular in the West. Today's voyeurs are thus those who stand apathetically in the face of great crimes.
What is worth noting in Kahraman's practice is that it constantly evolves. Her work is known for repeating geometric patterns and highly structured compositions of her figures, yet in her newest paintings, these figures have a fluidity and spontaneity unlike any of her previous work. Many of the show's pieces had their canvases first primed and then repeatedly coated with rabbit-skin glue and then dry pigment, resulting in the incredible visual sensation of ocean water fluidly moving across the canvas. The flatness in the background and movement in the foreground is a contrast not seen before in her work. The figures thus also appear to be dancing in water, like synchronized swimmers.
"I enjoyed painting these," Kahraman says. "I'm a very controlled artist, every paint stroke I do is completely thought through, but there was a lot of spontaneity in the production of these pieces and not knowing how things will come out."
The human figure is central to Kahraman's practice. Her recurring stylized female subject is repeated whole or in parts in almost all of her works. "The body carries the burden of the memory, memories become inscribed on the body—and that is political," she explains. "How many people have lived through something like that?"
The subject of the paintings—with jet-black hair coiffed into a bouffant, creamy skin with rosy undertones, and pursed rosebud lips—doesn't represent the artist herself literally, but rather elements of her life story while also being intended to represent all women.
"I don't expect my audience to feel or think something specific," Kahraman says. "My work is very personal, but I feel it's part of a bigger history or collective. They're intertwined because a lot of the personal is part of a larger history. I know a lot of artists object to inserting the self into the work, but I think the personal is political.
"It's a Western academic belief that it's best to not put yourself in the work, but it's about what the viewer takes away visually from the artwork. For me I can't separate myself from the work."
https://www.al-fanarmedia.org/2019/09/an-iraqi-born-artist-rejects-identities-imposed-on-women/
--------
Sikh Labour MP Asks Boris Johnson to Apologise for 'Racist' Remarks against Muslim Women
September 4, 2019
New Delhi: Members of United Kingdom's House of Commons clapped and cheered when a Labour Party MP on Wednesday demanded an apology from Prime Minister Boris Johnson for comparing burqa-wearing Muslim women to robbers and letter boxes.
Labour MP Tanmanjeet Singh Dhesi was referring to an article written by Johnson in 'The Daily Telegraph' last year.
Addressing the PM, Dhesi said Johnson's remarks had hurt the sentiments of vulnerable Muslim women.
"For those of us who from a young age have had to endure and face up to being called names such as towel-head, or Taliban, or coming from bongo-bongo land, we can fully appreciate the hurt and pain of already vulnerable Muslim women when they are described as looking like bank robbers and letterboxes," he said.
Monitoring group Tell MAMA [Measuring Anti-Muslim Attacks] had unveiled research earlier this week which claimed that Islamophobic incidents rose by 375 per cent in the week after Johnson's references to the burqa as "oppressive" in the newspaper column.
"When will the Prime Minister finally apologise for his derogatory and racist remarks which have led to a spike in hate crime?" Dhesi asked. "If I decide to wear a turban, or if someone decides to wear a cross or a hijab, it doesn't mean that it is an open season for people in this House to make derogatory and decisive remarks."
Tanmanjeet Singh Dhesi MP
✔
@TanDhesi
If you have ever experienced racism or discrimination, you can appreciate full well the hurt and pain felt by Muslim women, who were singled out by this divisive Prime Minister. It's high time he apologised for his derogatory and racist remarks! 1/2
Embedded video
50.4K
6:17 PM - Sep 4, 2019
Twitter Ads info and privacy
16K people are talking about this
Dhesi also asked when the government, led by Johnson, would order an inquiry into growing Islamophobia within the Conservative party, which is something "he (Johnson) and his Chancellor promised on national television".
Johnson responded by claiming that Dhesi had failed to read his newspaper article within its complete context, which was in fact a strong liberal defence of everybody's right to wear whatever they want.
Johnson added that the current government has the most diverse Cabinet in the history of UK.
"And I speak as somebody who is not only proud to have Muslim ancestors… but to be related to Sikhs such as himself. And I'm also proud to say that under this government we have the most diverse cabinet in the history of this country and we truly reflect modern Britain," said Johnson.
Today was the first time Johnson took questions in the parliament since becoming the PM. The parliament is currently debating and voting on a bill to avoid a "no-deal Brexit", which will further delay Britain's departure from the European Union by three months.
https://www.news18.com/news/world/labour-mp-seeks-uk-pm-boris-johnsons-apology-for-derogatory-racist-remarks-against-muslim-women-2297263.html
--------
National Sports Council D-G Blasts Terengganu Exco over Comments About Female Gymnasts' Attire
September 4, 2019
BY AZRIL ANNUAR
KUALA LUMPUR, Sept 4 — National Sports Council (MSN) director-general Datuk Ahmad Shapawi Ismail today rapped Terengganu Youth, Sports and NGO Development exco member Wan Sukairi Wan Abdullah for his statement regarding the attire and performance of female gymnast.
In a press statement today, Ahmad Shapawi said that the assumption made by Wan Sukairi that a gymnast's skills and techniques were "sexually arousing to men" was out of line.
"Sports is a stage for the country's athletes to showcase their self-discipline and sporting spirit, with the goal of waving the Jalur Gemilang at the national stage.
"As such the definition of 'arousing' does not exist in the arena of gymnastics and gymrama, and it should be made a basis for sports development policy," Ahmad Shapawi said.
Wan Sukairi yesterday remarked that the Terengganu state government is inviting fashion designers to submit their proposals on ideas for suitable sports attire as the PAS administration there is drafting a Shariah-compliant code of conduct for athletes.
The guidelines include sportswear and also how athletes should socialise during events.
The Terengganu exco added that the state government had no choice but to withdraw from rhythmic gymnastics and women's gymnastics due to the revealing attire and that the movements were "sexually arousing to men".
Ahmad Shapawi on the other hand said that sports attire should not be a matter of policy as clothing are an individual's choice.
"We appreciate the efforts by the Terengganu state government in trying to find a solution on appropriate sportswear for Muslim athletes that is Shariah compliant and I agree that religion is an important aspect of Malaysia.
"However, it is improper for the Terengganu state government to implement this policy as attire is the personal right of every individual, as well as the decision to single out certain sports, but other sports such as swimming, diving and football is not Shariah-compliant for both, male and female athletes."
He also pointed out that sportswear should comply to international sports regulations and does not endanger the athlete.
Ahmad Shapawi also added that it would be unfortunate if the PAS state administration's plans would apply to non-Muslim athletes, impinging on their rights to pursue their chosen fields.
"Just as we do not forbid such clothing to foreign tourists and non-Muslims, many of whom visit the beautiful islands in Terengganu and can be freely 'seen' by the Muslim residents of those islands," he said.
https://www.malaymail.com/news/malaysia/2019/09/04/national-sports-council-d-g-blasts-terengganu-exco-over-comments-about-fema/1787289
--------
Israa Ghareeb: A Palestinian Woman Who Lost Her Life In The Name Of 'Honour'
September 4, 2019
When 21-year-old Israa Ghareeb, a makeup artist from Bethlehem, went out to dinner with her fiancé and his sister, she did not think that the meeting would trigger a horrific turn of events which would lead to her death.
Ghareeb had posted a video of their outing on a social media platform. Her friends allege that the video angered her cousins and uncle, who told the young woman's father and brother that their daughter had dishonored the family by going out in public with a man before they were officially married.
Based on a video recording which later circulated on social media, it seems Ghareeb discussed the family's criticism with her cousin via voice notes on WhatsApp. In the video, Ghareeb is heard recording her mother, who says that she had given her daughter permission to go out with her fiancé and his sister.
Despite this, on August 10 Ghareeb was admitted to the Beit Jala Governmental Hospital with a broken spinal cord, according to a Facebook post by a doctor who was on shift that day. Social media users allege that her injuries were caused by her father and brother physically attacking her.
At the hospital, she had posted a photo of herself with the caption, "I'm better now, [thank god]."
Her family said that the young woman sustained injuries to her body after she had tried to jump out of her bedroom window because she was possessed, and have claimed that she suffered from a mental illness. They also insisted that she had later died of a stroke.
However, in a widely-shared video, Ghareeb is heard screaming amid the sounds of loud thuds, suggesting that she was being beaten aggressively. Online commentators have alleged that the video captures the sound of Ghareeb's family inflicting fatal injuries on her.
Her medical records do not indicate a history of mental illness, Dr. Tawfiq Salman, a mental and neurological disorders' specialist, told Al Arabiya channel. He said that friends described her as confident, aspirational, and happy.
Ghareeb's fiancé has yet to make a statement.
Ghareeb's death has sparked outrage across the Middle East, with people taking to social media and the streets of Bethlehem to call for stricter laws protecting women from violence and for the punishment of perpetrators.
Hundreds of people condemned honor killings online, using Arabic hashtags which translate to "We are all Israa Ghareeb" and "Israa Ghareeb".
Randa Chaikha Douaihy
@RDouiahy
The dead cannot cry out for justice, It is a duty of the living to do so for them.Justice must be delivered to israa in this country and for all the women who suffer fromviolence,bullying,sexual assault. She screemed to death.her family must pay for it! #justice #اسراء_غريب
View image on Twitter
33
1:47 AM - Sep 3, 2019
Twitter Ads info and privacy
22 people are talking about this
Wasan Al Saeed
@Wasan_SS
I just find out that this beautiful girl has been savagely murdered by her own family in the name of #honor
This crime isn't only against women , it's against the entire humanity!!!!!!!!!!#اسراء_غريب
View image on TwitterView image on Twitter
77
10:56 PM - Aug 30, 2019
Twitter Ads info and privacy
43 people are talking about this
Mariam Harika
@HarikaMariam
May your beautiful soul rest in peace! We are all Israa El Ghareeb! The criminals must be punished no one has the right to take a human,s soul! You are not God! Stupid minds! Sick minds! Sick people!#اسراء_غريب
View image on Twitter
1
5:22 PM - Sep 1, 2019
Twitter Ads info and privacy
See Mariam Harika's other Tweets
Police sources said that they were investigating the circumstances of her death, and gave no further details. According to an Al Arabiya correspondent, Ghareeb's father, brothers, two female relatives, and her brother in law were arrested on Monday and are being interrogated.
Protesters gathered on Monday outside the Ramallah office of the Palestinian National Authority's Prime Minister Mohammad Shtayyeh, chanting "We want security and protection" and "We will not stay quiet, we will not die."
شبكة قدس الإخبارية
✔
@qudsn
وقفة أمام مجلس الوزراء برام الله، للمطالبة بالتحقيق في قضية وفاة الشابة #إسراء_غريب.#كلنا_إسراء_غريب
Embedded video
919
4:48 PM - Sep 2, 2019
Twitter Ads info and privacy
558 people are talking about this
Meanwhile, demonstrators held protests in Ghareeb's hometown of Bethlehem, with several people holding signs that read, "The devil is in your head and not in women's bodies" and "We call for safety and security."
Haya AbuShukhaidem
@Haya_ash11
من المظاهرة التي اقيمت اليوم في مدينة بيت لحم للاحتجاج على مقتل اسراء غريّب #كلنا_اسراء_غريب #اسراء_غريب
Embedded video
11.7K
8:36 PM - Aug 31, 2019
Twitter Ads info and privacy
6,024 people are talking about this
Shtayyeh responded on Monday by announcing that a number of people had been called in for questioning in relation to the incident, without saying if they were members of Ghareeb's family.
Award-winning journalist and human rights activist Rana Husseini told Al Arabiya that Ghareeb's death highlights the much greater global problem of gender-based violence (GBV).
Husseini, author of "Murder in the Name of Honor: The True Story of One Woman's Heroic Fight against an Unbelievable Crime," said that violence against women dates back to ancient civilizations, and in countries where patriarchal societies prevail, so-called honor killings occur as a form of GBV.
"Gender-based violence is a global problem. Some people try to link it with a specific religion or place, but it happens everywhere. In more patriarchal societies, we have so-called honor killings, but violence against women happens globally," Husseini said.
The encyclopedia Britannica defines an honor killing as "the murder of a woman or girl by male family members. The killers justify their actions by claiming that the victim has brought dishonor upon the family name or prestige."
According to the United Nations, 5,000 honor killings occur globally every year. However, Husseini claims that the accurate number is much higher since many cases of honor crimes go unreported.
To combat the prevalence of GBV, people must continue to raise awareness of these crimes and demand reform, Husseini added.
And while police have yet to complete their investigation, discussions on GBV, triggered by Ghareeb's death, do not appear to be ending soon either.
https://english.alarabiya.net/en/features/2019/09/04/-We-are-all-Israa-Ghareeb-Death-of-Palestinian-woman-sparks-public-outrage-.html
--------
259 Bangladesh Women Workers Waiting In Saudi Arabia to Return Home
Mehedi Al Amin
September 5th, 2019
A total of 2,165 women workers have returned to Bangladesh over the past 21 months after surviving in inhumane conditions
After suffering torture in different ways at the hands of their employers, as many as 259 Bangladeshi women workers are suffering at the Kingdom of Saudi Arabia while waiting to return home.
They are currently in a safe home operated by the Bangladesh Embassy at Riyadh, said the embassy's First Secretary (Labour) Md Shofikul Islam.
He said the local Labour Court has finished giving its verdicts regarding every female worker. "We are now waiting for the exit order from the Saudi authorities. After the procedure is complete, we will send them back to Bangladesh."
"The embassy will manage everything necessary for their safe return," he ensured.
According to sources, the female workers have experienced various forms of abuse, including less or no wage, physical, psychological and even sexual abuse, by their employers in Saudi Arabia.
Many of them have also complained about various forms of torture.
Shariful Hasan, head of Brac's Migration Program, said: "Female workers are returning home due to one or several of four reasons: irregular wage, lack of adaptation ability, physical torture and sexual abuse.
"We have seen some major injuries on previous returnees. If our embassy had documented these injuries and submitted them to Saudi authorities or police, then these returnees would have gotten some justice. But our embassy is not taking such steps," he said.
On August 27, another 110 female workers returned home after suffering various forms of abuse at the hands of their employers in Saudi Arabia.
According to the Bureau of Manpower, Employment and Training (BMET), a total of 68,286 female workers went to Saudi Arabia in 2016. The number went up to 83,354 the next year.
Then number then went down to 73,713 in 2018, and until July this year, 44,002 female workers have gone to Saudi Arabia pursuing a better life.
However, this year alone, around 800 women have returned to Bangladesh. Last year, Brac had provided emergency services for the safe return of 1,365 female migrants.
Search for a solution
Shameem Ahmed Chowdhury Noman, secretary general of Bangladesh Association of International Recruiting Agencies (BAIRA), said: "The number of female workers who returned home is 10% of the total who went to Saudi Arabia, according to media reports.
"We should properly investigate the reasons behind their return to address the issues in the system."
He said: "We must also develop our training facility as some female workers return due to lack of skill. But about the others forms of abuse, the Saudi authorities must come forward.
"We can take action in our country, but it will not solve the problem. The Saudi authorities must be made aware of this. These issues can be solved in a coordinated way with all stakeholders coming together." he said.
Shameem added: "We have talked to the expatriates' welfare and overseas employment minister about this. We will meet at the Saudi Embassy in Dhaka on September 15 over these issues."
Dr Ahmed Munirus Saleheen, additional secretary of the said ministry, also told Dhaka Tribune that the government helps the women workers who want to return home under unfavourable circumstances, which include physical and sexual abuse.
"However, not all of them suffer from physical or sexual abuse. There are a number of reasons behind their decision to come back," he said.
Saleheen said they were also developing a software to create a database with information of all the returnees which will help them to plan future moves.
https://www.dhakatribune.com/bangladesh/2019/09/05/259-women-workers-waiting-in-saudi-arabia-to-return-home
--------
URL: https://www.newageislam.com/islam-women-feminism/first-egyptian-woman-freeze-her/d/119663
New Age Islam, Islam Online, Islamic Website, African Muslim News, Arab World News, South Asia News, Indian Muslim News, World Muslim News, Women in Islam, Islamic Feminism, Arab Women, Women In Arab, Islamophobia in America, Muslim Women in West, Islam Women and Feminism