New Age Islam News Bureau
8 Jul 2015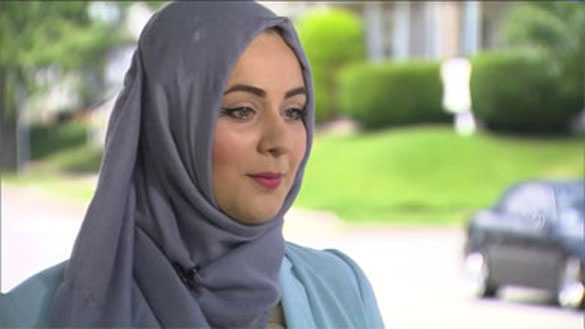 Abrar Shahin was voted best dressed this year by her Clifton, New Jersey high school
--------
• Cut '8 Days of Military Spending' For Universal Education: Malala
• Muslim Women Are Breaking Stereotypes Surrounding Hijab and Their Culture
• 1,000 Women School Bus Supervisors Join Emirate Transport
• Hundreds of Lawyers Back Morocco Women Tried Over Dresses
• Who Is Afraid of Women's Political Participation in Aligarh Muslim University?
• Expat Disguised As Woman Arrested In Kuwait
• Afghan Women Weave Magic into Carpets
• Meet Pakistan's First Female Fire Fighter
• UAE Labour Law: Employment of Youth and Women
Compiled by New Age Islam News Bureau
URL: https://www.newageislam.com/islam,-women-and-feminism/new-age-islam-news-bureau/first-cousin-marriages-in-pakistani-communities-leading-to--appalling--disabilities-among-children/d/103820
-----------
First Cousin Marriages in Pakistani Communities Leading To 'Appalling' Disabilities among Children
07 Jul 2015
Couples who are getting married should be forced to have a DNA test first to ensure they are not cousins amid growing concern about incest within Pakistani communities, Britain's first Asian peer has claimed.
Baroness Flather, a former Tory who now sits as a cross-bencher, said in the House of Lords that it is "absolutely appalling" that first cousin marriages in Pakistani communities are leading to "so much disability among children".
She said: "There are a lot of first-cousin marriages in certain communities, particularly among Pakistanis who come from the Pakistani Kashmir area. We know so much about DNA now, but there is so much disability among the children, which is absolutely appalling.
"You go to any such family and there will be four or five children, at least one or two of whom will have some disability. That is absolutely unacceptable, and if we cannot do anything about it, is it fair to the children?"
Baroness Flather, a former barrister who was born in the Pakistani city of Lahore when it was part of India, said: "Never mind the parents — it is not fair to the children that they should be allowed to become disabled because of a social practice. It is a social practice which does not belong in today's age, when we know so much about DNA. There should at least be some rule which says that you must have a DNA examination before your marriage can be registered."
First-cousin marriages, which are are legal in the UK, are practised within Britain's Pakistani community, as well as among some Arab and African families. Medical data previously suggested that while British Pakistanis were responsible for 3 per cent of all births, they accounted for 30 per cent of British children born with a genetic illness.
The noble Baroness Flather also raised concerns about Sharia law, under which women struggle to get a divorce.
She said: "I know I am probably talking about Muslims, but we now have this business of sharia marriages. It is appalling that the man can get a divorce by just asking for it, while a woman may have to wait years, and may still not get it. She can get a British divorce, but not a sharia divorce.
Noble Lords may ask, "Why does that matter?", and I asked that of those women. They replied, "It means that we can't go to Pakistan".
"If they go there, the husband can come and take the children away, no matter what age they are. In any case, the husband can take the children from a sharia marriage when they are seven. All marriages should be automatically registered in this country. It is not fair to the women that some British women — they are British women when they come here — are treated in a different and unacceptable way from others."
http://www.telegraph.co.uk/news/health/children/11723308/First-cousin-marriages-in-Pakistani-communities-leading-to-appalling-disabilities-among-children.html
-----------
Cut '8 days of military spending' for universal education: Malala
July 08, 2015
OSLO: Nobel Peace Prize laureate Malala Yousafzai on Tuesday urged world leaders to cut "eight days of military spending" to give all children access to 12 years of free education.
About $39 billion (35 billion euros) would be needed each year to fund the schooling, according to an estimate from the laureate's non-profit group – the Malala Fund.
"It may appear as a huge number but the reality is it is not much at all," Malala said at a UN education summit in Oslo, as she returned to the city for the first time since picking up the Peace Prize with child rights activist Kailash Satyarthi in December last year.
"In fact, and unfortunately, $39 billion is spent on (the) military in only eight days," she said.
Malala, who in 2012 survived after being shot in the head for her support of girls' schools in Pakistan, met in June with World Bank President Jim Yong Kim to discuss the coming package of official Sustainable Development Goals the United Nations plans to release later this year.
A meeting is scheduled in Addis Ababa, Ethiopia, next week to find ways to finance the new targets.
"My message is that in these goals secondary education would be ensured," said the child activist, who turns 18 this week.
"The money to send each child to primary and secondary education for twelve years for free is already there," she added.
In September, the UN will weigh proposals for which targets countries should achieve over the next 15 years, which will replace the Millenium Development Goals created in 2000.
A report released on Monday by the UN said the effort had helped lift millions out of poverty, as the number of people living in extreme poverty declined by more than half between 1990 and 2015, from 1.9 billion to 836 million.
In the same period, the number of children dying before their fifth birthday also fell by more than half, dropping from 90 to 43 deaths per 1,000 live births.
"But progress has been uneven across regions and countries, leaving significant gaps," the UN said in a statement.
"Conflicts remain the biggest threat to human development, with fragile and conflict-affected countries typically experiencing the highest poverty rates, "it said.
http://www.dawn.com/news/1192942/cut-8-days-of-military-spending-for-universal-education-malala
-----------
Muslim Women Are Breaking Stereotypes Surrounding Hijab and Their Culture
JULY 7, 2015
NEW YORK—Stylish and independent Muslim women of all ages are speaking out against stereotypes surrounding Hijab culture. They are bringing new meaning to conservative fashion.
Fashion blogging seems to be the 'it thing' to do these days. Stylish women, Instagramming and blogging their outfits for the world to imitate.
Some women, however, are going the extra mile and breaking through barriers—defying stereotypes as fashionable, conservatively dressed Muslim women.
Abrar
Abrar Shahin was voted best dressed this year by her Clifton, New Jersey high school
"I want them to know that I wear [the Hijab] proudly and that I'm comfortable in it. I don't want people to look at me and feel bad for me, because honestly it's something that I love. I can't imagine myself without it," said Abrar Shahin, a New Jersey teen.
Shahin, 18, was voted best dressed this year in New Jersey's Clifton High School yearbook. "It was completely unexpected. It's such an honour to come from a generation that's very accepting," she said.
Hijabs and modest dressing Muslim women may not be the idea of fashionable to some, but times are changing.
Nashar
Nurshat Pasha was voted prom queen by her class at Edward R Murrow High School
Another high school senior is also changing the mould from the norm. Nurshat Pasha from Edward R Murrow High School was voted prom queen this year.
Sana Rashid is in her early 30s, is a pharmacist and is married with two little boys. You may not think leather pants and a cape blazer screams conservative dressing but Rashid puts her own spin on popular trends straight out of fashion magazine looks.
Sana Rashid
Sana Rashid, mother of two, recreates stunning looks right off the runway
"One of my unsaid goals of my blog was to show just anyone who is going to read my blog is that I'm very similar to you," said Rashid.
Her strides, thousands of followers, and the popularity of these teens are perhaps signs of greater social acceptance. While these women have ever met, they're all well aware of the stereotypes about them.
"That we don't speak English. That we don't know how to talk. That we're not educated. We're forced to wear Hijab. We're forced to marry and we're forced to stay home," said Rashid.
Shahin says, "All the stereotypes are wrong. I'm not oppressed. It was totally a choice of mine and it is something I feel beautiful in, comfortable in and I feel respected in."
For Rashid, her blog proves she's outside of the box. Clearly never shying away from being cutting edge, fun, colorful and full of life.
http://pix11.com/2015/07/07/muslim-women-are-breaking-stereotypes-surrounding-hijab-and-their-culture/
-----------
1,000 Women School Bus Supervisors Join Emirate Transport
JULY 7, 2015
Dubai: About 1,000 women school bus supervisors will join Emirates Transport in the next academic year, the country's largest school transport provider has announced.
School buses carrying female students are to have women supervisors as mandated by the Roads and Transport Authority in Dubai.
Announcing the move, Jasem Mohammad Al Shair, Manager of the Emirates Transport School Services Centre, said the company will provide the new supervisors with full job training covering transport and safety issues as well as child handling skills.
Al Shair said the latest recruitment drive aims to boost the student transport services provided by Emirates Transport to private schools in all emirates.
"Demand for bus supervisors has been increasing steadily since we started offering the service to private schools last year," said Al Shair.
He added: "We are anticipating the demand to continue increasing for the upcoming academic year, which is why we have already began the recruitment process and aim to have up to 1,000 new bus supervisors on our books by September."
Currently, Emirates Transport has 5,500 school bus supervisors working for both government and private schools across the UAE.
Bus supervisors undergo extensive training before starting their jobs and on a regular basis during the academic year. Training involves basic duties, transport-related health and safety, first aid, as well as child interaction skills.
In Dubai, the supervisors and drivers are specially trained and approved by RTA.
http://gulfnews.com/news/uae/transport/1-000-women-school-bus-supervisors-join-emirate-transport-1.1546598
-----------
Hundreds of lawyers back Morocco women tried over dresses
7 July 2015
Hundreds of lawyers have registered to defend two women who went on trial in Morocco on Monday accused of "gross indecency" for wearing dresses considered provocative, an activist said.
The women were arrested in the southern city of Agadir in mid-June after walking through a marketplace in the dresses, sparking anger among passers-by in the conservative Muslim kingdom.
The verdict is to be delivered on July 13, said Fouzia Assouli, head of women's rights organization LDDF.
The two women, hairdressers aged 23 and 19, were charged with "indecent exposure" for which they could face up to two years in prison.
They have been backed by hundreds of lawyers, many of whom appeared in court on Monday, said Assouli.
"Five hundred lawyers registered to defend the two women, but because of restricted space in the courtroom, only 200 were able to attend" the hearing, she told AFP.
The lawyers took turns to put forward arguments in the case, she said.
One of them, Sibai Bakar, said the trial was a "chance for our country to amend its laws to conform with its commitments to human rights and especially individual freedoms."
Rights organizations have denounced the trial and protests are to be held later this week in Agadir and in Morocco's commercial capital Casablanca in support of the two women.
In the police report, the women were said to have been wearing clothes that were "too tight".
Article 483 of Morocco's penal code states that anyone found guilty of committing an act of "public obscenity" such as "gross indecency" can be jailed for between a month and two years.
The case comes amid growing calls for "morality" to be respected in Morocco, which has been frequently criticized by international groups for rights abuses.
Last month, pop star Jennifer Lopez sparked anger among conservatives in Morocco -- and triggered much debate -- for being, according to media, "scantily" dressed during a concert in Rabat that was broadcast on public television.
https://english.alarabiya.net/en/News/africa/2015/07/07/Hundreds-of-lawyers-back-Morocco-women-tried-over-dresses-.html
-----------
Who Is Afraid Of Women's Political Participation In Aligarh Muslim University?
Jul 07, 2015
By Hiba Kakul:
The founder of Aligarh Muslim University, Sir Syed Ahmad Khan, envisioned educating both men and women who would lead the Muslim community to enlightenment, liberation and progress through this institution. In this light, AMU appears to be a very reformed and gender-just institute. But dig a bit deep and you will realize that it is an ideal place to preach conservatism under the shiny cloak of promoting customs and traditions.
IMG-20141028-WA0006-2
Sketch by Lubna Irfan
Women leaders here have to fight not only the complacent administration, but also many stereotypes and the conservative call to focus on only studies and not contest in the students' body polls. Women leaders have played an insignificant role in the AMU's 'glorious' students' politics as AMUSU has never seen a Woman President in its history of 80 years, moreover, a meager token participation of women is seen in the other posts as well. What could be the reason behind such insignificant participation of women in student politics? Especially in a university that stands amongst the top institutes of the country!
Most positions of power have always been held by men in this University, and the gender bias is clear. The strong opposition to women's participation in student politics by a large section of men can be compared to how humans might react to the news of a possible invasion by some aliens into their lands. The obvious response from those men who feel threatened is a sort of 'cultural imperialism', making it easier for them to defend their territory. They make the customs here, and enforce them in the guise of Islam and the need for guarding women. According to them, the purpose of such a tradition of keeping women out of power is to 'protect' them from rape-culture.
My dear caring brothers, denying political power and equal representation to women is not much different from physically violating them.
When asked about her struggle while contesting for one of the ten seats of cabinet ship in AMUSU, Kehkashan Khan, a fellow student, got this reply – "Aapke bhai hain to ye sab karne ke liye, behno ko is sab mein aakr takleef lene ki kya zaroorat. Kahan kahan jaengi, kya kya karlengi?" (You have your brothers to do all of this for you, why do sisters need to take the trouble? Where would you run around? What all would you be able to do?). Sweet words that reek of sheer sexism. The oh-so-familiar 'benevolent' face of patriarchy.
amu-women-protest
Isn't education supposed to equip women with the knowledge, awareness and skills to make informed decisions on their own, and not rely on their so-called 'protectors'? Is it actually the girls' safety they are so concerned about, or is it that the intervention of women would corrode the political game plans of these "regional" leaders in the university? Or is it about the alarming danger they see in women leaders? Does the strong will and determination make them nervous? Or let's just say it's a jackpot for the young politicians when the female vote bank of around 4000 is segregated from the main union by the administration.
The historical record of Islam shows that many distinguished women converted to Islam prior to their husband, which is a clear demonstration of Islam's recognition of their conscience and capacity for independent action. Moreover, in Islam many women such as Queen of Sheba, and Aisha Abu Bakr (R.A.) held political powers independently and even with their husbands.
The above facts clearly show that the fundamentalists here try to instill fear in women by presenting to them an androcentric and misogynist interpretation of texts. And those who respond to the hierarchical norms and basic gender inequality are dismissed and shamed by being called a menace for the "tehzeeb" of the idara.
Women are the victims of the patriarchal culture, but they are its carriers too. We have often let men rule over us. We have given these benevolent sexists the authority to threaten us in the name of religion, to manipulate us by infusing in us the fear of being apostate on questioning problematic rituals. And we women judge and make each other a subject of criticism for having strayed from the tradition designed by the "cultured folks".
You could either continue to enjoy your suppers of pseudo-aristocracy in the little domains monitored by some conservative guards and let the grey matter of your brains be tamed within the constraints of negligence and blind-faith, or stand against the agents of patriarchy and take control of areas you've been unfairly denied access to.
http://www.youthkiawaaz.com/2015/07/patriarchy-in-amu/
-----------
Expat Disguised As Woman Arrested In Kuwait
JULY 6, 2015
Manama: Kuwaiti security authorities have arrested a Pakistani man disguised as a woman near a mosque in Jleeb Al Shuyukh, a town largely inhabited by expatriate workers from South Asian and Arab countries.
The police became suspicious about a black-clad, face-covered figure talking on the phone in the vicinity of Al Shuyukh Mosque. They asked to check the person's identity and upon asking that the face veil be lifted found that it was a man, a statement from the interior ministry public relations and media department said.
The police searched the man but they found nothing of concern and later referred him to the relevant authorities.
Kuwait has been enforcing a zero-tolerance policy towards people acting in a suspicious manner ever since a suicide bomber blew himself up amid worshippers at the Al Imam Al Sadeq mosque, killing 26 worshippers and wounding 227.
Tight security has been put in place around mosques to ensure the safety of worshippers.
Public Prosecutor Dharar Al Asoosi said that investigations into the deadly blast in the mosque were being conducted on a 24-hour basis.
According to Kuwaiti daily Al Rai, 23 suspects have been remanded for another two weeks pending the investigations.
Sources quoted by the daily said that six women were among the suspects.
"The questioning of the six women," sources told the daily, "has revealed that their role was to offer support and to help hide the suspects." Four of the women were from Kuwait, one from Pakistan and one didn't have documents to prove her identity.
"The women said they had destroyed the equipment used to record the operation, as requested directly by the defendants," the sources said.
The investigation also revealed that some of the suspects had links to other suspects charged with funding the Daesh terror group using donations collected from the public on the premise of helping child refugees in Syria.
http://gulfnews.com/news/gulf/kuwait/expat-disguised-as-woman-arrested-in-kuwait-1.1546038
-----------
Afghan Women Weave Magic Into Carpets
7 July 2015
Zeba and Sabeera create wonders with their deft fingers. - Photos by Juidin Bernarrd
Visitors to The Dubai Mall during Ramadan can now watch the intricate weaving process that goes into the production of Afghan carpets. The move is part of an initiative to employ and empower women in the war-torn country.
Founded in 2010, the Fatema bint Mohammed bin Zayed Initiative (FBMI) — in partnership with Afghanistan's Tanweer Investments — employs about 4,000 Afghans drawn from both rural and urban areas of the country, offering them skills and an opportunity for meaningful employment and income. Of the employees, 70 per cent are women and 35 per cent are widows.
"It's a business model," said FBMI managing director Maywand Jabarkhyl. "That way it is sustainable. It's not a charity. It's not a handout.
Sakina, an Afghan refugee designing the fabric."All the profits go back into the project, into expansion, into development, into researching new designs for example. What we do is we give them jobs, we give them access to healthcare and education for the children and we pay them fair market wages, which is very important."
Handmade carpets — currently Afghanistan's biggest export — are vitally important to a country where 42 per cent of the population lives on less than $1 a day. Jabarkhyl noted that carpet weaving provides the Afghan women with a job and an opportunity for advancement that might otherwise be difficult in Afghanistan's patriarchal society.
"It's a cottage-based industry. The ladies don't have to go outside their homes. They don't have to be accompanied by a male to leave their homes, and they can work in the comfort of their own homes. We can set a loom up anywhere," he said. "But we also give them capacity development. Some start off as wool spinners or wool cleaners, but go on to weaving and designing. Our success is measured most on the employment side. We want to employ as many people as possible and keep them employed."
Since the initiative's inception, over 10,000 carpets have been produced, 60 per cent of which are sold in the UAE, but also as far afield as the US, UK, Australia and South Africa. Additionally, an FBMI-produced carpet now adorns the interior of the Presidential Palace in Kabul.
'Sheep to shop'
FBMI's carpets are produced "from the sheep to the shop" entirely in Afghanistan using locally procured materials. To begin, wool is purchased from Afghanistan's nomadic tribes, which is then made into thin, clean yarn and coloured using natural dyes. The designs are entirely hand-drawn. Once the dyed wool is ready, weavers using a loom carefully make the carpet, which is then washed, sheared, tidied and sun-dried. On average, each weaver is able to produce about one-square metre of carpet a month.
Basira and Hakima, Afghan refugees from The Fatima bint Muhammad bin Zayed initiative, weaving the loom at Dubai Mall.
"There is a big story behind every carpet. The village it was woven in, who wove it, the story behind the design, the colour, the patterns, everything," Jabarkhyl said.
In the future, FBMI hopes to set up weaving centres in each of Afghanistan's 34 provinces, benefitting local economies as the country shifts away from an economy revolving around the presence of American and other coalition troops.
"From 2001 to 2014, it was a war-related economy. The troops have left now, so all the jobs have gone as well," Jabarkhyl explained. "There weren't any manufacturing jobs, or weaving jobs, or anything like that. The international community did not pay much attention, nor did the Afghan government, so there is huge unemployment in Afghanistan at the moment."
In the meantime, Jabarkhyl hopes that UAE residents will go to The Dubai Mall and see the process in action. "Our aim being here is so people get to know more about the initiative." -bernd@khaleejtimes.com
http://www.khaleejtimes.com/kt-article-display-1.asp?xfile=data/nationgeneral/2015/July/nationgeneral_July35.xml&section=nationgeneral
-----------
UAE Labour Law: Employment of Youth And Women
JULY 8, 2015
Understanding your employee rights is a very important part of living and working in the UAE. Below is the labour law, as published by the UAE Ministry of Labour, with regards to the employment of youth, women, and the provisions that must be made in both cases.
The following text comes straight from the UAE Ministry of Labour's UAE Labour Law and is applicable as of July 7 2015.
Employment of youth and women
Article 20
Youth of both genders under the age of fifteen may not be employed.
Article 21
Prior to the employment of any youth, the employer must obtain therefrom the following documents which he keeps in the youth's personal file:
1 - A birth certificate or an official extract thereof, or an age estimation certificate issued by a pertinent doctor and authenticated by the competent health authorities.
2 - A certificate of health fitness for the required job issued by a competent doctor and authenticated.
3 - A written consent of the guardian or trustee of the youth.
Article 22
The employer must keep in the work location a special register for the youth comprising the name and age of the youth, the full name of the guardian or trustee thereof, the place of residence, date of employment and the work for which the youth is employed.
Article 23
Youth may not be engaged at night in industrial enterprises. The word " night " shall mean a period of twelve consecutive hours at least including the period from 8pm until 6am.
Article 24
The employment of youth in hazardous, strenuous or harmful to the health conditions shall be prohibited. Such conditions are determined by virtue of a decision issued by the Minister of Labour and Social Affairs upon the consultation of the competent authorities.
Article 25
The maximum effective working hours for the youth shall be six hours per day, with one or more intervals for rest, meals or prayer whose total is one hour at least. Such interval(s) shall be set in such a manner that the youth does not work more than four consecutive hours.
The youth may not be kept in the work location for more than seven consecutive hours.
Article 26
Youths may not be charged with overtime, regardless of the circumstances, be kept in the work location after their set working hours or be made to work on rest days.
Women
Article 27
Women may not be employed at night. The word "night" shall mean a period of eleven consecutive hours at least including the period from 10pm until 7am.
Article 28
The following cases shall be exempt from the prohibition of women labour at night :
a - When work in the firm ceases by a force majeure.
b - Work in administrative and technical position.
c - Work in health services and other jobs determined by virtue of a decision issued by the Minister of Labour and Social Affairs should the working woman not normally practice a manual work.
Article 29
The women labour in hazardous, strenuous or physically or morally harmful jobs, as well as other jobs determined by virtue of a decision issued by the Minister of Labour and Social Affairs upon the consultation of the competent authorities shall be prohibited.
Article 30
The female worker shall be entitled to maternity leave with full payment of the wage thereof, and such for a period of forty five days that include the pre-and postnatal periods, provided that the continuous service period for the employer is of one year at least. The maternity leave shall be granted with half a wage should the worker not have completed the aforementioned period.
Upon the end of the maternity leave, the worker may remain absent from work without pay for a period of one hundred consecutive or non-consecutive days at most should such absence be caused by an illness hindering her from returning to work. Such illness shall be established by means of a medical certificate issued by the medical entity appointed by the competent health authority or ratified by such authority stating that such illness arises from the pregnancy or the delivery.
The leave referred to in the preceding paragraphs shall not be deducted from other leaves.
Article 31
During the period of eighteen months subsequent to the date of delivery, the nursing worker shall be entitled, in addition to the determined rest period, to a two additional periods per day for such purpose, the duration of each thereof not exceeding half an hour.
Such additional periods shall be deemed as part of the working hours and do not entail any deduction of the wage.
Article 32
The female worker shall be granted a wage equal to that of the man should she be performing the same work.
Article 33
The Minister of Labour and Social Affairs, by a decision thereof, may exempt the philanthropic and educational institutions of all or some of the provisions set forth in the preceding two Chapters of the present Title, should such institutions aim at the rehabilitation or professional training of youth or women, provided that the by-laws of such institutions stipulate the nature of the works carried out by youths and women, the working hours, the conditions of work therein in a manner not contradicting with the actual capacity of youths and women.
Article 34
The following shall be partially responsible for the execution of the provision of the preceding second and third Chapters of the present Title:
a - Employers or representatives thereof.
b - Guardians or trustees of the youth, spouse or guardian of the woman should she be minor, and such should they agree on the employment of the youth or woman contradictory to the provisions hereof.
Source UAE Ministry of Labour
Call centre For any Labour issues, call 800 665
Locate your nearest Ministry of Labour office
http://gulfnews.com/guides/life/law-finance/uae-labour-law-employment-of-youth-and-women-1.1546430
-----------
URL: https://www.newageislam.com/islam,-women-and-feminism/new-age-islam-news-bureau/first-cousin-marriages-in-pakistani-communities-leading-to--appalling--disabilities-among-children/d/103820