New Age Islam News Bureau
9 Jul 2015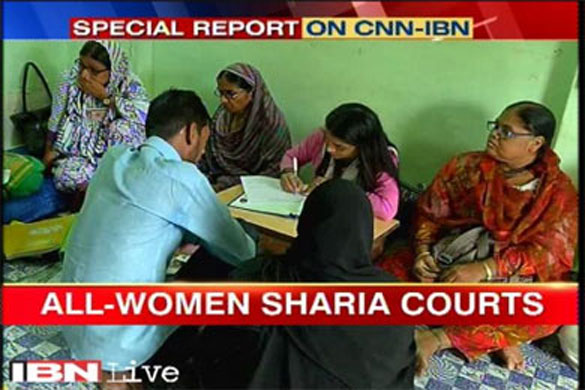 Trained Indian Women Quazis to Interpret Muslim Personal Law
------------
• Malala Tells Sharif She Wants To Return Home
• Saudi Woman Jailed For Cheating Expat Out of SR300, 000
• Boko Haram Offers to Swap Detainees for Kidnapped Girls
• Held: Spain Woman Who Recruited Girls for Daesh
• Pak Lawmakers Urged To Pass Hindu Marriage Act
• "Basketball Uniforms Designed for Girls with Hijabs Provide More Opportunities for Women in Sports
Compiled by New Age Islam News Bureau
URL: https://www.newageislam.com/islam,-women-and-feminism/new-age-islam-news-bureau/first-batch-of-trained-indian-women-quazis-to-interpret-muslim-personal-law-from-2016/d/103833
--------
First Batch Of Trained Indian Women Quazis to Interpret Muslim Personal Law From 2016
Jul 08, 2015
The year 2016 will see the first batch of trained women Quazis or judges to interpret the Sharia or the Muslim personal law and dispense gender-equal justice. In a bid to reclaim the Quran, which they said is inherently just, the Bharatiya Muslim Mahila Andolan has begun all women Sharia courts and are challenging deep rooted patriarchy.
http://www.ibnlive.com/news/india/first-batch-of-trained-women-qazis-to-interpret-muslim-personal-law-from-2016-1017768.html
--------
Malala Tells Sharif She Wants To Return Home
July 9th, 2015
OSLO: Prime Minister Nawaz Sharif and Nobel Peace Prize laureate Malala Yousafzai held their first official meeting on Wednesday after both attended a UN education summit in Oslo.
The 17-year-old activist said Mr Sharif told her his government would support her if she decided to visit the country.
"He said my country is always there for me. And I said that it is my responsibility as a Pakistani to return to Pakistan and help people there," Malala, who has made her home in Britain, told public broadcaster NRK, adding that any visit would have to coincide with her school holidays.
Pakistan's education system, child labour and child marriage were also among the issues discussed, she added.
The ruling PML-N posted a picture of the meeting on its official Twitter account.
The prime minister and the teenager met briefly on the sidelines of the UN General Assembly in September 2013, but this was their first official meeting.
Both were in Oslo in connection with the two-day Oslo Summit on Education for Development, where Malala urged world leaders to cut "eight days of military spending" to give all children access to 12 years of free education.
Mr Sharif and his Indian counterpart Narendra Modi last year declined to attend the Nobel Peace Prize awards ceremony, where she collected the prize she shared with Indian child rights activist Kailash Satyarthi.
Malala became a global icon after the Taliban attack in 2012. She recovered after being flown for extensive surgery to Birmingham, central England, and has since continued both her education and activism.
http://www.dawn.com/news/1193277/malala-tells-sharif-she-wants-to-return-home
--------
Saudi Woman Jailed For Cheating Expat Out of SR300, 000
Adnan Al-Shabrawi
July 9th, 2015
JEDDAH — A court here sentenced a Saudi woman to prison and ordered her to return SR300,000 she had taken from a Yemeni national promising to obtain him the Saudi nationality.
The Yemeni man's lawyer, Khalid Al-Yafie, said the woman expeditor in question tarnished his client's reputation in a video she posted on social media, which showed a group of divorcees accusing him of exploitation in a separate matter. The Yemeni claimed that the accusations in the video were irrelevant.
"My client dropped all charges against the divorcees in the video as he felt they were also victims of her scam. We believe the expeditor had hired them to make up the story," said Al-Yafie.
He also said the expeditor was trying to blackmail his client with the video.
"My client refused to drop his case against the woman for extorting SR300,000 out of him. My client was humiliated as he was arrested because of the video in which the divorcees clearly mentioned his name," said Al-Yafie.
"He was kept in jail for 48 hours and he was released only after it was proven that he was innocent."
The lawyer said the woman might have had the chance to appeal the verdict if she had appeared in the court when she had been summoned.
http://www.saudigazette.com.sa/index.cfm?method=home.regcon&contentid=20150709249834
--------
Boko Haram offers to swap detainees for kidnapped girls
July 9th, 2015
LAGOS: Nigeria's Boko Haram extremists are offering to free more than 200 young women and girls kidnapped from a boarding school in the town of Chibok in exchange for the release of militant leaders held by the government, a human rights activist has said.
The activist said Boko Haram's current offer is limited to the girls from the school in northeastern Nigeria whose mass abduction in April 2014 ignited worldwide outrage and a campaign to "Bring Back Our Girls" that stretched to the White House.
Read: Boko Haram says 219 kidnapped schoolgirls 'married off'
The new initiative reopens an offer made last year to the government of former President Goodluck Jonathan to release the 219 students in exchange for 16 Boko Haram detainees, the activist said.
"Another window of opportunity opened" in the last few days, according to Fred Eno, who has been negotiating with Boko Haram for more than a year.
He said he could not discuss details but explained that the recent slew of Boko Haram bloodletting — some 350 people killed in the past nine days — is consistent with past ratcheting up of violence as the militants seek a stronger negotiating position.
Presidential adviser Femi Adesina said on Saturday that Nigeria's government "will not be averse" to talks with Boko Haram. "Most wars, however furious or vicious, often end around the negotiation table," he said.
Eno said the 5-week-old administration of President Muhammadu Buhari offers "a clean slate" to bring the militants back to negotiations that had become poisoned by the different security agencies and their advice to Jonathan.
Two months of talks last year led government representatives and Eno to travel in September to a northeastern town where the prisoner exchange was to take place — only to be stymied by the Department for State Service, the activist said.
At the last minute, the intelligence agency said it was holding only four of the militants sought by Boko Haram, he said.
It is not known how many Boko Haram suspects are detained by Nigeria's intelligence agency, whose chief Buhari fired last week.
The activist said the agency continues to hold suspects illegally because it does not have enough evidence for a conviction, and any court would free them. Nigerian law requires charges be brought after 48 hours.
Thousands of suspects have died in custody, and they might include some on a list from Boko Haram that Eno said he first received exactly one year ago.
Amnesty International alleges that 8,000 detainees have died in military custody — some have been shot, some have died from untreated injuries due to torture, and some have died from starvation and other harsh treatment.
In May, about 300 women, girls and children being held captive by Boko Haram were rescued by Nigeria's military, but none were from Chibok. It is believed the militants view the Chibok girls as a last-resort bargaining chip.
In that infamous abduction, 274 mostly Christian girls preparing to write science exams were seized from the school by Islamic militants in the early hours of April 15, 2014. Dozens escaped on their own in the first few days, but 219 remain missing.
Boko Haram has not shown them since a May 2014 video in which its leader, Abubakar Shekau, warned: "You won't see the girls again unless you release our brothers you have captured."
In the video, nearly 100 of the girls, who have been identified by their parents, were shown wearing Islamic hijab and reciting the Quran. One of them said they had converted to Islam.
International indignation at Nigeria's failure to rescue the girls was joined by US first lady Michelle Obama. In a radio address in May 2014, she said she and President Barack Obama are "outraged and heartbroken" over the abduction.
Supporters of the girls, who continue to rally each day under the "Bring Back Our Girls" banner, on Wednesday marched to the presidential villa in Abuja to renew demands that the government bring the students home.
There have been unconfirmed reports that some of the girls have been taken to neighbouring countries, and that some have been radicalised and trained as fighters.
http://www.dawn.com/news/1193317/boko-haram-offers-to-swap-detainees-for-kidnapped-girls
--------
Held: Spain woman who recruited girls for Daesh
9 July 2015
MADRID: Spanish police on Tuesday arrested a woman suspected of recruiting pre-teen girls and teenagers to send to areas controlled by Daesh in Syria.
An Interior Ministry statement said the woman, a Spaniard, was arrested in the city of Arrecife on the Canary Island of Lanzarote.
Separately, the ministry said Civil Guard police arrested an Algerian-born man wanted on terrorism charges by Belgium, where he previously resided. The man, whose name was not released, is a suspected member of Daesh and had fought in Syria. He was arrested in Barcelona airport while waiting for a connecting flight, after flying from Algeria.
The ministry said the woman in Arrecife maintained contact with Daesh militants in Syria, including a facilitator who gave her orders for recruiting girls and arranging their travel to Syria.
Girls and teens who she helped get to Syria ended up being sexually exploited, did domestic work and work in hospitals and had roles policing women, the statement said. A few joined the Daesh as combatants, the statement said.
إعلان
Authorities did not specify how many people the woman was suspected of recruiting but said police have been investigating her since 2014 in a probe overseen by the National Court in Madrid.
On Monday, the ministry said police arrested two men in Madrid for alleged collaboration with Kurdish groups fighting in Syria and Iraq. The two are suspected of having been trained to use arms and explosives and fight guerrilla warfare. The ministry said their actions affected Spain's national interests.
The ministry said it hoped to dissuade other militants from enlisting and possibly falling into the hands of Daesh, which could use them for propaganda.
http://www.arabnews.com/middle-east/news/773661
--------
Pak Lawmakers Urged To Pass Hindu Marriage Act
July 9th, 2015
ISLAMABAD: The Right of Expression, Assembly, Association and Thought (REAT) Network has called upon the lawmakers to pass the Hindu marriage act in its true spirits.
In a statement issued on Wednesday, Chairman REAT Network Krishan Sharma said for Pakistani Hindus, living without a marriage law for the last 67 years, another year was wasted by lawmakers who, on July 5 delayed the approval of draft Hindu Marriage Act.
He condemned the act of deferring the approval of the proposed Hindu Marriage Act 2015 by the National Assembly Standing Committee on Law, Justice and Human Rights.
Mr Sharma said that it showed the lack of political will by the Hindu lawmakers to work for the rights of the minorities living in Pakistan.
He maintained that this bill was to establish rules and regulation for registration of marriage and divorce for Hindu Pakistanis, as currently in the absence of such a law, Hindus in the country did not even have a legal document as proof of marriage and by granting approval for the draft would have set a precedent for the provinces to follow.
He said Hindus living in Pakistan also deprived of legal rights such as inheritance, remarriage, separation, adoption of children and annulment of marriage.
The Hindu Marriage Bill was originally drafted by National Commission on Status of Women (NCSW) and presented through private member by PPP's Ramesh Lal.
http://www.dawn.com/news/1193343/lawmakers-urged-to-pass-hindu-marriage-act
--------
"Basketball Uniforms Designed for Girls with Hijabs Provide More Opportunities for Women in Sports
7/8/15
From specialty women-only brands like Athleta and Sweaty Betty to the expansive women's lines from sports brands like Nike and Reebok, there's no shortage of wardrobe choices for women looking to work out. Young girls and teens are now served by brands like Under Armour and Adidas, as well as activewear lines from favorites like Old Navy and Forever 21. But in the midst of the steady stream of running shorts and tank tops with built-in sports bras, one group of girls has been traditionally left out: Muslim girls who observe their religion's dress code.
In traditional Muslim culture, women must cover their heads and bodies when in the presence of men. But long flowing skirts and headscarves—called hijabs—can, predictably, make it difficult to perform activities like running and jumping. In the past, many Muslim women had to either find a male-free zone in which to practice in more comfortable clothing or forego playing sports altogether.
In 2008, in the Cedar-Riverside neighborhood of Minneapolis, then-college student Fatimah Hussein founded a program called Girls Initiative in Recreation and Leisurely Sports (GIRLS). The program provides girls-only gym time at the Brian Coyle Community Center, which serves a largely East African Muslim population, allowing girls to play sports without their cultural attire while not having to worry about being seen by males.
Try Newsweek for only $1.25 per week
The program created a travel basketball team called the Lady Warriors, but in order to play on the road the girls, in grades four through eight, had to once again don their long skirts and hijabs. Chelsey Thul, a professor of kinesiology at the University of Minnesota, worked as a researcher with the GIRLS program and listened when the team asked for functional uniforms that would still allow them to remain covered.
Thul and Hussein worked with a team that included the University of Minnesota College of Design, the Tucker Center for Research on Girls and Women in Sport at the university, other coaches and, of course, the players. Starting in 2013, the team began attending female sporting events to get ideas for uniforms, then worked with designers to get them drafted out.
The uniforms were constructed in a makeshift workshop at the nearby Mosque Shafici, two blocks from the community center. Finished designs were debuted at a fashion show last month at the University of Minnesota, and featured two sets of uniforms made from breathable fabrics. They include knee-length tunics, leggings and tight-fitting hijabs that are attached by Velcro. The clothes allow players to make moves they wouldn't be able to otherwise, like dribbling between their legs or jumping for rebounds, while keeping their headscarves in place.
This isn't the first time hijabs have made sports headlines, as they have been part of a larger debate about Muslim women and athletics in the last few years. FIFA lifted the ban on players wearing headscarves in 2012, and FIBA (International Federation of Basketball) is currently in a trial period to lift their ban after Qatar's women's basketball team forfeited their game during the 2014 South East Asian Games after they were told hijabs were not allowed for safety reasons.
According to FIBA, basketball's international ruling body, "Players shall not wear equipment (objects) that may cause injury to other players." The official rule book goes on to list things like wrist guards, casts or braces, headgear, jewelry and long fingernails. What is allowed? "Headbands, maximum five (5) cm in width, made of non-abrasive, unicolour cloth, pliable plastic or rubber." While a specific reason why headscarves aren't allowed isn't stated, the concern stems from if the hijab were to loosen and fall down around the neck, it could be pulled causing injury to the neck or cause a player to choke. However, many hijabs, like the ones designed by the Lady Warriors, attach with Velcro, so if they were to be pulled, they would simply come off, rather than become a choking hazard.
But beyond safety concerns, some traditionalists feel that Muslim women should not be participating in sports at all. Even in the Cedar-Riverside community, Hussein has had to convince some close-minded parents that "even in our religion, physical fitness is important."
The Islamic faith does encourage taking care of the body through exercise, but there are a number of barriers Muslim women and girls must face while doing so. In Saudi Arabia, where public schools are already segregated by gender, girls were not allowed to participate in athletics until earlier this year, a move that caused some extremists to declare that sports ultimately lead to prostitution. While the religious debate over Muslim women and sports rolls on in the background, the new uniforms worn by the Lady Warriors have made the lives of some young girls a little less uncomfortable at a time when just being a kid is hard enough.
http://www.newsweek.com/new-uniforms-provide-opportunities-muslim-girls-court-351138
--------
URL: https://www.newageislam.com/islam,-women-and-feminism/new-age-islam-news-bureau/first-batch-of-trained-indian-women-quazis-to-interpret-muslim-personal-law-from-2016/d/103833
]