New Age Islam News Bureau
1 Jun 2018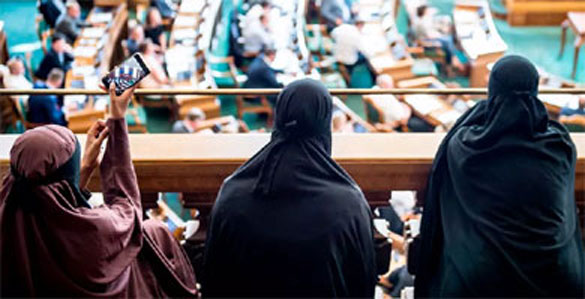 Denmark government insists the ban is not aimed at any religion (AFP/Getty )
-----
• Denmark Just Became the Latest European Country to Ban Burqas and Niqabs
• Tabassum Hasan first Muslim MP from UP in 16th Lok Sabha
• Teenager, Housewife among 15 Suspected Militants Held in Malaysia
• Arab Women's Sports Highlighted During Ramadan Majlis
• Indonesia's Citilink cabin crew fly high with hijab uniform
• Iran: Women partake in protests in Mashhad, Boukan, Shiraz
• Iran: 15-year-old girl remains in detention without legal warrant
Compiled by New Age Islam News Bureau
URL: https://www.newageislam.com/islam-women-feminism/fgm-declared-religiously-forbidden-islam/d/115418
--------
FGM Is Declared Religiously Forbidden In Islam by Egyptian Dar Al-Iftaa
May 31, 2018
By: Menna Saad
CAIRO - 31 May 2018: Egyptian Dar Al-Iftaa declared that female genital mutilation (FGM) is religiously forbidden on May 30, 2018, adding that banning FGM should be a religious duty due to its harmful effects on the body.
Dar Al-Iftaa also explained that FGM is not mentioned in Islamic laws and that it only still occurs because it's considered to be a social norm in the rural areas and some poor parts of Egypt.
FGM is considered as an attack on religion through damaging the most sensitive organ in the female body. In Islam, protecting the body from any harm is a must and mutilation violates this rule; therefore, if the parents of females who undergo FGM consent to the abhorrent surgery, they should be punished.
The Minister of Health and the Administrative Court of Justice decided that "FGM should be banned in hospitals and public/private clinics. And it should only be done if the female suffers from a serious disease, which is decided by the head of the department of Gynecology based on a doctor's recommendation."
The court of Justice approved that the surgery will not be against the law only if it is approved by the Minister of health himself.
UNICEF's 2014 studies showed that 91percent of females of the age between15-49 undergo FGM in Egypt and over 80 percent of these females are from the age group of 0-15 years old. It has also been found that it's more common in the rural areas and less common in the wealthy parts of the country.
The Surgery has three types:
• Type I: Total or partial removal of the prepuce.
• Type II: Total or partial removal of the inner labia.
• Type III: Removal of external genitalia and fusion of the wound.
•
Type I being the most common in the Egyptian rural areas.
The United Nations is committed to work hand in hand with the Egyptian Government to fight FGM, stating that "The United Nations in Egypt recognizes the ongoing efforts of the government, which has led to the reduction of FGM in the younger age groups (15-17years) by more than 13 percent since 2008. Moreover, the adoption of a National FGM Strategy 2016-2020 and most importantly, the recent decision to amend and stiffen the law criminalizing FGM were critical steps taken to address FGM."
This Statement along with Dar Al-Iftaa's statement approve that FGM should be banned in Egypt and Egyptian Minister of Health, Ahmed Emad, presented six steps to eliminate FGM by 2030:
1. Criminalizing FGM in the penal code; it should be punishable by imprisonment.
2. The Attorney General should record these crimes as a reference in the investigation of FGM incidents.
3. Hospitals are required to inform the police when they receive female circumcision cases.
4. Ministry of Health's sectors are required to carry out training programs and educational programs on the law, covering the penalties and negative consequences of circumcision.
5. Implementation of the Supreme Council of Universities' approval in 2017 to add an educational material against the crime of FGM in the curriculum of obstetrics students in medical school programs.
6. Commitment of all ministries and agencies to integrate the curriculum against FGM within their training and service programs.
Dar Al-Iftaa stressed that if the surgery doesn't have the necessary tools, sanitary requirements and the approval of a certified doctor that the patient is ill and is in need to remove this part of her body, then it's considered illegal and religiously forbidden, and it should be banned.
https://www.egypttoday.com/Article/2/51304/Female-Genital-Mutilation-is-declared-religiously-forbidden-in-Islam
--------
Denmark Just Became the Latest European Country to Ban Burqas and Niqabs
By ABIGAIL ABRAMS
June 1, 2018
Denmark became the latest European country to ban full-face veils on Thursday, effectively outlawing the burqa and niqab worn by some Muslim women.
The country's parliament voted 75 to 30 to implement a law that prohibits wearing veils in public, the BBC reported. The law does not specifically mention burqas or niqabs, but it is commonly known as the "burqa ban," according to The Guardian, and is seen as being aimed at Muslim women.
The law will go into effect August 1, and fines will range from 1,000 Danish kroner ($157) to 10,000 kroner for repeated violations. Once it is in place, police will be able to tell women wearing a veil to remove it or order them to leave public places, according to Reuters.
Danish officials have described covering faces as incompatible with Danish values. "In terms of value, I see a discussion of what kind of society we should have with the roots and culture we have, that we don't cover our face and eyes, we must be able to see each other and we must also be able to see each other's facial expressions, it's a value in Denmark," Denmark's Justice Minister Søren Pape Poulsen said, according to BBC News.
Opponents of the ban have argued it infringes on the rights of women to choose how they dress and present themselves.
"All women should be free to dress as they please and to wear clothing that expresses their identity or beliefs. This ban will have a particularly negative impact on Muslim women who choose to wear the niqab or burqa," Amnesty International's Europe Director Gauri van Gulik said, according to The Guardian. "While some specific restrictions on the wearing of full-face veils for the purposes of public safety may be legitimate, this blanket ban is neither necessary nor proportionate and violates the rights to freedom of expression and religion."
Denmark joins France, Belgium, the Netherlands, Bulgaria and the German state of Bavaria in imposing its ban. The country has struggled with how to integrate immigrants, especially as many refugees have arrived from the Middle East in recent years.
http://time.com/5298049/denmark-ban-burqa-niqab-face-veils/
--------
Tabassum Hasan first Muslim MP from UP in 16th Lok Sabha
May 31, 2018
LUCKNOW: Tabassum Hasan, whose victory in Kairana has given strength to opposition unity in Uttar Pradesh ahead of the 2019 general election, today became the first Muslim MP from the most populous state in the 16th Lok Sabha.
Hasan (48) defeated her nearest BJP rival Mriganka Singh by a huge margin of 44,600 votes as the Rashtriya Lok Dal candidate supported by the Samajwadi Party, the Congress and the Bahujan Samaj Party.
The opposition also won the Noorpur assembly seat, where SP's Naimul Hasan defeated the BJP candidate.
Uttar Pradesh, which has Muslim population of about 20 per cent, elected no Muslim MP in the 2014 Lok Sabha elections.
Out of 80 Lok Sabha seats, the BJP and its ally Apna Dal won 73 in the 2014 elections. The SP got five seats and the Congress just two.
"My success is the victory of people of the state who have shown that they have stood up against the four-year-old misrule of the BJP," Tabassum Hasan said after her resounding victory.
"Had there be no EVM problem, my victory margin would have been more," she said referring to the complaints against electronic voting machines.
"I was confident of my victory as I had faith in the people," she said.
Hasan claimed Prime Minister Narendra Modi will have no impact in next year's Lok Sabha polls.
"The BJP's arrogant people say there is no alternative to Modi, but the Almighty always finds a way out and the alliance of opposition parties will come out triumphant against the BJP in 2019.
"My victory has proved that the path of the united opposition is clear in 2019," she said.
Hasan took a plunge into politics in the 2009 Lok Sabha election on a BSP ticket, months after the death of her husband Munawwar Hasan in a car crash in Haryana and defeated BJP candidate Hukum Singh.
In 2014, her son Nahid Hasan fought the election on a SP ticket against Hukum Singh but was defeated.
Nahid won the UP assembly polls in 2017 against Hukum Singh's daughter Mriganka.
Kairana LS constituency has 16 lakh voters of whom Muslims account for a major chunk of five lakh voters. Dalits and Jats have two lakh voters each. Another major chunk is that of Gurjars who constitute one lakh voters.
The Kairana seat fell vacant after the death of BJP MP Hukum Singh, whose daughter Mriganka was the party candidate this time.
In Kairana, the opposition consolidated the anti-BJP vote and repeated its success in Gorakhpur and Phulpur bye-elections earlier this year when the ruling party suffered humiliating defeats.
Bye-elections were held for Gorakhpur and Phulpur in March as the seats fell vacant when UP Chief Minister Yogi Adityanath and his deputy Keshav Prasad Maurya resigned after entering the UP legislative council.
The ruling BJP had campaigned hard in Kairana with Chief Minister Yogi Adityanath himself wooing voters. SP chief Akhilesh Yadav and BSP supremo Mayawati stayed away from the campaigning.
Prime Minister Narendra Modi visited a neighbouring district, Baghpat, where he talked about development of western UP and also inaugurated the Eastern Peripheral Expressway, but voters appeared to have already made up their mind to back the opposition.
"The victory has sent a strong message to voters and party workers. The anti-people policies of the BJP stand exposed and voters are looking for an alternative," SP MLC Rajpal Kashyap said.
RLD national spokesman Anil Dubey said, "This victory is not of our party alone, but of the united opposition. With this victory we succeeded in uniting the society which the BJP attempted to fragment with its divisive politics."
Deputy Chief Minister Dinesh Sharma said the BJP does not dabble in the politics of victory or defeat.
"We believe in working for development and we don't want to contest elections on communal or caste lines," he said, accusing the opposition of spreading the venom of communalism and casteism to win elections by hook or by crook.
The Kairana election is the fourth Lok Sabha bye-election in the state since 2014.
Apart from Gorakhpur and Phulpur, a bye-election was also held in Mainpuri in 2014.
SP patriarch Mulayam Singh Yadav had resigned from Mainpuri after deciding to represent Azamgarh, the second constituency from which he won in 2014.
SP's Tej Pratap Singh Yadav, who is related to him, defeated the BJP there in that bye-election, retaining the seat for his party.
https://economictimes.indiatimes.com/news/politics-and-nation/tabassum-hasan-first-muslim-mp-from-up-in-16th-lok-sabha/articleshow/64403814.cms
--------
Teenager, Housewife among 15 Suspected Militants Held in Malaysia
June 1, 2018
KUALA LUMPUR (REUTERS) - Malaysia has detained 15 suspected Islamist militants including a teenager and a housewife accused of plotting separate "lone wolf" attacks on places of worship around the capital, Kuala Lumpur, police said on Friday.
Police rounded up the 15, including nine foreigners, in several security operations between March 27 and May 9, Inspector-General of Police Mohamad Fuzi Harun said in a statement.
They included a 17-year-old secondary school student suspected of being a member of Islamic State, who had allegedly planned "lone wolf" attacks on churches, entertainment centers and Hindu temples around Kuala Lumpur.
The student had made six petrol bombs and tested one of them, Mohamad Fuzi said.
"The suspect had surveyed and filmed the target locations, as well as recorded a video warning of the impending attacks," he said, adding that the video was uploaded to four Islamic State-linked mobile chatrooms shortly before the suspect was arrested.
Another detained suspect was a 51-year-old housewife who was arrested on May 9, the day Malaysia held a general election, police said.
The woman was suspected of planning to drive a car into non-Muslim voters at a polling center on the outskirts of Kuala Lumpur.
"The suspect had also planned to crash into non-Muslim houses of worship using a car fitted with a gas tank to be used as an explosive," Mohamad Fuzi said.
Among the others detained was a Bangladeshi restaurant owner suspected of smuggling arms to foreign militants, as well as six Philippine nationals aiming to join Islamic State-linked gunmen who occupied a Philippine town last year.
A North African married couple, wanted for being Islamic State members in their home country, was detained before being deported on April 14, Mohamad Fuzi said. He did not give their nationality.
Muslim-majority, diverse Malaysia is on alert for violence, and authorities have arrested hundreds of people over the past few years for suspected links to militants, but it has never suffered a major militant attack.
Islamic State took responsibility for a grenade attack on a bar on the outskirts of Kuala Lumpur in 2016, when eight people were wounded. It was the first such strike in Malaysia.
https://www.usnews.com/news/world/articles/2018-06-01/teenager-housewife-among-15-suspected-militants-held-in-malaysia
--------
Arab Women's Sports Highlighted During Ramadan Majlis
May 31, 2018
SHARJAH: Arab women's sports were highlighted during the launch of the 7th Sharjah Ramadan Majlis. Nada Askar, Director-General of Sharjah Women's Sports Foundation, SWSF, lauded the outcome of the sports session, entitled, 'Arab Women Sports and Global Aspirations', held on Wednesday.
Hosted by Sharjah Press Club of Sharjah Government Media Bureau, SGMB, in partnership with Sharjah Media Corporation, the session discussed the sports achievements of Arab women, their impact on society, their ability to compete globally, and awareness about the importance of women's sports.
Commenting on the event, Nada Askar lauded the organisation of such sessions dedicated to Arab women in sports and their global aspirations.
Moderated by media personality Ahmed Sultan, the session featured Sheikha Shamsa bint Hashar Al Maktoum, Chairperson of the Women's Committee and Board Member of the UAE Volleyball Association, Nada Askar, Director-General of Sharjah Women's Sports Foundation, Dr. Mai Ahmed Al Jaber, Board Member of the General Sports Authority and Member of the Executive Office of the UAE National Olympics Committee and Sahar Al Obad, Chairperson of the Emirates Volunteer Society and Member of the UAE Athletics Federation.
http://gulftoday.ae/portal/80f0344a-ade9-47e0-9134-412973300de5.aspx
--------
Indonesia's Citilink cabin crew fly high with hijab uniform
01 June 2018
JAKARTA: Women flight attendants on Indonesia's low-cost Citilink airline have been given the option of wearing uniforms featuring a headscarf design.
"We came up with the idea so that female flight attendants could exercise their religious beliefs," Ranty Astari Rachman, Citilink's vice president of corporate social responsibility, told Arab News.
About 185 out of Citilink's 750 female flight attendants wear headscarves in their daily lives, she said.
The new uniform, which comes in dark green and lime green colors, was designed by an Indonesian designer, Luis Vioni, and features a "Gurdo Aji" — a bird creature from Hindu mythology.
Rachman said the hijab uniform would not compromise flight attendants' ability to provide safety and service for passengers.
Citilink, a low-cost subsidiary of Indonesia's flag carrier Garuda Indonesia, includes Aceh — the only province in Indonesia with autonomy to impose shariah law — and Jeddah among its routes.
Rachman said that before the uniform was launched, the airline already had a special head covering for female flight attendants on both routes.
Aceh's local administration announced in January that Muslim female flight attendants must wear headscarves when they fly in and out of the province, and non-Muslim flight attendants must dress modestly.
Aviation analyst Arista Atmadjati said the new uniform was timely since plenty of female flight attendants wore headscarves in their everyday lives.
"This is a good move to anticipate flying to destinations where Islamic culture is strong and modest attire for flight attendants would be preferred," he said.
http://www.arabnews.com/node/1313256/fashion
--------
Iran: Women partake in protests in Mashhad, Boukan, Shiraz
31 May 2018
Iranian women participated in protests in Shiraz (southern Iran), Boukan (western Iran), and Mashhad (in the northeast) on May 29 and 30, 2018.
Wednesday, May 30, 2018, residents of Masjid Yas district in Boukan, Iranian Kurdistan, marched to the Governor's Office to protest water and gas cut-off. A good number of women living in this district actively participated in this march.
On the same day, a group of women and men plundered by Afzal-e Tous Institute in Mashhad, capital of Razavi Khorassan Province in northeastern Iran, held a protest outside the Ayandeh Bank in this city.
On Tuesday, May 29, 2018, young women and men studying at the Industrial University of Shiraz staged a gathering and protested the translocation of the university's campus due to lack of budget to a new location with half-built buildings and insufficient commodities.
https://women.ncr-iran.org/iran-women-news/5217-iran-women-partake-in-protests-in-mashhad-boukan-shiraz
--------
Iran: 15-year-old girl remains in detention without legal warrant
31 May 2018
Ma'edeh Shabani-Nejad, 15, who was arrested in January for writing nationalistic and epical poetry in Arabic, remains in detention in Sepidar Prison of Ahwaz, southwestern Iran, because her family does not afford to pay the 350million-touman bail set for her release.
Born in 2002, Ma'edeh Shabani-Nejad (Amouri) is a freshman at Reyhaneh High School in Abadan and is a brilliant student. She writes and publishes them on social media.
The first time, Ms. Shabani was arrested was on October 17, 2017, when she was freed on bail after completion of her interrogations.
The second time, she was arrested in her uncle's house in Ahwaz on January 25, 2018, by the IRGC's Department of Intelligence and transferred to the IRGC detention center.
It was reported in late April that she has suffered GI hemorrhage and stomach ache under interrogation.
https://women.ncr-iran.org/iran-women-news/5218-iran-15-year-old-girl-remains-in-detention-without-legal-warrant
--------
URL: https://www.newageislam.com/islam-women-feminism/fgm-declared-religiously-forbidden-islam/d/115418
New Age Islam, Islam Online, Islamic Website, African Muslim News, Arab World News, South Asia News, Indian Muslim News, World Muslim News, Women in Islam, Islamic Feminism, Arab Women, Women In Arab, Islamophobia in America, Muslim Women in West, Islam Women and Feminism