New Age Islam News Bureau
6 Jun 2020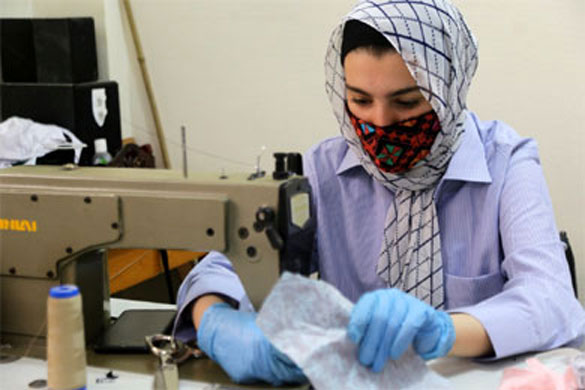 An Egyptian woman makes colourful bedouin-styled face masks on June 3, 2020, at the city of El-Arish, the capital of Egypt's North Sinai province, to be sold online to customers as part of COVID-19 coronavirus prevention. (AFP/File)
------
• Women in Egypt's Restive Sinai Makes Bedouin Face Masks
• Amid COVID19, Muslims Perform Last Rites of Kashmiri Pandit Woman
• Virtual Graduation Ceremony of The First Basic CoursePassports Training for Saudi Women Held
• NCRI Women's Committee Monthly Report Over Women Situation Under Iran's Misogynist Regime
Compiled by New Age Islam News Bureau
URL: https://www.newageislam.com/islam-women-feminism/fgm-egyptian-father-used-coronavirus/d/122051
--------
FGM: Egyptian Father 'Used Coronavirus Lie To Trick Daughters' Into Procedure
5 June 2020
A man in Egypt who allegedly had female genital mutilation (FGM) carried out on his three daughters after tricking them, has been charged along with the doctor who performed the procedure.
The doctor went to the girls' house after their father told them they would receive a coronavirus "vaccination", Egypt's prosecutor-general said.
The girls, aged under 18, were drugged and the doctor cut their genitals.
FGM was made illegal in 2008 in Egypt but remains prevalent.
A coronavirus vaccine currently does not exist although global trials to develop one are under way.
The girls told their mother, who is divorced from their father, about the procedure and she notified authorities.
"They lost consciousness and when they woke up they were shocked to find their legs bound together and a sensation of pain in their genitals," the prosecutor said in a statement.
Performing FGM was made a criminal act in Egypt in 2016, and doctors can be jailed for up to seven years if found guilty of carrying out the procedure. Anyone who requests it can face up to three years in prison.
But so far no-one has been successfully prosecuted under the law. Women's rights groups say judges and police do not take the legislation seriously enough.
"It's really shocking that authorities such as judges and the police continue to treat FGM cases with extreme leniency here," Reda el-Danbouki, executive director of the Cairo-based Women's Centre for Guidance and Legal Awareness, told AFP news agency.
In January, 14-year-old Nada Abdel Maqsood bled to death after forcibly undergoing FGM, sparking fury online.
Her parents and the doctor were referred to a criminal court, but Mr Danbouki says it is now unclear whether a trial will go ahead.
What is female genital mutilation?
Despite being outlawed in many parts of the world, the ritual is still practised globally.
The procedures alter or injure female genital organs for non-medical reasons, and often involve the removal or cutting of the labia and clitoris.
The UN estimates that 200 million women and girls alive today have undergone some form of genital mutilation.
In Egypt, it is widespread in both Christian and Muslim communities, and is often justified for cultural or religious reasons but is rooted in the desire to control a woman's sexuality.
As much as 87% of Egyptian women and girls aged 15-49 have undergone FGM, according to a 2016 survey by the UN Children's Fund.
It can cause lasting physical and mental trauma, including chronic infections, menstrual problems, infertility, pregnancy and childbirth complications.
https://www.bbc.com/news/world-middle-east-52922079
--------
Women In Egypt's Restive Sinai Makes Bedouin Face Masks
June 04, 2020
CAIRO: In El-Arish, the provincial capital of Egypt's North Sinai, a group of women sew colourful Bedouin designs on masks to combat coronavirus, as an insurgency simmers in their restive region.
Egypt's toll from the COVID-19 pandemic has reached over 28,600 cases, including more than 1,000 deaths, while North Sinai itself remains the bloody scene of a long-running Islamist insurgency.
"I learnt how to embroider when I was a young girl watching my mother," homemaker Naglaa Mohammed, 36, told AFP on a landline from El-Arish, as mobile phone links are often disrupted.
A versatile embroiderer, she also beads garments and crafts rings and bracelets.
Now with the pandemic, she has been designing face masks showcasing her Bedouin heritage.
Bedouins are nomadic tribes who traditionally inhabit desert areas throughout the Arab world, from North Africa to Iraq. Many have now integrated into a more urban lifestyle.
Egypt's Bedouin textile tradition of tatriz – weaving and beading rich geometric and abstract designs on garments, cushions and purses – has been passed down from generation to generation for centuries.
It has survived in the Sinai Peninsula, whose north has been plagued by years of militant activity and terror attacks spearheaded by a local affiliate of the Islamic State (IS) group.
Security forces have been locked in a battle to quell an insurgency in the Sinai that intensified after the military's 2013 ouster of Islamist president Mohamed Morsi.
In February 2018, authorities launched a nationwide operation against militants, focusing on North Sinai.
Around 970 suspected militants have since been killed in the region along with dozens of security personnel, according to official figures.
Local and international media are banned from entering heavily militarised North Sinai.
But for AmanyGharib, who founded the El-Fayrouz Association in El-Arish in 2010, the violence has not dissuaded her from keeping Bedouin heritage alive while at the same time empowering local women.
She now employs around 550 women like Mohammed – many of them casually or part-time – as part of a textiles workshop.
"The masks are composed of two layers – one inner layer directly on the face which is disinfected, and the colourful, beaded one outside," Gharib explained to AFP.
All the women take the necessary precautions while working, including wearing gloves and masks while using sewing machines.
The finished products are washed, packed and shipped off to distribution centres in Cairo, where they are sold online in partnership with Jumia – Africa's e-commerce giant – for about 40 pounds ($2.50) each.
The beading process takes about two days for each mask, Gharib said.
Amid the volatile security situation, Mohammed has been able to eke out a meagre living with her embroidery skills.
"We work and are given our dues depending on the orders we get... with the masks it has been a new challenge we've tackled," she said.
Dire economic conditions in Egypt have been even tougher for women of the Sinai since the pandemic began.
"Times are really tough for the women but we have adjusted," Gharib said.
And while militant attacks on security checkpoints have continued, Gharib expressed confidence in the army.
"We feel a sense of security and stability with the military presence. We trust them," she said.
The region witnessed the deadliest terror attack in Egypt's modern history when militants killed more than 300 worshippers in a mosque in November 2017.
Gharib said that in North Sinai's tight-knit community, each family knew someone who had been killed in an attack.
"Anyone of us who is killed, we consider them a martyr," she said.
"We are in a war with terror... but the people have learnt to live with it."
https://www.arabnews.com/node/1684691/lifestyle
--------
Amid COVID19, Muslims perform last rites of Kashmiri Pandit woman
June 5, 2020
People of a village here on Thursday participated in last rites of an octogenarian Kashmiri Pandit woman.
Rani Bhat, an elderly woman from Kaloosa village died a natural death on Wednesday evening.
Residents of Kaloosa and those from neighbouring villages while maintaining social distance visited the family and extended their help in making all the arrangements for cremation besides giving solace to the bereaved family.
The deceased is survived by two sons. One of her son is working in Kashmir University while another is a lecturer. The family, along with few other Pandit families had not migrated from the village. Instead they are peacefully living with Muslim neighbors.
Ravi Kumar, son of the deceased woman said, before he reached home on Wednesday evening, he found people from the village and adjoining areas having already assembled there.
"The affection shown by people despite pandemic is testimony to age-old brotherhood between different communities in Kashmir," Kumar said. He said all arrangements for the last rites were made by his neighbours and people were consoling the family as if they had lost their own family member.
The deceased Woman's other son said majority of their relatives were settled in Jammu and other parts of the country.
He said though they were informed about the death but could not attend the last rites due to the prevailing pandemic. "However, locals participated in the last rites of my mother in large number and gave her a memorable adieu," he said.
One of the neighbors of the Pandit family said the family never migrated from Kaloosa all these years. He said despite adversities, the family stood firm and showed faith in coexistence.
"The family is respected by all here. They had been living through thick and thin with their neighbours. How could have we remain away when the tragedy struck the family. Her death is great loss to our locality," said Ghulam Hassan.
Kaloosa is located in main Town of Bandipora. Before the onset of turmoil in 90s more than 50 Pandit families were residing in the area. However, majority of them have migrated and only five families are now peacefully coexisting with their Muslim neighbours.
https://www.greaterkashmir.com/news/kashmir/amid-covid19-muslims-perform-last-rites-of-kashmiri-pandit-woman/
--------
Virtual Graduation Ceremony of The First Basic Course Passports Training for Saudi Women Held
June 3, 2020
RIYADH – Maj. Gen. Sulaiman Al-Yahya, director general of Passports (Jawazat), attended the virtual graduation ceremony of the first basic course for women here recently.
At the ceremony, results of the course were announced and women trainees who made outstanding performance were honoured.
Speaking on the occasion, Maj. Gen. Al-Yahya conveyed congratulations of Minister of Interior Prince Abdul Aziz Bin Saud Bin Naif to the women trainees. He lauded the seriousness accorded to the course by the trainees.
He also underlined the need to have full sensibility about the responsibility as well as to work with the spirit of one team with making every effort to serve the country, the Saudi Press Agency reported.
The course was launched last December at the Women's Passport Training Centre for a period of 17 weeks, and was completed remotely on March 17. This is the first training course at the level of military training agencies to be implemented remotely in which trainees attended from their places of residence.
https://saudigazette.com.sa/article/593780
--------
NCRI Women's Committee Monthly Report Over Women Situation Under Iran's Misogynist Regime
5th June 2020
The National Council of Resistance of Iran's Women's Committee in its monthly report, while honoring the memory of RominaAsharafi, a teenage girl slaughtered by her father in a so-called "honor killing," stressed that due to the Iranian regime's medieval and misogynist policies, "thousands of Rominas in Iran are defenseless victims of the savage laws of the clerical regime."
The NCRI Women's Committee had previously highlighted in its statement on May 28 that the tragic beheading of Romina Ashraf was "The outcome of the oppressive and medieval policies and laws of the misogynist clerical regime that encourage and promote violence against women and girls. The religious fascism ruling Iran is responsible for the murder of RominaAshrafi."
While pointing to the regime's misogynist and medieval constitution, the NCRI Women's Committee wrote in its monthly report of May 2020: "Instead of creating protective mechanisms, the Iranian regime's laws promote violence against women. The Punishment Law has four chapters which contain 37 articles dealing with the most personal sexual issues. Using a repulsive language, these articles prescribe fierce punishments such as stoning, execution and flogging for sexual offenses. (Articles 224 to 261 of the Islamic Punishment Law adopted in April 2013)."
"Rampant poverty, inadequate education, limited access to information, and promotion of a misogynous culture by all media, text books, radio and television, and even movies, coupled with the common practice of violence in the streets and the scenes of public flogging and execution to create an atmosphere of terror and repression and fend off popular uprisings, lead to circumstances which legitimize honor killings and make murderers out of fathers and brothers," the report added.
In its report, the NCRI Women's Committee pointed to dozens of "honor killings" announced by the state-run media and asserted: "Although honor killings are not compiled and registered as official statistics, but the token examples occasionally published in the local and national press are horrifying. "
"Even if the savageries inflicted on women do not end up in their deaths, they have adverse consequences for the lives of thousands of young women and girls. A Welfare Organization advisor, FatemehAbbasi, announced that some 1,040 girls had fled home in 2017. Forty percent of these girls were under 15. She acknowledged that this figure was limited to the cases known to the Welfare Organization and that there are no accurate statistics available on the total number of runaway girls in the country," read the report.
The latest monthly report published by the NCRI Women's Committee once again shows that the Iranian regime with its medieval and misogynist nature has no respect for the Iranian people's lives, particularly women.
As the Iranian Resistance has repeatedly said, the United Nations High Commissioner for Human Rights, Michelle Bachelet, the Human Rights Council, international forums, and the UN special rapporteurs for women and children's rights must condemn the Iranian regime for its misogynist laws and practices that perpetuate such killings.
https://www.ncr-iran.org/en/news/women/ncri-womens-committee-monthly-report-over-women-situation-under-irans-misogynist-regime/
--------
URL: https://www.newageislam.com/islam-women-feminism/fgm-egyptian-father-used-coronavirus/d/122051
New Age Islam, Islam Online, Islamic Website, African Muslim News, Arab World News, South Asia News, Indian Muslim News, World Muslim News, Women in Islam, Islamic Feminism, Arab Women, Women In Arab, Islamophobia in America, Muslim Women in West, Islam Women and Feminism