New Age Islam News Bureau
7 Oct 2013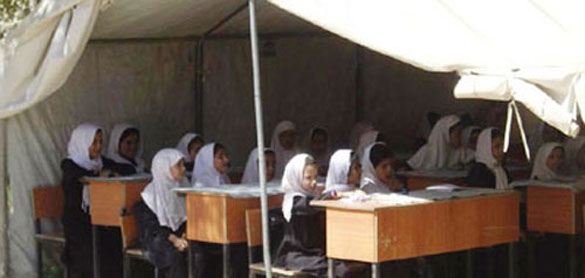 BC, Afghan Girls Launch Pen Pal Program, Photo Courtesy Professor Kathleen Bailey
-----------
• Boston College, Afghan Girls Launch Pen Pal Program
• Woman Caught Planting Bomb near Iraq Primary School
• Rape Used as Tool of War in Somalia
• 'Thank God I'm Not Dead': Malala
• 34 Saudi Women Marry Afghan, Bangladeshi Men
• Has Madonna Ditched Kabbalah For Islam? Singer Reveals She Is Studying the Quran
• Women Activists Launch Video of Woman Driving In Riyadh
• In Swat, Schoolgirls Pray For Malala's Nobel in Secret
• Emirati Women Break Down Barriers, Entering Business Sector
• Standing Up For Women's Rights Does Not Make Me a Feminist: Pakistani Poet
• Female Paramedics Must Be Employed – Shoura Member
Compiled by New Age Islam News Bureau
URL: https://www.newageislam.com/islam,-women-and-feminism/new-age-islam-news-bureau/few-tunisian-women-waging-syria-'sex-jihad'/d/13876
----------
Few Tunisian Women Waging Syria 'Sex Jihad'
AFP, Tunis
October 07, 2013
The number of Tunisian women travelling to Syria to wage "sex jihad" by comforting Islamists fighting the regime is very low, a senior interior ministry official told AFP on Sunday.
The official, speaking on condition of anonymity, seemed to play down previous government statements that suggested "sex jihad" was more widespread.
"At most about 15 Tunisian women went to Syria, most to care for fighters or to do social work," the official said.
But some of them were forced to have sexual relations with Islamist fighters once they were in the country, the official said.
"Four of them came back from Syria, and one is pregnant," he added.
"The pregnant woman said that she was caring for fighters and had to have sexual relations with them."
The official said, however, that women from Chechnya, Egypt, Iraq, France and Germany had travelled to Syria for "sex jihad".
"They were targeted for indoctrination over the internet and by foreign sheikhs," he added, referring to information obtained from Tunisian women returning from Syria.
Interior Minister Lotfi ben Jeddou told the National Constituent Assembly in September that Tunisian women had gone to Syria where "they have sexual relations with 20, 30, 100" militants.
"After the sexual liaisons they have there in the name of 'jihad al-nikah' -- (sexual holy war, in Arabic) -- they come home pregnant," Ben Jeddou said at the time.
Ben Jeddou did not elaborate on how many Tunisian women had returned to the country pregnant with the children of jihadist fighters.
Jihad al-Nikah, permitting extramarital sexual relations with multiple partners, is considered by some hardline Sunni Muslim Salafists as a legitimate form of holy war.
Meanwhile the head of the relief association for Tunisians abroad, Badis Koubakji, said "dozens of Tunisian women have come back" from Syria after carrying out the jihad al-nikah there and that "hundreds" were still there.
Koubakji said there was a camp for the women in the northwestern Syrian province of Idlib.
"It's a complete network and the interior ministry is not being transparent on this issue," he said on Sunday.
He said that these young women aged between 17 and 30 would not talk about their experiences because their families wanted to "preserve their honour".
NGOs in Tunisia have urged the government to do more to tackle networks recruiting young girls to travel to Syria.
The interior ministry said earlier this year that it had beefed up checks at airports to stop young Tunisians trying to reach Syria.
Ben Jeddou had said that since he assumed office in March "six thousand of our young people have been prevented from going there" to Syria.
Local media outlets in Tunisia have published several anonymous witness accounts from young women saying they had come back from Syria, but AFP has been unable to verify them.
Media reports say thousands of Tunisians have, over the past 15 years, joined jihadists across the world in Afghanistan Iraq and Syria, mainly travelling via Turkey or Libya.
http://english.alarabiya.net/en/News/middle-east/2013/10/06/Official-few-Tunisian-women-waging-Syria-sex-jihad-.html
----------
Boston College, Afghan Girls Launch Pen Pal Program
October 07, 2013
A new pen pal exchange program between female students at Boston College and Balkh University in northern Afghanistan is the first step toward a potential sister-school partnership between the two schools.
An official at the U.S. Consulate in Mazar-e-Sharif, Afghanistan recently reached out to political science professor Kathleen Bailey and Brooke Loughrin, A&S '14, about the potential for a partnership.
Earlier this semester Bailey and Loughrin were awarded a $17,500, multi-year grant from BC's Institute for the Liberal Arts for the interdisciplinary project "Empowering the Women of Afghanistan through Education and Islamic Teachings." The project includes a series of seminars aimed at educating the BC community about women's rights issues in Afghanistan.
The two contacted Catherine Russell, BC '86, who is the U.S. Ambassador at Large for Global Women's Issues, to speak in the spring.
Russell agreed, and her office then informed the American consulate in Mazir-e-Sharif about the project. At the time, officials there were searching for an American university to participate in a partnership with the local Balkh University. The consular immediately contacted Bailey and Loughrin asking if BC would be interested. Bailey and Loughrin enthusiastically agreed to participate.
"[The consulate] has talked to the community and local administration at the school about the partnership, but there has been a lot of touch-and-go support," Bailey said.
In order to ease into the partnership, which has yet to be finalized, the consulate thought a pen-pal exchange between female students at Balkh and BC would be a good first step.
Unlike most other Afghan schools, Balkh is known for educating women—about 40 percent of the school's more than 13,000 students are female.
"It is uncommon in Afghanistan for women to be educated past grade six, so it's really great that women are receiving an education at Balkh," Loughrin said.
The State Dept. has a strong presence at Balkh, and in the city of Mazir-e-Sharif. In addition to developing athletic fields and installing Internet at the university, the State Dept. recently built a dorm for girls.
"The State Dept. really wants to continue to have civilian relationships with Afghanistan," said Loughrin, who worked with the State Dept. as the first-ever U.S. Youth Observer at the United Nations.
The BC-Balkh sister-school partnership is a way for the U.S. to continue to have an impact on the Afghan community after the planned 2014 withdrawal of all NATO and U.S. forces from the country.
The U.S. consulate has reached out to members of the Balkh community about the partnership, and decided to ease into the program with the pen pal exchange.
The consulate is currently creating a list of female students at Balkh who will participate in the program, which will be over email.
As of now, the only restriction set by officials at Balkh is that only women can participate in the program. Bailey is unsure if Balkh officials and parents will screen the emails.
"Afghanistan has a much more conservative culture than us, so the girls' parents would be more comfortable if they knew their daughters are talking with other girls," Loughrin said.
Bailey said the female students at the university are very excited to begin. The consulate has identified between 20 and 25 students as proficient enough in English to participate, but more will join thse program as they become proficient.
"There is a keen interest from the Afghan women to practice their English. Through the pen pal program they will be able to improve this skill, which will help them in many ways," Loughrin said.
Bailey and Loughrin said that the Afghan women would lead the conversations, but that students here would be very engaged in the exchange.
"They will talk about topics of mutual interest, but the Afghan students will dictate where the conversation goes," Bailey said.
Loughrin hopes the women will develop one-on-one relationships that will last for many years.
"We've reached out to a lot of freshman and sophomores to become involved, so that they can develop multi-year relationships," she said.
There is great interest and enthusiasm for the program at BC. Bailey said the number of BC students interested is already beyond the number of Balkh women who will participate in the first wave. As more become proficient in English, though, more BC women will be invited to participate.
"I don't think there will be any shortage of things to talk about," Loughrin said. "There is great curiosity on the other side."
http://www.bcheights.com/news/bc-afghan-girls-launch-pen-pal-program-1.3073817#.UlJ8bNK-rXA
----------
Woman Caught Planting Bomb near Iraq Primary School
October 07, 2013
BAGHDAD: A guard caught a woman planting a bomb next to a primary school in Iraq on Tuesday, while two blasts killed four Sahwa anti-Al-Qaeda fighters, officials said.
The woman was trying to plant a bomb next to the wall of a school in Madain, south of Baghdad, but was discovered by one of the school's guards, who turned her over to the army with the help of a second guard, an interior ministry official said.
The attempted bombing came a day after a suicide bombers attacked a primary school and a nearby police station in northern Iraq, killing 18 people, including 10 children.
A total of 36 people were killed in attacks across Iraq on Tuesday.
North of the capital, two roadside bombs killed four Sahwa anti-Al-Qaeda fighters and wounded five on Monday.
The Sahwa, who joined forces with the United States from late 2006 and helped bring about a sharp reduction in violence in Iraq, are frequently targeted by Sunni militants, who consider them to be traitors.
Violence in Iraq has reached a level unseen since 2008, amid persistent fears of a relapse into the kind of intense Sunni-Shiite bloodshed that peaked in 2006-2007 and killed tens of thousands of people.
The latest violence takes this month's death toll to more than 170, and more than 4,850 since the beginning of the year, according to AFP figures based on security and medical sources.
http://www.dailystar.com.lb/News/Middle-East/2013/Oct-07/233830-woman-caught-planting-bomb-near-iraq-primary-school.ashx#ixzz2h2MkJyWb
----------
Rape Used as Tool of War in Somalia
By: Mahmoud Abdi
October 07, 2013
Any given issue will only be granted proper attention and importance within a society such as that found in Somalia when illustrated in poems. There is no doubt that it has never been easy to openly, publicly and thoroughly discuss the controversial issue of rape in a tribal society — even with the emergence of numerous women's rights groups, which have started to take actions — until poets started writing poems about this topic. When the Somali poet Ahmed Mahmoud Abdullah said that rape is harsher than death and this is why God forbade it, he refuted all justifications for any reluctance and hesitation to talk about these crimes.
Women victims of civil strife
Somali society witnessed a terrible state of self-destruction with the start of uprisings in response to the dictatorial regime at the end of the 1970s. Violations severely increased in the east and north of the country, during a decade full of tension across the country's regions. However, with the fall of the regime, in which some military commanders used rape as a tool to break the spirits of the residents of the rebellious regions, and given that the tribal conflict came to replace the conflict with the authorities, the phenomena of collective punishment, displacement and marginalization took a new turn. These phenomena include the well-established practices of rape and ethnic cleansing between rival groups seeking to eliminate their opponents and subject other vulnerable groups to their sphere of influence.
Despite the peace and stability characterizing certain Somali regions — such as the region that unilaterally declared itself the independent Republic of Somaliland in 1991, and to some extent the Puntland region in the north — vast areas in southern Somalia remained at the mercy of tribal balances. While the Union of Islamic Courts (UIC) managed to provide security in those regions for a period not exceeding six months, political conflicts returned to disturb the situation once again, deferring any dream of stability and security in light of the confrontation between the UIC and the government arising from the Somalia peace conference in Kenya led by Abdullahi Yusuf Ahmed.
With the government's intransigence, supported by foreign parties and in light of the provocation by UIC leaders of neighboring countries, the Ethiopian army entered to settle the matter. The latter's intervention caused new chaos. The government was dismissed and Al-Shabab extended their influence over most of the southern regions.
In 2007, the name of a 15-year-old Somali girl, Fardowsa Abdi Hashi, attracted much attention. She was one of the thousands of women who have been subjected to appalling attacks by foreign forces, after decades of criminal behavior among Somalis themselves. This was a new era of abuse against women and atrocities committed against their rights.
A victim of displacement once again
Dadaab refugee camp — the name is Arabic for "gravel" or "small stones" — is hell on earth. Its surface is so large that it can be seen from outer space. It is the largest refugee camp in the world, covering a total area of 50 square kilometers (51 miles) along the old town of Dadaab. The misery suffered by this ill-fated part of our planet is matched only by the concerted refusal of tribal politicians to stop racism and exclusion among Somalis, fanaticism of extremists usurping religion and the Kenyan authorities' rejection of Somalis as outcasts on their own occupied territories. These authorities consider Somalis an imminent security risk to the entity of the Kenyan state. Add to this the attacks by gangs of other national affiliations against the camp and its surroundings. These gangs carry out kidnappings and rapes of refugees, resulting in many deaths, under the nose of the security forces.
What is more frightening in the camp is the high rate of abuse against minors and the worrisome phenomenon of marrying victims off to the offender, in a desperate attempt to protect them from social ostracism in a tribal environment characterized by endemic ignorance and intolerance. Furthermore, with the increased risk of falling victim to these crimes and abuses, the rate of marriage of underage girls increases as well. These girls are searching for protection they often lack in their family, in light of the father's weakness due to illness or disability, or even the latter's absence as a result of death or departure in search of a livelihood for his family.
A tool to overcome unemployment and frustration
Violations against women's rights occur even in the most stable areas. These areas are suffering from weak governance, poor economic conditions resulting from high and exacerbated unemployment rates, continuing instability and individual and collective displacement to the cities. Increasing population growth is exceeding the capacity of official and nongovernmental organizations to provide basic services. For more than a decade and a half, there has been an increase in street children, which has resulted in the formation of gangs of teenagers, due to the lack of options for embracing and rehabilitating them. In light of this emergent phenomenon, it has become unsafe for women to go out of their homes unaccompanied. This is especially true during certain hours in the cities — early in the morning, in the afternoon or the evening. It is worth mentioning that cases of sexual assault (ranging from harassment to gang rape) have reached an unprecedented level. In some cities there is a rate of one rape per day. Some of these brutal acts take the lives of the victims. Adding to the seriousness of the matter, most of the victims of these crimes are young women who come from rural villages to the cities in search of domestic work. Given that they are unfamiliar with city life, these women are stalked by perpetrators, either lured or taken inadvertently away from any protection.
A lack of accountability
With the escalation of complaints and denunciations of the acts committed by foreign troops in the country, in addition to the ongoing exploitation of the fragile security situation by the army and security forces who are subject to the federal authorities, a state of despair and anger prevails. This has crushed hopes of improvement of the security situation in the country, with the government enjoying broad international support. Yet, in light of repeated cases of harassment, abuse and rape carried out by members of the army and security forces in more than one locality in the ​​jurisdiction of the government, voices were raised calling for the punishment of offenders. These offenders enjoy immunity to the extent that some victims end up being arrested. This was the case of a woman who was raped by security forces and imprisoned along with her husband. The two decided to expose the incident and to break their silence. Young journalist Abdul Aziz Noor Mohammad spared no effort to expose this crime in the media. After that he took it upon himself to help the victim and her family, so that the crime would not go unpunished. This is, at least, pending the approval of accountability mechanisms.
http://www.al-monitor.com/pulse/security/2013/10/somalia-conflict-rape-tool-war.html#ixzz2h1i4kCm8
----------
'Thank God I'm not dead': Malala
October 07, 2013
LONDON - Pakistani schoolgirl Malala Yousafzai's first thought was "Thank God I'm not dead" as she woke up terrified in British hospital after a Taliban gunman shot her in the head, according to extracts from her autobiography published in the Sunday Times newspaper.
But the 16-year-old, among the favourites for the Nobel Peace Prize which will be announced on October 11, said she was unable to talk, had no idea where she was and was unsure even of her own name when she emerged from a coma after six days.
In the extract from her book "I am Malala: The Girl Who Stood Up for Education and Was Shot by the Taliban", which is published on Tuesday, Malala said she remembered almost nothing of the attack itself.
The last thing she recalled on October 9, 2012, the day she was shot, was sitting with her friends on a bus as it rounded an army checkpoint on the way to school in the insurgent-riddled Swat Valley.
Friends told her that a masked gunman came on board the bus, asked "Who is Malala?" and then lifted a gun to her head and fired. Her friend said Malala squeezed her hand.
"I woke on October 16, a week after the shooting. The first thing I thought was, 'Thank God I'm not dead.' But I had no idea where I was. I knew I was not in my homeland," she wrote in the extract published by the Sunday Times.
Malala said she tried to speak but there was a tube in her neck, while her left eye was "very blurry and everyone had two noses and four eyes".
"All sorts of questions flew through my waking brain: where was I? Who had brought me there? Where were my parents? Was my father alive? I was terrified. The only thing I knew was that Allah had blessed me with a new life."
A doctor gave her an alphabet board and she spelled out the words "country" and "father" - her father was headmaster of the school that Malala had attended in Swat.
"The nurse told me I was in Birmingham, but I had no idea where that was... The nurses weren't telling me anything. Even my name. Was I still Malala?"
After the shooting Pakistani military neurosurgeon had carried out an emergency operation in which a section of her skull was cut out and placed under the skin in her stomach until it could be replaced in her head.
Malala was then flown to the Queen Elizabeth hospital in Birmingham for further treatment.
In Britain, Malala said her head ached so much that injections failed to stop the pain, her left ear kept bleeding and she could feel that the left side of her face was not moving properly.
Malala said that in Britain she enjoyed watching the cookery show Masterchef but did not like the film "Bend it Like Beckham", saying she asked nurses to turn it off because she was "shocked when the girls took off their shirts to practice in sports bras".
She enjoyed Halal fried chicken and the British cheese potato snacks Wotsits.
Her parents were finally able to get to Britain 16 days after the shooting and Malala said it was the first time she was able to cry since she was shot.
"All that time alone in hospital I hadn't cried even when I had all those injections in my neck or the staples removed from my head. But now I could not stop. My father and mother were also weeping," she wrote.
"It was as if all the weight had been lifted from my heart. I felt that everything would be fine now."
The Sunday Times reported that Malala, who is now at school in Birmingham, central England, would meanwhile meet Queen Elizabeth II in the latest in a series of honours for her campaign for girls' education.
The queen and her husband Prince Philip will host the event promoting education in Commonwealth countries on Oct 18."We understand that Malala Yousafzai will be attending the Commonwealth Universities and Education Reception at Buckingham Palace," a palace spokesman said.
Academics and teachers will be among the guests at the October 18 event.
The announcement is the latest in a series of impressive accolades for Malala's campaign for girls' schooling.
The 16-year-old is also among the favourites to win the Nobel Peace Prize, which will be revealed on Oct 11.
On Tuesday, meanwhile, Malala will publish her autobiography "I am Malala: The Girl Who Stood Up for Education and Was Shot by the Taliban".
http://www.nation.com.pk/pakistan-news-newspaper-daily-english-online/national/07-Oct-2013/thank-god-i-m-not-dead
----------
34 Saudi Women Marry Afghan, Bangladeshi Men
October 07, 2013
Manama: Justice Ministry sources in Saudi Arabia said that 34 Saudi women got married to Afghans and Bangladeshis last year.
The sources said that the figure was equally split between the two nationalities, 17 in each case, local daily Al Sharq reported.
However, 55 Saudi men took Afghan wives and 27 married Bangladeshi women, the sources who were not identified said.
Under Saudi rules, a Saudi woman can take a foreign husband only if she is at least 25 years old. The age can be lowered to 21 if she proves that she is a close relative of the groom.
A Saudi man has to be at least 30 years old to marry a non-Saudi woman and the age can be brought down to 25 if there is a close family relation between them.
The man has also to prove that he has a job and that he has a steady income.
Social experts attributed the tendency by Saudis to take non-Saudi spouses to the gradual change in local mindsets through contacts with other cultures.
"Marriages used to be confined to family members, then to neighbours," Fuad Al Mushaikhas said. "They have now stretched outside the Saudi kingdom. The fact that women go out to work could be one of the major reasons for taking up foreign husbands," he said, quoted by the daily.
The expert warned that under the law, Saudi mothers could not pass on their nationality to their children.
http://gulfnews.com/news/gulf/saudi-arabia/34-saudi-women-marry-afghan-bangladeshi-men-1.1239780
----------
Has Madonna Ditched Kabbalah For Islam? Singer Reveals She Is Studying the Quran
By ALADAIR GLENNIE
7 October 2013
It is almost a quarter of a century since she first sang Like A Prayer.
But it seems the intervening years have done little to help Madonna decide exactly who she's praying to.
For it appears the queen of re-invention may be on the verge of one of her most startling changes yet, after she revealed she was studying the Quran.
The 55-year-old was raised a Roman Catholic, but for the past 17 years she has been a devout follower of Kabbalah, a mystical offshoot of Judaism.
Now the singer, whose current partner is a Muslim, has begun investigating Islam.
She said: 'I am building schools for girls in Islamic countries and studying the Quran.
'I think it is important to study all the holy books.
'As my friend Yaman always tells me, a good Muslim is a good Jew, and a good Jew is a good Christian, and so forth. I couldn't agree more.
'To some people this is a very daring thought.'
Madonna has followed Kabbalah since 1996. She famously persuaded her former husband, British director Guy Ritchie, to attend Kabbalah services before they split in 2008. But she and her current partner Brahim Zaibat, 25, have reportedly argued about religion because of his Muslim faith.
Madonna is said to dilute her children's orange juice with specially blessed Kabbalah water, and often wears white clothes because they attract 'positive energy'.
In the past the entertainer has been challenged by senior Jewish figures for her faith, prompting her to say her beliefs 'would be less controversial if I joined the Nazi Party'.
In her latest interview, with Harper's Bazaar magazine, she said it 'made people nervous', adding: 'It made people mad. Was I doing something dangerous? It forced me to ask myself, is trying to have a relationship with God daring? Maybe it is.'
Madonna said she was a 'big believer in ritualistic behaviour' and was 'not a big fan of rules'. She explained: 'Rules people follow without question.
Order is what happens when words and actions bring people together, not tear them apart. Yes, I like to provoke; it's in my DNA. But nine times out of ten, there's a reason for it.'
Madonna's last attempt to build a school abroad was an embarrassing failure.
In 2008, a project to construct a girls' school in Malawi collapsed after it was claimed £2.4million was squandered on luxuries without a single brick being laid.
The project was conceived by her charity Raising Malawi, which she created in 2006 with the Los Angeles-based Kabbalah Centre International. She was not implicated in the financial scandal and was not on the board of the charity when it happened.
http://www.dailymail.co.uk/news/article-2447973/Has-Madonna-ditched-Kabbalah-Islam-Singer-reveals-studying-Quran.html#ixzz2h1hmZDFx
----------
Women activists launch video of woman driving in Riyadh
October 07, 2013
RIYADH — Saudi women's rights activists posted a video on social media websites showing a veiled woman driving a car Saturday in Al-Takhsosi Street in Riyadh, Al-Hayat daily reported. Male drivers on the street appeared to be accepting the sight of a woman cruising in a vehicle down the street.
The activists released the video less than three weeks from a campaign calling for women to be allowed to drive that is scheduled to launch on Oct. 26. The campaign has gathered the support of more than 12,000 people.
Asma Al-Oboudi, one of the activists, who also took part in the 1990 campaign advocating for women's right to drive in the Kingdom, said there is nothing in the law that bans women from driving.
She referred to the video saying, "This video shows that everything went normal with the lady driving in the street. No problems took place.
"No one should worry about women driving because women will abide by traffic rules."
http://www.saudigazette.com.sa/index.cfm?method=home.regcon&contentid=20131007182862
----------
In Swat, schoolgirls pray for Malala's Nobel in secret
By AFP
October 7, 2013
In Malala Yousufzai's home town, schoolfriends hope to see her win the Nobel Peace Prize this week – but they dream in secret, under pressure from a society deeply ambivalent about the teenage activist.
Malala, who survived being shot by the Taliban on October 9 last year, has become a global ambassador for education, feted by celebrities and politicians around the Western world.
But in Swat valley, many regard her with suspicion and even contempt.
Her longtime friend Safia has no such doubts. Peeling off from a group of girls at a high school in Mingora, the main town in Swat, she spoke confidently about her friend, and women's rights, in excellent English.
Malala is among the favourites for the Nobel, which will be awarded on Friday, and Safia said she deserves it. She supports Malala's efforts to get all children – girls as well as boys – to go to school.
"A bicycle cannot run with only one wheel: society is like a bicycle, with the male education as the first wheel and female education as the second one," she told AFP.
Beautiful, verdant Swat was once a honeypot for tourists, but it was plunged into war in 2007 when the Tehreek-e-Taliban Pakistan (TTP) took control and enforced a hardline rule until they were kicked out by the army two years later.
But pockets of militancy remain and a year ago a TTP hit squad shot Malala in the head at point-blank range on her school bus.
Remarkably, Malala survived and has spent the past year in England – first for treatment and then to continue her education.
Safia's sentiments are shared by many schoolgirls in Mingora, who want their country and their area to be known for something other than Taliban and bombs.
"Malala is a model, not only for us but for the whole Pakistan," said 14-year-old Rehana Noor Bacha.
Education has improved in Swat since the Taliban days. Since 2011 the proportion of girls going to school has risen to nearly 50 percent, from 34 percent, while that of boys is close to 90 percent.
But the authorities say they are short of at least a thousand female teachers and 200 classrooms for girls.
Malala has become one of the most famous teenagers in the world, attracting support from the likes of Madonna, Angelina Jolie, Hillary Clinton, Bono and Gordon Brown.
But this rise to stardom in the West, and her frequent appearances in the media, have brewed suspicion in the society.
The head of girls' education in Swat, Dilshad Begum, explained that in Pashtun society "people don't like to see women in front of cameras".
Maulana Gul Naseeb, a prominent figure in the JUI-F, was more forthright.
"America created Malala in order to promote their own culture of nudity and to defame Pakistan around the world," he told AFP.
Bizarre theories like this have gained ground on social networking sites, with users declaring themselves shocked to see the West elevate a girl "only" wounded while forgetting Afghan and Pakistani children killed by American bombs.
Driver Ali Rehman, 33, is among the sceptics.
"Local people never took her seriously. She became famous only because of international media," he told AFP, adding that nothing had changed except for Malala and her family who now have an easy life in the UK.
Malala first rose to prominence during Taliban rule in Swat with a blog for the BBC Urdu service chronicling the rigours of daily life under the TTP.
Safia said even people from Malala's village had opposed her, but that the critics were "hypocrites and jealous".
The threat of the TTP returning and the ubiquitous presence of the army which is now grudgingly returning control to the civilian authorities weigh heavily on the atmosphere in Swat.
After the attack on Malala, the students of Mingora's girls' school objected when the government tried to name it after her, saying they were afraid of attacks.
Even now, Dilshad Begum is reluctant to talk about Malala in public.
"I feel fear and I don't speak of her. People are silent about Malala even though they like her. Fear is still there somehow, despite optimism," she said.
Safia says she is optimistic and determined, and is doing better after spending three months feeling traumatised by the attack.
This week as the Nobel announcement approaches she will pray for Malala's chances, but warns it will make little difference if she wins.
"It will take at least three generations to make things change here," she sighed.
http://tribune.com.pk/story/614619/in-swat-schoolgirls-pray-for-malalas-nobel-in-secret/
----------
Emirati Women Break Down Barriers, Entering Business Sector
October 07, 2013
Abu Dhabi: Emirati women are breaking down barriers and entering the business sector traditionally considered a male domain. They have come forward to take up 35 per cent of SME (small and medium-sized enterprises) projects financed by the Khalifa Fund.
The 109 SME projects worth more than Dh113 million were allocated this year and Emirati women's participation is noteworthy, a top official told Gulf News on the eve of the Abu Dhabi Entrepreneurship Forum.
SMEs are now key to the UAE's economic growth and employment development, Hussain Jasem Al Nowais, chairman of the Khalifa Fund, said in an exclusive interview. Approximately 70 per cent of the UAE's economic growth is due to the SME sector, he said.
"The 109 projects worth Dh113.66 million were meticulously selected, based on the quality and innovation shown in their operations in different and diverse fields," he said.
Emirati women's projects are also in diverse fields — ranging from traditional crafts, cosmetics and engineering among others.
He urged all participants to avoid repetition and seek innovation to make their business succeed.
"The Khalifa Fund aims to build a stable and sustainable economy by expanding enterprises based across the UAE. We want to spread the culture of entrepreneurship and make it successful within the country. Definitely, we are going to face several difficulties and obstacles, which vary from management to project barriers. However, we are going to bridge all obstacles and make projects a reality," Al Nowais added.
"We are now looking to establish an association for entrepreneurs, where they can share their experiences and exchange benefits and ideas. The association will be able to help business owners strengthen their ideas, overcome obstacles and include the element of innovation in their schemes."
Around 1,500 participants have registered to attend the entrepreneurship forum, which is taking place in the capital for the first time, to nurture and inspire the next generation of young business leaders, the Khalifa Fund announced.
Held under the patronage of General Shaikh Mohammad Bin Zayed Al Nahyan, Abu Dhabi Crown Prince and Deputy Supreme Commander of the UAE Armed Forces, the three-day forum will be held at the Abu Dhabi National Exhibition Centre (Adnec) from October 7 to 9.
Success stories
The forum will start its activities by kicking off the fifth edition of the annual exhibition and ceremony on Monday, where 50 projects funded by the Fund will be displayed and success stories told.
Al Nowais said that via this exhibition, the Fund will be able to motivate other entrepreneurs.
"We will show how we have assisted the owners to overcome their obstacles, particularly during the start-up phase, which is the most challenging. The three-day forum aims to give the best possible access for the greatest amount of citizens, students and entrepreneurs to come and be inspired by the entrepreneurship stories so they can take advantage of the services offered by the Fund," he added.
The Khalifa Fund will not only enhance the UAE's economic growth, but will also showcase a number of social initiatives to serve the local community in the best way possible.
"The Sougha initiative, which aims to preserve the national heritage, can help divorced women, widows and retirees to have a sufficient source of income. The Khalifa Fund has brought professional experts from abroad, who can help skilled individuals, who have no educational background, to pursue their talents by converting traditional crafts into a lucrative source of income for themselves and their families," Al Nowais said.
Another initiative, which encourages farmers to adopt smart hydroponic methods and can save up to 80 per cent of water consumption, has been launched by the Khalifa Fund.
The form will also see the announcement of the Khalifa Fund Award for Entrepreneurship, which will be presented in different categories — Bedaya, Zeyada, Khutwa programmes, the heritage sector, membership programme and the best Emirati project for non-beneficiaries of the Fund's services.
http://gulfnews.com/news/gulf/uae/general/emirati-women-break-down-barriers-entering-business-sector-1.1239942
----------
Standing Up For Women's Rights Does Not Make Me a Feminist: Pakistani Poet
October 7, 2013
KARACHI: Literary critics call Azra Abbas a leading Pakistani feminist poet. She, however, finds them all at a certain distance to the work she has produced during the last four decades.
"My propensity towards standing up for the rights and injustices against women does not make me a feminist," clarified Abbas in a session hosted by writer and journalist Mohammed Hanif at the 2nd Floor on Saturday. For Abbas, some female and feminist poets try to use victimhood in their poetry to win admiration. "But I have not written a single poem against men in my life though I have always been at loggerheads with them [men]," she said.
Some people show bravery by facing and living life – dealing with things connected to daily life. Another kind of bravery is writing – putting on paper something which will have to face people's opinions and criticism. "Azra is remarkably brave like that," Hanif opened the session by saying. He read a few verses from her book, "Maiz Par Rakhay Hath".
The evening proved to be a tasteful mix of Urdu poetry readings and conversation with the poet combined with Hanif's exuberantly witty remarks and questions.
About 20 years ago, Hanif had asked her what she would have been if not a poet. She had replied she would be a terrorist. "Around 20 years ago being a terrorist wasn't as 'fashionable' as it appears today. Now, after 20 years, if I ask the same question again, would your answer still be the same?" he asked her and the hall echoed with laughter. During the session, Abbas read poems from her books and narrated stories from her life which won applause.
For Hanif, what strikes the reader about Abbas, are the feelings of melancholy coupled with the beautiful imagination she uses in her poetry. "From where do you get such an imagination and diction?" asked Hanif. Abbas returned the question with an innocent look. She was a dreamer and a rebel who had found the use of words to give release to her 'madness'. Her poetry began at an age when Abbas, a netball player at her college, used to switch on a tape recorder at the premises to dance with her friends.
Her writings reflect her childhood and the memories she has from her formative years. Her first prose book, titled "Mera bachpan", is a collection of her childhood memories. "Sometimes, when I feel sad and words to form poetry just do not come to me, I prefer to sit back and revel in my childhood memories," she said.
Abbas has served as a teacher for 27 years. When asked whether she enjoyed teaching, she answered in the affirmative. She added, though, that she was not happy with the syllabus. For students, meanwhile, Azra is more of a friend and mentor than a teacher. Abbas has authored three compilations of poems and another of short stories as well as an autobiographical narrative.
http://tribune.com.pk/story/614475/standing-up-for-womens-rights-does-not-make-me-a-feminist-azra-abbas/
----------
Female paramedics must be employed – Shoura member
October 07, 2013
RIYADH — Female paramedics are almost completely absent among staff of the Red Crescent Society Authority, deputy chairwoman of the health and environmental affairs committee in the Shoura Council Lubna Al-Ansari told Al-Eqtisadiah daily.
She demanded that the help of female Saudi paramedics should be taken within the working team of the authority's paramedics. She stressed that all members of the Shoura Council are speaking on behalf of Saudi families and that the council realizes the problems women face when there is a need for paramedics to intervene.
Al-Ansari said the presence of female paramedics will remove the embarrassment many women face when dealing with male paramedics.
"Nothing prevents the existence of female paramedics within ambulatory working teams. This is what is being demanded by the Shoura Council — to gradually employ female paramedics in the authority beginning with the centers in the cities, then the centers outside the cities on the expressways. We have plans for women to be present in government sectors where they were previously absent," she said.
She pointed out that the recent report by the Red Crescent Authority which was discussed in the Shoura Council's previous session has laid down the criteria for building ambulance outposts — at least one center for 50,000 people in densely populated areas, one center for 30,000 people in moderately populated areas and outside major cities there should be one center every 50 km. She added that she hopes the authority will expand its reliance on air ambulances in the rest of the regions.
During their 46th session, members of the Shoura Council demanded that the Ministry of Civil Service employ more women. Meanwhile, Dr. Nasser Al-Mousa demanded the Ministry of Civil Service expand the employment of women and not restrict employment to the health and education sectors. He proposed conducting a study to achieve justice in employment procedures in a way that ensures they are free from discrimination.
http://www.saudigazette.com.sa/index.cfm?method=home.regcon&contentid=20131007182886
----------
URL: https://www.newageislam.com/islam,-women-and-feminism/new-age-islam-news-bureau/few-tunisian-women-waging-syria-'sex-jihad'/d/13876