New Age Islam News Bureau
16 Dec 2019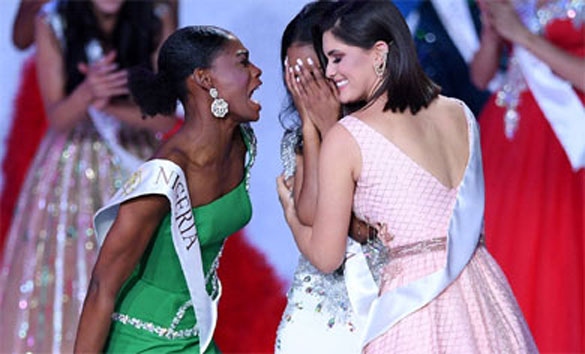 Daniel Leal-Olivas/AFP via Getty Images
------
• Feminism Comes Of Age in Finland As Female Coalition Takes the Reins
• Seeking Advice for Christmas Gift for a Muslim Woman
• The Internet Is Loving Miss Nigeria's Reaction To Losing The Miss World Crown
• Turkish Women Decry State Inaction In The Face Of Femicide
• Voices of Women across Borders on the Page
• Elizabeth Warren's Stealth Feminism
Compiled By New Age Islam News Bureau
URL: https://www.newageislam.com/islam-women-feminism/feminism-comes-age-finland-female/d/120539
------
Feminism Comes Of Age In Finland As Female Coalition Takes The Reins
Sat 14 Dec 2019
For more than a century, the Nordic country has blazed a trail for women in politics. But even there, the battle for equality isn't over, writes Emma Graham-Harrison
Emma Graham-Harrison in Helsinki
Just off Helsinki's main shopping drag, toddlers in glitter paint whirl round their mothers, who are somehow managing to listen intently to a lecture on how to boost their careers with LinkedIn. No one bats an eye at the intermittent shrieks.
It's business as usual at this Christmas networking meeting in the country that has come closer than perhaps anywhere else to making "having it all" a feminist reality, rather than an impossible goal to torment exhausted, overstretched women.
Finland is so proud of its commitment to gender equality, and its achievements, that it has even made a quirky international campaign out of its gender-neutral pronoun "hän" – trying to export its linguistic commitment to a world where no one is defined as "he" or "she".
But last week the Nordic nation found a far more potent ambassador for gender equality, when 34-year-old Social Democrat Sanna Marin was sworn in as prime minister, heading a coalition and a cabinet dominated by women.
She is the youngest serving premier in the world, mother to a toddler, and heads a coalition of four other parties that are all led by women. Three of them, like her, are under 40.
"It's great we have these young women taking leadership roles. Sanna Marin is the same age as me, and she is a really big role model for all of us working mothers," said Susanna Mikkonen, vice-chair of the Women in Business group that organised the networking event.
Finland has always been a pioneer in political gender equality, the first country in Europe to give women the vote in 1906, and the first in the world to allow them to stand as candidates in elections that same year. Since the start of this century it has had two female prime ministers – though both served only brief terms – and a widely liked female president who served for 12 years.
But this government feels to some in Finland and beyond like a new landmark; the coming of age of a generation that grew up with gender equality as a reality rather than an ideal.
'The country faces a bright future': Finnish readers on their new PM
"If I look at how it has been for me growing up, it was the time when Finland had Tarja Halonen as female president, she was quite an important icon, at least in terms of people doing politics," said Li Andersson, who at 32 heads the Left Alliance in the coalition and serves as education minister.
"There are all these stories in Finland about children who were asking their parents if a man can be president because they were so used to seeing the female president."
Generous parental leave policies, subsidised childcare and a commitment to work-life balance mean young working mothers are the norm here rather than the exception. Men are as likely as women to be chasing young children through Helsinki's vast new central library, or walking them home beside the city's lakes.
Statistics from the Organisation for Economic Co-operation and Development show it is the only country where fathers spend more time with school-age children than mothers, said Mikko Koivumaa, who as a diplomat in Japan became an unofficial ambassador for his country's family-friendly way of life.
He sees the national commitment to family life – ensuring that work stays within limits, and families can afford childcare – as one of Finland's greatest strengths, and the reason it comes near the top of a wide range of global social rankings.
Lose yourself in a great story: Sign up for the long read email
"That's what I like about this country and this system, and I think this is a big source of happiness," he said. He sees the new government as a natural consequence of that. "It looks eye-catching, but I don't think about it too much; they are just bright people in the right position."
Marin has also dismissed questions about her age and gender as irrelevant. Most Finns apparently agree; so far she has not had to face the questions about balancing parenthood and power that dog most female politicians – but vanishingly few men – elsewhere.
"The man who was running against her [as prime minister], he already declined a ministerial post during the last negotiations, saying he wanted to focus on his family. So that idea of family commitments was already there from a man," said Tanja Auvinen, head of the gender equality unit at the ministry of health and social affairs.
Like most people working on equality issues in Finland, she is extremely proud of Marin's government and the country's broader achievements in women's rights, but also wary of painting their society as a utopian ideal.
"For me it feels like I won the lottery when I was born as a girl in Finland," she said. "Our history has shown we can be proud of our achievements, but I also think we have to be vocal and always strive for better. We still have lots of work to do."
Among the most serious concerns is domestic violence, with rates for abuse and intimate partner killings among the highest in Europe. "This is a paradox: a high level of gender equality also produces an illusion of full equality already existing, and of further policies being unnecessary or excessive," said Kevät Nousiainen of the University of Turku, an activist lawyer.
Nousiainen has a case pending against the state, claiming an infringement of duty to protect women from violence, and says current legislation is not strong enough to safeguard women.
"It has taken decades to turn all forms of assault into crimes under public prosecution, and legislation making lack of consent rather than violence a decisive factor in rape is only now under preparation," she said. "Historically, feminist movements concentrated on economic independence rather than the personal integrity of women."
The labour market has been at the heart of women's political progress in Finland, said Johanna Kantola, professor of gender studies at Tampere University. "Finnish women's participation in the labour market has always been high," she said. "The country industrialised quite late, in the 1960s, and until then women and men were together working in farms and agriculture."
But there are problems. While men are entitled to parental leave, they account for only about 10% of the total, leaving mostly women caring for young children in their first year of life, with knock-on effects for careers, earnings and pensions.
Women in Business, with more than 4,000 members, tries to counter some of these inequalities, said the organiser of the Christmas event, Huong Huynh, a mother of two young boys: "A lot of information is about how positive things are, and it's still not all easy for women here."
The country has a 16% gender pay gap, gig economy work is on the rise, and it has one of the more gender-segregated labour markets in Europe, with men and women clustered in different professions. "I'd say half of the inquiries we receive from people are about working life, and half of those are pregnancy and family leave," said Jukka Maarianvaara, the ombudsman for gender equality. "This has been a similar proportion year after year, not the nicest thing in a country where you think there are no equality problems any more."
Maarianvaara said he also got complaints from men apparently unhappy about the progress of women's equality. When Marin's female-dominated cabinet was named, he got three written complaints and one phone call about the gender balance. "In the last government the cabinet was only 26% women and no one contacted us," he said wryly.
That resentment often manifests in online abuse. Most of the new government are on Instagram and other social media platforms, making it easier for them to connect with voters, but also easier for them to be targeted.
Andersson said the backlash could be hard to manage, but had tapered off as she rose up the ranks – another reminder that political equality can help women combat other forms of abuse and attack. "Positions of power expose you in some ways, but also protect you in ways that perhaps young women who are just starting out in politics don't have," she said. "It seems like the more power you get, the more careful people have become."
https://www.theguardian.com/world/2019/dec/14/feminism-finland-gender-equaity-sanna-marin
------
Seeking Advice For Christmas Gift For A Muslim Woman
Sorry if this is the wrong forum, I'm still relatively new to Reddit.
My daughter, H, has befriended a wonderful young lady in school, R. We identify most closely with Christian, although we don't often go to church. Her family is from Indonesia, and I have recently learned that they are Muslim. I have ZERO issues with other religions, but admittedly am not familiar with many other faiths.
We are hosting a small Christmas party for our daughter and her friends, and invited both R and her little sister. I talked to their mother first, and she assured me that she loves the idea, and even asked if she can come too. I agreed, and am looking forward to them coming.
Here's my dilemma - we have Santa Claus making a surprise appearance at the party (hired professional). The parents of the other kids are sending gifts for their kids, to be delivered by Santa. I'm making sure these two girls have gifts from Santa, but am also getting gifts for the adults at the party, from Santa. I want to include the girls' mother, but have no idea what to give. My typical 'go to' would be chocolates or bath soaps, but I don't know if she can have the chocolates (are they halal?) or if bath soaps could be misconstrued as offensive.
Can anyone give me some "safe" suggestions, since my Google searches are not helpful?
TLDR: Christmas gift ideas needed for Muslim woman attending a small Christmas party.
Edit: fixed "It's" should have been HER. So sorry for how that read!!!
Thank you, kind stranger, for the award! It's my very first one!
https://www.reddit.com/r/relationship_advice/comments/eatzsg/seeking_advice_for_christmas_gift_for_a_muslim/
------
The Internet Is Loving Miss Nigeria's Reaction To Losing The Miss World Crown
Dec. 15, 2019
By Alyssa Newcomb
Miss Nigeria didn't win the Miss World crown, but her giddy reaction when Miss Jamaica's name was announced as the winner on Saturday is going viral as an example of how friends should support each other.
Three women remained on the stage waiting to find out who would be crowned Miss World: Miss Nigeria, Nyekachi Douglas, Miss Jamaica, Toni-Ann Singh, and Miss Brazil, Elis Coelho.
When Singh was announced as the winner, no one seemed more excited than Douglas. Singh looked shocked at first, but Douglas didn't skip a beat.
She immediately started celebrating the big moment, did a happy dance and stomped her feet in joy. She then shouted her congratulations at the new Miss World and enveloped Singh and Coelho in one big group hug.
Fans on social media loved the show of support and remarked that we could all use a friend like Miss Nigeria.
"In 2020 when your friend starts a new business, podcast, therapy, anything that enhances their life. Be her Miss Nigeria," wrote one Twitter user.
Someone else wrote that "Miss Nigeria's reaction to Miss Jamaica winning #MissWorld2019 is the only energy I'm accepting around me!"
Miss Nigeria began trending on Twitter after the big moment. In an Instagram Live video after the competition, Douglas said Singh was "amazing" and was also a big supporter of her fellow contestants.
"She would be the one who would be like, 'Listen, you've got this,'" Douglas explained.
While she finished in the top five of the competition, it was Douglas's genuine excitement and support for her competitor that made her a big winner.
https://www.today.com/news/miss-nigeria-nyekachi-douglas-celebrates-miss-jamaica-s-miss-world-t170032
------
Turkish Women Decry State Inaction In The Face Of Femicide
CHARLIE PETERS
December 16, 2019
LONDON: Late on Tuesday last week, 20-year-old art student Ceren Ozdemir left her ballet class in the Black Sea province of Ordu to start her walk home.
She was followed. The man keeping up with her went undetected. When Ozdemir reached her front door, he stabbed her several times. Left to die in the street, she later succumbed to her injuries in hospital.
The next day, her killer — who has a dozen previous convictions, including robbery and assault — was arrested at a bus stop. He is now facing state prosecution.
Women's rights organization We Will Stop Femicide said that Ozdemir's death was the 430th registered murder of a woman in Turkey this year.
The group — widely considered to be a trusted source on violence against women in the country — claims that 440 women were killed last year, with 2019 set to beat that unwelcome record.
In this decade, the group says that more than 2,600 women have been killed, most of them at the hands of their partners.
Turkish women and rights activists are furious. Their anger is directed not only at male murderers and their accomplices, but also at the authorities, which they accuse of inaction and of fostering a culture that ignores the plight of women.
On Nov. 25, a week before Ozdemir's murder, 2,000 women gathered in Istanbul on the International Day for the Elimination of Violence Against Women.
They were forced away by the police, who used plastic bullets and tear gas to disperse the crowd.
On Dec. 8, hundreds assembled again in Istanbul's Kadikoy district to protest violence against women.
They gathered to join a coordinated international movement performing a dance and song called "A rapist in your path."
The event, first created by Chilean group Las Tesis, set social media ablaze after its debut performance in Santiago, Chile, went viral.
The Istanbul police once again used tear gas to disrupt the rally and deny women the opportunity to deliver their performance.
The EFE news agency reported that after demonstrators started to perform the Spanish- language song in Turkish, police snatched their megaphones.
Among those arrested was the leader of We Will Stop Femicide, Fidan Ataselim. One protester told EFE: "We came to scream against patriarchal violence and they have attacked us."
The group, which has branches across the country and around the world, released a statement demanding that a "minister of women" be established.
"The president, the prime minister and the leaders of all political parties should condemn violence against women," the statement added.
Clearly, Turkish women are disappointed with the political response to the spate of killings.
In August, after a woman's murder was captured on video — sparking nationwide outrage — President Recep Tayyip Erdogan announced that he would support any parliamentary act that would restore the death penalty.
But We Will Stop Femicide said: "Practices such as 'capital punishment' ... are human rights violations and (this group) rejects them as possible solutions."
The filmed murder of Emine Bulut, 38, whose throat was slit by her ex-husband in front of her daughter, led more than just Erdogan to wake up to the problem.
Istanbul Mayor Ekrem Imamoglu promptly blamed "male violence" for her death. Major football club Besiktas held a minute's silence in memory of Bulut.
And despite Erdogan's death-penalty propositions not being received positively by campaigners, Justice Minister Abdulhamit Gul said in September that his ministry would do anything to halt the violence.
"If it will save just one person, if it prevents one child, one woman from dying or facing violence, we will change not just a law but even the constitution," he said.
Ankara drove forward the ratification of a 2011 Council of Europe accord, the Istanbul Convention, which prioritizes gender equality. Turkey also passed laws in 2012 designed to protect women from violence.
But in a 2018 report, the Council of Europe said that the cause of violence against women in Turkey was gender inequality, and called on the country to remove traditions that lead to their practice.
Many Turkish Islamist commentators and public figures who support socially conservative laws have opposed the Istanbul Convention, arguing that equality is a corrosive influence in society.
In an interview with Reuters, Islamist writer Abdurrahman Dilipak said that restraining orders and laws for the protection of women fuel divorces and violence.
"Wandering among us is a devil with an angel's face which is organizing conflict, not peace, within the family," he added.
"The family is collapsing. With an international agreement (the Istanbul Convention), a trap is being set up against women, men, children and the family."
But campaigners believe that the devils are not the laws designed to protect them, but the men killing their mothers, sisters, daughters, cousins and friends.
Fidan Ataselim, We Will Stop Femicide's general secretary, said: "Men cannot accept that Turkey is a modern country where women have rights. Some of these men don't even think we have the right to live."
But hope is not lost. Ataselim believes that with the right legal campaigns, Turkish society can successfully fight back against the scourge of domestic violence and sexist killings.
"It's possible to stop femicide. The Istanbul Convention has to be applied effectively to strengthen and protect women. When it was signed in 2011, we saw a decrease in femicide figures," she said.
"We have to take this path. The law should be applied properly in order to keep women alive."
https://www.arabnews.com/node/1599456/middle-east
------
Voices Of Women Across Borders On The Page
Antara Raghavan
December 15, 2019
Indian historical narratives have typically been written by men; Women's voices have largely been unheard. Rakhshanda Jalil and Debjani Sengupta have tried to redress this absence in their new anthology Women's Writings from India, Pakistan and Bangladesh: The Worlds of Bangla and Urdu.
As Jalil says in the introduction, "It took a long time for women to find a real voice in Urdu literature it has been regarded as acceptable for men to write in women's voices on so-called women's issues expressing womanly concerns." The same can be said for women writers in Bangla.
All the short stories and poems raise issues of identity, language, ideas of a nation, feminism and women's responses to their environment. The works also cover the range of the events that shaped the subcontinent's recent history. Sengupta points out, "It is not surprising that women's voices are not just about what happens to themselves but about the world they inhabit." She adds, "[These writings] are incredibly relevant to us today because they reflect with daring accuracy the realities of the subcontinent."
The works in this volume focus on crucial issues from the recent past, for instance the brutality of the Bangladeshi army on the marginalised communities in Chittagong in Selina Hossain's short story The Forest land ( Bonobhumi ); or the rationalising of casual crime in Pakistani author Aniqa Naz's story The Roll of Dice , set in Karachi.
This isn't the first time Sengupta and Jalil have worked together, having collaborated earlier on a volume on Partition. "We wanted to now look at women's writings and in the process also explore feminism, its concerns and scope," explains Jalil.
Sengupta stresses, "This collection explores the issues of women without jingoism or political appropriateness." She cites an example of how Dalit feminist identities are discussed, in pieces from West Bengal, by Kalyani Thakur and Manju Bala. She elaborates, "These texts talk of representation, history and Dalit identities that still smart under prevalent casteism."
The focus on contemporary Bangla and Urdu writing was a way of looking at languages that exist in and out of India.
Sengupta says, "Both languages had a life after 1947 that helped them to refashion their cultural spheres in a divided land." Jalil adds, "The feminist movement in Pakistan had a dramatic flowering due to General Zia's repressive rule. I couldn't find anything commensurate among Indian feminist Urdu poets. That begs the question why?" She concludes, "Anthologies don't always have answers. They seek to frame questions and these are just as important. They need to be asked."
Get real-time alerts and all the news on your phone with the all-new India Today app. Download from
https://www.indiatoday.in/mail-today/story/voices-of-women-across-borders-on-the-page-1628445-2019-12-15
------
Elizabeth Warren's Stealth Feminism
By LIZA MUNDY
12/13/2019
In the early 1980s, the University of Texas law school boasted a good-sized faculty of some 60 professors, only a handful of whom were women. At a time when the legal teaching field was egregiously male-dominated, Texas was no exception; yearbooks from the era show an array of grave-looking older male faculty members in sober suits and horn-rimmed eyeglasses; a sprinkling of flashier young guys with mustaches and long hair; and the occasional female hairbob few and far between. "You could start a law school with all the women Texas turned down, and it would be so stellar, you couldn't believe it," recalls Patricia Cain, who in 1974 had become the first tenure-track woman hired.
In the years after Cain broke the hiring barrier, she watched intently as a half-dozen or so women came on. She pushed for more, but the boys' club was alive and well. Then, in 1981, the school agreed to try out a dynamic young woman named Elizabeth Warren.
On the face of it, Warren and Cain had surprisingly little in common. Cain was a classic boundary-breaker of the era: a liberal, a lesbian and an unabashed feminist. Even now, nearly 50 years later, she still has her copy of the inaugural issue of Ms. Magazine. Warren was a product of the tradition-minded Midwest, a mother of two and the kind of mainstream woman-in-a-man's-world who didn't make feminism a "thing," as Cain puts it. Perhaps because of this, when Warren first came to the University of Texas as a visiting professor—the tryout role for potential hires—their paths didn't much cross. A movement was coalescing called "feminist legal theory," which held that the law, rather than being an instrument of justice, historically was a weapon used to consign women to subordinate status, and Cain gravitated toward another visiting professor who was advancing that theory. Of Warren, she recalls: "She just wasn't in a position to kind of coalesce with the feminist side of the aisle," though, "I think she was evolving."
Story Continued Below
Cain and Warren did, eventually, forge a connection. In 1983, Warren came to Texas as a full-time faculty member, and they bonded over logistics—and love. Cain was in a relationship with a law professor at the University of California, Davis, while Warren was married to Bruce Mann, a legal historian teaching at Washington University in St. Louis. "I had the same kind of commuting relationship she had with Bruce. We kind of shared that misery together," Cain says. She was impressed by how supportive Mann was of Warren's career. She also admired Warren for volunteering to teach bankruptcy law, a complex topic that was—and remains—a very male domain. "I thought that was very brave of her," Cain says.
During these conversations, moreover, there were signs that Warren was paying closer attention than it might appear to gender inequities in their field. "She had thought about it—how we were being treated by this institution," Cain remembers. Warren's view was that their male peers, struggling to learn how to deal with women as colleagues and equals, coped by assigning them familiar female roles. Cain recalls Warren venturing that one of the other female professors "more fit into the mother image—they sort of knew how to deal with her, because they all had mothers." She felt the men found Cain harder to peg. And Warren? "She described herself," Cain says, "as probably the kid sister."
It could have been an offhand remark, but as the 2020 race unfolds, with Warren as the leading female candidate, the question of just how a woman should pursue an office that has only been occupied by a man has swirled around her. It is a tough truth that full-throated feminism could help Warren in the Democratic primary but hurt her in the general election. And although she might strike voters as similar to Hillary Clinton—a fellow lawyer who came of age in the same era, policy-driven and hyperprepared—Warren's approach to feminism, and to what it means to run as a woman in 2019, is harder to define. But her history in Texas and afterward offers clues.
Warren, who was born in 1949, was a kid sister growing up in post-war Oklahoma. "She has three older brothers, which is significant," says her friend Elizabeth Vale, who worked with Warren at the Consumer Financial Protection Bureau, the agency Warren launched after the financial crisis. That Warren, during her formative years, was obliged to play in what we might call male spaces, is—Vale speculates—part of the key to who she became. Rather than build a feminist critique of the power structure or set about dismantling the patriarchy by taking on sex discrimination cases, Warren chose to enter male fields and compete toe-to-toe.
Another Texas colleague, Jay Westbrook, uses the phrase "tomboy" to describe her: the kind of scrappy, two-fisted girl who enjoys competing with the boys, loath to complain about getting scratched and scraped in the fray. By adopting this approach, Warren has lived a compelling story of confronting and surmounting just about every impediment the past seven decades have presented to high-achieving women—but it's a story that could seem to have unfolded in a world parallel to, and apart from, the organized feminist movement. For much of her career, she has not been a vocal champion of women's rights, her rhetoric more muted than candidates like New York Senator Kirsten Gillibrand or Hillary Clinton. "I don't think she has a specific gender lens," Vale says.
More recently, though, a new Warren has emerged. In a statement to Politico Magazine, Warren said that while the financial and economic topics she focuses on aren't always talked about as "women's issues," when she ran for the Senate in 2012, she detected "a renewed focus on reproductive rights and violence against women" and "felt a new sense of energy among women I met on the campaign trail." And as one of only two viable women candidates remaining in the Democratic presidential primary field, she invokes gender—its advantages and outrages—with increasing fierceness. When the Democratic frontrunner, Joe Biden, accused her earlier this fall of having an "angry, unyielding viewpoint," Warren fired off a fundraising email saying, "Over and over, we are told that women are not allowed to be angry. It makes us unattractive to powerful men who want us to be quiet." She has a ritual slogan for girls who come to her events: "Running for president—that's what girls do," she says, coaxing them to "pinky swear" that they'll take this idea to heart. Her campaign website offers a line of feminist merchandise, including "That's What Girls Do" T-shirts and a "Pinky Promise" baby onesie. She has vowed to wear a Planned Parenthood scarf to her inauguration and, alluding to fighting climate change, said, "I will do everything—oh, I love saying this—a president can do all by herself."
Warren also has started appealing to groups that identify around gender, with three key speeches evoking the advocacy of 19th- and 20th-century working-class women—seamstresses, garment workers and laundresses. And she has begun talking more about hardships she encountered in her own career, such as the harassment she suffered as a young professor at the University of Houston law school, where a more senior male colleague relentlessly made dirty jokes and commented on her looks, then invited her to his office where, she told NBC, he "slammed the door and lunged for me."
That she is amping up the feminist volume might be because she feels freer, even obliged, to do so in a post-#MeToo era. Part of it, too, is surely because she must distinguish herself from her male rivals in a competitive primary. But maybe Warren's enhanced outspokenness is not quite the pivot it seems. Without saying so, Warren long has practiced a kind of stealth feminism, gravitating toward the epicenter of male power in order to attack it from within. As both a law professor and a politician, her key targets—banks, billionaires and Big Tech—represent the chief remaining bastions of male privilege and wealth, while fields like law and medicine have been thoroughly feminized. Warren's signature issue—a "wealth tax"—would fall harder on men, insofar as there are more male billionaires than female ones. If "angry" is the code word lobbed at powerful women, Warren deploys "billionaire" as code for powerful men.
When one of those billionaires, former New York Mayor Michael Bloomberg, entered the presidential race just as California Senator Kamala Harris was dropping out, Warren's campaign fired off another email pointing out that two women senators "have been forced out of this race, while billionaires Tom Steyer and Michael Bloomberg have been allowed to buy their way in." She reiterated the point in a thread of tweets on December 6, vowing to carry on Gillibrand's work on paid leave and Harris' on reproductive rights.
As Warren's surge in the polls fades, she faces an existential moment. She remains one of the top four Democratic candidates, and the only woman among them; Minnesota Senator Amy Klobuchar has been stuck in the single digits. Klobuchar has permitted herself to blame her own standing at least in part on sexism, noting, "Women are held to a higher standard." Which is true, but not entirely: There are new and very real advantages to being a female candidate in America today. Yet, it would be a mistake to underestimate the extent to which female authority figures trigger hostility in sectors of the electorate. And women themselves are hardly monolithic; when Warren tweeted about billionaires, there materialized a thread of responses accusing her of pandering—presumably, to female voters—and others accusing her of not pandering enough. As she attempts to find her voice on women's rights, Warren seems to be defining feminism as confronting the male ruling class, especially its economic entitlement, head-on, but not always in an explicitly gendered way. And she is showing how that is done.
https://www.politico.com/news/magazine/2019/12/13/elizabeth-warren-stealth-feminist-081556
------
URL: https://www.newageislam.com/islam-women-feminism/feminism-comes-age-finland-female/d/120539
New Age Islam, Islam Online, Islamic Website, African Muslim News, Arab World News, South Asia News, Indian Muslim News, World Muslim News, Women in Islam, Islamic Feminism, Arab Women, Women In Arab, Islamophobia in America, Muslim Women in West, Islam Women and Feminism