New Age Islam News Bureau
11 Feb 2016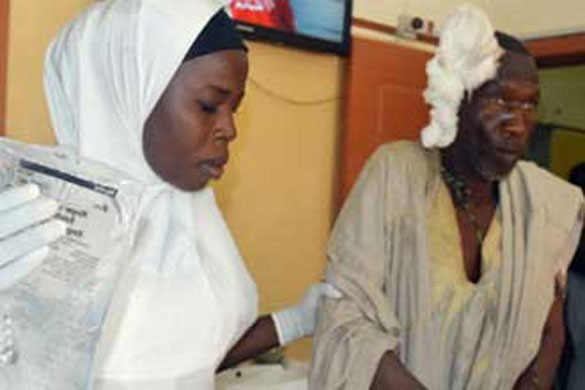 Photo: A victim of a suicide bomb attack at a refugee camp receives treatment at a hospital, in Maiduguri, Feb. 10, 2016. (Photo: AP, Jossy Ola)
----------
• Female Suicide Bombers Kill Over 60 People in Northeast Nigeria
• UAE Appoints 22-Year-Old Female as Minister for Youth
• Ishrat Jahan Was a Suicide Bomber for LeT, David Headley Tells Court
• My UAE: We Have Lift Off With the Olympics Hopeful Amna Al Haddad
• Czech Republic Paid Ransom for Two Czech Women
• Petition Launched to Stop Appropriation of Afghan Clothing, The Women's Gilet
Compiled by New Age Islam News Bureau
URL: https://newageislam.com/islam-women-feminism/female-suicide-bombers-kill-60/d/106313
-----------
Female suicide bombers kill over 60 people in northeast Nigeria
February 10, 2016
Two female suicide bombers killed more than 60 people at a camp for people displaced by an insurgency of the jihadist Boko Haram group in the northeast Nigerian town of Dikwa, military and emergency officials said on Wednesday.
The attack occurred 85 km (50 miles) outside the capital of Borno state, centre of the seven-year insurgency, they said. It took place on Tuesday, but a breakdown in the telephone system prevented the incident being made public earlier.
The two female suicide bombers sneaked into an internally displaced persons (IDP) camp and detonated themselves in the middle of it, emergency officials and the military source said.
The chairman of the State Emergency Management Agency, Satomi Ahmad, added that 78 people were injured.
No group claimed responsibility but the attack bore the hallmarks of Boko Haram, which has frequently used female bombers and even children to hit targets.
The militant group has recently increased the frequency and deadliness of attacks with three at the end of January. At least 65 people were killed outside Borno state capital Maiduguri on Jan. 31.
Since it lost territory to a government counter-offensive last year, Boko Haram has reverted to hit-and-run attacks on villages and suicide bombings at places of worship or markets.
Boko Haram has only rarely targeted camps housing people displaced by the conflict and Tuesday's attack was the first one to kill victims in Borno state.
The military said militants made one abortive attempt on a camp on the outskirts of Maiduguri on Jan. 31. Boko Haram hit a Nigerian IDP camp for the first time last September, in the Adamawa state capital of Yola.
todayszaman.com/world_female-suicide-bombers-kill-over-60-people-in-northeast-nigeria_411997.html
----------
UAE appoints 22-year-old female as Minister for youth
10.02.2016
The United Arab Emirates (UAE) has named a 22-year-old female Oxford graduate, Shamma AlMazrui as the minister of state for youth affairs.
The young woman was among the new ministers appointed today, February 10.
"After discussion with my brother Mohammed bin Zayed and the approval of the President, we hereby announce the new UAE cabinet," the Vice President, Mohammed bin Rashid Al Maktoum said on Twitter.
He continued; "The new cabinet focuses on the future, youth, happiness, developing education, and combating climate change." UAE appointed ministers for tolerance and happiness, adding that happiness is not just a wish, it is a process that must be planned and worked out.
"We have appointed Lubna bint Khaled al Qasimi as minister of state for tolerance. We hope she will play both a local and regional role. "Thani Al-Zeyoudi as minister of climate change and environment. At 32, with a PhD in renewable energy. Ohood Al Roumi as minister of state for happiness. She remains responsible as DG of the Prime Minister's Office.
"National happiness isn't a wish. Plans, projects, programs, indices will inform the work of our ministries to achieve happiness".
However, the youngest minister in the Muhammadu Buhari cabinet is 48, in the person of the minister of Finance Kemi Adeosun.
The current Minister for youth and sports, Solomon Dalung, is 51 years old.
pulse.ng/world/united-arab-emirates-govt-appoints-22-year-old-female-as-minister-for-youth-id4672350.html
----------
Ishrat Jahan was a suicide bomber for LeT, David Headley tells court
TNN | Feb 11, 2016
MUMBAI: Pakistani-American terrorist David Coleman Headley said on Thursday that Mumbra resident Ishrat Jahan was a suicide bomber for Pakistan-based terror outfit Laskhar-e-Taiba.
"Jahan, who was killed in a 2004 encounter by Gujarat cops, was a Lashkar member," Headley said while deposing for the third day before a Mumbai court via video from the US.
The Ishrat Jahan encounter took place on June 15, 2004, and involved encounter killings of Ishrat Jahan Raza, a 19-year-old girl from Mumbra, Maharashtra, and three men, Pranesh Pillai (alias Javed Gulam Sheikh), Amjad Ali Rana and Zeeshan Johar who were allegedly linked to terrorists, by officers of the Ahmedabad Police Crime Branch.
The report said that Jahan and three others had arrived in Gujarat with the intention of carrying out terror strikes and also targeting Narendra Modi who was the chief minister of the state at the time.
David Headley confirmed to the Mumbai court that there was a women's wing of the LeT. "The operation was about to shoot police at some naka. One woman LeT named Ishrat Jahan was involved," Headley told the court.
Deposing from an undisclosed location in the US, Headley had told special judge G A Sanap that ISI was helping different terror outfits in Pakistan and was providing financial, military and moral support.
Headley could not testify yesterday because of a technical snag in video conferencing.
Headley, who had scouted in detail the places in Mumbai that were attacked by 10 LeT terrorists on November 26, 2008, also revealed that the outfit had initially planned to attack a conference of Indian defence scientists in the Taj Mahal Hotel.
He said he also scouted the famous Siddhivinayak Temple and Naval air station on directions of LeT commanders.
Headley said earlier in the week that he knew ISI official Brigadier Riyaz as the handler of LeT's top commander Zaki-ur-Rehman Lakhvi, who was the mastermind of 26/11 attacks.
Headley, who had visited Mumbai seven times to scout for targets, revealed that plans to target Mumbai had started over a year before 26/11.
timesofindia.indiatimes.com/india/Ishrat-Jahan-was-a-suicide-bomber-for-LeT-David-Headley-tells-court/articleshow/50941553.cms
----------
My UAE: We Have Lift Off With the Olympics Hopeful Amna Al Haddad
February 11, 2016
The 26-year-old professional weightlifter has worked hard to try to realise this dream.
"It takes training using a supervised and very scientific approach from day one for at least 10 to 20 years in the sport to achieve the top spot in the Olympic weightlifting. It is a very tough sport," says Al Haddad, who is living and training in the United States.
She grew up in Dubai, and led a relatively unhealthy lifestyle until she was 19. "One day I woke up and realised that I couldn't continue living like that, so I took it upon myself to take much-needed action and go for a run. That was where it all began."
Al Haddad, who holds a degree in communications and previously worked as a journalist at The ­National, soon found CrossFit.
At CrossFit Asia in 2012, Al Haddad was the first Emirati, GCC national and Arab female to compete.
"Through CrossFit, I fell in love with weightlifting, and made the decision to focus on it. That is what I have been doing for the past four years."
After Al Haddad gained the attention of Nike, she was featured in a series of short films, featuring inspirational stories of professional athletes from the ­Middle East.
"Support from global brands such as Nike matters so much," she says. "Whether you are a fledgling athlete or a recognised sports star, its backing puts you in the spotlight, and helps you further your ambition."
In the film, Al Haddad speaks about how she pushes every day to reach her goals. "I believe I have reached the milestones I have through pure hard work and dedication," she says. "My greatest achievement has been in paving the way for women in the Arab world in strength sports."
Her advice for those following in her footsteps? "Keep fighting for your goals, and know for a fact you will be a rejected a lot, but don't let that stop you," she says.
What's your favourite book?
That's a tough one, but I would pick the book Feel the Fear and Do It Anyway by Susan Jeffers. It was such an eye-opening book, and had many great insights when it comes to fear and success.
What do you love doing in your spare time?
I reflect a lot. I think it is important to learn to review your actions and feelings on a daily basis to assess how you are doing and how you are making the world a better (or worse) place. I am not afraid of solitude.
If you could invite any three people in the world over to your house for dinner, who would they be?
I would say Sheikh Zayed, Bruce Lee and Muhammad Ali. I feel each one of them will have an amazing insight on life, people, sports and perseverance.
Who do you idolise in weightlifting?
The Pakistani-American weightlifter Kulsoom Abdullah, who defied the rules for covered women competing wearing the Hijab.
Where's your favourite place to travel?
Anywhere with a lot of natural beauty; somewhere distinctly different to the city. I do enjoy the city as well, so my ideal place would be a mix of both.
If there was a movie written about your life, who would play the leading role?
Probably myself. I don't think anyone can take on my character as well as I can, and I am not a bad actress. I can keep the intensity "on". It's no different than lifting on stage in front of hundreds of people. That too is a performance, after all.
What five things do you never leave home without?
My phone, my fitness book, MP3 player, my faith and my confidence to take on anything the world throws at me.
What car do you drive, and what does it say about you?
I have a 2002 Honda in the United States, and a 2009 Mazda 3 in the UAE. They say I am simple, down to earth and don't care for expensive things. But having said that, a Mustang GT is my dream car, or a Camaro.
What music do you currently have on repeat?
I listen to metal and rock music a lot. But I would say the song Stressed Out by Twenty One Pilots has been this year's favourite.
thenational.ae/arts-life/my-uae-we-have-lift-off-with-the-olympics-hopeful-amna-al-haddad
----------
Czech Republic paid ransom for two Czech women
February 11th, 2016
PRAGUE: President Milos Zeman says the Czech Republic paid a ransom for the release of two Czech women who were kidnapped in Pakistan in 2013.
Hana Humpalova and Antonie Chrastecka were on the road from Iran to Quetta when they were seized in March 2013.
They returned home last year in March and the government said their release was negotiated by a Turkish non-governmental humanitarian organisation.
Mr Zeman confirmed on Wednesday information about the ransom first released in the latest edition of the weekly magazine Respekt. He said during a visit to a western Czech region that 150 million koruna ($6.2m) was paid, adding it was a tough decision.
The government had earlier denied any ransom was paid.
dawn.com/news/1238763/czech-republic-paid-ransom
----------
Petition Launched to Stop Appropriation of Afghan Clothing, The Women's Gilet
By Khaama Press - Wed Feb 10 2016
A petition has been launched to stop the appropriation of traditional Afghan clothing sold at high price by a global fashion company.
The Afghan Women in The Diaspora has started the online petition to regain the credit for the traditional clothing – the women's gilet.
"Enough with the cultural appropriation ASOS! My culture's clothing is not a "costume" for your festivals!!!," the petition reads, urging the seller to give credit to Afghanistan for the designs.
The petition also adds "My culture is not a Festival embellishment but holds thousands of years of history! The vest is going for £60 when probably the women who made it in Afghanistan weren't even paid £20."
The petition has attracted over 700 supporters so far, according to change.org website operated by Change.org Inc., an American B Corporation [1] that provides a tool for people to advance social causes.
Meanwhile, the seller of the traditional clothing responded to the query via Twitter, saying " Thanks for getting in touch about this. We take queries like this very seriously and we're sorry that our product has offended you in this way. I've passed on your feedback to the relevant team who are looking into this as we speak."
"I am not certain how much value these responses hold but please keep sharing the petition!," the Twitter post adds.
khaama.com/petition-launched-to-stop-appropriation-of-afghan-clothing-0105
URL: https://newageislam.com/islam-women-feminism/female-suicide-bombers-kill-60/d/106313
New Age Islam, Islam Online, Islamic Website, African Muslim News, Arab World News, South Asia News, Indian Muslim News, World Muslim News, Womens in Islam, Islamic Feminism, Arab Women, Womens In Arab, Islamphobia in America, Muslim Women in West, Islam Women and Feminism