New Age Islam News Bureau
22 Sept 2018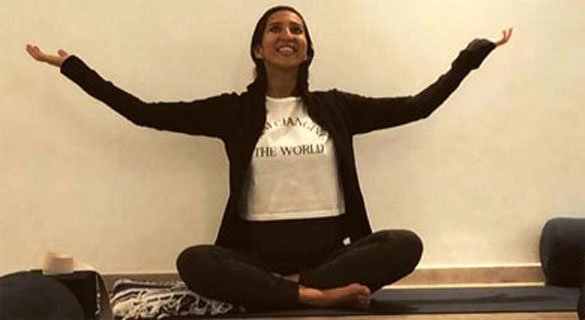 Certified yoga instructor Amani Al Andejani says restrictions are being lifted off Saudi women.
------
• Weam Al Dakheel Makes History By Becoming First Female Anchor Of Saudi Arabia
• San Francisco Museum Shows Off Modern Muslim Women's Fashion
• Prince Harry Shares 'Extremely Awkward' Kiss With Muslim Woman
• India Launches First Sex Offenders Register to Tackle Crime against Women
• Saudi Woman's Case against Father Stirs 'Guardianship' Debate
• Women's Entrance Ban in Sports Stadiums Reiterated
• Syria Kurds Hand Over Alleged Female ISIS Member to Sudan
Compiled by New Age Islam News Bureau
URL: https://www.newageislam.com/islam-women-feminism/female-saudi-athletes-all-set/d/116458
--------
Female Saudi Athletes All Set To Show Their Power to the World
Sherouk Zakaria
September 21, 2018
Last November, the Saudi government approved teaching and practising of yoga as a sport.
Saudi Arabia prepares to celebrate its 88th National Day, but this year carries a special flavour for Saudi female athletes who are determined to show their power to the world.
Besides the ground-breaking royal decree that put an end of a decades-long ban on women driving last year, restrictions are slowly being lifted off Saudi women, empowering even the young generation of females living abroad.
Last November, the Saudi government approved teaching and practising of yoga as a sport, nine months after it started granting licences for women-only gyms.
"The National Day is a big day for our country, but this year is different for Saudi women because we are finally seeing our achievements come to life," said Amani Al Andejani, a certified Saudi yoga instructor currently in Canada to finish her master's degree in dentistry.
"Although I didn't receive my driving licence yet, having the option to drive and start up my own yoga studio in the country is a big thing."
For decades, Saudi Arabia had effectively banned women's sports and even physical education for girls in state-run schools. The new decrees are allowing women to take an active part in promoting healthy lifestyles in their communities.
Al Andejani, who started practising yoga 10 years ago, noticed the its benefits in relieving stress and building muscles during her stressful dentistry studies in Canada. Slowly, she moved into giving pre-natal yoga classes when she noticed how yoga helped her in the birth of her two children.
"There was no knowledge about yoga in Saudi Arabia. People had always associated the sport with Buddhism without knowing its types and benefits," said Al Andejani, who received her yoga training in Canada and spent her time traveling to Nepal, Dubai and Italy to attend courses and workshops. Al Andejani, who has a home-based studio back home in Jeddah, is noticing the awareness of yoga, and sports in general, is growing in Saudi.
"The difference we see over the past two years is incredible. Awareness is growing, and my true wish now is to have a healthier community now that everything is open for us now," said Al Andejani. "We need more awareness about sports, starting from schools to adults, to combat the high percentage of diabetes and hypertension in our country and improve our quality of life."
UAE's multicultural environment helps female athletes thrive
Dubai has given Saudi female athletes like Al Andejani the chance to meet with an international community of sports enthusiasts. "It isn't easy for foreign trainers to visit Saudi Arabia. The open environment of the UAE allows us to meet people of over 200 nationalities and learn new experiences," she said.
Dubai's multicultural environment pushed Noura Khaled, Saudi fitness coach and influencer, to improve her skills and meet coaches from across the world.
The Dubai-based coach said the social progress happening back home is pushing Saudi women abroad to shine and speak out. "I feel more empowered to go out to the world and show them what Saudi women are capable of," said Khaled.
"No one knows the Saudi girl. They think we are repressed, but they don't see the girls who go hiking, diving and desert camping on weekends. This was all on a low profile. But now I see a brighter future for passionate and creative young women who are given the chance to pursue their dreams."
With bachelor's degree in nutrition, Khaled aims to continue her master's and start her own gym in Dubai. With the empowerment happening back home, she's certain she has the full power to reach her goals.
On National Day, she said she will celebrate achievement with her Emirati friends. "The pride alone is enough to remember our history and what we have been through to reach where we are now."
https://www.khaleejtimes.com/region/saudi-arabia/female-saudi-athletes-all-set-to-show-their-power-to-the-world
--------
Weam Al Dakheel Makes History By Becoming First Female Anchor Of Saudi Arabia
September 22, 2018
Riyadh: Weam Al Dakheel, a Saudi Arabian journalist, has made history by becoming the first woman to anchor the main news bulletin on the country's state-run TV channel. She is co-presenting Al Saudiya's 9.30 pm news bulletin on Thursday along with a male colleague.
Twitterati have welcomed her entry into the field of journalism pointing out that her appearance marked a milestone in the deeply conservative kingdom.
Ms Al Dakheel has previously worked as a reporter for CNBC Arabia and as a presenter for the Bahrain-based Al-Arab News Channel.
As per 'Vision 2030'- a plan by the Crown Prince, Saudi Arabia is now allowing women to drive, attend football games and take on jobs.
https://www.siasat.com/news/weam-al-dakheel-makes-history-becoming-first-female-anchor-saudi-arabia-1410972/
--------
San Francisco Museum Shows Off Modern Muslim Women's Fashion
September 21, 2018
SAN FRANCISCO — The head covering is among the most identifiable elements of Muslim women's dress and most likely to be portrayed as drab and restrictive to the Western eye.
But a new exhibition in San Francisco shows that the covering used by some Muslim women can be a bright yellow head wrap or a loose drape of rose; a black silk and lace scarf by Dolce & Gabbana; or a hood attached to a knee-length dress.
"Contemporary Muslim Fashions" opens Saturday at the de Young Museum with about 80 ensembles by nearly 60 designers from around the world, including the Middle East and Southeast Asia. The clothes are vibrant, elegant and playful, ranging from high-end couture to sassy streetwear.
The people behind the installation, which is the first major museum exhibition of its kind, hope to spark a deeper understanding of the women who are part of the second-largest religion in the world.
"At a time when Muslim women are being increasingly targeted for using their fashion choices to assert their independence and identity, we hope that this exhibition will allow a positive review and examination of a community that's often talked about, but rarely given the chance to speak and present itself," said Gisue Hariri, one of two Iranian-born sisters whose architecture firm designed the galleries.
The exhibit comes amid conflicts in Western countries over Muslim clothing.
Denmark recently banned face veils in public, saying the move was critical to ensure public safety and uphold Danish values. Austria, Belgium and France have similar laws. In the U.S., President Donald Trump issued a ban on travel from several majority-Muslim countries.
But the idea for the exhibition predated Trump's election, said Jill D'Alessandro, curator in charge of costume and textile arts for the Fine Arts Museums of San Francisco, which includes the de Young Museum.
She said the seed was planted in 2016, when France was in an uproar over a ban on "burkini" swimsuits worn by some Muslim beachgoers. At the same time, D'Alessandro was seeing examples of chic "modest fashion" embraced by young Muslim women who wanted to express their religious piety.
"It was the dichotomy we were interested in," she said. "That was the kernel. It was like, 'Look at this. Isn't this so funny? They're so fashionable and yet people want to discuss what they can wear at the beach."'
Modest fashion has become a $44 billion industry, with more Western fashion houses catering to Muslim consumers.
Last year, Nike introduced a headscarf made of high-tech fabrics. A Max Mara fashion show in 2017 featured a model in a hijab, her body wrapped in one of the company's long tailored coats — a common look among wealthier Muslim shoppers.
The Institute for Social Policy and Understanding, an organization that studies American Muslims, released a poll that showed most women said they wear a hijab for religious reasons. Only 1 per cent said they were required to do so by family.
Dalia Mogahed, the institute's research director, is delighted the de Young has taken on the topic. Mogahed, who is not affiliated with the show, balks at governments that force Muslim women to cover themselves in a certain way and those that won't let women cover up as they wish.
"The perception that people have of Muslims in America or Muslims globally is often shaped by sensational headlines that ignore and minimize what the majority is all about," she said.
Designers featured hail from Saudi Arabia, Turkey, Malaysia, Singapore, Iran and other countries.
One of D'Alessandro's treasured finds is a 2012 "Hoody Dress" by British designer Sarah Elenany. She created long-sleeve, knee-length dresses for the Scout Association in the United Kingdom so Muslim girls could rappel and climb comfortably. The dresses were worn over trousers or leggings.
Also among the pieces is a traditional Pakistani wedding ensemble of red silk and chiffon, with metallic embroidery and glass beads. It is on loan from Saba Ali, a San Francisco-area stylist who served as adviser to the exhibition and styled the head coverings.
She is thrilled to be part of the show, which ends in January and then moves to Frankfurt's Museum Angewandte Kunst.
"I feel it's so important in this day and age and the climate we live in. A lot of people don't know Muslims," Ali said. "Art is a means to a conversation for people to get to know a culture or people better."
https://business.financialpost.com/pmn/business-pmn/san-francisco-museum-shows-off-modern-muslim-womens-fashion
--------
Prince Harry Shares 'Extremely Awkward' Kiss With Muslim Woman
September 21, 2018
Duke and Duchess of Sussex, Prince Harry and Meghan Markle recently launched a charity cookbook to raise money for people whose lives were affected by the Grenfell Tower tragedy, a devastating blaze that claimed 71 lives.
According to The Daily Mirror, both Prince Harry and Meghan Markle were joined by Meghan's mum Doria Ragland at an event in London to promote "Together: Our Community Cookbook."
When they reached the venue, Meghan hugged the women who were her colleagues on the project, before introducing them to Doria and Harry.
Doria begins with a few kisses to one of the women participating in the event, Harry attempts to do the same but it looked very awkward.
In Muslim culture, many women avoid any physical contact with male counterparts who are not directly related to their family or their husband.
Later, Meghan gave an impassioned three-minute speech at the event, referring to the book as a "labour of love".
She went on to thank all the people who showed up for her first solo project and help it turn into a reality.
https://tribune.com.pk/story/1808783/3-watch-prince-harry-shares-extremely-awkward-kiss-muslim-woman/
--------
India Launches First Sex Offenders Register to Tackle Crime against Women
Sep 22, 2018
New Delhi: The centre has launched its first national register of sex offenders in a bid to stem crimes against women as the country reels from a series of high-profile rape cases.
The database will be accessible only to law enforcement agencies and not to the public, with 440,000 names registered, including those convicted of rape, gang rape, child sex crimes and sexual harassment, according to a home ministry statement.
It will also provide their photos, addresses and fingerprints, without compromising "any individual's privacy".
"The National Database on Sexual Offenders (NDSO) ... will assist in effectively tracking and investigating cases of sexual offences," the ministry said in the statement late Thursday.
The register comes as a spate of sexual assault cases have rocked the country.
Earlier this week, police arrested the principal and four staff members of a boarding school in Dehradun over the rape of a teenage student.
Police said they detained four male students for the rape, which left the girl pregnant. The school staff are accused of destroying evidence and covering up the crime.
In Kerala, a bishop accused of repeatedly raping a nun over a period of two years was finally arrest after protests and calls for justice.
In August, police in Uttar Pradesh rescued 20 girls and three boys from a home where they were sold for sex.
That raid came just weeks after police rescued nearly 30 girls who were sexually assaulted and tortured at a shelter in Bihar.
Privacy concerns
The urgency to establish a sex offenders register gained momentum following nationwide outcry over the rape and murder of a Muslim girl in a Hindu-dominated area of Jammu and Kashmir earlier this year. The accused are currently on trial.
The case prompted the government to approve the death penalty for the rape of girls under 12, and also increase the prison term for the rape of older girls and women.
Despite various measures, rapes in India have shown no sign of dying down. More than 100 cases were reported daily in India in 2016, the latest government data shows.
But the new sex offenders register has some people worried the government could overreach and misuse data.
Jayshree Bajoria of Human Rights Watch said that even a rumour could prove dangerous in a country where incidents of mob justice have spiked recently.
"For any real change, the government must do the hard work of actually implementing the laws and policies" that were put in place after the gang rape of a young woman in Delhi in 2012 on a moving bus, she said.
Bajoria urged authorities to focus on supporting and protecting victims of sexual assault to ensure they are able to report crimes and receive justice without facing stigma and harassment.
Many countries, such as the United States, Britain and South Africa keep a record of people who have been convicted of sexual offences such as paedophilia and rape.
The United States, for example, has an online database which is open to the public. It provides information including the offender's photograph and address, as well as details of the crime.
In other countries, such as Britain, the policy entails offenders registering with their local police station. Key people within the community such as doctors, youth leaders, landlords are informed and police monitor the offender.
http://www.asianage.com/india/all-india/220918/india-launches-first-sex-offenders-register-to-tackle-crime-against-women.html
--------
Saudi Woman's Case against Father Stirs 'Guardianship' Debate
Sep 22, 2018
A Saudi court has ruled in favour of a woman who challenged her father's decision to not let her have a passport, stirring an online debate on the contentious male guardianship system.
Saudi Arabia requires women to seek permission from male "guardians" - their fathers, husbands or other male relatives - to travel, get married and do other tasks.
In a rare case, the unnamed 24-year-old woman in the western city of Jeddah sought to disown her father as her guardian after he refused to let her seek a passport to study abroad, local media, including the pro-government Okaz newspaper, reported on Thursday.
A civil court this week ordered the father to obtain a passport for the woman.
The newspaper also said the university student had been living with her mother for 10 years and had not seen her father for six years.
'Fix the system'
The court case also prompted a raft of comments on social media.
"I'm surprised by the contradictions in the system," said one Saudi Twitter user. "In the end, the father was forced to seek the passport against his will. Why not allow women to get their passports themselves without losing time and going through all this trouble?"
Latifah Ashaalan, a member of Saudi Arabia's Shura Council, an advisory body, tweeted: "If a woman had the right to get her own passport - just like men - we wouldn't need a court to rule on the matter."
Another Twitter user pointed out that women are required to get permission from the men in their family, even if the women were older than them.
"If her guardian was her son or a male relative younger than her, then that would be offensive and humiliating for the Saudi woman. We must fix the system. We are in the year 2018 and a grown woman still has to take permission from the men in her family." This case was "evidence of a major imbalance in the system" on what is considered as the civil rights of every citizen, another person said on Twitter.
Social reforms in Saudi
Saudi Arabia is pursuing far-reaching social reforms that include an historic decision allowing women to drive, attend football games and take on jobs that once fell outside the narrow confines of traditional gender roles.
Crown Prince Mohammed bin Salman's Vision 2030 reform plan for a post-oil era seeks to elevate women to nearly one-third of the workforce by the end of the next decade, up from about 22 percent now.
But the kingdom also faces long-standing criticism over the male guardianship system.
Long a symbol of repression against women, the system allows men to exercise arbitrary authority to make decisions on behalf of their female relatives.
https://www.aljazeera.com/news/2018/09/saudi-woman-case-father-stirs-guardianship-debate-180921102631409.html
--------
Women's Entrance Ban in Sports Stadiums Reiterated
21 September 2018
Ban on women's entrance to sports stadiums was once again reiterated by officials on Monday, September 17, 2018, ahead of the Asian League game between Tehran's Persepolis and Qatar's Ad-Dahil.
Farhad Nikoo-khesal, the supervisor of the Azadi Stadium in Tehran said, "We have been taking the necessary measures since a month ago, so that all spectators would be closely examined before entering the Azadi Stadium."
"While we are going to examine the spectators in terms of tickets, female security forces are also going to be stationed at the Azadi Stadium's entrance gate to make sure women's entrance to stadium by wearing men's makeup would be prevented," Nikoo-khesal added. (The state-run ISNA news agency – September 17, 2018)
Iranian women's entrance to stadiums to watch football games is banned and those who try to do so are arrested. But Iran's young women and girls have refused to abide by this rule, entering stadiums in various ways and making their photos public as an act of protest.
Iranian women have been wearing men's makeup to break the discriminatory restriction officially imposed on women's entrance to stadiums in Iran. Some women have been successful in doing so and published their photos and films in social media.
Despite occasional maneuverings by the regime to fend off social reactions to the ban on women's entrance to stadiums and also for foreign consumptions, the clerical regime has always stressed on the ban on women's entrance to sports stadiums.
Women made headlines on March 1, 2018, as they attempted to enter Azadi Stadium to watch the game between Iran's top teams. The State Security forces prevented entry of 35 women and held them in detention.
Some of the regime's officials in charge of women's affairs had previously promised that the government would pass a "directive" on women's presence in sports stadiums. However, the Supreme Council of Cultural Revolution has removed the issue of women's entrance to stadiums from its agenda, altogether and announced that women's society faces numerous other problems that enjoy priority. (The state-run Fars news agency – December 9, 2017)
https://women.ncr-iran.org/iran-women-news/5478-women-s-entrance-ban-in-sports-stadiums-reiterated
--------
Syria Kurds Hand Over Alleged Female ISIS Member to Sudan
21 September 2018
Syria's Kurds said they handed over a Sudanese woman accused of belonging to the ISIS extremist group and her baby to a Sudanese diplomat Thursday, while hundreds more foreigners remained in their custody.
Kurdish authorities controlling swathes of northeastern Syria have detained alleged ISIS members from dozens of foreign countries since the extremist group's so-called caliphate crumbled last year.
But their home countries have been overwhelmingly reluctant to claim them, with public opinion hostile to repatriating them.
On Thursday, the Kurdish authorities in northeast Syria delivered a Sudanese woman and her one-month-old baby to a Sudanese diplomat in the northeastern city of Qamishli, an AFP correspondent and an official said.
The Kurds "decided to hand her over to her country's embassy" after Khartoum requested the transfer, Kurdish foreign affairs official Abdel Karim Omar said.
"She was arrested on January 10, 2018, on the accusation of belonging to ISIS," Omar said, without providing further details.
ISIS swept across large parts of Syria and neighboring Iraq in 2014, declaring a "caliphate" in territory they held, but have since lost most of it to various offensives.
In Syria, Kurdish fighters have formed the backbone of the Syrian Democratic Forces (SDF), an alliance backed by the US-led coalition that has expelled the extremist group from swathes of the country.
"Around 520 Daesh mercenaries, as well as 550 women and around 1,200 children from 44 countries" are still in Kurdish custody, Omar said, stressing they were all "foreigners".
"It's a heavy burden that we can't carry alone," he said.
The fate of alleged foreign ISIS members captured in Syria remains controversial, with only rare countries agreeing to take back their detainees, mostly women and children.
"We will not try any ISIS fighter," Omar said.
"We are trying as much as possible... to pressure governments to carry out their duties and take their citizens back."
Among the most infamous detainees are Alexanda Amon Kotey and El Shafee el-Sheikh, two survivors of a four-man ISIS team who carried out beheadings and were dubbed "The Beatles" because they were British.
Syria's Kurds have also captured several alleged ISIS members from France, and last month an Italian accused of being part of the extremist group as he attempted to cross the border to Turkey.
In August, Washington said the SDF had handed over two Americans accused of supporting ISIS to US authorities.
Lebanese members of ISIS have also been transferred to Beirut.
https://english.alarabiya.net/en/News/middle-east/2018/09/21/Syria-Kurds-hand-over-alleged-female-ISIS-member-to-Sudan.html
--------
URL: https://www.newageislam.com/islam-women-feminism/female-saudi-athletes-all-set/d/116458
New Age Islam, Islam Online, Islamic Website, African Muslim News, Arab World News, South Asia News, Indian Muslim News, World Muslim News, Women in Islam, Islamic Feminism, Arab Women, Women In Arab, Islamophobia in America, Muslim Women in West, Islam Women and Feminism