New Age Islam News Bureau
25 Feb 2018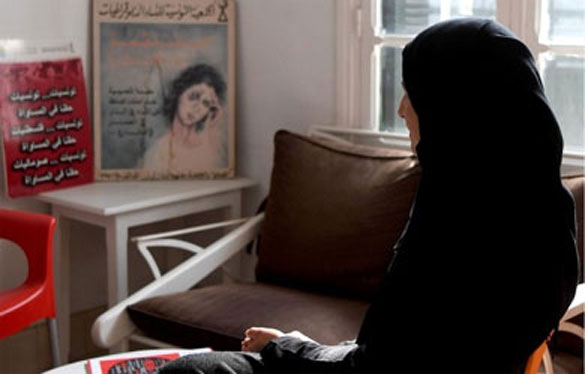 Sameh, a mother of two who suffered psychological abuse at the hand of her husband, speaks to a reporter in Tunis on February 20, 2018. Photo: Fethi Belaid / AFP
---
• Women to Race in Riyadh Marathon Next Year
• Pakistan Acquits 12 Men Accused Of Child Sex Abuse
• Iran: Women protests in Tehran, Kerman and Mahshahr
• Protecting Afghan Women Is a National Security Issue
• Women Are Free, and Armed, in Kurdish-Controlled Northern Syria
• New Law Brings Hope to Abused Tunisia Women
• MENA Fashion Industry Could Create Jobs for 20 Million Women
Compiled by New Age Islam News Bureau
URL: https://www.newageislam.com/islam-women-feminism/female-nobel-laureates-bangladesh-meet/d/114403
--------
Female Nobel laureates in Bangladesh to meet Rohingya women
24 February 2018
DHAKA: Three female Nobel Peace laureates have begun a weeklong trip to Bangladesh to meet Rohingya women who were tortured and raped by Myanmar soldiers before fleeing the country.
During the trip that began Saturday, Iran's Shirin Ebadi, Yemen's Tawakkol Karman and Northern Ireland's Mairead Maguire will assess the Rohingya refugees' situation and the violence against the Rohingya women, according to the Nobel Women's Initiative, a platform of six female peace laureates established in 2006.
In an email to The Associated Press, Karman said Saturday that they were standing "in solidarity with displaced Rohingya women and calling for Rohingya women's voices to be heard."
About 700,000 Rohingya Muslims have fled army-led violence in Buddhist-majority Myanmar since August and are living in Bangladeshi refugee camps.
http://www.arabnews.com/node/1253376/world
--------
Women to race in Riyadh marathon next year
February 25, 2018
Manama: In a new drive to empower Saudi women through sports, women will be allowed to take part in the Riyadh international marathon next year.
Hadi Al Qahtani, the head of the Saudi track association, said that their participation would be officially endorsed within two months, Saudi daily Okaz reported on Sunday.
Women have made impressive strides in recent months in Saudi Arabia as the society is undergoing intensive changes that saw them organise tournaments and attend sporting events in major stadiums.
The kingdom has in recent months eased restrictions on women, including the lifting of a driving ban - set to go into effect in June.
In September, hundreds of women were allowed to enter a sports stadium in Riyadh, used mostly for football matches, for the first time to mark Saudi Arabia's national day.
Later in January, sports matches were officially opened up to women spectators.
Now, officials are encouraging women to participate in fitness and sports activities.
The easing of social controls comes as Crown Prince Mohammad Bin Salman looks to repackage the nation as more moderate and welcoming.
The crown prince's Vision 2030 programme for a post-oil era stems partly from an economic motive to boost domestic spending on entertainment as the kingdom reels from an energy slump.
As a part of the crown prince's reforms drive, Saudi Arabia announced in December it was lifting a decades-ban on cinemas with the first movie theatres expected to open in March.
http://gulfnews.com/news/gulf/saudi-arabia/women-to-race-in-riyadh-marathon-next-year-1.2178771
--------
Pakistan acquits 12 men accused of child sex abuse
Feb 24, 2018
LAHORE: A Pakistani court acquitted 12 men of child sex abuse and blackmail charges on Saturday, the latest verdict in a massive paedophilia scandal that rocked the country in August 2015.
The abuse and extortion scandal, which authorities have called the largest in Pakistan's history, allegedly involved hundreds of victims in Punjab province.
Two of the accused were jailed for life in April last year.
Judge Chaudhry Ilyas acquitted the men of "sexual abuse of a young boy and making a video to blackmail his family," a court official told AFP.
Prosecutors produced 16 witnesses against the accused men, but could not prove the charges, the official said. Another court official confirmed the details.
In the village of Hussain Khanwala in Kasur, southwest of Lahore, videos were made of at least 280 children being sexually abused by a gang who blackmailed their parents by threatening to leak the videos.
The police, who had conspicuously failed to act despite pleas from some parents, eventually made dozens of arrests after clashes between relatives and authorities brought the issue into the media spotlight.
In March 2016, Pakistan's Senate also passed a bill that criminalised sexual assault against minors, child pornography and trafficking for the first time -- previously only the acts of rape and sodomy were punishable by law.
Last week a court handed four death sentences to a man charged with raping and murdering a six-year-old girl, in a case that shocked the country and sparked major riots in his home district.
Imran Ali, 24, was on trial for killing Zainab Fatima Ameen in Kasur last month.
He faces further charges in the cases of at least seven other children attacked in the Punjab city — five of whom were murdered — in a spate of assaults that had stoked fears a serial child killer was on the loose.
Ali has confessed to all eight attacks, including the death of Zainab.
https://timesofindia.indiatimes.com/world/pakistan/pakistan-acquits-12-men-accused-of-child-sex-abuse/articleshow/63058598.cms
--------
Iran: Women protests in Tehran, Kerman and Mahshahr
24 February 2018
A group of women and men plundered by the Caspian Institute staged a protest on Thursday, February 22, 2018, in Kerman, capital of Kerman Province in southern Iran.
The protesters who had gathered outside the Khajoo branch, demanded reimbursement of their money.
On Wednesday, February 21, 2018, some 60 security staff of the Behesht-e Madaran were expelled from the municipality of the Third District of Tehran. It is said that the district mayor by the name of Salimi has laid off the employees to replace them unlawfully with other personnel. The laid off employee who had unpaid wages, gathered outside the municipality and demanded to return to their jobs.
On the same day, teachers of three high schools in Bandar Mahshahr, in Khuzistan Province, southwestern Iran, refused to teach their classes and went on strike to demand eight months of wages not paid for their overtime work.
http://www.women.ncr-iran.org/iran-women-news/4831-iran-women-protests-in-tehran-kerman-and-mahshahr
--------
Protecting Afghan Women Is A National Security Issue
FEBRUARY 24, 2018
There was the woman whose husband sliced off her genitalia, and then reached inside her with his hand, damaging her inner organs.
There was the woman whose husband cut off her ear.
More commonly, there are the rapes, the forced marriages, and the mob beatings, such as the one last December: video shows a woman dressed in a blue burqa, being beaten by crowds of men – including family members – as onlookers call out "Allahu Akbar!"
Such is life for women in Afghanistan, where an estimated 87 percent of them have experienced physical or sexual abuse, or both. Their stories are part of what has made Afghanistan the worst country in the world for women.
In the weeks following America's first attacks in Afghanistan during the fall of 2001, images of burqa-clad women tearing off the imprisoning garments filled TV news reports. With tremendous satisfaction, Americans praised themselves for beating back the Taliban – the terror-supporting militia that not only ruled much of the country, but had harbored Osama bin Laden – and for liberating Afghan women. The images of them without their burqas were our proof: America had once more helped forge a victory for the oppressed.
Except, as it turned out, we hadn't.
While the Taliban no longer hold power over many of the regions it ruled before the American invasion, the group still maintains control over several rural areas of the country, as do other militia groups which impose similar constraints on women. Moreover, low female literacy rates have ranked Afghan fourth on the list of 10 worst places for girls' education, according to a report from global anti-poverty group ONE. The other nine countries are all in Africa.
In rural regions, 90 percent of women are illiterate, versus 63 percent of men – numbers that are deeply disturbing for both genders, since, as UNESCO and others have observed, literacy is directly related to political empowerment. But the problem particularly affects women, and is arguably a strategic measure: in the words of former UN Secretary General Ban Ki-Moon, "by acquiring literacy, women become more economically self-reliant and more actively engaged in their country's social, political and cultural life."
The refusal to educate women represents, in other words, not just a systemic oppression, but enslavement.
Which is why the abuse of women includes depriving them of schooling – and why such abuse in Afghanistan and other war- torn countries like Iraq, the Congo, Somalia and Sudan, should be of profound concern to Americans and the West.
Researchers, particularly Valerie M. Hudson, director of the Womanstats project and George W. Bush Chair of the Bush School of Government at Texas A&M University, have shown definitive links between the societies that produce terrorists and the rate of domestic abuse and the oppression of women. As Hudson puts it in her book Sex And World Peace, "states characterized by norms of gender and ethnic inequality as well as human rights abuses are more likely to become involved in militarized interstate disputes, to be the aggressors in international disputes, and to rely on force when involved in an international dispute…. International security cannot be attained without gender equality."
It is likely no coincidence then that the Afghan man who cut off his wife's labia was a member of a powerful militia; or that ISIS fighters kidnapped and enslaved Yazidi women; or – closer to home – that Pulse nightclub shooter Omar Mateen allegedly abused, even tortured, his ex-wife; that Boston Marathon bomber Tamerlan Tsarnaev was arrested for beating an ex-girlfriend; that Syed Farook, the San Bernardino shooter, grew up in an abusive home; and so on. Such examples demonstrate with utter clarity that, as Hudson notes in a quote from former Secretary of State Hillary Rodham Clinton, "the subjugation of women is a direct threat to the security of the United States."
But nearly 17 years after 9/11 and the American invasion, with a cost of more than $1 trillion and the loss of nearly 2,500 troops, Americans' support for the Afghan war is dwindling. What's more, terrorist attacks on aid organizations, coupled with declines in funding, are causing many to rethink their presence there. A number of aid groups have already cut back significantly on staff and reduced their outreach.
Yet on the home front, Americans are now focusing with new intensity on the issue of domestic violence in their own country, particularly in the wake of allegations that former Trump White House Staff Secretary Rob Porter abused his two ex-wives, and the ongoing #metoo movement. But if we are truly concerned about such abuse, how can Americans then turn their backs on these women and the intensity of their suffering? Or are the rights of Afghan women an Afghan, not an American problem?
In 2010, I penned an article condemning Dutch leaders for withdrawing troops from the Afghan conflict. "If we are fighting a war on terror," I wrote, "are we not also fighting against the terror that rules these women's lives?
The responses were swift and vicious, and while they are no longer visible online, I remember them well. No, the all-male readership responded. Our soldiers do not need to risk their lives for another country's women.
Eight years later, I am more convinced than ever they were wrong – the more so in the face of Hudson's research. That doesn't necessarily mean that America needs to keep large numbers of boots on the ground in Afghanistan. But as Leah Greenslade, Vice Chair of the MDG Health Alliance, a UN affiliate, has noted, programs are desperately needed that will engage young men in these regions to reduce violence against women "as a strategy for peace, security, and economic social development." And those programs – and their workers — need to be kept safe.
Yet Afghan organizations and politicians are doing little to help in this regard. In their place, if not for Afghan women's safety, then for the sake of our own, America must.
http://moderntokyotimes.com/protecting-afghan-women-is-a-national-security-issue/
--------
Women Are Free, and Armed, in Kurdish-Controlled Northern Syria
By ROD NORDLAND
FEB. 24, 2018
MANBIJ, Syria — Radwan, a 30-year-old Arab man, came with four male witnesses and a grievance with an ex-wife to a place called the Women's House here in Manbij, in northern Syria.
He had recently divorced his second wife, Amira, 17, and he wanted back the gold he had given her as a bride price, some three or four ounces at most — worth more than few goats but less than a car.
The five men sat down with Amira and her mother, Isra, in a circle of plastic chairs around a stove to discuss the matter, with the mediation of several officials from the Women's House.
The conversation grew heated as Amira and her mother, who asked that the families' last names be withheld to avoid a tribal backlash against them, refused to return the gold. When the Women's House officials said that not only was Amira right to keep it, but that she was also entitled to a houseful of furniture in compensation for the divorce, Radwan began shouting.
Chairs were knocked over and voices raised, but the women officials escorted the men out of the building politely but firmly, warning that the police would be summoned if they didn't go quietly.
Shilan Shermooz, the administrator of the Women's House, said the matter was not yet over. Once Radwan made the reparations, she said, they would send his case to court and see him prosecuted for beating and abusing Amira for the two weeks they were married. Radwan was also guilty of fraud, she said, because Amira agreed to the wedding not knowing he already had a wife and children.
"The patriarchy really is over," Ms. Shermooz said, sharing a laugh with two colleagues.
In the Kurdish-controlled areas of northern Syria, a push for gender equality has given women like Ms. Shermooz significant power to enforce women's rights. The authority wielded by women here — in the police, the courts and the militias — is patterned on the gender egalitarian philosophy of the Kurds' ideological leader, Abdullah Ocalan.
The founder of the Kurdistan Workers' Party, or P.K.K., Mr. Ocalan is serving a life sentence in Turkey on terrorism charges, and his organization is a designated terrorist organization according to the United States and the European Union. But his philosophy is widely popular among Kurds, particularly in northern Syria and eastern Turkey.
Six years of control of most of northern Syria have given the Kurds a chance to put into practice their gender reforms to an unprecedented degree, unhampered by interference from the Turkish government, which has cracked down on many of the women's institutions in Kurdish-majority areas of Turkey.
By law, every government institution in Kurdish-controlled Syria has a co-president or co-chairman of each sex, and most government boards and committees have to be equally mixed by gender as well — except for women's institutions, which are led by only women.
The Kurdish militias have separate Women's Protection Units, or Y.P.J., which have been important partners with men's units on the battlefield. When the Syrian Democratic Forces, an American-backed coalition, captured Raqqa from the Islamic State in October, the overall commander was a Y.P.J. woman, Rojda Felat.
"There are always men thinking that women are slaves, but when women are an armed force, men are scared of them," said Arzu Demir, the Turkish author of a book on the Y.P.J. militias.
The Kurdish effort to enact gender equality has really been put to the test in places like Manbij, which is overwhelmingly Arab, and also conservative and tribal. The Kurdish-dominated Syrian Democratic Forces took control here about 18 months ago, in a campaign supported by American Special Operations forces and air power. While the Manbij Military Council, which is now in charge, is a majority Arab force, the new government is organized on Mr. Ocalan's revolutionary principles.
Women were immediately given the right to divorce, previously a right reserved to men; to inherit property on an equal basis with men; and to keep their children and their homes in a marital breakup. Gone were long-observed Shariah law provisions that gave a woman's testimony in court only half the weight of a man's.
Those changes were not without pushback. The Kurdish majority area of Kobani in Syria, for instance, outlawed the practice of men taking more than one wife. But when officials tried to apply that restriction to Manbij, anger from tribal leaders led to the granting of an exception here.
Still, the Women's House in Manbij right away began aggressively counseling wives whose husbands married a second time that they could divorce, and walk away with the children, the house and half of any property. The result has been some 200 divorces in the past year, mostly in cases of polygamy and underage marriage, said Widat Hayat an Arab woman and a sociologist who heads the research department at the Women's House. It is an unprecedented number.
Many local men have found it difficult to reconcile the prosperity and stability the new government has brought with their own traditions.
Abdul Aziz al-Hassin, 45, an Arab shopkeeper who has 14 children, agrees that "a woman has the same rights as a man, she's not a slave or a servant." But he still intends to take a second wife, he said, because his current one, also 45, can no longer bear children. How will she react to that? "I won't tell her," he said. "It's none of her business."
Attitudes like that die hard.
"When we opened the Women's House, even we didn't believe this was going to work here," said Jihan Mustafa, one of the counselors who coach women on their rights, and help them through divorce, spousal abuse prosecutions and legal actions to force their husbands to better provide for their children. "Now as you see, it is always busy here."
At the Women's House in Manbij, halls, waiting rooms and consultation rooms were crowded with men and women — with many of the men visibly angry.
Ms. Mustafa is a Kurd, as were the first women's activists here, but now other members of the Women's House are Arabs, and most of their clients are as well. Manbij is heavily Arab, with minorities of Kurds and others. "There is real acceptance for it, just 18 months after the liberation of Manbij," she said.
Acceptance is hardly universal, however, and many of those who are critical are also afraid to speak out publicly.
"To understand the current situation, think of ISIS, but at the other end of the spectrum," said Abdul, 37, a teacher who spoke on condition of anonymity for fear of repercussions from Kurdish officials. "They never stop trying to impose codes and teachings that contradict our cultural norms and conservative views," he said. "And they insist on having a female presence in everything, which has made them hire unqualified females in posts they don't know how to handle."
Kurdish leaders are aware of the discontent, but say the changes they are bringing are long overdue and are gaining acceptance, especially among younger Arab women.
"Most men don't accept it, but we speak to women and try to make society understand why it is not good, for instance, to have more than one wife," said Isam Abdul Qader, an Arab member of the Manbij Women's Council, another organization that advocates women's equality. It also sends teams of women door to door in neighborhoods and villages, where they ask to come in and explain to the women their new rights.
"Many men don't let us in at first," said Hana Sharif, a Kurdish council member. "We just go back two or three times. Little by little, it is working."
Maja al-Ali, 25, is an Arab woman member of the council who said the new local government has changed her life. "Before I just stayed in the house and I couldn't even wake up in the morning," she said. "Now I have character and a role in society. Now I get up in the morning, I have meetings and do things, and I love life now."
At the request of local women, the council has started a driving school for them. Recently, some women in Manbij have asked the women's council to set up firearms courses to teach civilian women how to defend themselves.
"It is about time," Ms. Sharif said, "that we have all of our rights."
https://www.nytimes.com/2018/02/24/world/middleeast/syria-kurds-womens-rights-gender-equality.html?mtrref=www.google.co.in&gwh=BB96F0EEFBD17CB69315100D58D8D6A1&gwt=pay
--------
New law brings hope to abused Tunisia women
25 February 2018
TUNIS: After years of "manipulation" by her husband, mother of two Sameh is filing for divorce, thanks to a new Tunisian law broadening the definition of violence against women.
The law, passed in July, entered into force on February 1, finally providing Sameh with the tool she needs to divorce her husband who she says has been psychologically and financially abusing her.
For the past 15 years, Sameh, a teacher and 45-year-old mother of two teenage girls, has been forced to hand over her entire salary to her husband.
She told AFP it took her that long to realize that he had been "manipulating" her, but when she woke up to the reality she decided to act.
But since then, her husband has started provoking her, she said during a meeting at a help center for women victims of violence set up by the Tunisian Association of Democratic Women (AFTD).
"He wants to drive me crazy," said Sameh, who declined to give her full name.
Her husband would whisper insults into her ear to try to make her snap in front of their teenage daughters.
Her eldest daughter has sensed the tensions and lately began to hurt herself by lacerating her skin.
"I am psychologically exhausted," said Sameh, adding that she has been taking anti-depressants.
Sameh said she had tried to file for divorce two years ago but her husband refused, and she was afraid of being separated from her daughters and of ending up penniless out on the street.
"It's very difficult to prove psychological abuse and even then, there was a risk it would not be accepted," as a cause for divorce by the authorities, she said.
But the new law has changed all that for Sameh, and other victims of domestic abuse.
"When I heard about this law I said to myself, 'This will bring me justice'," she said, adding she would file for divorce on moral and financial grounds.
The law considerably widens the definition of unacceptable violence against women.
It recognizes physical, moral and sexual abuse as well as abuse in the form of financial exploitation.
"It is real progress... that could change lives," said Ahlef Belhadj of the AFTD association.
She said the July law was the result of 25 years of campaigning by Tunisian human rights activists.
Tunisia is seen as a pioneer of women's rights in the Arab world.
The North African country, birthplace of the Arab Spring protests that ousted several autocratic rulers, adopted a new constitution in 2014 which guarantees equality between men and women.
Article 21 of the constitution states: "All citizens, male and female, have equal rights and duties, and are equal before the law without any discrimination."
A Personal Status Code adopted in 1956 abolished polygamy, by which a Muslim man can have up to four wives, and repudiation, or the man's right to terminate a marriage unilaterally.
Nevertheless, in Tunisia one woman out of two has been the victim of abuse, according to official estimates.
"This is only the tip of the iceberg," said Belhadj.
The new law is seen by many as a landmark step to protect women's rights because it criminalizes sexual harassment in public places and the employment of children as domestic workers.
It also slaps fine on employers who pay women less than their male counterparts.
However, Belhadj said there is still a lot left to be done and that more funding needs to be allocated to carry it through.
"It's not enough to pass laws, we must make sure of the conditions of their implementation."
Human Rights Watch said the law stipulates the creation of shelters for women victims of violence but does not provide for a mechanism to fund them.
Meanwhile, Tunisia's interior ministry has set up two units tasked with investigating violence against women.
Radhia Jerbi, president of the National Union of Tunisian Women, said the next steps were to spread the word about the new law across the country and to persuade skeptics.
"The problem is our mentality," she said.
http://www.arabnews.com/node/1253816/middle-east
--------
MENA fashion industry could create jobs for 20 million women
26 February 2018
LONDON: A fashion industry is taking shape in the MENA region that could create jobs for up to 20 million women, the Arab Fashion Council has said.
The organization, which aims to unite 22 Arab countries under one umbrella, is laying the framework for a style sector stretching from North Africa to the Gulf.
Countries will be divided into three clusters to harness the strengths of local economies and create a sustainable fashion infrastructure that reaches across the region, said Jacob Abrian, founder and chief executive of the Arab Fashion Council. "This way we are connected in terms of creative economy — every country will be pioneering its own expertise."
North Africa will provide the raw materials and textiles, building on an established manufacturing industry, while the factories of the Levant will be used for finishing and assembling the products. Retail will be concentrated in the Gulf, where cities such as Dubai and Abu Dhabi attract shoppers from all over the world. "By doing this we estimate having 20 million women as part of the system from all over the Arab world," Abrian said.
This is an opportunity to "create a completely new economy," he said.
On Monday, Princess Noura Bint Faisal Al-Saud, honorary president of the Arab Fashion Council, which recently announced plans to open a regional office in the Kingdom, said Saudi Arabia would host its first Arab Fashion Week in Riyadh this March.
Reading a letter from the General Entertainment Authority in Saudi Arabia, she said: "Saudi Arabia's artistic community has been growing in size and in confidence for a number of years and the General Entertainment Authority believes that such an event will allow a proper platform to showcase their fashion and arts talents as the vehicle for a comprehensive range of entertainment options in Saudi Arabia.
"The General Entertainment Authority is proud to support an event that seeks to bring people together in a mutual appreciation of the power of fashion and art."
Arwa Al-Banawi, a Saudi designer who regularly exhibits at Paris Fashion Week, said the Kingdom has been a regional fashion hub "for years but never on a global level."
"There's so much talent and so many buyers and beautiful boutiques in Saudi — we have the right people that can actually make this happen and make it a hub," Al-Banawi said.
Saudi designers are an established presence on the runways of London, Paris and Milan but this is the first time the catwalks will come to the Kingdom for Arab Fashion Week.
The inaugural Saudi Arab Fashion week will take place in Riyadh next month, but preparations have been underway for some time to get major brands on board and secure a high-profile guest list.
Princess Noura told Arab News that before the news was announced, organizers had already struck a deal with Harvey Nichols Riyadh to support the trunk shows and begun compiling a star-studded guest list, featuring established names from the Arab fashion community and international heavyweights such as Roberto Cavalli.
"We're opening doors for all international markets to come to Saudi Arabia … welcoming any brand, whether it's high-end couture, ready-to-wear ... local or international," she said, describing the emergence of "a more diversified market."
"This event is just the beginning; it's a marketing tool to say this is Saudi Arabia, we're open, you're welcome to come."
The Arab Fashion Council recently announced a new partnership with the British Fashion Council to support its regional growth strategy while providing a gateway for UK fashion brands to the region. British brands, including Burberry, Erdem and Ralph & Russo, are popular among style-savvy Saudis but the alliance will also help fast-track some of the emerging talent that London is famous for.
Caroline Rush, chief executive of the British Fashion Council, said in a statement: "We are delighted to be working with AFC who represent an incredibly important market for British fashion designers. We are looking forward to developing a strategy for brands and businesses looking to expand into the Arabic countries through this collaboration with AFC, who are experts in this field. The British Fashion Council's role in this partnership is to share their expertise in setting up infrastructure to nurture and discover Arabic design talent of the future."
MENA countries are keen to tap into a global fashion industry worth an estimated $3 trillion, said Layla Issa Abuzaid, Saudi Arabia country director at the Arab Fashion Council, adding that the BFC's support would help strengthen the fashion sector in Saudi Arabia, which is among the fastest-growing in the world: "As an economy, our fashion sector in Saudi Arabia is growing at a rate of 73 percent a year."
She emphasized the scope of the Saudi fashion industry to support other sectors such as tourism, hospitality, travel and trade. "For all international brands it is a great market to explore."
"Fashion has always been important to Arabs and our designers are definitely benefiting from the beginning of a proper fashion infrastructure," said Marriam Mossalli, a well-known Saudi fashion editor and founder of luxury consulting firm Niche Arabia
In a previous interview with Arab News, she said: "We are seeing the creative sector in Saudi grow exponentially."
"With a population that has 70 percent under the age of 30, we are about to see an influx of of new careers, and most importantly new creative industries."
"There is an ever-growing appreciation in Saudi society for fashion," said Mohammed Khoja, a Saudi designer. "Fashion, as an art form, is very far reaching and due to current efforts and investments in the industry and in manufacturing in the Kingdom, I believe that we'll begin to see the fashion infrastructure grow in 2018."
Alia Khan, chairwoman of the Islamic Fashion and Design Council, which is also planning to open an office in the Kingdom, believes the Saudi fashion industry will become a key driver for the local economy. "Saudi Arabia is a very important market and I don't think we've even begun to understand the level of talent that comes from the Kingdom."
Discussing the opportunities created by recent reforms, she said: "I think now we're going to start seeing a little bit more of the vast talent and range of skill they have."
"Saudi Arabia will be a big driver in style … there's going to be a strong demand for Saudi-based fashion.
"A lot of people will be watching
this space."
http://www.arabnews.com/node/1253736/business-economy
--------
URL: https://www.newageislam.com/islam-women-feminism/female-nobel-laureates-bangladesh-meet/d/114403
New Age Islam, Islam Online, Islamic Website, African Muslim News, Arab World News, South Asia News, Indian Muslim News, World Muslim News, Women in Islam, Islamic Feminism, Arab Women, Women In Arab, Islamophobia in America, Muslim Women in West, Islam Women and Feminism