New Age Islam News Bureau
25 December 2021
• Actor Timothee Chalamet, Designer Haider Ackermann Create Hoodies To Help Afghan Women
• 'Istanbul' a Common Female Name In Somalia as Turkish Influence Gains Momentum
• Judicial Commission of Pakistan to Debate Justice Ayesha Malik's Elevation To Supreme Court
• Abu Dhabi: Indian Women's Group Donates Rare Blood Types To Help Save Lives
• Seminar in Pakistan Sheds Light On Issues Facing Women
Compiled by New Age Islam News Bureau
URL:
--------
Female Lieutenant İrem Köksal Leads Combat Operations Centre In Corvettes Of The Turkish Navy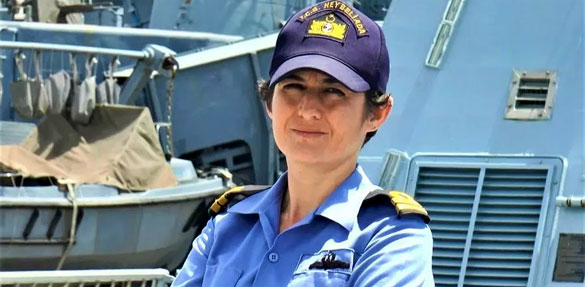 The combat operations centre of the TCG Heybeliada, the lead ship of the Ada-class ASW corvettes of the Turkish Navy, is being led by the warship's only female marine officer, Lieutenant İrem Köksal.
-----
December 24 2021
The combat operations centre of the TCG Heybeliada, the lead ship of the Ada-class ASW corvettes of the Turkish Navy, is being led by the warship's only female marine officer, Lieutenant İrem Köksal.
"Man or woman… does not matter who officiates. Fulfilling the duty is more important," Köksal told İhlas News Agency on Dec. 22.
In an interview she gave at the TCG Heybeliada, which is anchored at the Foça Port in the western province of İzmir, she stressed on the importance of the combat operations center in a corvette.
Her daily routine is "to perform administrative affairs and accounting," and "to pursue the military training conducted in the ship."
However, the center turns into a heart of the warship in case of a "military tension or war."
"In such cases, the commander leads the ship and gives the crucial decisions from the combat operations center," she said and added: "That's why, this center is very important."
TCG Heybeliada is named after the Heybeliada Island, one of the Princes' Islands of Istanbul where the Turkish Naval High School is located. Having laid down in 2007, launched in 2008 and commissioned in 2011, TCG Heybeliada received the moniker the "Ghost of the Seas."
"Military and naval services are both tough jobs. You have to be prepared for everything in any condition. You have to adopt a dynamic life," she said proudly while telling of her naval life.
Joining the Naval High School in 2005 and graduating as a sub-lieutenant in 2009, Köksal noted, "I was raised with
naval traditions. After graduations, I served at various ships and corvettes at different posts."
When asked about her love for the sea, Köksal highlighted that the "sea is a teacher."
"The sea teaches us how to manage and unite with nature."
So, spending most of her days at the sea is a "part of the job."
"We spend most of the year away from our families and houses. Apart from being brothers in arms, we become family members with all the crew on board."
TCG Heybeliada, which is 99.56 meters in length and 14.4 meters in beam, has a displacement of 2,300 long tons. Having a range of 3,500 nautical miles (6,500 kilometers) at 15 knots, she has an endurance of 21 days with logistic support and 10 days while operating autonomously.
According to official data, she has a crew of 93, with space for up to 106. The ship is armed with a 76-milimeter OTO Melara gun, two ASELSAN STAMP 12.7-milimeter guns, eight Harpoon missiles, 21 Rolling Airframe missiles and two 324-milimeter Mark 32 triple launchers for Mark 46 torpedoes.
Source: Hurriyet Daily News
https://www.hurriyetdailynews.com/female-lieutenant-leads-combat-operations-center-in-corvette-170275
--------
Actor Timothee Chalamet, Designer Haider Ackermann Create Hoodies To Help Afghan Women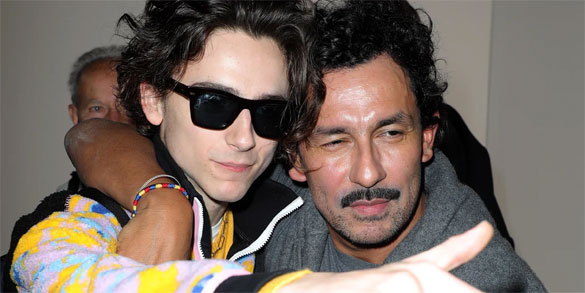 ​Timothée Chalamet Designs a Hoodie for Afghan Women's Rights
-----
December 23, 2021
DUBAI: US actor Timothee Chalamet has partnered with Colombian-born French fashion designer Haider Ackermann to design hoodies to help children and women in Afghanistan.
The pair revealed on Instagram on Wednesday that all profits from the sweatshirts will go to Afghanistan Libre, a nonprofit organization that fights for the rights of women and girls in the country.
"For a couple of years now @tchalamet and I have been wanting to make something together," Ackermann, who spent years of his childhood in Algeria, wrote on Instagram. "In August, we were horrified to learn of the ongoing humanitarian crisis in Afghanistan and decided to design a hoodie where 100 percent of the proceeds will go to @afghanistanlibre."
The white sweatshirts feature a picture of a young child in a blue paint splatter design with text that reads "Silent Soldier" and "HA+TC A Common Thread," referring to Chalamet and Ackermann's initials.
Source: Arab News
https://www.arabnews.com/node/1991751/lifestyle
--------
'Istanbul' a common female name in Somalia as Turkish influence gains momentum
Mohammed Dhaysane
24.12.2021
MOGADISHU, Somalia
Somalia and Turkey share a long history that goes back to the Ottoman era, with the Turks playing a huge role in Somalia's independence struggle against the British colonial empire.
Somalia had forces called Dervishes that were led by Sayyid Mohamed Abdulle Hassan, one of the country's independence heroes. Fighting against British rule, he was a Somali religious and military leader of the Dervish movement from 1856–1920 backed by the Ottomans.
According to the Somali presidency, historic mosques can be found in the country that date back hundreds of years and were built by the Ottomans.
Historic buildings and mosques can be found in the port city of Berbera in Somaliland and are examples of the Turkish influence that is visible throughout Somalia.
Turkey not only had a cultural influence in Somalia. Good relations between the two countries that developed over a decade enabled the Turkish and Somali people to easily integrate.
A large percentage of the Somali diaspora lives in Turkey, and there is a significant Turkish diaspora in Somalia, including businessmen, doctors, engineers and humanitarian workers.
"If you go to Turkey and find an opportunity to visit Istanbul or Ankara, you will see that the Somali diaspora has been smoothly integrated into the society, doing business, attending universities to study, and all that is because we have Turkish airlines flying over Mogadishu every day carrying Somali passengers. This is good for the cultural integration agreement that was signed between Somalia and Turkey several years ago," Somali presidential spokesman Abdirashid Mohamed Hashi told Anadolu Agency.
Somali film revival
Turkish state broadcaster TRT will help Somalia's culture thrive again and train Somali filmmakers to produce quality dramas, which were once popular but vanished after the civil war that broke out in 1990 after the collapse of the military regime.
"We have met with the TRT channel's directors, and they will help us get our culture, music and film industry back on track. Turkish dramas will be translated in Somalia to ensure the cultural exchange between the two countries thrives," Hashi said.
Somalia and Turkey developed their close friendship in 2011 after Turkish President Recep Tayyip Erdogan paid a visit to the country as the first non-African leader to do so in over 20 years.
Demand for learning the Turkish language among young people, especially women and girls, has more than doubled this year because of the Turkish film industry.
Zaynab Abdi Adan loves Turkish dramas. She said she has been watching them for almost three years and has also learned how to communicate in Turkish.
"I just love the way they act seriously when they're acting in love affairs. I just love it, and I am now addicted to a new historical drama series called Alparslan: Buyuk Selcuklu, and the best actor for me is [the one who plays] Alpagut," she said.
If you want to know how much influence Turkey has in Somalia, just check the female names in the country, said Ahmed Osman, an elderly man in Mogadishu.
One of the most well-known female names in the country is 'Istanbul,' he said.
"We are related in terms of religion, and I am happy to see a major Muslim country have this kind of influence on us because before our generation, we had Western influences such as Italian culture, but not anymore."
Feysal Ali said he translates Turkish films from Arabic into Somali and has watched five different dramas, including the historically depicted Dirilis: Ertugrul.
"I have watched all five seasons of the Ertugrul drama alone in just three months. I have also watched a military themed TV series called Soz and I am currently watching Barbaroslar," he said.
Special celebration
This year, Somalia celebrated the 10th anniversary of its special relationship with Turkey.
Foreign diplomats, senior Somali officials and the Turkish ambassador to Somalia were among the dignitaries who attended a ceremony in Mogadishu in which Turkish whirling dervishes performed live dances at the Halane compound that houses the UN's headquarters in the capital Mogadishu.
"Somali singers and Turkish musicians were invited to showcase how the cultural exchange between Somalia and Turkey was working and all dignitaries and participants were amazed by the performances" said Hashi.
The Turkish film industry has been a game changer in the country, with other foreign films losing their dominance. Somalis previously loved to watch Bollywood films, but now this has been overtaken by Turkish films, Hashi added.
Source: Anadolu Agency
https://www.aa.com.tr/en/africa/istanbul-a-common-female-name-in-somalia-as-turkish-influence-gains-momentum/2456289
--------
Judicial Commission of Pakistan to Debate Justice Ayesha Malik's Elevation To Supreme Court
Nasir Iqbal
December 25, 2021
ISLAMABAD: The Judicial Commission of Pakistan (JCP) will meet on Jan 6 to complete an unfinished agenda as Chief Justice of Pakistan (CJP) Gulzar Ahmed has proposed once again the name of Justice Ayesha A. Malik of the Lahore High Court for elevation as a judge of the Supreme Court, an informed source confided to Dawn on Friday.
A lack of consensus during an extended meeting on Sept 9 had forced the JCP to reject the elevation of Justice Malik — the fourth most senior judge of the LHC — to enter the Supreme Court as the first-ever woman judge in the country's judicial history.
Reacting swiftly, the Pakistan Bar Council's (PBC) Vice chairman expressed reservations and concern over the move to what he called an attempt to violate the seniority principle for elevation of judges to the Supreme Court and the high courts.
In a statement, Khush Dil Khan emphasised that it was a consistent stance of the legal fraternity that judges should be elevated on the basis of seniority in all the courts and that the practice to "pick and choose" should stop.
Khush Dil Khan was of the view that if the seniority principle was violated for elevation to the apex court, the high courts and lower courts, as well as the legal fraternity, would resist it forcefully.
Four members of the eight-member JCP had opposed the proposal to elevate Justice Ayesha Malik when it met on Sept 9, while an equal number supported it.
Justice Maqbool Baqar, Justice Sardar Tariq Masood, former judge Dost Mohammad Khan and a representative of the Pakistan Bar Council (PBC), Akhtar Hussain, had opposed the idea whereas the CJP, Justice Umar Ata Bandial, Federal Law Minister Barrister Dr Farogh Naseem and Attorney General (AGP) Khalid Jawed Khan had favoured Justice Malik.
Justice Qazi Faez Isa — another JCP member — was unable to take part in the proceedings as he was out of the country.
While the JCP was holding its session on Sept 9, lawyers had arranged a protest and convention in a nearby office of the Supreme Court Bar Association (SCBA). They accused the judiciary of favouritism in the appointment of superior court judges and thus harming its image.
Through a resolution, the convention asked the JCP to adhere to the seniority principle in appointments to the apex court from the provincial high courts until such time as fair, transparent and objective criteria for appointment of judges at all levels were framed in consultation with all stakeholders and appropriate amendments to the Judicial Commission Rules.
But during the JCP meeting on Sept 9, Chief Justice Gulzar Ahmed had described the event as a historic day when a woman judge had been nominated to the apex court.
Justice Umar Ata Bandial observed that the legal fraternity had to progress and decide whether "we had the courage and strength to take a step in favour of a woman", emphasising that a uniform standard be applied for men and women for selection. "The woman judge cannot be stopped on the basis of seniority or lack of it if she meets the standards of competence or capacity or independence."
Justice Bandial said the nominee (Justice Malik) was known to be fiercely independent and probably that was the reason why the Bar was opposing her elevation and stalling the process.
Justice Sardar Tariq Masood, also a member of the JCP, observed that whenever the seniority principle was ignored for the appointment of judges, the judiciary's independence stood compromised and its fallout derailed democracy.
Justice Masood, who had opposed the appointment of Justice Malik, said it was unfortunate that "without valid reasons", the three judges of the LHC senior to Justice Ayesha Malik were being ignored.
Source: Dawn
https://www.dawn.com/news/1665640/jcp-to-debate-justice-ayesha-maliks-elevation-to-supreme-court-on-jan-6
--------
Abu Dhabi: Indian women's group donates rare blood types to help save lives
by Ashwani Kumar
25 Dec 2021
A group of women from the Abu Dhabi-based Indian association have donated rare blood types to support the local health authorities' efforts to save lives of patients and manage blood transfusion requirements during the pandemic.
With the pandemic crisis intensifying, members of the Indian Ladies Association (ILA) in collaboration with the Abu Dhabi Blood Bank Services (ADBBS) organised the campaign at the India Social and Cultural Centre Abu Dhabi.
ILA president Ambreen Sheikh pointed out that the drive was specifically aimed at collecting blood types O, A and B negative.
"The Abu Dhabi Health Services Company (Seha) has been encouraging the community members to donate blood. We checked with the blood bank on the requirements. We were told about the need for specific blood groups," Ambreen said.
"We believe that blood donation is a small act of kindness that does big wonders. The blood of a single donor can do what money cannot. And donors with rare blood groups play such a significant role in society. We had about 25 such donors. We thank all those who came forward to support the drive. We encourage more youngsters to donate on a regular basis," Ambreen said.
A medical staff from the ADBBS urged more members of the community to come forward.
"I thank the ILA for donating blood. This will help to save the lives of the patients. I am encouraging everyone to donate their blood, especially O and A types, which are the most needed," Jeanne Inductivo Onate said.
Anuradha Bansal, who donated B negative - one of the rarest types - stressed on the role of such campaigns in saving lives.
"I felt very happy to have contributed to a cause. My blood group is very rare. So, it will be in demand during an emergency. I feel blessed if I will be able to save a life. I request other individuals with rare blood groups to donate and help our health authorities and hospitals."
ILA has been conducting such community initiatives throughout the pandemic. They have offered kits boxes with basic essentials to the labour accommodations of both men and women, held an interactive session with children of determination and organised competition to encourage sustainable living among others.
Those who wish to donate blood can contact the blood bank at 02-8191700.
Who can donate blood?
— Any person in good health and not under a doctor's care for any serious problem.
— Are between 18 to 65 years of age.
— Are at least 50kgs.
— Didn't donate blood within the past 56 days.
Source: Khaleej Times
https://www.khaleejtimes.com/health/abu-dhabi-indian-womens-group-donates-rare-blood-types-to-help-save-lives
--------
Seminar In Pakistan Sheds Light On Issues Facing Women
December 23, 2021
MARDAN: Speakers at a seminar here on Wednesday highlighted the issues being faced by the working women.
They were speaking at the seminar to mark the National Working Women's Day.
The Department of Sociology and Office of Research, Innovation and Commercialisation (ORIC) at the Abdul Wali Khan University Mardan had jointly organised the seminar.
Sabeeha Hastam, Additional Assistant Commissioner Mardan/Finance Officer, Alia Nawab, Khyber Pakhtunkhwa Commission on the Status of Women district women committee member, Tauheed Rasheed, Superintendent Women Shelter Home Mardan, Najma Shehnaz, Lady Police District Mardan, Dr Hussain Ali, Chairperson Sociology Department, Syed Ali Shah, Chairperson Pakistan Studies, Sajjad Ali Shah, Deputy Director ORIC, Shah Hussain Awan, Deputy Director Quality Enhancement Cell (QEC), Muhammad Arif, President Saiban Development Organization, Shaista Gohar, Safia, Rizwana Gul and other faculty members of the Abdul Wali Khan University Mardan shared their views.
Expressing her views, Sabeeha Hastam said that women were able to achieve and fulfill every task more professionally either in their family life or in professional life. She added that women should convince their family members to allow them to get a decent job and contribute to nation building. Alia Nawab said a woman could not secure a decent employment without self-confidence and courage.
She maintained that women should choose new professions and establish their own businesses to play a vital role in the socio-economic development of the country. In her speech, Najma Shehnaz encouraged the students to join those departments and organisations where women were doing fewer jobs due to social barriers.
Tauheed Rasheed said she served in the Pakistan Air Force for two years and was now working with the Social Welfare Department. "I feel honoured to work for women who have suffered and faced gender-based violence in the society. I encourage women to raise their voice for their protection and empowerment in society," she added.
Sajjad Ali Shah said that women had the ability to perform their duty at home as well as in any organisation. He added that women were performing their role as working women in every sphere of life which was a roadmap for women graduates in future.
Muhammad Arif said that women were being encouraged to join their organisation as a social worker to highlight the issues faced by working women in different sectors. At the end, shields were distributed among working women.
Source: The News Pakistan
https://www.thenews.com.pk/print/919109-national-working-women-s-day-seminar-sheds-light-on-issues-facing-women
--------
URL: https://www.newageislam.com/islam-women-feminism/female-lieutenant-irem-koksal-turkish-navy/d/126029
New Age Islam, Islam Online, Islamic Website, African Muslim News, Arab World News, South Asia News, Indian Muslim News, World Muslim News, Women in Islam, Islamic Feminism, Arab Women, Women In Arab, Islamophobia in America, Muslim Women in West, Islam Women and Feminism