New Age Islam News Bureau
30 Sept 2015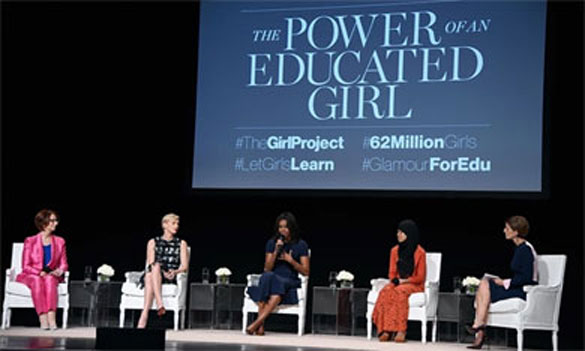 Glamour's editor-in-chief led a panel discussion with Julia Gillard, Charlize Theron, Michelle Obama and Nurfahada. Photograph: Dimitrios Kambouris/Getty
----------
• Female Leaders Gather to Underline Importance of Educating Girls
• DCW Chief Writes To Ministers of Government of India for Jobs for Acid Attack Victims
• India: Woman Sarpanch Begging, Cleaning Toilets to Make Ends Meet
• Emma Watson: I Have Experienced Sexism in Hollywood
• Who Is Qandeel Baloch And What Is She Doing On My Timeline?
• Why Has the Iranian Women's Movement Failed?
• The British Punk Rocker Widow Who Wants to Run Isis's Hackers
• Palestinian Woman Meets With Brother after 70 Years
• Study: Quarter of Civilians Killed In Syrian War Are Children, Women
Compiled by New Age Islam News Bureau
URL: https://newageislam.com/islam-women-feminism/female-leaders-gather-underline-importance/d/104753
-------
Female Leaders Gather to Underline Importance of Educating Girls
Wednesday 30 September 2015
Educating girls is the key to ending world problems, including poverty, first lady Michelle Obama told nearly a thousand teenage girls Tuesday.
Shrouded in pink spotlights, Obama joined actor and activist Charlize Theron, former Australian Prime Minister Julia Gillard and Nurfahada, a 16-year-old girl ambassador for Plan International, an international development organisation, at the Apollo Theatre to talk about the power of education and its lasting importance.
Obama gestured toward Nurfahada, who travelled to the US from the Philippines to talk about how girls in her country miss out on education because of systemic violence, poverty and teenage pregnancy.
Educate women and their community will prosper. Deny them education and the world will suffer
"Just imagine if [Nurfahada] couldn't get an education," Obama said. "What a waste that would be."
Other advice from Obama: read, write, go to school, don't be late, do your homework, get the best grade, compete with the boys, beat the boys.
"I am worthy, and if I'm worthy, so are you," she said.
Glamour magazine sponsored the event in collaboration with the White House's Let Girls Learn initiative, and Glamour editor-in-chief Cindi Leive moderated the panel. The commitment to ensure inclusive and equitable quality education and empowerment for women and girls is a part of the UN sustainable development goals, announced last week.
On Saturday, Obama announced a new global education initiative, #62MillionGirls, in a video featuring Beyoncé and Hugh Jackman.
"The empowerment of women is so important," Theron, who founded Charlize Theron Africa Outreach Project and acts as the UN Messenger of Peace, said. "World poverty, world hunger, health issues – all of this stuff lies within the empowerment of young girls and women."
Joking about Instagram food photos and childhood fashions, the women on stage shared stories about their own education and answered questions from the teens in the audience about the value of education and its effects on the world.
The theatre lit up when Lieve posed what she said is a common line of thought among schoolgirls – that doing well in school will make a girl less attractive to boys.
"There is nothing sexier than a smart woman," Theron said, enraged at the idea.
Obama encouraged all women and girls to raise their standards for the people in their lives, and push aside negative forces. No boy is cute or smart enough to stop a girl from pursuing her education, she said.
"If i had worried about who liked me and who thought I was cute when I was your age, I wouldn't be married to the president of the United States today," Obama said, high fiving Theron and miming a mic drop.
Another question came from a 13-year-old Girl Scout, who asked Gillard how the lack of education for girls affects "the people in this room."
"I want you to grow up and live in a peaceful and prosperous world and the evidence is incredibly clear that the more time people spend in school the more likely they are to support peaceful ways of resolving conflict, the more likely they are to support democracy, the more likely they are to show tolerance of other religions," Gillard said.
http://www.theguardian.com/lifeandstyle/2015/sep/30/female-leaders-gather-to-underline-importance-of-educating-girls
-----
Women's Commission Chief Writes to Ministers for Government of India Jobs for Acid Attack Victims
Delhi | Press Trust of India | September 30, 2015NEW DELHI: The Delhi Commission for Women or DCW chairperson Swati Maliwal has written to all ministers of the city government urging them to facilitate jobs for acid attack victims in their respective departments.
The DCW which is working with the Delhi government to rehabilitate acid attack victims has collected the CVs of 33 acid attack victims.
"In this regard I would like to bring to your notice an order by the chief minister to provide government jobs to 35 acid attack victims of Delhi which was widely reported by the media," Ms Maliwal said in her letter.
The Commission, she said, along with six acid attack victims had met Deputy Chief Minister Manish Sisodia on August 6 who had assured them help.
"It was also decided in this meeting that DCW will collect the CVs of the 35 victims and submit the same to Delhi government. At present, the Commission has collected the CVs of 33 acid attack victims to facilitate timely provision of jobs to these victims. I request you to kindly consider these CVs and place these victims in the departments under you ministries," she added.
After the August 6 meeting, the DCW chief had begun working on the profiling of these acid attack victims to recommend government jobs for them as per their demand and eligibility.
http://www.ndtv.com/delhi-news/womens-commission-chief-writes-to-ministers-for-government-jobs-for-acid-attack-victims-1224664
------
India: Woman Sarpanch Begging, Cleaning Toilets to Make Ends Meet
Manjari Mishra,TNN | Jul 17, 2013
JABALPUR: Rajni Bansal, Sarpanch of the tribal-dominated Bachhama village, 80km off Damoh, has been doubling as a safai karamchari to clean toilets in a local girls school, and a midwife to make some extra money. If things turn particularly rough - which is often - the 38-year-old woman is also seen begging around the hamlet. To add to her woes, she has not received her honorarium for months. Her shanty - too small to accommodate a family of seven - may not last this monsoon. And on top of it all, the penniless and illiterate woman has been charged with graft and could be facing arrest anytime.
It all began the day she learnt to write her name. It was Anil, her eldest son, who got her to do it, she recalls. Writing 'Rajni' in Hindi was fun and took her nearly a week. The skill came handy when the Panchayat secretary summoned her to his office to sign her name at a few places. And now she hears her signatures have been used to withdraw funds which she has never seen. Unable to comprehend the situation she is in now, the simple woman wonders, "If learning to write one letter could land one in such a mess, why do people take the trouble to go to big colleges?"
In this era of much hyped women empowerment, the mother of five has no clue about the authority she wields as sarpanch. She has never even occupied the chair she was elected to. "It is not polite to sit on a chair before all these men," she says by way of explanation. In any case, the only time she visited the panchayat office was when she was summoned to scribble 'Rajni'.
But now the report about impending action is beginning to worry her. Her eldest son Anil has already fled the village. Last fortnight she went all the way to Damoh to attend the jan sunvai at the collector's office. The officer, says Rajni, assured her of help, but so far no one has visited Bachhama or met her.
Sujat Khan, activist and member of Ekta Parishad Damoh says Rajni personifies the farce of Panchayati raj in Madhya Pradesh. "The unlettered and gullible woman has been duped by successive Panchayat secretaries to sign cheques and embezzle funds meant for various developmental projects", he says.
Damoh collector Swatantra Kumar Singh, while conceding that one of the secretaries in Bachhama Panchayat has been dismissed for bungling says that he has sent a team to probe the matter. "It is a peculiar case and would need a little time sort out," he says.
http://timesofindia.indiatimes.com/city/bhopal/MP-woman-sarpanch-begging-cleaning-toilets-to-make-ends-meet/articleshow/21114397.cms
-------
Emma Watson: I Have Experienced Sexism in Hollywood
Press Trust of India | September 30, 2015
The 25-Year-Old Actress Has Never Been Shy About Expressing Her Views Against Unequal Treatment Of Women In Hollywood. "I Have Experienced Sexism In That I Have Been Directed By Male Directors 17 Times And Only Twice By Women. Of The Producers That I've Worked With, 13 Have Been Male and Only One Has Been a Woman," The Actress Said
Actress Emma Watson feels that the difference between the numbers of female directors she has worked with and the number of male directors is a proof of the inequalities that exist for women in the industry, reported The Guardian .
The 25-year-old actress has never been shy about expressing her views against unequal treatment of women in Hollywood.
"I have experienced sexism in that I have been directed by male directors 17 times and only twice by women. Of the producers that I've worked with, 13 have been male and only one has been a woman," the actress said.
Emma, however, admitted that she has been lucky as compared to other women who have been turned away simply because of their gender, whether as an actress or director.
"I have always insisted on being treated equally and have generally won that equality," she explained. (Also Read: Woody Allen: Emma Stone Has Got It All)
http://movies.ndtv.com/hollywood/emma-watson-i-have-experienced-sexism-in-hollywood-1224682
-----
Why Has the Iranian Women's Movement Failed?
Since the 1910-era Constitutional Revolution, women in Iran have struggled to achieve gender equality, to no avail. In the 1930s, women had 14 magazines discussing their rights, and by the 1970s had gained some freedom of education and occupation.
But these small achievements were taken away when Ruhollah Khomeini usurped power in Iran in 1979.
After a century-old movement, women are still officially subhuman in the eyes of the state. They are denied the right to divorce their husbands and gain custody of their children.
They are also unable to work or leave the country without their husband's permission.
Throughout history, Iranian rulers have established power over Iran by subjugating the female body. Reza Shah, the Pahlevi Dynasty's first Shah, ruled Iran from 1925 to 1941. He forcibly removed the hijab from women in an attempt to westernize the country.
Since 1979, the Islamic Republic has forced the hijab back onto women in order to Islamicize the country. At the micro-level, individual males in Iran have also exerted control over women's bodies to prove their authority.
The failure of the Iranian women's movement is due to many pressing obstacles, including life under a theocratic government that severely suppresses any challenge to its "divine" rules. Thus any activity must be undertaken with extreme caution.
The contradictory perspectives of religious women activists vs. secular ones have also been a major reason for the failure of the Iranian women's movement.
While one group believes "genuine" Islam can be emancipating for women, the other considers secularism as the first step out of male domination.
Urban and rural women are also divided. Middle and upper-middle class women seek occupational and educational rights, while for poorer women, health issues and welfare are women's primary needs.
However, an unacknowledged source of division among feminists in Iran is the ethnocentrism of the dominant group.
Most women activists are either unaware that ethnicity and feminism intersect or are simply too afraid to discuss this important subject, which has become taboo.
Iran has long strived to assimilate ethnic and religious minorities within its borders, including Kurds, Baluch, Aazeris, Turkmans, Baha'is and Jews. Discussing the individuality of these groups frightens Iranians, who believe that diversity would endanger their land by instigating separatist outlooks. In their denial of diversity, women activists have turned into agents of patriarchy and reproduce national chauvinism.
Since they are under extensive pressure to assimilate, the majority of feminists have tied their cause to their centrist views. This is true even of some feminists born and raised outside of the capital.
They strive to help the mainstream voice become the only voice addressing women's plight. Moreover, since they feel it is the only powerful voice acknowledging the plight of women, they feel they should give the mainstream their allegiance and attention. Thus they fail to observe or acknowledge the simultaneous oppression that women outside of the centre experience.
This blind spot is as common among Iranians abroad as it is among those in Iran. Shortly before International Women's Day 2015, I was approached by a board member of a Toronto-based Iranian women's organization. She wanted me to join the group. Her call came as a pleasant surprise and I expressed my appreciation of her group's attempts to invite the voice of a minority into their organization. But it turned out that she was not aware of my Kurdish roots.
"We will contact you later," she said, and hung up, never to call me again.
While conducting research and interviews for this article, I approached the same board member to comment on ethnicity and feminism in Iran. I asked her to offer common grounds that activists could/should find to strengthen their fight. She responded that she had guests over and therefore had no time to answer my question. Two other Persian feminists also refused to comment because of time constraints and one never responded.
An eminent Iranian feminist based in Europe, however, did respond. "I am so sorry," she wrote, "but I am not interested to waste my time and energy to promote something that does not show minimum respect to what I believe in as feminist ethics." She ignored requests to clarify what she meant by "something" and did not explain why discussing ethnicity and feminism would go against feminist ethics.
However, not all the feminists I approached were hostile to discussing the intersection of race/ethnicity and feminism. Activist Torkaman Gamichi was more interested in facilitating a discussion about the situation of Turkish women in Azerbaijan Province than in pretending that only women in Tehran have the right to gender equality.
She pointed out the difference in priorities between the dominant feminists and the marginalized ones.
"While the centre-oriented activists are fighting to get Iranian women into sport stadiums, I am fighting to stop the virginity examination for new brides," said Gamichi. It is still a common expectation in Azerbaijan Province that a young woman acquire a certificate of chastity from a gynaecologist who examines her hymen.
But of course, such a campaign is not marketable. Women in the capital no longer have to deal with the humiliation of hymen examination and so it is not a pressing matter for them. Also, this is more of a cultural problem than a political one because the government does not require the examination. Moreover, giving this issue a voice would mean airing the dirty laundry of an already demonized nation that tries too hard to show the world it is westernized despite its fanatical government.
"I have nothing against a woman's right to watch sports in stadiums," Gamichi added. "I only want the centre-oriented feminists to understand that Turkish women are under chronic, discriminatory cultural mandates to be obedient and to be chaste."
Kurdish villages in Iran have one of the highest ranks of women's self-immolation in the world. For these women, who struggle with strict patriarchy, poverty and geo-political and domestic violence, the dramatic use of fire becomes their loudest cry for help and their only act of control over their bodies. Yet Iranian feminists never acknowledge this tragedy by speaking about it in the media.
Soraya Fallah, a Los Angeles-based activist who was incarcerated in Iran, said that even in Iranian prison, Kurdish women suffer more severely than their Persian counterparts.
"I was not allowed to address my visitors in Kurdish, my mother tongue," Fallah said. "I could not communicate to my mother, whose Farsi is limited. I was not allowed to tell my husband – in my own language – that I loved him."
Farsi is the only official language in Iran. It is the language of Persians, who constitute half of Iran's population of 70 million citizens. Prisoners are not allowed to speak in any other language.
"I was allowed a five-minute cold shower every week," Fallah said. "Most prisoners in Tehran were allowed more frequent showers, even those who were held in solitary. There was no toilet inside the cells where I was held. There was no TV or access to newspapers. Prison memoirs of my fellow activists reveal that the prisoners in Tehran were given these basic amenities. The prison facilities in Kurdistan were old and run down."
Dr. Roya Toloui, cofounder of the Kurdistan Feminist Party, believes that ethnic and gender discriminations are interconnected and cannot be separated.
"I often wonder if I am a feminist first and then a Kurd, or vice versa?" Toloui mused. "A major difference between me and a Persian feminist is that she can have the freedom to separate gender issues from ethnic oppression."
Marginalized women share ethnic subjugation with their men.
"Men who are oppressed themselves tend to be more violent with their female family members," Touloui said. "Kurdish women in Iran suffer from a tangled knot, a combination of ethnic, political, economic and gender oppression. A Persian feminist doesn't have to worry about lacking the right to education in mother tongue."
Provinces such as Baluchestan, Khuzestan, Lorestan and Kurdistan – which are located near the borders of Iran and are home to non-Persian ethnic groups – flounder. For the children in these regions, the first grade of elementary school is often a traumatic experience, since they have to learn literacy along with a new language.
While marginalized activists acknowledge that all women in Iran are subject to discrimination, they believe that focusing only on the situation of the dominant group means turning a blind eye to the realities of life for millions of women who live outside of Tehran or in its slums.
But, as long as dominant Iranian feminists fail to see the ethnocentrism in their own backyard and the simultaneity of oppression for the underprivileged, the century-old struggle for women's rights is bound for failure.
http://www.jpost.com/Opinion/Why-has-the-Iranian-womens-movement-failed-419333
--------
The British Punk Rocker Widow Who Wants to Run ISIS's Hackers
09.27.15
She played in a punk band back in Britain called Krunch. Now Sally Ann Jones is looking to raise holy hell online for the Islamic State.
A navel-baring British punk rocker turned Islamic State widow is now aiming for a leadership role in the terror group's cadre of hackers and online recruiters, United States officials believe.
Should she succeed, Sally Ann Jones, 45, would become ISIS's most public European national to openly threaten U.S. and U.K. networks. She also would likely become the most influential woman in the so-called Islamic State, widely known as ISIS, transforming her into a key operational figure.
"She appears to have picked up the flag of her late husband and is actively working to incite attacks and recruit new members," a U.S. military official told The Daily Beast.
But other Western observers wonder whether Jones has the technical chops for such a role—and whether ISIS would allow a Western woman to rise so high in the organization.
Jones was once the U.K.'s most infamous defector to ISIS. Now she could be a major target of the kind of U.S.-led coalition airstrikes that killed her husband, 21-year-old Junaid Hussein, who led ISIS's hacking campaign until his August death.
A U.S. military official said Jones, who now calls herself Sakinah Hussain or Umm Hussain al-Britani, recently caught the attention of Western officials after ISIS's September 11 online threats against Americans.
ISIS—under Jones's leadership, it is believed—announced a hashtag campaign on Twitter #AmericaUnderHacks campaign to "celebrate" the anniversary of the 9/11 attacks. As part of that, the group released a kill list with 100 names of military, law enforcement, and other government personnel.
The names were derived from government websites. It was what a second U.S. military official called "lame."
If Jones is indeed able to carve out an operational role for herself, it could speak to the future of Western women in ISIS. While a handful of Arab women—notably, Umm Sayyaf, the wife of the terror group's onetime financier—have taken leadership roles in ISIS, female Westerners largely have not. Instead, they've ended up as brides for ISIS fighting men, said Mia Bloom, professor of communication at Georgia State University who specializes in the role of women in terror organizations.
"There are links to be made that suggest women are taking a more proactive role, given the role of [other prominent ISIS wives] in terms of soliciting and managing the marriage bureau and sex trade," Bloom said. "But the fact is women don't have a front-line, active, gun-toting role regardless of how many photos ISIS posts of armed, veiled women splayed on Toyota trucks."
She added, "What's more likely is after the appropriate mourning period, Jones, like other emigrant brides, will go back to the dorm so she can be redistributed to the fighters. Women lose the house. They lose all the original benefits they had."
Hussain, her ISIS husband, was suspected to be behind some of ISIS's highest-profile hacking attacks, including the release of personally identifying information of 1,300 U.S. government and military personnel earlier this year. He was also reportedly behind the hacking of U.S. Central Command's social media feeds this summer.
"She appears to have picked up the flag of her late husband and is actively working to incite attacks and recruit new members."
Moreover, he was considered by U.S. officials to be a leader within ISIS, a strategist and a recruiter.
Hussain "was involved in recruiting [ISIS] sympathizers in the West to carry out lone wolf-style attacks," U.S. CENTCOM spokesman Air Force Col. Patrick Ryder said when announcing Hussain's death. "He had significant technical skills and expressed a strong desire to kill Americans."
Before he joined ISIS, Hussain was charged in his native U.K. with releasing former Prime Minister Tony Blair's address book and making crank calls to a counter-terrorism hotline. He was just 18 years old at the time and received a six-month jail term.
In 2013, he left for Syria. Jones, who met Hussain online, converted to Islam and followed Hussain, reportedly to the ISIS capital of Raqqa, Syria. She took her 10-year-old son with her, donning dark clothing that only exposed her eyes, according to photos posted online.
She quickly attracted a Twitter following of her own as she documented her movements with her husband and boasted of her place in the Islamic State. In 2014, she posted under her Twitter handle @UmmHussain102 until it was shut down. She would start new accounts and quickly pick up followers, even as her accounts were always shut down.
"Alhamdulillah me and my husband made it to the Islamic State after being stuck in Idlib [in north-western Syria] for 7mths & are now living in the khilafah #isis," she posted August of last year.
Later that month, she wrote: "My husband is away at training camp at the moment refreshing his 'kaafir [infidel] killing skills'... Don't cry though he'll be back soon :)"
She bashed Jews, Christians, and the West, defending beheadings and vowing to do the same.
"You Christians all need beheading with a nice blunt knife and stuck on the railings at raqqa [Syria]..... Come here and I will do it for you."
She urged followers to join, and according to two military officials, she is believed to have recruited women to be sex slaves for ISIS fighters. And she mocked the U.S.-led coalition effort.
"How many more body bags are American families willing to receive?" her husband tweeted last year, which she retweeted.
She has told potential Western recruits that she enjoys living under Sharia, a far departure from her life in Kent, where she was a sometimes unemployed, sometimes small-time punk band lead singer and mother. Indeed, she even quoted ISIS leader Abu Bakr al-Baghdadi.
"'So take up arms, take up arms, O soldiers of the Islamic State! And fight, fight'—Amir Al Mumineen Abu Bakr al Bagdadi," she wrote last year.
Last year, while living with ISIS, she reportedly became a grandmother to a little boy.
She never mentioned that herself, though.
But after Hussain's death, she wrote: "I'm proud my husband was killed by the biggest enemy of Allah, may Allah be pleased with him, and I will never love anyone but him."
U.S. military and intelligence officials are watching to see what she does next.
"Those closest to Junaid Hussain will be challenged in filling his shoes. Junaid's notoriety, connections, and experience—despite his age—offered a skill set not easily found among extremists," a U.S. intelligence official explained to The Daily Beast. "That said, [ISIS] continues to push out propaganda targeting a wide range of audiences, and there's little doubt some members of the group will try to pick up where Junaid left of."
So far, U.S. officials are not impressed. They believe that far from being a hacker, his widow is a figurehead who is being promoted as its future hacker because of her ties to the West. There is no evidence of technically proficient hacking on her part, the officials said. She has no training in code; indeed, she is not believed to have a high school degree.
And even the most sophisticated computer experts within ISIS have yet to pull off a major hack.
Rather, they have carried out fruitful Internet searches and bundled information. ISIS claimed in March, for example, to have hacked the U.S. military and obtained personal information of 100 service members. As it turned out, the group had simply searched the Defense Department's many public websites, created to promote the department.
The most effective hack so far has been of CENTCOM's Twitter accounts this summer.
Regardless, the group's persistence, coupled with its aggressive social media campaign, contributed to its online allure. And since Hussain's death, there has been a decline in ISIS hacking efforts, observers said.
But it also has been only a month since Hussain's demise, making it too early to make a credible assessment of Jones or the ISIS hacking campaign.
"She is a fanatic but as far as we know she has no hacking skills," said Daveed Gartenstein-Ross, a senior fellow at the Washington D.C.-based Foundation for Defense of Democracies. "It's not clear what is going on beneath the surface."
http://www.thedailybeast.com/articles/2015/09/27/the-british-woman-who-wants-to-run-isis-hackers.html
---------
Palestinian Woman Meets With Brother after 70 Years
September 30, 2015
MADINAH — An elderly Palestinian woman met her brother and her nieces and nephews in Madinah after 70 years of separation, Makkah daily reported. Fatima Al-Hard said she was separated from her brother 70 years ago.
"I had never imagined that I would be able to see him again. I have always trusted in Allah and kept a ray of hope in my heart that one day I just might see my brother again. I was able to meet his wife and children for the first time. I am so overwhelmed at the opportunity Allah has presented to me," said Al-Hard.
Other Palestinian pilgrims were also happy to have made it safely to Makkah and have performed their Haj smoothly.
"We are very lucky to survive all of the crises of this year. Coming to Makkah is no easy trip for us Palestinians. We had to go through a lot to be with the rest of the Muslims," said Sami Al-Husni.
He added he saw the efforts and dedication of Red Crescent paramedics and Saudi police officers and was impressed by their efficiency and resilience.
"The Ministry of Haj in Saudi Arabia has put in great efforts into serving the pilgrims. I was able to come here with my family to perform Haj. The endeavour would not have been possible without the efforts and support of the current and past Custodians of the Two Holy Mosques," said Al-Husni.
He added he was able to see the historical and Islamic sites in Makkah and Madinah with his family before his departure.
"We have also received free copies of the Holy Qu'ran as gift from the ministry. We will give this gift to our relatives in Palestine. We pray for the day when Muslims all over the world are free to visit the Kaaba," said Al-Husni.
http://www.saudigazette.com.sa/index.cfm?method=home.regcon&contentid=20150930258160
----------
Study: Quarter of Civilians Killed In Syrian War Are Children, Women
September 29, 2015
By Marisa Taylor
Women and children are most often the fatal victims of air bombardments and other explosive weapons in the four-year Syrian war that has killed roughly 80,000 civilians, according to study results released Tuesday.
Researchers at the Center for Research on the Epidemiology of Disasters at Université Catholique de Louvain in Belgium say that while men make up the overall majority of civilians killed in the war, nearly 25 percent of all civilians killed by explosive weapons were women and children.
Children are most likely to be killed by shells and ground-level explosives in Syria — more so than men, according to the study, which was published Tuesday in the British Medical Journal.
"Our analysis indicates that using explosive weapons in populated areas in Syria has disproportionately lethal effects on women and children and should be urgently prohibited," the authors wrote. "If we are looking for root causes of the migrant and refugee crises in Europe today, this is surely a major contributor."
The researchers, led by epidemiologist Debarati Guha-Sapir, wanted to know how many Syrian civilians have been killed by the war, as well as their demographics and how they were killed.
Knowing whether women and children have been targeted, or how civilians have died, can clarify whether human rights have been violated. But such a protracted conflict as the Syrian war makes it difficult to track fatalities, and epidemiologists say that detailed breakdowns of the weapons used to kill people during war aren't often studied.
In Syria, rumours of chemical weapons use have dogged the government of President Bashar al-Assad as it battles insurgent groups, and deadly barrel bombs dropped by the Syrian army on opposition-held regions have driven civilians into neighboring countries in recent months.
So the researchers honed in on data gathered by the Center for Documentation of Violations in Syria (VDC), one of four groups whose tally of fatalities helped form a comprehensive 2014 U.N. report that said more than 191,000 people had been killed in Syria between March 2011 and April 2014. (PDF)
But the U.N. report, the authors noted, included both fighters and civilians among the fatalities. The VDC, a network of activists who track deaths in Syria, is the only group that has been able to distinguish whether a person killed is a civilian or a combatant, the study said. The VDC recorded some 78,769 violent deaths of civilians in Syria between March 2011 and January 2015.
While studying the victims by gender, age and weapons used, the researchers found that nearly 25 percent of all civilians killed in the conflict were women and children. The data show children are those most likely to be killed by air bombardments, shells and ground-level explosives, more so than adult men or women. Children made up 16 percent of civilians killed in opposition-controlled areas and 23 percent of those killed in government-controlled sectors, the study said.
In most cases, children were killed by shelling and air bombardments, which accounted for 75 percent of the nearly 9,400 deaths of children, the study said.
"The government and rebel factions in Syria typically claim that the targets of their bombs and shells are enemy combatant strongholds, but our findings indicate that for Syrian children these are the weapons most likely to cause death," the authors wrote, adding that children killed in Iraq were also most likely to have been killed by bombs or shells.
Child deaths caused by ground-level explosives such as car bombs were five times as likely in government-controlled areas as they were for adult men. Women were the second most likely to be killed by explosive weapons, behind children. Women were most often the victims of chemical weapons, followed by air bombardments and shelling.
"The examples of suicide bombing of children at schools (by unknown perpetrators) and of barrel bombs being dropped by helicopters repeatedly over hospitals by government forces indicate that indiscriminate weapons can be used in a targeted manner against children and other civilian groups," the study's authors said.
http://america.aljazeera.com/articles/2015/9/29/25-percent-of-syrian-war-deaths-women-children.html
---------
Who is Qandeel Baloch and what is she doing on my timeline?
MEHREEN HASAN
ASSISTANT EDITOR
Facebook has a new bug, and its name is Qandeel Baloch.
If a friend (or now sworn enemy) hasn't coughed up one of her selfie videos on your timeline, you should consider yourself very lucky – and block possible trolls in advance.
Because Qandeel Baloch is what's going around on the social media circuit. And no one saw her coming.
Once a model and TV actress, she's now a popular choice for Dubsmash and also a fixture on the morning shows for when some extra masala is needed. So vicious is she, that she's succeeded in booing Mathira off the sets!
Yup, she's that catty!
Here's eight more things to know about her:
1- She was the product of this unholy alliance:
2- Since she considered the above meme a compliment, we know who her inspirations are! We also know who her inspirations are not...
"Don't call me Meera... or Mathira... or whatever!"
3- But competition-wise, it's Waqar Zaka who's her arch enemy:
Qandeel has some strong feelings about the latest in his life
Blasting Waqar for faking his Facebook hack for fame two days ago, she utters a most emphatic "I hate you, b******!" We wonder if she really means, "Wish I had thought of that!"
4- Never seen without 434 layers of make-up, it's no surprise that Qandeel cares about her looks:
Is she marvellous, extraordinary or sexy? This guy thinks she's all three...
5- She really is a glutton for punish... err.. Compliments?
"Was missing your ganday comments and galiyan," she says
6- She once had dreams of being a singer:
Remember her Pakistan Idol audition?
Who can forget it? The supposed actress-model-wannabe aunty stood out with style, strode into the audition room atop her six-inch stilettos and promptly debauched a Hadiqa Kiani number to the point that even the pop queen was forced to disown the song!
http://images.dawn.com/news/1173934/who-is-qandeel-baloch-and-what-is-she-doing-on-my-timeline
------
URL: https://newageislam.com/islam-women-feminism/female-leaders-gather-underline-importance/d/104753