New Age Islam News Bureau
9 Aug 2017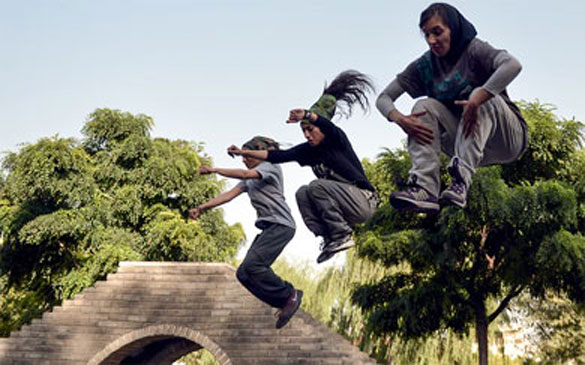 Iranian women practice parkour skills at a park in Tehran. Photograph: Anadolu Agency/Getty Images
-----
• Wife of Taliban Leader: Child Marriage Prevents 'Moral Destruction'
• 'We Hate The Headscarf': Can Women Find Freedom In Tehran's Female-Only Parks?
• Love Marriage Woman Killed Outside Lahore High Court Multan Bench
• Sisterhood of Toronto Muslim and Jewish Women Flourishing
• JI Demands Death Penalty for 'Honour' Killing
• Pakistan Woman, Husband Shot Dead In Honour Killing
Compiled by New Age Islam News Bureau
URL: https://www.newageislam.com/islam-women-feminism/female-lawmakers-drawn-pakistans-dirty/d/112147
--------
Female lawmakers drawn into Pakistan's dirty political games
By TUBA ATHAR HASNAIN
AUGUST 9, 2017
Late last month, Pakistan was making international headlines for the disqualification of a democratically elected prime minister. Last week, the country's politicians managed to draw international attention for another reason.
The latest, yet very different, episode started when lawmaker Ayesha Gulalai Wazir, who hails from the militancy-hit Federally Administered Tribal Areas, claimed that Imran Khan – the cricketer-turned-philanthropist and politician, who is chairman of Pakistan Tehreek e Insaf (PTI, or Pakistan Movement for Justice) – had sent her inappropriate text messages.
Gulalai alleged that the messages from Khan were ''sexual harassment'' and that she had been receiving such texts from the party chairman for four years. But in this age of social media, where you can screenshot anything and post it online within minutes, she didn't provide any proof of Khan's alleged harassment via text messages. However, this did not stop her discussing her claims on different talk shows with almost every television channel.
While her claims got huge coverage in Pakistan, Khan opted not to speak about the allegations. But his followers were busy maligning Gulalai, her family, her tribe and her honor. Things grew to the extent that Khan himself had to tweet about it, asking his followers not to bring her family into the matter.
Later, Gulalai showed the alleged text messages sent to her by Khan to a television journalist, who said that the texts were inappropriate in nature. On another show, she also claimed that she had received ''marriage offers'' from the party's spokesman as well.
The same night, PTI's official spokesman, Naeem-ul-Haq, tweeted that he had discussed marital thoughts with Gulalai, and that he was not sorry about it. But his admission was deleted within minutes.
And with this, the Pakistan Muslim League-Nawaz, the ruling party and Khan's key political rival, got a chance to enter the fray. One leader after another were seen on television calling for an inquiry into the case. Some even claimed that Khan, because of his colorful past, was surely involved in the matter.
The new interim prime minister, Shahid Khaqan Abbasi, a PML-N loyalist, backed the decision to form a parliamentary committee to investigate the allegations made by Gulalai.
This is not the first time women lawmakers of Pakistan have become the talk of the town. Rather, the men of this pure land did not spare the first-ever woman prime minister in the Muslim world, the late Benazir Bhutto. She was criticized and called inappropriate names merely because of the color of her dresses – that too, on the floor of the parliament.
Tit-for-tat for the ruling PML-N?
On Friday, when everyone thought PTI had almost lost it after the blunder by its official spokesman, the party hit back. In a press conference by the PTI's women's wing, a female guest claimed she was the wife of Hamza Shehbaz, a member of the National Assembly and nephew of ousted prime minister Nawaz Sharif. But Shehbaz and the party deny that he married her.
''If a parliamentary committee can probe the allegations made by Gulalai against Imran Khan, why can't the same justice be given to me?'' she asked.
This woman's situation first came to light in 2010, but was soon forgotten; now it has been resurrected. That's how power and money work in Pakistan.
Although this trend is not new, the ill treatment of female politicians looks to have reached a new height. It seems that both parties, the PTI and the PML-N, have suffered damage and found women to play politics for them.
Female politicians in Pakistan are subject to many cheap slurs by their male counterparts – ''Tractor Trolley'' and ''Newly Acquired Dumper'' are just some of ugly nicknames gifted by their male counterparts.
This case, however, must be investigated, because if it is not pursued, genuine cases of sexual harassment faced by ordinary women will be affected. Pakistan is a country known to treat its women badly and such cases are often described as family honor, just on the basis of gender.
http://www.atimes.com/women-lawmakers-drawn-pakistans-dirty-political-games/
--------
Wife of Taliban leader: Child marriage prevents 'moral destruction'
2 August 2017
The Taliban issued its first magazine for women in Pakistan on Tuesday.
The magazine apparently aims to persuade women to join the armed forces in pursuit of "Jihad."
The publication, Sunnata Khawla (meaning "Khawla's Way"), front cover featured women wearing the traditional Burqaa, entirely covering their face and body.
The first issue included an interview with the Taliban leader's wife, whose name remained anonymous.
In her interview, she speaks about her marriage to the leader at the age of 14.
She says speaking directly to women: "I ask you, why all the hustle everywhere about child marriages. We need to understand that if we leave mature boys and girls without marriage for a long time, they might become a source for moral destruction in society."
Similarly, the magazine's open editorial stated: "We want to urge Muslim women to come forth and join our fighting lines."
The publication is available in both Urdu and English texts. Taliban offer the prints in dual languages in hopes of having more recruits join their forces.
The English version featured an article by a Pakistani doctor titled "My Journey from Ignorance to Awareness." In her article, she highlights her decision to dismiss Western education and instead adopt an extremist perspective.
The Taliban had previously been active on social media outlets Facebook and Twitter, until their pages were eventually closed on most online platforms.
https://english.alarabiya.net/en/variety/2017/08/02/Wife-of-Taliban-leader-Child-marriage-prevents-moral-destruction-.html
--------
'We hate the headscarf': can women find freedom in Tehran's female-only parks?
9 August 2017
"I love to take off my headscarf," says Laleh, 47, a hairdresser from Tehran. She's sitting with a group of friends around one of the many picnic tables in the Mother's Paradise, a park in the Iranian capital. She's wearing a fringed mint-green T-shirt through which you can see her bare stomach. "We can wear airy clothes here, and that's a freedom I really enjoy."
Behind her, a group of women wearing T-shirts and skinny jeans are dancing to loud pop music. One of them climbs on top of a table and sways her hips to the rhythm of the music. A group of schoolgirls wearing white headscarves stop to watch.
"We hate the headscarf," says one of Laleh's friends, a retired nurse. "We are so happy to be able to go to a place where we can walk around uncovered, do sports and sunbathe."
In the capital of the Islamic Republic of Iran, women must abide by a strict dress code: a headscarf, long trousers and a coat that covers the hips. Those who flout the rules risk the wrath of the morality police.
But here at Mother's Paradise park, the women – who have hung their headscarves and coats on the branches of trees nearby – aren't breaking any rules: this is one of Tehran's women-only parks, a popular new development across the country.
The Mother's Paradise was the first to open in the capital, in 2008. Three subsequently materialised in other neighbourhoods – and then spread to other cities. In the popular tourist city of Isfahan, for example, there are now five.
While women-only parks also exist in other Islamic countries including Pakistan, Afghanistan and Saudi Arabia to offer women recreational spots safe from sexual harassment, in Iran they have – at least ostensibly – also been set up for health reasons.
Reza Arjmand, a sociologist at the University of Lund, Sweden, who recently published a book about the parks, says Vitamin D deficiency is a problem in Iranian cities, where women are forced to cover themselves in public and often live in apartments with small windows that don't admit much sunlight. A study in 2001 for the ministry of health revealed an alarming growth in the number of women developing osteoporosis, which Arjmand says inspired the authorities to start building the parks.
"Traditionally it wasn't considered decent for Persian women to walk around in parks," Arjmand says. "And after the Islamic revolution of 1979 the government deemed parks for women unnecessary. But when it turned out that the next generation runs medical risks because their mothers are unhealthy, the authorities became interested."
According to Arjmand, the parks also offer the authorities "a great chance to take segregation of women and men to another level" – and for this reason many Iranian women are fiercely critical of them.
"These parks are an insult and I will never go there. I refuse to be secluded in a reservation," says Roya, a feminist writer who asked for her name to be changed. "If you put women in separate parks, men and women will never learn how to interact in a normal way. This can lead to dangerous situations."
Criticism has also come from conservative Iranians. The pro-government sociologist Ali Entezahi has stated that parks where headscarves can be removed will only "cause confusion" among women, because they might start doubting the necessity of covering themselves up in public at all times.
At the Mother's Paradise, women eat lunch in pavilions, some train on outdoor fitness equipment, others buy soft drinks at a kiosks or are busy with their children. There are girls in miniskirts and shorts, but some women prefer to keep their coats and scarves on. A large metal fence shuts out the outside world. Female guards in blue uniforms with white gloves and a whistle keep a keen eye on everything. It is strictly forbidden to take photographs.
And on closer inspection, the parks are not as woman-friendly as their name suggests. Though there are a few playgrounds for children, there are no changing facilities for babies, and boys above the age of five are not allowed to enter. According to Arjmand, it was initially announced that women would be involved in the development of the spaces, but in the end they were designed solely by men. "We have many great female architects and urban planners in Iran, but they haven't even been asked for their opinion."
Finding suitable locations for the parks has also been problematic, because of the risk that men could see in from a window or a balcony from a neighbouring building. As a result, many of the green spaces are situated in suburban areas, which make them difficult to reach for many women. Some are also required to close early, to prevent a confrontation between unveiled women and male gardeners who come to water the plants – meaning working women are unable to use them.
It is a strange paradox: Iran is building parks for women – but doesn't seem to have considered the qualities that would make them uniquely attractive to them.
Nevertheless, Arjmand does see a positive side to the development. "No matter how you look at it: a group of women will benefit from these parks. For women from religious families this is often the only possibility to spend time outside without a headscarf.
"It's true that these parks isolate women, but it also offers a group of them a freedom they formerly did not possess."
https://www.theguardian.com/cities/2017/aug/09/women-only-parks-tehran-iran-segregated-outside-spaces
--------
Love Marriage Woman Killed Outside Lahore High Court Multan Bench
August 09, 2017
MULTAN - A love marriage woman was shot dead allegedly by her brother in the name of honour outside Lahore High Court Multan Bench here on Tuesday, the police said.
The accused was identified as Zulqarnain, 17, who was arrested by police from the spot.
The woman namely Kulsoom died on the spot while three others including her spouse Rafaqat, a lawyer and a passerby also got injured in the firing. They were rushed to hospital where condition of Rafaqat is stated to be precarious.
Police said that Kulsoom, resident of Rajanpur, contracted a love marriage with Rafaqat a few months ago and her family filed a case against her. The ill-fated lady came to the LHC Multan Bench to attend hearing of the case and got killed by her brother, who ambushed the couple just outside the court. Police recovered the murder weapon from the accused while the body of the deceased was shifted to Nishtar Hospital for autopsy.
http://nation.com.pk/national/09-Aug-2017/love-marriage-woman-killed-outside-court
--------
Sisterhood of Toronto Muslim and Jewish women flourishing
Aug 09 2017
Cynthia Levine-Rasky was already concerned about hate, racism and xenophobia in Canada. Then Donald Trump rose to power.
"I perceived an immediate threat to religious minorities, LGBT groups, women, refugees and racialized groups," said Levine-Rasky, Toronto resident and associate professor of sociology at Queen's University. "His rhetoric was divisive, and I knew that the social climate that his policies would create does not stop at national borders."
As a Jewish-Canadian, she started thinking about how marginalized groups can support each other and counter the rise of hate. After inquiring about the Sisterhood of Salaam Shalom, an American interfaith group of Muslim and Jewish women sharing their experiences, she reached out to the local Muslim community and started a Toronto chapter earlier this year.
The group has grown from two women to about 40. They hold monthly meetings to share prayers, food and stories of resilience.
While the main goal is for members to know and support each other, Levine-Rasky said the Toronto sisterhood will be a force of advocacy as well. They plan to organize public education panels on the fight against racism and Islamophobia, attend protests against white supremacists and write letters to editors denouncing anti-Muslim and anti-Jewish acts in the community.
"Women are integral to any positive change," said Sabreena Ghaffar-Siddiqui, the other co-founder and a researcher on race and Islamophobia at McMaster University. "We are better off as a society when there's more solidarity and togetherness."
If you go:
The next Sisterhood meeting will take place on Aug. 19 at Christie Pits for the memorial of the 1933 anti-Semitic riot.
http://www.metronews.ca/news/toronto/2017/08/09/sisterhood-of-toronto-muslim-and-jewish-women-flourishing.html
--------
JI demands death penalty for 'honour' killing
By Izhar Ullah
August 9, 2017
PESHAWAR: Announcing the launch of a countrywide movement for women's rights from August 10, the Jamaat-e-Islami (JI) has demanded that 'honour killing' should be punishable by death penalty.
"Honour killing is cruelty and injustice against women," said Mushtaq Ahmad Khan, the JI's Punjab Amir, while announcing the three-month-long campaign at the provincial headquarters on Tuesday.
"Death penalty should be awarded to those who commit honour killing," he said, adding that there is no place for honour killing in Islam.
Condemning the 'Swara' custom in which girls are handed over to rival parties to settle disputes, the party's provincial head said, "Such practices are against Islamic teachings and the state must discourage them while dealing them with an iron hand."
He called upon the party's women wing to conduct awareness campaigns to stop the "un-Islamic culture of giving divorce in one go" which "ruins the lives of both women and their children".
He said a 20-member women cabinet would be formed at the local government level to conduct seminars and awareness campaigns to empower women in villages about property and inheritance rights.
"[The] JI has always respected and given space to women to take part in national affairs and politics," said Mushtaq, adding that there were more than 350 JI women councilors serving in local government departments at the tehsil, district and village council level.
"We have reserved 10% of the central council seats for women and they have a say in majority of the party's affairs," he claimed.
The JI leader said that the party would provide support to women on legislative and judicial levels as well.
At the legislative level, he said, the party was preparing a resolution to support the rights of women and would submit it in the provincial and national assembles after completion. While at the judicial level, the party had decided to provide support to women who could not bear expenses to fight their cases, he added.
About homeless women, Mushtaq said his party was working to establish a rehabilitation centre even though it was the responsibility of the state.
Replying to a query whether JI would give tickets to women to contest assembly elections, he said legislation was underway to reserve 5% of the party tickets for women members.
https://tribune.com.pk/story/1477022/ji-demands-death-penalty-honour-killing/
--------
Pakistan woman, husband shot dead in honour killing
09th August 2017
LAHORE: A 22-year-old Pakistani woman and her husband were today shot dead by her brother outside a local court in Pakistan's Punjab province in the latest incident of honour killing in the country.
According to police, Kulsoom Bibi had come to the Multan High Court, some 350-km from Lahore, for a hearing along with her husband Rafaqat when her brother 17-year-old Zulqarnain reached there and opened fire on them.
Kaloom died on the spot while Rafaqat succumbed to his injuries in a hospital. The couple's lawyer also suffered bullet injuries who was shifted to a hospital where his condition is stated to be critical.
Kalsoom recently had contracted marriage with Rafaqat against the will of her family.
The woman's family had filed a petition in the court taking a plea that Rafaqat had abducted Kalsoom and forcefully married her.
The officials termed the incident "an act of honour killing".
Zulqarnain, after killing the couple, surrendered himself before the police and confessed to his crime.
"I have killed my sister and her lover for disgracing the family honour," Multan police official Raza Ali quoted him as saying.
Last month, a 20-year-old Pakistani woman and a man she was having an affair were hacked to death allegedly by her father and brother in Karachi.
Hundreds of women are murdered every year in Pakistan, often by their own relatives, for marrying against their families' wishes.
Last year, over 1,100 women were killed in Punjab in the name of honour.
http://www.newindianexpress.com/world/2017/aug/09/pakistan-woman-husband-shot-dead-in-honour-killing-1640461.html
--------
URL: https://www.newageislam.com/islam-women-feminism/female-lawmakers-drawn-pakistans-dirty/d/112147
New Age Islam, Islam Online, Islamic Website, African Muslim News, Arab World News, South Asia News, Indian Muslim News, World Muslim News, Women in Islam, Islamic Feminism, Arab Women, Women In Arab, Islamophobia in America, Muslim Women in West, Islam Women and Feminism