New Age Islam News Bureau
18 Jul 2020
• Princess Reema Bint BandarElected as International Olympic Committee Member
• Saudi Ministry of Islamic Affairs Appoints Female Workers in Medina Mosques
• Muslim Woman Says Kansas City Area Gun Range Turned Her Away for Wearing Hijab
• Muslim, Christian Women Collaborate to Support Vulnerable Families
• Saudi Arabia's Humanitarian Aid Center Discusses COVID-19 Impact On Women
• Shahrdari Bam Confirmed As Iran's Women Football League Champions
Compiled by New Age Islam News Bureau
URL: https://www.newageislam.com/islam-women-feminism/female-journalists-middle-east-resist/d/122407
--------
Female Journalists of Middle East Resist Targeted Online Sexual Harassment Campaign
18.07.2020
Ola Al-Fares was hit by massive online abuse
----
Two prominent female Al Jazeera journalists have been targeted in what one researcher described as an "industrial level" misogynistic campaign by Saudi Arabian social media accounts, drawing condemnation from advocacy groups.
News anchor GhadaOueiss and Ola Al Fares were subjected to a barrage of sexual allegations and innuendos about their successful careers in June after Oueiss said her phone was hacked and images of her in a swimsuit were leaked.
Oueiss and Al Fares had recently covered issues sensitive to Saudi Arabia, such as the murder of journalist Jamal Khashoggi.
In response, Ouiess notified Twitter but said they were slow to act. Last week, she published her reaction in US newspaper The Washington Post, describing an attack of 40,000 tweets in just a few hours that left her shaken. She said she refused to be silenced.
Advocacy groups such as the International Press Institute (IPI) and Committee to Protect Journalists (CPJ) said that such campaigns are part of a range of ways powerful state actors target critics and highlighted Twitter's slow response.
"Political leaders and others who target journalists, including with online harassment campaigns, are essentially allowed to use these platforms to propagate these campaigns," Courtney Radsch, the Advocacy Director at CPJ, told DW. "While Twitter has acknowledged the problem of online harassment, they haven't really come up with enough tools to address it."
Nationalism goes digital
Marc Owen Jones, a professor at Hamad bin Khalifa University in Qatar, where Al Jazeera is based, told DW the campaign was amplified by local news organizations reporting unverified tweets. Such campaigns are extremely common and "systemic," he said.
"Many of the accounts spreading this disinformation — doctored tweets and false narratives based on misattributed images and slut-shaming — are against Saudi law for example, yet no action is taken," Owen Jones said.
Oueiss wrote that almost all of the accounts involved displayed Saudi flags and images of Saudi and UAE rulers. Saudi Arabia has cultivated a new hyper-nationalism in recent years, with influential social media accounts pushing government narratives, according to an analysis by Saudi researcher EmanAlhussein, formerly a fellow at the think tank European Council for Foreign Relations (ECFR).
One UAE-based Twitter user, responding to Owen Jones' analysis of the attack, said that journalists who criticize Saudi Arabia, the UAE, and their leaders "should be ready for everything."
'I won't be silenced'
Numerous studies have shown that women are targeted by online harassmentsignificantly more often than men.
Nearly two-thirds of female journalists have experienced online abuse, according to a 2018 survey conducted by the International Federation of Journalists (IFJ).
"Another worrying result is that the majority of abused respondents said these attacks had had psychological effects such as anxiety or stress (63%), while 38% admitted to self-censorship and 8% lost their job," the IFJ said.
A report published last year by Reporters Without Borders (RSF) showed that the Middle East was a particularly hostile region for journalists.
"As a result of wars, persecution by authoritarian regimes, as well as the number of journalists killed, threatened, silenced or forced into exile, most of the region's countries are ranked low in the World Press Freedom Index," the report said.
Improving Twitter's response rate is essential in mitigating attacks but newsrooms are also obliged to protect staff and freelancers, "so the burden of reacting and preventing these attacks should not fall on the target," Javier Luque Martinez, Head of Digital Communications at the IPI, told DW.
"Counter speech" and journalists tracing back their own digital footprints to minimize their exposure, especially before publishing on sensitive topics, are among the measures recommended in the IPI's toolkit, Martinez said.
Oueiss has taken "counter speech" one step further, declaring she will not stop her critical coverage of the region. As she wrote in her op-ed: "I won't be silenced by online attacks."
https://www.dw.com/en/middle-east-female-journalists-resist-targeted-online-abuse/a-54224906
--------
Princess Reema Bint Bandar Elected As International Olympic Committee Member
17 July 2020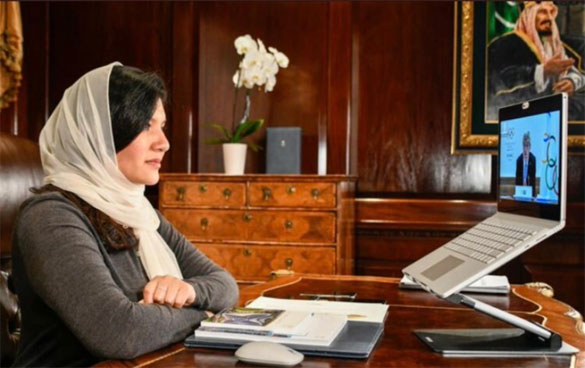 Princess Reema bint Bandar bin Sultan has been elected as a member for International Olympic Committee (IOC) during its session on Friday. (Twitter: @alekhbariyatv)
-----
Saudi Arabia's Ambassador to the United States Princess Reema bint Bandar al-Saud has been elected as a member of the International Olympic Committee (IOC) after her inclusion was approved during the sporting body's 136th session.
The IOC made the announcement on Friday in which Princess Reema joined four other new members to take the sporting body's total members to 105.
For all the latest headlines follow our Google News channel online or via the app.
"Honored to be elected as a member of #IOC. Thank you to the Custodian of the Two Holy Mosques King Salman, HRH Crown Prince, and @AbdulazizTF for their support. It has been an honor to serve my community through the universal language of sports," Princess Reema tweeted after her election.
The four others who join Princess Reema are World Athletics President Sebastian Coe, ex-Croatian President Kolinda Grabar-Kitarović, Cuban Olympic Committee Board member Maria de la Caridad Colón Ruenes and Acting President of the Mongolian National Olympic Committee Battushig Batbold.
Princess Reema bint Bandar bin Sultan, is the daughter of a former long-time ambassador to the United States. She became ambassador to Washington in February 2019, making her the Kingdom's first female ambassador.
The Saudi Arabian princess has a long involvement and career in sports in the Kingdom. In 2016, Princess Reema was appointed as the Undersecretary of the Women's Division in the General Sports Authority of Saudi Arabia. A year later, she became the President of the Saudi Federation for Community Sports, making her the first woman to lead a federation covering sporting activities for men and women in the Kingdom.
https://english.alarabiya.net/en/News/gulf/2020/07/17/Saudi-Arabia-s-Princess-Reema-bint-Bandar-elected-as-IOC-member.html
--------
Saudi Ministry of Islamic Affairs appoints female workers in Medina mosques
July 17, 2020
Tawfiq Nasrallah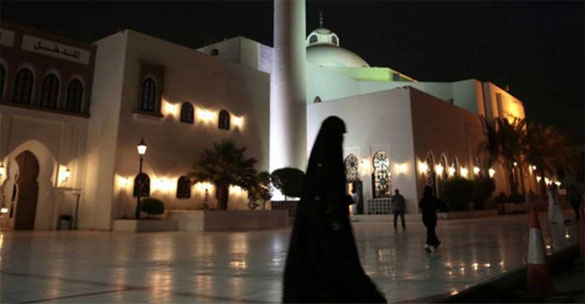 The female workers' duties will include supervising or managing in female's departments of mosques.
Image Credit: TNS
-----
Dubai: Saudi Arabia's Ministry of Islamic Affairs has appointed female workers in Medina mosques to serve in the female sections.
The female workers' duties will include supervising or managing in female's departments of mosques. The Ministry said it will still be supervising the situation and supporting the workers wherever possible to help perform their duties.
They will also help control or maintain prayers with measures. Currently, this is related to social distancing and preventing measures, in addition to developing women's advocacy and other activities related to the section of the mosque.
However, this is not new or major change as the same have been seen similar setup in Mecca and Madinah. But it will now be more normal to help and maintain the safety of everyone.
https://gulfnews.com/world/gulf/saudi/saudi-ministry-of-islamic-affairs-appoints-female-workers-in-medina-mosques-1.72652937
--------
Muslim woman says Kansas City area gun range turned her away for wearing hijab
BY ROBERT A. CRONKLETON
JULY 16, 2020
A Lee's Summit gun range discriminated against a Muslim woman by denying her access to their facility, according to a Washington, D.C.-based civil rights organization that demanded an immediate federal probe on Thursday.
Rania Barakat said staff at Frontier Justice denied her access to the gun range after she refused to remove her hijab, a religious head covering worn by Muslim women.
"I've encountered racism before, but it was never to the point that someone has told me to remove my scarf in order to enter a facility to do any type of activity like this," she said.
Representatives of the national office and the Kansas chapter of the Council on American-Islamic Relations (CAIR) requested the investigation during a news conference on Facebook Thursday morning.
Bren Brown, Frontier Justice's president, denied that Barakat was discriminated against.
Rather, she was asked to adhere to a dress code that are applied to all patrons equally, Brown said. The dress code prohibits head coverings other than a forward-facing baseball cap on the range for safety reasons.
"It saddens us that anyone would say we are not inclusive, given that we serve all races and religions every single day in all of our stores," Brown said in a written statement. " We pride ourselves on this fact, and we strongly believe in America and the second amendment that is for every single American. Period."
The incident occurred during the afternoon on New Year's Day when Barakat went with her husband to Frontier Justice. At the time of the visit, she was wearing a hijab in accordance to her religious belief.
Her husband had been there multiple times and has had no issues.
"He wanted to take me there for a fun experience, instead we experienced racism and discrimination," she said.
The couple enjoys going to gun ranges and had visited others without any issues with her hijab. But when Barakat and her husband approached the cashier, she was told that she must remove her hijab to go into the gun range.
"We were kinda both confused and honestly really shocked to hear this," Barakat said.
Barakat told the employee that she couldn't remove her scarf because of her religion.
The employee pulled up the dress code policy on a computer and said, "hats, caps, bandanna, or any other head covering will be removed in the facility, except baseball caps facing forward."
The employee had the gun range manager come over, who said the dress code was for her safety and that gun particles could come back and burn her and her scarf.
When Barakat tried to explain that she had been to other gun ranges before and that her hijab had never been a problem, the manager replied, "this is not other gun ranges. This is their gun grange and this is their policy," Barakat said.
The couple ended up leaving.
"Clearly they were not going to let us shoot and I didn't want to waste any more time," Barakat said.
She checked Google for Frontier Justice and found reviews from other Muslim women, some who were friends and others she personally knows, who also said they had been discriminated against at Frontier Justice for different reasons, including that the hijab hides a person's identity.
"To have this happen to me personally was very sad and frustrating and I would never want anyone to go through what I went through," she said. "It saddens me that this is America. That this is the norm. And we must change that. It is unacceptable."
CIVIL RIGHTS ACT
During Barakat's visit, no one cited religion or any of her personal attributes as a barrier to access to the range, according to the statement from Frontier Justice. She was invited to stay in the store and shop, but would not be allowed on the range unless she complied with the safety rules.
"We cannot have a head covering on the range that could potentially catch brass and cause an adverse and unsafe movement of a person holding a firearm," the company said. "There are hundreds of videos of persons on a range that have brass hit their skin, who then flinch and have killed bystanders because of the uncontrolled action in response to the hot brass.
"It doesn't matter if it's a hoodie or a head scarf, potential hazard is there and as a business catering to the public, we cannot assume this risk."
ZanahGhalawanji, CAIR National staff attorney, said that Frontier Justice's actions violates the Civil Rights Act by refusing service to Barakat unless she removed her hijab.
"We have this law because historically Black Americans were excluded from or segregated in restaurants, motels, theaters and other public places," Ghalawanji said. "This law prevents public places from sending us back to a time in history were certain groups of people are treated as lesser and prohibits public places from discrimination and segregation."
Frontier Justice made it clear to Barakat when they excluded her family and other Muslim women from the gun range that Muslim women are not welcomed in their establishment, Ghalawanji said.
"Frontier Justice, you know they say they value faith, family and freedom — that appears to be their motto — but their actions tell us that they have shown otherwise," she said.
In addition to asking that the Justice Department investigate Frontier Justice, CAIR is asking that Frontier Justice accommodate Muslim women who wear the hijab and implement policies that specifically allow for it and other religious head coverings to be worn in the facility.
Moussa Elbayoumy, the board chair of CAIR Kansas, said while they appreciate that Kansas and the Kansas City communities have embraced them as a faith group, there are still a minority of people who exhibit xenophobia and and unacceptable of Muslims.
He said that they had received reports from others about Muslims being denied service at Frontier Justice around the same time. The concern is that the denial of service was not based on any legitimate safety concerns.
Rather, "it's meant to exclude Muslim women and other Muslims from exercising their rightful rights and legal rights," Elbayoumy said.
The civil rights organization is asking anyone else who was discriminated against to come forward.
https://www.kansascity.com/news/local/article244269377.html
--------
Muslim, Christian women collaborate to support vulnerable families
17 July 2020
NASRUL-LAHI-L-FATIH Society of Nigeria (NASFAT), The Federation of Muslim Women's Associations in Nigeria (FOMWAN) and Women Wing of the Christian Association of Nigeria (WOWICAN) have collaborated to distribute food items to vulnerable families in Lagos, Ogun, Kano and the Federal Capital City Abuja (FCT).
The interfaith women palliatives distribution is targeted at cushioning effects of COVID-19 pandemic on women and to sensitize the general public on the devastating effects of domestic violence.
The group plans to provide food items worth of N10,000 (Rice,Garri, noodle, groundnut oil) to 76 members of NASFAT, 27 in Lagos, 11 in Abuja, 11 in Ogun and 27 in Kano, while the gesture will also be replicated in the other two organisations (FOMWAN and WOWICAN).
During the distribution, the Women Affairs Secretary of NASFAT, AlhajaSuweebah Bola Kupolati represented by AlhajaFauziyahOladoja, said the purpose was not for the palliative alone, but to also signify that interfaith can play a significant role in peace building in communities.
She noted that the COVID -19 pandemic has very serious impact on women generally. "Women have been hit hard by the stay at home orders and this has seriously affected their businesses, source of income and in some cases have led to domestic violence.
"A good number of our women are petty traders and retailers; some work in industries like leisure and hospitality, restaurant, education and health services. The number of job losses has impacted all these areas in the last few months.
"Women who have been able to keep working through the pandemic are facing another issue: childcare. With schools, daycares and summer camps closed and children home all day, women have taken on the majority of caregiving responsibilities at home. In whichever direction you look at, COVID -19 has a serious impact on women across the globe" she said.
Kupolati added that in an effort to lessen the impact of the pandemic on women, Government has been able to provide various types of support for different categories of women, the widow, vulnerable families, unemployed, elderly ones and others.
The spokesperson for the interfaith collaboration, AlhajaSaidatOnike-Azeez, said domestic violence become rampant in the country due to lockdown. She said: "The organisations realize that the statistic of domestic violence is on the increase. Thais is why we decided to sensitise the public and raise awareness on the dangers of domestic violence in order to let people know that religion, Islam and Christianity kicks against violence". She advised victims of domestic violence to speak out and let
people know what they are going through.
https://guardian.ng/features/friday-worship/muslim-christian-women-collaborate-to-support-vulnerable-families/
--------
Saudi Arabia's humanitarian aid center discusses COVID-19 impact on women
July 18, 2020
RIYADH: The King Salman Humanitarian Aid and Relief Center (KSRelief) took part in a meeting that discussed the impact of the coronavirus pandemic on women in Arab states. The event was co-organized by UN Women and the Japanese Embassy in Saudi Arabia.
The meeting discussed steps to protect women in Arab states during the pandemic, including health care, provision of information by government institutions, and cooperation between UN organizations, community-based groups and government bodies to deliver vital services.
https://www.arabnews.com/node/1706241/saudi-arabia
--------
Shahrdari Bam confirmed as Iran's Women Football League champions
July 18, 2020
Shahrdari Bam were crowned the champions based on the classification of the table on points per game. Shahrdari Bam led the table with 54 points, six points above second-place VochanKordestan.
ShahrdariSirjan also finished in third place with 41 points.
The women league were postponed in November due to coronavirus outbreak and the football organizers decided to conclude the 2019-20 season.
The Kerman based football team have won the title for the third time in a row.
Shahrdari Bam are the most decorated football team in the Kowsar Women Football League with seven titles out of 12.
https://www.tehrantimes.com/news/450150/Shahrdari-Bam-confirmed-as-Iran-s-Women-Football-League-champions
--------
URL: https://www.newageislam.com/islam-women-feminism/female-journalists-middle-east-resist/d/122407
New Age Islam, Islam Online, Islamic Website, African Muslim News, Arab World News, South Asia News, Indian Muslim News, World Muslim News, Women in Islam, Islamic Feminism, Arab Women, Women In Arab, Islamophobia in America, Muslim Women in West, Islam Women and Feminism