New Age Islam News Bureau
3 Jun 2013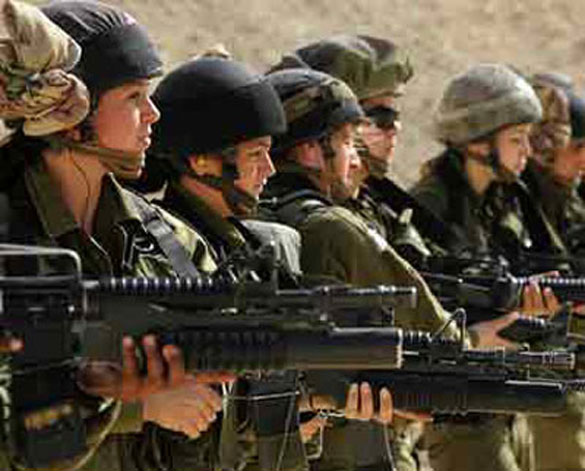 Female Israeli soldiers disciplined
------
• New Anti-Domestic Abuse Campaign In Saudi Arabia Asks: Dare To 'Hit Her?'
• In Pakistan A Man Beats Wife for Refusing To Go With Another
• Divorce Rate among Indian Community on Rise In Malaysia
• Dh368, 000 Donated To Malala Fund by Abu Dhabi Foundation
• Ejrai to Help Women Deal with Saudi Government
• Reproductive health rights of adolescent girls get hampered during disasters
• Chumki Sworn In As Bangladesh State Minister for Women Affairs
• Fifa Elects Burundi's Lydia Nsekera as First Woman Executive
• Emirati woman comes third in Hashemite Quran award
Compiled by New Age Islam News Bureau
URL: https://newageislam.com/islam,-women-and-feminism/new-age-islam-news-bureau/female-israeli-soldiers-punished-for-racy-photos-in-underwear-and-combat-gear/d/11866
-------------
Female Israeli Soldiers Punished For Racy Photos in Underwear and Combat Gear
AP | Jun 3, 2013
JERUSALEM: The Israeli military said on Sunday that it has disciplined a group of female soldiers who posed for photos in underwear and combat gear and posted the images on Facebook.
The incident was the latest in a string of episodes involving young Israeli soldiers on social media that have drawn reprimand from the military.
Israeli news site Walla said the women were new recruits stationed on a base in southern Israel. One picture showed the soldiers removing their fatigue uniforms to expose their underwear and back sides. In another, five women posed in what appeared to be a barracks room, dressed only in helmets and a small amount of combat equipment. The faces of the soldiers were blurred in the photos.
In a statement, the military said the young women had acted in a manner that showed "unbecoming behaviour" for Israeli soldiers. "The commanding officers disciplined the soldiers as they saw fitting," it said.
The statement did not identify the soldiers or give any details about the punishments. Military officials said the base conducted educational lectures to keep soldiers from repeating the offense.
Several times in recent years, the Israeli military has disciplined soldiers for what were considered improper postings in social media sites.
In a video posted to YouTube in 2010, a male Israeli soldier was filmed dancing suggestively around a blindfolded Palestinian woman. That incident followed the discovery of photos earlier that year showing a female soldier posing in front of Palestinian prisoners.
Shortly thereafter, the Israeli military banned soldiers from using social media sites while on base. The ban was an effort to prevent future embarrassing posts on social media. It remains unclear whether the ban is in effect.
Early this year, another soldier was reprimanded for writing anti-Palestinian tweets and posting pictures to multiple social media services showing himself naked with a gun.
Most Jewish Israeli men and women are required to serve in the military, starting at age 18.
http://timesofindia.indiatimes.com/world/middle-east/Female-Israeli-soldiers-punished-for-racy-photos/articleshow/20405481.cms
-------------
New Anti-Domestic Abuse Campaign In Saudi Arabia Asks: Dare To 'Hit Her?'
3 June 2013
A new campaign that is creating buzz on social media websites shows several Saudi youth holding placards with messages condemning violence against women. The campaign comes at a time when a series of other similar movements are gaining ground in the fight against domestic abuse in Saudi Arabia.
The campaign, provocatively entitled "Hit Her," is organized by a group of young Saudis and is sponsored by an audio production studio and agency "Libra Productions," based in Jeddah.
Most of the youth featured in the campaign are popular Saudi tweeps and YouTube hosts, who express their views on domestic violence in their own words. Some of these include: "I'd kill myself if I ever thought of hitting you," "Just because you are male doesn't necessarily mean you are a man," and "Domestic violence? Aint nobody got time for that!"
The photos have been posted on their Twitter accounts using the hashtag
The campaigns come as a breath of fresh air in a country where, until recently, the problem of domestic violence against women has largely remained confined to the house. It's different in its approach. For the first time, a campaign involves the participation of young Saudi men and women.
Some, however, are questioning the effectiveness of a campaign that may end up looking too arty and not hitting close enough to home.
Arab News contacted Libra Productions, but Thamer M. Farhan, projects and talents manager at the Jeddah-based agency, declined to comment, saying that phase 2 of the campaign, which is yet to be launched, would mark the right time to speak freely to the media.
In April, an ad released by the King Khaled Foundation featured an anti-violence slogan reading "End abuse in the Kingdom of Saudi Arabia," along with a list of numbers on which cases of violence can be reported and a study in Arabic calling for action to protect vulnerable women and children.
The ad created a stir on social media sites and other platforms because it showed a woman in a niqab with a bruised and bloodied eye bearing the caption "Some things can't be covered."
It was followed by what is billed as Saudi Arabia's first anti-domestic abuse TV advert featuring a man hitting two dummies, which then take the shape of a mother and a child, trembling with fear. The child is then shown on a wheelchair and the mother ailing on a hospital bed. The voiceover quotes a saying by the Prophet Muhammad, "Compassion has never touched something without making it better and never taken out of something without making it worse." The ad shocks and successfully compels attention to the issue of domestic abuse.
A local chapter from the "White Ribbon Campaign," an international movement that urges men to take more responsibility for reducing the level of violence against women, was also launched recently.
According to the National Family Safety Program (NFSP), three out of 10 women in Saudi Arabia are subjected to domestic violence. Violence against women and children is a global epidemic. Studies suggest that at least one out of every three women around the world has been beaten, forced into sex or abused in her lifetime, while up to 10 million children witness some form of domestic violence annually.
Usually, the abuser is a member of the family or someone known to the victim.
With the sudden increase in awareness on the issue in the Kingdom and efforts to combat domestic violence, Saudi Arabia seems to be moving in the right direction.
http://www.arabnews.com/news/453753
-------------
In Pakistan A Man Beats Wife for Refusing To Go With Another
June 3, 2013
FAISALABAD: A man was arrested in Chiniot on Sunday shortly after he beat his wife allegedly for refusing to go with another man to whom he said he had lost her in a gamble.
The woman, a resident of Mohalla Ansarian, was taken to a hospital, where she was later reported to be out of danger.
Chiniot police said the man was a known drug addict and a gambler.
They said on Sunday he asked his wife to give him some money for gambling. Her refusal led to an argument, at the end of which he left home.
He returned a few hours later and told his wife that he had lost her in the gamble and that now she would have to go with the winner. She said instead she would leave him. Police said he then beat her up until she nearly fainted.
Some neighbours heard her shout for help and rushed to her rescue.
Her father was informed and she was taken to district headquarters hospital, where doctors treating her later said that she was now out of danger. Doctors said her lips, elbows and shoulders were bruised.
An FIR filed by her father, said she had been married for three years. He said a few months later, they discovered that his son-in-law was a drug addict. He said his son-in-law dealt in timber wood, but had to close the business due to losses.
He said he (son-in-law) would often beat her for refusing his demands for money for drugs and gambling.
Station House Officer Akhtar Wynen said that the woman had minor bruises and that the attack was not considered a cognizable offence. However, he said, the case was being investigated on charges of domestic violence.
http://tribune.com.pk/story/558031/treating-as-commodity-man-beats-wife-for-refusing-to-go-with-another/
-------------
Divorce rate among Indian community on rise in Malaysia
ANI | Jun 3, 2013
KUALA LUMPUR: The number of divorce cases among Indians in Malaysia has risen to about 5,000 a year.
Tamil Bell Club Malaysia national president SV Lingam said that if the trend continued, the community would be plagued with social problems.
According to the Star, Malaysia Nanban quoted him as saying that lack of understanding and absence of a give-and-take attitude among married couples were the main reasons for the increasing number of divorces.
He said that a few years ago, there were only 200 divorce cases annually.
He suggested religious organizations like Malaysia Hindu Sangam consider conducting compulsory marriage courses for couples to provide guidance on the responsibilities and requirements of making a marriage successful, the report added.
http://timesofindia.indiatimes.com/nri/other-news/Divorce-rate-among-Indian-community-on-rise-in-Malaysia/articleshow/20405905.cms
-------------
Dh368, 000 Donated To Malala Fund by Abu Dhabi Foundation
3 June 2013
The Abu Dhabi Music and Arts Foundation (ADMAF) donated Dh368, 000 to UNESCO on Saturday, to support the Malala Fund for Girls' Education in Egypt.
The cash represents a portion of the box office sales of the Abu Dhabi Festival, the annual classical music, arts and community festival of ADMAF that took place throughout March this year.
Launched in December 2012, the Malala Fund for Girls' Education is dedicated to 15-year-old Pakistani schoolgirl Malala Yousafzai, who was the target of an assassination attempt by the Taleban last October because of her defence of the right of girls to go to school.
The fund seeks to stem the dropout of adolescent girls from secondary education, strengthen women's literacy programmes and give momentum to the quest to provide access to school for all girls by 2015.
The UAE, which sent a medical team and an air ambulance to transfer Malala from Pakistan to the UK where she was treated, has played an active role in supporting this special case and cause from the beginning. Last week, Malala Yousafzai, along with her family members, visited the UAE and thanked Abu Dhabi government officials in person for their efforts.
"Education is the key to a greater future and we hope this donation will enable girls and women to experience a better tomorrow," said Hoda Al Khamis-Kanoo, founder of ADMAF.
Furthermore, ADMAF also signed a Memorandum of Understanding with Unesco. The agreement will allow the two organisations to work together on future educational and cultural projects.
"UNESCO represents years of experience and a long-term view of what is needed to effect change. We are proud to support such a worthy cause, but most importantly — through the MoU signing — establish a strategic partner who has the ability to make a difference in bettering the lives of so many, as we look at new ways to collaborate and support one another in the future," stated Al Khamis-Kanoo.
"With its genuine devotion to nurturing talent, encouraging cultural dialogue and empowering disadvantaged children, youth and adults, the Abu Dhabi Music and Arts Foundation is a partner of choice for our organisation," added Irina Bokova, director-general of UNESCO.
Each year, the Abu Dhabi Festival donates a portion of its box office sales to a charitable cause. The 2012's recipients were the Brave Heart Fund, an initiative of the Children's Heart Centre at the American University of Beirut Medical Centre, and the United Nations World Food Programme.
http://www.khaleejtimes.com/kt-article-display-1.asp?xfile=data/community/2013/June/community_June6.xml&section=community
-------------
Ejrai to Help Women Deal with Saudi Government
3 June 2013
An initiative has been launched to help Saudi women navigate government regulations and procedures as more females enter the work force and lead more independent lives.
The Council of Saudi Chambers and Hawwa Women Services launched the second and third phase of their collaborated national initiative Ejrai (My Procedure) that aims to spread awareness in women about how to deal with government requirements.
Full report at:
http://www.arabnews.com/news/453828
-------------
Reproductive health rights of adolescent girls get hampered during disasters
3 June 2013
In a disaster prone country like Bangladesh, reproductive health rights of adolescent girls are often violated during times of natural calamities as they become more vulnerable then, said speakers at a discussion yesterday.
During floods and cyclones, when adolescent girls have to live in shelters along with others, they often get sexually harassed and sometimes even by the relief workers, the speakers added at the discussion organised by Bangla daily Prothom Alo in association with Plan Bangladesh in the capital's Prothom Alo office.
Full report at:
http://www.thedailystar.net/beta2/news/reproductive-health-rights-of-adolescent-girls-get-hampered-during-disasters/
-------------
Chumki Sworn In As Bangladesh State Minister for Women Affairs
3 June 2013
Ruling Awami League lawmaker and chairmen of Parliamentary Standing Committee on Ministry of Women and Children Affairs, Meher Afroze Chumki, was sworn in as the state minister for Women and Children Affairs on Sunday.
President advocate Abdul Hamid administers the oath taking ceremony at the Darbar Hall of Bangabhaban at 5 pm.
Cabinet Secretary Mohammad Musharraf Hossain Bhuiyan conducted the oath-taking ceremony.
Prime Minister Sheikh Hasina, Finance Minister AMA Muhith, Agriculture Minister Matia Chowdhury, LGRD and Cooperatives Minister Syed Ashraful Islam, several MPs and high civil and military officials were present at the oath-taking ceremony.
Full report at:
http://dhakatribune.com/politics/2013/jun/02/chumki-become-state-minister-women-affairs
-------------
Fifa elects Burundi's Lydia Nsekera as first woman executive
3 June 2013
Burundi FA president Lydia Nsekera has been elected as the first woman to Fifa's powerful executive committee in the governing body's 109-year history.
Nsekera, 46, will serve a four-year term on the committee after winning the vote at the Fifa congress in Mauritius.
She collected 95 of the 203 votes ahead of Australian Moya Dodd and Sonia Bien-Aime, of Turks and Caicos Islands.
Nsekera said: "I will inspire women to believe they can lead and I will support women in member associations."
Full report at:
http://www.bbc.co.uk/sport/0/football/22733972
-------------
Emirati woman comes third in Hashemite Quran award
3 June 2013
Young Emirati woman Amena Naseeb Saeed has come third in the 8th session of the Hashemite International Holy Quran Award held in Amman on May 11-16.
Amena, who has memorised the Holy Quran in full, was nominated for the award by the Dubai International Holy Quran Award. "It is an honour for me to represent my beloved country worldwide, gain more experience, and know more people," she said.
According to a senior official, Amena had beaten many competitors in several Quran competitions inside the country, such as the Shaikha Hind bint Maktoum award and the National Memoriser Contest.
Full report at:
http://www.khaleejtimes.com/kt-article-display-1.asp?xfile=data/nationgeneral/2013/June/nationgeneral_June36.xml&section=nationgeneral
-------------
URL: https://newageislam.com/islam,-women-and-feminism/new-age-islam-news-bureau/female-israeli-soldiers-punished-for-racy-photos-in-underwear-and-combat-gear/d/11866