New Age Islam News Bureau
24 Jul 2016
• It Just Got Easier For Religious Women to Work Out For the Yonkers
• Let Female Saudi Athletes Participate In Competitive Sports
• Muslim Women Crush Stereotypes on Their Way to the Rio Olympics
• Ghana's Growth Associated with the Respect for Women – Mahama
• Upper East Region Is Leading In Child Marriage Rate
• Nigeria: Govt Lifts Headscarf Ban in Lagos Schools
• Middletown Woman Fights Biases against Muslims
Compiled by New Age Islam News Bureau
URL: https://www.newageislam.com/islam,-women-and-feminism/new-age-islam-news-bureau/female-doctors,-nurses-face-rejection-from-suitors-in-saudi-arabia/d/108059
-------
Female Doctors, Nurses Face Rejection from Suitors in Saudi Arabia
24 July, 2016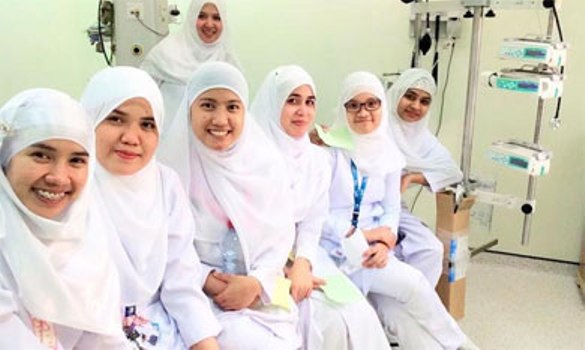 A recruitment picture to hire nurses for Saudi Arabia. (File)
Women who work in mixed gender environments face greater social discrimination than their counterparts who work in segregated work places, according to a report in Al-Jazirah daily.
Women doctors and journalists, regardless of the success they have achieved in their respective fields, complain that they often face rejection from men who prefer to marry women who do not work with other men.
A woman who works as a journalist said most men do not want to marry a doctor or journalist because these women are successful and men want do not want successful women. "There is nothing wrong with a single woman who has passed 30 years of age and has not gotten married yet. Anyone who looks down upon such women is not in his right mind," said the woman, who requested anonymity.
A young journalist, who too preferred to remain anonymous, said he could not marry a doctor because social traditions and family opinions stood in the way.
"I don't understand why most members of the public treat working women in this manner and why these women never get a chance to get married. It is a sad thing," he said.
Anyone but a doctor
Umm Talal is a matchmaker who has helped countless couples tie the knot. In all the years she has been a matchmaker, rarely has she come across a man who is willing to get married to a woman who works in a mixed gender environment.
"Once a man knows that the woman works for a company that does not separate men from women, he immediately rejects the idea and asks me to find someone else who, for example, works as a school teacher or in any other field where she doesn't have to mingle with men," she said.
"The first thing men say when I ask them about the kind of women they want is someone who is not a nurse or a doctor. They say this because they believe the majority of nurses and doctors are single because men do not want to marry them," she added.
Dowra Ahmad works for a private company where men and women mingle. Dowra received several proposals from men who changed their mind when they heard she worked with men. "Arabs, especially Saudis, refuse to get married to women like me," she said.
Career or home
Abu Khalid said he does not mind getting married to a woman who works as a schoolteacher but not as a nurse or doctor. "I personally do not support women's work in mixed environments because they can be susceptible to all types of harassment."
According to Dr. Abdullah Al-Salman, director of the Human Resources Development Center, many men believe a demanding profession can negatively influence a woman's mood and the stress is carried into the bedroom.
"The long hours and stress will make doctors and nurses feel tired by the time they get to their husbands. They will not have time for romance," he said.
Maha Al-Shammary, a Saudi doctor, said some Saudi men think that female doctors are like housemaids who do nothing but serve people.
"Of course, this is not true. The medical profession is a great one and has a lot of ethics and values. The best solution to end this negative stereotype about nurses and doctors is to raise public awareness about what they do and how they serve their communities," she said.
The Saudi Gazette
© Copyright 2016 The Saudi Gazette. All Rights Reserved.
http://www.albawaba.com/editorchoice/female-doctors-nurses-face-rejection-suitors-saudi-865084
------------
It Just Got Easier For Religious Women to Work Out For the Yonkers
24 July, 2016
When Nihal Al Qawasmi heard her local Lucille Roberts gym was closing, the 21-year-old Muslim woman was crestfallen. The all-female space was a safe haven for the Yonkers resident, who avoids form-fitting clothing and covers everything but her hands and face when she's around men.
"At Lucille, I could wear anything, like a tank top and shorts, and not care," says the co-founder of MissMuslim, a blog covering Muslim culture.
She's part of the boom of observant Muslim and Jewish women who want to hit the gym but, in order to cover themselves while working out, struggle with makeshift layered ensembles that are as bulky as they are unflattering. But now, companies are beginning to wake up to their needs, and it comes on the heels of apparel and footwear sales jumping 42 percent — to $270 billion — from 2008 to 2015, according to a 2015 Morgan Stanley report.
One such startup, Veil Garments, designs "modest sportswear" for the Muslim crowd. Its 21-year-old founder, Ahmad Ghanem, says women would tell him their only options were to work out in the privacy of their own homes or to throw on a long sweater in a mixed gym setting.
The two styles — the Spark Half-Zip, a top that falls at the thigh, and the Halo Running Hoodie, a two-in-one long top with a scuba hood that acts as a built-in hijab — cost between $55 and $60.
"It covers my tush, which is good," says Al Qawasmi. "It feels breezy and cool."
Like Muslim women, most modern Orthodox Jewish women who work out in the company of men have to conceal most exposed skin. Tops typically cover three-fourths of the forearm; skirts should, at minimum, hit the knee. Such mandates often lead to cumbersome layering and multiple waistbands that foil workouts.
That's what led Candice Safdieh, 28, an Orthodox mom of three from Flatbush, Brooklyn, to create Snoga Athletics 14 months ago. ("Snoga" is a portmanteau, combining "siniut," which means "modest" in Hebrew, and "yoga.")
"When it came time to work out, I'd have mismatched leggings with a skirt," says Safdieh, who co-founded the line with her mother. "The two waistbands were uncomfortable, and I never looked put-together."
And so her skirt-legging combo was born. Among the seven options are faux-wrap and pencil skirts ($56 to $64), offered at two different lengths, along with an attached cropped or full-length legging. Snoga sales spiked fivefold over the past year, and the online shop will launch workout tops in the fall.
Fan Karen Serouya says the gear is helpful when riding a bike.
"The skirt does whatever you need it to," says the 40-year-old fitness buff. "There's no constriction."
And the best part? Blending in with the Lululemon crowd.
"You look no different than a girl in her leggings and a tank top," says Serouya, a stay-at-home mom of five from Deal, NJ. "You look just as polished."
http://nypost.com/2016/07/23/it-just-got-easier-for-religious-women-to-work-out/
----------
Let Female Saudi Athletes Participate In Competitive Sports
24 July, 2016
The 2016 Summer Olympics, generally known as Rio 2016, is due to start in a few days from now in Rio de Janeiro, Brazil. In the wake of the upcoming event, the Saudi Olympics Executive Director, Hussam Al Qurashi, touched upon the women's sports scene in the Kingdom, saying that their sports will be allowed in accordance with Sharia.
It should be recollected that the participation of the Saudi all-male contingent to the 2012 Summer Olympics in London was threatened because Saudi Arabia had not nominated a single female athlete to represent the country. It was only after some back-room wrangling that two Saudi female athletes were added to the team and only then Saudi Arabia's participation was given the nod.
Now Al Qurashi says: "Women have the right to exercise and participate in sports, because a healthy mother raises healthy children. But the Saudi Olympic Committee will not do anything against the decorum of Saudi society and the instructions of the Council of Senior Scholars. The committee believes in the principles of Sharia." In a general appeasement of sorts, Al Qurashi added, "We support women's sports, as instructed by our Islamic teachings. We will not hold a sporting event for women without proper licensing and without ensuring that the event conforms to the teachings of the Quran."
Stating that there is an Islamic committee monitoring the decisions of the Saudi Olympic Committee to ensure that it follows Islamic teachings, Al Qurashi emphasised, "We will be monitoring all women's sports events to ensure that they follow Islamic principles. We are looking into allowing sports events for women. We had women participate in the Olympics, but they adhered to Islamic regulations."
In response to a query on having sports clubs in the Kingdom where women could participate competitively, Al Qurashi admitted that there were no women's sports clubs for competitive purposes at the moment in Saudi Arabia.
For the Rio Olympics, and without much fanfare, the Saudi Olympic Committee has allowed four Saudi female athletes to take part. They were all given wild-card entries to facilitate their participation, without having to go through the rigours of the formal qualification procedures. One of them, Sara Attar, has been to the Olympics before. The other three female athletes are new to this sporting extravaganza. Without any experience of competitive sports, not much hope is pinned on these athletes, though. However, their participation in itself is a victory of sorts for many.
I fail to understand, however, why one has to always drag the Sharia whenever an issue concerning women is discussed. Be it driving, owning a business, managing a company, introducing physical education in schools ... someone always has to cite Sharia or bring social and traditional norms into the equation. It makes me wonder if Saudi females are in any way different from Muslim female athletes in other parts of the world. Isn't Sharia a universal set of codes that governs the religion or do we have some privileges that others are not entitled to? And just who determines what the social or traditional standards of society are?
Saudi Arabia is made up of rural and urban areas and there is great diversity among its people in terms of habits and norms. It will be very difficult to categorically state that there is one social tradition or norm that is palatable to the whole country. Yes, Saudis do follow the same religion and the tenets of Sharia, but Sharia is often the victim of differing interpretations. Some take a very narrow view of what is and what isn't allowed, while others are far more tolerant.
Every region has its own set of standards. The cities are more cosmopolitan and by nature have a more open-minded view on many issues, including those that pertain to women. In villages and towns, the situation may be far different. But whatever the case may be, the participation of women in global sporting events such as the Olympics should not be held hostage to a narrow interpretation of rules and norms.
As Al Qurashi rightly said that healthy mothers are more prone to raise healthy children, then we should consider that in an era where diabetes and other sicknesses are rising among people. A healthy activity, such as competitive sports, will go a long way in staving off future ailments.
The health of a nation is determined by the health of its people and the encouragement for women to participate respectably in sports. And that is certain to result in a healthy society.
Tariq A. Al Maeena is a Saudi sociopolitical commentator. He lives in Jeddah, Saudi Arabia. You can follow him on Twitter at www.twitter.com/@talmaeena Twitter.
http://gulfnews.com/opinion/thinkers/let-female-saudi-athletes-participate-in-competitive-sports- 1.1867311
---------
Muslim Women Crush Stereotypes on Their Way to the Rio Olympics
24 July, 2016
In the Muslim world, particularly in the Middle East there is a very strict code of conduct for women. For those observant enough, it's very rare to see Muslim women joining beauty contests and athletic competitions. Muslim women in the Arab region are raised to become wives, do household chores, take care of children and submit to their husbands.
But since the 2012 London Olympics, the world witnessed how things are starting to change. The last Olympics recorded the most number of female Muslim athletes who participated. It's also inspiring to note that some of these participants have successfully won a medal. In the upcoming Rio Olympics, the number is expected to increase. And countries which have never been represented in the top sporting event will eventually have their representative. And the trend is not only observed during the Olympics, female Muslims are also seen excelling in all other sporting and outdoor competitions. Here are some of the female athletes who challenged tradition and stigma and are trying to change the role of Muslim women in their countries:
Starting with a 2016 Rio Olympics qualifier, Amna Al Haddad is proud of being the very first athlete to represent UAE in the Olympics and other international weightlifting event. Though she and her family still face negative criticisms at home, she is determined to pursue her love of sport which also became the therapy for her depression. In an interview, Al Haddad exclaimed, "Nobody can tell me what I can and cannot do." And when asked how much weight she lifts, she replied "I lift a nation."
Though raised in the United States, Kulsoom Abdullah represents Pakistan in most of her local and international competitions. Abdullah is considered to be a pioneer when it comes to Muslim women who are engaged in weightlifting. Additionally, she made history by legally fighting to be the first woman to wear a hijab during competition.
When she was just 16, Wojdan Ali Seraj Abdulrahim Shahrkhani made headlines for being the first female athlete to represent the very conservative Saudi Arabia in the 2012 London Olympics. Shahrkani was also the reason why Saudi Arabia eventually agreed to let women participate in the global sporting event after the International Olympic Committee exerted pressure to the Saudi government. Though Saudi Arabia agreed, the government required Shahrkhani to compete in clothing compliant with Shari'a Law and that she "dress modestly, be accompanied by a male guardian and not mix with men" while in London for the 2012 Games. Despite the Saudi Arabian Olympic Committee not promoting her participation and her fight wasn't televised live on Saudi local channels Shahrkhani said, "I am happy to be at the Olympics. Unfortunately, we did not win a medal, but in the future we will and I will be a star for women's participation."
Full report at:
http://www.worldreligionnews.com/religion-news/islam/muslim-women-crush-stereotypes-on-their-way-
to-the-rio-olympics
------------
Ghana's Growth Associated With The Respect For Women – Mahama
24 July, 2016
Ghana cannot move forward unless the rights of its women are fully respected in the country by all, President John Dramani Mahama has noted.
Mr Mahama stated that more women were now taking part in the decision-making process both at the local government and national level in Ghana.
He, however, noted that there was still more work to be done in empowering women in the country.
Mr Mahama posted on his official Facebook page Saturday July 23: "I was elated to bring home from Kigali an African Gender Award 2016, in recognition of our achievements in the advancement of the economic and social rights of women.
"I am a strong believer in women's rights and in gender equality. We are continuing to enhance the support we give our market women in the form of small loans. There has been an increase in the LEAP benefits to the poor so that more women can get the economic and social opportunities they deserve.
"More and more women are taking part in the decision-making process both at the local and national level in Ghana today. I know we still have a lot to do, but I am confident that Ghanaian women will get more and more empowered. I will forever be their ally in their fight for more justice, more equality, and more dignity.
"Ghana simply cannot move forward unless Ghanaian women's rights are fully respected!"
https://www.newsghana.com.gh/ghanas-growth-associated-with-the-respect-for-women-mahama/
--------
Upper East Region Is Leading In Child Marriage Rate
24 July, 2016
Out of the 50 percent average figure of girls rated, 36.2 percent of them got married between the ages of 10 to 16 years across the region.
This has resulted in most of them dropping out of school.
This was disclosed during a girls' conference organized by Action-Aid Ghana (AAG), a non-governmental organization working to reduce poverty in Ghana at Binduri in the Binduri District of the Upper East Region.
The conference was held to sensitized stakeholders including parents, teachers, religious leaders, traditional rulers and the general public on the need to stop the practice, as it was sidelining the role girls and women played in the development of society.
The conference which brought together girls from all the basic schools in the area appealed to girls to live responsible lives and not to allow people, even their parents to lure them into early marriages.
Miss Abigail Baciara Bentie, Ambassador for the Child-Marriage campaign and winner of the 2014 TV3 reality show dubbed "Ghana Most Beautiful", urged the girls to add more value to their lives by showing respect and care to their personalities.
She said they must prove to all that they can stand tall among their counterparts (boys) when given the chance.
Mr Sulley Alhassan, Upper East Regional Programmes Manager of AAG, said child marriage was prevalent in a number of villages and districts in spite of its negative consequences.
"Indeed the practice is not prevalent but the region has the highest of 36.2 percent in the whole country", he said.
Mr Alhassan expressed unhappiness with the situation and called on government to collaborate with stakeholders to enforce policies and laws put in place to discourage the practice.
https://www.newsghana.com.gh/upper-east-region-is-leading-in-child-marriage-rate/
--------
Nigeria: Govt Lifts Headscarf Ban in Lagos Schools
24 July, 2016
Nigerian Muslims have welcomed a court ruling allowing girls to wear headscarves in government schools in Lagos state, hailing the decision as a victory for the rule of law.
The Muslim Rights Concern group (MURIC) said the Court of Appeal's decision, which overturned a years-long ban preventing girls from wearing the garment, had "restored hope in the judiciary".
"The fact that the judgment was unanimous and only two of the five judges are Muslims leaves a firm stamp of authority on the legality of the use of hijab not only by female Muslim students but also by all Muslim women in the country," MURIC said.
Alhaji Abubakar, the president-general of the Nigerian Supreme Council for Islamic Affairs, also applauded the decision.
"Muslims are not forcing any one to use the hijab (headscarf)... but whoever wants to use hijab must be allowed to use hijab," Nigerian website Today quoted Abubakar as saying on Saturday.
Nigeria has a roughly equal Christian-Muslim mix and more than 200 ethnic groups live side by side in the West African country.
Though generally peaceful, Nigeria has seen periodic bouts of violence since armed group Boko Haram launched a campaign in the northeast of the country.
http://allafrica.com/stories/201607240002.html
------------
Middletown Woman Fights Biases against Muslims
24 July, 2016
MIDDLETOWN — Tensions related to race, ethnicity and immigration have spiked in recent months, but a Muslim mother and public health worker has made it both her hobby and her profession to make some progress for the younger generation of Muslim Americans.
Khadija Gurnah, 40, of Middletown, this month made her second trip of the year to meet with President Barack Obama at the White House. In February she was part of a small group to meet with Obama in Baltimore on finding support for American Muslims as they face overt anti-Islamic views.
Three days ago, she participated in an event with Obama and Muslim leaders to mark Eid al-Fitr, the end of the Ramadan holiday, and to speak out against hatred and distrust of Muslims.
In the last few years, she has frequently traveled to the nation's capital to help advise on how to connect Muslim social service and mental health providers with government programs.
Lately Gurnah's efforts are focused on support for Muslim young people, including mental health services and resources for Muslims in the juvenile justice system. She said the work is critical right now and takes inspiration from the support for Muslims despite a rise in "Islamophobia."
"We're a very small minority, but we are a very visible minority right now," Gurnah said. "Politics on a national level right now is really being driven by issues around Muslims and immigrants."
Gurnah's work defies neat categorization beyond a clear commitment to social activism. She's not the director of any agency, and sometimes her work lasts for only a few months or as long as grant money holds out.
"She is very much motivated by the end goal, and her goal is to make sure we have open and inclusive communities," said Elizabeth Bradley, a professor at Yale University and director of the Global Health Leadership Institute. "The most effective way to accomplish that could be to go to the White House, or it could be most effective to align community groups. You need a network of people to get things done and she's really good at building that network. She's a great communicator."
Bradley was Gurnah's adviser when she was a graduate student at Yale. The two have stayed in touch — Gurnah often calls for advice on her approach to an issue or to check in on the broader, global context of some topics.
"She is very honest about the cultural issue. She doesn't just try to fit in," Bradley said. "She really sticks to her values and the values of the Muslim community she's working on behalf of."
Gurnah was born in Kenya, grew up in Papua New Guinea, went to high school in England and college in Halifax, Nova Scotia. She got a master's in public health from Yale in 2009. She met her husband, Amin Gonzalez, at a mosque in Baltimore when she was visiting a friend.
"Having moved around so much, this is home, I've never felt so at home," Gurnah said. "The things I'm doing, I'm doing because I'm an American. I wouldn't be doing this anywhere else."
Gurnah said she became a social activist after spending a few years working at the Community Health Center in Middletown doing Medicaid outreach, and outreach to the Muslim community to enlist people in programs created by the Affordable Care Act. During that work, she met many Muslim youth, who are wholly American and know no other home, but have come to feel like outcasts in their communities.
"As an adult I can see a better tomorrow," Gurnah said, but she's not as sure about young people. "When you have young people who are growing up with this, what's happening to them? They're hearing it [prejudice against Muslims] with intensity on social media."
Gurnah said Muslim youth need support now more than ever. Last month, she met with Education Secretary John B. King Jr. at the White House in a discussion on giving educators skills to support Muslim, Arab and Sikh students. Also earlier this year she met with the federal Substance Abuse and Mental Health Services Administration to plan for suicide prevention, anti-bullying, crisis hotline and mental health programs for Muslim youth. Gurnah said many of them may see discussing depression or bullying as a cultural taboo and they need to have access to cultural-sensitive providers.
"We brought together Muslim mental health providers and federal government mental health services" but there is much more work to be done to replicate valuable relationships on a larger scale, Gurnah said. "There's pockets of incredible work happening, but it's just not consistent across the country."
Gurnah, "a mother of three, step-mom to one," has been an activist for others in addition to the Muslim community. She advocated for the expansion of SNAP benefits, paid family leave and child nutrition through the women's advocacy organization MomsRising. But a mentor of hers several years ago encouraged her to look for a niche where she can have the most impact.
"My leverage is in the Muslim community, sharing the needs of the Muslim community," Gurnah said. "I can be a voice for my community who don't know they can have these conversations."
Middletown resident and folk musician Rani Arbo met Gurnah when their sons were classmates at a private school and Gurnah took on the role of ambassador to welcome them as a new family.
Arbo said that after a while she understood that Gurnah had been an outsider for most of her life, and that making new students and families feel welcome at the school is in the same spirit as the work she does on behalf of the Muslim community.
"She's an incredibly approachable person," Arbo said. "She's fiercely loyal and respectful of people who are on a different side of an issue as her. There's something about that personality type that's willing to look at all people, that we're all in the same boat and we have to find a way."
Arbo said Gurnah brings the "same level of welcome, generosity and ideals" whether she's visiting friends or speaking to top White House officials about sensitive cultural topics.
"I'm so proud of her that she's been able to act at the national level," Arbo said. "She has this really inclusive, moderate language but she is also willing to go out on a limb for people. She's brave, she's strong, she's passionate and she's open."
Gurnah said she believes her work will help Muslims follow in the footsteps of other ethnic and immigrant groups who have been discriminated against, vilified and overlooked but eventually became an accepted part of the rich American mosaic.
"I've seen countries crumble because of their inability to see humanity in other people," Gurnah said. "I don't see anything like Rwanda happening here, but I don't see any good coming out of dehumanizing the other, and I'm the other."
http://www.courant.com/hometown-heroes/hc-hometown-hero-khadija-gurnah-0724-20160723-story.html
http://www.courant.com/hometown-heroes/hc-hometown-hero-khadija-gurnah-0724-20160723-story.html
------------
URL: https://www.newageislam.com/islam,-women-and-feminism/new-age-islam-news-bureau/female-doctors,-nurses-face-rejection-from-suitors-in-saudi-arabia/d/108059