New Age Islam News Bureau
11 March 2020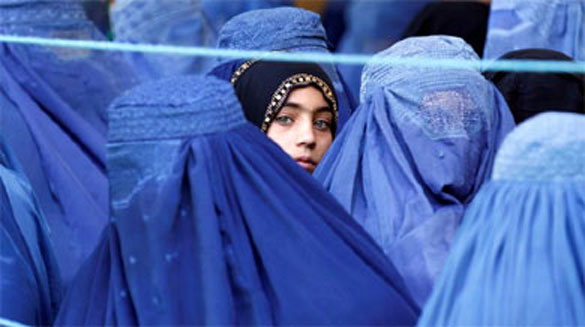 A girl looks on among Afghan women lining up to receive relief assistance in Jalalabad, Afghanistan, June 11, 2017. Reuters.
------
• Indonesian Singles Propose 'Marriage without Dating'
• Afghan Women Sell Burgers in Kabul
• The Woman Unlocking Mysteries of Saudi Arabia's Caves
• Filipino Woman Can't Hold Back Tears as She Embraces Islam in Turkey
• 26 Saudi Women Excel as Air Traffic Controllers
• Woman Threatens To Strangle UAE Cop after Being Caught For Begging
• Riyadh United Women's Delegation Concludes Sports Diplomacy Program In Switzerland
• Princess Hissa Marks International Women's Day with Talented Elderly Women
• Social Media Unites Arab Women for Digital Activism Across Region And Beyond
• Report: 110 Palestinian Women Held In Syria Prisons, 34 Tortured To Death
Compiled By New Age Islam News Bureau
URL: https://www.newageislam.com/islam-women-feminism/female-diplomats-ankara-celebrate-international/d/121277
--------
Female Diplomats in Ankara Celebrate International Women's Day
Gözde Bayar
09.03.2020
Female diplomats and wives of ambassadors in Ankara gathered on Monday to celebrate International Women's Day.
Female envoys from various countries met for lunch at parliament in the capital Ankara.
The event was hosted by Fulya Saglik, head of the International Health Association.
"I would like to say this from the parliament of Turkey, which is the center of the rights and freedoms granted to women: I hope International Women's Day brings health, happiness, and peace to the respected women," Saglik told the meeting, warmly welcoming the guests.
Speaking at the event, Thai Ambassador Phantipha Iamsudha Ekarohit stressed the importance of promoting women's rights and creating a more gender-equal world.
"As we celebrate International Women Day, this is a time for all men and women to challenge gender norms, empower each other, celebrate diversity, break stereotypes, mobilize, and take action," said Ekarohit.
She said even small actions, starting from within every family, community, or government, could have a big impact in the future.
"There is an effort to mobilize and put an end to gender-based violence, and call for economic justice and rights for all, as well as technology and innovation for gender equality and feminist leadership," she added.
She went on to say that 2019 was an impressive year for women all over the world.
"We witnessed the first all-women spacewalk by NASA astronauts Jessica Meir and Christina Koch in October," she said.
She added that Esther Duflo, a French-American economist, also became the second woman to win the Nobel Prize in Economics.
After reviewing other notable achievements by women last year, she said 2020 has already made a "promising" start.
"An example that is close to my heart is the Thai women's cricket team making its Twenty20 Cricket World Cup debut," she said, adding that Thailand was the first team from southeast Asia to qualify for the tournament.
https://www.aa.com.tr/en/turkey/turkey-female-diplomats-mark-international-womens-day/1759761
--------
Indonesian Singles Propose 'Marriage without Dating'
March 11, 2020
JAKARTA: Frustrated after a string of break-ups, Dwita Astari Pujiartati quit the casual romance circuit and turned to a growing trend among Indonesian singles — marriage without dating.
The 27-year-old professor exchanged resumes with prospective suitors — helped by a Muslim cleric-cum-matchmaker — until she was contacted by a long-lost acquaintance who also wanted to give contact-less dating a whirl.
There was no hand holding or kissing. The pair didn't even meet in person for almost a year, chatting on the telephone instead.
"Once we felt 'the click', (my now husband) asked my parents if he could propose to me," Pujiartati said.
The practice known as taaruf, or introduction, is derided by critics as old fashioned and more fitting to conservative Gulf nations than relatively liberal Indonesia, the world's biggest Muslim majority country.
But Pujiartati saw it as a way to ditch dating that went nowhere and be a devout Muslim at the same time by avoiding pre-marital touching and sex.
"Why should I choose something that wastes my time and doesn't please God?" she said.
While the practice isn't widespread, Pujiartati is not alone.
A movement called Indonesia Tanpa Pacaran (Indonesia without dating) is blossoming in the Southeast Asian nation where people born from the mid-Nineties make up about one-quarter of its more than 260 million people.
The nuptials-focused group, which has a million followers on its Instagram page alone, targets this enormous Generation-Z audience largely through social media.
Any pre-marital contact should be supervised and getting married younger is ideal, according to the group, which portrays pre-marital dating as a sinful product of Western decadence.
Pujiartati's courtship was long by the standards of many marriage-without-daters who often tie the knot in a matter of months.
To get its message out, the group also sells branded products including hats, keychains and hijab head coverings worn by many women in Indonesia.
The movement was kicked off in 2015 by then university student La Ode Munafar, who recently hosted a "mass breakup" on New Year's Eve in Kendari city on Sulawesi island.
With dozens in the audience, the 29-year-old denounced dating and called on attendees to break up with their partners.
One young man walked on stage and broke it off with his girlfriend over the phone, eliciting cheers and clapping.
"I've researched dating from a scientific and psychological point of view," Munafar told reporters after the event.
"It's harmful in every respect," he added, without elaborating.
Cheery stories about marriage-without-dating bliss populate Indonesia's huge Internet space.
Among them is the tale of Muhammad Alvin Faiz, son of a prominent pro-polygamy cleric, who married his 19-year-old wife, a Catholic convert to Islam, through a no-contact relationship.
Faiz shares the couple's story with 1.4 million social media followers under the hashtag #NikahMuda or young marriage.
The seeds of this trend may have been planted back in 1998 — when many adherents were toddlers — in the ashes of Indonesia's collapsed Suharto dictatorship, which largely suppressed religious expression.
"This era of democracy has opened up space for religious expression," said Sidiq Harim, a sociologist at Gadjah Mada University.
"Public piety through religious symbols is emerging and taaruf is one of them."
In recent years, Indonesia has seen a shift toward religious conservatism, with some celebrities announcing they'll adopt a more pious lifestyle.
And last year the government unsuccessfully tried to push through a criminal code overhaul, backed by conservative Islamic groups, which would have banned pre-martial sex, sparking a public outcry.
Marriage-without-dating is also a pushback against fears that two decades of democracy have broken down traditional values in a country where arranged marriage was once the norm, and still endures in some rural areas, experts said.
Advocates insist the practice empowers women by giving them control over choosing a partner without feeling compelled to have sex before marriage.
And it doesn't require permission from family members like arranged unions do, they say.
Still, a successful marriage means both partners must follow Islam's teachings on what's expected of a husband and wife, said Taufiq Andika, who married his wife after about three months of non-contact courtship.
"It's a problem if the couple doesn't know each other's rights and obligations," the 28-year-old said.
"That could lead to divorce."
But even the most liberal interpretations of those obligations tend to call on women to prioritize their husband and children's needs over their own.
Critics say brief, resume-based relationships can set couples up for failure — and put women at risk.
"I've heard many stories about domestic abuse," said Kalis Mardiasih, a Muslim feminist and gender campaigner at Gusdurian National Network, which represents thousands of grassroots social activists.
"It can happen in other relationships too. But it's critical to assess someone's attitude as early as possible and see what kind of person they are."
Despite its growing popularity, not all Indonesians are sold on the idea.
"I don't agree with this sudden marriage thing," said 25-year-old Azara Mahdaniar.
"You don't want to commit and find out later on that your partner is mean or abusive."
https://www.arabnews.com/node/1639911/offbeat
--------
Afghan Women Sell Burgers in Kabul
10 March, 2020
Maryam Mohammdi, 30, drives a solar-powered rickshaw around a city suburb, selling burgers to hungry customers as part of a business that is employing dozens of women in a traditionally male-dominated profession.
Mohammdi, who wears a chador, or long flowing black robe with a head and face covering, said that she initially drew pointed remarks when she started her job. "People were making fun of me and laughing, saying: 'look at her, she is working on the street', but now the situation is getting better and people are encouraging me on a lot. Even men now cheer me on and say our food is delicious and healthy," she said.
The business was started in 2018 by 27-year old Farhad Wajdi, who was born in a refugee camp in Pakistan, and now employs 50 women running 25 food carts in Kabul. He hopes to expand to 100 carts this year, Reuters reported.
"When I returned to Afghanistan, I saw women were treated really badly, they were not allowed to do businesses, they were not allowed to take financial independence, they were socially excluded from socioeconomic opportunities," he said.
"For me it was a triggering point that I started working for Afghan women, because I see Afghan women as a big human resource that should be equipped with skills and knowledge so they can make an equal contribution in the economic development of Afghanistan," he added.
Like many, Mohammdi expressed concern about a possible return to power by the hardline Islamist Taliban, who banned women from education, work or leaving the house without a male relative during their 1996-2001 rule.
The Taliban, with whom the United States signed a troop withdrawal agreement last week, say they have changed and will allow women to work.
"This job is essential to us. In my opinion, the Taliban should not interfere in the work of women because there is no difference between men and women, and everyone can work to advance life," she said.
Twenty-one-year-old Benazir Mosawi, who stopped to order a burger from Mohammdi, agreed with her sentiment. "When I first saw this lady working and selling burgers, I was so happy. Afghan women need to stand on their own and solve their problems independently," she said.
https://aawsat.com/english/home/article/2172392/afghan-women-sell-burgers-kabul
--------
The woman unlocking mysteries of Saudi Arabia's caves
March 08, 2020
JEDDAH: More Saudi women are discovering the excitement of desert adventures, which are as diverse as the Kingdom's geography.
But while many answer the call of the wild by hiking, rock climbing and camping, Bodor Al-Saleh likes to dig a little deeper, literally, by scrambling, crawling and climbing into caves around the country.
The caves tourist guide decided to ignore many common misperceptions about women, follow her adventurous soul and discover the mysteries of Saudi Arabia's caves.
Caving, a pastime that is growing in popularity around the world, may seem dangerous, but for Al-Saleh it is a calming and healing experience. "Once you go inside, all the fear and anxiety is gone," she told Arab News.
Now, as the Kingdom's first licensed tourist guide specializing in caves, Al-Saleh is encouraging more people, especially women, to tap into the same wellspring of confidence she has been able to find in the pastime.
The adventurous Saudi said she was proud to be the first woman chosen in this field.
Caves are where she feels a sense of belonging. "I feel that caves resemble me in their mysterious nature, beauty and powerfulness," she said.
As well as guiding tourists, Al-Saleh organizes caving trips exclusively for women to ignite their adventurous, determined and confident spirit.
Al-Saleh said that she does not find her caves guiding work difficult. "Women are smart and skilful enough to be able to do the job; it isn't hard as it seems," she said. "But like any other profession, it needs proper knowledge and technique to do it the right way."
A cave guide's work is not limited to leading a group of tourists, telling them stories about the history and geology of the site. It also requires a more complex set of skills to ensure visitors' comfort and safety — and also protect the caves. "It is the guide's responsibility to preserve the formations and stop damage or vandalism during the visit," she said. "Caves are sophisticated and delicate."
With the Saudi Geological Survey planning to launch new ecotourism destinations across the Kingdom, Al-Saleh said most of the thousands of caves in the country remain unmapped.
She recently launched an initiative to list caves as safe tourist attractions, and is hoping to receive support for the project. "Many of the caves that have been explored have poor access, which limits what I can offer to tourists."
The national geological organization has begun preparing access points for tourists at some caves, while protecting the environment and ecosystems of the sites.
For Al-Saleh, caving offers an experience unlike any other desert activity because each cave has its own characteristics and history — and each attracts a different type of visitor.
There are caves with historical value because of their association with certain events, such as the Tobad Mount cave in Al-Aflaj with its links to the ancient Arab love story of Layla and Qays.
Some caves are part of humanity's long history, such as Um Jarsan cave north of Madinah, while others are important because of their geological features, such as Heet cave, near Al-Kharj.
"Caves are a global tourist attraction with an attractive economic factor, but caving lacks promotion on the local and global tourism scene. It deserves a lot more attention," Al-Saleh said.
"Tourism in Saudi Arabia has many great investment opportunities for young people to exploit, and guiding services are always fun and a good additional source of income."
https://www.arabnews.com/node/1638246/saudi-arabia
--------
Filipino woman can't hold back tears as she embraces Islam in Turkey
March 10, 2020
Filipino woman Marlyn Demir converted to Islam in Turkey's northern Karabuk province.
The 32 year-old woman who had visited Turkey five year ago for holiday, fell in love with hotel staff member Mustafa Demir who now became her husband.
Shortly after getting married, she decided to convert to Islam.
"I have always respected her religion. She voluntarily asked me to teach her about Islam in Turkey. She has already been wanting to convert to Islam for a long time. I just tried to help as much as I can," Mustafa Demir said.
She converted to Islam with a ceremony which was attended by all her family and friends. She recited the Shahadah (Islamic proclamation of faith) while she struggled to hold back tears of joy.
"Now I am more comfortable because I became a Muslim. I have been wanting this for a long time, I had started even fasting without being a Muslim. When my family learned of my decision, they asked 'Is Mustafa forcing you?' I said no, he never forced me. This is entirely my decision and right now all my family and friends respect me," Marlyn Demir said.
https://www.yenisafak.com/en/news/filipinowomancant-hold-back-tears-as-sheembracesislam-in-turkey-3513674
--------
26 Saudi Women Excel as Air Traffic Controllers
March 9, 2020
RIYADH — Saudi women have been embarking on a greater phase of empowerment in the profession of air traffic controller, with the number of female air traffic controllers in the Kingdom reaching 26 within a short span of one year.
Several Saudi women have received their training from the Saudi Academy of Civil Aviation, specialized in this field and that had won many international accreditations.
The General Authority of Civil Aviation (GACA) announced that the rate of Saudization in this field in the Kingdom reached 100 percent. GACA expressed its pride in the capabilities and skills of its air traffic controllers. The authority is keen to achieve a safe atmosphere in accordance with the most accurate global safety standards, and building a modern system with advanced services in the field of air navigation.
Reem Abdullah, air traffic controller, said that passion and challenge are the factors that prompted her to opt for the aviation field. "We are graduates from the first batch of women air traffic controllers. When you have a passion for a work, everything will be easier and enjoyable for you," she said adding, "with a desire and a high sense of responsibility, we were able to manage air traffic."
Rowan Hubaishi, another air traffic controller, described the work in civil aviation as very interesting. "The work in the air control profession is so beautiful that sometimes we do not want to go out and want to continue to do this interesting job," she said expressing her happiness to have received excellent training. "The biggest proof of this is that we are a full batch after graduation, performing our work to the fullest and without any problem, and this is the result of the distinguished training we had received," she said.
Lina Adel, another controller, does not hide her ambition to become the first woman in the administration of the region in air traffic control. "In fact we got top standard professional training, and the first word we heard when we entered the training is that there is no difference between you and the men and you can work and achieve successes in this profession. All praise be to God, this is what happened after we passed the precise tests and distinguished training in the academy. "
Shada Barakat, another air traffic controller, said that this profession suits her preferences, especially as it is a job in which there are many challenges and it is not at all conventional.
On her part, Shahd Faisal Zarie, a trainee, said during the ongoing training, she discovered that this job is fun and unconventional, and she has a challenge to work in this important job. "The phases of exams for this job are not easy at all, but at the same time enjoyable because they are varied and quite interesting."
The first Saudi women air traffic controllers joined service in March 2019 after completion of a one-year program conducted by the Saudi Air Navigation Services in cooperation with the Saudi Academy of Civil Aviation. The graduates completed the program at an air traffic control center in Jeddah as part of the Vision 2030.
http://saudigazette.com.sa/article/590583/SAUDI-ARABIA/26-Saudi-women-excel-as-air-traffic-controllers
--------
Woman Threatens To Strangle UAE Cop after Being Caught For Begging
Ahmed Shaaban
March 10, 2020
The woman admitted to have 'insulted an unidentified man' whom she did not know was a security personnel.
An Arab woman caught while begging allegedly threatened to strangle a cop as she was being interrogated. "If you were in my country, I would have pinned you down and strangled you to death," the woman fumed at the security man, while insulting and abusing him.
She and her friend, also an Arab woman, are standing trial at the Ras Al Khaimah Criminal Court on charges of begging and resisting police arrest.
As per the sheet of indictment, both fiercely resisted the CID men when they tried to stop them from begging, and refused to get into the police car.
The duo was referred to the court.
During hearing, the woman accused of threatening the cop admitted to have "insulted an unidentified man" whom she did not know was a security personnel.
"I thought he was only an informer who reported us as beggars to the police." She added that she apologised immediately after she realised he was a CID man.
"I said I was sorry, and contended that I was not begging."
The other woman admitted to have been previously arrested for begging.
"This time, I was only sitting next to my friend behind a restaurant after eating our food," she claimed.
She added that she was taken aback when some women held her tightly from behind and asked her to get into a car.
"I did not know they were police investigators. They just asked us to get into their car and go with them to the police station for no apparent reason."
The court ordered adjournment of the case to next week to issue its ruling.
In April 2018, the UAE passed an anti-begging law which punishes anyone caught begging with a Dh5,000 fine and up to three months in prison. Those who operate gangs of beggars invite a prison sentence of not less than six months as well as a minimum fine of Dh100,000.
https://www.khaleejtimes.com/news/crime-and-courts/woman-threatens-to-strangle-uae-cop-after-being-caught-for-begging
--------
Riyadh United Women's Delegation Concludes Sports Diplomacy Program In Switzerland
NOOR NUGALI
March 11, 2020
RIYADH: A Riyadh United women's delegation concluded a 10-day sports diplomacy program in Switzerland at the invitation of the country's former President Ueli Maurer.
The delegation attended the Swiss women's basketball league playoffs between Elfic Fribourg and BBC Troistorrents, which was attended by Maurer, to mark International Women's Day.
Riyadh United co-founder and coach Lina Al-Maeena, who along with the delegation visited Maurer at his office, told Arab News: "I'm proud of the advancement of Saudi women participating in all fields, including politics and sports, especially with the newly announced Sports Ministry, which will hopefully take women to a higher level of participation and equal opportunities."
The delegation, which comprised distinguished female personalities from various fields, attended workshops and lectures on sports psychology, physiotherapy, performance and nutrition. Its members said the visit was in line with the Saudi Vision 2030 reform plan, which is enabling women to participate effectively in comprehensive national development, as well as represent initiatives to build bridges in terms of inter-national communication.
The delegation met with Swiss Economy Minister Guy Parmelin.
It also visited the Saudi Embassy in Bern, and the headquarters of the International Basketball Association in Geneva.
https://www.arabnews.com/node/1639761/saudi-arabia
--------
Princess Hissa Marks International Women's Day with Talented Elderly Women
March 10, 2020
RIYADH — Under the auspices of Princess Hissa Bint Salman the "Thank You" initiative was held at the Social Welfare Home for Elderly women here on the occasion of International Women's Day, a magnanimous gesture from Princess Hissa towards this section of society which is so dear to the hearts of all.
On the occasion, Princess Hissa delivered a speech in which she stated that Saudi women are being empowered and are witnessing a qualitative shift in their lives. Princess Hissa said, this year would be the women's year in the capital of Arab women for 2020 (Riyadh) under the slogan "Women are the embodiement of homeland and ambition", as part of the Kingdom's Vision 2030 this year.
Princess Hissa also described women as partners, with their male brethren, in building a country proud of its people, through their common economic and social empowerment, which enables them to continue to play their influential respective roles in the vital sectors of Saudi life.
The Princess also noted that the degree of each country's civilization progress is measured by the extent of its care for the elderly. This care constitutes a real reflection of the development of a country and its awareness of the cultural heritage offered by the older generation and its importance for the development of the coming generations. In addition, the Kingdom's Vision 2030 underlines the value of older persons and their importance in the process of linking the past to the present.
She added: "We are a country rooted historically and socially in pure Islam and proud Arabism, and guided by the directives of our beloved leadership to instill our ancestral values in the generations of the future and to stem the ideas and alien ideologies that had infiltrated the Saudi society in the recent past.
"On this International Women's Day, I stand before you proud that I'm celebrating it with the leading elderly women who are confident in themselves, proud of their values, blessed with the courage and the qualities that have enabled them to bring up new generations of authentic, strong Saudi women, naturally capable of showing leadership qualities both within their nuclear family and the society at large; spurred by the pride which their Saudi brethren have in their Saudi sisters' role in supporting them and standing side by side with them in building their society together."
Princess Hissa stressed that: "The Kingdom has supported homes for the social care of the elderly for more than 56 years thanks to the humanitarian and social role it plays in supporting those in need of care, through the services provided by the Ministry of Human Resources and Social Development, by social workers and psychologists and in all programs and activities that help them finish their education or obtain vocational training to learn some crafts.
"We will never forget them nor will our wise leadership that has provided them with many services through 900 governmental and civil organizations in all regions based on a study by Waqar Association."
Princess Hissa concluded her speech by thanking Custodian of the Two Holy Mosques King Salman, who has been instrumental in great achievements for women that will carry on. "Achievements I can personally testify that he wanted to realize, influenced by the role models set by his mother, grandmothers, and prominent women of society, just as he was influenced by his father, grandfathers, and distinguished men of our beloved country," she added.
It was King Salman, who suggested to the late King Abdullah that the great university and educational edifice in Riyadh carries the name: the Princess Noura Bint Abdul Rahman University, when he was the governor of Riyadh. He also encouraged male and female researchers to compile the biographies of distinguished women of the past, one result being the book "Women of Najd" by Dr. Dalal Al Harbi, based at the King Abdulaziz Research Center.
"I also congratulate Crown Prince Muhammad Bin Salman for the youthful, ambitious steps he has taken, emanating from the established, authentic past. I am full of hope that my generation, the generation of steadfast work and empowerment, will rise to the task of achieving the great success which our leadership and the people look forward to, and build a balanced society that, God willing, continues to enjoy the respect, benevolence, and prosperity that we are witnessing.
"Today as I stand among historians, writers and artists I recall a story my father recounted concerning King Abdulaziz, who encountered on a trip in the desert a woman riding her horse alone at night. He stopped and asked her: do you not have the support of a man? She replied: I have the support of God and then Abdulaziz.
"King Abdulaziz was greatly touched and influenced by her words. Turning to his companions, he said: This woman who trusts in God and then in a man she has never seen before deserves from us to work harder to enhance her pride in herself and her feeling of security in her country. That is why we stand before the daughters of that generation of mothers like that woman of strength, trust, and faith , and who have inherited that courage, trust, and faith," Princess Hissa said.
The director of the social welfare home for Elderly women in Riyadh, Badria Amash Eid Al-Thaqeel, stressed that the patronage of Princess Hissa of the initiative is a gesture of great kindness from the Princess towards the elderly women and her presence to celebrate this special day, has brought joy and warmth to their hearts. She added that part of the services offered to the older women is to integrate them into society and ultimately to make them happy in any way.
"May your magnanimous gesture of visiting them and celebrating this day with them, and may all that we all do for them and your visiting them grant us more blessings," Al-Thaqeel said.
Al-Thaqeel added: "The efforts provided by the state under the directives of the Custodian of the Two Holy Mosques King Salman and Crown Prince Muhammad in terms of attention and harnessing all material and human resources for their dignified care, which includes medical, social and psychological care, as well as physical therapy needed by the elderly at this age, in addition to ensuring proper nutrition for them in accordance with their health status, all of which are provided by specialized cadres in these areas.
"Everyone competes to have the pleasure of serving our mothers and obtain their blessings from humanitarian motivation rather than a social or community duty. This was true starting with the esteemed staff of the home to the respected segments of society. Part of the services provided by the home also is the integrated medical services of qualified medical staff, a comprehensive clinic and a pharmacy stocked with all the necessary medicines."
She also pointed out that the doors are wide open for visits to the home by women from all walks of life, as with external visits by the women to hospitality centers, camps, and universities. She noted that literacy classes have been opened for those who had not had the chance to go to school. Two female high school students were seconded to teach the older women. While others enrolled in vocational institutes to learn handicrafts.
The ceremony included acts from the elderly women such as playing the national anthem by Ohood Al-Faisal on the piano, and began with a recitation of verses from the Holy Qur'an by Lulua Al- Ahmadi, and a poem to welcome the visit of Princess Hissa delivered by Aisha Al-Anzi. A talk by Huda Al-Turki touched on the role of women and their empowerment in society. While Fatima Hilmi gave a presentation on the services provided by the home to the elderly women and the endeavors to enable them to enjoy social empowerment. — SG
http://www.saudigazette.com.sa/article/590748/SAUDI-ARABIA/Princess-Hissa-marks-International-Womens-Day-with-talented-elderly-women
--------
Social Media Unites Arab Women for Digital Activism Across Region And Beyond
RUBA OBAID
March 08, 2020
JEDDAH: Online activism has revolutionized Arab women's struggle for equality in the past few years as they use the web to demand legislative change, confront sexual harassment and gender-based violence, as well as condemn patriarchy and misogyny.
From Yemen to Beirut, Rabat to Cairo, activists are mastering modern-day technology for digital activism. Women across the region are uniting through social media and, through this empowerment and solidarity, are holding their harassers to account, securing their rights and gaining the confidence to speak out.
Sarah Sheikh Ali is co-founder and director of an NGO called Humena that brings together human rights experts, members of civil society and academics from the Middle East and North Africa to promote human rights and gender equality.
"Social media has given women a platform, a network of allies, and a public presence that can't as easily be silenced," the Lebanese researcher told Arab News. "Social media, for all its flaws has helped us, as women, to know and feel we're not alone."
One of the most devastating stories that triggered serious discussions about domestic abuse and honor crimes was that of 21-year-old Israa Ghrayeb, who was beaten to death by her relatives last August.
Her case revealed there was a lack of basic legal protection for Palestinian women, and local media and authorities failed to take serious steps until her death caused outrage among netizens.
The hashtags "Israa Ghrayeb," "No honor in honor crimes" and "We are all Israa Ghrayeb" were trending on Twitter in several Arab countries for weeks.
Saudi women were pivotal in spreading the news across social media platforms and making sure it stayed at the top of trending lists. Ghrayeb's story sparked on-the-ground protests too, with hundreds of women from the region and beyond demonstrating as part of the #Talat movement, meaning "women rise up."
"In many ways these photos and footage, and the ease with which they can be shared, have energized protests and motivated women to rally around shared struggles," Sheikh Ali said, referring to women at the frontline of demonstrations in countries such as Sudan and Lebanon.
Fatin Selim, who is 28 and from Saudi Arabia, said that last year represented a major qualitative shift in Arab women's cyberactivism.
"Women addressed many issues with courage, and bravery, despite the different cultural backgrounds between them, they supported each other," she told Arab News.
"I cannot imagine Israa Ghrayeb's assaulters put in the dock without women's solidarity on Twitter. They were true investigative reporters, collecting information, refuting the assaulters' arguments, and standing up for the victim.
"It was a wonderful and pleasant thing to see the development of women's awareness in an unprecedented way."
Saja Al-Otaibi, who is 25, said social media discussions had helped women to discover new sources of support and empathy.
"The most remarkable thing about the women's digital movement is that progress in society became faster, and that fears and apprehensions subsided, men's support for women's issues did not appear on a wide level in our societies except with the spread of social media," she told Arab News.
"And Saudi Arabia seems to lead this scene in the Arab world."
A World Bank report recently ranked Saudi Arabia as top reformer and the top improver among 190 countries in terms of gender equality.
Its "Women, Business and the Law" 2020 report gave the Kingdom an overall score of 70.6 out of 100 - a 38.8 jump since its last ranking - placing it first among Gulf Cooperation Council countries and second in the Arab world.
But overall the MENA region fares poorly in terms of gender equality, according to the World Economic Forum. "Assuming the same rate of progress going forward, it will take approximately 150 years to close the gender gap in the MENA region, 15 years shorter than what was predicted last year," it said.
"For now, many women in the region continue to face limitations of basic rights, including for divorce, inheritance, asset ownership, access to justice, and freedom of movement."
Social media platforms have given women space to express themselves. Initiatives and projects to empower women and spread awareness abound, be they podcasts, virtual campaigns, support groups, online workshops, counseling or coaching services.
Body image, gender, patriarchy, spirituality, fitness, legal awareness, rights, marriage, family, social issues and life skills are just some of the topics discussed online.
"The virtual world has helped us to look outside ourselves, and realize that despite the distances, nationalities and religions, we have a shared struggle in our societies," Bayan Seif, 19, told Arab News. "A sense of solidarity is always crucial to maintain and strengthen any just case."
She said every story could act as a source of consolation, hope, and inspiration, whether it revolved around pain, harsh experiences, successes, and that dialogue was the main vehicle for social change.
Sheikh Ali invited women from across the region to join this year's International Women Day campaign theme #EachforEqual.
"Individually, we're all responsible for our own thoughts and actions - all day, every day. We can actively choose to challenge stereotypes, fight bias, broaden perceptions, improve situations and celebrate women's achievements," according to the campaign's website.
"Collectively, each one of us can help create a gender equal world."
International Women's Day is on March 8.
https://www.arabnews.com/node/1638416/media
--------
Report: 110 Palestinian Women Held In Syria Prisons, 34 Tortured To Death
March 10, 2020
The Syrian regime has been holding 110 Palestinian women in secret detention throughout its vast prison network, with a large number of them tortured to death, a human rights organisation has found.
The London-based organisation Action Group for Palestinians of Syria (AGPS) revealed that in addition to at least 486 Palestinian women who have been pronounced dead since the Syrian civil war began in 2011, 110 others have been secretly detained by the regime of Bashar Al-Assad and at least 34 have been tortured to death within its prisons.
The group has stated that it believes the number of Palestinian women who have been killed overall throughout the war are much higher than is officially acknowledged, as the regime has reportedly kept their names secret and left their cases undocumented, as well as the fact that many families of the victims refuse to reveal their relatives' names out of fear of retaliation by the regime.
The organisation cited the accounts of former Palestinian female detainees of the regime who said that they were regularly subjected to intense psychological and physical torture during their detention, including heavy beatings with irons sticks, electric shocks and rampant sexual abuse.
Tactics used by the Assad regime and its security forces to crush descent have long been known, and the horrors of its prison system have been documented by many organisations and recounted by former detainees, but the plight of women from the Palestinian population within Syria is not as well known.
Nine years into the conflict and up to January this year, AGPS has reported that 4,013 Palestinians in Syria have been killed so far.
https://www.middleeastmonitor.com/20200310-report-110-palestinian-women-held-in-syria-prisons-34-tortured-to-death/
--------
URL: https://www.newageislam.com/islam-women-feminism/female-diplomats-ankara-celebrate-international/d/121277
New Age Islam, Islam Online, Islamic Website, African Muslim News, Arab World News, South Asia News, Indian Muslim News, World Muslim News, Women in Islam, Islamic Feminism, Arab Women, Women In Arab, Islamophobia in America, Muslim Women in West, Islam Women and Feminism