New Age Islam News Bureau
4 March 2016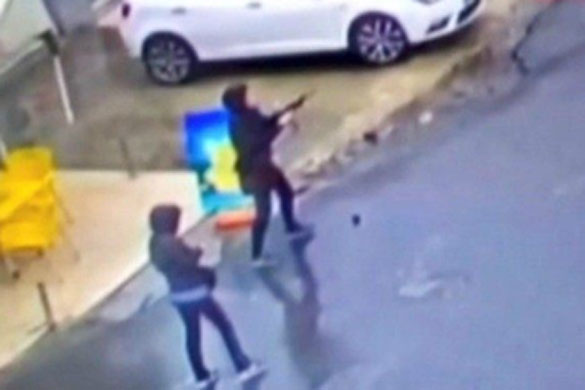 Photo: Turkish police have killed two female terrorists after the pair attempted an attack on the headquarters of Istanbul's riot police, using firearms and grenades, and locked themselves in a nearby apartment.
----------
• Malaysia Model Tuti Hits Back At Muslim Critics
• 5 Things to Know About Lt Col Sophia Qureshi – First Woman to Lead an Indian Army Contingent
• Four Panchayat Members Arrested In RYK, Pakistan, For Marrying Off Minor as Vani
• 5 Arab Women Who Are Breaking Down Stereotypes and Building Their Countries
• With So Much Attention on Muslim Women, Islamic Fashion Comes into its Own
• How One Muslim Artist Is Challenging Society's Stereotypes about Islam
• Finding Inspiration from Women Who Shaped History
Compiled by New Age Islam News Bureau
URL: https://newageislam.com/islam-women-feminism/female-communist-terrorists-throw-grenades/d/106553
-----------
Female Communist Terrorists Throw Grenades into Istanbul Police Station
March 4th, 2016
Turkish police have killed two female terrorists after the pair attempted an attack on the headquarters of Istanbul's riot police, using firearms and grenades, and locked themselves in a nearby apartment. Police have identified the women as members of the Revolutionary People's Liberation Army-Front (DHKP-C), a Marxist-Leninist terror organization.
The women reportedly attacked the riot police offices shortly after 9:00 a.m. local time, first attacking a police bus in the area and then shooting at the police station. According to Hurriyet, the women "arrived at the scene in a taxi" and began to shoot at the station, before running away once they had attracted police attention. Police chased them through narrow alleyways until the women entered a building and locked themselves in an apartment, where police were forced to kill them.
Two police officers were injured in the gunfight before the women fled, Turkey's state-run Anadolu News Agency reported. Citing Governor Vasip Sahin, Anadolu confirms the women were members of DHKP-C and identifies them as Çigdem Yaksi and Berna Yilmaz, both 27. Yeni Safak, a newspaper associated with the government of President Recep Tayyip Erdogan, reports that the women are believed to have locked themselves in the apartment in question for over an hour, leaving police no choice but to raid the scene.
The terrorist group has also issued a statement confirming the women as members, praising "our two women combatants for liberation that have taken the struggle upon their shoulders."
Video surfacing of the event shows part of the shootout between police and the women:
The DHKP-C is an avowed communist organization that has staged a string of violent attacks since being founded in the 1990s. Daily Sabah notes that some form of the group has existed since the 1970s, but the DHKP-C proper is an offshoot of a bigger terrorist organization that has since splintered. Among its most successful operations was the murder of Ozdemir Sabanci, an industrial businessman, in 1996. More recently, the group abducted and assassinated prominent prosecutor Mehmet Selim Kiraz in March 2015 after a standoff that produced dramatic images for social media that DHKP-C attempted to use as propaganda. The image of Kiraz surrounded by hammers and sickles with a gun to his head was banned from Turkish media:
Shortly before that attack, a female DHKP-C member set off a bomb in Istanbul's tourist enclave Sultanahmet district, killing one police officer. The group praised the woman in a statement as "our sacrificial fighter," alleging the bombing was revenge against President Erdogan for alleged corruption within his Justice and Development Party (AKP).
The DHKP-C was blamed for one more attack for which it never took credit: the bombing of the pro-Islamic State (ISIS/ISIL) magazine Adimlar's headquarters. While the publishers of the magazine themselves blamed "the CIA or the Mossad," police investigated DHKP-C suspects and speculated that the "People's Defense Unit" that ultimately took credit for the attack could have had links to the Marxist group.
Turkey has been attempting to curb an escalation of violence in the past two years stemming from multiple militant threats, from the Islamic State – heavily active across the border in Syria – to the Kurdistan Workers' Party (PKK), another Marxist group. While Erdogan's government has been attacking PKK targets in the south of the country for much of this year, the victims of terrorist bombings have largely been Kurds themselves. The deadliest attack in post-Ottoman Turkish history – the bombing of Ankara in October 2015 – targeted a Kurdish anti-Islamic State rally and was believed to be the work of ISIS terrorists.
breitbart.com/national-security/2016/03/03/turkey-two-female-members-of-communist-terror-group-attack-istanbul-police-station/
---------
Malaysia Model Tuti Hits Back At Muslim Critics
4 March 2016
A Malaysian model has hit back at critics who say it is inappropriate for her to compete in a modelling TV show.
Nuraini Noor, also known by her stage name Tuti, was recently unveiled as one of 14 contestants in the latest season of Asia's Next Top Model.
The news triggered online comments from Malaysians saying it was wrong for a Muslim woman to take part.
However, Ms Noor told the BBC she respected everyone's opinions, but did not like to put labels on anything.
"What really separates us is not skin colour nor religion. It's opportunity," she told the BBC via email.
Malaysia is known to be a moderate Muslim country, but has seen rising religious sentiment in recent years.
Ms Noor is said to be the show's first ethnic Malay participant. Malays make up the majority of Malaysia's population and are mostly Muslim.
'Not proper'
The critical comments reportedly began surfacing online shortly after organisers unveiled the contestants in February, with some calling for her withdrawal.
The show is the Asian spin-off of popular US television show America's Next Top Model, and will begin airing across the region on 9 March.
"For me, this programme [is] not for us Muslim[s], we have rules!" said one commenter on the show's Facebook page.
"This is not a matter of pride for Malay people, who are mainly Muslim. Furthermore in this event people are told to wear clothes that are not proper, and can be touched by boys," said another Facebook user in comments reported by The Malay Mail.
But other Malaysians have defended her saying they were glad she was representing their country.
'Chasing dreams'
"Different people have different point[s] of view and I am not in control of that. I respect each and everyone's opinion," Ms Noor said.
"I don't like to put labels on anything. I'm a citizen of the world. I'm that kind of girl who chase[s] her dreams."
The 24-year-old said she did not face such controversy in the past when she took part and won modelling competitions in Malaysia.
As a Muslim model, "that really depends on how you approach the task. You need to be open to the producers, photographer, stylist and everyone involved on issues such as this and the sensitivities attached to it."
"At the end of the day, the ultimate goal is to produce good photos and to fulfil your brief and that's what I intend to do every time," she said.
Malaysia has seen a rise in religious sentiment in recent years.
bbc.com/news/world-asia-35714059
--------
5 Things to Know About Lt Col Sophia Qureshi – First Woman to Lead an Army Contingent
March 4, 2016
Lieutenant Colonel Sophia Qureshi has become the first woman officer to lead an Indian Army contingent at a multi-national military exercise. Named 'Exercise Force 18', this is the largest ever foreign military exercise hosted by India, and Lt Col Sophia Qureshi is the only woman leader amongst the 18 participating contingents. The Field Training Exercise started in Pune on March 2 and will continue till March 8. The Indian contingent, which will play a key role in the training with other troops in Peacekeeping Operations (PKOs) and Humanitarian Mine Action (HMA), has 40 members.
"On these missions, we monitor the ceasefires in those countries and also aid in the humanitarian activities. The job is to ensure peace in the conflict affected areas," Sophia Qureshi told The Indian Express while talking about the role of peacekeeping missions in conflict areas around the world.
Here are five things to know about her:
1. 35-year-old Sophia Qureshi was selected from a pool of peacekeeping trainers to lead this contingent.
2. She was only 17-year-old when she joined the army in 1999 under short service commission. Presently, she is an officer from the Corps of Signals of the Indian Army.
3. In 2006, she served in United Nations Peacekeeping Operation in Congo and has been associated with PKOs for the last six years.
4. She hails from Gujarat and holds a post-graduate degree in bio-chemistry.
5. Her grandfather was in the Army and she is married to an Army officer from Mechanised Infantry.
Members of the Association of South East Asian Nations (ASEAN), including India, Japan, Korea, China, Russia, United States, Australia, and New Zealand are participating in the exercise. The opening ceremony was held at Aundh Military Station.
"In the Army, we believe in equal opportunity and equal responsibility. In the Army, there is no difference between male and female officers. She has been picked not because she is a woman but as she has the abilities and leadership qualities to shoulder the responsibility," said Lt Gen Bipin Rawat, Army Commander of Pune based Southern Command.
thebetterindia.com/46613/teach-for-india-soumya-jain-iteach/
--------
Four Panchayat Members Arrested In RYK, Pakistan, For Marrying Off Minor as Vani
March 4th, 2016
LAHORE: Police on Friday arrested four Panchayat members suspected of marrying off a nine-year-old girl in Vani in a Rahim Yar Khan village after taking notice of the incident and registering a First-Information Report (FIR) against the alleged offenders. Three of the four suspects arrested have been identified as Punnu, Ghazwa and Kaalu after FIR no. 46/2016 was registered under Section 310 of the Pakistan Penal Code, Gulshan Fareed police check post in-charge Ilyas Ali told Dawn adding that the marriage has been halted.
A Panchayat had decided earlier this week to give the girl as Vani in marriage to a 14-year-old boy in order to settle what was alleged to be a murder dispute. The arrested men are said to be signatories of the Panchayat ruling.
After the girl's brother's wife died earlier in February, her family suspected foul play. A panchayat was held in which it was decided that the nine-year-old sister of the alleged murderer would be married as Vani to a 14-year-old cousin of the deceased wife. The man was also asked to pay a Rs150,000 fine to his deceased wife's relatives.
Ilyas Ali said, "As soon as we learnt of the incident, we registered an FIR and then arrested the suspects in a raid. We also recovered the panchayati order that gave the girl as Vani in marriage to the boy."
He said it was possible more suspects would be arrested in the case.
dawn.com/news/1243514/four-panchayat-members-arrested-in-ryk-for-marrying-off-minor-as-vani
--------
5 Arab Women Who Are Breaking Down Stereotypes And Building Their Countries
March 4th, 2016
There is a horrible old saying in some Arab countries: Women belong to their homes and husbands only. They shouldn't be educated, work, or have an opinion. This belief, unfortunately, still dominates some areas in the Arab world. But modern, educated, and strong-willed Arab women and men find this saying backward and unfitting.
Women are 49.7% of about 345.5 million people in the Middle East and North Africa region. Some in the West think of these women as zipped up in a tent in the desert, probably beaten up by their husbands, a stereotype many of today's Arab women fight and prove wrong.
Yes, there are still many barriers remaining in the way of closing the gender gap in the Arab world, but many advances have been made in education, politics, entrepreneurship, labor, and health. Arab women today are entrepreneurs, leaders, activists, educators, Nobel Prize winners, and much more. They are reshaping their societies and building a better road to gender equality and girl empowerment for generations to come.
Here are some of many stories on how women from different Arab countries are reshaping their societies and fighting gender inequality:
She donated $2 million to build a high school for girls in her hometown of Hilla, Babil. Decades ago when she was their age, Madeeha Al Bermani had to go to a boy's high school because the scientific field she wanted to enter was only for boys. Now an emigrée physician, she donated her savings to educate and empower generations of Iraqi girls to become what they want to be.
Al Bermani didn't only donate the big bucks but was also was also involved in the selection of the teaching staff. With the money she donated, she equipped the school with the latest technologies, including touch-smart whiteboards and high-end laboratories, that could be benefit the students in a revolutionary way.?
Her father used to take her with him on humanitarian trips to Iraq and Sudan. The Tunisian civil society activist inspired his daughter, Sara Toumi, who moved from Paris to her father's village Bir Al Salih. There, she founded the NGO Dream in Tunisia. She helps teach the village women handicrafts and helps them promote and sell their products.
The Sorbonne-educated young woman also founded Acacias for All in Tunisia to fight the land's desertification with sustainable agriculture techniques, like planting acacia trees.
Toumi was selected as one of the 30 Under 30 Social Entrepreneurs Making Change in Europe and around the World in 2016.
Like elsewhere in the world, sexual harassment exists in Jordan. To fight against it and domestic violence, one Jordanian woman founded a self-defense NGO and training studio.
Lina Khalifeh, a martial artist and women's empowerment campaigner, founded the NGO SheFighter in 2010 to teach Jordanian women self-defense and to combat domestic abuse in the country. She was inspired to do so after one of her friends was attacked badly by her father and brother. Seeing her beaten up, she wanted to teach her and other women how to be strong and how to defend themselves from such acts.
She was once imprisoned and accused of organizing "riots." Her 2011 arrest angered the population and enflamed the uprising against the former Yemeni government of Ali Abdallah Saleh. Tawakkol Karman, an advocate for women journalists' rights, was one Arab woman making a change through peace. She was among the popular faces behind the regime change in Yemen during what was described the as Arab Spring.
In 2011, Karman became the first Arab woman ever to win the Nobel Peace Prize.
It is said "What doesn't kill you make you stronger," and what didn't kill 16-year-old Mazoun Almellehan in her war-torn country of Syria made her a fighter for girls education in the Azraq Refugee Camp in Jordan.
For two years, Mazoun has been carrying out a one-girl campaign to convince parents to keep their daughters in school instead of forcing them into marriage. Mazoun has been dubbed the "Syrian Malala" for her fight to keep girls in school, a reference to the Pakistani education activist whom the Taliban attacked in 2012.
http://blogs.worldbank.org/voices/5-Arab-women-breaking-down-stereotypes-building-their-countries
--------
With So Much Attention on Muslim Women, Islamic Fashion Comes into its Own
03/03/2016
Standing ovations at TED Talks are not that common. The last one I recall was a magician with a sword who, literally, showed his audience how to swallow fear.
Imagine then the collective surprise when Dahlia Mogahed, social science research wonk, mother of two, and a practicing Muslim walks on stage, poised, cheerfully dimpled, in a striking blue Muslim dress and head scarf, and smiling into the footlights asks a full house, "What do you see when you look at me? A woman of faith? An expert? Maybe even a sister. Or oppressed, brainwashed, a terrorist."
Dalia Mogahed Photo Credit: Ted Talk
Then try to imagine your amazement 15 minutes later when, against all odds, the whole crowd is on its feet and clapping.
Without fanfare, the personable Mogahed takes her audience on a solidly reasoned, thoughtful journey past the three not-so-subconscious stages of distrust, anger and fear that many Americans currently go through every time they see a woman in a headscarf. She explains how this happens, what it costs, and what it means--to the perceiver and the perceived, to our personal space and our public world, to democracy itself when fear takes over and labels win the day. She explains the stakes and she offers a choice and a challenge. No wonder the whole room jumped up to applaud.
Like a lot of people, I watched the talk on-line. I was at work, in MOST's Story Bank office, just doing my job, reviewing media pieces related to Muslims and Islam. The moment the TED talk ended, I began scrolling through all the Style & Fashion articles I could find in our searchable archive. Why Fashion? For two reasons:
Exhibit A: Nabila Noor's library-size archive of YouTube videos, Instagram, Snapchat, Twitter and Facebook pages have made her a household name in Muslim social media. Noor's YouTube channel overflows with advice on make up, room decors, foodie tips, party snacks, and gift ideas that flow her bedroom and living room across the world. Move over, Martha Stewart. Recently, in addition to beauty tips, she has been offering election advice to a larger public, appearing in Iowa at the GOP debate and raising non-cosmetic questions.
Exhibit B: Amani Al-Khatahtbeh started a blog in high school called MuslimGirl.net, which today is a burgeoning social movement. First an online blog page from her New Jersey family's home, then a Rutgers University student organization, then a registered website in Washington DC, MuslimGirl has moved with Amani, picking up a global network of editors and writers, taking on the theme of being young and female that spans the world.
Amani Al-Khatahtbeh Photo Credit: Broadly
Book and music reviews, women's roles in politics and science and, more recently, articles on how wearing hijab has made women targets of violence in public. Amani has taken her news to CNN and represented her demographic at the UN Youth Assembly. Her goal is to show that Muslim women do talk back and to give them a stage where they can hear each other.
Creativity in Muslim women's fashion and style flows beyond the virtual, giving solid shape to new looks around the world. The "Islamic World" is a large and potentially lucrative territory: 50 Muslim majority countries, 22% of the world's population, and a "Diaspora" population outside them of over 300 million people. No surprise that Fortune magazine has already tagged Muslim women as the next major fashion market. The estimates of its worthy are almost half-a-trillion dollars by 2020.
Who will design the clothes of Muslim women in the future? Donna Karan (DKNY) issued its first line almost two years ago. These days, it's referred to as the Modesty Fashion Movement, inspired by a different set of cultural norms than Western style, including the notion that a woman's visual appeal is not necessarily a function of how little she wears.
Muslim women will also create their own lines, and the companies to make and market them, if designers like Melanie el Turk CEO of Haute Hijab fashion house in Paris (and author of this article in Elle,) Nermin Demyati, the first female fashion designer in Gaza, and British-Japanese Muslim fashion designer Hana Tajima have anything to say. Tajima recently teamed up with Japanese retail giant Uniqlo to bring out a stunning line of clothes for British and U.S. markets.
Hana Tajima/Uniqlo Photo Credit: Mashable
Might you be curious to see how the American TV industry imagines Muslim FBI agents should dress? Consider this screen-grab of Lebanese-born actress Yasmine Al Massri, who portrays twin FBI agents Nimah and Raina Amin on ABC's hit TV series, "Quantico."
huffingtonpost.com/entry/muslim-women-fashionistas_b_9367438.html?section=india
--------
How One Muslim Artist Is Challenging Society's Stereotypes About Islam
03/03/2016
Azzah Sultan, 20, has personally witnessed rampant Islamophobia since moving to America from her native Malaysia in 2013. The young Muslim artist arrived in New York City at the age of 16 to study fine arts at Parsons School of Design. Miles from her family and confronted by Americans' largely negative view of Islam, Sultan channelled her emotions into her art.
"I use art to express my feelings and frustrations toward society," Sultan told The Huffington Post.
For one of her most recent pieces, called "Home Sweet Home," Sultan posted callouts on Facebook, Tumblr and Instagram inviting Muslim women around the country to donate a red, white or blue headscarf to her project. She received scarves from all over the country, she said, and stitched them together to create an American flag.
Her hope with the piece was to show that "being a Muslim does not make one any less an American," Sultan told HuffPost.
"Home Sweet Home" is an American flag made of hijabs from Muslim American women around the country.
"The act of me hand stitching these scarves together brought the different backgrounds and stories of these women into one piece," Sultan said. "This is a testimony of coming from various backgrounds but still sharing the common idea of being a Muslim and an American."
Much of Sultan's work focuses on this intersection of identity for Muslim women. The media, and society at large, she believes, misrepresents Muslim women and labels them "as oppressed, naive, traditional, backward thinking, submissive, and the list goes on."
Her 2014 series "Am I Modern Now?" plays with these unfair labels by challenging the assumption that Muslim women, and particularly those who wear the hijab, are stuck in a bygone era.
For the three paintings that make up the series, Sultan borrowed styles from three famous Western modern artists -- Roy Lichtenstein, Jasper John and Andy Warhol -- to demonstrate "how absurd it is to tell a Muslim woman that she is only modern if she adopts Western ideals," Sultan told HuffPost.
huffingtonpost.com/entry/azzah-sultan-muslim-artist_us_56d73cc9e4b03260bf78fcfa?section=india
--------
Finding inspiration from women who shaped history
March 4, 2016
March is Women's History Month in the United States and March 8 is International Women's Day. Goal Five of the UN's sustainable development goals is gender equality and the empowerment of women and girls.
Allow me, therefore, to shine a light on some of the women in ancient and contemporary history who have made a major positive impact on our world.
Scripture in the Catholic cycle of readings portrays a powerful encounter between God and Moses. In it, God tells Moses, "I have witnessed the affliction of my people. I know well what they are suffering." A sometimes hard-to-believe statement. But, Leymah Gbowee and Comfort Freeman, leaders of two Liberian Lutheran churches, believed those words and, trusting God, decided to speak out.
Together they inspired into action thousands of courageous women — to protest the horrors of war that had ravaged their country for years — to demand peace.
They organized the Women in Peacebuilding Network (WIPNET), first among Christians and then, extending the network to include Muslim women.
They held peace vigils in churches and mosques, and eventually in public sites, bringing Christians and Muslims together for the first time in the history of Liberia.
In 2003, after months of protests, when the plight of Liberia was finally brought to the world's attention, a tentative peace treaty was signed and the UN charged President Charles Taylor with crimes against humanity.
The film "Pray the Devil Back to Hell" documents the courageous actions of the WIPNET. Leymah Gbowee's faith and action echo the Exodus story. She says, "We believe God's hands are under us in this effort now. God has turned ears toward us."
In spite of the generally chauvinistic attitude toward women in the cultures in which the Hebrew and Christian scriptures were written, there are also many very significant and heroic women acknowledged in the Old and New Testament.
Esther's story is one of bravery, pragmatism and cleverness. The way she saved her people from death in ancient Persia merits a book of the Bible named for her (see the book of Esther or the 2013 movie by the same name). Naomi and Ruth, famous in-laws, share a beautiful story in the book of Ruth, a story of loyalty and friendship in the face of loss and grief.
Mary and Elizabeth in the New Testament are extraordinary women, mothers no doubt very influential in the formation of sons who are ultimately executed for holding to their principles.
Among those unnamed in scripture but not forgotten are the Syrophoenician woman, who wrenched a healing out of a reluctant Jesus, and the Samaritan woman at the well for whom Jesus broke all the taboos about communicating with foreigners and women.
I confess that I did not know the name of Bernice (Bunny) Sandler nor the full impact of Title IX until I began research for this column. I only knew that women on college campuses were more likely in recent years to participate in athletics because of Title IX.
But Bunny Sandler's fight was about more than sports; it was about collegiate sexism, a sexism she herself encountered in the '60s when she, like hundreds of other qualified women, could not obtain a full-time faculty position because of gender discrimination.
After filing lawsuits against hundreds of federally funded colleges, she collaborated with Congresswomen Edith Green (D-Oregon) and Patsy Mink (D-Hawaii) to get a law passed banning sex discrimination in federally funded education programs. Bunny Sandler is called the "Godmother of Title IX."
The last group of women I highlight is an international group of Catholic Sisters, Talitha Kum, who have taken on the "war" against human trafficking. I am especially impressed with their work since I work at a safe house where women survivors of commercial sexual exploitation and sex trafficking can begin to heal from the traumas they have suffered.
For the last five years, Talitha Kum's thousand or so Sisters have sponsored prevention programs in schools, training for young people, and safe haven to survivors.
Their name is from the Gospel story of Jesus raising a little girl from the dead, saying words in Aramaic that mean "Little girl, I say to you, arise!" The work of Talitha Kum is to imitate the healing touch of Jesus by combatting sex trafficking systemically and directly, bringing back to life those nearly mortally wounded by the sin of trafficking in humans.
These are just a few of the women who should not be left out when the world looks back and remembers significant characters who helped make our world a little more just, peaceful, and compassionate. Her story is equally important as history.
buckscountycouriertimes.com/news/local/religion/finding-inspiration-from-women-who-shaped-history/article_1efc065e-e171-11e5-a4f1-bb6df3898bd4.html
URL: https://newageislam.com/islam-women-feminism/female-communist-terrorists-throw-grenades/d/106553
New Age Islam, Islam Online, Islamic Website, African Muslim News, Arab World News, South Asia News, Indian Muslim News, World Muslim News, Womens in Islam, Islamic Feminism, Arab Women, Womens In Arab, Islamphobia in America, Muslim Women in West, Islam Women and Feminism