New Age Islam News Bureau
4 Jan 2014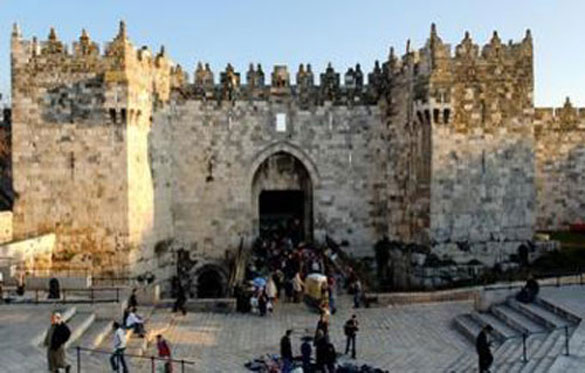 Arab girl, aged 16, attempts to stab border police officer in Jerusalem, Damascus Gate Photo: BiblePlaces.com
-----------
• Arab Girl, Aged 16, Attempts to Stab Border Police Officer in Jerusalem
• Intellectual Gap between Saudi Couples
• Saudi Girl Ranked Third In Math Contest
• Tanzania: Education on Land Rights Empowers Women
• Jinnah Women University Seminar Speakers Advocate Equal Rights For Women
• Nigeria: Day Kaduna Women Rose against Gender Based Violence
• Zamfara to Train 1,000 Women in Computer Literacy – Commissioner
Compiled by New Age Islam News Bureau
URL: https://www.newageislam.com/islam,-women-and-feminism/new-age-islam-news-bureau/female-bodybuilders-try-to-lift-sport-s-profile-in-iran/d/35142
-----------
Female bodybuilders try to lift sport's profile in Iran
Jan 04, 2014
Because they have to wear hijabs, Iranian women athletes cannot compete in many international competitions, and have to settle for competing at a national level. But for Iran's female bodybuilders, any sort of competition is out of the question.
In Iran, women work out at women-only gyms. According to our Observer, most of these gyms now offer bodybuilding classes, and sell hormones and dietary supplements as well.
"Sometimes strangers or even my own friends make fun of me"
Soubadeh Sabour is a professional bodybuilding coach in Tehran.
Until recently, Iranian women weren't really interested in bodybuilding, mainly because of the way they dress – when you wear Islamic dress, you don't really care what your body looks like underneath. But with the advent of foreign channels on satellite TV, which is extremely popular in Iran, Iranian women have been awakened and getting their body in good shape has become more important for them. Also, in the past few years, bodybuilding has taken off for men, with Iranians receiving acclaim on the international stage. There are even Iranian women living abroad who have made a name for themselves in the bodybuilding world.
Here in Iran, though, the sport is just taking off for women. There are several hurdles to overcome. The first is in Iranian society, having a muscular and bulked-up body, for a woman, is not really acceptable. My own body is still feminine, despite being muscular – I am not at all as bulked up as Western champions. But sometimes strangers or even my own friends make fun of me. Some students tell me that they don't want to look like me, that they don't want bulky shoulders or highly defined thigh muscles, because they are afraid of how society will view them. I have about 150 students, and only 5 or 6 of them really want to achieve a professional bodybuilder's body definition; the others want to stop when they get just a little muscle.
"Gym owners are too afraid to get in trouble to organise competitions, even underground ones"
Then, there are very few skilled female bodybuilding coaches. Most have low-level certificates, and are not up-to-date on the latest knowledge in the field. I have seen many injuries caused by practicing with such coaches.
And finally, we can't hold competitions, even women-only ones. We have to be content with hearing the compliments of our gym mates. I did ask the national bodybuilding federation [which is all-men] for permission to hold a competition, but was rejected. As far as I know, there are no underground competitions, either, because gym owners are too afraid to get into trouble. [Editor's Note: There are, however, low-key competitions organised on social networks, where women send in photos of themselves]. I hope we will one day be allowed to organize real competitions, or else I fear there may be no future for women's bodybuilding in Iran.
http://observers.france24.com/content/20140103-female-bodybuilders-sport-iran-women
-----------
Arab girl, aged 16, attempts to stab border police officer in Jerusalem
Jan 4, 2014
A 16-year-old Arab girl attempted to stab a border police officer with a knife near Nablus Gate in Jerusalem on Friday. The suspect is a resident of the Jabal al-Mukaber neighborhood in east Jerusalem police said.
Security personnel succeeded in disarming the woman and bringing her under control but in the process, one of them was injured lightly in the leg. The injured man received medical treatment at the scene.
Border police arrested the suspect and took her in for questioning.
Last month a 30-year-old police officer was stabbed in the back by a Palestinian man next to the West Bank Route 60 junction near Jerusalem and Ramallah.
According to police, that attack was carried out at 5 p.m. near the Geva Binyamin settlement by an unidentified assailant, who stabbed the officer once in the lower back with a 15-centimeter blade before fleeing the scene.
A second officer unsuccessfully fired several shots at the suspect, who is believed to have sought refuge in the Palestinian village of Jaba.
http://www.jpost.com/National-News/Arab-girl-aged-16-attempts-to-stab-border-police-officer-in-Jerusalem-337031
----------
Intellectual gap between Saudi couples
Jan 04, 2014
RIYADH – An increasing number of couples have complained of an intellectual gap between them and their other half. While society has traditionally dismissed the issue, as more and more Saudis graduate college and obtain advanced degrees, arranged marriages in which intellectual compatibility is overlooked, are more likely to fail.
According to Abdullah Salem, a government employee, Saudi society is still suffering from the problems of intellectual gaps between couples. "Society has ignored its importance on marital relations," he told Al-Riyadh Arabic daily.
"It is not important whether the wife is from the same tribe or clan but it is important that she understands her husband and that he understands her. A woman should be her husband's partner in everything and she should be someone he can interact and discuss all matters with, such as politics, religion, philosophy and even football," he said.
Salem went on to say that even though his wife comes from a good family background, her way of thinking is incompatible with his.
"She is sophisticated in everything except her thinking. She is aware of the latest fashion trends and can choose the most elegant clothes but she is ignorant of world affairs, something which she does not view as a shortcoming."
Similarly, Inas, a housewife, described her husband as "stupid" and accused him of having limited knowledge of important global developments.
"He believes he is always right and he never stops criticizing others, while claiming that he has the answers to all problems. The only issue is that no one asks him for his 'wise' advice," she said while adding that it was not difficult for anyone to discover the shallowness of his thinking and his general lack of wisdom.
Inas says she has to pretend to be less knowledgeable than her husband and if she dare challenge his beliefs, he lashes out at her.
"When we were married, we had a discussion and I challenged him on something. He made such a big scene out of it that had I not been pregnant, he would have divorced me. My mother gave me the best lesson ever when she told me that men like stupid women, so I have pretended to be stupid ever since," she said.
According to psychologist Dr. Hani Al-Ghamdi, the intellectual gap is one of the most important factors in the psychological formation of the other partner.
He pointed out that marriage is not based only on the beauty of the woman or the handsomeness of the man, but there are many elements that are important to the basic satisfaction of both partners.
"Therefore, taking joint decisions requires a certain degree of harmony and integration between the couples, and if this side of the relationship is disrupted, marriage would then be reduced to intimacy only," he said.
"Marriage depends on the adoption of feelings and concessions, and not on the transcendence of a partner. Once a partner starts dealing with the other half with this negative mindset, it will result in feelings of desperation, which in turn will affect their intimacy and bonding," he said.
http://www.saudigazette.com.sa/index.cfm?method=home.regcon&contentid=20140104191423
-----------
Saudi girl ranked third in math contest
Jan 04, 2014
RIYADH— A Saudi teenage girl won the third place at an international algorithms contest, which was held recently in Hong Kong with the participation of 500 students from 14 countries. Haya Al-Hussain fought off strong competition from other contestants in addition, subtraction, division and multiplication to win the third place. She displayed extraordinary skills in the Chinese abacus contest and was able to do complicated calculations in less than three minutes. Students from the United States, Canada, India, South Korea, China and South Africa took part in the competition.
http://www.saudigazette.com.sa/index.cfm?method=home.regcon&contentid=20140104191426
-----------
Tanzania: Education On Land Rights Empowers Women
Jan 04, 2014
LAND rights education has empowered women in the central zone where land ownership for them has been a far cry.
In various interviews with 'Daily News' on Wednesday evening on the sidelines of their meeting in Dar es Salaam, women from various parts of Dodoma, Singida and Tabora regions said they were in the past wallowing in poverty due to lack of land ownership.
One of them, Grace Bbayu (36), a resident of Mvumi village in Dodoma, told the 'Daily News' that she lost her husband in 2002 and took it as one of the worst blows in her life.
She said just as she was reeling from her partner's loss, she had her property confiscated by in-laws, leading to many months during which she was almost driven to a point of despair.
But she said a moment of hope came when a neighbour, who had attended training on women's rights through a local non-governmental organization, told her to visit one of their offices. She said she went to the Women Wake Up (WOWAP) NGO, a voluntary NGO and non-profit organization, which has a paralegal unit that gives legal help for such cases.
She said many more widows were initially wallowing in poverty and became destitute as they had for a long time been culturally prohibited from inheriting land - a critical factor of production and source of wealth.
Fatuma Ali said there were many instances where women, having lost their husbands in the 1980s and 1990s were subsequently exposed to confiscation of property, including land, by their in-laws, leaving them to kind people's mercy.
"In many of our traditional settings, we were basically labourers who were not expected to lay any claim to property rights. In the long term, as it has shown for many of us, the woman suffered marginalization," she said while resting her small frame on the table.
"Interestingly," she added, "land activity was largely our preserve, the womenfolk, yet the rights to it were none of our business," she said.
Burton Mwidowe (40), one of the beneficiaries of the training and now a trainer of trainers at Mvumi, said the programme funded by the Foundation for Civil Society had largely helped his communities interpret the Land Act of 1999.
"People were engrossed in land conflicts, but after getting education about land laws conflicts were easily solved because people got to know that in some cases, they were confiscating people's land believing that they were entitled to it," he said.
"People came to learn that if they are in a legal marriage, their rights are clear-cut," he said. WOWAP's main aim is to educate the whole society at large on the aspects of human rights, women rights and children rights.
"The training offered to us by WOWAP has opened our eyes," said one of the trainees. In fact, Chinangali II village executive officer has reported that a number of people have come to ask for customary marriage registration certificates.
http://allafrica.com/stories/201401030031.html
-----------
Jinnah Women University Seminar Speakers Advocate Equal Rights For Women
January 4, 2014
The rights accorded to women in Pakistan, or lack thereof, has been a contentious topic.
In a bid to impartially chart issues, a seminar on women rights and gender justice was organised at Fatima Jinnah Women University (FJWU) on Thursday.
"Women are important segments of our society and major contributors to our economy," Dr Manzoor Ahmed said while explaining the significance of women rights.
He observed that the dilemma of our society remains that every one of us dreams of a tolerant public space, where rights are accorded top people who can exercise them, but no one is ready to work for it.
He further added that women empowerment is imperative if we want to prepare our women for leadership roles in the future. Facts and figures evincing women empowerment from the last two years were cited by him in validation of his argument.
Nazoora Ali hailed the positive developments which have occurred with regards to women rights in the recent past.
She delved into an indepth discussion of various clauses of the constitution related to human rights, highlighting the struggle of women from around the world who are held back by the predominant system.
These problems and the protests registered by women across the board indicate that no religion, culture or value system denies the provision of healthcare or education to women. She concluded by asserting that every person in their individual capacity and sphere of influence needs to exercise their agency to bring about the betterment of society.
Other areas of concern such as violence against women, female education, right of information, child marriages, child labour, war crimes against women and economic injustice were also brought to the fore in the discussion.
http://tribune.com.pk/story/654433/gender-sensitivity-speakers-advocate-equal-rights-for-women/
-----------
Nigeria: Day Kaduna Women Rose Against Gender Based Violence
Jan 04, 2014
Kaduna — A coalition of women Civil Society Organizations (CSOs) and Non-Governmental Organisations (NGOs) under the auspices of Legislative Advocacy Coalition on Violence Against Women (LACVAW) recently converged at the auditorium of Arewa house in Kaduna state to present a draft for the state on the Violence Against Persons Prohibition Bill (VAPP).
The forum which was organised by Women's Rights Advancement and Protection Alternative (WRAPA), witnessed a large turnout of women and girls of all ages in a show of solidarity to see to the submission and the actual passage of the bill into law by the Kaduna State House of Assembly.
A factsheet on the draft bill which was made available to Daily Trust reads in parts, "The Bill seeks to eliminate or reduce to a minimum the occurrence of gender based violence in the Nigerian society especially in homes, public spaces or even in conflict situations. It therefore protects the rights of Nigerians against violence especially violence against women.
"It aims at addressing the gaps in current laws on violence in private and public spaces. Specifically, it is aimed at responding to old and emerging forms of violence in particular, gender based violence. The Bill is laid in seven parts including its schedules while it has about 318provisions in 51 major sections. It is a product of an inclusive and consultative process and presents a harmonized legislation that incorporates nine other Bills presented before the National Assembly of Nigeria from 1999-2008."
However, giving a back ground on how the journey to attain such bill started, the Project Director/ Secretary General, WRAPA, Hajiya Saudatu Mahdi said Nigeria's return to democratic governance in 1999 provided the context for renewed vigor around the demand for legal framework and mechanisms.
"In May 2002, the Legislative Advocacy Coalition on Violence Against Women (LACVAW) with the support from the International Human Rights Law Group, now LAWGROUP, articulated and submitted to the National Assembly a bill titled the Violence Against Woman (Probation) Bill, 2003but the bill was not passed during the legislative session.
She said: "In 2008, concerned about the consistent failure to realize a legislative framework, to addressing the increasing prevalence of violence in Nigeria and with support from DFID, the coalition coordinated by WRAPA and International Federation of Women Lawyers (FIDA) Nigeria; undertook an audit of Bills submitted to the National Assembly to extract and harmonize those that particularly bear relevance to the issues of violence against women.
Mahdi said human rights is not the business of women alone but that all human beings. "It is the business of institutions, the business of government, of families that human rights are observed and I need to also make it clear that when we talk of human rights, it is not something abstract or something in the air, human rights is about how me and you live, how I accord you dignity.
"We have agreed as a nation that we must live in justice, our second stanza speaks to that, our religion speaks to it and our humanity demands it, so on that basis, the fact that the government has taken a role to work with CSOs," she stressed.
In her keynote address, the Permanent Secretary, Ministry of Women Affairs and Social Development, Kaduna state who was represented by Hajiya Aisha Mohammed said : "We all know that violence against women rate has taken an alarming dimension because we read on the pages of newspapers every day the violence being done to women, it is also on record, that out of every 10 women, 3 suffer gender based violence every day, all over the world."
She said there are laws in Kaduna state but they do not address the crime as far as women are concerned, "because the punishment of rape is just a few years in prison or a fine involving a paltry amount of money, and the perpetrator is allowed to go, but the damage done on the woman lasts a life time . That is why we need a law that will protect the future generation," she said.
http://allafrica.com/stories/201401030326.html
-----------
Zamfara to train 1,000 women in computer literacy – Commissioner
Jan 04, 2014
Nigeria: The Zamfara Government says it will train 1,000 women on computer application as part of its efforts to ensure computer literacy among them.
Hajiya Balkisu Bungudu, the Commissioner for Women and Children Affairs, said this on Tuesday in Gusau while defending the ministry's 2014 budget at the House of Assembly.
She said the programme would begin in Jan. 2014, adding that the women would be selected from the 14 local government areas of the state.
The commissioner said that women in the state, especially those in rural areas, were not given the opportunities to develop their human capacity, adding that they deserved consideration.
Bungudu said the current administration in the state was committed to ensuring that women were empowered.
She urged them to cooperate with the government in its crusade to transform the state.
Alhaji Aliyu Kagara, Chairman, Committee on Finance and Appropriation, said it would involve the people while working on the budget.
http://www.punchng.com/news/zamfara-to-train-1000-women-in-computer-literacy-commissioner/
-----------
URL: https://www.newageislam.com/islam,-women-and-feminism/new-age-islam-news-bureau/female-bodybuilders-try-to-lift-sport-s-profile-in-iran/d/35142