New Age Islam News Bureau
20 Aug 2018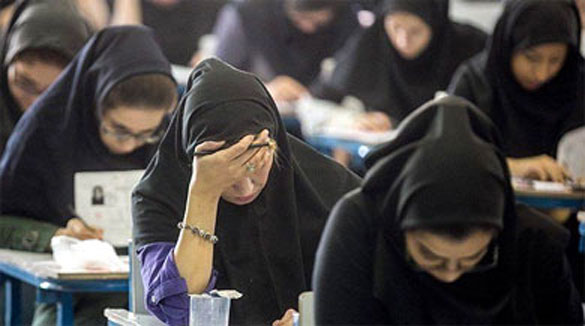 Two members of the persecuted Baha'i faith in Iran have been offered university enrollment in exchange for renouncing their religion, according to information received by the Center for Human Rights in Iran (CHRI). in 2017
------
• Runaway ISIS Bride Rescued By Female Kurdish Fighters
• Road Romeos and Women behind the Wheel in Pakistan
• 14 Saudi Innovative Women Present Community Development Projects in US
• Iran Accuses Georgia of Violating the 'Decency of Muslim Women in Hijabs' In Tbilisi Airport
• Egypt's National Council For Women Launches A Poll App, With Interesting Results
Compiled by New Age Islam News Bureau
URL: https://www.newageislam.com/islam-women-feminism/female-bahai-student-expelled-iranian/d/116156
--------
Female Baha'i Student Expelled From Iranian University for Religious Beliefs
19 August 2018
Female Baha'I student Romina Asgari was expelled from the Central Tehran Branch of Azad University for her religious beliefs. The female undergraduate student was deprived of continuing her studies because she was a Baha'i.
Romina Asgari was dismissed after her 4th semester from the Azad University Central Tehran Branch due to being a female student of Baha'i faith. The letter prohibiting the student from her studies explained the reason for the expulsion as "improper social behavior, and attempting to undermine the country's order, calm and security." This is while she was not in college for six months and had used one semester of study leave.
There have been many reports of Baha'i citizens being deprived from continuing their education at Iranian universities.
Last month, female Baha'i student Sogol Zabihi was deprived of continuing her education. She was a sophomore undergraduate student of graphics at Rasam University of Karaj who was dismissed from school for her Baha'i faith.
Female Baha'i student Sogol Zabihi Sisan was visiting the university's website to get her exam entry card, when she learned that she cannot enter. After following up with the university officials, she was informed that she cannot continue her education because she is a Baha'i.
Earlier, Soha Izadi, a female Baha'i student of Information Technology (IT) at the University of Zanjan, had been dismissed from school for being a Baha'i.
During the past year, at least 23 female students of Baha'i faith were dismissed from Iranian universities and deprived of continuing their education.
Baha'is are deprived of education in Iranian universities based on paragraph 3 of the bill ratified by the Supreme Council of Cultural Revolution on February 25, 1991, which has also been endorsed by the mullahs' supreme leader Ali Khamenei, "Once it is confirmed that a student adheres to Baha'ism, whether at the time of admission or during their studies, she/he must be deprived of education."
https://women.ncr-iran.org/iran-women-news/5423-female-baha-i-student-expelled-from-university-for-religious-beliefs
--------
Runaway ISIS Bride Rescued By Female Kurdish Fighters
August 20, 2018
In 2014, my team and I travelled to Rojava in Northern Syria.
Our assignment wasn't easy, nor was it safe.
We were there to report on the Kurdish female fighters of the YPG – an extraordinary group of women, some just girls really - who, shoulder to shoulder with their male counterparts, were on the frontline in the war against ISIS.
This hardened and elite force of women was not just fighting for a homeland but for ideals and values most of us cherish.
They were prepared to die - and many of them did - to retain their right to an education and a career, the freedom to make choices about marriage and what to wear.
Apart from the passion with which they held their beliefs, they were, in every other way, implacably opposed to what their enemy stood for.
What they risked losing became chillingly clear as ISIS took control of Mosul in Iraq, and Raqqa in Syria, where they enforced their medieval mindset through violence and terror.
In that same year, Islam Mitat also came to Syria.
We, at 60 Minutes, knew nothing of this particular young woman, nor did the YPG for she was living behind enemy lines.
Islam was an ISIS bride - a member of a growing band of women, from all over the world, who had travelled to the war zone to either follow their husbands or to find Jihadis to marry.
They were critical to helping populate the so-called Caliphate.
Unlike many of those women, Islam claims she was tricked into going to Syria by her then husband of three months.
Islam was a young Muslim moderate living in Morocco and met Ahmed Khalil on a dating site. He was a British national, with family in Afghanistan.
Islam longed to live in the UK where she hoped to become a fashion designer.
Her marriage was the first step in making that dream happen. Or so she thought.
Instead, she'd married an extremist with a very different dream in mind.
Promising Islam a holiday on the way to her new home in England, Khalil took her to Gaziantep, Turkey. There she was put up in a farm house with many other women, all excited to be making the trip into Syria.
Islam claims to have been horrified to learn the true destination planned for her and describes a harrowing race across the border where one of the wannabe ISIS recruits was shot in the leg by a border guard.
Once inside Syria, Islam says she was trapped with no way of getting out.
With her husband away fighting she spent many long days with the other ISIS Brides – mainly the British sisters Salma and Zara Halane who were infamously known as Britain's Terror Twins.
In many cases, Islam considered the women even more dangerous than the men. She was terrified. If they sensed she wasn't devoted to the terrorist cause, they'd declare her a spy.
She lived in fear of being reported to the religious police where she faced being tortured or killed.
Within a month of being in Syria, Islam discovered she was pregnant and her husband died in battle.
Such was the way under ISIS, Islam had no choice but to marry again but her new husband was so brutal she soon ran away and with the help of Salma met yet another Jihadi.
This man was an Australian and his name was Faisal Sahib.
Very little is known of Sahib, the father of her second child, a daughter they named Maria.
He came from Sydney's west and by all accounts was a quiet but determined student studying sports science. He was also a champion kickboxer.
His moderate Muslim family enrolled him in a Catholic school so he would grow up with a better chance of gaining a world view of life and religion.
Sahib left Australia, without his family knowing he was going or of his new found religious fervour. It seems he got out of the country without alerting authorities and he's never appeared in terrorist propaganda clips like so many other Australian and western recruits.
We may never learn who or what led Sahib to Syria in 2013 because he too was killed there. Islam was told her husband died in a coalition airstrike.
With the help and approval of Sahib, Islam had befriended local Syrians by living amongst them.
Most of the other foreign ISIS fighters seemed to despise the locals and lived in a separate compound.
With the death of Sahib, Islam vowed to get out of Raqqa and it was only with the help of her neighbours that she managed her extraordinary escape.
They disguised her as a local woman, and travelled with her – through many ISIS checkpoints - pretending they were going to a Syrian wedding, risking their own lives in doing so.
In truth, they were delivering Islam and her two children to a people smuggler. He needed convincing but eventually agreed to take her.
For nine torturous hours, Islam carried her two children through the freezing desert until she was stopped and surrounded by snipers.
Islam thought she was dead, captured by the soldiers of ISIS.
She didn't immediately realise that in this moment she was safe, in Rojava, and in the hands of the Kurdish fighters of the YPG.
The same force I'd filmed with three years earlier, who will kill terrorists without hesitation.
But not Islam - they welcomed her, not as the enemy but as a woman.
https://www.9news.com.au/2018/08/19/22/13/isis-bride-islam-mitat-60-minutes-tara-brown-welcomed-by-ypg
--------
Road Romeos and Women behind the Wheel in Pakistan
BY MARIAM SHAHZAD
August 20, 2018
LAHORE: Although street harassment happens to be a norm all over the world, men in countries like Pakistan are apparently the most uncivil and uncomfortable with female drivers on the road. Along with rampant patriarchy in our society, this compounds the issues women face when they are in public spaces.
Women who commute using public transport have a plethora of harassment issues that can fill a Bible on their own but those who use their own transport experience harassment at another level, coming in verbal, physical and other forms. The threat of tailgating, rude and inappropriate gestures, being subjected to masturbating men, forced handing in of contact numbers, sexist comments, stereotypical jokes among others loom every time women are out and about.
Take an incident from Ramazan this year: Two sisters from Karachi, who were out at noon, were harassed by a man in a black Corolla, bearing number plate BAL 943, as they were getting a refill. This chap decided that the best way to observe a fast was by masturbating in front of the girls at the metropolitan's DHA Phase 8 petrol station located on Shujaat Road.
Maloney Javed, while talking to Pakistan Today, narrated her ordeal that she had to face as a routine matter when she was in med school. "I used to travel routinely via Canal Road, Lahore. During summers, the men who took a swim over there to escape the heat, almost naked or with wet shalwars outlining their groins, would block my way, call me names and make inappropriate gestures," she said.
"Another time, a man on a donkey cart rushed in front of my car despite the fact that I had turned on my indicator. As he passed by he shouted: 'Piyo nu tey lang lain de' (Punjabi for let your father pass first)," she added.
If you speak to any woman about her driving experience, it is impossible to miss the narrative of 'road Romeos'. Traffic signals are most popular for this crime scene. Here is how it goes: a constantly honking horn would try to catch your attention. If the woman looks out of the window, she is often subjected to acts of vagary, obscene gestures and catcalling.
Experienced female drivers know well that this is their cue to suddenly look livid and keep their eyes glued to nowhere but the road straight ahead. Outrageously unfair as it is for them having to adopt these 'safety measures' in the first place, inexperienced female drivers who fall victim to this type of hoodwinking, are either asked for a phone number or bestowed with the sight of a man masturbating; his half-twisted mouth resembling facial paralysis as he revels in abusive bliss.
Narrating how this happens in real life, Sadaf Sajid, a homemaker and mother of two, shared with us an incident of similar nature: "Men throw their cellphone numbers written on small pieces of paper in my car when the window is open."
This impudent behaviour is not limited to any particular area. In fact, they seem to occur in middle class and posh areas with roughly the same consistency. For example, Defence Y-block in Lahore is infamous for being full of teenagers tailgating girls and women like vultures ready for the kill.
And like the famed cinematic patience of vultures circling over carrion, these boys are willing to spend endless time in their ventures, sometimes following female drivers right to their doorstep. It doesn't end there, unfortunately, as they are often found loitering outside for an extra few minutes and then speed off with screeching tyres, displaying their macho as a power statement of knowing that they can get away with it.
In Pakistan, a majority of boys and girls grow up segregated by a social wall. As a result, they never learn how to respectfully interact with each other, a basic concept in social interaction no matter what the gender. This in time becomes a catalyst in the formation of patriarchal mindsets.
The very root cause of roadway harassment is that men with patriarchal mindsets have a perception that women are occupying public spaces meant for them. This sort of challenges their fragile male egos, and like everything else, they just can't stomach it. Freelance artist Hareem Khan, who often travels to the interior city for her art projects, shared the unwanted attention she gets from men when they realise there's a woman behind the wheel. "'Look! A female driver,' they exclaim when they see me," she said.
This stereotypical sexist attitude towards female drivers stemming from patriarchal mentality actively contribute to such practices and opinions, reminding women of their second-class status.
Driving on the road is a gender neutral issue. If one cares to observe, men too are negligent drivers. The abundance of jokes about women drivers undermines the female gender so that they stay away from what men foolishly consider their domain.
According to various studies based on safety on roads, women fall victim to road accidents when they hastily attempt to get away from other vehicles following harassment, objectification and aggression.
As unfortunate as it is, most of the road harassment incidents, including verbal and nonverbal behaviours, do not get reported. Owing to a strong grip of patriarchy and misogyny over our culture, speaking out about these behaviours doesn't just fall on deaf ears, it is often punished. This forces women to typically refrain from complaining about road harassment to their families because they might be barred from driving, out of a concern for their wellbeing. Being an independent woman comes with its own share of problems: they have to put up with a lot, none of which men face generally.
We need to make sweeping changes in the way we deal with this issue: changes on both personal and collective level as well as, policy initiatives at the government level. A few policies that do exist to check such practices are in dire need of implementation. However, the government needs to get serious about this issue and plug the legal lacunas right away so that these hooligans can't get away from the justice they deserve.
One of the better ways to achieve a society that treats its women the way it treats men is to include compulsory road safety education in schools and colleges across the country's educational institutions. Parents and families need to understand that their women are entitled to as much freedom as their male counterparts. That's what an inclusive society would look like, ideally at least. Crash courses in how to respond to abusive conduct should be provided by the state throughout the country. Men also need to be taught how to behave on the roads, especially when it comes to their interactions with women.
Road harassment needs to be confronted, discussed and monitored. Or else these ceaseless affronts, if not contained, will eventually achieve what they aim to: the removal of women from the driver's seat.
https://www.pakistantoday.com.pk/2018/08/20/road-romeos-and-women-behind-the-wheel/
--------
14 Saudi Innovative Women Present Community Development Projects in US
August 19th, 2018
The Halcyon Incubator fellowship on Friday concluded a program in Washington, DC for a group of Saudi female pioneers in social development.
Fourteen Saudi innovators working in community development on Thursday gave presentations on seven ambitious projects that highlight applications that they are seeking to implement.
The seven Saudi projects highlighted a number of unique applications, such as the online on-click link between dentists, lab technicians and labs, whose design has shown that it will make a major social change in its country and will save waiting for medical appointments and reports.
Another online project helps children with autism to improve communication skills through games and educational activities.
Another focuses on linking history and modern technology in many languages to improve tourism and make it easier for pilgrims to visit the country.
It also presented practical projects such as "Green Desert," which seeks to contribute to solving the problem of lack of waste recycling culture in Saudi Arabia.
During his visit to the Halcyon Incubator, the director of innovation and entrepreneurship at Taibah University, Dr. Mohammed Al-Ghamdi, praised its development of social projects. He also congratulated the group of Saudi women for their innovative excellence.
The Saudi Innovations Group has spent two weeks working in the hospitality of the Halcyon Incubator, which has been named the "Kingfisher" as a symbol.
The organization seeks to promote creativity in all its forms throughout the world by stimulating and supporting creators who seek to promote the good in their communities.
The annual program of the Halcyon Incubator sponsors various groups of change-makers in the fields of arts and social projects and provides them with an environment that incubates their bold ideas and helps them to learn, gain experience and knowledge and provide them with free trial opportunities to enhance their talents and visions and transform them into influential energies in society.
https://www.albawaba.com/business/14-saudi-innovative-women-present-community-development-projects-us-1175710
--------
Iran Accuses Georgia of Violating the 'Decency of Muslim Women in Hijabs' In Tbilisi Airport
AUGUST 19, 2018
The Embassy of Iran to Georgia has sent a letter of protest to the Ministry of Foreign Affairs of Georgia (MFA) regarding an incident which took place at Tbilisi's international airport.
According to the Iranian news agency IRNA, security service personnel at Tbilisi International Airport demanded several female passengers arriving from the Iranian city of Isfahan to remove their hijabs.
Spokesman of the Iranian Ministry of Foreign Affairs Bahram Qassemi said that the Iranian ambassador spoke with several travellers who had been to Georgia to confirm the information, after which he sent a letter of protest to the MFA and to the airport's security service.
Moreover, the consular department of the Ministry of Foreign Affairs of Iran also sent a letter of protest to the Georgian Embassy in Iran and demanded an explanation from the ambassador.
"Iran also calls upon the Georgian authorities to prevent a repetition of such incidents, and for the airport security service to observe and respect the dignity of Muslim women in hijabs," reports IRNA.
The MFA has already responded to the accusations. After receiving the information regarding the alleged violations, the MFA looked into the matter and concluded that the Georgian security staff at the airport were not in violation of any procedures.
"There were no illegal actions on the side of the Georgian security personnel, including actions which might 'offend religious feelings'," reads the ministry's statement.
The MFA has informed the Iranian side regarding the investigation results. The issue will be discussed at the next meeting with the Iranian ambassador and the MFA.
According to Georgia's Tourism Administration, one million people visited Georgia in July, of which 179 thousand were Iranians. Iran is in fifth place after Azerbaijan, Russia, Turkey and Armenia.
https://jam-news.net/?p=118208
--------
Egypt's National Council For Women Launches A Poll App, With Interesting Results
Hend El-Behary
August 19, 2018
The National Council for Women (NCW) recently launched a poll application called "Nasalk", creating a platform for women to express their opinions and empower women's community talks.
The NCW, in cooperation with The Egyptian Center for Public Opinion Research (Baseera), have raised a number of important questions regarding the various issues Egyptian women deal with.
The results were announced at a press conference entitled "Making use of the general public in providing data for the goals of sustainable development", the first conference of its kind in the Arab world.
The answers showed that 88 percent of the respondents believe that education helps in forming a girl's personality, and the percentage for approval of this view increased from 84 percent among males to 94 percent among females, while 83 percent of respondents believe that education improves a girl's chances of marriage.
The poll also asked people on the appropriate age of marriage for girls; 76 percent of respondents did not agree that girls should be married before completing their education, with 58 percent stating that the minimum age should be 21 years old, 29 percent believed 18 years was the most suitable age and 14 percent voted for 16 years.
Two-thirds of the respondents agreed on women working after marriage, with no significant differences between the opinion of males and females in answering this question.
Around 55 percent of believed women in Egypt could balance between work and the responsibilities of home, with 46 percent of the voters being men compared to 69 percent of women.
Finally, the app asked people about family planning policies; 40 percent of the respondents believed that there should be a two-child policy, 26 percent supported three children, 7 percent for a one-child policy, and 24 percent saying it should depend on the financial budget of the family.
https://www.egyptindependent.com/egypts-national-council-for-women-launches-a-poll-app-with-interesting-results/
--------
URL: https://www.newageislam.com/islam-women-feminism/female-bahai-student-expelled-iranian/d/116156
New Age Islam, Islam Online, Islamic Website, African Muslim News, Arab World News, South Asia News, Indian Muslim News, World Muslim News, Women in Islam, Islamic Feminism, Arab Women, Women In Arab, Islamophobia in America, Muslim Women in West, Islam Women and Feminism