New Age Islam News Bureau
13 Oct 2012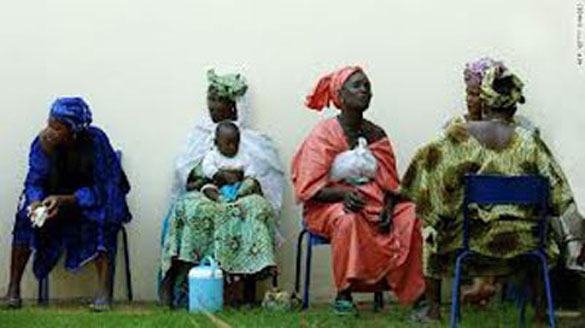 • Employer issues suspension letter for mother of boy accused of blasphemy
• Action Aid Decries Nigeria's Low-Level Girl-Child Education
• Attack on Women's Education: Mukhtaran Mai Tells about Similar Threats
• Fighting for Women in the 'Dark Heaven' of Gaza
• Women Police Face Gender Discrimination in Pakistan
• Taliban Destroy Bamiyan Girls' School
• UN Highlights Key Role of Women and Girls in Disaster Reduction
• Women Demand Civil Rights in Lebanon
• Syrian Writer Samar Yazbek: 'A Woman Like Me Makes Life Difficult'
Compiled by New Age Islam News Bureau
Photo: Fear Grows As Mali Extremists Compile List of Unmarried Mothers
URL: https://newageislam.com/islam-women-feminism/fear-grows-mali-extremists-compile/d/8975
--------------
Fear Grows As Mali Extremists Compile List of Unmarried Mothers
By Faith Karimi, CNN
October 13, 2012
(CNN) -- Radical Islamists are compiling a list of unmarried mothers in northern Mali, raising fears of cruel punishments such as stoning, amputations and executions, a senior United Nations official said.
Islamists controlling most of the north have vowed to impose a stricter form of Islamic law, or Sharia. Local radical groups have said the law condemns relationships outside marriage.
The U.N. assistant secretary-general for human rights, who just returned from a visit to Mali, said there are reports Islamist groups are compiling lists of women who have had children out of wedlock, or who were unmarried and pregnant.
"The threat is there, it's real and people live with it and they are afraid of those lists," Ivan Simonovic said this week. "This could indicate that these women are at imminent risk of being subjected to cruel and inhumane punishment."
In July, Islamists forced a man and a woman into two holes and stoned them to death for committing adultery as terrified residents quietly watched in remote Aguelhok town.
Extremists have conducted public executions, amputations, floggings and other inhuman and degrading punishments, Simonovic said.
Women and children face greater risk, he said.
More women in the region are ending up in forced marriages. And with wives costing less than $1,000, husbands are also reselling the women, according to Simonovic.
He said the process is "a smokescreen for enforced prostitution and rapes" occurring in the region.
"Civil and political rights are being severely restricted as a result of the imposition of a strict interpretation of Sharia law, and systemic cruel and inhumane punishments are being implemented," Simonovic said.
The militants are also buying children and enlisting them as soldiers, paying their families $600 -- a major incentive in a country where more than half the population lives on $1.25 a day, he said.
In addition, the Islamists have also banned smoking, drinking, watching sports on television and listening to music.
"We don't have to answer to anyone over the application of Sharia," Islamist commissioner Aliou Toure said in August. "This is the form of Islam practiced for thousands of years."
Mali plunged into chaos in March after a military ruler overthrew the president, shaking one of West Africa's most stable democracies.
The coup leader stepped down in May and transferred power to a civilian transitional government, but uncertainty looms.
Ethnic Tuareg rebels and Islamist militants took advantage of the chaos to seize the northern portion of the country. Months later, two groups with ties to al Qaeda toppled the Tuareg movement. The two groups now control two-thirds of northern Mali, an area the size of France.
West African states and the nation's transitional government have asked the U.N. Security Council to authorize the military intervention to oust the radical groups.
The U.N. Security Council approved a resolution Friday that gives regional leaders 45 days to provide specific plans for an international military intervention to oust the rebels.
In its resolution, the U.N. Security Council condemned human rights abuses by extremist groups, including "hostage-taking, pillaging, theft, destruction of cultural and religious sites, and recruitment of child soldiers."
The primary responsibility to curtail abuses rests with the transitional government, but those outside the West African nation have a role to play as well, the Security Council said.
A day before the resolution was approved; thousands marched in the capital of Bamako to back efforts to send international troops to the north.
Jihadists are using the north for drugs and arms trade, to train recruits and plan new attacks, according to Alpha Moulaye Haidara, a leader of a group of northern Malians advocating action.
"It's unacceptable what the Islamists have done," said Papa Maiga, who attended the march. "I'm here to say Mali needs help, and I hope the international community listens."
http://edition.cnn.com/2012/10/12/world/africa/mali-women-lists/index.html
--------------
Employer issues suspension letter for mother of boy accused of blasphemy
By Rabia Ali
October 13, 2012
KARACHI: On Wednesday, as police were registering an FIR for blasphemy against a teenage Christian boy, the staff at Sui Southern Gas Company were busy working on suspension orders for his mother who worked for them.
Rubina Byran, who worked as a superintendent at the SSGC's store department was issued a suspension letter soon after her son, 16-year-old boy Ryan Stanten, was accused of sending a blasphemous text message.
Proper investigations have yet to kick off but Ryan and his family have gone into hiding, fearing for their lives. SSGC dispatched the letter to their home but no one was inside to receive it. The company has also issued a show-cause notice for Rubina, said an SSGC official who did not want to be named. But he refused to specify what exactly Rubina has been asked to show cause for or explain. It is not clear if the show-cause notice is related to the charges against her son.
Ryan has been charged under the blasphemy law or Section 295-C of the Pakistan Penal Code, for sending blasphemous text messages to his friends and residents living in the SSGC staff colony off University Road. On Friday, security guards inside the neat but well-guarded colony would not let any outside go near Ryan's house or meet his friends or neighbors. The cleric of the colony's mosque, Maulvi Ghulam Qadir, to whom the matter was initially referred, was not available for comment. His subordinates said he had left the area.
SSGC employee Khurshid Alam, who filed the case with the police and claimed to be one of the recipients of the messages, made several excuses to avoid being interviewed.
The only person from the colony willing to be interviewed was Altaf Abbasi, a labor union representative, who was present in his office near the security room. He said that he had not seen the text messages himself but had heard from people that the cleric had seen them. "The cleric held talks with the boy's family on Tuesday night when the text messages had circulated," he told The Express Tribune on Friday. "But we did not see the text messages." No one from his colleagues knew what the conversation was about because that very night, Rubina, her two children and physically challenged husband left their home.
The next day, protestors loaded a Suzuki van with furniture and electric appliances from Rubina's house after breaking in, and set them on fire on the main road outside the staff colony. None of them were booked for the violence. Police at the Mobina police station where the case was lodged said, "How can we arrest a mob for they are the ones who are among the complainants."
For every vehicle carrying or taking away goods from the staff colony, a gate pass is issued at the entrance. But for this Suzuki pickup, which transported furniture and appliances from Rubina's house to the main road before they were burnt, no such record was found in the security guards' register. "Ask the management why wasn't a gate pass made for this vehicle," said Barkat Ali, a guard.
Labour rep Abbasi said that the SSGC management was making sure that the police arrests the accused, no matter where he is in Pakistan. On the other hand, Christian activists told The Express Tribune that Ryan is safe. They said that he was innocent and the messages were sent from his phone by his friends. "His friends had taken away his cell phone and they sent messages. Ryan had no idea who the messages were sent to and what kind of messages they were." Mobina Town Investigation Officer Maula Buksh said that the police has requested the FIA to put Ryan and his family's names on the Exit Control List to prevent them from leaving the country. The police said that they believed he sent the messages "deliberately" so that he and his family could "seek asylum in some other country".
http://tribune.com.pk/story/450823/ssgc-issues-suspension-letter-for-mother-of-boy-accused-of-blasphemy/
--------------
Action Aid Decries Nigeria's Low-Level Girl-Child Education
October 13, 2012
THE Deputy Country Director of Action Aid in Nigeria, Mrs Ifeoma Monwuba, on Thursday in Abuja condemned the low-level of girl-child education in Nigeria.
Monwuba made the condemnation at a news conference to mark the 2012 International Day of the Girl-Child.
She said that globally, 36 million school-age girls were not in school and that Nigeria accounted for over six million of the figure.
"Millions of girls' rights are violated and all of these necessitated the UN to set aside this day as the International Day of the Girl-Child.
"The day is meant to promote girls' rights and highlight gender equalities that remain between girls and boys," she said.
She explained that nearly all girls in developing countries became mothers before they were 18 years and that 50 per cent died annually during childbirth, making it the number one killer of girls between ages 15 and 19.
The deputy director said that the International Day of the Girl-Child gave people and organisations an opportunity to raise awareness of the different types of discrimination and abuse many girls around the world suffered.
Monwuba said that in developing countries, one girl out of seven would marry before they turned 15 years and 38 per cent would marry before they were 18 years.
http://nigerianobservernews.com/13102012/news/news7.html
--------------
Attack On Women's Education: Mukhtaran Mai Tells About Similar Threats
By Owais Jafri
October 13, 2012
MULTAN: Mukhtaran Mai has said she has been facing death threats recently, and that her female students and fellow teachers have been facing the same threats Malala Yousafzai faced before her attack.
Mukhtaran Mai disclosed the information during a press conference at Muzaffargarh district press club on Friday.
She said that just four days earlier, her senior teachers had been attacked by militants. Because they could not find Mai, they just attacked the building and destroyed the rooms and windows instead, she said.
"I have been voluntarily operating in Meerwala which is a vocational institute, "said Mai. "My teachers and I have been continuously receiving death threats to close the school to female students of the area and the vocational institute. They have accused me of spreading vulgarity and prostitution in society," she said.
Full report at:
http://tribune.com.pk/story/450914/attack-on-womens-education-mukhtaran-mai-tells-about-similar-threats/
--------------
Fighting for Women in the 'Dark Heaven' of Gaza
By JODI RUDOREN
October 13, 2012
ANDALIB ADWAN SHEHADA has lived all but two of her 47 years here in the Gaza Strip, yet the neighbours along the alley where she and her family built a three-story home in 1998 have taken to calling them "the foreigners."
Maybe it is because her 13-year-old son attends the American International School. Maybe it is because drummers escorted a mixed-gender crowd into the courtyard for her daughter's recent wedding celebration. Maybe it is because Ms. Adwan, a Muslim who fasts on Ramadan but rarely enters a mosque, does not cover her dark shoulder-length hair.
Or maybe it is because she has spent her life speaking boldly about the plight of women in this male-dominated society, challenging its attitudes toward rape and honour killing and divorce, spotlighting the abuse of women in a community that traditionally keeps it locked inside families and homes.
Full report at:
http://www.nytimes.com/2012/10/13/world/middleeast/andalib-adwan-shehada-a-bold-voice-for-gaza-women.html?pagewanted=all
--------------
Women Police Face Gender Discrimination in Pakistan
By Tariq Farid
October 13, 2012
LAHORE: Women police personnel are only 0.86 percent of the total police force in the country and yet they cannot find any important position such as investigation officer or a prosecutor due to gender discrimination in the police department.
There are 19 women police stations in the country, including seven in Gilgit-Baltistan, three in Punjab, six in Sindh, two in Khyber Pakhtunkhwa and one in Islamabad. There is no woman police station in Balochistan.
There are 3,700 women police personnel working across the country, which is less than one percent of the total police force.
Full report at:
http://www.dailytimes.com.pk/default.asp?page=2012\10\13\story_13-10-2012_pg13_3
--------------
Taliban Destroy Bamiyan Girls' School
2012-10-12
BAMIYAN – Afghan Taliban militants October 11 bombed a girls' high school in Bamiyan Province, RIA Novosti reported, quoting Pajhwok News.
The explosion happened in Gondak, Shirbar District, before pupils arrived, blowing out all the windows and doors, provincial Educational Department chief Muhammad Reza said.
About 350 girls won't be able to attend school there now, he said.
Bamiyan has 350 schools with 135,000 pupils. More than half those schools lack buildings, forcing pupils to attend class in tents, he added.
Meanwhile, unknown gunmen October 9 fatally shot Anwarul Haq Sahibzada, the principal of a high school in Khogiani District, Nangarhar Province, Pak Tribune reported October 10.
"Personal enmity" could have been the motive, Nangarhar provincial Education Department spokesman Asif Shinwari told the Afghan Islamic Press, according to Pak Tribune. No one has claimed responsibility.
http://centralasiaonline.com/en_GB/articles/caii/newsbriefs/2012/10/12/newsbrief-04
--------------
UN Highlights Key Role of Women and Girls in Disaster Reduction
12 October 2012
Marking the International Day for Disaster Reduction, United Nations officials have called for women and girls to be at the forefront of reducing risk and managing the world's response to natural hazards.
"Across the world, women and girls are using their roles within families and communities to strengthen risk reduction," said Secretary-General Ban Ki-moon in his message for the Day, which falls on 13 October.
The General Assembly designated 13 October as the International Day for Disaster Reduction in 2009, replacing an earlier version of the Day. Its objective is to raise awareness of how people are taking action to reduce their risk to disasters.
Full report at:
http://www.un.org/apps/news/story.asp?NewsID=43282&Cr=disaster&Cr1=#.UHkzx2_MgXw
--------------
Women Demand Civil Rights in Lebanon
FRANKLIN LAMB
October 13, 2012
Tehran and Washington are employing competing strategies via their political allies in Lebanon to win 70 seats in next years June 2013 parliamentary election, should they actually be held whikc is looking doubtful to this observer. Their efforts are designed to control the next government here while widening the spectrum of challenges to the other in order to undermine chances for their adversary gaining regional hegemony.
Both American and Iranian Lebanese allies preparing for the critical election have presented to Parliament different sized electoral districts. The daily boasting and arguing over the dementions and quality of their proposed electoral districts appear almost Freudian.
The election preparations are part of the open confrontation between the March 8 (pro Iran) and March 14 (pro US-Saudi) forces and expose contradictory and incompatible positions and they seek to undermine the others ability to achieve a parliamentary majority.
Full report at:
http://www.counterpunch.org/2012/10/12/women-demand-civil-rights-in-lebanon/
--------------
Syrian Writer Samar Yazbek: 'A Woman Like Me Makes Life Difficult'
Aida Edemariam
13 October 2012
Syrian novelist Samar Yazbek was born into a wealthy Alawite family, but became 'a traitor to her kind' to fight the Assad regime. Her latest work is a visceral, nightmarish account of the revolution that drove her into exile
To get to Samar Yazbek's flat in an area of Paris she would prefer remained unnamed, a guest needs three codes: for a metal gate around the building, an outer door and an inner door. Eventually, sensing my bafflement with this final hurdle – she is guiding me in by mobile phone, her English fails her, and I do not understand Arabic – she comes down to rescue me. Full report at:
http://www.guardian.co.uk/books/2012/oct/13/interview-samar-yazbek-syria-revolution?newsfeed=true
--------------
URL: https://newageislam.com/islam-women-feminism/fear-grows-mali-extremists-compile/d/8975