New Age Islam News Bureau
5 March 2020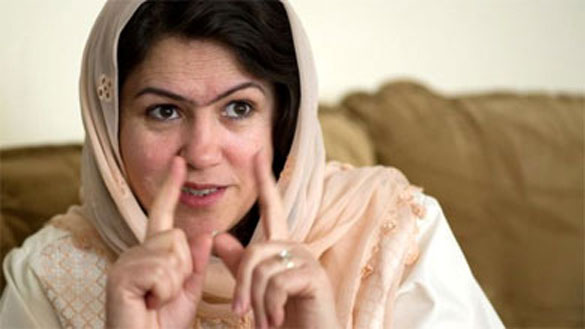 Fawzia Koofi pressed for women's rights during her first face-to-face meeting with the Taliban
-----
• Aurat March 2020: Pak Writer Slammed For Using Foul Language against Marvi Sirmed, Woman Rights Activist
• Saudi Women Footballers Seek Equality As First League Launches
• Violence against Girls Widely Accepted In Pakistan, Says UN Report
• 4 Saudi Female Engineers Strive To Preserve Historic Jeddah's Identity
• Afghan Mayor Honoured As 'Woman of Courage' Implores Pompeo to Uphold Women's Rights after Taliban Deal
• 'I Will Not Leave Iraq': Female Activist Defiant After Kidnap Release
• New Saudi Driving Academy to Train 200,000 Women Over 10 Years
• UN Syria Envoy: More than 80% of Displaced Are Women, Children
Compiled By New Age Islam News Bureau
URL: https://www.newageislam.com/islam-women-feminism/fawzia-koofi-woman-negotiated-with/d/121230
--------
Fawzia Koofi, the Woman Who Negotiated With the Taliban
27 February 2020
Fawzia Koofi's childhood dream of becoming a doctor was dashed when Taliban militants took over Afghanistan in the 1990s. The group, which banished women from public life, imprisoned her husband - and tried to kill her when she later became a politician.
But she ended up talking to the Taliban, who are now on the brink of a peace accord with US forces that drove them from power.
"I was not intimidated. For me it is important to be firm. I was representing the women of Afghanistan," she told the BBC.
'Some Taliban were looking at me'
Ms Koofi was one of the few women who were part of a pan-Afghan delegation that held many rounds of dialogue with the country's hardline Islamist former rulers, alongside the months of peace talks the US held.
This time last year, she and another woman, human rights campaigner Laila Jafari, entered a Moscow hotel room packed with 70 men.
On one side of the room were the Taliban. On the other, the two women took their seats among Afghan politicians and activists, all of them men.
"I told them that Afghanistan was now represented by diverse views and the country was not bound by one ideology," she said.
"Some members of the Taliban delegation were looking at me. A few were taking notes. Some others were just looking elsewhere."
During the long talks process, the Taliban have refused to engage directly with the Afghan government, saying they don't recognise a "puppet government".
But after sustained pressure from the US and Russia, a compromise was struck and the group agreed to talk to an unofficial Afghan delegation.
Ms Koofi was part of that team on three occasions.
As someone whose life was dramatically altered by the Taliban, she confronted them directly about women's rights, saying more women should be included in the peace process.
"Since our side had women delegates, I suggested to them [the Taliban] that they should also bring women to the table. They laughed immediately."
During their rule from 1996-2001, the Taliban barred women from education and employment and imposed their own austere version of Islamic laws, including stoning to death and flogging.
Having lived all her life in Afghanistan, Fawzia Koofi knew people who had endured such punishments.
When it was their turn to speak, a Taliban negotiator responded to her demands for sexual equality.
"They said a woman can become prime minister but not president. They also said women can't be judges.
"I didn't agree with that but I didn't argue," Ms Koofi says. The format of the talks did not permit a two-way discussion.
The official Taliban line these days is that women can work and be educated - but only "within the boundaries of Islamic law and Afghan culture".
For people like Ms Koofi this is the crux of the problem. Islam has one holy book, but many streams of theological thought.
"I have heard differing views about Islamic teaching from different scholars. The Taliban follow extreme interpretations of the Koran."
'I never purchased a burka'
Fawzia Koofi first saw a Taliban fighter in September 1996.
"I was studying medicine in Kabul when the Taliban took over the city. I saw them from my fifth floor flat. There was fighting in the street below with militants holding automatic rifles."
Within days her childhood ambition had been destroyed and she was shown the door by the medical college, which was following orders from the militants. She stayed in Kabul and taught English to girls who had been thrown out of school.
"It was a very depressing period. If someone wants to undermine you and stop opportunities for you… it was very painful."
The Taliban issued a decree ordering women to wear the full-body burka in public.
"I never purchased a burka because I won't spend money on something which I don't consider to be part of our culture," she said.
Defiance came at a personal cost. She had to restrict her movements to stay safe.
"The [Taliban's so-called] vice and virtue department used to patrol the streets and they used to beat up women if they didn't wear a burka."
Not surprisingly, most people felt a sense of relief when the Taliban were ousted after the US-led invasion following the 9/11 attacks in the US.
"We could walk in the streets and do our shopping without fear of being beaten up by the Taliban."
'My convoy came under fire'
After the Taliban fell, Ms Koofi worked for the United Nations, rehabilitating former child soldiers.
She was also left with two daughters to bring up on her own after her husband died of tuberculosis, contracted during his time in prison.
But despite this, when parliamentary elections were announced in 2005, she decided to enter the fray. Her father had been an MP and she admits his support base helped her win votes.
"But the important challenge for me was to create a separate identity."
She went on to become deputy speaker of parliament in the first of her two terms as an MP. It was during this time she escaped a Taliban attempt to kill her in the south of the country.
"In March 2010 I went to Nangarhar to celebrate International Woman's Day. On my way back my convoy came under fire."
Bullets were fired from across the river and from a mountain top. Ms Koofi and her two daughters were saved by her security officers, who drove them into a mountain tunnel, from where they were airlifted to Kabul by helicopter.
'Everyone wants to have peace'
Ten years on and the Taliban and the US are inching towards a peace accord, which could be signed this weekend. It took only a few years for the militants to regroup and fight back - they now control more territory than at any time since 2001.
The human toll from the fighting has been immense - tens of thousands of civilians have been killed and injured and Afghanistan remains one of the poorest countries in the world. Some 2.5 million Afghans are registered as refugees abroad and another two million are displaced within their country. An estimated two million widows are struggling to make a living.
"Everyone wants to have peace. We were born during war and grew up in war. Neither my generation nor my children know what peace means," says Ms Koofi.
But not a deal at any cost.
"Peace means the ability to live with dignity, justice and freedom. There is no alternative to democracy."
Whether the Taliban agree remains to be seen - how much they have changed is unclear. Their spokesman, Suhail Shaheen, told the BBC "people who are against peace are using woman's rights to derail the talks".
But Fawzia Koofi says: "Women have lost so much. How much more can we lose?"
Both her daughters are enrolled in Kabul universities and have grown used to life with access to media and the internet.
"No force can confine my daughters and other girls of their age to their homes. Anyone who wants to rule the country has to take that into account."
https://www.bbc.com/news/world-asia-51572485
--------
Aurat March 2020: Pak Writer Slammed For Using Foul Language against Marvi Sirmed, Woman Rights Activist
Mar 4, 2020
ISLAMABAD: A Pakistani writer blatantly abusing a prominent women rights activist on a live TV talk show surrounding "Aurat March 2020", an event planned by women to be held on International Women's Day, has invited immense wrath from netizens.
On March 8, Pakistani women in major cities will come out of their houses to demand their rights. The Aurat March, organised under the banner of "Hum Auratein" (We Women), is aimed at uniting women, transgenders and non-binary persons to demand an end to violence and sexual harassment, economic justice, reproductive rights, minority rights, and political participation of women, among other things.
Recent weeks in Pakistan saw at times healthy, partly controversial and mostly heated discussions between progressives and conservatives on the upcoming event.
In one such TV discussions on Tuesday night, controversial Pakistani writer and director Khalil-Ur-Rehman Qamar, known for his intolerance of women, lost his cool and publicly abused Marvi Sirmed, a well-known Pakistani feminist, activist and analyst, in an argument about one of the slogans — "Mera jism, meri marzi (My body, my choice)" —championed by the event's organisers.'
"What's in your body? Who the hell are you? Go look at your body and face; no one even wants to spit on it. Don't talk in the middle, don't talk in between the lines. What is your body, bibi? Don't talk no bloody nonsense. You bloody shut up, b***h," Qamar said abusively.
Sirmid, however, kept chanting "mera jism, meri marzi" in the background. This infuriated Rehman further and he called her a "ghatiya (vile) and badtameez aurat (disrespectful woman)" as well as "ullu ki pathi".
The writer's inappropriate language unleashed a wave of staunch criticism and censure from celebrities, politicians and others on social media.
Actor Mahira Khan said she was sick to the core with what she had seen on television.
https://timesofindia.indiatimes.com/world/pakistan/pak-writer-slammed-for-using-foul-language-against-woman-rights-activist/articleshow/74482882.cms
--------
Saudi Women Footballers Seek Equality As First League Launches
March 4, 2020
Saudi women footballers have called for full equality on the pitch after authorities announced a new female football league – one of a slew of recent concessions to women's rights in the conservative kingdom, Reuters reports.
The move comes two years after the lifting of a ban on Saudi women attending fixtures in stadiums and will see women over 17 competing for places in teams in major cities on March 22 ahead of knockout stages later this year to win a Champions Cup.
Nouf Yamani, who plays for a team in the commercial city of Jeddah, said she and her teammates were excited to play in the new league, but they still faced major disadvantages compared to male players in Saudi Arabia.
"We face so many challenges, from a lack of closed, fully-equipped football stadiums and sports buildings that preserve the privacy of women to a lack of medical teams and professional coach crews," said the 26-year-old.
"We want to be included under the umbrella of the Saudi football federation and be treated like other football teams are," she told the Thomson Reuters Foundation.
Yamani was one of the lucky ones. When she started playing at 12, her family was supportive – a rarity in Saudi Arabia, where women's lives have long been heavily restricted.
Some of those restrictions are now being relaxed, including a ban on women driving cars lifted in 2018. Since last year, women over 21 have been able to get a passport and go abroad without permission and register births, marriages or divorce.
The country has won praise for such reforms, led by de facto ruler Crown Prince Mohammed bin Salman with the aim of opening up society and attracting foreign investment to diversify the oil-dependent economy.
But it has also faced fierce criticism for detaining women's rights activists who had called for the changes.
'PASSION FOR FOOTBALL'
Maysaa al-Amoudi, a Washington-based Saudi women's rights activist, said the launch of a football league was a bid to address Western criticism rather than a genuine effort to improve women's lives.
"Do you think that launching a women's football league would improve women's conditions in Saudi Arabia?" said al-Amoudi, who was arrested in 2015 when she tried to drive into the kingdom with another activist and has lived in the United States since 2018.
"Women's conditions in Saudi Arabia are clear to everyone. They only want to make headlines without really changing women's rights."
READ: Ivanka Trump lauds Saudi and UAE over women's rights but is silent on torture
But Wedyan Babteen, 26, who founded the team Yamani plays for in Jeddah, said the decision to set up a dedicated league with a prize of 500,000 riyals ($133,000) was a "recognition of the importance" of women's sport.
"Before, we used to practise football and have matches in a random way," she said.
"But now, with a state sponsorship of the league, it is going to be more organized and will give us a chance to get to know the other teams who share our passion for football."
Yamani, whose football role models are the American players Alex Morgan and Carlie Lloyd, said every Saudi woman with a passion for sport should be able to pursue it.
"You can do it," she said. "You can overcome the obstacles, as many others have done."
https://www.middleeastmonitor.com/20200304-saudi-women-footballers-seek-equality-as-first-league-launches/
--------
Violence Against Girls Widely Accepted In Pakistan, Says UN Report
Mar 5, 2020
ISLAMABAD: Despite gains in education, violence against women and girls is not only common but widely accepted, a new United Nations report revealed on Wednesday.
Although more girls are going to school and staying in school than ever before, little headway has been made to help shape a more equal, less violent environment for them, warned the UN International Children's Emergency Fund (Unicef), together with UN Women and the non-governmental organisation, Plan International, in their report, 'A New Era for Girls: Taking stock on 25 years of progress.'
The report, released ahead of the 64th session of the UN Commission on the Status of Women, underlined, among other disturbing trends, that despite the number of out-of-school girls having dropped by 79 million in the last two decades, one in every 20 girls aged 15 to 19 — around 13 million — has faced sexual assault in her lifetime.
In South Asia, while the report notes that the practice of child marriage has almost halved in the last 25 years, 30 percent of girls are still married before they reach their 18th birthday.
The report found the prevalence of being 'overweight' among girls aged 15 to 19 nearly doubled touching 155 million from 75 million in 1995 due to negative trends in nutrition for girls. It also found that suicide is currently the second leading cause of death among adolescent girls aged 15-19, surpassed only by maternal conditions.
While girls became more likely to be in secondary school than boys in just the last decade, violence and harmful practices against women and girls was the harsh reality. Around one in five adolescent girls aged between 15 and 19 in South Asia who have been married or lived with a partner, have experienced domestic violence, according to the report.
" … While the world has mustered the political will to send girls to school, it has come up embarrassingly short on equipping them with skills and support they need not only to shape their own destinies but to live in safety and dignity," Unicef Executive Director Henrietta Fore said.
The report says harmful practices like child marriage and female genital mutilation continue to damage the lives and potential of millions of girls.
The report highlighted that in 2016, women and girls accounted for 70 percent of detected trafficking victims globally, mostly involving sexual exploitation.
Moreover, an astonishing one-in-20 girls between the ages of 15 and 19, has experienced sexual assault in her lifetime.
The report has been launched in line with the Generation Equality campaign to open a global conversation for action and accountability on gender equality and to mark the 25th anniversary of the Beijing Declaration and Platform for Action.
"Since 1995 in Beijing, when a specific focus on 'girl-child' issues first emerged, we have increasingly heard girls assert their rights and call us to account," UN Women Executive Director Phumzile Mlambo-Ngcuka said.
"But the world has not kept up with their expectations of responsible stewardship of the planet, a life without violence, and their hopes for economic independence.
"Girls today are at a startling risk of violence, whether it is in school, at home, or online as well as throughout their communities, which leads to physical, psychological and social consequences," Mlambo-Ngcuka added.
According to the report, each year 12 million girls are married in childhood, and four million risk FGM. And girls aged 15 to 19, are as likely to justify wife-beating, as boys of the same age.
"As long as women and girls have to use three times the time and energy of men on looking after the household, equal opportunities for girls to move from school into good jobs in safe workplaces are going to be out of reach," the UN Women chief said.
"For everyone's sake, that's got to change, along with making sure that the skills girls learn are right for the new tech and digital jobs of the future, and that the violence against them ends."
The report noted that in the past 20 years, the number of girls out-of-school had dropped by 79 million and over the last decade, more are actually likely to be in secondary school than boys.
However, it also pointed to negative trends for girls in nutrition and health. For example, globalisation has shifted traditional diets to more processed, unhealthy foods and aggressive marketing techniques targeting children have fuelled consumption, along with sugar-sweetened beverages.
"Access to education is not enough," maintained the Unicef chief, adding, "We must also change people's behaviors and attitudes towards girls."
Meanwhile, concerns are growing over poor mental health, exacerbated in part by the excessive use of digital technology.
Turning to their heightened risk of sexually-transmitted diseases, the report found that some 9,70,000 adolescent girls between the ages of 10 and 19 are living today with HIV — accounting for around three-in-four new infections among adolescents worldwide — as compared to 740,000 girls in 1995.
"True equality will only come when all girls are safe from violence, free to exercise their rights, and are able to enjoy equal opportunities in life," the Unicef executive director said.
https://www.pakistantoday.com.pk/2020/03/04/violence-against-girls-not-only-common-but-widely-accepted-says-un-report/
--------
4 Saudi Female Engineers Strive To Preserve Historic Jeddah's Identity
March 4, 2020
By Zain Anbar
JEDDAH — Four female Saudi engineers have swung into action to preserve the original identity and architectural beauty of heritage buildings as part of the ongoing restoration work in Jeddah's Historic Area that found a place in UNESCO's World Heritage List.
The women are engaged in documenting A to Z information regarding these buildings and their rich urban heritage. The restoration work comes as part of the ambitious plan to develop the tourism mechanism in accordance with Vision 2030.
Al-Anoud Al-Sheikh said that her role is to document historical buildings by photographing them with a drone and do their laser scanning after gathering information about each building. The documentation and collection of comprehensive information will be helpful in the event of their renovation by investors who may come forward to convert them into museums or restaurants, she said.
Sarah Abu Al-Hamayel, who works in the restoration, reinforcement and rescue department, said her role is related to the renovation of dilapidated buildings and refurbishing them for future use.
Dania Ba Issa is involved in work with consultants and contractors to ensure the buildings' standards and their conformity with UNESCO standards, in addition to routine work of building documentation.
Lajeen Badreeq says that the nature of her work is to participate in implementing the strategic plan of the Historic Area with the UNESCO team in developing buildings so as to adhere to the standards to preserve the building's identity. The team is also tasked to ensure that the new buildings do not bypass the norms for the urban heritage identity of residential buildings in the Historic Area.
http://saudigazette.com.sa/article/590254/SAUDI-ARABIA/4-Saudi-female-engineers-strive-topreserve-Historic-Jeddahs-identity
--------
Afghan Mayor Honoured As 'Woman of Courage' Implores Pompeo to Uphold Women's Rights after Taliban Deal
By Kylie Atwood and Jennifer Hansle
March 4, 2020
Washington (CNN)One of the women honored for her courage at the US State Department on Wednesday made a personal appeal to Secretary of State Mike Pompeo to safeguard women's rights in Afghanistan amid an uncertain future in the wake of the US-Taliban agreement.
Zarifa Ghafari, the mayor of the Afghan town of Maidan Shar, directly implored the top US diplomat to ensure that the Afghan peace process upholds the rights of women.
"Women of my generation have not forgotten the reign of the Taliban and we are as always worried for the future," she said at the event, where she was being honored as one of the 2020 International Women of Courage.
"Therefore, let me ask for your continued support to ensure that [the] Afghan peace process does not erase the gains that have been made since the dark days of the Taliban regime," Ghafari said, turning to Pompeo and first lady Melania Trump, who were seated behind her as she delivered remarks onstage.
Ghafari thanked the US and Afghan governments, particularly that of President Ashraf Ghani, for their support of women's rights.
She recounted being run out of the conservative town where she is mayor by an angry mob, "but I came back, I came back and I stood my ground." However, she noted that progress was not guaranteed.
"Whatever we women of war may have already achieved, let us not take it for granted," she said. "It could be taken back from [us] if we are not vigilant and strong."
The US-Taliban agreement signed Saturday in Doha, Qatar, makes no explicit mention of women in its text.
Trump administration officials have promised to use their voice to protect the role of women in Afghan society, but the US is punting any formal decisions about Afghan women to the intra-Afghan negotiations that are set to occur among the Afghan government, members of Afghan civil society and the Taliban later this month. If successful, the negotiations could upend the political system in Afghanistan and replace it with a new one that, in some way, includes the Taliban.
'There's so much at stake here'
Under the harsh fundamentalist rule of the Taliban in Afghanistan from 1996 to 2001, women were prevented from attending school or working outside of their homes, made to wear head-to-toe coverings and forbidden to travel alone.
During the administrations of Presidents George W. Bush and Barack Obama, US officials were clear that upholding the Afghan Constitution -- which protects the rights of women -- was a requirement for the US.
Critics have expressed concerns that those rights could be diminished under the terms of the agreement, particularly if the United States moves forward with the full withdrawal of troops outlined in the deal. US officials have said that a withdrawal will be "conditions-based."
"The reality is we, the United States and the international community, let alone the Afghan women, have made enormous progress over the last many, many years," Melanne Verveer, the former US ambassador for global women's issues, told CNN. "Women are playing a truly vital role in that society, in terms of elected office, government participation, economic participation, etc., really critical to the functioning of Afghanistan, and their rights have been chiseled in this constitutional framework."
"There's so much at stake here," Verveer said.
Asked last week why the US believes the rights of Afghan women will be maintained once the intra-Afghan negotiating process takes root, a senior administration official pointed to the fact that women would have a role in that process.
"They'll have a seat at the table during the negotiations," the official said. "I can't prejudge the outcome of this agreement, but a very high priority for us will be absolutely the protection of women's rights, and we aren't without influence in the process going forward; the United States is still a major presence in Afghanistan."
Afghanistan's ambassador to the US, Roya Rahmani, reiterated that women will be key players in the negotiations.
"Women are a central part of that," Rahmani, the first female ambassador from Afghanistan to the US, told reporters on Monday.
Pompeo, in his remarks in Doha, called on the Taliban to "embrace the historic progress obtained for women and girls, and build on it for the benefit of all Afghans."
"The future of Afghanistan ought to draw on the God-given potential of every person," the secretary of state said.
'The Taliban will have to come to understand the country as it actually is'
However, some argue that the failure to codify the issue into the deal suggests that it is not a priority.
"What matters is going to be in that document," said Bill Roggio, of the Foundation for the Defense of Democracies Long War Journal. "The fact that women's rights is not mentioned at all in the document shows that it is a non-issue. The US will give lip service to this issue but it is not going to be something that is going to cause the deal to be canceled. It shows the US has conceded at this point."
Verveer, who is now the executive director of the Georgetown Institute for Women, Peace and Security, said it was "unfortunate that there was no reference to this critical element in the deal."
She pointed to the fact that President Donald Trump in 2017 signed into law the Women, Peace and Security Act, which stresses the critical role women play in conflict prevention and resolution.
"What does it mean if we're not going to be actively engaged in supporting the efforts going forward to ensure that women are at the table, that their expertise is being felt, that they are being communicated with across the country, because they have a critical role to play," she told CNN. "What happens to them will say whether or not there can be a sustainable peace."
But Annie Pforzheimer, the former deputy chief of mission at the US Embassy in Kabul, views women's exclusion from the agreement as more of a reflection of the reality. She notes that the American people want the US out of Afghanistan.
"What it shows is a belief that this is an issue for Afghans themselves to determine and that the role of the international community on a very basic question relating to protections under Afghanistan's Constitution going forward is going to be that of friends and allies," Pforzheimer said. "The political will is such that people are calling on all sides of the US political system for our engagement in Afghanistan to be reduced, and if that is the case it is hard for us to put ourselves in the position of guaranteeing certain outcomes of the political dialogue because the US government would be making a promise we couldn't keep."
If the political process turns out to be a long one -- in which the US "makes it clear that they are not rushing for the exit" and the Taliban are given enough time to process just how changed the country is -- the rights of women will likely be protected, Pforzheimer believes.
"The vast majority of Afghans want the Constitution to stay the way it is. The Taliban will have to come to understand the country as it actually is, not as they would like it to be," Pforzheimer said.
https://edition.cnn.com/2020/03/04/politics/afghan-women-us-taliban-deal/index.html
--------
'I Will Not Leave Iraq': Female Activist Defiant After Kidnap Release
Mina Aldroubi
March 4, 2020
An anti-government protester holds a placard with Arabic that reads, "We are a stubborn people," during ongoing anti-government protests, in Baghdad, Iraq, Sunday, February 23, 2020. AP Photo
A female Iraqi activist has launched a searing attack on Shiite cleric Moqtada Al Sadr following her release after she was kidnapped in Najaf.
Rana Abdel Halim Sumaida, a prominent face of the protest movement, said Mr Al Sadr's security guards kidnapped her this week.
"I was getting in to a taxi and a few men from Moqtada Al Sadr's security guards surrounded the car and I was forced to get out, they shouted at me and asked why I was publicly speaking out against the cleric," Ms Sumaida said in a video she posted to social media.
The men took her bag, pulled her scarf off of her head, hit and threatened to rape her, she said.
Ms Sumaida is known for her sharp criticism of the country's political leaders, especially Mr Al Sadr, and rose to prominence in the Iraqi protest movement that called for an overhaul of the political system.
The demonstrations which have raged since October have been unique because they have drawn both men and women into the streets, a rare occurrence for the conservative majority-Muslim country.
"I walked towards Moqtada Al Sadr's house and was screaming loud that ladies in Najaf were being hit by his security forces. Then a car pulled up, wrapped a blanket around me and took me," she said.
Ms Sumaida was released later that day.
In a message to Mr Al Sadr, the activist said "if you want to accept these kind of acts against women then you should take off your turban and respect yourself and your father's legacy."
"I will not leave Iraq, you are the one who stole the country's wealth and people, I would rather die on this land than leave and surrender to your gangs," she said.
The Iraqi Human Rights Commission said it received 64 complaints of kidnapping since early October.
"Out of the 64, only 22 were released," Ali Al Bayati, a member of the commission told The National on Wednesday.
Mr Al Bayati said efforts made by the government to halt the abductions are "poor" as cases are still being reported.
The official said that Lara Abdul Amir, a demonstrator from Baghdad, remains missing after disappearing in November.
The commission said it received a letter granting it access to set up a special committee to investigate the abductions.
Yet despite the development, protesters are facing an increase in the number of kidnappings and forced disappearances.
The UN special representative to Iraq, Jeanine Hennis-Plasschaert, applauded women for their participation in the protests.
"It is unprecedented and marks a new page in the history of women's grassroots mobilisation in Iraq," she told the UN Security Council on Tuesday.
Political leaders in Baghdad must "heed this call," she said.
https://www.thenational.ae/world/mena/i-will-not-leave-iraq-female-activist-defiant-after-kidnap-release-1.988120
--------
New Saudi Driving Academy to Train 200,000 Women Over 10 Years
BANDER ABDUL AZIZ
March 05, 2020
DAMMAM: Eastern Province Gov. Prince Saud bin Naif on Wednesday inaugurated a new Saudi driving academy which aims to train 200,000 women over the next 10 years.
The dedicated center in Al-Ahsa governorate will be the first of its kind in the Kingdom and the Middle East in terms of its size, quality and use of smart technologies.
Opening the training establishment, Prince Saud pointed out the importance of developing education around driving, integrating modern technologies, and promoting a culture of traffic safety.
He also praised Saudi Aramco for providing services to the academy which would help toward creating a unique experience for new learners.
Saudi Aramco CEO Amin Nasser said the academy was expected to train 200,000 women over the next decade and he thanked Prince Saud for his generous support.
More than 250 Saudi women will be employed at the academy to work as trainers, lecturers, and in other areas, with another 50 female staff expected to be taken on by the end of March next year.
Female trainees will receive the same high-quality educational curriculum as offered at the Saudi Aramco Driving Education Center in Dhahran.
The new academy building covers a plot of around 3,500 square meters, while the training field area is 50,000 square meters. The center also boasts 115 vehicles, 11 state-of-the-art interactive simulators that recreate real scenarios in the Al-Ahsa region, five smart classrooms, meeting halls, daycare services, a clinic, and an online test room.
https://www.arabnews.com/node/1637021/saudi-arabia
--------
UN Syria Envoy: More than 80% of Displaced Are Women, Children
5 March, 2020
The UN's Syria envoy has said that around 80 percent of the displaced as a result of the latest developments in Syria are women and children.
"More than 900,000 people have been displaced since 1 December. Women and children together comprise 81 percent of the newly displaced population," UN special envoy for Syria Geir Pedersen told Arab League foreign ministers in Cairo on Wednesday.
Since December, the Syrian regime has led a deadly military campaign against opposition fighters in Idlib, the last major opposition stronghold in the country's northwest after nearly nine years of civil war.
Tensions have soared further since Ankara launched its own offensive days ago against the Syrian regime, after more than 50 Turkish soldiers were killed in Idlib province in recent weeks.
Pedersen called the direct clashes between Syrian regime and Turkish forces "a worrying change in the nature of the conflict".
He warned that "with five international armies active inside Syria, the dangers of wider international conflagration remain".
A "meaningful political process" is needed to avoid "a bleak and uncertain future, with dire regional consequences", Pedersen said.
The implementation of UN Security Council resolutions is a "common responsibility," he added.
https://aawsat.com/english/home/article/2163881/un-syria-envoy-more-80-displaced-are-women-children
--------
URL: https://www.newageislam.com/islam-women-feminism/fawzia-koofi-woman-negotiated-with/d/121230
New Age Islam, Islam Online, Islamic Website, African Muslim News, Arab World News, South Asia News, Indian Muslim News, World Muslim News, Women in Islam, Islamic Feminism, Arab Women, Women In Arab, Islamophobia in America, Muslim Women in West, Islam Women and Feminism