New Age Islam News Bureau
22 Aug 2014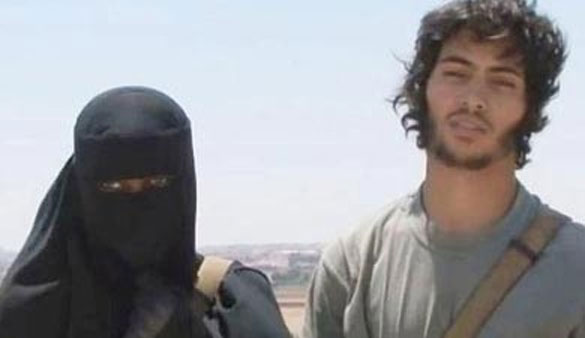 Khadijah Dare, the British Jihadist is married to a Turkish man she met in Sweden. (Photo courtesy: Channel 4 News)
--------
• More Muslim Women in Britain Opting For Veil to Assert Religious Identity
'• I Want to Be the First UK Woman to Kill a Westerner', Says British Jihadist in Syria
• Kenya: Government Plans to Give out Cash to Keep Young Women off Early Sex
• Italian Women Seized in Syria Prompt Concern after Foley Video
• Saudi Young Women Form Volunteer Group to Spread Good Deeds
• 730,000 Illiterate Women in KSA
• South Africa: Connecting Pregnant Women to Vital Information
• Islamic State Violence Continues With Yazidi Massacre, Women and Children Kidnapped
Compiled by New Age Islam News Bureau
URL: https://www.newageislam.com/islam,-women-and-feminism/new-age-islam-news-bureau/'faskh'-to-get-out-of-cruel-marriages-for-muslim-women-in-kerala,-india/d/98682
-----------
'Faskh' to Get Out Of Cruel Marriages for Muslim Women in Kerala, India
DC | JOSE KURIAN | August 22, 2014
Kozhikode: Muslim women in Malabar, who were at the receiving end as far as divorces were concerned, are now giving the men a taste of their own medicine through 'Faskh.'
If men could end an alliance through 'triple Talaq,' the educated and employed women these days are increasingly resorting to 'Faskh' which allows the wife to get the marriage annulled with the help of an Islamic jurist even if the husband is against it.
The woman opting for it has to publicise her plan to seek divorce, and most women give 'Faskh' ads in newspapers, say community leaders.
A Muslim husband has the right to divorce his wife by telling the word 'Talaq' thrice (triple Talaq) in a single sitting.
The women can also get divorce as per Islamic law by paying compensation, usually monetary, to the husband with mutual consent.
'Faskh' is executed under conditions like continuous absence of husband, mental illness and failure in catering to the emotional and physical needs of the woman.
"The provision has helped many women like me to come out of a tortuous marital life," said Subaida of Ramanattukara, who was married at the age of 18 when she was a student and opted for 'Faskh' after four years. "My husband did any jobs and lived a free life. I had to run the family and feed the children and the husband with my hard-earned money. He used to beat me daily for silly reasons," said Subaida. In her thirties now, she married another man and lives a peaceful life.
The same is the case with Faseela (name changed) of Sulthan Bathery. "It was an ordeal for me to bring up my children as my husband had another wife and never cared for my emotional and family needs," she said. "He visited me during his vacation for a few days and spent most of the time with the other wife and children. I later opted for divorce through 'Faskh' with the help of my new husband," she added.
"We are worried over the increasing trend among educated women to opt for 'Faskh' to end the marriages," said Dr Fazal Ghafoor, president, Muslim Educational Society. "I know many such cases," Dr Fazal said and added that a recent meeting of MES high-power committee had discussed the issue and decided to assign an agency to conduct a survey.
"We have also plans to organise an opinion survey among senior students of our colleges on the trend," he said.
"The 'Faskh' advertisements appear regularly in certain newspapers," said V.P. Suhra, founder of NISA, a city-based progressive women's organisation. "Earlier, women were dependent on the family and husband and were suppressed. Those days are over," she said.
"Such divorces would be valid only if the woman later seeks legal remedies in tune with judicial procedures," said lawyer C.K. Zeenath, leader of Punarjani, an organisation of women advocates.
"The Gulf-rich men found it difficult to live with the 'old' wives and looked for younger ones. They ended the marriages by offering a share of the riches to the wife. This also has led to an increase in Faskh," said Thajudheen Moulavi, another scholar. "The husband through mediators persuades the wife to strike a deal as 'triple Talaq' is considered by elite Muslims as a crude form of divorce," he said.
Religious scholars do not agree that 'Faskh' divorces are increasing. "It was in vogue as per the Islamic law and many women have been opting for it," said Kottumala Bappu Musaliyar, general secretary, Samastha Kerala Jamiyyathul Ulama, a body of Sunni scholars. "Even though the man is against divorce, the woman can win a forced separation, but through mutual agreement," he said. "A public notice is mandatory for the process," he added.
'Faskh' is allowed when other religious forums fail to sort out the family issue, said Islamic scholar Dr Hussain Madavoor. "Islamic law has provisions that allow the woman to get separated from her husband if life becomes difficult," he added.
http://www.deccanchronicle.com/140822/nation-current-affairs/article/Faskh-get-out-cruel-marriages-muslim-women
-----------
More Muslim women in Britain opting for veil to assert religious identity
August 22, 2014
Violence, threats, prompt more Muslim women in Britain to wear a veil
(Reuters) - When youth worker Sumreen Farooq was abused in a London street, the 18-year-old decided it was time to take a stand - and she started to wear a headscarf.
Farooq is one of many young Muslim women living in Britain who have, for various reasons, chosen to adopt the headscarf to declare their faith to all around them, despite figures showing rising violence against visibly identifiable Muslims.
For despite a common view that young Muslim women are forced to wear veils by men or their families, studies and interviews point to the opposite in Muslim minority countries where it is often the case that the women themselves choose to cover up.
"I'm going to stand out whatever I do, so I might as well wear the headscarf," said Farooq, a shop assistant who also volunteers at an Islamic youth centre in Leyton, east London.
While just under five percent of Britain's 63 million population are Muslim, there are no official numbers on how many women wear a headscarf or head veil, known as the hijab, or the full-face veil, the niqab, which covers all the face except the eyes. The niqab is usually worn with a head-to-toe robe or abaya.
But anecdotally it seems in recent years that more young women are choosing to wear a headscarf to assert a Muslim identity they feel is under attack and to publicly display their beliefs.
Shanza Ali, 25, a Masters graduate who works for a Muslim-led non-profit organisation in London, said she was born in Pakistan and her Pakistani mother had never worn the veil but both she and her sister Sundas chose to do so aged about 20.
"I decided to make a commitment as a Muslim and I have never stopped since," Shanza told Reuters in her family home in Walthamstow, east London where prayer mats hang from the walls alongside modern, family portraits.
"Sometimes you forget that you're covering your hair but you never forget why you're covering. You remember, that to you, your character should be more important than your appearance.
"It makes it easier for Muslim women to keep away from things that you don't want to do that would impact your value system. If you don't want to go clubbing, drink, or have relations outside marriage, it can help, but it can also just be a reminder to be a good person and treat others well."
STANDING OUT IN A CROWD
Shaista Gohir, chairman of the Muslim Women's Network UK, said more women had adopted headscarves since the attacks in the United States on Sept. 11, 2001, and in London on July 7, 2005, put them under greater political and public scrutiny.
"For some young women it is a way of showing they are different and they are Muslim although it is not a Muslim obligation," she told Reuters.
She said the full-face niqab was a minor phenomenon in Britain, worn by relatively few women, although it had become central to a wider debate in the country about integration and British values.
This was put to the test last year when a judge ruled a Muslim woman could not give evidence at a trial wearing a niqab, sparking debate about whether Britain should follow other European countries and ban full-face veils in public places.
After a national debate, a compromise was reached and it was agreed that the woman could wear the niqab during the trial but not when she was giving evidence.
Modesty in Islam is key for both men and women but most Islamic scholars agree that women adopting a full-face veil is more to do with culture than religion.
But women who publicly display their religion by wearing a scarf of any kind have found they can be targeted for doing so.
Figures released recently from the campaign group Tell MAMA (Measuring Anti-Muslim Attacks) showed the number of attacks against Muslims in Britain was one the rise.
During its first year of monitoring, Tell MAMA recorded 584 anti-Muslim incidents between April 1 2012 and April 30 2013, with about 74 percent of these taking place online.
Of the physical incidents, six in 10, or 58 percent, were against Muslim women and 80 percent of women targeted were visually identifiable by wearing a hijab or niqab.
The number rose to 734 incidents over the 10 months from Mary 2013 to February 2014 with 54 percent of these against women and a total of 599 online. There was a spike in reports in the weeks following the murder of off-duty soldier Lee Rigby in south London in May last year by two British Muslim converts.
"Attacks against visibly dressed Muslim females may not accurately explain away the trend of hate crimes being opportunistic and situational. The data suggests that the alleged perpetrators of anti-Muslim hate crimes at a street-based level, are young white males targeting Muslim women, and that is a cause for concern," Tell MAMA said in a statement.
Matthew Feldman, co-founder of the Centre for Fascist, Anti-Fascist and Post-Fascist Studies at Teesside University who analyses Tell MAMA data, said the rise in the numbers of attacks could be partly due to more awareness of the reporting process.
"But there is a slight bump in the occurrence of people wearing more visible dress and of victims being women rather than men," Feldman told Reuters.
"We are seeing an unacceptable rise in the level of anti-Muslim attacks but it does seem there is a pretty small number of violent, hardcore far-right people responsible for a high number of these."
VIOLENCE DOES NOT STOP THE VEIL
He said it was surprising but reassuring that the rise in violence against Muslim women had been accompanied by a rise in the number of women adopting the veil.
This was also the conclusion of a study last year by the University of Birmingham that found over 15 years Muslim women had repeatedly been shown to be disproportionately targeted in relation to anti-Muslim hatred as they were identifiable.
None of the women attacked, however, had stopped wearing a veil as a result.
Yasmin Navsa, 17, a student from Hackney in east London, said wearing a hijab made her stand out and made her different.
"In Islam it doesn't say anywhere you have to wear a veil but it's a choice. It's more fashionable now with different colours and styles which makes it more attractive to wear," Navsa told Reuters in a break from exams.
"I've found it's so common to wear a headscarf now in London that you don't get looked at twice any more but I think wearing a full-face veil would attract some negative comments."
This approach to adopting the hijab with a view to being identifiably Muslim was typical in Muslim minority nations but not in countries where Muslims are in the majority.
An international study in 2012, conducted in Austria, India, Indonesia and Britain, looked at Muslim women's views on wearing a headscarf in Indonesia which is a Muslim majority society, compared to India that is a Muslim minority.
It found that in a majority, women talked about convenience, fashion, and modesty as reasons for veiling.
But in minority communities, women's responses were more diverse, ranging from religious arguments to convenience and to opposition against stereotypes and discrimination.
"For women in minorities the veil was a way to affirm their cultural identity and a political and resistant way to address negativity about Muslim communities," said researcher Caroline Howarth, from the London School of Economics.
"This does contradict the view dominant in non-Muslim countries in the West that the female scarf is a symbol of religious fundamentalism and patriarchal oppression."
Sundas Ali, 29, said her husband, whom she married last year after an introduction between their families, made it clear to her from the outset that wearing the hijab was her decision.
She said some young Muslim women even received kickback from some men for wearing a headscarf as they were seen as "boring, unfashionable, and no fun".
"There is a misconception that it is the men telling the women what they should wear but for me and all my friends this is just not the case," Sundas, an Oxford university graduate with a PhD in sociology, told Reuters.
"My husband left it up to me as he doesn't practise ritualistic religion. We both have a mixed identity, our religious, ethnic, and national identities are all important to us. His eastern side really appealed to me but also the fact that he is quite liberal, in an open-minded way. We really are the modern Muslim generation."
http://www.pakistantoday.com.pk/2014/08/21/foreign/more-muslim-women-in-britain-opting-for-veil-to-assert-religious-identity-report/
http://www.reuters.com/article/2014/08/21/us-britain-muslim-veils-idUSKBN0GL0X120140821
-----------
'I want to be the first UK woman to kill a Westerner', says British jihadist in Syria
August 22, 2014
A London woman who travelled to Syria to marry an Islamist militant has said she wants to be the first female jihadist to kill a British or American captive.
Glorying in the beheading of James Foley on Twitter, Khadijah Dare asked for links to footage of the brutal murder.
Writing under the name of Muhajirah fi Sham, which means "immigrant in Syria", she said: "Any links 4 da execution of da journalist plz. Allahu Akbar. UK must b shaking up ha ha. I wna b da 1st UK woman 2 kill a UK or US terorrist!(sic)".
Dare, who is believed to be around 22 and from Lewisham in south-east London, has a photo of her young son holding an AK47 as her Twitter profile picture.
Among Isis propaganda and photos of dead bodies, the feed also reportedly contains images of sunsets, baby seals and a kitten in a teacup in bizarre juxtaposition to the horrific views she espouses.
Earlier this year she delighted in the public execution of a man accused of rape in Syria.
She wrote: "On da way 2 da market in Manbij [near Aleppo], me and sum sisters was wonderin wat da commotion was all about ... On da way back frm da market, we see da body of a young man, with blood coin his nose ... tied onto a tree."
Giving her name as Maryam, she appeared in a Channel 4 documentary last July on British women joining the jihad in Syria.
She was filmed with her husband, Abu Bakr, an Isis-affiliated fighter from Sweden who she arranged to marry through his mother on Facebook.
They have one son together and were reportedly expecting another child last year.
"I couldn't find anyone in the UK who was willing to sacrifice their life in this world for the life in the hereafter," she said.
"I prayed, and Allah ruled that I came here to marry Abu Bakr."
Although she does not fight herself, she shot a handgun and rifle for the cameras, later squabbling with her husband about who had the better Kalashnikov.
On film, she described watching football on television as a child, studying psychology and sociology at college and missing takeaways, her mother's cooking and junk food.
Her parents know she is in Syria but not what she is doing, Dare said, claiming she will not return to Britain even if her husband is killed.
"I will stay here because I didn't come here for him," she said.
"I wouldn't like to go back to the UK. I'll stay here, raise my children, focus on the Arabic language to communicate with the Syrian people."
Since moving to Syria, she has used Twitter to urge fellow British Muslims to join her, saying only one other British woman was there.
Earlier this year, she wrote: "All da people back in Dar ul kufr [land of disbelievers] what are you waiting for ... hurry up and join da caravan to where the laws of Allah is implemented.
"No one from Lewisham has come here apart from an 18-year-old sister shame on all those people who afford fancy meals and clothes and do not make hirja [Mohamed's journey]. Shame on you."
An investigation by the Evening Standard found she was not born into a Muslim family but converted to Islam in her mid-teens.
Dare reportedly attended the Lewisham Islamic Centre, which was also allegedly frequented by the men who murdered Drummer Lee Rigby in Woolwich.
She is one of a "significant number" of British extremists believed to be in Syria.
The Government and intelligence agencies have launched multiple initiatives to track jihadists who have travelled abroad and stop them returning to the UK, and to prevent the radicalisation of British Muslims.
The Foreign Secretary, Philip Hammond, said on Wednesday that the man filmed brutally decapitating Mr Foley and delivering a chilling "message to America" appeared to be British.
"We have been saying for a long time that there are a significant number of British nationals in Syria and Iraq operating with extremist organisations," he added.
"That's one of the reasons why this organisation represents such a direct threat to the UK's national security."
http://www.independent.co.uk/news/world/middle-east/james-foley-beheading-i-want-to-be-the-first-uk-woman-to-kill-a-westerner-says-british-jihadist-in-syria-9684908.html
-----------
Kenya: Government plans to give out cash to keep young women off early sex
August 22, 2014
The Government is planning to give cash handouts to girls and young women to keep them away from risky sex activities in a bid to eliminate HIV by 2030. The ambitious Sh1.7 trillion, 16-year plan says such an approach has worked in other countries where young women and vulnerable girls are the most infected with the virus.
While launching the national HIV Prevention Revolution Road Map on Wednesday, Health Cabinet Secretary James Macharia said women aged between 15 and 24 years account for 21 per cent of all new HIV infections in the country. School girls especially from poor backgrounds and their families will be given cash handouts and scholarships on condition that they stay longer in school and avoid risky sexual behaviour. Young women, especially those involved in commercial sex work, will be linked with micro-finance institutions where they can get concessionary loans to start income-generating projects. Delay pregnancy "Scale-up of conditional cash transfers is known to decrease the risk of HIV in young people by decreasing likelihood of sexual debut by 23 per cent, improve school enrolment, delay first pregnancy and decrease risky sexual behaviour," the plan reads in part. See also: Young women lead in new HIV infections - study The road map seeks to accommodate the 'Melbourne Declaration' which urges governments to repeal all laws that criminalise drug injection, prostitution and homosexuality. The Melbourne Declaration was adopted in July at the 2014 Aids Conference in Australia. During the conference, it emerged that the rest of the world is getting tired of funding HIV programmes in some African countries that criminalise drug injection, prostitution and homosexuality. One of the conference convenors, Michael Kirby told Africa not to expect taxpayers in the West to indefinitely shell out huge funds for anti-retroviral drugs if they simply refuse to reform their own laws and policies to help their own citizens. The new road map crafted by the National Aids Control Council wants such laws repealed, claiming such groups are responsible for a third of new infections. The four target groups are commercial sex workers, homosexuals, drug injectors and prisoners. "Although these populations represent less than two per cent of the general population, they contribute a third of all new HIV infections in the country," says the road map.
Last year, commercial sex workers, homosexuals and drug injectors contributed about 30,000 new infections. The document suggests that to reduce HIV infections in prisons, inmates should be allowed visits by their partners and arrangements be made to allow them to enjoy their conjugal rights. It also wants the HIV policy in jails changed to allow for safe injecting needles, condoms and a daily pill to protect inmates against infection.
The road map, to be funded mainly by Treasury and donors, suggests drug injectors and prostitutes be legally protected from police harassment. "We also propose basic hygiene kits and child-care support to be given to women who inject drugs," the National Aids Control Council said. Police will be trained on how to handle homosexuals, while drug users will be provided with drop-in centres where they can drop used needles and pick clean ones. The ministry wants age restriction on access to HIV and sexual health education scrapped by next year. There is a Bill in Senate proposing the distribution of condoms and pills to school-going children.
http://www.standardmedia.co.ke/article/2000132250/government-plans-to-give-out-cash-to-keep-young-women-off-early-sex?articleID=2000132250&story_title=government-plans-to-give-out-cash-to-keep-young-women-off-early-sex&pageNo=2
http://kenyanews.org/the-standard-newspaper/46870-kenya-government-plans-to-give-out-cash-to-keep-young-women-off-early-sex
-----------
Italian Women Seized in Syria Prompt Concern After Foley Video
August 22, 2014
The beheading of American journalist James Foley by Islamic State fighters has prompted a fresh wave of concern for two Italian women who were kidnapped weeks ago in Syria.
The names of the people or organizations holding Greta Ramelli and Vanessa Marzullo haven't been released by the Italian Foreign Ministry, which said through a spokeswoman today that diplomats and the secret service are working on the case. The U.K.'s Guardian newspaper reported today that two Italian women, a Dane and a Japanese national were seized by militants from the Islamic State group near Aleppo in recent days. The newspaper didn't give names.
Islamic State, a Sunni Muslim group, is pursuing a campaign of terror as air strikes by the U.S. threaten its control over conquered territories in Iraq. The group, whose influence also extends into neighboring Syria, said the killing of Foley was retaliation for the U.S. military action. A video of Foley's execution was released by Islamic State on Aug. 19.
Ramelli and Marzullo are two of six Italians held by terrorists worldwide, according to daily la Repubblica.
http://www.bloomberg.com/news/2014-08-21/italian-women-seized-in-syria-prompt-concern-after-foley-video.html
-----------
Saudi Young women form volunteer group to spread good deeds
August 22, 2014
JUBAIL — A number of young women here have formed a volunteer team to perform good deeds for all members of society regardless of their age or race, Alsharq daily reported.
Fawzia Al-Tawala, leader of the "United Nation" initiative, says the idea behind forming the team was taken from a project suggested by Al-Rabi'ah High School to celebrate the National Day.
She said: "We started with 24 members and today we are 50. "We all have the same goal, we want to do good things to society and help others as much as we can."
The team has not faced any problem or difficulty during its volunteer work, but the only obstacle or shortcoming is the way volunteer work is viewed by society, she said. There is not much support for such efforts, she claimed.
All female members in the team have been trained before conducting volunteer work and they have been armed with the necessary skills to drive home the team's mission.
The team's first work took place when they decided to visit the Jubail Rehabilitation Center for the Disabled Persons.
Al-Tawala said some members speak good English and this helped the team extend its services to those who do not speak Arabic. She said: "Our team is called 'United Nation'.
"We want to play a role in national development by training our members how to give to society and how to bolster citizenship and human values. "We want to contribute to building a generation that respects their country and holds social solidarity in high esteem."
Noor Al-Eneizi, team supervisor, said the team's current plans involve programs, visits and free courses as well as activities that are suitable for women and do not contradict Shariah or local traditions. She said: "All female volunteers don't work for money. "On the contrary, sometimes they pay from their own pockets to conduct some programs or courses.
"We want to build a strong base of supporters who can help deliver the team's goals and values and help spread the team's culture in society." Most members are female students. Some of them are still in high school, some have completed diploma programs, while others hold degrees.
http://www.saudigazette.com.sa/index.cfm?method=home.regcon&contentid=20140821215382
-----------
730,000 illiterate women in KSA
August 22, 2014
Women account for 60 percent of illiterate residents in the Kingdom, according to studies conducted by the Central Department of Statistics & Information.
Almost 730,000 women cannot read or write, according to the study. More than 426,000 men, by contrast, are also illiterate.
The study also found that women account for only 17 percent of the total number of doctoral degree holders and less than a quarter of the 166,500 master's degree holders.
The study, however, found that women account for 72 percent of master's degree holders in the 20 to 24-year age bracket, showing promise among young female graduates.
Around 1,217 women who secured doctoral degrees are in the 30 to 34-year age group, slightly outnumbering men in the same age range.
Around the same number of teens from both genders are illiterate.
Astonishingly, almost 15,000 boys and girls in equal measure cannot read or write in 15 to 19-year age bracket despite enhanced educational initiatives.
The study also found that age and illiteracy among women were directly proportional, with more women being illiterate in older age groups.
Almost 13,000 women in the 20-24-year age bracket are illiterate, compared with just over 10,000 men.
In addition, around 41,000 women do not know how to read or write in the 75 to 79-year age bracket versus 30,000 men in the same generation.
Around 2 million men have completed university education in the Kingdom, compared with only 1.4 million women in the same category.
The study also found that there were 10 times as many young boys going through primary school compared with girls.
http://www.arabnews.com/news/saudi-arabia/619176
-----------
South Africa: Connecting Pregnant Women to Vital Information
August 22, 2014
The Department of Health has launched a new mobile phone-based messaging service to provide South Africa's estimated 1.2-million pregnant women with free antenatal health care information.
The department will seek to register as many pregnant women as possible with the SMS service, MomConnect, which will both provide information and advice on pregnancy as well as notify the department about poor service.
Launching the service at Soshanguve Multipurpose Community Centre outside Pretoria on Thursdasy, Health Minister Aaron Motsoaledi said the service would advise women on what to do at any stage of their pregnancy and also encourage them to start ante-natal care at an early stage.
"We will say, Mom, since you registered with us you are now 13 weeks pregnant, this is what you must do, this is where you must go and this is what you must avoid.
"Even after the birth of the baby, we will continue to send the messages for the period of one year. The messages will include advice on the baby, this is what you must do, this is what the baby must get."
He said pregnant women would also be able to send messages to the department to criticise or compliment the services they had received.
"In a particular period, we will be able to know from here in Pretoria that in the past six months that most of the messages that are bad were coming from a particular clinic."
The R59-million project will be funded for the first two years by the US government, which is providing R49-million, and Johnson & Johnson and ELMA Philanthropies, each of whom contributed R5-million.
The department, with the help of its partners, has trained 10 300 health workers nationally to help pregnant women to register for MomConnect and to provide associated services.
"In the coming weeks, every health facility in the country will have at least one person who is trained and whose job will be to assist and register pregnant women," Motsoaledi said.
Mobile operators Vodacom, MTN, Cell C and Telkom are providing a 50% discount on SMS's sent to pregnant mothers as part of the service.
Pregnant mothers and health workers at the Motubatse Clinic in Soshanguve welcomed the initiative on Thursday. Pregnant mother Patricia Mokese, who is already registered, said the project would help them with their check-up dates, since this could be confusing.
"We have lot on our mind at home and work, and sometimes we forget to go to the clinics on time," said Mokese, who is expecting her second child. "The project will help us, especially when something you don't understand happens to you during the pregnancy. We can send a message for assistance."
Sister Innocentia Hlongwane, who works at the mother and child ward in the clinic, said MomConnect would help expecting mothers to book their appointments early and provide them with information ahead of time.
"We can get early bookings for antenatal care," Hlongwane said. "It will also reduce the risk of the maternal rate and help us as health workers because they will already know the warning signs if there is an emergency."
http://allafrica.com/stories/201408220903.html
-----------
Islamic State Violence Continues With Yazidi Massacre, Women And Children Kidnapped
August 22, 2014
The Islamic State promised to ravage Yazidis who did not convert to Islam and the Sunni terrorists executed the men while kidnapping the women and children. This incident is one month after people in Mosul were forced to convert, pay a tax, leave or be killed.
"When the residents refused to do this (in Kocho), the massacre took place," Yazidi politician Mahma Khalil said of the assault on Kocho.
About 80 Yazidi men were shot to death. It is unclear how many women and children were abducted. The woman are usually sold by the extremists or married off. Some villagers managed to escpae into the mountains.
"They thought we were dead, and when they went away, we ran away," a wounded survivor reported. "We hid in a valley until sundown, and then we fled to the mountains."
Some of the men survived by pretending to be dead after they were shot.
Iraq Human Rights Ministry spokesman Kamil Amin: "We think that the terrorists by now consider them slaves and they have vicious plans for them. We think that these women are going to be used in demeaning ways by those terrorists to satisfy their animalistic urges in a way that contradicts all the human and Islamic values."
IS, formerly known as the Islamic State of Iraq and Syria (ISIS), has been driving out and murdering thousands of Iraqis and Syrians in an increasingly aggressive campaign to create an Islamic Caliphate.
Halgurd Hekmat, a spokesman for Kurdish security forces, said the militants took the women and children of Kocho to the nearby city of Tal Afar, which is controlled by the Islamic State group.
http://www.theglobaldispatch.com/islamic-state-violence-continues-with-yazidi-massacre-women-and-children-kidnapped-97588/
-----------
URL: https://www.newageislam.com/islam,-women-and-feminism/new-age-islam-news-bureau/'faskh'-to-get-out-of-cruel-marriages-for-muslim-women-in-kerala,-india/d/98682