New Age Islam News Bureau
11 Jun 2017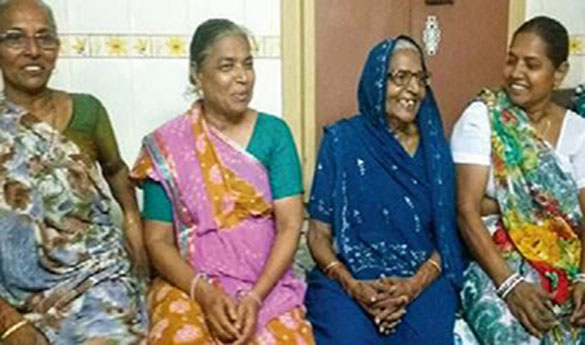 Photo: Pooriben (third from left) with her three daughters
---------
• Fast Friends: Hindu Woman Has Observed Rozas for 34 Years
• Austria Bans Islamic Dresses for Women, Mandates 12-Month Integration Course
• Need Women in Combat Role to Deal with Female Stone-Pelters: Army Chief
• ISIS 'sisters' will be Britain's next terror threat, warns undercover TV journalist who filmed London Bridge killer for Channel 4
• Iraqi Christian Girl Freed From Islamic State Says 'Mum, Dad' Again
• Magazine Aims to Introduce Positive Image of Afghan Women
Compiled by New Age Islam News Bureau
URL: https://www.newageislam.com/islam-women-feminism/fashion-industry-plans-create-2500/d/111497
--------
Fashion industry plans to create 2,500 jobs for Saudi women
11 June 2017
JEDDAH: The Fashion Designing Committee at the Jeddah Chamber of Commerce and Industry (JCCI) said it plans to create jobs for Saudi women in the fashion industry.
Omaima Azzouz, head of the committee, said meetings have been held with officials to establish plans that will qualify and employ more than 2,500 Saudi women over five years. She said that the initiative centers around the designer clothes sector, where investments exceed SR15 billion ($4 billion).
The committee is taking practical steps to create garment-production facilities. The initiative will establish job opportunities for Saudi women as part of the National Transformation Program (NTP) 2020 and Vision 2030.
Azzouz explained that the committee launched the initiative through meetings with the Saudi Ministry of Labor and Social Development in the Makkah region, in order to find small-business entrepreneurs who will build these factories.
Most women in the fashion and designer clothes sector are entrepreneurs who work individually. "Because they cannot penetrate the industry and set up a production line, we are working to create a conglomerate for each group... with the help of three to five business owners to establish a small factory to produce one... specialized fashion line," she explained.
She stressed that the project will provide 2,500 technical, administrative and marketing jobs for Saudi women.
A feasibility study has been conducted, and there will be workshops in the future to discuss licensing and challenges that the project will face.
arabnews.com/node/1113271/saudi-arabia
------
Fast friends: Hindu woman has observed rozas for 34 years
TNN | Updated: Jun 11, 2017
AHMEDABAD: Pooriben Leuwa, 85, a Hindu who has been observing rozas during Ramzan for the past 34 years, says that she and her Muslim friends "share a faith called love".
She began fasting during the holy month after making a vow to a saint in Ahmedabad's Jamalpur area, Bala Pir Bawa. After her husband's death, she and her daughters moved some 2.5km from their old Tajpur Mominwad neighbourhood in Jamalpur. But her roza tradition carries on unbroken.
"For the past two years I have not been keeping well," Pooriben said. "My family and my doctor have allowed me just three rozas this year - 27th, 28th and 29th. But I argue with them every day to allow me to observe the entire 40 days."
She said her family had been involved in a property dispute with her brother-in-law in 1982. "I had vowed at the Bala Pir Bawa dargah that if I win the legal battle I would observe rozas," she said. "We won the civil case in a year and I kept my vow."
Pooriben's bond with her old neighbours was forged in terrifying circumstances.
"During the 1969 riots, our Muslim neighbours formed a human shield to protect my family against riotous mobs," she said. "I had six girls and each of them was kept safe by our Muslim friends. My husband and I and our children were given food by our Muslim neighbours for more than a month during the curfew." In her new neighbourhood, Saujanyawas in Danilimda, she is often referred to as 'Pooriben khala'.
"Mominwad families send kheer-sevaiyan for our entire society when Pooriben breaks her fast," said Pooriben's daughter Sarla Leuwa (58). She said that Firdousben, Sugra aapa and Shireenben or their families from Mominwad still visit them.
Pooriben's eldest daughter, Manjula Leuwa, said: "We remember as children that our parents never stopped us from taking part in Muharram observances." Manjula said her family helped their Muslim neighbours handle guests during Eid. "We also got our Eid presents," she said.
timesofindia.indiatimes.com/city/ahmedabad/fast-friends-hindu-woman-has-observed-rozas-for-34-years/articleshow/59090926.cms
------
Austria Bans Islamic Dresses for Women, Mandates 12-Month Integration Course
June 10, 2017
Austria has passed a controversial law that fines women who wear Islamic dress covering the whole face, and takes away welfare benefits from immigrants who fail to learn the language.
"Those who are not prepared to accept Enlightenment values will have to leave our country and society," reads the text of the law, RT reported.
Earlier this year, the draft law drew thousands of protesters against the government and parliamentarians, but it was passed by a centrist coalition last month and now was signed by the president.
According to the law, women will face a fine of €150 ($168) if they wear Islamic dresses, either the niqab or the burqa, in public places. In addition to the fines, all new migrants coming to Austria to live will now be forced to take a 12-month "integration course" that includes German language lessons if they wish to receive any welfare benefits.
The new law also makes it illegal for newcomers to distribute incendiary materials, and migrants will be encouraged to volunteer before acquiring permanent work permits in order to prepare them for life in the workplace.
Austria's attempt to integrate new immigrants has come in response to the migrant crisis rocking most European countries. At least 90,000 migrants, mostly from Muslim-majority countries outside Europe, have arrived to Austria since 2015.
heatst.com/culture-wars/austria-bans-islamic-dresses-for-women-mandates-12-month-integration-course/
------
Need women in combat role to deal with female stone-pelters: Army chief
Yeshika Budhwar | TNN | Updated: Jun 11, 2017
Army chief General Bipin Rawat addresses cadets at the passing-out parade event at the Indian Military Academy in Dehradun on Saturday
Army chief General Bipin Rawat addresses cadets at the passing-out parade event at the Indian Military Academy... Read More
"We have women in various service arms, like signals, engineers and air defence, as officers, but now the time has come to recruit them as jawans. At times, we are faced with situations in conflict areas where jawans hesitate to deal with women protesters. This is where we require assistance from the women police constables. But if we have our own women jawans then we would become more efficient. The plan now is to recruit women jawans in the military police and depending on the success of this pilot project, we would move ahead," Gen Rawat said.
Answering a question on the ongoing unrest in Kashmir, General Rawat claimed youth in the Valley are being instigated through a campaign of misinformation on so cial media. "Youth in Kashmir are being instigated by a misinformation campaign on social media," he said, adding, "Pakistan is spreading disinformation among the youth of Kashmir with doctored videos and messages. This is further supported by some of the people in the Valley who spread it and glamorise the young boys who have joined terro rist organisations."
The Army chief said, "We are trying to make them surrender their arms and work for the benefit of the Valley.Also, counter-infiltration measures have been taken in the past few days which have proven to be successful."
Speaking about the need for use of technology in the Army , Rawat said, "These days various terrorist outfits are using technology to find ways to create conflict in Kashmir Valley and other areas. What we need to do is keep ourselves updated so as to predict their actions. We also need to make technology available to the jawans using which it would be possible (for us) to track down suspected terrorists without troubling the people of the region by questioning them or by carrying out searches in their houses."
timesofindia.indiatimes.com/city/dehradun/need-women-in-combat-role-to-deal-with-female-stone-pelters-army-chief/articleshow/59090736.cms
------
ISIS 'sisters' will be Britain's next terror threat, warns undercover TV journalist who filmed London Bridge killer for Channel 4
11 June 2017
When I saw the face of Khuram Butt staring out of the newspapers at me last week, after he was named as one of the three London Bridge killers, I was deeply shocked.
It took me back to the day nearly two years ago when I filmed him with a hidden camera as he protested, clad in headdress and robe, outside Regent's Park Mosque in London.
We had gone undercover to make a Dispatches documentary for Channel 4, focusing not on Butt and his fellow Islamists but on a less obvious group – the 'sisters', the women who share their twisted views. Unlike their male counterparts, the women only ever express these views behind closed doors or online.
Now my greatest fear is that one of those women I watched being brainwashed – or, even worse, one of the children who ran around playing as the hate-filled rants were delivered – might go on to murder innocent people as Butt did.
I didn't pay much attention to him that day in July 2015 as he handed out extremist leaflets to worshippers leaving Friday prayers, but last week's events made me recall the vile propaganda he was peddling – in the same manner as the women, as I would discover.
They were part of banned terror group Al-Muhajiroun in all but name. Its former leader, Anjem Choudary, had just been arrested, and is now serving a prison sentence for urging support of Islamic State.
But his followers continued their 'work' without him – and no doubt still do now. What's more, the woman leading the 'sisters', is Choudary's wife, Rubana Akhtar.
Over the course of a year, I slowly gained access to Rubana's group, initially by contacting her followers on Twitter, then through texting and other social media.
After months attempting to win their confidence, I was introduced to Rubana, who used the pseudonym 'Umm Luqman', and was invited to one of her talks in a nondescript building next to a barber's shop in Whitechapel, East London.
What I witnessed there convinced me that the stereotypical image of jihadis as young men needs to be adjusted, because the women were equally virulent in their views.
In the two-hour lectures, the female Islamic State sympathisers are heard spreading ISIS's extremist ideology and encouraging people to join them in Syria. Pictured is a still from the documentary +8
In the two-hour lectures, the female Islamic State sympathisers are heard spreading ISIS's extremist ideology and encouraging people to join them in Syria. Pictured is a still from the documentary
The hatred toward non-believers runs deep in this politicised version of Islam. The women believe that the self-declared Islamic State is the true caliphate. In essence, they are swearing their allegiance to IS, which has declared a war on British and Western society.
The casual way this small but motivated group trot out such abhorrent ideas in the presence of small children shows just how 'normal' they believe them to be.
I always felt the group were suspicious of me – and that was to prove the case. As a result, I believe they toned down their rhetoric in my presence but that didn't prevent them from espousing truly shocking views which I captured on film.
Rubana referred to 'filthy Jews' and praised the advent of IS, saying 'The good days have already begun, nobody would ever have thought in our lifetime we would see the establishment of the Khilafah [IS].'
She also mocked the Government's attempts to tackle extremism, saying: 'If they thought it was a plan to deradicalise people, God they got it so wrong, because if anything more and more people are becoming what they call radicalised.'
She even laughed about the Jordanian pilot who was burned alive by IS, suggesting that he would be accepted in martyrdom, before adding 'My foot', as her followers chuckled.
There may be a temptation to write these people off as harmless idiots, but let's not forget that Al-Muhajiroun have been linked to half of all UK terror plots and, although they have been a proscribed organisation since 2010, it is clear from what I saw that they still exist. We urgently need to address what extremism is, and what to do about it.
Perhaps I asked too many questions while undercover, because eventually Rubana cornered me in a small kitchen area as one of her followers stood behind me. She accused me of being a spy and demanded to look in my bag. I was scared they weren't going to let me go, because she said she wouldn't.
The stand-off went on for about 10 minutes. At that stage, I'd just discovered that Rubana was married to Choudary and that made her appear more dangerous. There were so many of them, there was nothing I could have done to protect myself if they had turned on me.
In the end, I pretended I was mentally ill and went into an emotional meltdown, screaming at her, which seemed to work, and thank goodness they let me go.
Looking back, I think I was lucky to get out unharmed.
Read more: dailymail.co.uk/news/article-4592242/Islamic-State-sisters-bridge-killers.html#ixzz4jgPcBOQi
------
Iraqi Christian Girl Freed From Islamic State Says 'Mum, Dad' Again
June 11, 2017
Iraqi Christina Ezzo Abada, a former hostage of Islamic State militants for three years, sits next to her sister inside a cramped home at a refugee camp in Erbil, Iraq June 10, 2017. REUTERS/Erik De Castro REUTERS
By Hamuda Hassan and Isabel Coles
ERBIL, Iraq (Reuters) - A six-year old Iraqi Christian girl, kidnapped by Islamic State when she was three, was reunited with her family on Friday, and getting used to saying "mum" and "dad" once more.
"The best day of my life is the day when Christina came back," said her mother, Aida Nuh, on Saturday.
Dark circles around her eyes are evidence of sleepless nights since August 2014, when the militants snatched Christina from her, a few weeks after overrunning the town of Qaraqosh, 15 km (10 miles) southeast of Mosul.
"She stayed three years with the terrorists. Of course she forgot who her mother is, who her father is, that we are her family, but she will learn again."
Islamic State has kidnapped thousands of men, women and children from Iraq's minorities, mainly Yazidis.
Christians who did not or could not escape in time were faced with an ultimatum - pay a tax for protection, convert to Islam, or die by the sword. Some, like Christina, were kidnapped.
Christian families who remained in Qaraqosh were forcibly displaced on Aug. 22, 2014. The militants took away Christina from the minibus which had driven them to the edge of Islamic State territory, after threatening Aida, who desperately resisted.
The family's efforts to track her though Arab friends were rewarded on Friday, when they got a call telling them Christina had been found in Hayy al-Tanak, a poor neighborhood of Mosul.
Eighth months into the U.S-backed offensive to take back Mosul, all of the city has fallen to Iraqi government forces except a pocket by the western bank of the Tigris river.
"We went to a dirty place in Hayy el-Tanak (..), we took the child," said Christina's blind father, Khader Touma, wearing dark glasses and surrounded by the family now complete with the return of his youngest daughter.
Her two sisters and two brothers had escaped to Kurdish territory before the arrival of the militants.
"I'm with mum and dad," said Christina, playing with a plastic toy, in a mobile home for displaced people in Ankawa, a Christian suburb of the Kurdish capital Erbil, east of Mosul.
The parents said they now hoped to emigrate, to put their ordeal behind them.
In the meantime, they face a long wait in the cramped cabin, because their home in Qaraqosh was almost completely destroyed in the fighting to dislodge the militants.
(Writing by Maher Chmaytelli; Editing by Andrew Bolton)
usnews.com/news/world/articles/2017-06-10/iraqi-christian-girl-freed-from-islamic-state-says-mum-dad-again
------
Magazine aims to introduce positive image of Afghan women
June 11, 2017
Kabul - A new women's magazine is turning the page on Afghan cultural traditions, with features on fashion, make-up and even adverts about birth control.
The first edition of Gellara, a fashion magazine espousing what conservative Afghans call hardcore feminism, has just been published by an all-volunteer team of women.
It is inspired by Western magazines such as Vogue and Allure, and offers models with uncovered hair and articles that deal with pregnancy, fashion and birth-control tips.
"It's time for Afghanistan to introduce a positive, colourful image of women from this country to the world," Fatana Hassanzada, the editor-in-chief of Gallera, told Al Jazeera.
"One of our aims is to show women they have the right to choose the style of dress that they like.
"No woman would choose a burkha that covers them from head to toe. They don't even allow a woman to walk properly."
However, many Afghans - particularly men - say the magazine poses dangers.
"It's not good for Muslims.Their heads are uncovered and they wear revealing, anti-Islamic clothes," says Ghulam, a street vendor.
"It's not for our society. We don't accept such European style of dress here."
In a land where the consequences for crossing cultural barriers can be severe, Gellara's staff are taking precautions against potential attacks. One thing the magazine does not publish is its address.
"From the day the magazine was launched, we've been lucky that there hasn't been an incident where we've been physically threatened," Hassanzada told Al Jazeera.
"But the social-media statements directed against me and my co-workers are sometimes harsh and radical."
aljazeera.com/video/news/2017/06/afghan-womens-magazine-gellera-challenges-local-traditions-170610142052576.html
URL: https://www.newageislam.com/islam-women-feminism/fashion-industry-plans-create-2500/d/111497
New Age Islam, Islam Online, Islamic Website, African Muslim News, Arab World News, South Asia News, Indian Muslim News, World Muslim News, Womens in Islam, Islamic Feminism, Arab Women, Womens In Arab, Islamphobia in America, Muslim Women in West, Islam Women and Feminism