New Age Islam News Bureau
25 October 2020
• Wafa Wazir, Chairperson Zamoong Juand, Said Her NGO Will Soon Establish a Women Jirga System in Khyber Pakhtunkhwa
• Saudi Arabia Appoints Second Female Ambassador, Amal Yahya Al-Moallimi to Norway
• France Deports Muslim Family for Shaving Girl's Head over Her Christian Lover
• Women's Role in MEK in Contrast To Mullahs' Misogynism Inspires Iran's Women to Lead Struggle for Freedom
• Breast Cancer Survivors Urge Women in the Middle East to Seek Timely Screening
• Virtual Mentorship for 33 Emirati Women to Excel in Career
Compiled by New Age Islam News Bureau
URL: https://www.newageislam.com/islam-women-feminism/famed-afghan-female-warlord-bibi/d/123260
--------
Famed Afghan Female Warlord, Bibi Ayesha Habibi, known as Commander Kaftar Joins the Taliban
October 16, 2020
By Bashir Ahmad Ghazali
Abubakar Siddique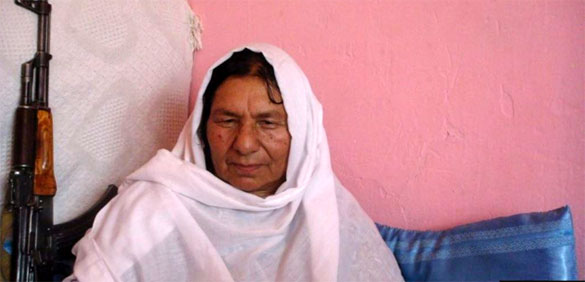 Bibi Ayesha Habibi, also known as Commander Kaftar or The Dove, has spent decades fighting the Taliban.
-----
BAGHLAN, Afghanistan -- A female warlord who built a distinguished reputation by fighting against the Soviet occupation, the Taliban regime, and its insurgency in recent years has formally joined the Taliban.
Afghan officials have confirmed a Taliban statement that claimed Bibi Ayesha Habibi, also known as Commander Kaftar or The Dove, switched over to the Taliban in the northern province of Baghlan.
"Commander Kaftar, along with a number of her armed followers, has joined the Taliban," Fazal Din Muradi, district governor of Nahrain, a rural district in the northern province of Baghlan, told Radio Free Afghanistan on October 16. "The Taliban began attacking the Sajano area in Nahrain a few days ago and captured a few villages there."
In a tweet, Taliban spokesman Zabihullah Mujahid first said that the Taliban's Preaching and Guidance Commission officials welcomed Kaftar and her supporters to the Taliban ranks on October 15. "Female commander Kaftar mislead by enemy and forced to apparently stand against IEA [Islamic Emirate of Afghanistan] Mujahidin in Sajano area of Nahrin district [in] Baghlan joined Mujahidin along with her armed followers earlier today," he wrote, referring to the Taliban by its formal name.
It was not immediately possible to reach Kaftar or her supporters for comment in the remote mountainous region where few Afghan cell phone networks work.
Kaftar, 70, rose to fame after she rebelled against the Soviet occupation of Afghanistan in the 1980s. During the 10-year war, the young female commander formed a band of 200 fighters and became a major figure among the anti-Soviet mujahedin commanders in Baghlan. She continued fighting against the Taliban when the hard-line student militia swept Afghanistan in the 1990s. Kaftar refused to disarm her fighters after the demise of the Taliban regime in late 2001.
In recent years, she claimed to lead local government-supported uprisings against the Taliban insurgents after they overran large swathes of rural territories. While not officially part of the government, she received support from the Afghan government and had more than 150 fighters in her private militia.
Muradi, however, said her defection to the Taliban is not a big deal now. "Differences among her followers and her advancing age have weakened her significantly," he said. "While her defection along with five or 10 followers might concern some people, it does not endanger the security of Nahrain."
The Taliban's statement about Kaftar's change of allegiance is surprising because the hard-line movement banned women from education and work during its stint in power in the 1990s. While claiming to be committed to women's rights within an Islamic framework now, no woman is part of the Taliban's negotiating team currently discussing their country's political future with the Afghan government in Doha.
The various phases of war in Afghanistan have deeply impacted Kaftar's life. She is believed to have lost 30 members of her extended family, including her sons and grandchildren, to the war in Afghanistan.
In an interview with Radio Free Afghanistan in 2015, she opposed peace talks with the Taliban.
"I don't think that the Taliban will change, or this issue could be resolved through talks," she told Radio Free Afghanistan. "The solution to this war comes from God and secondly through this beautiful Kalashnikov," she said while pointed to a Russian-made Ak-47 personal assault weapon.
https://gandhara.rferl.org/a/famed-afghan-female-warlord-joins-the-taliban-/30897145.html
--------
Wafa Wazir, Chairperson Zamoong Juand, Said Her NGO Will Soon Establish a Women Jirga System in Khyber Pakhtunkhwa
10/24/2020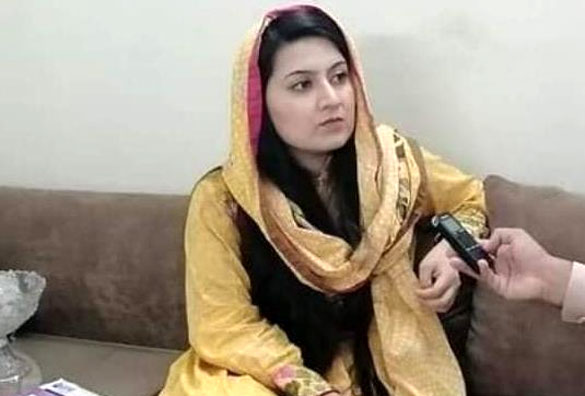 Wafa Wazir, Chairperson Zamoong Juand (Our Lives), a non-governmental organisation
-----
PESHAWAR: Wafa Wazir, Chairperson Zamoong Juand (Our Lives), a non-governmental organisation, has said her NGO will soon establish a women Jirga system in Khyber Pakhtunkhwa, particularly in merged tribal districts.
Talking to media persons after attending a discussion in Peshawar organised by Zamong Juand titled Women Jirga System in Merged Districts, Wafa Wazir said a lot of time was spent by women in darkness and backwardness, but now time is changing fast and her organisation has decided to be among the first to establish women Jirga system.
KP Minister for Labour Shaukat Yousafzai, Women Ombudsperson Rakhshanda Naz and MPAs including Nisar Mohmand, Wilson Wazir, renowned poet Abasin Yousafzai, Director Social Welfare Habib Khan, tribal elders and civil society members attended the event.
Wafa Wazir, who hails from Mir Ali area of North Waziristan, said she is making efforts to resolve the issues faced by women through women Jirga. She said the problems associated with woman are generally ignored, but now is time to change the equation through local women. She said some tribal elders are not cooperating, but she is determined to change the mindest and empower the women. She said women can better understand the problems of other women that is why the idea has been floated. She said she was confident that the government and civil society will extend full cooperation with her organisation in establishing women Jirga particularly in merged districts.
Shaukat Yousafzai while addressing the function said our religion has given special status to women, and they should participate in decision making and advocacy forums to protect their rights. He said the KP government is also making efforts to empower women keeping in view their position in social edifice.
Shaukat Yousafzai said record legislation has been introduced in KP to address core issues of womenfolk and to make them useful part of the society. He said that participation of women in advocacy and decision-making forums would pave way for their development and progress. He said the KP government will support every idea to empower women.
The minister also appreciated efforts of Zamoong Juand and said that their recommendation for women facilitation would be considered by the government.
https://menafn.com/1101012164/Pakistan-Women-Jirga-system-to-be-set-up-in-merged-districts
--------
Saudi Arabia Appoints Second Female Ambassador, Amal Yahya Al-Moallimi to Norway
October 25, 2020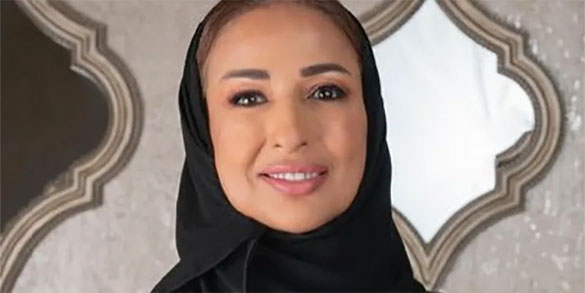 Amal Yahya Al-Moallimi was appointed as the Kingdom's ambassador to Norway
-----
Just under two years after Princess Reema bint Bandar Al Saud was appointed the first-ever female envoy for Saudi Arabia as ambassador to the United States, another female has now been appointed to a similar position.
Amal Yahya Al-Moallimi was appointed as the Kingdom's ambassador to Norway, the Saudi Press Agency (SPA) reported last week.
With over 20 years of experience in education, Al-Moallimi has worked as a teacher, mentor and also in the Educational Training Department at the Ministry of Education in Saudi Arabia. Most recently she has worked for the Saudi Human Rights Commission (SHRC) since 2019, where she was the director-general of organisations and international cooperation.
Following her appointment, Al-Moallimi's brother, Abdallah AlMouallimi, who is a Permanent Representative of Saudi Arabia to the UN, shared his excitement on Twitter.
"I am proud of my sister Amal, who took the oath today in front of King Salman as the Kingdom's ambassador to Norway, and thank you to everyone who shared feelings of pride with us," he said. "May our father Yahya and my mother rest in peace, who raised us to love our country and be loyal to our ruler."
Last Tuesday, October 21, Al-Moallimi took part in an online ceremony to take oath in the presence of King Salman and Crown Prince Mohammed Bin Salman.
A couple of days after the appointment, Al-Moallimi herself took to Twitter to share her gratitude over her new role.
"I express my highest thanks and gratitude to the Custodian of the Two Holy Mosques King Salman bin Abdulaziz and his trustworthy Crown Prince His Royal Highness Prince Mohammed bin Salman for the dear trust in my appointment as the ambassador of the Custodian of the Two Holy Mosques in the Kingdom of Norway," she said. "I ask God Almighty to reconcile and redeem for the good and the elevation of our country.
"I would also like to extend my sincere thanks and appreciation to all who were kind enough to congratulate me, the good calls, and the good wishes.
"I ask the Lord to make us meet your expectations and to guide our steps for what is good for our dear homeland."
It's yet another exciting history-making move for women in the Kingdom.
The changes are part of the many initiatives under Crown Prince Mohammed bin Salman's Vision 2030 scheme, an ambitious post-oil economic plan, which has a major focus on women's rights in the Kingdom.
Just three months after he stepped into the role in 2017, the Crown Prince unveiled in a royal decree, women would be able to secure driving licenses from June 2018 and he has gone on to do much more.
Then, in March 2018, it was announced by the Ministry of Justice that women who are divorced in the country would be able to instantly retain custody of their children.
Under his plans, women are now also able to attend sports events in stadiums in three cities, female students in the Kingdom are now allowed to carry their phones while on campus and as of August 2019, women aged over 21 are now allowed to travel independently.
https://emirateswoman.com/saudi-arabia-appointed-second-female-ambassador/
--------
France deports Muslim family for shaving girl's head over her Christian lover
October 24, 2020
PARIS: Five family members of a Bosnian teenager who forcibly shaved her head over her relationship with a Christian Serb man have been expelled from France, Interior Minister Gerald Darmanin said Saturday.
Sources close to Darmanin told AFP those expelled were the girl's parents and three of her siblings.
The 17-year-old's parents were arrested on Friday, after a court in the eastern city of Besançon convicted them of violence against a minor.
They were sentenced to one year in jail, four of them suspended, as were her aunt and uncle, who the girl said had actually shaved her head.
But the judges also barred the parents from French territory for five years.
While the aunt and uncle have been granted refugee status, the parents have been refused it, and were already due to leave France voluntarily.
The girl had arrived from Bosnia-Herzegovina two years ago with her family and had a relationship for several months with a 20-year-old Serb boyfriend, who lived in the same building.
While the families got along, her parents took away her phone and prevented her from contacting the boy once the pair started talking about marriage.
They told her that "we are Muslims, you cannot marry a Christian," prosecutors said after the incident in August.
The court heard how the couple had run away for four days before returning to the apartment where the girl's family lived.
She told the court that the adults took her into her room where she was punched and kicked by her parents, aunt and uncle and had had her head shaved.
After the young man's parents called the police, officers brought the girl to hospital where she was found to have a broken rib and bruises "everywhere", prosecutors said.
The young girl will be cared for by French social services "and will receive a residency permit once she comes of age", junior minister for citizenship Marlene Schiappa said.
https://www.freemalaysiatoday.com/category/world/2020/10/24/france-deports-muslim-family-who-shaved-girls-head-over-her-christian-lover/
--------
Women's Role in MEK in Contrast To Mullahs' Misogynism Inspires Iran's Women To Lead Struggle for Freedom
Sedighe Shahrokhi
24th October 2020
Ever since Iran's 1979 revolution, the regime's medieval nature prevents the mullahs from resolving people's issues. The regime thus resorts to oppression to preserve its rule. Oppression of women is at the core of the regime's reactionary policies.
When Ruhollah Khomeini hijacked Iran's anti-monarchic revolution, the misogynous slogan of "headscarf or oppression" became one of the principal slogans of state organized thugs directed against women.
With this slogan, the mullahs' regime made wearing a "hijab" mandatory through oppression and intimidation. They deprived Iranian women from their basic right of freedom of choice of garment.
The slogan of "headscarf or oppression" demonstrates the clerical regime's misogynous nature, and the regime's systematic oppression of women is a testament to this misogynous nature.
On the other hand, the People's Mojahedin Organization of Iran (PMOI/MEK) as a Muslim organization and the regime's main opposition, since the revolution, has exposed the regime's reactionary nature and fought for women's rights.
The regime's discrimination has reached such a height that state analysts or the regime's officials are forced to acknowledge it.
"Many political and governmental groups colluded to oppress women. For example, even women's protests against the mandatory veil were oppressed," said Fatemeh Sadeghi, a researcher in the field of women.
She also referred to Iranian women's leading role during the recent major Iran protests. "For a society, which has witnessed various types of gender discrimination for 40 years, the [Iranian women's] leading role during protests demonstrates how women are challenging the gender contractual order," she said.
In fact, the regime's gender discrimination has made pressures of life, particularly economic pressure, more unbearable for Iranian women more than at any time.
"The majority of educated women are unemployed," wrote the state-run Eghtesad News on October 9, 2019. "The Deputy Minister of Economic Studies of the Tehran Chamber of Commerce announced in September 2019, despite the growth of 1,802 active women population in the summer of 2019 compared to the same season in 2018, the share of women in the total active population decreased by about 2% and reached 19.6%. Of course, this decrease in share is due to the increase of about 387,000 active male population during this period," Eghtesad News added.
Poverty and gender discrimination on one hand, and women's leading role in the MEK on the other hand, have increased and highlighted women's role in the nationwide movement against the regime. During the major Iran protests in November 2019, Iranian women not only had an active role in the uprising but, inspired by the leading role of women in the MEK, became leaders of people's uprising.
"The more we leave the sidelines and reach the core of the matter, which are the youth and women, the position [of protesters] becomes more radical. The reason is that much of the economic pressure is on women. Normally in protests, women are more prudent and even prevent their husbands from participating in protests. But this was not the case this time," wrote the official IRNA news agency on December 19, 2019.
The Iranian women's leading and special role against the Iranian regime, and their inspiration by the women of the MEK and their leading role in the opposition, has been proven during the recent uprisings. Thus, it is much more than state media or the regime's think-tanks point out. Many of the martyrs of the nationwide Iran protests are women. The regime's media and think-tanks have also acknowledged women's leading role during the recent uprising.
Iran's women seeking to bring down the regime
An internal report by the so-called "Rahman Institution," one of the regime's think-tanks, titled as "Dead Fire," reviewed the reasons of the major Iran protests in November 2019. "Footage of these protests published on social media confirm women's presence. Reports indicate that many of the deceased are women and girls. Although Iranian women had an active role in many popular protests before and after the revolution, but it seems that in the recent decade, especially in November, they experienced a new presence," read the report.
"When women's efforts to decrease gender discrimination fails, their reactions gradually become radical. The increasing economic pressure coupled with the increasing of sexual knowledge adds more pressure on women. Therefore, women and girls take to the streets to obtain their rights. These demands push women to move and rebel against the current order. Of course, reviewing slogans chanted during the protests in November indicate that demands are not limited to women and are general," the report added.
The state-run Fars news agency, an outlet affiliated with the Revolutionary Guards (IRGC), in an article on November 20, 2019, referred to women's role and their organization during the Iran protests in November 2019.
"Women's special leading role during recent riots are impressive. In various parts, particularly in Tehran's suburbs, women, aged between 30 and 35 years, played a leading role in the riots," read the Fars article.
"The observation by Sobh-e No reporter shows these women with similar clothes, each have a separate duty. One films the riots; another one stops vehicles; and the other, by encouraging people, convinces them to join the riots. The reason that women became leaders of the recent riots is questionable," the article added.
In another report on December 26, Fars wrote: "In Rafsanjan, leaders of the protests were two girls along with some men. They encouraged people to chant slogans and gather up. A video was published, showing that in a calm gathering in Kohkiluyeh and Buyer Ahmad province, a young girl screams and yells, trying to convince people to join protests."
What has accelerated women's movement in Iran, and has not only resulted in their massive and organized participation in the uprisings, but has given them a leading role?
The answer is simple. On the one hand, the regime's systematic oppression and discrimination and on the other hand, the presence and important role of the Iranian women in the ranks of the Resistance, particularly in the MEK, are the reason for women's increasing leading role in the Iranian people's struggle for freedom.
Women in the Iranian Resistance inspire the oppressed women inside Iran and have become their symbols. The Iranian women's leading role, particularly in the form of the MEK "Resistance Units," have become the mullahs' nightmare. A nightmare that will only end when the regime is toppled.
https://www.ncr-iran.org/en/news/iran-resistance/womens-role-in-mek-in-contrast-to-mullahs-misogynism-inspires-irans-women-to-lead-struggle-for-freedom/
--------
Breast cancer survivors urge women in the Middle East to seek timely screening
JUMANA AL-TAMIMI
October 24, 2020
DUBAI: Breast cancer is the most common form of the illness diagnosed in women worldwide. If caught early, the prognosis for survival is reassuringly high. But a lack of awareness, common myths and fear of bad news causes far too many women to delay getting checked.
In Arab countries, breast cancer is the most frequently diagnosed form of the disease. One recent study found 17.7 to 19 percent of all new cancer cases across the region in 2018 were breast cancer diagnoses.
That is why every October is Breast Cancer Awareness Month, when experts meet to discuss the latest treatments, charities raise awareness and private clinics offer special discounts on tests and screenings.
Cancer survivors are frequently asked to share their experiences, whether in small private groups or at large public gatherings, and the distinctive pink ribbon synonymous with the cause proliferates on blouses and lapels the world over.
While pandemic restrictions have forced many events online, this year has been no exception. And the message is getting across. Oncologists, surgeons, radiologists and other medical practitioners in the field are often fully booked this time of year.
"I think the essence is to try and get the whole world to just refocus," Dr. Millicent Alache Bello, a renowned breast surgeon at King's College Hospital in Dubai, told Arab News.
"It is important all through the year that breast education and breast awareness continues. However, a specific month for people to just refocus and take stock is vital."
Women are recommended to begin getting annual mammograms from the age of 40, when the likelihood of developing breast cancer increases.
"In this part of the world, screening is not something done nationally. Screening is done ad hoc, meaning people go when they feel like it," said Bello.
In the UK, general practitioners working for the taxpayer-funded National Health Service keep detailed medical records on every patient and remind them when they are due to receive a screening exam. This is not the case in Arab countries, where health services are insurance-based.
King's College Hospital in Dubai wants to imitate the British system and to begin reminding its patients when they are due a check-up. It has already started compiling patient data and will soon offer mammograms at a cost of AED 350 ($95).
Routine check-ups and on-time screenings pay off. "The point where a woman feels a lump in her breast is not the point when the breast cancer started," Bello warned. "Sometimes, it started before that period, anything up to 12, 14 or 24 months earlier."
That is why it is so important to get screened regularly before the trouble signs emerge.
Catherine, a British cancer survivor in her 40s, says she used to be disciplined with her screening appointments, often getting tested twice a year. But after having children, she began neglecting her checks. It was during this six-year window that she developed a lump.
"I was so busy being a mom, I just forgot about myself," Catherine told Arab News. By the time she was diagnosed, the tumor in one of her breasts already measured eight centimeters in diameter.
After a double mastectomy, the pathology report showed her other breast also contained three cancerous lumps. "I was very pragmatic about it. I didn't feel this massive emotional connection to my breasts. If they try to kill me, they have to go," she said.
Women should not make the same mistake and neglect their health, she says, even when other life pressures take over. Now Catherine devotes her time to charity work during Breast Cancer Awareness Month to raise funds and awareness.
Joining her is Ghozlan, an Arab woman and fellow survivor, who says she discovered a lump in her breast while exercising. She traveled to Europe for treatment and opted for reconstruction.
"I am a woman who cares about her femininity and I can't live without it," Ghozlan told Arab News, describing her breast implant, which must be replaced every 10 years. "It was not what I expected. It wasn't a great result but it is better than nothing. I have been through hell, and now I accept what I have. I am living with it, but I have some side effects because of the implant."
Ghozlan is now anxiously awaiting her next check-up with her doctor in Europe, which had to be pushed back due to coronavirus travel restrictions.
Another woman fundraising for Breast Cancer Awareness Month is Gina, a 58-year-old who, like Catherine, underwent a double mastectomy. Unlike Ghozlan, she was unable to undergo reconstructive surgery.
"Due to my autoimmune disease, the chances of the prosthesis being rejected by my body was very high," Gina said. "It was not my voluntary choice. It was a shock to me. I must admit, even today, after five years, I have not 100 percent accepted this situation."
Gina has since resigned from her job to commit herself entirely to charity work.
With the evolution of technology and other scientific advancements, doctors are getting even better at detecting potential problems — faster and more accurately.
The triple assessment — clinical examination, imaging and biopsy — has changed little over recent years, but equipment offering more sensitive scans has developed in leaps and bounds while surgery techniques have become more refined.
"It is the oncology, the medicine we give for hemotherapy and the endocrine treatments — they have moved on in quantum leaps, which is fantastic news," said Bello.
Scientists have come to understand that treatment plans are not always the same for all breast cancer patients and that the most effective surgeries and therapies are unique to the individual.
"No two women have the same breast cancer," said Bello. "Every woman's cancer is different because the genetic composition is different. This is why people are doing better now, because the treatment is tailored individually."
But this can also mean reconstruction surgery is not an option for everyone, and is dependent on body type, the extent of the cancer, the patient's medical history and personal preference.
"Reconstruction is designed to improve your well-being; it is not supposed to interfere with cancer treatment," Bello said.
High-income countries in Europe and North America appear to have much higher rates of breast cancer largely because screening and early detection are so prevalent. With a more limited testing capacity, the Arab world appears to have a lower rate of cases — but also a high mortality rate.
A retrospective epidemiological study conducted in 2012 found that breast cancer was the leading cause of death among Saudi women.
However, a paper published in 2018 by the Journal of Epidemiology and Global Health said: "Although the incidence of breast cancer in Arab countries is rising, it is still less than the global average and only one-fifth of that in Western Europe."
But now is not a time for complacency. Breast Cancer Awareness Month is a reminder to all women to get themselves checked and for governments to invest in clinics and vital research.
https://www.arabnews.com/node/1753561/middle-east
--------
Virtual mentorship for 33 Emirati women to excel in career
Saman Haziq
October 24, 2020
The 'Young Emirati Women for Success' (YES) mentorship programme is organised in collaboration with the Nordic Embassies in the UAE.
An initiative to provide year-long mentorship for 33 Emirati women was launched by the Dubai Women Establishment recently.
The 'Young Emirati Women for Success' (YES) mentorship programme is organised in collaboration with the Nordic Embassies in the UAE where Nordic professionals will mentor the Emirati women, mostly virtually.
"The aim of the mentorship programme is to elevate and cultivate the skills of professional Emirati women, equipping them with the tools and knowledge needed to excel in leadership roles," said Shamsa Saleh, CEO of Dubai Women Establishment, during the launch of the initiative.
She highlighted the strong relations between the UAE and the Nordic countries, praising their global leadership in the field of women's empowerment across various fields.
Marianne Nissilä, Ambassador of the Republic of Finland to the UAE, praised the strong relations that connect the UAE with the Nordic countries, expressing her happiness with the partnership with DWE in the 'YES!' programme.
"The Nordic countries and the UAE share a long-term commitment to empowering women and promoting gender equality. It is now even more important that we take measures to advance gender equality and women in the workspace for more resilient, inclusive and sustainable economies and societies. Mentoring programmes are one way of doing this, as they can offer impressive results in these efforts," she said.
Each Emirati mentee was paired with a Nordic mentor, the latter of whom will facilitate the personal and professional development of the former during routine mentoring sessions. The mentees will graduate from the year-long November of 2021 at the Expo headquarters in Dubai.
https://www.khaleejtimes.com/news/virtual-mentorship-for-33-emirati-women-to-excel-in-career
--------
URL: https://www.newageislam.com/islam-women-feminism/famed-afghan-female-warlord-bibi/d/123260
New Age Islam, Islam Online, Islamic Website, African Muslim News, Arab World News, South Asia News, Indian Muslim News, World Muslim News, Women in Islam, Islamic Feminism, Arab Women, Women In Arab, Islamophobia in America, Muslim Women in West, Islam Women and Feminism