New Age Islam News Bureau
09 October 2021
• US Olympic Fencer, Ibtihaj Muhammad, Accuses Teacher of Forcibly Removing Student's Hijab in New Jersey
• Delhi High Court Issues Notice to Centre on Plea against Order on Talaq al-Sunnah
• Indian Woman Files Case against Spouse for Giving Triple Talaq over Phone
• Women's Golf Playing an Important Role in National Integration of Pakistan
• Hindu Women Come Out To Join Protests against Namaz at Public Places in Gurugram
• European Countries Repatriate, Detain Female Daesh Members
• Plight Of Afghan Women Haunts Pakistani Nun
Compiled by New Age Islam News Bureau
URL: https://www.newageislam.com/islam-women-feminism/fadwa-hammoud-michigan-arab-/d/125545
--------
Fadwa Hammoud, Michigan Attorney Is First Muslim Arab American Woman to Stand before U. S. Supreme Court
October 8, 2021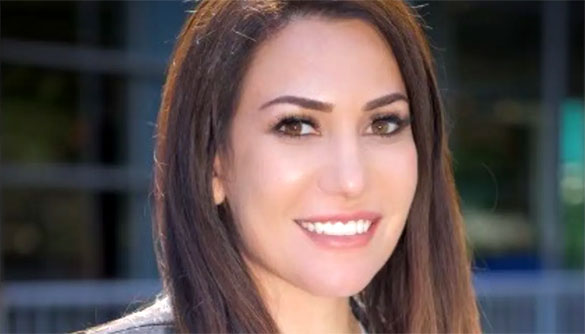 Michigan's solicitor general, Fadwa Hammoud
-----
By Joseph Hammond
Fadwa Hammoud made history this week when she became the first Muslim Arab American woman to argue a case before the U.S. Supreme Court.
"When we talk about the Supreme Court bar, it's a mirror looking down at the entire legal profession," Hammoud said in an interview last week, "We collectively lose when our Supreme Court bar is not as diverse as our nation."
Hammoud's appearance was to argue in the case of Brown v. Davenport. The case concerns the 2007 conviction of Ervine Davenport for murder in Michigan. Davenport was shackled for the duration of his trial but, no reason for him being shackled was listed in the court records. His lawyers say his shackling prejudiced the jury against him.
Hammoud's career has been one of historic firsts. She became the first Arab American Muslim solicitor general in 2019, when Attorney General Dana Nessel appointed Michigan's 12th solicitor general. She moved to Michigan from Lebanon at age 11, eventually graduating from Fordson High School in Dearborn. The school is also noteworthy for being a public school with a majority-Muslim population. A 2011 NPR report noted that 90% of the school's population was Muslim. Robert Saleh, who became the NFL's first Muslim head coach earlier this year, is also an alumnus of the school. Hammoud graduated from the University of Michigan, Dearborn, and later graduated from the Wayne State University Law School. After holding a United States District Court clerkship, she held a number of roles as a prosecuting attorney in Michigan's Wayne County.
Hammoud's appearance at the Supreme Court is one of several important firsts for Muslims in the American legal system in recent months. In June, Zahid Quraishi became the first presidentially appointed Muslim American judge to a federal court. The New Jersey-born former military veteran also holds the distinction of being the first person of Asian American heritage to sit on the federal bench in New Jersey.
Harvard Law Review elected its first Muslim president, Hassaan Shahawy. In the position, the Los Angeles-born Egyptian American follows the prestigious footsteps of multiple Supreme Court judges and one former president of the United States, Barack Obama.
Source: Religion News Service
https://religionnews.com/2021/10/08/michigan-attorney-is-first-muslim-arab-american-woman-to-stand-before-supreme-court/
--------
US Olympic Fencer, Ibtihaj Muhammad, Accuses Teacher of Forcibly Removing Student's Hijab in New Jersey
Michael Hernandez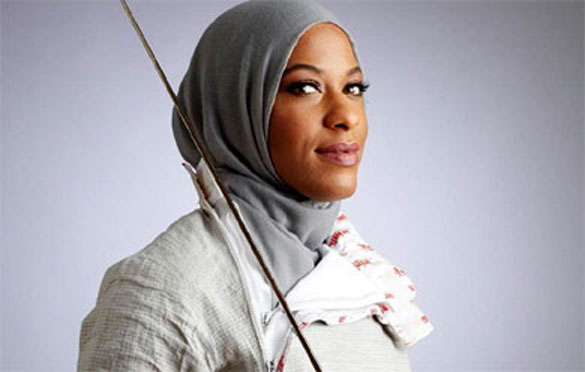 Ibtihaj Muhammad, the first Muslim-American woman to wear a veil while competing for the US Olympic team
-----
08.10.2021
WASHINGTON
Ibtihaj Muhammad, the first Muslim-American woman to wear a veil while competing for the US Olympic team, has alleged a teacher "forcibly" removed a student's hijab in the city of Maplewood in New Jersey.
Muhammad said the incident occurred on Wednesday at Seth Boyden Elementary when teacher Tamar Herman allegedly attempted to remove the head covering, and was met with resistance from the female student who sought "to hold onto her hijab, but the teacher pulled the hijab off, exposing her hair to the class."
"Herman told the student that her hair was beautiful and she did not have to wear hijab to school anymore. Imagine being a child and stripped of your clothing in front of your classmates," she said. "Imagine the humiliation and trauma this experience has caused her. This is abuse. Schools should be a haven for all of our kids to feel safe, welcome and protected— no matter their faith."
Muhammad's post has accrued over 36,000 likes on Instagram.
The South Orange-Maplewood School District said it is investigating the allegation, adding it "takes matters of discrimination extremely seriously." But it maintained that "Social Media is not a reliable forum for due process and the staff member(s) involved are entitled to due process before any action is taken."
"We must abide by our legal obligations to keep personnel and student matters confidential," it said. "Any decision or outcome related to this will be reserved for after the completion of the investigation."
Still, the New Jersey branch of the Council on American-Islamic Relations (CAIR) Muslim advocacy group said the educator should be fired immediately without an investigation being completed.
"Racist teachers like this cannot be trusted around our children," Executive Director Selaedin Maksut said on Twitter.
Source: Anadolu Agency
https://www.aa.com.tr/en/americas/us-olympic-fencer-accuses-teacher-of-removing-students-hijab/2386878
--------
Delhi High Court Issues Notice to Centre on Plea against Order on Talaq al-Sunnah
October 9, 2021
THE DELHI High Court on Friday issued a notice to the Centre on a review petition against an order passed by the court last month by which it dismissed a plea seeking to declare Talaq al-Sunnah, a type of divorce in Islamic jurisprudence, as unconstitutional and discriminatory.
On September 23, while hearing the petition of a Muslim woman who fears her husband will divorce her by Talaq al-Sunnah, the division bench of Justice Vipin Sanghi and Justice Jasmeet Singh said the plea was misconceived in the light of the enactment of the Muslim Women (Protection of Rights on Marriage) Act, 2019, which declares pronouncement of Talaq as illegal.
The petition seeks a clarification whether Talaq al-Sunnah falls within the definition of talaq under Section 2(c) of the 2019 law which states that talaq "means Talaq-e-biddat or any other similar form of talaq having the effect of instantaneous and irrevocable divorce pronounced by a Muslim husband". Talaq al-sunnah, also involving pronouncement of divorce by the husband, has a waiting period.
The petition challenges the "assumed absolute discretion" of the Muslim husband to give divorce to his wife "at any time without any reason and without advance notice to wife".
The court listed the matter for hearing on January 12.
Source: Indian Express
https://indianexpress.com/article/cities/delhi/delhi-high-court-issues-notice-to-centre-on-plea-against-order-on-talaq-7561328/
--------
Indian Woman Files Case against Spouse for Giving Triple Talaq over Phone
Oct 9, 2021
BENGALURU: A 28-year-old homemaker from Sultanpalya near Hebbal has filed a complaint against her husband for pronouncing triple Talaq over the phone.
The accused is Ali, a businessman. Police have booked him under Muslim Women (Protection of Rights on Marriage) Act, 2019. "We have issued notices to the parties in the case, requesting them to appear before police," an investigation officer said, adding: "The complaint was first registered with RT Nagar police. Due to jurisdictional issues, the case has been transferred to us."
In her complaint, the woman said: "We were married in November 2020 and my husband sent me back to my parents' house for not bringing dowry. A few days ago, he called my mobile and repeated Talaq three times."
Source: Times of India
https://timesofindia.indiatimes.com/city/bengaluru/woman-files-case-against-spouse-for-giving-triple-talaq-over-phone/articleshow/86885677.cms
--------
Women's Golf Playing an Important Role in National Integration of Pakistan
OCTOBER 9, 2021
LAHORE: The inaugural Balochistan Women's Golf Championship was held from September 25-26 in Quetta with 50 golfers from all over Pakistan taking part in it. It was truly a unique event with Dr Asma Afzal Shami, Chairperson of Pakistan Golf Federation (PGF) Women's Wing, putting in her great efforts for promotion of women's golf in the country. It is pertinent to mention that women's golf in Pakistan had remained low key affair till 2016 when General Zaheer-Ul-Islam, the then PGF President, acceded to Dr Shami's passionate request to sanction the holding of an exclusive annual Women's Golf Championship at the national level to be rotated between Lahore, Karachi and Islamabad. This proved to be a game changer from which there has been no looking back. Since then, Dr Shami, along with the other two women members of the PGF's executive committee — Ms Zeenat Ayesha and Mrs Humaira Khalid — have been able to prevail upon Punjab, Sindh, Khyber Pakhtinkhaw and Federal Golf Associations to sanction similar Women's Golf Championships in their respective domains.
However, as Balochistan had so far remained outside this circuit, it had for long been Dr Shami's ardent desire to take women's golf to Quetta. It took three years for this dream to be realized. When she first floated this idea she expected just a few women to join her. But to her pleasant surprise, the numbers just kept increasing by the day. In keeping with the best norms of successful leadership, Dr Shami formed a core team of very competent and equally zealous women golfers for carrying out the meticulous planning and flawless execution required for the success of this rather unique event. Working under the overall supervision of Mamoona Azam, Rahina Ehtisham (Lahore), Zeenat Ayesha (Islamabad) and Fawzia Naqvi (Karachi), this core team successfully overcame the multifarious challenges involved in synchronising the movement of 50 women golfers flying in from Islamabad, Lahore Karachi, as well as in arranging their reception, transportation, board and lodging, and final departure from Quetta. Mrs Mahzareen Gul, a resident of Quetta, was designated as the 'Official Hostess' and went out of her way to facilitate the working of this team. Pakistan WAPDA Chairman made a generous donation of Rs.500,000/- towards subsiding the accommodation costs of the participants.
While Mrs Mahzareen Gul, as the tournament director, assisted by Seharbano Hamdani and Munazza Shaheen, conducted the actual golf championship strictly according to R&A Rules, Bela Azam, Shabana Waheed, Iffat Zahra and Shehnaz Moeen ensured the flawless conduct of the prize distribution ceremony. The championship itself was very hotly contested. As there was a tie between Rimsha Ejaz, handicap 2, (151) and Hamna Amjad, handicap 1.7, (151), Rimsha Ejaz was declared as the overall winner of the vhampionship on back count. The real high point of this trip was the induction of 14 young sportswomen of Balochistan into the fraternity of women's golf. Their interest in golf indicated their zeal and motivated the visiting women golfers to facilitate them even further.
Source: Daily Times
https://dailytimes.com.pk/827156/womens-golf-playing-an-important-role-in-national-integration/
--------
Hindu women come out to join protests against Namaz at public places in Gurugram
9 October, 2021
In the wake of the ongoing protests against the offering of Namaz at public places in the Gurugram, the Hindu women of the Gurugram sector 47 came out today to join the protest. The women sang Hindu devotional songs 'Kirtans' and 'Aratis' as a sign of protest against the public Namaz. This was also accompanied by Namaz offering by the Muslims who had gathered there.
Gurugram News reported a video from the scene showing a large crowd at sector 47. According to reports, the Hindu women of the area joined the protests against the public offering of Namaz taking place in the area. In the video, it could be seen both men and women were present at the scene chanting slogans. Reportedly, the Hindu women sang devotional songs such as 'Bhajans' and 'Kirtans' to protest against the public offering of Namaz by the Muslims. Also, the report said that the Namaz offering was being carried out under full police security.
Last month, there was a huge protest against the public offering of Namaz going on in the area. The local residents protested against the Muslim men crowding around their place and accused them of breaking law and order. Later, an RTI query was filed after Gurugram Police had claimed that Muslims were allowed to offer Namaz at public places as per a mutual discussion between Hindus and Muslims.
Advocate Abhishek Sharma of Gurugram district Court then filed an RTI and sought details of such namaz spots and the representatives of communities who were part of the 'mutual agreements'. Sharma has also sought information on action taken against the encroachers in a letter to the Public Information Officer. However, Gurugram Police has deleted the tweet where it had claimed that Namaz at public places were allowed after mutual agreements of both Hindus and Muslims.
Source: Opindia
https://www.opindia.com/2021/10/hindu-women-join-protests-against-namaz-at-public-places-in-gurugram/
--------
European countries repatriate, detain female Daesh members
October 08, 2021
LONDON: Germany and Denmark have flown female suspected Daesh members and their children from Syria.
Many of the adult women were arrested on arrival, but the countries pledged to do all they can for the "blameless" children.
Germany repatriated 23 children and their eight mothers from Roj camp on Wednesday evening, while Denmark brought back 14 children and three women.
Germany's Foreign Minister Heiko Maas said the children bore no responsibility for their situation and "it is right that we do everything to make possible for them a life in safety and a good environment."
But, he added, "the mothers will have to answer to criminal justice for their actions."
He thanked Kurdish authorities in Syria, Denmark, and "our American partners, who provided logistical support."
US allies the Syrian Democratic Forces, a majority Kurdish group with a significant Arab contingent, have been overseeing the detention of thousands of former Daesh members and their families.
But they have been vocal in their desire for states to bring home their citizens in the camps, saying they cannot hold them in perpetuity.
Conditions in the camps are extremely dangerous and unsanitary, but the SDF — which is still involved directly in the Syrian war — does not have the resources to improve the lives of its detainees.
Germany and Denmark will charge some of the women returning from Syria with terrorism-related crimes, including membership of a foreign terrorist organization and promoting terrorism.
Countries such as the UK have taken a different approach, choosing not to repatriate any adults and instead stripping them of their citizenship.
A British woman currently in Syria, Nicole Jack, pleaded with authorities earlier this week to allow her to return home.
Her mother also begged the government to allow Jack and her three daughters home, saying her grandchildren did not deserve to be condemned to a life in refugee camps and that her daughter should "face the consequences" of her actions in British courts.
Another high-profile British case has been that of 22-year-old Shamima Begum, who made headlines for contesting the removal of her citizenship.
Last month, she begged the British public to forgive her for joining Daesh when she was 15, saying in an interview there was "no evidence" that she had a role in preparing acts of terrorism.
Health Secretary Sajid Javid was home secretary when the decision was made to remove her citizenship.
He defended the move, saying it was "morally right" because it was done in order to "protect the British people."
It is estimated that there are at least 16 British women and 35-60 British children detained in Syrian camps.
Source: Arab News
https://www.arabnews.com/node/1943866/world
--------
Plight of Afghan women haunts Pakistani nun
Kamran Chaudhry
October 09, 2021
A Pakistan-born Catholic nun who worked in Afghanistan until the Taliban takeover says the plight and lack of freedom of women in the country still trouble her.
Women are considered inconsequential in Afghanistan, said Sister Shahnaz Bhatti from the Sisters of Charity of St. Jeanne-Antide Thouret, who fled the troubled Central Asian country following the Taliban victory on Aug. 15.
Young women are forced against their will to marry men selected by the patriarch of the family, said Sister Bhatti, who served in Afghanistan as part of the pontifical mission set up by Pope John Paul II in May 2002.
"The most trying thing was not being able to move about freely because, as women, we always had to be accompanied by a man," Sister Bhatti said in an interview with papal charity Aid to the Church in Need (ACN) on Sept. 22.
The congregation, founded by St. Jeanne-Antide Thouret in 1797 in France, ran a school for children with intellectual disabilities and Down's syndrome in the capital Kabul. Sister Bhatti served in the school along with Sister Teresia of the Sisters of Maria Bambina (Sisters of Holy Child Mary) and Sister Irene of the Missionary Sisters of Consolata.
"It was my job to complete all the necessary paperwork at the banks or other government agencies, but I always had to be accompanied by a local man," she added.
Women religious had to dress like the local women and were constantly being monitored, Sister Bhatti said, recalling her experience in Afghanistan, where US-led forces were engaged in a 20-year war and humanitarian assistance.
Afghans consider all foreigners to be Christians, she added.
With fewer than 1,000 Christians in Afghanistan, the mission provided humanitarian assistance in Kabul and in southern parts of the country with the help of Missionaries of Charity sisters and an inter-congregational organization.
The US-backed alliance pulled out of Afghanistan after US President Joe Biden decided to end Washington's longest war.
Italy was a key member of the military operation which aimed at training Afghans after the departure of foreign soldiers. The pontifical mission was housed in the Italian embassy.
Since the takeover, the Taliban have been imposing a massive rollback of women's rights in Afghanistan including segregating universities by gender and a new dress code for girls, media reports say.
Abdul Baqi Haqqani, Taliban's higher education minister, has said that women will not be allowed to study alongside men. Except for those in the public healthcare services, the Taliban have asked all women to stay away from work until security improves in the nation.
Sister Bhatti said families of children whom they taught "keep calling us to ask for help," adding that they are currently exposed to a "grave danger."
Observing religious rituals was challenging in Afghanistan and Sunday was just like another weekday, she recalled.
Her colleagues left one by one and she lived alone for more than a year. Following the Taliban victory, the nun helped members of other congregations and 14 children with disabilities to board an Italy-bound flight.
On her day of departure from Kabul, the nun said she found "mayhem" all around at Hamid Karzai International Airport and it took two hours for them to reach the airport amid shooting.
Sister Bhatti thanked Italy's Foreign Ministry, the International Red Cross and Barnabite priest Father Giovanni Scalese from the papal mission in Afghanistan for helping her escape the troubled nation.
Source: UCA News
https://www.ucanews.com/news/plight-of-afghan-women-haunts-pakistani-nun/94470#
--------
URL: https://www.newageislam.com/islam-women-feminism/fadwa-hammoud-michigan-arab-/d/125545
New Age Islam, Islam Online, Islamic Website, African Muslim News, Arab World News, South Asia News, Indian Muslim News, World Muslim News, Women in Islam, Islamic Feminism, Arab Women, Women In Arab, Islamophobia in America, Muslim Women in West, Islam Women and Feminis