New Age Islam News Bureau
02 January 2021
• Morocco's Ilham Bel Makhfi Wins Miss Arab World 2020
• Following Sahoo Bint Abdullah Al-Mahboub's footsteps Four Saudi Women Changed Their Driver's Luck by Marrying Them
• Tamil Nadu Muslim Women Aid society of Tiruchy Appeals To Start Medical, Arts Colleges For Muslim Girls
• No Bar On Granting Anticipatory Bail for Offence by Muslim Women under Triple Talaq Law: SC
• Empowerment During Covid-19: Members Of Iranian Women's Group Make And Sell Masks
Compiled by New Age Islam News Bureau
URL: https://www.newageislam.com/islam-women-feminism/facebook-launches-partnership-with-egypt/d/123959
--------
Facebook Launches Partnership With Egypt To Protect Women From Cyber Harassment
Alaa Omran
Jan 2, 2021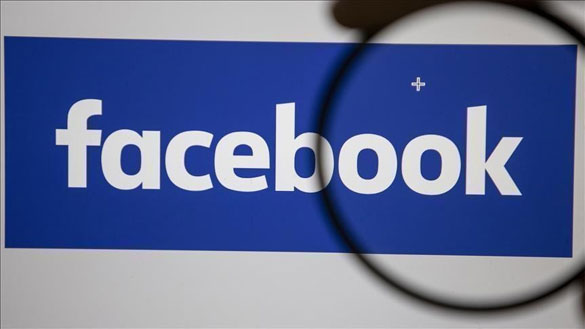 CAIRO — Facebook announced on Dec. 17 a partnership and cooperation initiative with Egypt's National Council for Women (NCW) to spread awareness about the protection of women on the giant social media platform.
The initiative, titled "Women's Safety Resources," includes the use of online material such as GIFs, cartoons and videos in a bid to raise awareness among female users on how to manage and adjust their Facebook privacy settings and block anyone who engages in violence against women.
Maya Morsy, NCW head, said in a Dec. 17 statement on her Facebook page that the council focuses on fighting violence against women in all forms, adding that social media has become a means to practice "violence in its various forms such as harassment, bullying and blackmail, among others. The partnership [with Facebook] aims to spread awareness among women on how to protect themselves from all the forms of violence practiced against them through Facebook."
Morsy stressed the importance of such partnerships to ensure women's protection while using Facebook and to raise awareness about the importance of privacy settings.
"It is also very important for women to exercise their rights to control the situation when they are faced with any form of online violence. We are working on spreading awareness on how to activate these [settings]," she added.
"The safety of all users is important to us at Facebook, and we are committed to providing tools and resources designed to keep all users safe and to working continuously to develop them to support enjoyable experiences in a constantly changing digital environment. The partnership with the NCW in Egypt would allow us to reach and interact with a wide range of women," Joelle Awad, policy programs manager at Facebook in the Middle East and North Africa, said in a press statement.
"The Facebook administration is committed to supporting and enabling individuals around the world to communicate via our platform in a safe way, where the control power is in the users' hands. They get to decide what to share and with whom to share. This is the vision through which we will continue our work," Awad added.
The NCW had previously launched several awareness campaigns on social media to combat cyber violence and cybercrimes against women, in cooperation with various local and international partners, in a bid to spread awareness on ways to prevent negative practices on the internet, increase the use of safety and protection programs, in addition to learning about the available support services.
Naswhi al-Deeb, an Egyptian member of parliament, told Al-Monitor, "The partnership signed between NCW and Facebook is a good [step], especially in light of the many and unacceptable harassment and inhumane violations that women face on Facebook. The platform has become a virtual world on its own and must have a set of laws and regulations governing it."
Deeb believes that some Facebook users have no restrictions and ethics online, and the existence of such a partnership between the two sides would create moral restraint for some of the users, especially since the protection of women should be a priority on social networking sites, notably on Facebook, where women constantly face harassment and violence. She added that this partnership is seen as a new outlook for using all available tools to protect women from all kinds of violence and harassment across the virtual world, especially Facebook.
Ahmed Arafa, director of the digital marketing firm Di Median Company, told Al-Monitor, "The partnership between the NCW and Facebook is a good idea as it will be in the interest of women's rights, stopping some people from violating their privacy and freedoms on their Facebook pages through a friend request or personal message to women."
He believes the partnership allows the reporting of a person or page attempting to harass Facebook female users and violate their privacy, which would prompt legal measures by the Facebook administration. Arafa explained that this benefits society and protects women from any violation of their privacy, since what has been taking place online amounts to moral collapse, while this partnership would protect women against any encroachment on their personal freedoms and would provide them with security while using Facebook.
https://www.al-monitor.com/pulse/originals/2020/12/egypt-facebook-initiative-protect-women-harassment.html
--------
Morocco's Ilham Bel Makhfi Wins Miss Arab World 2020
By Safaa Kasraoui -
Jan 1, 2021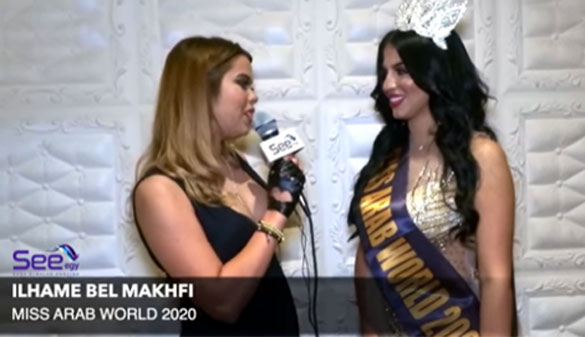 Morocco's Ilham Bel Makhfi Wins Miss Arab World 2020
-----
Rabat – Moroccan woman Ilham Bel Makhfi earned the title of Miss Arab 2020 earlier this week in Egypt.
Ilham Ben Makhfi outperformed 11 other participants who represented 12 different countries in the beauty pageant, which ended on Monday.
Several participants from Libya, Tunisia, Egypt, the Comoros, Djibouti, Sudan, Jordan, Algeria, and Iraq, among other countries, participated in the event.
Morocco's 28-year-old Miss Arab World holds a master's degree in economics.
Egyptian news outlet Masr Alyoum reported that Yemeni woman Sarah Al Agha clinched the title of Miss Arab for Tourism for her efforts to support Arab tourism through youth conferences.
Professor of plastic surgery Omar Rashad chaired the jury.
Ilham Ben Makhfi's win is not the first time a Moroccan woman has claimed this type of title.
On June 29, 2019, Moroccan model Sofia Saidi took home the "Miss Arab Top Model" crown.
From Rabat, the model expressed satisfaction, saying that a good academic background is a must.
"We are in an ever-changing world, today everything is going so fast, so for me, modeling is a passion but I know for sure that I will not do this all my life. So I wanted to succeed in my academic career in conjunction with modeling," she said.
Saidi also expressed pride at being Moroccan.
"I'm lucky to be Moroccan because this nationality is one of the few that adapts to different environments and backgrounds easily, both linguistically and socially," she told MWN last year.
She also called on Moroccan women and girls to pursue their dreams and to "never to listen to anyone who discourages" them.
"If you want something you can get it if you work hard enough," she said.
https://www.moroccoworldnews.com/2021/01/330321/moroccos-ilham-bel-makhfi-wins-miss-arab-world-2020/
--------
Following Sahoo Bint Abdullah Al-Mahboub's footsteps Four Saudi Women Changed Their Driver's Luck By Marrying Them
02ND JAN, 2021
After a Saudi billionaire woman married a Pakistani driver, it seems like drivers have great luck in the kingdom.
The world got shocked after the news of Saudi billionaire businesswoman Sahoo Bint Abdullah Al-Mahboub, whose wealth is valued at 8 billion$ got married to her Pakistani driver spread like a fire on social media.
Following Sahoo's footsteps, 4 other Saudi women married their driver and changed his luck in just a few minutes.
According to the details, four Saudi women teaching in a remote village school married their driver so they can live closer to work and avoid the daily hectic commute.
As per the sources, the Saudi women fell in love with the man's 'good morals' and decided to marry him and live together in the village where they teach.
They tied knot in a short ceremony, and have agreed to pay the driver a share of their monthly salaries.
https://www.bolnews.com/popular/2021/01/4-saudi-women-changed-their-drivers-luck-by-marrying-him/
--------
Tamil Nadu Muslim Women Aid society of Tiruchy Appeals To Start Medical, Arts Colleges For Muslim Girls
02nd January 2021
TIRUCHY: Executive member of Tamil Nadu Muslim Women Aid society of Tiruchy and neurologist MA Aleem appealed to Chief Minister Edappadi K Palaniswami to start an Arts and Science College for Muslim women and a medical college under Wakf Board. Aleem presented a petition to Palaniswami during his visit to the Natharsha Mosque on Thursday.
The Federation of Oorali Gounder Associations also submitted a petition to Palaniswami seeking DNC (denotified caste) category tag for members of the community all over the State. At present, Oorali Gounders are classified as DNC in in Tiruchy, Perambalur, Ariyalur, Karur and Pudukkottai districts and as Backward Caste elsewhere.
Earlier, farmers, along with the Tamil Manila Congress's farmers wing led by their State treasurer Vayalur N Rajendran, submitted a petition to Palaniswami, seeking measures to ensure irrigation.
They demanded a check-dam across the Cauvery with 2 TMC capacity near Kulithalai Kumarapalayam. Rajendran said many farmers are dependent on the major canals of the Cauvery, Uyyakondam, Ayyan and Kattalai. However, these are not perennial canals and groundwater decreases when water is scarce.
https://www.newindianexpress.com/states/tamil-nadu/2021/jan/02/medical-arts-colleges-for-muslim-girls-sought-2244332.html
--------
No bar on granting anticipatory bail for offence by Muslim women under triple talaq law: SC
02nd January 2021
NEW DELHI: The Supreme Court has said there is no bar on granting anticipatory bail for an offence committed under the Muslim Women (Protection of Rights on Marriage) Act 2019, which makes the practice of instant divorce through "triple talaq" among Muslims a punishable offence, provided the court hears the complainant woman before granting pre-arrest bail.
The apex court noted that under the provisions of the Act, a Muslim husband who pronounces "triple talaq" upon his wife can be sentenced to a jail term that may extend to three years.
The top court said the prohibition in the 2019 law is evidently one "which operates in relation to a Muslim husband alone".
A bench headed by Justice D Y Chandrachud referred to the relevant sections of the Act and also the provision of the Code of Criminal Procedure (CrPC), which relates to directions for the grant of bail to a person apprehending arrest.
"For the above reasons, we have come to the conclusion that on a true and harmonious construction of section 438 of the CrPC and section 7(c) of the Act, there is no bar on granting anticipatory bail for an offence committed under the Act, provided that the competent court must hear the married Muslim woman, who has made the complaint, before granting the anticipatory bail," the bench, also comprising justices Indu Malhotra and Indira Banerjee, said.
"It would be at the discretion of the court to grant ad-interim relief to the accused during the pendency of the anticipatory bail application, having issued notice to the married Muslim woman," it added.
The bench was hearing an appeal filed against a Kerala High Court order, which had declined to grant anticipatory bail to the woman.
Referring to the provisions of the 2019 Act, the apex court said, "The prohibition in sections 3 and 4 is evidently one which operates in relation to a Muslim husband alone.
"This is supported by the Statement of Objects and Reasons accompanying the Muslim Women (Protection of Rights on Marriage) Bill 2019, when it was introduced in Parliament."
The top court passed the verdict while granting anticipatory bail to a woman accused of harassing her daughter-in-law, who got an FIR lodged in August last year, alleging that her spouse had pronounced "triple talaq" on her at their house.
The court noted that under section 3 of the Act, the pronouncement of "triple talaq" by a Muslim husband upon his wife has been rendered void and illegal while section 4 deals with the punishment for the same.
"Thus, on a preliminary analysis, it is clear that the appellant, as the mother-in-law of the second respondent (complainant woman), cannot be accused of the offence of pronouncement of triple talaq under the Act as the offence can only be committed by a Muslim man," the bench said.
https://www.newindianexpress.com/nation/2021/jan/02/no-bar-on-granting-anticipatory-bail-for-offence-by-muslim-women-under-triple-talaq-law-sc-2244426.html
--------
Empowerment during Covid-19: Members of Iranian women's group make and sell masks
Dec 31, 2020
As the coronavirus pandemic ravages Iran, home to the Mideast's worst outbreak, a women's group hopes to empower its members by helping them make and sell face masks.
The organization called "Bavar," or "Belief" in Farsi, formed in 2016, allowing women looking for work to make handicrafts with donated sewing machines. It gave widows and others a way to earn cash in a country whose anemic economy only worsened since President Donald Trump withdrew the U.S. from Iran's nuclear deal with world powers.
Sara Chartabian, the founder of Bavar, said the group tries to teach women to be self-sufficient as unemployment and inflation remain high.
"We teach them fishing instead of giving them a fish," Chartabian said.
The pandemic, however, has seen the demand for handicrafts drop. Iran has 1.2 million reported cases of the virus, with about 1 million recoveries and over 55,000 deaths — with officials acknowledging the true toll could be far higher. Meanwhile, the women in need still had to earn money to support their families.
So, the women at Bavar decided to begin making cloth face masks. Today, some 50 women sit with their sewing machines, creating two-ply cloth masks. A third layer can be added with material sold in local pharmacies.
Elham Karami, a 41-year-old woman who works five days a week to support her two sons, said she makes around 10,000 rials (3 U.S. cents) for each face mask she sews. Clients for Bavar include companies and others.
"I am grateful for this (organization) because they turned me to a skilled tailor for free," Karami said. "They allowed me to use a sewing machine to learn how to sew. They also provided materials for me to work on."
Depending on the order size, Bavar then sells the masks for as much as 250,00 rials (96 U.S. cents) apiece.
In Iran, where the capital of Tehran has been hard-hit by the virus, authorities have mandated mask wearing. While fines for not wearing a mask remain low and poorly enforced, the public increasingly has been seen wearing them.
Chartabian said Bavar's sales help support buying materials, sewing machines and other matters. The organization also provides women with psychological counseling and other support. She declined to offer specific sales figures for the masks so far, but said every bit helped support women in need.
"Maybe the money is not so much, but we provide them services such as psychological counseling and also equipment," she said.
https://www.hindustantimes.com/it-s-viral/empowerment-during-covid-19-members-of-iranian-women-s-group-make-and-sell-masks/story-aK4WJ3BglKTbYFQs7nBraI.html
--------
URL: https://www.newageislam.com/islam-women-feminism/facebook-launches-partnership-with-egypt/d/123959
New Age Islam, Islam Online, Islamic Website, African Muslim News, Arab World News, South Asia News, Indian Muslim News, World Muslim News, Women in Islam, Islamic Feminism, Arab Women, Women In Arab, Islamophobia in America, Muslim Women in West, Islam Women and Feminism