New Age Islam News Bureau
4 Jan 2015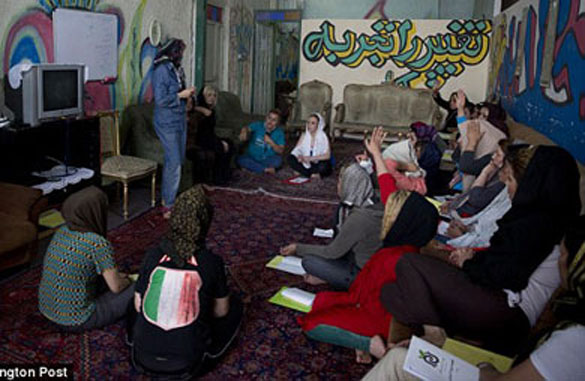 A group of women attend an addiction recovery program at the rehabilitation centre in Tehran
-----------
• Australian Jihadi Brides Schooled In Terror
• Militants Kill Female Doctor with Her Husband in Afghanistan
• Malaysian Police Arrests Woman Who Married ISIL Fighter over Skype
• Erdogan's Daughter May Step into Limelight
• Three Yezidi Girls Escape ISIS Captivity in Shingal
• Iran's becoming a Footloose Nation as Dance Lessons Spread
• School Teacher Saves Child from Forced Marriage in Bangladesh
• Dammam Women's Market Set to Open
• Motherhood Not a Career for Men: Turkish Health Minister
• Home-Nursing Service in UAE: Giving Birth Can Be a Demanding and Overwhelming Time
• Pakistan: 50 Hindu Couples Tie the Knot in Mass Wedding
• PA: 112 Palestinian Women Arrested in 2014
Compiled by New Age Islam News Bureau
URL: https://www.newageislam.com/islam,-women-and-feminism/new-age-islam-news-bureau/expanding-drug-addiction-in-iran--young-and-well-educated-women-becoming-addicted-to-crystal-meth/d/100842
-----------
Expanding Drug Addiction in Iran: Young and Well-Educated Women Becoming Addicted To Crystal Meth
04 Dec, 2015
Iran is facing a female drug-abuse crisis as the number of young, well-off and well-educated women using substances continues to rise.
At least six million of Iran's 77.7 million population have drug related problems, according to official reports.
And addiction, especially to Shisheh - a high-purity form of crystalline methamphetamine - is increasingly spreading across all social classes.
The substance has become the second most popular drug after opium among young people seeking an escape from social and economic hardship, the Financial Times reports.
Opium smoking in Iran dates back to at least the 17th century, and the country has one of the highest rates of opiate addiction in the world.
This has been blamed on the country being a popular trafficking route for dealers transporting drugs from Afghanistan to Europe.
Iran's problem was first exposed in 2011, according to Zahra Bonianian, an adviser to the state-run Drug Control Headquarters for women and family affairs.
Speaking to the Financial Times, she said: 'It was when we realised that the number of married female addicts was going up, the age of addiction going down while the educational level [of addicts] was high.'
She believes the government needs to place higher focus on protecting women from becoming addicts.
The rise in drug abuse has been attributed to the social development that Iran has experienced as a result of the internet, social media and globalisation.
A new generation of young adults reject a strict Islamic way of life which many of their parents conformed to - instead emulating modern behavioural norms of the West.
In recent years, marriage and birth rates in Iran have fallen while the number of divorces is on the rise.
At the same time, the Islamic government has improved female access to higher education, and women now account for more than 60 per cent of graduates.
But many find themselves caught between a growing sense of freedom and increasing educational opportunities - and the conservative values of older generations.
Amir-Hossein Yazdani, a professor of psychology, said: 'Girls and boys under 25 years old largely enjoy equal freedom in terms of social and educational activities, but girls have a more gloomy perspective, [seeing] more responsibilities ahead.'
He said highly educated girls 'do not enjoy equal job opportunities, or they feel under pressure to behave like a traditional woman - this is fanning fresh tendencies to addiction'.
A woman called Mahsa is typical of this trend. After graduating from a respected high school she was forced to marry at 18.
She has since become divorced and took solace in taking drugs. Despite studying psychology at university she ended up in a Tehran addiction treatment centre last year with a drug habit costing her £24 a day.
The Iranian government is said to be extremely concerned by the growing levels of drug addiction.
The latest official figures suggest the number of female addicts has nearly doubled since in the last eight years.
Women now make up 9.3 per cent of Iranians affected. More than 50 per cent of addicted women used drugs for the first time between the ages of 15 and 19.
Some experts argue this is because women have been seen as a lower priority than men because they make up fewer than ten per cent of Iran's addicts.
http://www.dailymail.co.uk/news/article-2895416/Iran-facing-drug-abuse-crisis-record-numbers-young-educated-women-addicted-crystal-meth.html#ixzz3NoUponD4
-----------
Australian Jihadi Brides Schooled In Terror
04 Dec, 2015
PACKING for a future as a runaway jihadi bride can be a bit tricky but there is some timely advice out there.
Socks, underwear, a good pair of boots, a thick warm coat. Tick.
Jewellery and make-up for the wedding. Tick.
"Three-layer Niqabs, Jilbabs and Khimars", because good quality Islamic clothing is surprisingly difficult to get in Syria. Tick. The wardrobe tips come from young women who have already become brides of the Islamic State. Like the death cult itself, they have become adept at using social media as part of a global recruitment drive.
In their case it is not for frontline fighters but for housewives and wombs.
At least three besotted Australian women have been lured by the call.
Lakemba childcare worker Hafsa Mohamed, 20, and her friend Hodan Abby, 18, are believed to be the first Sydney women to travel independently to the conflict zone in search of husbands, sneaking out of the country last month.
They followed Zehra Duman, 21, who slipped out of Melbourne to marry Jihadi playboy Mahmoud Abdullatif on December 10 in the de facto IS capital of Raqqa. They announced their marriage with the hashtag ­#TheIslamicState and a photograph of their dowry, which included an automatic weapon for the young bride.
A former Melbourne party boy-turned IS fighter, Abdullah's uncle by marriage is Hany Taha
who was acquitted at trial of a terrorist plot to blow up Melbourne landmarks masterminded by Abdul Nacer Benbrika.
Hafsa Mohamed had posted online the kind of man she was hoping to meet and marry over there: "If any mature guy wanting to go to Syria or Palestine would propose I would accept without a thought though he should be on his dean and must have a beard."
As for Hafsa and the other women, they appear to meet the shopping list of requirements for mothers of the new "Islamic caliphate" as articulated by fighters seeking brides online.
They are under 26, unmarried and pretty.
They don't need to have any skills but they have to willing and able to breed.
"Picture all the little Mujahideen running around" says @jihadmatchmaker on Twitter.
Jihad Matchmaker's Twitter account states it is not affiliated with IS but says: "Jihad Matchmaker is here to link up those seeking marriage in Syria in a Halal (religiously sanctioned) manner. Insha Allah helping Muslims is the aim."
Other matches are made via Facebook or a site called Ask.fm on which one expert has said that an incredible 90 per cent of messages from Western women to jihadis are marriage proposals.
Experts have likened the attraction to women who marry criminals in jail.
"There has to be an emotional attachment to heroes and macho types and maybe a covert appreciation of violence which they express through someone else," one psychiatrist told The Saturday Telegraph.
"These ladies are half in love with violence."
The Australian government has said that it is the families of these young women are now on the frontline of preventing them heading to the war zone, but the devastated families are usually the last to know.
The three women followed the same route used by Australian men recruited to fight - a flight to Amsterdam or Spain, then onto Turkey and a bus to the border where they are met by fixers, smuggled over the border hidden in trucks and introduced to a life under Sharia law where it is mandatory to wear a black Niqab - with not even their eyes to be visible ever again.
http://www.dailytelegraph.com.au/news/nsw/australian-jihadi-brides-schooled-in-terror/story-fni0cx12-1227173123373
-----------
Militants kill female doctor with her husband in Afghanistan
04 Dec, 2015
A female doctor was shot dead by unknown gunmen in eastern Ghazni province of Afghanistan, local officials said Sunday.
The incident took place late on Saturday night in Mangor area of Ghazni city.
The provincial public health chief Zia Gul Asphandi said the gunmen stormed into the house of Dr. Belqis and shot dead her along with her husband.
Asphandi said the main motive behind the assassination of Dr. Belqis and her husband is not clear so far.
According to Asphandi, the assailant militants managed to flee the area following the attack.
No group including the Taliban militants has so far claimed responsibility behind the incident.
Ghazni is among the volatile provinces in eastern Afghanistan where anti-government armed militant groups are actively operating and frequently carry out insurgency activities.
http://www.khaama.com/militants-kill-female-doctor-with-her-husband-in-ghazni-9207
----------
Malaysian Police Arrests Woman Who Married ISIL Fighter over Skype
04 Dec, 2015
Police arrested a 27-year-old woman in Kuala Lumpur who married a member of the Islamic State of Iraq and the Levant (ISIL) terrorist group over Skype two weeks ago.
"We believe that she was first attracted to IS(IL) after watching its propaganda video on YouTube in November," Malaysian Police Inspector-General Tan Sri Khalid Abu Bakar said as quoted by The Straits Times Saturday.
"She then got to know the North African fighter and eventually married him. He managed to persuade her to join him in Syria," the inspector-general added.
ISIL, a Takfiri group, has taken control of areas in Syria and Iraq.
ISIL extremists are known for their brutal tactics, such as public crucifixions and beheadings of captured prisoners, including European journalists. The group has released several videos of such executions on the Internet.
http://english.farsnews.com/newstext.aspx?nn=13931013000344
-----------
Erdogan's Daughter May Step into Limelight
04 Dec, 2015
President Recep Tayyip Erdoğan's daughter, adviser and confidante, Sümeyye Erdoğan, may run for Parliament from the ranks of the ruling Justice and Development Party (AKP), the party's deputy head Süleyman Soylu suggested on Jan. 2, in a statement likely to trigger debate.
"Politics is about genetics. It can be transmitted through fathers and families. It's a question of representing an era. Our president is part of active politics as the head of the executive, but it would be nice if Sümeyye Erdoğan presents her candidacy," said Soylu during a program on Habertürk television.
Soylu's words carry some weight in the AKP, as he is responsible for the party's internal apparatus and operation.
The possibility of Sümeyye Erdoğan engaging in active politics has not been widely debated until now, but she is known to have been one of the closest figures to Erdoğan in recent years, taking part in many of his trips and visits.
If she did step into active politics, the Erdoğans would join a lengthy list of political dynasties across the world, such as the Bush or Clinton families in the U.S. or the Papandreus in Greece. In a similar vein, Marine Le Pen has taken over from his father Jean-Marie Le Pen as the new flagship-barrier of France's far right as the leader of the National Front (FN).
http://www.hurriyetdailynews.com/turkish-presidents-daughter-may-engage-in-active-politics-akp-deputy-head-suggests.aspx?pageID=238&nID=76431&NewsCatID=338
-----------
Three Yezidi Girls Escape ISIS Captivity in Shingal
04 Dec, 2015
ERBIL, Kurdistan Region—Three Yezidi girls taken captive by Islamic State (ISIS) militants last summer escaped the group Friday evening and reached the Peshmerga forces near Shingal, said a commander.
Ashti Kocher, a Peshmerga commander in the Shingal area told Rudaw that three girls took advantage of the fighting between ISIS and the Peshmerga and reached the safety of the Kurdish areas.
Kocher said that relatives and members of the local Yezidi force later picked up the girls and took them to Mount Shingal to reunite them with their families.
ISIS militants attacked and captured the Kurdish Yezidi town of Shingal last August and according to a parliamentary report the group still holds captive around 4,000 Yezidi women.
In November another 21 Yezidis, most of them women and children managed to escape captivity under the cover of airstrikes against the radical group near Mosul.
A government committee tasked with the case of the Yezidis under Dr Nuri Osman said that so far 343 Yezidi men, women and children have been freed.
http://rudaw.net/english/kurdistan/020120153
-----------
Iran's becoming a Footloose Nation as Dance Lessons Spread
04 Dec, 2015
TEHRAN — On a recent evening at a location in North Tehran surrounded by lookouts, a group of young men and women gathered to practice something exciting but deeply illegal: the tango.
Over the last few years a dance class craze has swept the middle-class and wealthier neighbourhoods of Iran's cities, with young Iranians eagerly signing up to learn the samba, salsa, rumba, tango and other passionate dances that fire the imagination but involve some complicated steps.
"Persian girls are natural dancers; we learn how to dance from childhood in front of the mirror, at parties and weddings," says Atefeh, a 21-year-old software engineering student in Tehran. "But the way we dance isn't practiced; we're not good dancers when it comes to duet dances like tango or samba."
Atefeh says she has been going to underground dance classes for three years now and has had to change instructors four times, because some are "not as professional as they claim." Others, she says, "think it's too risky to continue the classes and shut them down."
The price of the classes varies according to neighbourhood, with instructors in wealthy districts of Tehran such as Zafaraniye charging as much as 5 million Rials (about $150) for 10 sessions. But in more middle-class and working-class neighborhoods, sessions are typically a fourth of that price.
Classes draw participants across a wide age range, from matronly housewives there to lose weight with zumba to young girls whose families consider them talented enough in dance to pursue classes seriously, even if they won't be dancing with the stars anytime soon.
Because the state's Islamic morality codes forbid unrelated women and men from mixing in private, dance classes are not advertised openly. Occasionally a pamphlet for a salsa class might be tossed on a doorstop or stuck on a pole near a bus stop. But news of the classes is spread mainly by word of mouth, and participants bring along their friends and families.
Instructors also use closed Facebook groups to advertise lessons, to gauge interest in a particular class and assess numbers when offering a new course.
But even on Facebook they do not disclose the address to the dance studio, and instead ask those interested to contact them directly for more details.
Most classes are held in private homes or buildings, with trainers turning a conference space or parking garage into a studio by installing mirrors on the walls. Many hold classes in their living rooms, asking students to help re-arrange and then later put back furniture.
But not all dance classes are underground, exactly. They're just disguised. Many dance instructors register their classes at gyms and teach women or men (separately) under the name of aerobics. The authorities have turned a blind eye to these studios and don't seem to object to physical exercise combined with some music.
Atefeh says the participants in the underground classes she attends are mainly young women. Occasionally some of their partners have shown up to learn a dance together, but young men, in her experience, don't typically stick with the lessons. 'They seem interested in dancing but I think there is still a taboo in our society around men attending dance classes," she says.
There is one time, however, when couple dancing is in high demand, and that is around weddings. Dance instructors run a lucrative trade offering private lessons to couples before their wedding receptions, typically the tango.
Iranian weddings, often lavish affairs that families go into debt to finance, involve a traditional Raghs-E Chagoo, or "knife dance," usually performed by the bride's sister. Before the cutting of the wedding cake, a young relative dances elaborately with a knife and refuses to hand it over to the bride and groom unless they give her some money.
Monir, a 21-year-old Tehrani who attends clandestine classes says jokingly the money that a girl can get by a good knife dance in a wedding would cover most of the dance lesson expenses.
Monir is not interested in classic dances like tango or ballet. She attends hip-hop and belly dance classes (known as Arabic dance in Iran) just to shine more at parties. She says the classes she attends are informal. "People usually just wear casual clothes, mostly sportswear. Even for Arabic dance no one wears a long dress, just a scarf around the hips. In hip-hop courses, baggy trousers and loose T-shirts are more trendy," she says.
I asked her how her trainers, born and raised in Iran, have learned how to teach hip-hop. "My trainer says she has been going to dance classes since she was five," says Monir, "but they mainly learn modern dances from music videos and also dance lessons on DVDs."
"My dance instructor always says she earns most of her income from private teaching," says Monir. "She says she sees our courses more as an advertisement so she can find more private customers."
I asked her to explain more about these "private customers."
"On many occasions families are not against their children taking dance courses but they don't want them to take the risk and attend underground classes," says Monir. "So they ask the trainer to come to their house."
I ask Atefeh and Monir if they see dancing as a form of income in the future, a potential career. Monir bursts out laughing, but Atefeh seems to take the suggestion seriously: "Why not? It's an art and it keeps you healthy. And to be honest it can be a great source of income."
Atefeh says she knows many western dances now but she can easily find a lot of students by teaching Iranian traditional dances, especially Baba Karam. (This is a character dance that all Iranians know and love. Both males and females at parties, weddings, and celebrations perform it. Full of comical bravado, it is characterized by hip swings, finger snapping, neck slides and head bobbles, masculine stances and posturing.)
Slowly, slowly, dance classes may cease to be such secret and guilty pleasures in Iran. It's far from "Footloose" for the moment, but even some private kindergartens offer dance classes for children as young as three. Instructors are still conservative and prefer to refer to their lessons as "aerobics," "rhythmic moves" or "losing weight with music," but for thousands of people who attend the courses, even in secret, the dancing makes them feel like stars.
http://www.thedailybeast.com/articles/2015/01/02/iran-s-becoming-a-footloose-nation-as-dance-lessons-spread.html
-----------
School teacher saves child from forced marriage in Bangladesh
04 Dec, 2015
A class eight student narrowly escaped a forced child marriage with the aid of her schoolteacher in Brahmanbaria's Akhaura upazila on Friday.
The girl named Soheda Akhter, 13, is a resident of Ranikhar village and a student of SA Hannan Secondary and Technical High School.
On Friday around 8pm, after the groom along with his relatives arrived at her place to perform the wedding rituals, she eloped with the help of her classmates and took shelter at her teacher Mujibur Rahman's house in the same village.
Union Parishad member Syed Jahangir Alam said Soheda's father Murshed Miya had fixed her marriage with Akram Miya, a resident of Gazipur and currently an immigrant in Malaysia, despite Soheda's protests.
After Mujibur Rahman informed the matter to Akhaura Upazila Nirbahi Officer Ahsan Habib and Additional Police Super Md Zahidul Islam, they sent a police team to Soheda's place.
Sensing the presence of police Akram and his relatives fled away.
Dhorkhar police outpost In-Charge Sub-Inspector Mujibur Rahman said the girl was handed over to her parents in presence of other elderly people of the village and her parents signed a bond of not marrying her before the age of 18.
Schoolteacher Mujibur Rahman said: "To spread awareness, I frequently discuss the hazards of child marriage with my students in class. I told them to inform me if any underage girl was forced into marriage. This is the reason why they came to me and I took initiative to stop the marriage."
http://www.dhakatribune.com/bangladesh/2015/jan/04/school-teacher-saves-child-forced-marriage-brahmanbaria#sthash.qrzAwOl8.dpuf
---------
Dammam Women's Market set to open
04 Dec, 2015
The Eastern Province municipality has begun renting out shops at the newly established Dammam Women's Market following the completion of all major construction work.
Ziad bin Abdul Karim Al-Suwaidan, the EP Investments general manager, said that the project is set to make way for various commercial activities covering over 17,500 square meters.
He said that the women's market includes commercial shops, gold workshops, a jewelry showroom and a goldsmith-training center. The project also contains traditional female stalls and parking facilities.
The two-story project includes 57 shops and 165 traditional stalls, as well as toilets, a mosque,a food court, and a café at the ground level, while the first floor contains administrative offices, a training hall and a multipurpose room.
"In developing the project, the EP municipality was keen to redevelop the market so as to keep alive the heritage and popular women's activities among lower economic strata," said Al-Suwaidan, pointing out that the market will be opened shortly.
Coordination is now taking place with investors to develop ad panels for commercial shops in an aesthetically pleasing manner.
The project was awarded the Community and Culture Award at this year's Cityscape in Jeddah, as well as the Prince Sultan bin Salman Award for Architectural Heritage at the level of Gulf Cooperation Council (GCC), awarded jointly with Abha city at the Fourth National Forum architectural heritage.
http://www.arabnews.com/featured/news/684181
---------
Motherhood Not a Career for Men: Turkish Health Minister
04 Dec, 2015
Turkey's health minister has revisited his New Year's Day comments about motherhood being the only acceptable career for women, while informing men that they need not apply for the task of being mothers.
The opportunity for Health Minister Mehmet Müezzinoğlu to continue in his foray into career counselling and gender relations presented itself on Jan. 2 when reporters asked him to comment on the uproar over his assertion that women's place is to rear children.
"Motherhood is a career, the importance of which can never be [underestimated], and a career which can exist from the coming into being of the human until his end. Motherhood is indisputably a career," Müezzinoğlu told reporters as he attended an event at Istanbul's Feshane International Fair Congress and Culture Center.
While visiting the first baby born in 2015 early on Jan. 1, the minister floated his thesis that mothers should not put any career before motherhood. This time, however, he delivered recommendations to men who might have been considering a career in motherhood.
"Hence, motherhood is not a career which every person can have. It is not a career that men can have. It is a career which is never disputable and is sacred," Müezzinoğlu said.
Turkish men have yet to comment on the matter en masse, although a number of intellectuals and politicians pilloried Müezzinoğlu over his initial comments toward women.
Writer Elif Şafak was among those who swiftly reacted to the health minister's statements. In a message posted on her Twitter account, Şafak said: "Motherhood is not a career. Turkish women should decide their own paths in life, [not male politicians from above]."
Main opposition Republican People's Party (CHP) deputy Aylin Nazlıaka also slammed Müezzinoğlu, saying: "The only career of the health minister who said, 'Women's only career should be motherhood,' should be to stop speaking. There is no sincerity in this mentality glorifying motherhood; there are ulterior motives behind these statements. The aim is to make women second-class citizens."
"Mothers have the career of motherhood, which cannot be possessed by anyone else in the world. Mothers should not put another career other than motherhood at the centre of their lives. They should put raising good generations at the centre of their attention," Müezzinoğlu said Jan. 1.
On Jan 2, recalling that some critics suggested that motherhood was not an issue to be discussed by politicians, Müezzinoğlu said "politicians who are elected by the nation" could discuss all the problems of the country.
"Those who say that a politician should not deliver his opinion on this or that matter are not supporters of either democracy or the nation. Those who appreciate and have respect for the nation and the national will, should also appreciate and respect those who the nation elects," he said.
President Recep Tayyip Erdoğan, who served as prime minister of the current ruling Justice and Development Party (AKP) from March 2003 until he was elected to his current post in August 2014, has long blessed and promoted a motherhood role for women, while exhorting women to have at least three children each.
In November 2014, Erdoğan told an international conference on justice and rights for women that women should not be regarded as equal to men and claimed that feminists in Turkey rejected the idea of motherhood.
One month later, echoing Erdoğan's stance, his successor, Prime Minister Ahmet Davutoğlu, suggested that today humanity needed "family compassion" more than ever while suggesting that gender equality was one of the reasons for high suicide rates in Scandinavia.
Women's rights activists and lawyers constantly criticize the AKP government for the increasingly conservative and authoritarian political culture they say it is fostering.
According to Gönül Karahanoğlu, head of the Association for the Support and Training of Women Candidates (KADER), said it was not the government's place to "assign motherhood to women in the form of a directive."
"Is it possible to say that fatherhood should be at the top of men's careers?" Karahanoğlu asked. "There are millions of women who cannot have a child although they wish, what will they do then? This way, they are being extremely otherized and offended."
Gülden Türktan, head of the Women Entrepreneurs Association of Turkey (KAGİDER), underlined that raising a child needs joint energy.
"Japan has long lived with a culture which requires women to stay at home. Now, with women's involvement in the economy, Japan has developed. Motherhood is a situation. Women and men jointly make a decision on the woman's motherhood situation and work situation. For a minister to make such a decision is against human rights," Türktan said.
http://www.hurriyetdailynews.com/motherhood-is-not-a-career-famous-turkish-writer-elif-safak-says-in-reaction-to-health-minister-.aspx?pageID=238&nID=76409&NewsCatID=341
-----------
Home-Nursing Service in UAE: Giving Birth Can Be a Demanding and Overwhelming Time
04 Dec, 2015
ABU DHABI // To keep post-partum depression and possible infections from developing into more serious issues, a home-nursing service has been launched to support new mothers after delivery.
"The first 10 days after birth can be a wonderful experience but, for some, it's a very demanding and overwhelming time," said Skye Brown, who heads Bayti Baby at Bayti Home Healthcare, a home-nursing service.
A mother, she said, "needs the support regardless if it's her first time. Someone telling her, 'you are doing really well', someone to say, 'congratulations, your baby is beautiful' – it really cheers them up".
Ms Brown is a midwife and said occasionally new mothers can experience problems after giving birth.
"We are knowledgeable and are aware of the risks to the mother after birth, such as infection," she said. "We ensure that mothers do not show signs of [infection], especially post-surgery or if the mother had complications with delivering the placenta.
"Another risk is developing a blood clot in the legs or lungs. This has been shown to be one of the biggest cases of death in the post-partum period if unnoticed.
"Another risk is having a haemorrhage. It is normal to bleed for up to two weeks after giving birth but some women do not know how much is too much."
Ms Brown also said that if mothers were not breastfeeding properly, their babies were at risk of losing too much weight.
Dr Meltem Tank, a specialist in gynaecology and obstetrics at the Swedish Medical Centre, said the main infections were of the breast tissue or uterus, also known as "childbed fever".
"This used to be fatal, and although the numbers have declined, this does not mean it cannot happen," she said. "It is essential to keep an eye out for it and a midwife is a professional who knows which signs to look out for and what to do."
aalkhoori@thenational.ae
http://www.thenational.ae/uae/health/giving-birth-can-be-a-demanding-and-overwhelming-time
-----------
Pakistan: 50 Hindu Couples Tie the Knot in Mass Wedding
04 Dec, 2015
KARACHI: Any couple would get the jitters at the prospect of starting a new life together and at the YMCA Ground there were 50 such couples.
The arrival time for the couples given to them by Pakistan Hindu Council, the organisers, was 5pm and yet all had not arrived till 9pm.
One had to be careful to take small steps through the crowd rushing to the various wedding Mandap or there was danger of stepping on someone's Saree.
All brides looked lovely in their heavily embroidered Saree while some of the bridegrooms wore such a heavy Sehra that they were simply blinded by it and needed assistance in finding their way.
Each Mandap decorated with marigold garlands had a table in the centre with a bowl of butter, some water, rice, incense sticks, dried coconut, Sindoor, some wood in a Thaal of flour to be set alight later for the couples to walk around the Agni (fire).
There was a model wedding taking place on the stage that was also being shown on big screens put up in the ground with directions of what to do being given out on the microphone. One father was so nervous that he was following himself all the instructions meant for the groom until a volunteer stepped in to help set things right.
There was Harilal, who had come all the way from Hyderabad to marry Devi from Karachi and the couple were seeing each other for the first time. There were Jyoti and Pritam, too, who knew each other well and looked thrilled to bits at finally tying the knot.
A few couples were happily running around holding hands as they went from Mandap to Mandap. "We got married here at the same place only last year and this is our first wedding anniversary," said Kiran and Anil from Ibrahim Hyderi. "It brings back so many memories," they added.
But for Laxmi and Vijay, another couple who also got married last year, and new parents of a month-old boy, Vivan, it was a bittersweet moment. "We had twins, a boy and a girl. But our daughter Vinita died three days after birth," said Vijay carrying his son in his arms as his wife watched.
"The couples all come from poor families who cannot afford to throw a big wedding so they send applications to be wed at a mass wedding here," said Bhim Raj, a senior volunteer and member of Pakistan Hindu Council. "I've been volunteering here for three years now and feel so happy about it," he said.
Dr Ramesh Kumar Vankwani, patron-in-chief of the council, said that mass weddings were preferred for economic and social reasons across the globe.
"Here in our country, the council takes pride in having been organising the weddings on an annual basis since 2008 when 20 couples got married, with the collaboration of other charitable groups as a form of public service."
Last year 100 couples were wed at the same place but Dr Ramesh said that they were only getting 50 couples married this time due to security reasons. "Since we are getting so many applications from other cities of Sindh, especially Tandojam, we decided to hold those weddings there instead of bringing the couples here," he said. "Still, I'll perform the Kanyadaan for all, after getting the approval from the couples' parents of course," he smiled.
http://www.dawn.com/news/1154691/50-hindu-couples-tie-the-knot-in-mass-wedding
-----------
PA: 112 Palestinian Women Arrested in 2014
04 Dec, 2015
Over 100 Palestinian women were arrested by the Israeli military in 2014, an official at the Palestinian Authority Department of Prisoner Affairs said.
Abd al-Naser Farawna, the head of the census unit at the department, said in a statement that there were 112 Palestinian women and girls arrested by Israeli forces in 2014, a 70 percent increase from 2013, Ma'an reported Friday.
Two female prisoners released in the 2011 Shalit prisoner exchange were rearrested in 2014, Farawna added.
He said there were currently 21 female Palestinian prisoners in Israeli jails.
Around 7,000 Palestinians are currently being held in Israeli prisons, more than 2,000 of whom were arrested by Israeli forces over this summer amid heavy tensions and violence in the West Bank and Gaza.
http://english.farsnews.com/newstext.aspx?nn=13931013000394
-----------
URL: https://www.newageislam.com/islam,-women-and-feminism/new-age-islam-news-bureau/expanding-drug-addiction-in-iran--young-and-well-educated-women-becoming-addicted-to-crystal-meth/d/100842