New Age Islam News Bureau
17 May 2020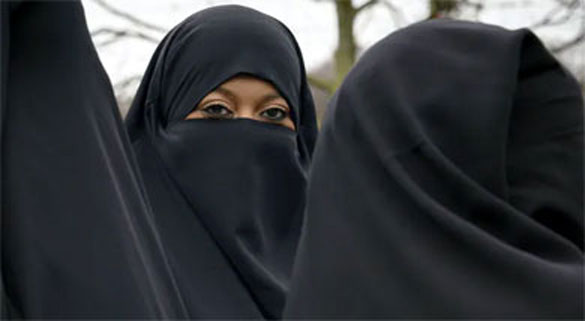 The eyes can say a lot even when one's mouth is covered. Nacho Calonge/Getty Images
-----
• Everyone Looks Like Us Now – Muslim Women in Niqab
• As Quebecers Cover Faces For COVID-19, Some Hope for Tolerance of Religious Garb
• Two Saudi Female Athletes Share Experiences En Route To Success
• Muslim Women in Ranchi, Jharkhand, Lead Efforts In Providing Relief For Migrant, Daily Workers Amid Lockdown
• Pregnant Women Request More Repatriation Flights from UAE To India
• Vande Bharat Mission: 108 Pregnant Women Repatriated from UAE To India In One Day
• Pakistan's First Sikh Woman Journalist Among Top 100 Influential Sikhs Under 30
• Iranian Supreme Leader: Women in Western Cultures Are Living In 'Captivity'
• Haunted by Online Sexual Harassment, Iraqi-Kurdish Women Fight Back
• Opponent Of Istanbul Convention On Domestic Violence Says 12 To 17 'Ideal Age For Childbirth'
Compiled By New Age Islam News Bureau
URL; https://www.newageislam.com/islam-women-feminism/everyone-looks-now-muslim/d/121872
-------
Everyone Looks Like Us Now – Muslim Women In Niqab
16 May 2020
In a sudden twist of events, people across the globe are jogging in various places with masked faces.
Muslim women say that's making public life in the burka much more pleasant, and everyone understands them now.
"I have been wearing Niqab (burka) for the past fourteen (14) years since I joined my husband in Saudi Arabia." That is according to 34-year old Aisha Mohammed Saleh.
And for that same period, Aisha says she has become the center of public attention anytime she is spotted in the garment. Many of such looks and observations come with prejudice while few others with acknowledgment.
"Yes, very bitter ones marked by sometimes people not even wanting to share the same seat with you in commercial vehicles," she laments.
Aisha, for instance, says, many people are now inclined towards her and many others make a request for her niqab to wear for some protection.
"This has been the best time ever to wear the niqab and a time when it has gain nearly complete public acceptance, if not for religious reasons, for health." Rabiatu expresses.
There's a marked difference to the way Aisha, Rabiatu and their way of dressing are perceived. Nobody is giving them looks because of their covered face.
Though, Niqab-wearing women say, they are held in high esteem as experts on face covering, the million-dollar question that remains to be answered is whether this attitude will continue or it will disappear with the pandemic.
The question of whether the attire protects one from Covid-19 infection or transmission also remains a debate among health experts.
Neurosurgeon at Korle Bu Teaching Hospital says though it provides some form of protection, it can't fully protect one from the virus based on scientific reasons.
Dr. Hadi however acknowledges niqab would somehow reduce the rate of transmission of Covid-19 among people especially in public spaces.
For now, Aisha and Rabiatu say growing acceptance of face-covering has helped them to overcome a reluctance to use the niqab.
https://www.myjoyonline.com/features/everyone-looks-like-us-now-muslim-women-in-niqab/
--------
As Quebecers cover faces for COVID-19, some hope for tolerance of religious garb
May 16, 2020
MONTREAL — Three years ago, Warda Lacoste was at the centre of a fight against Quebec's attempt to ban religious face coverings for people who were giving or receiving public services.
The Montreal woman says she was spat on, verbally harassed and even had a bottle of beer thrown at her when she was out in public wearing a full-face veil, known as a niqab, in that time of heightened tensions.
Lacoste (who previously went by the surname Naili) said the experience marked her. "It was quite a challenge," she said in a recent interview.
The rules against face-covering proposed by the provincial Liberal government of the day were suspended after a court challenge, but they were revived last year as part of the Coalition Avenir Quebec government's secularism law, Bill 21.
These days, Lacoste, 36, said there is something strange about seeing Quebec Premier Francois Legault urge Quebecers to cover their faces in public to prevent the spread of the novel coronavirus.
Lacoste recognizes the COVID-19 crisis is real in Quebec, which has recorded more than half of all the confirmed cases in Canada. "But of course, we can't ignore that the situation has an ironic side," she said.
For over a decade, heated debates have swirled in Quebec around issues of secularism, the accommodation of religious minorities and whether the government should regulate religious symbols in the public sphere.
The Legault government's Bill 21 bars some public-sector employees in positions of authority from wearing hijabs, kippas, turbans and other religious dress at work. It also stipulates that people receiving and giving public services must do so with their faces uncovered, though there is an exception for anyone "whose face is covered for reasons of health."
This week, the premier said he "strongly" recommends that Quebecers wear protective masks, especially on public transportation, to try to prevent the transmission of COVID-19.
The Quebec government is donating one million masks to the City of Montreal, the epicentre of the provincial outbreak, Legault announced on Friday. It is also sending $6 million to public transit agencies in the Montreal area to distribute free masks to riders.
Legault has not made wearing a mask mandatory, however, telling reporters that it would be legally difficult to implement such a measure. "We're not excluding it, but for right now, we're not there yet," he told reporters on Wednesday.
The comparison between Quebec's secularism law and the COVID-19 mask directives is clear, said Jeffrey Reitz, director of the ethnic, immigration and pluralism studies program at the University of Toronto's Munk School of Global Affairs and Public Policy.
But he said people have largely avoided connecting the two issues because while medical masks and religious face coverings may be similar in practice, they symbolize different things.
COVID-19 masks make people feel secure and that "they're being protected from possible disease," Reitz explained, whereas "there are very strong stereotypes that people have of Muslim women wearing traditional clothing," such as face coverings.
Recent polls show that a majority of people in Quebec support a ban on religious symbols in the public sector, and Reitz said he doesn't expect the COVID-19 pandemic to drastically change Quebecers' perceptions of religious face coverings.
Lacoste said she would love it if wearing a mask during the COVID-19 pandemic would eventually shift the discussion around religious face-coverings in Quebec, as well.
She likened the feeling of being stared at and judged for wearing, or not wearing, a mask these days to what Muslim women often feel when they go out in public wearing a niqab or headscarf.
Lacoste says she stopped wearing a niqab last August for practical reasons — to make it easier to find a job and a new apartment — and for her own security, but she said she still believes women should have the right to choose what they wear.
"I hope (this situation) will create something positive, in the sense that … women who wear the niqab will be seen less like aliens," she said. "Maybe people will learn that there is a person underneath."
https://lethbridgenewsnow.com/2020/05/16/as-quebecers-cover-faces-for-covid-19-some-hope-for-tolerance-of-religious-garb/
--------
Two Saudi female athletes share experiences en route to success
May 16, 2020
RIYADH — Two Saudi athletes — a Formula E motor racer and a fencer — who achieved varying degrees of successes in their disciplines are giving back to the people their experiences in what drove them to excel in their fields.
They relayed their stories in The Olympic Committee's YouTube channel, which presented a session with female athletes Reem Al-Aboud and Hasnaa Al-Hammad in which they talked about their distinguished sports experiences.
All shared their trailblazing efforts in forging their careers and stressed on the amount of hard work and determination needed to overcome difficulties and obstacles they hurdled prior to writing their success stories.
Reem Al-Aboud said that her passion for motor racing started from a young age. This affinity was due to the great love her father held for cars, which made her relate to this world and soon got interested in all its details.
She said the beginning was very difficult, as she needed to be schooled in the rudiments of the sport despite her great interest in motor racing. She said that she was not aware that drivers needed high fitness levels and quick reflexes to dominate this sport.
She pointed out that her Formula E story started in the women's auditions round when the Kingdom organized the race for the first time, where she underwent several tests and went through several stages before she registered her name as the first Saudi contestant to participate in Formula E races.
As for Hasnaa Al-Hammad, she indicated that her entered the world of sports after women's sports had gained acceptability with more and more competitors taking part in various sports. It thus enabled her easy entry into fencing, but the tensions remain, especially, during first competition.
But the real difficulty she faced was in the balancing of studies and honing her skills in the sport. Setting out time for studies and following a strict practice regimen posed her a host of difficulties. But she worked at it and was able to succeed in her balancing act.
She explained that her most golden moment came when she landed the Asian gold medal as the first Saudi fencer. It was an achievement she savored and it also made her more eager to commit to stricter training as she aspires to compete in Olympic Games and do Saudi Arabia proud. — SPA
https://saudigazette.com.sa/article/593202/SAUDI-ARABIA/Two-Saudi-female-athletes-share-experiences-en-route-to-success
--------
Muslim Women in Ranchi, Jharkhand, Lead Efforts In Providing Relief For Migrant, Daily Workers Amid Lockdown
May 17, 2020
Indumati Shalini SorengalaisNazia, is a 45-year-old homemaker who has written four poems on migrant workers highlighting their plight. The poems talk about the helplessness of workers. After the recent train tragedy in which migrant workers got killed, InduNazia penned a hard-hitting poem under the title 'MujheyKuchKehna Hai' highlighting the failures of the institutions meant to provide relief to the workers.
In her recent poem 'Jan kiBaat' she writes, 'Mazdoor kaho, mazboorkaho, wapasghar ko lautahoon ban k eek sawali, … MGNREGA ko fir se gaa do, kaamgar k daambadha do'. In these lines, she is highlighting the need to increase MGNREGA wages for the workers.
Along with communicating her ideas and concern on migrant workers through her poetry, she has also formed a group of local boys to work on different fronts of hygiene awareness and providing food assistance.
"I think it is our responsibility to make people aware of the lockdown and its guidelines. Whoever I could reach I have tried to inform people about the importance of wearing masks, social distancing so that we could contain the spread of disease. People who are living in slum areas do not have a proper hygienic condition. We have tried to reach out to them on how to avoid this disease."
"There are people who are stuck in the lockdown without work or food. We have reached out to 350 families with the help of many other organizations. I get ready-made ration kits which I distribute among people," she said.
"I have put people in different categories: locals who are out of work, workers out of Ranchi, and migrant workers from other states. I have focused more on migrants; as local people can have many means but migrants don't have much access. I do surveys and verification that the ration pack is reaching as many people as possible and not getting repeated among a few people only. I am also documenting all those I am reaching out to with their signature and picture. And after every 15 days, I repeat giving ration to them."
Indu says she is giving priority to people without ration cards. She has been getting assistance from the Right to Food group and from other missionaries and other organizations.
"I hope everything just gets back to normal and people start earning their own to live their lives freely and as they wish and not be dependent on others," she says.
Afreen Azad Khan, is 30 years old, from Hindpidi locality near Purani Ranchi area who has also been actively raising funds for providing ration kits to underprivileged people.
"Since I live in Hindpidi near Purani Ranchi which is one of the containment zones, I mostly focused on crowdfunding through online medium," she says.
The team provided people with food kits with essentials and got it dispatched to around 200 people in different localities of Ranchi. The dispatching work was done by other teammates residing in the different locality while following lockdown and social distancing guidelines.
Afreen says she received calls from people for ration aid. "Those people we spoke with told us that they have received plenty of rice through government aid, however, it was not enough to survive only on rice. They needed Dal as well," she says.
Afreen says it was easier for them to provide ration packs to people. "In this lockdown, many social strata have been hit, not just poor people but also the middle class. Poor people could come forward and ask for help. But many people working in small companies in the private sector have suffered due to lockdown as they are out of work and salary. It has been difficult reaching out to them. I was shocked to receive a call for help from this group of people. But we helped them," she said.
"When we ran out of ration packets ourselves we tried connecting needy people with the organization who were providing help. We provided help to people who were stranded in different districts like Ramgarh and Bokaro. We also arranged funds for medical expenses for one of the poor families who were out of money," she says.
"It is Ramadan so it gets tiring to do all work but still I have been trying to do maximum. I can't say I won't help because of Ramadan, Allah won't excuse me for that," she says.
"A worker came to me crying and pleading for help to return to his home. We consoled him and asked him to stay back as it is dangerous to return now as Ranchi is a red zone," says Farzana.
Seeing their condition Farzana decided to provide them assistance with ration. She reached out to around 250 people from different localities in Ranchi.
"Due to coronavirus, we have not been able to go to all these places, we asked people to provide us with a list of people. I too had a fear of contracting corona but with taking all the precaution I reached out to people and handed them ration packs. Mostly we reached out to people from Dalit and Adivasis community and also the Muslim community."
Farzana fears this lockdown situation might get worse. "We are trying to do all that we could and provide them help," she says, adding, "I am trying to raise more funds and help them. First I started working on this in my capacity, after that, I approached senior people from my organization for donations. They also understood and took an interest in this work and helped me."
Farzana is working as a treasurer for CPI Ranchi district. She utilized her contacts to raise funds. Many other organizations including AISF, Birsa NGO also assisted her to carry forward her work.
"We tried to reach out to as many people as we could. We provide them ration for three days to seven days. But there were complaints by people that the ration we have provided is not enough for them," she says.
Farzana says she also tried to reach out to the government for help with the help of DC and ward councillor. "Government was giving out ration after taking Aadhar card photocopy," she says, adding that in some cases "migrant workers who were staying here refused to show their Aadhar card."
While praising the government for its initiatives to help the workers she adds, "I would request them to do more for these people."
http://twocircles.net/2020may17/436790.html
--------
Pregnant women request more repatriation flights from UAE to India
May 16, 2020
Anwar Ahmad
Abu Dhabi: Stranded pregnant women from the UAE's Indian community have appealed to the Indian government to increase the number of repatriation flights.
"I approached some hospitals for her delivery, but they quote Dh6,000.00 to Dh11,000 for normal delivery charges. We have no insurance covering the delivery and hospital expenses.
"I have an outlet for office supplies of stationery in Dubai but business is almost nothing," said Puthiya, who wants to return to Calicut, Kerala.
Another Indian woman, Krishna, is 32 weeks pregnant and was working with a company in Dubai but the company shut down and she lost her job last month.
Krishna said, "Even my husband's salaries were cut 50 per cent, which made things more difficult to manage. The medical expenses and house rents are a big burden on us in the absence of a job and heavy salary cuts.
"My residency visa will be cancelled any time since the company is closed. That's why I want to go back," she said. Now she is impatiently waiting for a call from the embassy.
"There are so many people who want to fly back home because of job loss, pregnancy and health ailments," she said. "Flights are limited and the number of returnees is huge."
Sakeena, 21, is three months pregnant. Her husband, Shafeer C. works in a cafeteria in Abu Dhabi, but hasn't worked or received a salary in two months.
"Now we get meals from the Kerala Muslim Cultural Centre (KMCC) but we have to pay rents amounting Dh1,800 with no money to pay it," said Shafeer, who was earning Dh1,800 a month.
His wife came on a three-month visit visa. "Now she is in urgent need of medical attention but I can't afford to consult a doctor due to my low salary," said Shafeer, who now wants to send his wife and child home.
Meanwhile, cardiac patient, Khalid Nayakkarillathu, 47, said, "Due to my medical condition, I decided to return home so I resigned from the company in March and my residency visa also got cancelled on April 30."
"I feeling unfit to carry out my duties routinely due health complications so I decided to go back but after canceling my visa, flight operations stopped and I got stuck here," he said.
Indian social worker, Muneer Mohiyadeen, said, "We are receiving everyday hundreds of calls for repatriation, many people are in the waiting list and they are heavily depressed.
"The Government of India has been doing a great service, but it should further consider the distress of stranded people and facilitate more daily international flights for repatriation from the UAE," he added.
Most requests for repatriation are from low income groups, pregnant women, workers and visitors, says Yogish Prabhu, honourary president of the India Social and Cultural Centre in Abu Dhabi.
"We request the Government of India to increase the number of flights in the days to come," he said. "Also we request to ease the cost of repatriation to the distressed people," he said.
"The UAE is one of the countries with the highest number of requests for repatriation. In the UAE total number of registered requests for the repatriation is around 200,000 including 600 pregnant women."
The majority of requests are from workers who lost their jobs, he added, also there are a number of visitors, mainly senior citizens and job seekers who need to return because their visa and insurance has expired.
Prabhu said the number of flights so far have only repatriated a small amount and did not cover all sectors. "Though the efforts being exerted are appreciated, there is a need for more flights," he added.
https://gulfnews.com/uae/pregnant-women-request-more-repatriation-flights-from-uae-to-india-1.71475150
--------
Vande Bharat Mission: 108 pregnant women repatriated from UAE to India in one day
May 17, 2020
Ashwani Kumar
The embassy in Abu Dhabi prioritised medical emergency cases and those who lost their employment as all three flights left for Kerala.
A record 108 pregnant women and 148 people with medical emergencies were among the repatriates on board three flights from the UAE to India on Saturday, May 16, as the Vande Bharat Mission entered the second phase of evacuation operations.
While the Indian mission in Dubai focused on flying pregnant women home, the embassy in Abu Dhabi prioritised medical emergency cases and those who lost their employment as all three flights left for Kerala.
There were 75 pregnant women flown out from Dubai to Kochi; 18 from Abu Dhabi to Thiruvananthapuram; and 15 from the Capital to Kozhikode.
Thirty-five repatriates with medical issues were able to leave from Dubai and from Abu Dhabi, 63 were bound for Thiruvananthapuram and 50 for Kozhikode sectors. Two flights from Abu Dhabi also had 162 passengers who lost their jobs.
"I am very pleased that Phase 2 of the Vande Bharat Mission has started for us. We had three flights today (Saturday) from the UAE to India and 18 flights in this coming week. We hope this will assist many more Indians to go back urgently to India. We hope to keep this effort going for as long as it's required. We look forward to the support of everyone who has helped make this happen, including the UAE government and their health services and civil aviation authorities," Kapoor said.
There were 177 passengers and five infants on board the flight to Thiruvananthapuram while 175 passengers and five infants flew to Kozhikode.
Meanwhile, Neeraj Agarwal, Press consul at the Consulate-General of India to Dubai, told Khaleej Times that the 75 pregnant women who took off from the emirate were all past the 32nd week of their pregnancies.
"We have one woman who was in the 35th week of her pregnancy. Two doctors and two nurses were on the flight to assist the women in case of emergencies," said Agarwal.
Agarwal called the flight "truly extraordinary" as it sent home people facing several issues, including some who are critically ill.
"We have 35 medical emergency cases. These include a patient in the last stages of cancer; one patient with a brain tumour; and two passengers who are set to undergo a kidney transplant, one is the donor and the other is the receiver," said Agarwal.
In the first phase of Vande Bharat Mission, a total of 2,079 passengers were repatriated from Dubai to India, the consulate said. There were 760 workers; 438 stranded tourists, visitors and students; 398 medical emergency cases; 190 pregnant women; 126 senior citizens and 167 others.
The repatriation flight from Abu Dhabi to the Indian city of Kozhikode, including 50 people with medical emergencies and 15 pregnant women, departed more than three hours late on Saturday.
The flight was scheduled to take off from the Abu Dhabi International Airport by 6 pm. But the incoming empty flight from Kozhikode landed in Abu Dhabi only past 7.45 pm.
https://www.khaleejtimes.com/coronavirus-pandemic/combating-coronavirus-108-pregnant-women-repatriated-from-uae-to-india-in-one-day-1-2--
--------
Pakistan's first Sikh woman journalist among top 100 influential Sikhs under 30
May 17, 2020
Pakistan's first Sikh woman journalist has been named among 100 most influential Sikh personalities under 30 years of age in the world by a UK-based global Sikh organisation.
Manmeet Kaur, 25, has been selected for the award by 'The Sikh Group', a global organisationrecognising people of Sikh faith from around the world, the Express Tribune reported.
A resident of Peshawar, Kaur is also a social activist, who has received awards in Pakistan for highlighting issues faced by minorities and women.
"Those who work hard will reap the rewards and it is a great honour for my family to visit the UK and represent Pakistan," she was quoted as saying. PTI
https://www.tribuneindia.com/news/world/pakistans-first-sikh-woman-journalist-among-top-100-influential-sikhs-under-30-85678
--------
Iranian Supreme Leader: Women in Western cultures are living in 'captivity'
By ZACHARY KEYSER
MAY 17, 2020
Supreme Leader Ayatollah Ali Khamenei believes that women living in Western societies are living daily life in "captivity," according to a recent series of tweets by the Iranian leader.
He claims that women in Western cultures must "expose" themselves to men as a "source of pleasure" adding that this type of treatment leads to institutionalized corruption in these societies.
"Women's nudity and exploitation for men's pleasure led to the destruction of families and the weakening of the foundation of the family in the West," Khamenei wrote. "In Western culture, a #woman must expose herself to men in order to be a source of pleasure for them! Is there a graver form of oppression?! They call this '#freedom,' and the opposite they call 'captivity'! While on the contrary, women's modest dress brings them respect."
On the contrary to the Supreme Leader's beliefs, female Iranian chess grandmaster Mitra Hejazipour has openly claimed that the hijab serves as a "limitation" for women not "protection," demonishing the country's compulsory hijab dress codes, according to her Instagram.
"It creates many limitations for women and deprives them of their basic rights. Is this protection? I say definitely not, it is solely and merely a limitation," she wrote.
Since Iran's Islamic Revolution 40 years ago, women have been forced to cover their hair for the sake of modesty. Violators are publicly admonished, fined or arrested. There are also instructions for women clerks in many Tehran shopping centers to wear "the Maghna'eh" instead of a simple hijab, or face the possible consequence of having their business shut down.
The manner in which the Iranian regime cracks down on what they call "compulsory hijab" is quite noteworthy in its own, mainly for the draconian-like arrests and prison sentences that tend to accompany them.
In 2019, three women - MonirehArabshahi, YasaminAryani, and Mojgan Keshavarz - were arrested for "disrespecting compulsory hijab" and sentenced by the Iranian Revolutionary Court to prison terms of at least 16 years each for disobeying the country's Islamic dress code.
The women were each given five years on charges of "assembly and collusion to act against national security," one year for circulating "propaganda against the regime" and ten years for "encouraging and preparing the grounds for corruption and prostitution." In addition, Keshavarz received another seven-and-a-half years for "insulting the sanctities" - a total of 55 years and six months.
The global human rights organization Amnesty International at the time condemned the arbitrary detainment of the three women and their denied access to legal counsel in an open letter to Head of the Judiciary Ebrahim Raisi.
The charges against the women stem from a video that was widely shared on social media in March, which was taken on International Women's Day. The video shows Arabshahi, Aryani and Keshavarz without their headscarves, disseminating flowers to women on the metro in Tehran while discussing their views on the future of women's rights in Iran.
In the video, Aryani hands a flower to a woman wearing a hijab and says: "one day I hope we can walk side by side in the street, me without the hijab and you with the hijab."
"Their prosecution is part of a wider crackdown on women's rights defenders campaigning against forced veiling laws," said Amnesty International.
Male and female protesters have been taking part in the "White Wednesday" protests, inviting both sexes to wear hijabs, veils and bracelets in solidarity with those who feel the law is discriminatory and unethical. "White Wednesday" is also for women who choose to wear their hijabs and veils, but reject the notion that all women should be forced to conform to wearing them in public.
Additionally in 2019, fourteen Iranian women's rights activists penned an open letter to Khamenei requesting that he resign from his position after his 20-year tenure. They wrote that the country needs to undergo political change.
According to a report by Radio Farda, the letter, dated August 5, 2019 refers to "gender apartheid" and a "patriarchal approach" that for 40 years has stifled the Iranian political climate.
They said that since the Iranian Revolution of 1979, the situation in Iran has created an unfair disadvantage for women who want to live and thrive in the country.
"We, 14 civil rights and women's rights activists, are determined to continue our combat until victory through civil and non-violent measures," they wrote. "Like other pioneers [of non-violent freedom fighters], we go ahead by chanting 'no to the Islamic Republic.'
The activists are requesting that others join them in peaceful and non-violent protests to construct a new constitution to eradicate "this anti-women system."
"In a world that women in most countries move side by side with men in science, economy, culture, arts, and politics, under the Islamic Republic women still fight for their basic human rights," the women wrote.
The letter also claimed that "systemic tyranny and irresponsibility" are the main reasons why the country is in the state it is today, with domestic protests and international politics chaotically spinning out of control before the country's very own eyes.
https://www.jpost.com/middle-east/iranian-supreme-leader-women-in-western-cultures-are-living-in-captivity-628300
--------
Haunted by online sexual harassment, Iraqi-Kurdish women fight back
16 May 2020
Faced with a rise in online sexual harassment and the government's failure to act, Iraqi-Kurdish women are increasingly filing lawsuits against perpetrators, but their road to justice is long and teemed with challenges.
Decades of devastating wars and internal conflicts, a male-dominated culture, conservative social and religious environments and government inaction have left women unprotected against defamation and online sexual harassment across Iraq.
With the government repeatedly failing to curb cyberbullying, women from different professions and backgrounds have decided to hold perpetrators accountable by seeking justice, one lawsuit at a time.
DashniMorad, a Kurdish artist and humanitarian activist who is also known as the "Shakira of Kurdistan", has suffered from depression for years due to cyberbullying and harassment from her former employer. But she now vows to fight like a "fearless warrior" against the mentality of those who sit behind keyboards to harass her and her female compatriots.
"I am sad and depressed for years! I never got justice for what they did to me 2013 - 2017. This picture is one my former sponsor stole from the photographer when the wind blew my skirt up," Morad tweeted late last month after a picture of her resurfaced on social media. "This time I want justice even if it means the end of me."
"That specific picture was [leaked] in 2015 by my former boss, who now has a humanitarian non-governmental organisation and claims to seek freedom, justice and equality," Morad told Middle East Eye.
I founded the women's rights initiative #femalevoicesoftheworld may 2016 sharing stories of inspiring/historical women around the world. In a few clicks I had access to stories of phenomenal women. Yet I was lucky if I found a few line about Kurdish historical women. #leilaqasm
Morad is in talks with her lawyer in order to know her rights and file a lawsuit against those behind the cyberbullying she has undergone.
She urged other women who are targets of online sexual harassment as well as other acts of extortion, to seek justice according to the law.
In Iraq's Kurdistan region, the speaker of parliament is a woman, as parliament and other government institution have a 25 percent quota for women. Yet traditional norms have still prevailed as women are often seen as weak and dependent on males.
Under the pressure of women's rights groups, the region's parliament in 2008 passed a decree on misusing electronic devices, through which defamation and threats are punishable with one month to five years of imprisonment, in addition to financial penalties.
However, online sexual harassment, defamation, and threats have been on the rise in recent years, as the region's judiciary system lags behind in dealing with thousands of legal cases.
ShadiNawzad, a former female lawmaker with the New Generation Movement (NGM) bloc in the Kurdistan Parliament, accused party leader ShaswarAbdulwahid and some of his aids in April 2019 of attempting to blackmail her by circulating doctored "explicit videos" recorded without her consent in a bugged apartment.
Abdulwahid, who first emerged as a real estate businessman, gained political fame when he and others rallied for the "Not for Now" campaign against a failed Kurdish referendum for independence from Iraq in 2017.
After the blackmailing incident, Nawzad and three fellow MPs left the NGM parliamentary bloc and raised legal complaints against Abdulwahid, who was eventually arrested but later freed on bail.
"My legal case against Abdulwahid has been stuck in the Erbil court of cassation for almost six months; sorting out the legal cases takes so much time that you nearly forget about it," Nawzad, who is now an independent lawmaker, told MEE.
Citing 2019 data by the Kurdistan Region Government's (KRG) directorate of combating violence against women, she said the number of lawsuits filed by Kurdish women has increased fourfold.
She cautioned, however, that if in the next few years these legal cases could not be sorted by the region's courts, women would feel reluctant to raise new legal cases and might return to an old alternative - seeking "tribal peacemaking" with the perpetrators.
On 1 April, several men, including a policeman and another man believed to be a member of the Popular Mobilisation Units, gang-raped a 40-year-old disabled Kurdish woman near the town of AltunKupri in Kirkuk province.
On 19 April, Malak Haider al-Zubaidi, a 20-year-old Iraqi woman, died of severe burn wounds days after hospitalisation in the southern city of Najaf. Her husband, a police officer, had allegedly set her on fire.
Shokhan Hama Rashid, an advising lawyer and manager of the Women's Legal Assistance Organisation, told Middle East Eye that the majority of online sexual harassment victims are women.
"The reasons behind the rise of this phenomenon are the lack of censorship on social media, the lack of a good law in the Kurdistan region to punish those who commit such crimes," Hama Rashid said.
"Another factor is that most women fear being looked at differently [being defamed] by society, thus they remain reluctant in filing legal cases after they've been cyberbullied and keep silent on intimidations against them."
Additionally, Hama Rashid noted that while many legal cases have been filed, a large number of criminals have not been arrested because they hide their identities by using pseudonyms on their social media accounts.
The region's courts lack the technological expertise to identify and find the people behind the social media pages or accounts used to launch the harassments, according to the lawyer.
"Dealing with the issue requires better implementation of the related laws, raising more legal awareness for women to not fear filing lawsuits, and to learn how to collect proof to support their cases," she said.
Middle East Eye contacted the KRG's general directorate of combating violence against women, but it was not immediately available to speak on the issue.
"In traditional societies, including Kurdish society, being a woman is considered a weakness. When women do things or say things that are not consistent with some mentalities, they face all kinds of violence and intimidation," PakhshanZangana, an activist and former chairwoman of the High Council for Women's Affairs in the KRG, told MEE in a phone interview.
Zangana said the implementation of a national strategy to protect women should come hand in hand with bolstering sectors like education and culture, reducing unemployment, and boosting the role of women's rights groups - "especially when we see lockdown measures due to the coronavirus pandemic have led to increased violence against women and children," she said.
However, as the Kurdistan region faces a financial crisis, high unemployment, and internal political conflicts, it might be a long time before Kurds see the government tackling violence against women and guaranteeing that social media will no longer be a dangerous space for them.
https://www.middleeasteye.net/news/haunted-online-sexual-harassment-iraqi-kurdish-women-fight-back
--------
Opponent of Istanbul Convention on domestic violence says 12 to 17 'ideal age for childbirth'
May 17 2020
Girls aged 12 to 17 are "superwomen," at the "ideal age for childbirth," MuttalipKutlukÖzgüven, a computer scientist, said during a televised debate about the Istanbul Convention on violence against women and domestic violence broadcast on the pro-government conservative Akit TV channel on Tuesday.
Bodies of young girls are "perfect," and have "magnificent regeneration capabilities," he continued. "This is the ideal age to give birth to the first child."
The Istanbul Convention is a Council of Europe treaty on preventing and combating violence against women and domestic violence that was opened for signature in Istanbul. On March 12, 2012, Turkey became the first country to ratify the convention and it has now been signed by 45 countries and the European Union.
In a segment aired on Saturday, the third one last week discussing the Istanbul Convention, Akit TV said Özgüven's comments had been misconstrued.
Leading up to the comments that sparked a flurry of protest on Turkish social media, Özgüven had said the right to marry was bestowed on girls by virtue of Allah turning them into women with the onset of puberty, and that "perhaps they should also be mentally competent".
Restrictions on marriage age tell a 13-year-old girl, "having reached a certain level of mind, body and organs," that she cannot live out her womanhood for another ten years, he had said.
According to the World Health Organisation, the leading cause of death for girls between ages 15 to 19 is pregnancy and birth-related complications.
Mothers aged 10 to 19 "face higher risks of eclampsia, puerperal endometritis, and systemic infections … and babies of adolescent mothers face higher risks of low birth weight, preterm delivery and severe neonatal conditions," the WHO says.
The Council of Europe Convention on Preventing and Combating Violence Against Women and Domestic Violence, better known as the Istanbul Convention, criminalises forcing a child, i.e. anybody younger than 18, into marriage.
"It is important to note, however, that the convention neither addresses early marriages nor does it deal with the question of marriageable age," says a Council of Europe pamphlet on children's rights with regard to the Istanbul Convention.
The convention's main focus is on criminalising "domestic violence in all its elements," as physical, sexual and psychological violence, with harsher sentences if the victim is a child or the crime was committed in the presence of a child.
Turkish conservative circles have voiced objections to the convention since it was signed in 2011, saying that it aimed to destroy the family as an institution.
Opponents of the convention "know that domestic violence and oppression ensures the perpetuation of the patriarchal family," writes EylemÜmitAtılgan, University of Kyrenia's Vice Dean for the Faculty of Law, and removes the distinction between "rebellious women who can be killed" and "acceptable women who deserve to live".
Article 4 of the Istanbul Convention stipulates measures "for everyone, particularly women, to live free from violence in both the public and the private sphere," and prohibits "discrimination on any grounds," including sex, gender, sexual orientation, gender identity, or marital status.
Backlash against the convention shares many elements with that directed at the Law No. 6284 to Protect Family and Prevent Violence against Women, which was passed shortly after the convention was signed, as both provide women subjected to domestic violence with improved mechanisms to take action against abusive partners.
The law "increases rage and violence" instead of solving problems, as divorce rates had gone up in Turkey, and women "can use this measure against men even about an ordinary matter," Akit TV's sister newspaper YeniAkit quoted a therapist as saying in February.
"A woman rebelling against her husband is not freedom," said another YeniAkit article published on Friday, May 15, as it lamented adultery and rising divorce rates.
"When you hear the words 'gender equality', it sounds like a beautiful thing," MuttalipKutlukÖzgüven said in the Akit TV programme that sparked the recent outrage. "This is based on the idea that … people are born without sex and are pressured by society to become men or women," in an apparent reference to a gender equality guide book produced by Koç Holding, one of Turkey's biggest industrial conglomerates that supports various social justice causes.
Özgüven's co-panellistEbubekirSofuoğlu said the Istanbul Convention had been signed to further Western ideas imposed upon Turkey, and that its supporters wanted minors to engage in sexual activity "not in a legitimate manner, but instead to commit prostitution".
Sofuoğlu also said the convention made it impossible for Turkey to demand repatriation for female terrorists, and for Turkish parents to object to their teenaged children having gender reassignment surgery.
Conversely, Atılgan defines the convention as "a binding higher regulation that tasks states with effectively combatting violence against women and domestic violence."
The articles Sofuoğlu cites pertain to a non-refoulement principle for victims of violence who may be irregular migrants and asylum seekers who might face mistreatment or torture in their countries of origin, and cases involving minors where the best interests of the child cannot be guaranteed in any other way, with no mention of gender identity.
The Istanbul Convention "merely says that states cannot discriminate in cases where a person is subjected to violence, like doctors cannot," lawyer and feminist advocate HülyaGülbahar said during a livestream discussing the convention on Wednesday. "Is there an option to withhold treatment of a heart attack because the sufferer wears a headscarf, or is homosexual? No. There cannot be."
Opposition to the convention "must be considered in tandem with femicides and impunity in (Turkey's) tradition of law," Atılgan says, adding that Turkish courts "often believe that disobedient women deserve violence," and "award reductions in sentencing based on manhood".
In recent years Turkish courts viewed women demanding a divorce, refusing to sleep with their partners, and "a porn actress wearing a similar pullover and headscarf to the woman," as extenuating circumstances in femicide cases, a 2010 report by the Socialist Feminist Collective found.
Under the chapter titled "Prevention," the Istanbul Convention says: "Parties shall ensure that culture, custom, religion, tradition or so-called 'honour' shall not be considered as justification for any acts of violence covered by the scope of this Convention."
All municipalities of more than 100,000 residents are obliged by law to establish women's shelters, Gülbahar said in the same livestream. "Currently, 32 municipalities have them."
"How many people are there in Turkey?" Gülbahar asked. "How many rape crisis centres have we opened since 2014 when the relevant law went into effect? Zero."
Mechanisms to combat violence have not been implemented in Turkey at all, she continued, despite the binding nature of the convention. "That means (Turkey) will not combat violence."
https://ahvalnews.com/istanbul-convention/opponent-istanbul-convention-domestic-violence-says-12-17-ideal-age-childbirth
--------
URL: https://www.newageislam.com/islam-women-feminism/everyone-looks-now-muslim/d/121872
New Age Islam, Islam Online, Islamic Website, African Muslim News, Arab World News, South Asia News, Indian Muslim News, World Muslim News, Women in Islam, Islamic Feminism, Arab Women, Women In Arab, Islamophobia in America, Muslim Women in West, Islam Women and Feminism