New Age Islam News Bureau
23 Jul 2017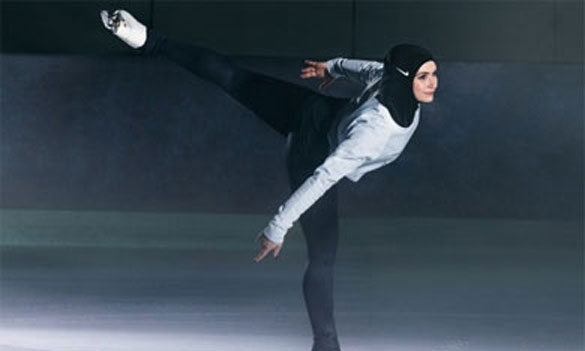 Nike received both backlash and praise when it debuted its new athletic hijab. (Nike)
-----
• KSA's Shoura Council Recommends Banning Marriages for Girls Under 15
• Govt Schemes Have Little Impact in Uplifting Muslim Women: Unpublished Mumbai Minority Commission Report
• Islamic State in Kirkuk Offer Mosul Women Captives for Sale
• Four German women who joined Islamic State detained in Iraq
• Intimate Photos Emerge Of ISIS Judge in Iraq with 'Captive' Yazidi Women
• Muslim Designers Push Forward Modest Fashion Movement
Compiled by New Age Islam News Bureau
URL: https://www.newageislam.com/islam-women-feminism/every-third-child-bride-world/d/111930
--------
Every third child bride in world is Indian: Report
Jul 23, 2017
July 23: India is still to come on track when it comes to safeguarding the rights of children if the disturbing figures of minor girls forced into matrimony are anything to go by.
Believe it or not, every third child bride in the world is an Indian and the country is home to more than 30 per cent girl child marriages.
(Follow The Tribune on Facebook; and Twitter @thetribunechd)
The revelations by a recent report of child rights NGO ActionAid India speak volumes of how the country with little fear of the child marriage prevention laws continues to be plagued by a patriarchal mindset of the medieval times in the 21st century.
Child brides account for 30.2 per cent of the currently married female population of the country and elimination of this alone could contribute 5 per cent to female literacy or 27 million more literate women. This in turn could increase the country's GDP by 1.7 per cent, observes the report — Elimination of Child Marriage in India: Progress and Prospects — released this week by ActionAid India here.
Elimination of girl child marriages can avoid 27,000 neonatal deaths, 55,000 infant deaths, 1.6 lakh child deaths along with bringing down maternal mortality which is caused due to complications in teenage pregnancies.
In the course, India may move closer to its 'Millennium Development Goals' of child and maternal health at a time when it contributes 22 per cent to 6.3 million annual under-five deaths globally and is still to achieve its maternal mortality rate of 103.
Going by the report, nearly 103 million Indians living as on March 1, 2011 were married as children, i.e. before reaching the age of 18. Of this, 85.2 million were girls.
A perusal of the new set of upsetting findings brings out that every hour nearly 150 child marriages are taking place in the country. Of the every 28 child marriages per minute in the world, at least two take place in India.
With the country's share to the global figures standing at 33 per cent, the prevalence rate of child marriages is higher in India than that of several African countries, including Somalia, Nigeria, Eritrea and Zambia, as per the report.
Child marriages in India (103 million) are more than the total population of Philippines (100 million) and Germany (80.68 million).
Releasing the report, Shabana Azmi, celebrated film actor, social worker and chairperson of ActionAid India, said: "Patriarchy is at the root of child marriage and it has to be tackled to eliminate child marriage. Spreading education and building confidence amongst girls enable them to resist child marriage and chart their own lives."
"Child marriage is not only a human rights or gender issue, it has serious consequences on India's demographic, health, education and economic progress," points out author of the report, Dr Srinivas Goli, Assistant Professor, Centre for the Study of Regional Development, Jawaharlal Nehru University.
"Women comprise half of the population and if we cannot combat child marriage, it may increase extent of unhealthy and unskilled labour force that can be great hindrance to the economic prospects of the country which is aspiring to grow in double digits," she asserted.
Beating the common perception, ActionAid India Executive Director Sandeep Chachra said, "The prevalence of child marriage can be seen across all social groups, including urban areas, thus a strict correlation cannot be drawn between low income, residing in backward areas and child marriage."
Underscoring the need for awareness, Sandeep underlined, "Apart from strengthening the implementation of laws, it is also important to strengthen the agency of girls as well as boys to resist and eliminate the practice of child marriage."
Source: http://www.tribuneindia.com/news/nation/every-third-child-bride-in-world-is-indian-report/440990.html
--------
KSA's Shoura Council recommends banning marriages for girls under 15
24 July 2017
JEDDAH: Several Shoura Council members have sent a recommendation to the Justice Ministry saying that no girl under 15 should marry, according to sources quoted by Okaz Arabic newspaper.
The recommendation, drafted by Moodhy Al-Khalaf, Latifa Al-Shaalan, Noura Al-Musaed, Issa Al-Ghaith and Fawzya Aba Al-Khail, stressed the need to have strict conditions that would allow girls between 15 and 18 years old to marry.
Shoura members explained that these conditions include the approval of the mother and bride-to-be, as well as a medical report by a specialized committee stating the girl is physically, psychologically and socially able to wed. The age of the groom-to-be should not exceed double the girl's age. The final condition is for the marriage contract to be officiated by a judge specialized in these marriages.
Shoura members explained that this recommendation falls within Shariah rules protecting human life from harm, explaining that it has been proved that minors' marriages cause psychological, physical and social damages.
Members added that regulating marriages does not fall under worship and religious issues, but a life issue that is subject to change, highlighting that there are many Islamic countries that regulate ages for marriages, such as the Egyptian law that prevents any marriage if the girl is under 18 years of age.
The Shoura Council stressed that early marriages not only compromise health issues, but also cause women to drop out of school, which is the main repercussion of early marriage, leading Shoura members to stress the need to empower women via education and to change the traditional social and cultural roles that undermine them.
The relationship between poverty and early marriage is a multi-layered complicated cycle; not only is poverty one of the reasons behind early marriage, it also leads to the continuation of poverty, particularly when these young mothers become responsible for their families in case of divorce or the spouse's death.
International treaties signed by the Kingdom prevent allowing minor girls to marry, including the 1988 UN Convention on the Rights of Children. The Kingdom signed the 1979 Convention to Eliminate all Forms of Discrimination Against Women, which states in Article 16 that the engagement or marriage of children has no legal basis, and identifies the need to have a law that states a minimum age for marriage.
http://www.arabnews.com/node/1133951/saudi-arabia
--------
Govt Schemes Have Little Impact in Uplifting Muslim Women: Unpublished Mumbai Minority Commission Report
By Tabassum Barnagarwala
July 23, 2017
An unpublished report sanctioned by the state's Commission for Minorities to assess the socio-economic status of Muslim women and discrimination leading to backwardness has said development schemes meant for the minority community have had little impact in uplifting Muslim women. Those who conducted the study claim that there is "no political will" to publish it. The report was completed in 2012 but was not released by the former Congress-NCP government or the current BJP-led regime.
The study had a detailed review of popular schemes and interviews of Muslim women in four ghettos — Kurla and Mumbra in Mumbai, and Waluj and Pathanwadi in Aurangabad. Data analysed under the Maulana Azad Direct Loan Scheme, which provides loans of Rs 5,000 to Rs 50,000 to the minority community, showed male beneficiaries were three times higher than female ones.
The number of male Muslim beneficiaries rose from 117 to 12,152 between 2007-08 and 2010-11 but female beneficiaries for the same period rose from 86 to only 3,889. The research titled "Socio-Economic status of Muslim Women and their access to Development schemes and Programmes in Maharashtra" was completed in 2012 by SNDT's Research Centre for Women's Studies.
"It was sanctioned by the minority commission for recommendations to improve the status of Muslim women. We found that government schemes were well conceptualised but poorly implemented," said Veena Poonacha, former director of the Centre for Women's Studies.
According to her, the report was part of the Mahmoodur Rehman Committee Report but never got published. "It is frustrating the government didn't act upon it," she told The Indian Express.
The report showed that business and education loans extended to minorities under the Maulana Azad Alpasankhya Arthik Vikas Mahamandal (MAAAVM) saw a downward trend for female Muslim beneficiaries over five years. In 2007-08, the number of women who got loans stood at 1,015 in Maharashtra which dropped to 353 in 2011-12. The total loan amount given to women under MAAAVM stood at Rs 4.6 crore for 2011-12 in contrast to Rs 19.9 crore sanctioned to 1,280 men in the same period….
The report also indicated applications by women were fewer than men. The study recommended improvement in government schemes, security and reservation for Muslim women in government jobs. "The situation has worsened from 2012 till now. This report was not even taken up for discussion in the Assembly. Muslim women face a range of issues that need to be addressed. Triple talaaq is just one of them," said Hasina Khan who works with Bebaak Collective and is part of the three-member committee that prepared the report.
According to Parul Khanpada, another committee member, awareness about pre-matric and post-matric schemes amongst the poorer sections of Muslims is also low. The report found that while the Muslim share in population is 13.4 per cent in the state, less than 5 per cent appear for civil service exams. Muslim women entrepreneurs are few in number and even "they face grave difficulty in their home due to abject poverty".
Another finding in the study points at poor Integrated Child Development System (ICDS) coverage at less than 8 per cent amongst Muslims as opposed to 13 per cent coverage recorded for OBCs.
The ICDS is a government scheme under the Women and Child Development department that caters to health and nutrition of children and pregnant and lactating women. Coverage of the scheme, the report observed, was poorer in Muslim ghettos compared to the general population.
Aamir Edrisy of the Association of Muslim Professionals, said for government schemes to work well for Muslims, the government needs to relax rules and provide adequate budgetary allocations. "In several schemes, the applicant is asked to undergo massive documentation. Specific schemes to promote women are necessary. Also, women do not come forward as much as men do so, stringent documentation sometimes deters them," he said.
The socio-economic report was submitted to the state government in 2012. While the report was meant to introduce policy change in welfare schemes for Muslims, the recommendations were never implemented. Shyam Tagade, the principal secretary of the minority development department, said: "Since it's an old report, I am not aware of it. We will have to go through it and understand why it has not been published yet."
http://indianexpress.com/article/india/govt-schemes-have-little-impact-in-uplifting-muslim-women-unpublished-minority-commission-report-4763003/
--------
Islamic State In Kirkuk Offer Mosul Women Captives For Sale
Jul 23, 2017
Hawija (IraqiNews.com) Islamic State members are offering women they captured from Mosul for sale in Kirkuk, a local source was quoted saying Saturday.
The source told Alsumaria News that the women were kidnapped from Imam Gharbi, a village in southern Mosul from where the militant group was expelled by Iraqi security forces last week. A marketplace was set up for the purpose at one of the group's headquarters in Hawija, 55 km southwest of Kirkuk, according to the source.
The abductees were offered to IS leaders for various prices, he added.
Islamic State has held Hawija since 2014, when the group emerged to proclaim a self-styled "Caliphate" in a third of Iraq and Syria. Since then, the group, according to news and humanitarian reports, has been infamous for holding women captives, forcing them to marry group members or work as sex slaves. The group has also killed thousands of civilians for attempting to flee its domains or collaborating with security forces.
Local tribal leaders and politicians from Kirkuk have mounted pressure on the Iraqi government to hasten with invading Hawija, suggesting that its people were experiencing a humanitarian crisis under the group's rule. Having concluded its campaign in Mosul, the Iraqi government is planning to launch further offensives at other IS pockets across Iraq, including Hawija.
http://www.iraqinews.com/iraq-war/islamic-state-kirkuk-offer-mosul-women-captives-sale/
--------
Four German women who joined Islamic State detained in Iraq
July 23, 2017
Four German women, including a 16-year-old girl, who joined Islamic State in recent years are being held in an Iraqi prison and receiving consular assistance, Der Spiegel magazine reported on Saturday, APA reports quoting Reuters.
Lorenz Haase, senior public prosecutor in the eastern German city of Dresden, said he could confirm that the teenager, named only as Linda W., had been "located and identified in Iraq" but that he could not say anything on her exact circumstances.
He said the girl, whom Der Spiegel said comes from the small town of Pulsnitz near Dresden, was receiving consular support from the German embassy.
Der Spiegel said diplomats had visited the four women in a prison at the airport in Baghdad on Thursday and they were doing well given the circumstances. They could face the death penalty in Iraq for belonging to the militant group, the magazine added.
It said Iraqi authorities had given Germany a list with the women's names at the beginning of the week.
Germany's Foreign Ministry declined to comment on the report.
German prosecutors said on Tuesday they were checking reports that a 16-year-old under investigation for supporting Islamic State was among five women arrested in the Iraqi city of Mosul, where Iraqi forces declared victory over Islamic State earlier this month.
German authorities have been investigating a teenage girl who went missing from Pulsnitz last summer for alleged contacts with the jihadist group about preparation for a possible act of terrorism.
On Tuesday Haase said the girl had traveled to Turkey about a year ago with the apparent goal of reaching Iraq or Syria and security officials had later lost her trail but new evidence had since emerged in the case.
Der Spiegel said one of the Germans had Moroccan roots and another seemed to come from Chechnya but had a German passport.
The BfV domestic intelligence agency estimates that 930 people have left Germany in recent years to join Islamic State in Iraq and Syria. About 20 percent of them are women.
Minors account for about 5 percent of the total number, of which half are female, it reckons.
http://en.apa.az/world-news/europe/four-german-women-who-joined-islamic-state-detained-in-iraq.html
--------
Intimate photos emerge of ISIS judge in Iraq with 'captive' Yazidi women
23 July 2017
Recently, social media published photos of one of the ISIS fighters in Iraq with one of the Yazidi female prisoners who was captured by Abu Bakr al-Baghdadi militias.
According to the social accounts of Iraqi journalists, the security forces came across one of the cell phones likely belonging likely to a militia member, and they found photos where the ISIS judge of the 'State of the Tigris' called Mullah Sajid Ahmed Ali Shargi, with a number of Yazidi women in intimate positions.
On June 11 this year, the Iraqi Ministry of Defense announced that an ISIS militia prison had been found in which Yazidi women were being held on the coast right of Mosul.
The ministry said in a statement: "The Iraqi army found an ISIS militia prison where a number of Yazidi women were kept, before they were defeated in the 17 Tamoz district Mosul."
3,200 Yazidi captives
It is noteworthy that according to a statistic issued by the security committee formed to follow up the kidnapped Yazidis last February, the number of the captives reached 3,200 - half of them being young girls and women.
According to the report, the militia transfers the abducted women and children from one district to another, pointing out at the same time that a number of the kidnapped women were killed or killed themselves. Some them were killed during military actions and others committed suicide after being captivated.
Although Mosul was liberated, only a few Yazidis were rescued, according to human rights reports, indicating the presence of many Yazidis in the city of Raqqa and Deir Al-Zour in Syria, in addition to the remaining cities of Iraq such as Tal Afar and Hawija.
https://english.alarabiya.net/en/features/2017/07/23/Intimate-photos-emerge-of-ISIS-judge-in-Iraq-with-captive-Yazidi-women-.html
--------
Muslim designers push forward modest fashion movement
Jul 22, 2017
Despite the arrest and subsequent release this week of a young Saudi woman wearing a miniskirt in a video that went viral, a growing number of Canadian fashion designers are looking to prove that fashion for Muslim women can be both modest and fun.
Shahad Mahdi is one of the 14 designers showing their collections at the Mississauga Fashion Week's third edition, set for Saturday night at a hockey-rink-turned-runway.
One of her main goals with her label, Black Orchid, is to shatter negative stereotypes around fashion for Muslim women.
The recent Ryerson University fashion grad is already getting lots of positive attention for her funky, pop-influenced graphic designs for Black Orchid that also satisfy clients searching for apparel that offers fuller coverage for religious reasons.
"I'm just trying to take fun, playful designs and add them to apparel to represent misrepresented people in the fashion industry," she told CBC News while fitting her models for the fashion show.
"I think there's a stigma around Muslim women and Eastern women in general, and I just want to let the world know we can be fashionable, we can be fun, we can be strong, we can be successful."
Stamp of approval from models
The young Muslim women modelling her clothes said they found wearing Mahdi's garments liberating.
"Before when you think about Muslims, it would always be this bland type of clothing," said model Nabila Rezwan. "It's nice designers are coming up with new ideas to make the new generations look better."
Her fellow model Fatima Ibrahim agreed, as she admired her outfit designed by Mahdi.
"It's super proper, it doesn't disregard our beliefs, it's covered up and it's fully amazing," Ibrahim said. "I'm excited that someone has that at the back of her mind while preparing an outfit."
Adapting a look
Osob Mohamud is the Toronto fashion designer behind the online fashion label Alene.
She watches international fashion trends to keep up with what's en vogue and then adapts the look to suit the needs of her Muslim clients, such as turning midiskirts into maxiskirts.
"It's important as young women to show other women that it's possible to follow your religion and be happy and also dress the way that you want to dress and follow the guidelines that are set for you without feeling … frumpy or out-of-fashion and off-trend," Mohamud said.
Big brands entering market
It's not just small, independent designers in North America who are taking notice of the growing market for Muslim women who want something fun and fashionable.
Uniqlo has launched a collection by British-Japanese Muslim fashion designer Hana Tajima that features fashionable hijabs in muted tones, along with tunics and flowing dresses.
Similarly, American Eagle Outfitters announced a denim hijab this week, and it quickly sold out.
In a statement to CBC News, the company said the limited-edition item represented its core values since it is "strongly committed to inclusivity and cultural diversity."
There is no word yet on whether more denim hijabs will be manufactured or if the company plans other Muslim-oriented items.
Part of the appeal for retailers such as Dolce & Gabbana, Uniqlo and American Eagle Outfitters is that the modern fashion market is lucrative and underserved.
According to a report compiled by Thomson Reuters on the global Islamic economy, Muslims around the world spent $243 billion on clothing and apparel in 2015, and Muslim women spent $44 billion on modest fashion — and those figures are expected to keep growing.
But undoubtedly, the big brands are stepping carefully.
Earlier this year, Nike announced its Pro Hijab, made with lightweight polyester for maximum breathability to help female Muslim athletes compete.
A company press release enthused: "Nike aims to serve today's pioneers as well as inspire even more women and girls in the region who still face barriers and limited access to sport."
Nike received praise mixed with criticism. Calls for a boycott of the company peppered social media, as some accused the sports clothing company of supporting the oppression of women.
Controversy is par for the course
Hina Ansari has written about modest clothing for various fashion publications.
She said online backlash at the introduction of Muslim-oriented lines is par for the course in the current political climate, especially with something as "visible" and "polarizing" as the hijab.
"It will really show the testament of the business in terms of how they handle it but at the end of the day, fashion is fashion," Ansari said. "If it's something that's cool and hip and Muslims want to wear it, they will."
She added that big international brands without a deep understanding of Muslim culture may not be fully aware they're also treading a fine line in their treatment of religious attire.
"There is the beauty of appreciating diversity and appreciating the hijab fashion scene, but there is that danger of trivializing it so much where it's turned into a token and a hot trend."
http://www.cbc.ca/news/entertainment/modest-fashion-designers-1.4216803
--------
URL: https://www.newageislam.com/islam-women-feminism/every-third-child-bride-world/d/111930
New Age Islam, Islam Online, Islamic Website, African Muslim News, Arab World News, South Asia News, Indian Muslim News, World Muslim News, Women in Islam, Islamic Feminism, Arab Women, Women In Arab, Islamophobia in America, Muslim Women in West, Islam Women and Feminism