New Age Islam News Bureau
04 May 2022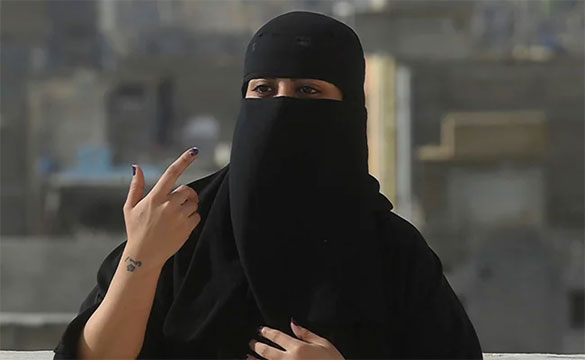 A veil falling below her eyes, Pakistan rapper Eva B evades the attention of fans and detractors.
----------
• Saudi Media Start-up Connects Women Across Kingdom
• Indian Muslim Woman, Benazeer Heena, Seeks Uniform Divorce Rules, End To 'Unilateral' Talaq
• Khyber Women Councillors Vow To Resolve Female Population's Issues
• Canadian Arab Institute: Why Too Many Arab Women Are Struggling ProfessionallyIn Canada's Workforce
• Balochs Are Sacrificing Their Lives Due To Pakistani Oppression: Baloch Woman Activist
• Iran: Does Wearing The Hijab Help Women's Careers?
Compiled by New Age Islam News Bureau
URL: https://www.newageislam.com/islam-women-feminism/eva-hijab-means-woman-pakistan/d/126929
--------
Eva B In Hijab, What It Means To Be A Woman Rapper In Pakistan
May 04, 2022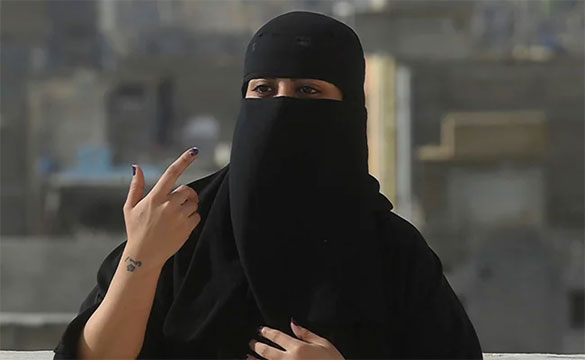 A veil falling below her eyes, Pakistan rapper Eva B evades the attention of fans and detractors.
----------
Karachi: Pakistan's breakthrough rapper Eva B has racked up millions of views online, but walking through the labyrinthine streets of her Karachi neighbourhood, she is anonymous.
Her hair covered with a hijab and a veil falling below her eyes, she evades the attention of fans and detractors.
"It's funny that people don't recognise me, they play my songs but when I'm in front of them they don't know it's me," the 22-year-old told AFP from a rooftop overlooking the mega port city of Karachi.
Inspired by American rappers Eminem and Queen Latifah, she started writing lyrics from her bedroom and posting her raps to Facebook where she built up a following.
Afraid of angering her family, she would sneak to music studios to record full tracks with the help of other emerging artists in her neighbourhood, under the pretext of studying.
But when word reached her brother, she received a backlash from her family who considered the genre indecent for a young girl and who feared she would struggle to marry in deeply conservative Pakistan.
"Later they realized that I was quite persistent, so they surrendered. They realised I couldn't be stopped," she laughed, adding that her mother now supports her in the studio and on set.
Eva B's rise to fame was accelerated this year when Coca-Cola's international music franchise Coke Studios- one of the most popular television programmes in Pakistan- invited her collaborate for its 2022 series.
The music video for "Kana Yaari", which features Eva B rapping in a bright orange hijab about the betrayal of a love interest, has more than 16 million views on YouTube.
But unlike other artists in the series, she has shunned a celebrity status.
"It is strange to live two lives. People know me, but at the same time they don't really know me," she said.
She finds it amusing to nod along to conversations in cafes or at friends' weddings when people talk about the latest track from Eva B.
On rare occasions, she says people recognise her from her eyes, but she always denies her stage identity.
"I'm ok with what I am. I can't handle everybody," she says of the attention from media and fans she would otherwise attract.
Industry 'astonished' by hijab
Most women wear some form of hijab covering in Muslim-majority Pakistan but there are very few music artists in local pop culture who are veiled.
Turning up to studios for the first time, industry producers and managers were often left "astonished", she said.
"They reacted like 'what is this?'," she said. "But then everything soon became normal."
For Eva B, the hijab has always been a proud part of her Muslim identity -- but it has also defined her image as a rapper.
"These days I wear more stylish clothes for the music videos so I stand out. But even then I always wear my hijab," she said, adding that she sometimes swaps the face veil for a pandemic-era mask.
She has, however, grown weary of the conversation around how she dresses.
"The media has focused on my hijab rather than me... they do it for hype," she said. "It's normal in my society. Don't let it be breaking news."
What she does delight her are the stream of Instagram messages from girls and women thrilled to see a woman in a hijab represented in mainstream media.
"I feel happy that I inspire them... that they feel proud of me," she said.
But as a woman rapper in a hijab, disapproval for not being "a good girl" is never far away, she says.
"There is nothing harmful in what I am doing, I openly sing songs and there is nothing bad in that."
Straight outta Karachi
Eva B grew up in Lyari, a Karachi neighbourhood haunted by gang violence and poverty for decades and once considered one of Pakistan's most dangerous areas, but which inspired a generation of artists and spawned a burgeoning hip hop scene.
With its close proximity to the sea and history of smuggling, the largely ethnic Balochi neighbourhood in Karachi stands apart for its history of violence and lawlessness- even by Pakistan's standards.
But the worst of the violence has abated, and an increase in security has led to flowering creativity.
The embattled neighbourhood now clings fiercely to its reputation for producing top footballers, iron-chinned boxers, and most recently socially conscious rappers.
"We didn't attend any prestigious music schools, we learned everything ourselves, driven by our passion. So I keep highlighting Lyari and I'm proud of it," she said.
The rise of hip hop in Lyari mirrors the genre's birth decades ago in New York's Bronx borough, where it largely centred around street performances and featured lyrics that addressed social ills and life in urban ghettos.
Eva B also speaks straightforwardly about the difficulties women face and the disparity in wealth in Pakistan, and even the sensitive issue of local corruption.
Her favourite song, "Bayani Rog", in her native Balochi language, tells the story of her evolution from shy, nervous teenager to the self-assured, frank woman she is today.
"I realized that keeping silent won't work, so I better speak up," she said.
Source: ND TV
https://www.ndtv.com/world-news/pakistan-rapper-eva-b-in-hijab-what-it-means-to-be-a-woman-rapper-in-pakistan-2944170
--------
Saudi Media Start-up Connects Women Across Kingdom
May 03, 2022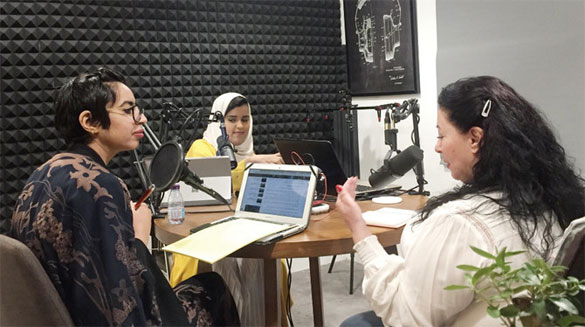 The platform provides content creation and self-development training. (Supplied)
----------
JEDDAH: Saudi women have a new platform for advancement, thanks to an independent media startup highlighting aspects of Saudi women's lives rarely shown in the past, while also challenging stereotypes about their experiences in the Kingdom.
Saudi Women's Stories, established in 2019, aims to encourage and develop Saudi women storytellers and motivate youth across the Kingdom in line with the Kingdom's Vision 2030 reforms and the country's commitment to female empowerment.
It is not only a storytelling platform but also an educational platform providing content creation and self-development training in order to boost women's confidence.
Monthly community events organized under the title "Coffee Talk" also focus on topics affecting and involving women.
Sheikha Aldosary, CEO and founder of Saudi Women's Stories, has been working in media locally and internationally for over 12 years, and has encountered many false perceptions about Saudi Arabia in general and Saudi women in particular.
Creating the platform was one way to counter misconceptions and provide an accurate image, she said.
"I always believe that storytelling/stories bring order to the chaos of life. The region is experiencing unprecedented momentum when it comes to women's empowerment. As Saudi women, we have so much to be proud of in terms of our achievements," Aldosary said.
"Through this platform, we seek to create opportunities for women who have less confidence and to encourage women who believe their stories are not good enough to share, and help them inspire others. We also support them to enhance their leadership and participation in every field and sector."
The platform — a partner with the UN and a contributor to the Sustainable Development Goals, with a primary focus on SDG 5: Gender equality — organizes campaigns and events to showcase women's stories and promote youth empowerment, while connecting them with opportunities.
Aldosary recently won the entrepreneur-woman of the year award from Arabian Business as part of its KSA excellence awards for offering unbiased news, information and stories about women and social development in Saudi Arabia in both Arabic and English.
The award honors Saudi women working to achieve success in their respective fields.
Aldosary believes the award carries with it a responsibility to establish a strong support network for women to collaborate and network, inspiring everyone with Saudi women's empowerment stories.
"We invite young people and women to share their stories and support other people going through a similar journey or situation. The platform is looking to publish creative stories and welcome anyone to join our community event that focuses on advancing gender equality and women's empowerment," she added.
Source: Arab News
https://www.arabnews.com/node/2075241/media
--------
Indian Muslim Woman, Benazeer Heena, Seeks Uniform Divorce Rules, End To 'Unilateral' Talaq
May 4, 2022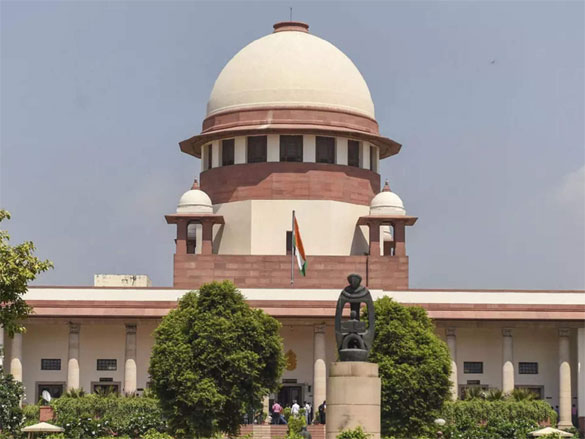 NEW DELHI: A plea has been filed in the Supreme Court seeking to declare 'Talaq-e-Hasan' and all other forms of "unilateral extra-judicial Talaq" as void and unconstitutional, claiming they were arbitrary, irrational, and violated fundamental rights.
The petition, filed by Ghaziabad resident Benazeer Heena, who claimed to be a survivor of "unilateral extra-judicial Talaq-e-Hasan", also sought a direction to the Centre to frame guidelines for neutral and uniform grounds of divorce and procedure for all citizens.
In Talaq-e-Hasan, Talaq is pronounced once a month, over a period of three months. If cohabitation is not resumed during this period, divorce gets formalised after the third utterance in the third month. However, if cohabitation resumes after the first or second utterance of Talaq, the parties are assumed to have reconciled. The first/second utterances of Talaq are deemed invalid.
The petitioner, who claimed to have been given such a divorce, contended that police and authorities told her that Talaq-e-Hasan is permitted under Sharia. "The Muslim Personal Law (Shariat) Application Act, 1937, conveys a wrong impression that the law sanctions Talaq-E-Hasan and all other forms of unilateral extra-judicial Talaq, which is grossly injurious to the fundamental rights of married Muslim women and offends Articles 14, 15, 21 and 25 of the Constitution of India and the international conventions on civil and human rights," the petition, filed by advocate Ashwani Kumar Dubey, submitted.
Source: Times Of India
https://timesofindia.indiatimes.com/india/muslim-woman-seeks-uniform-divorce-rules-end-to-unilateral-talaq/articleshow/91297074.cms
--------
Khyber women councillors vow to resolve female population's issues
Ibrahim Shinwari
May 3, 2022
KHYBER: With the local government system yet to become functional in tribal districts, women councillors in Khyber tribal district have expressed their resolve to strenuously work for the resolution of problems facing the local female population and provision of education and healthcare to them.
Almost all women councillors had contested the LG election for the first time with some begging more votes than male contestants showing their growing acceptability to voters.
They told Dawn that the provision of education and healthcare to women in their respective areas was their top priority as it would help them raise voice for their rights.
Somaiya Afridi, a postgraduate from the University of Peshawar, said literacy rate was very low among tribal women, while the quality of education was not up to the mark, so her main focus would be on the provision of quality education to women.
Say LG system should become functional without delay
"Tribal girls are generally not allowed to step out in the name of so-called tribal customs and traditions even if it is for receiving education, so it is extremely important to educate parents on the importance of education and ensure that they send female members to school," she said.
She also said she would ensure that women teachers regularly do duty.
Karishma Kanwal, a woman councillor from Jamrud area and a student of MA Political Science, said she lived in Ghundi area and would work for getting the number of classrooms in a local girls school increased for higher enrolments.
"Education is essential for tribal girls, especially those, who can't go to school due to financial constraints," she said.
Ms Karishma and MsSomiya also vowed to ensure provision of quality healthcare to the women of their areas.
Affiliated with the Awami National Party, Ms Kanwal also expressed the desire for the establishment of a skills development centre for women in Jamrud to make them financially independent.
MsRakhmiya Bibi, an elderly woman councillor from the far-flung LoeShalman area in LandiKotal, criticised tribal parliamentarians over 'poor performance' and accused them of resorting to nepotism during the distribution and spending of development funds.
"I will give them [current MNAs and MPAs] a tough time by contesting next elections," she said.
MsRakhmiya complained that most of the critically ill as well as many pregnant women lost life due to the unavailability of good healthcare on their doorstep.
"There is no hospital in LoeShalman area, so we shift most women patients to the LandiKotal district headquarter hospital or Peshawar," she said.
MsZakira Bibi, a councillor from LandiKotal, said her daughter abandoned studies as there was no girls college in her locality.
She said she always wanted to see her daughter get education like her sons, but that dream couldn't be fulfilled as most districts were without colleges for girls.
The councillor said she wanted to get hold of funds for arranging marriages of poor and needy girls, especially orphans.
MsZahrunNissa of Kamarkhel area in Bara called water shortage the main issue for local women and said she would strive for winning water schemes for all localities.
She said the fetching of water on head from far-off areas badly affected the women's health and wasted their time.
The women councillors said they would work for the development of female population only after the LG system became functional and adequate funds were given to them.
Source: Dawn
https://www.dawn.com/news/1687947/khyber-women-councillors-vow-to-resolve-female-populations-issues
--------
Canadian Arab Institute: Why Too Many Arab Women Are Struggling Professionally In Canada's Workforce
By Amira Elghawaby
May 3, 2022
The Canadian Arab Institute released a report last week that attempts to explain why some Arab women aren't succeeding in Canada's workforce. It's compelling reading for anyone invested in the nation's overall prosperity and success.
The new study titled, "Employment barriers facing Arab Women in Canada", combines surveys collected by Abacus Data, focus groups and interviews conducted in Ontario, Quebec, and Alberta (provinces with the highest populations of Arab-Canadians). The result is a helpful list of recommendations that would help any newcomer or immigrant trying to navigate the job market.
"Overall, social exclusion describes a state in which individuals are unable to participate fully in economic, social, political and cultural life," points out the United Nations.
Some Arab-Canadians are having a hard time participating economically, despite the historic presence of these diverse communities in Canada dating as far back as 1882, as chronicled by academic HoudaAsal in her book, "Identifying as Arab in Canada: a Century of Immigration History."
As one of the fastest growing immigrant communities in the country, with seven out of 10 who are first generation immigrants, dreams of success are too often stalled by systemic barriers threatening to "push Arab-Canadians further into poverty and social isolation," notes the report.
During the fall of 2020, Arab-Canadians had one of the highest unemployment rates in the country at 17.9 per cent, compared to a national unemployment rate of 9 per cent. Fast forward to today, Arab-Canadians continue to be among those with the highest unemployment rates, according to the March 2022 Labour Force Survey.
And Arab women are among the worst off.
" … why do Arab women have a higher unemployment rate than most non-Arab women?" question the report's authors. "Our main objective in this study is to understand the knowledge gaps behind the ever-increasing employment barriers facing Arab women and filling these gaps with evidence that inform policy recommendations."
Source: TheStar
https://www.thestar.com/opinion/contributors/2022/05/03/report-unpacks-why-too-many-arab-women-are-struggling-professionally.html
--------
Balochs are sacrificing their lives due to Pakistani oppression: Baloch woman activist
29 April, 2022
Toronto [Canada], April 29 (ANI): Distressed by a recent incident of a 30-year-old Baloch woman teacher blowing herself and killing four people, including three Chinese at Karachi University, a Baloch woman activist calls it a consequence of Pakistan's oppressive policies and genocide in Balochistan province.
Shari Baloch, who joined Baloch Liberation Army (BLA) two years ago volunteered herself for a "self-sacrificing mission" and targeted the Chinese to take revenge against Baloch genocide, occupation of Balochistan by Pakistan and now China's growing investment and interference in the region.
Prof. NaelaQuadri Baloch, the President of the World Baloch Women's Forum in Canada said, "If a mother of two beautiful kids who is having a very decent and well-educated family, Shari Baloch can decide to be a self-sacrificer then the world can understand what Baloch people are going through and who is responsible for that".
Prof. Naela added, "It is the state of Pakistan and the Communist government of China who are responsible for pushing our daughters and sons to the level of self-sacrifice because there is no political platform left and the United Nations are also not listening to Baloch people".
Balochistan has long demanded independence from Pakistan, and the multi-billion-dollar China-initiated One Belt One Road (OBOR) Project has further inflamed passions. The Baloch, who are opposing the China-Pakistan Economic Corridor as part of OBOR, are facing oppression and genocide by the Pakistan Army.
There are uncounted incidents of enforced disappearances and killings of Baloch political activists, intellectuals and students by the Pakistani security forces and secret agencies.
Prof. Naela said, "We are at the deepest level of pain. We are hurt that our highly educated youth, if they were not Baloch, could have a bright future. But as they are Baloch, which is their main crime, they have no future. They are picked up during daylight from the University by the ISI people, the Pakistani military, and then they disappear because the former knows that if they will be educated, they will become doctors, engineers, teachers or journalists".
"Being Baloch as they have no future in Pakistan, they have decided to be self-sacrificers. They have joined organizations like Majeed Brigade and Baloch Liberation Army because they think it is the only way to survive".
A large number of Baloch youth and political activists have migrated abroad to save their lives. They have been raising their concerns at international platforms, but there is no ray of hope.
Prof. Naela said, "Baloch people have raised their concerns in the United Nations and other international forums in a very peaceful way but nobody listens and our youth has been observing this thing. They see that there is no response from any country so if the International community will remain silent and just keep looking at the genocide of the Baloch people, this will be the reaction".
"Our sons and daughters, even highly educated ones have decided to go for self-sacrifice because they don't see any future or hope", said the Baloch political activist, who herself is living in exile due to life threats. (ANI)
Source:ThePrint
https://theprint.in/world/balochs-are-sacrificing-their-lives-due-to-pakistani-oppression-baloch-woman-activist/935544/
--------
Iran: Does wearing the hijab help women's careers?
Kaukab Shairani
03.05.2022
"Sometimes I take my hijab off accidentally, but my bosses gave me a notice to put it back. Men have the freedom to choose what they want, but women don't," Farzana (name changed) told DW.
The 22-year-old private sector employee in the Iranian city of Shiraz described it as having a "double life" in the workplace.
In Iran, mandatory hijab wearing was imposed several years after the 1979 Islamic Revolution. Under the law, women must cover their hair and wear loose-fitting clothes in all public places, including the workplace and at school and university. The mandate is enforced by so-called morality guards.
But there has been increasing resentment towards the hijab mandate, particularly among the younger generation and in urban areas.
Those opposed view it as a politically coercive tool that controls women's bodies. Iran has seen a wave of protests against the hijab in recent years, such as the White Wednesdays movement.
As the backlash against veiling grows, so has a crackdown on those breaking the rules.
In a first, a university in the capital Tehran deployed so-called morality guards on campus, to ensure that students comply with the hijab rules, a London-based Iranian International broadcaster reported in April.
As more women like Farzana flout the ban at work and elsewhere, some women have said rebelling could be putting their career at a disadvantage.
Hijab compliance helps women's careers
Complying with hijab rules means that women evade a fine or arrest, but wearing one also carries other benefits for women's careers.
"If you are properly veiled, you can work in this industry and make money because the government will put its weight [behind you] and allocate budgets," Anna Amir, an Iranian documentary filmmaker, told DW
Another Iranian woman, 26, who spoke on the condition of anonymity, explained that correct veiling was a top priority.
"In Iran, all they care about is your hijab … You could be the top student in university, but you could be banned over [not wearing] the hijab," she said.
Working under these conditions, for her, turned the workplace into "a prison."
Claudia Yaghoobi, Roshan Associate Professor and Director of Persian Studies at University of North Carolina-Chapel Hill, agreed with these anecdotal experiences.
Those who are "properly" veiled could have employment opportunities with great benefits, she told DW.
Renewed interest in hijab mandate
Time could play a role in how important it is to veil or not, including at work.
There have always been politically motivated fluctuations in the extent of clampdowns. In recent years, the compulsory hijab debate has seen a renewed focus.
When the government is focusing on other policies, morality guards become lax and therefore overlook "improper" veiling, Yaghoobi said.
"At other times, it [the clampdown] can be a stricter, militarized type of treatment."
However, the type of workplace is a factor too, with hijab compliance more tightly patrolled in the public sector.
According to KouroshZiabari, Iran Correspondent of Asia Times and the 2022 World Press Institute fellow, the veil mandate "is more stringent in government departments."
Veil mandates harm diversity of opinions
While veiling may help a career, filmmaker Amir said she rejects what she terms as a maneuver to "license" women's bodies and continues to try and work without government support.
Other disadvantages of the veil mandate may be less immediate. Yaghoobi views the exclusion of secular women from the workplace as having a negative impact as it reduces the diversity of women's voices.
"Women's voices are not being heard … and ideas aren't being implemented if they can't enter [offices] as secular women, who are improperly veiled," she said.
"From a year or two ago, elementary school children's books contained pictures of either women who were fully veiled or [their photos] had been eliminated," she told DW.
It also appears unlikely that the advantages experienced by women who veil would overcome ingrained workplace and societal discrimination of women in Iran.
The 2021 Global Gender Gap report, produced by the World Economic Forum, ranks Iran 150 out of 156 for gender equality, including equality in economic participation.
Are all Iranian women against mandatory veiling?
A 2021 report published by the Iranian government showed an almost 50/50 split in support for the law among the population.
Older women are believed to be more supportive of the hijab mandate than the younger generation.
"They dress conservatively and consider that to be their Islamic principle … They support these principles for the workplace and demand the government reinforce hijab more severely because the debauchery is promoting immorality in society," Ziabari said.
DW reached out to Iran's pro-hijab factions, including a state-run broadcaster, for comment, but did not receive a response.
Source:DW
https://www.dw.com/en/iran-does-wearing-the-hijab-help-womens-careers/a-61672238
--------
URL: https://www.newageislam.com/islam-women-feminism/eva-hijab-means-woman-pakistan/d/126929
New Age Islam Islam Online, Islamic Website, African Muslim News, Arab World News, South Asia News, Indian Muslim News, World Muslim News, Women in Islam, Islamic Feminism, Arab Women, Women In Arab, Islamophobia in America, Muslim Women in West, Islam Women and Feminism