New Age Islam News Bureau
30 November 2020
• Afghan Female Artist Breaks Tattoo Taboo In In The Conservative Afghanistan
• Iranian Women Journalists Resist 'Men's Colony'
• On The Go With Saudi Arabia's First Professionally Trained Cycling Club
• Saudi Arabia Appoints 50 Women To Serve Umrah Pilgrims
• SAOC chief affirms sports initiatives contribute to empowering women
• World Bank: Less Than 15% Of Iraq Women Work
Compiled by New Age Islam News Bureau
URL: https://www.newageislam.com/islam-women-feminism/european-human-rights-ambassadors-urge/d/123614
--------
European Human Rights Ambassadors Urge Saudi Arabia To Release Women's Rights Activists
November 30, 2020
By Angela Dewan, Sarah Sirgany and Tamara Qiblawi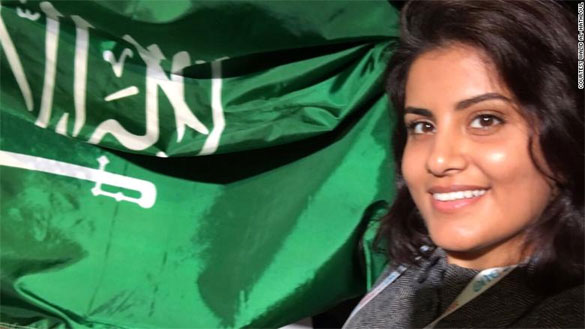 Jailed Saudi activist Loujain al-Hathloul
-----
(CNN)Seven European human rights ambassadors criticized Saudi Arabia on Sunday over the continued detention of at least five women's rights activists, including Loujain al-Hathloul, whose case has been referred to a special court for terrorism offenses.
Hathloul appeared in a Saudi court on Wednesday, as her trial was scheduled to start after 900 days in pre-trial detention.
The court instead referred the case to the Specialized Criminal Court for terrorism and national security cases, according to a statement from her family and supporters, sent to CNN.
The case of another women's rights activist, Samar Badawi, has also been referred to the special court. Three others -- Nassima al-Sada, Nouf Abdulaziz and Maya'a al-Zahrani -- remain in detention, according to human rights group Amnesty International.
"We remain deeply concerned by the continued detention of at least five women's right activists in Saudi Arabia. We regret that the cases of Loujain Al-Hathloul and Samar Badawi have now been referred to the Special Criminal Court for terrorism and national security cases," human rights ambassadors for the UK, Netherlands, Germany, Sweden, Estonia, Luxembourg and Finland said in a statement.
Hathloul, 31, was jailed in May 2018 during a sweep that targeted prominent opponents of the kingdom's former law barring women from driving. The crackdown happened just weeks before the ban was lifted, casting doubt on a reform agenda put forward by Crown Prince Mohammed bin Salman.
The court she appeared in on Wednesday said it would investigate Hathloul's allegations of torture in prison, according to the family's statement. Saudi authorities have repeatedly denied allegations of torture and sexual abuse in their prisons. A new trial date hasn't been announced yet.
Badawi had also campaigned against the driving ban and against the imprisonment of her former husband, rights lawyer Waleed Abu al-Khair, as well as her brother, blogger Raif Badawi.
"Peaceful activism, and advocating for women's rights is not a crime. Human rights defenders can be a strong partner for governments in addressing concerns within society," the ambassadors said.
"We join the UN High Commissioner for Human Rights, Special Rapporteurs and Treaty Bodies in reiterating our call for the release of all political detainees, including the women's rights activists."
CNN has reached out to the Saudi government for a response.
In an interview with CNN's Nic Robertson earlier this month, Saudi Minister of State for Foreign Affairs Adel Jubeir said Hathloul's case "was up to the courts" and that "she's on trial for matters related to national security."
An Amnesty International representative for the Middle East, Lynn Maalouf, said the Specialized Criminal Court was "an institution used to silence dissent and notorious for issuing lengthy prison sentences following seriously flawed trials."
"This is yet another sign that Saudi Arabia's claims of reform on human rights are a farce," Maalouf said.
In a six-page charge sheet for Hathloul's case, seen by CNN, a section entitled "crimes committed" included activism against the kingdom's restrictive male guardianship laws, along with contact with foreign journalists and diplomats.
Chairman of US House Intelligence Committee Adam Schiff called on Saturday for Hathloul's immediate release, saying on Twitter she had "endured torture and abuse for over 2 years while detained."
On Thursday, the US Bureau of Near Eastern Affairs said it was "concerned" by reports that the cases of Hathloul and Badawi had been transferred to the terrorism court.
"Activism on behalf of (women's) rights is not a crime. Also troubled by allegations of abuse against them & a lack of transparency/access to the trials," the bureau's press office wrote on Twitter.
The statement from Hathloul's family and supporters said she had started a second hunger strike on October 26 in protest of her prison conditions and because she was denied communication with her relatives.
The statement said she was forced to halt her strike after two weeks as authorities woke her up multiple times during the night, causing her to feel exhausted.
The statement said she looked "weak in court, that her body was shaking uncontrollably and that her voice was faint and shaky."
Her sister, Lina al-Hathloul, said that she and her family had received no updates on Hathloul since she began her hunger strike until Tuesday, the day before she was due to appear in court.
"And during this time the Saudi government, instead of responding to our repeated inquiries on Loujain's health, they have blocked our requests and denied us access to Loujain," she said in the statement.
Https://Edition.Cnn.Com/2020/11/29/Middleeast/Saudi-Arabia-Loujain-Hathloul-Activist-Court-Intl/Index.Html
--------
Afghan Female Artist Breaks Tattoo Taboo In In The Conservative Afghanistan
By Hameed Farzad, Sayed Hassib
NOVEMBER 30, 2020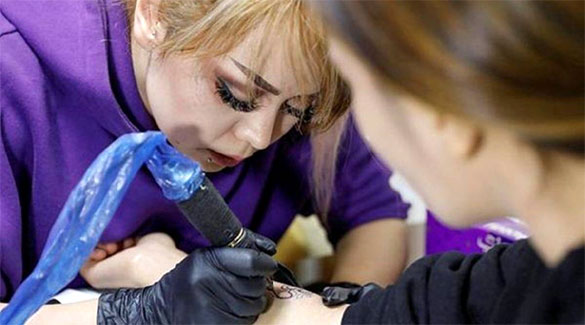 Soraya Shahidy carefully lays a stencil on Nargis Merzayi's arm before inking the latest tattoo in her salon in Afghanistan's capital Kabul
-----
KABUL (Reuters) - Soraya Shahidy carefully lays a stencil on Nargis Merzayi's arm before inking the latest tattoo in her salon in Afghanistan's capital Kabul.
A normal routine in studios around the world, Shahidy's artwork in the conservative country breaks a tattoo taboo: she believes she is the first female tattoo artist in a country where some religious scholars say tattoos are forbidden under Islam.
"I could have performed this profession abroad but I wanted to do it in Afghanistan because there are no female tattoo artists in the country," she told Reuters. "I believe it's not only men who can apply tattoos. Women can do it too."
Shahidy, 27, who trained in Turkey and Iran, insists her artwork is legitimate in Islam.
"Some mullahs say tattoos are forbidden, but there are other mullahs who say the opposite," she said, adding that Kabul is seeing a small but growing demand from young people for tattoos.
"Most clients want tattoos on their wrists, arms, neck and legs... Girls are more interested in delicate tattoo designs such as flowers, butterflies and dragonflies, or the names of people they love. But some boys choose designs that are extravagant to me."
One client, she said, wanted a tattoo of a tombstone inscribed "volunteer of death".
Shahidy's current client, Merzayi, was long interested in getting a tattoo and finally decided to go ahead with a design on the inside of her forearm.
"My tattoo is in Hindi handwriting and it means courage," she said.
Like many in the country, Shahidy thinks about the possibility of a return to power by the Taliban, who are in peace talks with the Afghan government to end two decades of war. But she expressed confidence the country has changed dramatically since the hardline Islamists were ousted in 2001.
"We are not the people who can easily lose the achievements we have gained over the recent years," she said.
https://in.reuters.com/article/us-afghanistan-women-tattoo-artist/afghan-female-artist-breaks-tattoo-taboo-in-kabul-studio-idINKBN28A03E
--------
Iranian Women Journalists Resist 'Men's Colony'
27.11.2020
Ramesh Kiani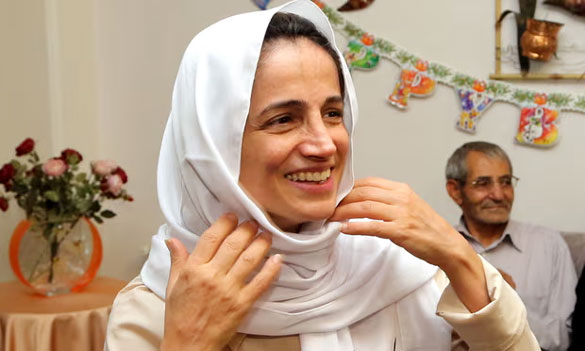 Iranian human rights activist Nasrin Sotoudeh is currently serving a 10 year sentence in the notorious "Evin" prison
-----
In February 2020 an industry magazine in Iran published the results of a study (Farsi) on sexual harassment experienced by Iranian women journalists. Ninety percent said they experienced sexual harassment at least once in the context of their work. Most of the harassment takes place verbally or as news in social media. Women journalists also reported experiences of inappropriate touching by men. In a DW interview two Iranian women journalists talked about their personal experiences.
Narges Fathi has worked as a journalist in Iran for many years. She believes that because she was raised in a religious family, the sexual harassment was even harder for her to bear than for other female colleagues. According to religious conservative beliefs, the job of a journalist is not a suitable activity for a woman. But Fathi fell in love with the profession during her university studies. Later, however, she felt that what she experienced during her work was also a consequence of this decision.
"I thought at the time that I had to be a good girl following the example of my family, but I am not because of my decision, and the harassment is punishing me for it."
After a while, the journalist began to doubt her feelings. "Now, years later, I know very well that whatever is aimed at my privacy is an example of harassment."
Fathi thinks there are two groups of men who harass female journalists. One are the colleagues who hold higher positions than their female colleagues, and the other are men close to the government who meet female journalists for interviews and reporting. "Especially those who are senior government officials feel that they can harass us because of their position and thus force us to remain silent."
Sexual harassment of politicians and government officials
Narges Fathi recalls the day she interviewed a member of parliament. After meeting in his office, he suggested that they continue the interview in the journalist's car on the way to an appointment. "As he began to talk about the subject of the interview, he put his hand on mine. He acted as if nothing special was happening, while I felt tormented and couldn't even react. After that I had to interview him other times and each time he touched me while he kept talking to me. This went on until I decided not to continue working with him but did not tell anyone the reason for this. A few months later, I still received disrespectful messages from him."
Fathi has experienced similar incidents in other ministries and government agencies. A public relations director offered to arrange an interview with his minister if the journalist would have sex with him in return.
Body contact and verbal harassment
Fathi explained how managers and colleagues abused power too. One of her married male colleagues repeatedly asked her to have a relationship with him. When she refused, he made her work environment so unbearable that she was eventually forced to quit her job.
As time went by and with growing self-confidence, Fathi decided not to keep silent in the face of the harassment. This led to a noticeable change, she said: "I reacted quickly and confidently when I was harassed by someone and this reduced the harassment."
A 'male colony' in the management department
Journalist Mina Karimi has dealt intensively with the topic of sexual harassment of female journalists and explains that the proportion of women compared to men is higher than average in the field of journalism because the job is not well-paid in Iran. Many men refuse to work for low salaries. On the other hand, all media managers are male politicians, and although there are many competent female journalists, only men land the jobs as editors-in-chief or senior editors.
Karimi reported that a journalist can easily be removed from an editorial office if she raises objections to her working conditions: "If a woman is sexually harassed by a reporter or an editor or even a manager and she complains, these men try to force the journalist to remain silent. Since these men are connected to those in other media through the network, it is hardly possible for these women to find a job in another media organization."
* The names of the female journalists have been changed for security reasons
https://www.dw.com/en/iranian-women-journalists-resist-mens-colony/a-55722690
--------
On the go with Saudi Arabia's first professionally trained cycling club
HALA TASHKANDI
November 30, 2020
RIYADH: As sports and other activities continue to gain popularity in Saudi Arabia, residents are seeking out exciting ways to get moving.
The Kingdom's female population are enjoying the new wave of opportunities that have been made available to them in recent years to live a healthy lifestyle.
Hiking, outdoor yoga and football are all popular choices, but one less familiar pastime on the increase is cycling.
Events such as the annual Saudi Tour and the General Sports Authority's highly successful all-women's cycling race in Jeddah in 2018 have fostered a growing interest in the sport.
Studies have shown that cycling improves overall health, more specifically improving mental health, strengthening the immune system, promoting weight loss, reducing heart disease and cancer and more.
Riding a bike can be one of the easiest forms of returning to fitness when you are bouncing back from an injury or illness.
A group of bike enthusiasts from Riyadh intend to spread the word and make people more aware of the healthy advantages of cycling and the joy that can be had on the back of a bicycle.
Doves Ride is Saudi Arabia's first professional cycling team, licensed both locally and internationally. Shahd Alturki, Doves Ride's founder and a professional cycling trainer, spoke to Arab News about why she set up the team.
"I founded Doves Ride to create an environment for women and families where they could get into sports," Alturki said.
Based in Riyadh, Doves Ride's goal is to create an environment where Saudis can discover what biking is like and meet others with similar interests.
"The idea was to create a team that would motivate Saudi society to start biking, and to raise awareness in general about sport and movement. We also wanted to help teach Saudis to cycle by creating a program to teach people in all categories," she said.
Doves Ride organizes rides for all levels, from the gentle trails suitable for beginners to the more challenging routes for hardened cyclists.
"We welcome participants at any level, whether they are looking for a long-term membership or just to try it out," said Alturki.
She also spoke about the benefits of the sport and hopes to encourage people to try it out for themselves.
"Biking is more than just a fun sport; it raises your fitness levels and can also boost your mental health," she said.
For the more hesitant, Alturki reassures them that she is well-equipped to train them and get them on the path to biking like a pro.
"We have bike-riding lessons for zero-experience learners, licensed by the British Cycling Federation. Children, men and women are all welcome to take them. These lessons can help any beginner ride a bike safely, and teaches them all the necessary skills and basics," she said.
Doves Ride can be contacted via their Twitter or Instagram accounts, @dovesride.
https://www.arabnews.com/node/1770321/saudi-arabia
--------
Saudi Arabia appoints 50 women to serve Umrah pilgrims
November 29, 2020
Saudi Arabia has designated 50 local women to serve Umrah pilgrims and worshippers at the Grand Mosque in Makkah, Gulf News quoted state-run news agency SPA as saying.
The escort or the Mutawafah would accompany old women among the pilgrims and would guide them to different places inside the mosque as well as drive the carts around the holy site.
The statement added that the women would also provide information to the pilgrims regarding the safety measures against Covid-19.
The General Presidency for the Affairs of the Two Holy Mosques has also provided a smartphone app for pilgrims to reserve electric and ordinary carts to use while performing the Umrah rituals in the Grand Mosque
The Mutawafah also guides women pilgrims about following precautions against Covid-19 for their safety.
On October 2, the kingdom had announced reopening the holy places for the year-round Umrah pilgrimage, scaled back and with extensive health precautions, seven months after coronavirus prompted its suspension.
The Umrah, the pilgrimage that can be undertaken at any time, usually attracts millions of Muslims from across the globe each year.
It was be revived in three stages, with the initial phase seeing just 6,000 citizens and residents already within the kingdom allowed to take part each day.
In recent years, Saudi Arabia has eased restrictions on women, including allowing them to drive and receive passports and travel abroad without permission from male guardian..
Under Crown Prince Mohammed Bin Salman's leadership, it has also opened the country to sporting, cultural and entertainment events.
https://tribune.com.pk/story/2274020/saudi-arabia-designates-50-women-to-serve-umrah-pilgrims-holy-mosque-worshippers
--------
SAOC chief affirms sports initiatives contribute to empowering women
November 29, 2020
RIYADH — The first virtual international forum of its kind hosted by the Saudi Arabian Olympic Committee (SAOC) and organized by the World Taekwondo (WT) in cooperation with the Saudi Taekwondo Federation (STF) and the Taekwondo Humanitarian Foundation was launched Friday for two days, under the title "Gender Equity and Women Leadership Forum."
The event which ran from Nov. 27-28 attracted more than 120,000 views on SAOC social media outlets throughout both days.
SAOC President Prince Abdulaziz Bin Turki Al-Faisal said in his speech at the opening of the conference that it is necessary to include sports in recovery plans against the various crises that the world faces. He added sports had shown the diversity of benefits and contributions that could be offered to human societies.
Prince Abdulaziz also affirmed that sports would be a compelling way to bring social progress and development in the Kingdom under the leadership of the Custodian of the Two Holy Mosques and the Crown Prince according to the plans of the Kingdom's Vision 2030.
He added that the Saudi Arabian Olympic Committee launched many sports initiatives that have contributed to empowering women to lead, and help many girls to achieve their dreams to become champion athletes.
The SAOC chief explained that they started from scratch in 2015. "We now have more than 25 federations that have women's national teams, and 30 federations have at least one woman holding the position of director of a board of directors, in addition to registering more than 2,400 players in various federations. And a more than 25% increase in women's participation in public games" he said.
The International Olympic Committee President Dr Thomas Bach said that the Olympic community has one goal, which is to make the world a better place through sport, stressing that the International Olympic Committee is always keen to achieve gender equality in sport.
Bach stressed that despite the many initiatives that reach the IOC through professional training programs for athletes to ensure the rigor of rules and referees, the conference represents evidence, leadership and a spirit of innovation to enhance the role of women in sporting societies.
Meanwhile, Dr Bach praised the role that the SAOC plays in promoting and empowering the role of women in sports according to the mission of the Kingdom's Vision 2030 to build a healthy and vibrant society.
He also expressed his happiness with the existing cooperation between the International Olympic Committee and its Saudi counterpart and the ITF to achieve the message Olympic is making the world better through sport.
The World Taekwondo President Dr. Chung Won Choue said that based on the fact that WT is the sole body that runs the sport of Taekwondo in the Olympic and Paralympic Games, it is necessary to use this feature to develop gender equality and lead women in sports and education, stressing that next year they will launch a strategy for comprehensive sustainability 2021-2030, which seeks to achieve the United Nations recommendations for gender equality.
Dr. Chung also noted the recent development of women's sports in the Kingdom and this included the Saudi female taekwondo players who won nine international medals. Moreover, the presence of more than ten players in the Saudi Taekwondo national team and the adoption of 15 referees for the game from the female cadre.
He indicated that the Kingdom would organize the first open women's taekwondo championship next February, which confirms SAOC's determination to support equal opportunities for both genders through sport.
In the second day, which included seven sessions with the participation of important female leaders such as Adwaa Al-Arifi, board member at SAOC, who talked during the "Women Leaders in Sports Organizations" session about her sports journey which began with small dreams of practising sports with her friends, after that, she established the first Saudi women's sports team in the Kingdom in 2006, with the participation of many Saudi women.
She pointed out that the Kingdom, through Vision 2030, is paving the way for many girls to achieve their ambitions, whether on the athletic or personal level.
In the session of "My Experience with Taekwondo", a member of the Athletes Commission at the IOC, Miriam Pavril, said that she had practised many different sports starting at the age of six, and had been training for four hours a day when she was 15 years old. This she added helped her to become an Olympic champion later in her life.
Dr. John Cullen, director of broadcasting at the World Taekwondo, confirmed that the IOC directives emphasized that there should be equal media coverage between the genders during and after the competitions, in addition to equality in employment, salaries and practical opportunities granted to athletes after retirement.
Meanwhile, In the "Taekwondo Paralympic Athletes" session, Lisa Gjinseng said that in her transformation from being an Olympic athlete to a Paralympic athlete, her ambition did not stop with her hand gone, but she continued her passion for sports until she ended up becoming the four-time World Taekwondo Paralympic Champion.
Sarah Stephenson, chair of the Sports for All Committee of the World Taekwondo, said in the session of "Empowering Women in the International Taekwondo Federation" that the game was not successful in the United Kingdom in the eighties and nineties. However, she added, with training, continuous development and patience; She became the first British Taekwondo champion at the age of 18 to win an Olympic medal. — SG
https://saudigazette.com.sa/article/600849/SAUDI-ARABIA/SAOC-chief-affirms-sports-initiatives-contribute-to-empowering-women
--------
World Bank: Less than 15% of Iraq women work
November 24, 2020
Women's participation in the workforce in Iraq is less than 15 per cent, the World Bank has said.
In a report, the global monetary body said less than 15 per cent of women work in Iraq and Jordan while only 26 per cent work in Lebanon. Jordan and Iraq have some of the lowest female employment rates in the world, it added.
According to the report, the journey to enter the labor market requires that women and girls are equipped with the appropriate skills that enable them to successfully transit from study to work.
A large gap exists between the sexes, it explained, especially in Iraq, where barely half the population of girls complete their primary education compared to three quarters of boys, while 80 per cent of boys aged 13 go to school, compared to only 40 per cent of girls.
https://www.middleeastmonitor.com/20201124-world-bank-less-than-15-of-iraq-women-work/
--------
URL: https://www.newageislam.com/islam-women-feminism/european-human-rights-ambassadors-urge/d/123614
New Age Islam, Islam Online, Islamic Website, African Muslim News, Arab World News, South Asia News, Indian Muslim News, World Muslim News, Women in Islam, Islamic Feminism, Arab Women, Women In Arab, Islamophobia in America, Muslim Women in West, Islam Women and Feminism