New Age Islam News Bureau
05 November 2020
• UAE Vows To Promote Women's Role In Maintaining Peace And Security
• A Feminist Detective Show, Churails, Banned In Pakistan For Its Bold Subject Matter And Depiction Of Its Female Leads
• Gilgit-Baltistan Women Won't Be Deprived Of Voting Right, Says Bilawal Bhutto Zardari
Compiled by New Age Islam News Bureau
URL: https://www.newageislam.com/islam-women-feminism/ethiopian-woman-opens-cafe-beirut/d/123380
https://www.newageislam.com/islam-women-feminism/ethiopian-woman-opens-cafe-beirut/d/123380--------
Ethiopian Woman Opens Cafe In Beirut, Calls On Lebanese To Fight For A Better Future
05 November 2020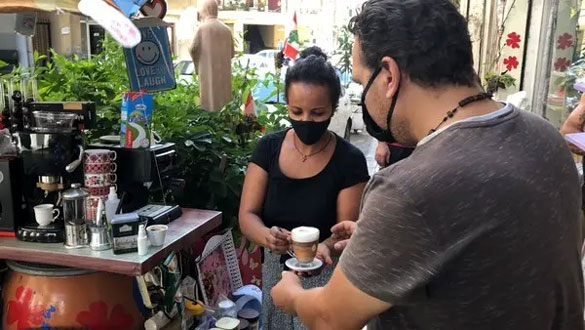 Coco Setargachew Hiowt, an Ethiopian woman who worked in Lebanon as a domestic worker has opened Café Coco. (Bassam Zaazaa)
------
An Ethiopian domestic helper, Coco, has been the Lebanese capital's talk of the town thanks to her newly launched mini-café that has been gaining publicity over the last few weeks.
With its small and cozy wooden-style exterior seating area, Cafe Coco opens its doors for clients from 7 a.m. until midnight daily.
With her friendly smile, 33-year-old Coco Setargachew Hiowt prepares multiple types of coffee using Ethiopian beans as she welcomes her clients in the mini cafe in one of Beirut's neighborhoods.
Having spent over 13 years in Lebanon, Coco refused to leave Lebanon amid its worst economic catastrophe and current dollar shortage, the currency in which her salary was once paid.
Many domestic workers from Ethiopia have sought ways to leave Lebanon due to the economic crunch and the devaluation of the local currency that have set in even before the coronavirus pandemic hit.
Support from her sponsor
Coco's sponsor and employer Eddy Ebrahim supported her startup.
"I told my sponsor [Eddy] I don't want to leave Lebanon despite not getting my salary in dollars anymore. I stayed here and specifically as things took a deeper nosedive," she said. "I love this country … it is my second home. I decided to stay here, fight and work harder. I am sure that the citizens should not leave as well. This is their country and I trust that it will rise again. Lebanese should stay and work for the best of their homeland."
Meanwhile Eddy, who is a shop owner, said that Coco is a loyal and hardworking person as much as she is a patient, successful and self-determined woman.
"She didn't mind not getting her salary in dollars anymore when I told her so. Coco surprised me when she decided to stay here and [open] her own business. Despite my limited capabilities and resources, I supported her to the maximum and provided her with a small corner to sell coffee in one of my shops," Eddy told Al Arabiya English.
At the age of 16, Coco came to Lebanon for the first time in 2006 to work as a domestic helper for a lawyer in Beirut's Fern Al Chebbak neighborhood where she met Eddy and his family.
Her former sponsor passed away in 2016 and she returned to Ethiopia.
"I contacted Eddy and told him I love Lebanon and want to return… he issued me residency in 2018, and I came to stay with his mother."
When the economy deteriorated, "Eddy encouraged my idea to buy a small coffee machine to sell coffee, in the corner of his shop," she said who bought the coffeemaker for 400,000 Lebanese pounds from her own pocket.
Nearly nine weeks have passed since she started selling coffee, and for Coco, business is starting to pick up. Her coffee has a reputation for its affordability at a time when few things are and the good taste of the hand-roasted coffee beans, which she roasts herself.
Eddy believes that through her obvious willpower Coco's story delivers a positive message to Lebanese citizens not to ditch their country and migrate but rather stay and fight.
"Lebanon is a great country to fight for change … I love this place as much as I love my homeland," said Coco, who said that she is a strong supporter of the October 17 revolution.
During Al Arabiya English's visit to Coco's café, a young man and his mother happened to be seated on a couch chatting and sipping coffee.
Preferring to remain unnamed, the mother and her son invited clients to come enjoy a "tasty coffee at a comfy café."
Blend of cultures
"My compatriots and Lebanese friends and clients have been encouraging and supporting me on social media. It started with a word of mouth and now the media is all over the place. This is becoming a trendy buzz across social media platforms. It all started with a small coffeemaker.
Thanks to Eddy's unlimited support, the place has turned into a mini-café. The blend that I have managed to create herein between the Lebanese and Ethiopian cultures and tastes seem to attract further customers," she explained.
For all the latest headlines, follow our Google News channel online or via the app.
Clients from distant areas [outside Beirut] of Zahle, Jounieh, Batroun, Tripoli and others have been visiting her café to enjoy her delicious coffee, she said.
However, Coco said the dollar crisis that has badly affected Lebanon has not spared her business. She imports coffee beans from Ethiopia and pays a person $10 a week who flies weekly to her homeland to bring her supplies, which also cost $10.
"Everybody has been supporting me. In return, I call on all my Lebanese friends and the citizens not to leave their country, stay and work for this lovely land. If they leave, who will make the change … Lebanese should stay and work for a better Lebanon. I am confident Lebanon will rise again," she said.
Meanwhile, Eddy concluded by pointing at Coco and saying "most Lebanese should learn from this successful prototype."
https://english.alarabiya.net/en/features/2020/11/05/Ethiopian-woman-opens-caf-in-Beirut-calls-on-Lebanese-to-fight-for-a-better-future
--------
UAE vows to promote women's role in maintaining peace and security
November 2, 2020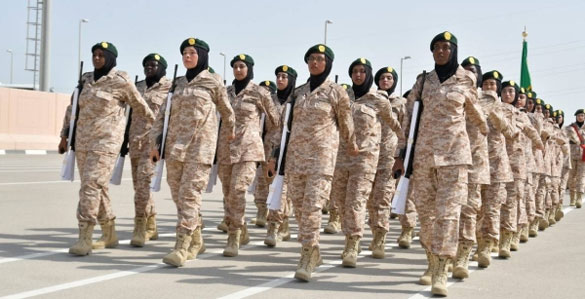 The United Arab Emirates reaffirmed its commitment to facilitating enabling environments for women and girls around the world to realize their full, equal, and meaningful participation at the UN Security Council's annual open debate on Women, Peace, and Security (WPS). — WAM
------
NEW YORK — The United Arab Emirates reaffirmed its commitment to facilitating enabling environments for women and girls around the world to realize their full, equal, and meaningful participation at the UN Security Council's annual open debate on Women, Peace, and Security (WPS). The international community is observing the twentieth anniversary of the landmark Security Council resolution 1325, which established the WPS architecture.
In a written statement to the Council, the UAE said: "Over the past two decades, the WPS has been pivotal in recognizing the disproportionate effects of conflicts on women and girls, but it has particularly contributed to the recognition of them as active agents and the meaningful role they play when it comes to conflict prevention, resolution and post-conflict recovery processes. While it is our duty to protect the progress made and to ensure gains will not be lost and inequalities further deepened, the advancement of the WPS agenda is a key priority for the UAE and will remain as such during our recently announced candidacy for an elected seat on the Security Council for the 2022-2023 term with our focus on the full and effective implementation of UNSC Resolution 1325 and its subsequent 9 resolutions."
Underscoring the importance of multilateral efforts in ensuring women and women's issues are not sidelined, the UAE noted its collaboration with the Georgetown Institute for Women, Peace and Security (GIWPS) on a panel series on the role of women in post-conflict reconstruction and peacebuilding. The UAE added that together with GIWPS, it will be launching a UN Action Plan, which will outline concrete priority actions and reforms for Member States and UN agencies to introduce and extend measures that ensure post-conflict activities are gender-mainstreamed.
The UAE emphasized the importance of the number of women uniformed personnel as well as their influence in building sustainable peace. In this regard, the UAE highlighted the Sheikha Fatima bint Mubarak Women, Peace and Security Initiative which, in cooperation with UN-Women, has enabled the successful graduation of over 300 women from Asia, Africa, and the Middle East to facilitate their effective contribution to peacekeeping, conflict resolution, and all aspects of building peace. The UAE further noted that it hopes to contribute to closing some of the gaps related to gender-responsive security sector reform and called on Member States to identify and address the barriers facing women peacekeepers.
Furthermore, the UAE underlined that the international community could not dismiss the unwaveringly high number of cases of sexual and gender-based violence. The UAE condemned such crimes as they pose a serious threat to peace and security and stated that holding perpetrators accountable is a critical component of preventing and deterring the violence.
The UAE also added that funding allocated to sexual and gender-based violence is still far from covering the actual needs, and to this end reiterated the UAE's support through additional financial contributions to the UN's GenCap and ProCap programs, as well as Nadia's Initiative. The UAE called on the member states to ensure their foreign aid specifically targets similar programs and to work closely with UN entities and other organizations towards ending sexual and gender-based violence. — WAM
https://saudigazette.com.sa/article/599837/World/Mena/UAE-vows-to-promote-womens-role-in-maintaining-peace-and-security
--------
A Feminist Detective Show, Churails, Banned In Pakistan For Its Bold Subject Matter And Depiction Of Its Female Leads
By Waseem Mushtaq
November 02, 2020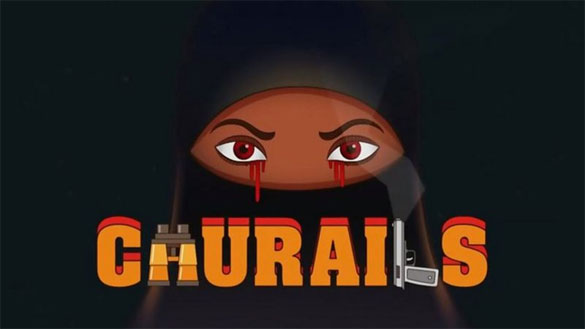 The web series features a group of women who set up a detective agency
------
A new Pakistani web series called Churails has created an uproar in the country for its bold subject matter and depiction of its female leads.
The 10-episode series features a group of women from diverse backgrounds who get together to start a secret detective agency called Churails - the Urdu word for "witch".
The show ran into controversy when the country's media regulatory body banned it in Pakistan after a backlash over a clip from the series that went viral on social media.
The regulator asked Indian video-on-demand platform Zee5, which streamed the show, to take the series down for Pakistani audiences, and the platform complied.
Taking to Twitter on 7 October, the show's director Asim Abbasi expressed his despair at the move, saying he was utterly disappointed that artistic freedom and content that was appreciated abroad was being smothered in its country of origin.
What is the scale of the pandemic in South Asia?
However, following much criticism the web series was restored for Pakistan-based audiences on Zee5, something that's been confirmed by Abbasi.
But by then most Pakistanis had reportedly already watched the pirated version of the show on other websites.
Uncovering harsh realities
The show is about four women - an upper-class lawyer-turned-housewife, a snobbish event planner, a teenage boxer, and a fresh-out-of-jail murderer - brought together by patriarchal injustices. Joined by more women, they start a fashion boutique as a facade for their secret agency.
The aim of their detective work is to help other women find out details about husbands who they suspect are cheating on them.
But as the show progresses it touches upon pressing issues such as child marriage, harassment, abuse, forced marriages, racism, class inequalities, homosexuality and society's collective obsession with a fair complexion.
From threatening an abusive husband to saving a Churails member from a forced marriage, the agency members' niqabs - Islamic face veils - are instrumental in protecting their anonymity during their missions.
The show uncovers some harsh realities of Pakistani society and ends on a cliffhanger, suggesting a second season.
In an interview with prominent Indian newspaper The Hindu, the four leads of the show said: "Churails is not a happy meal. Everybody can't love it. All four of us are, in our own right, advocates of something as simple as civil liberties and equality for all."
'Game changer' for Pakistani women
The show has garnered rave reviews in both Pakistan and India, with some commentators even terming it a "game changer" for women in Pakistan.
Critics and experts have both hailed the show, saying it breaks new ground, smashes stereotypes and puts strong women at the centre of its story.
Calling Churails "a feminist masterpiece", prominent Pakistani daily The Express Tribune said the show "can be a conversation-starter for many, if not anything else".
"Churails is definitely not what Pakistani drama and soap watchers are used to, but the show and its creators remain unapologetic," said Pakistan's leading English-language newspaper Dawn. It added that the show has taken Pakistani "drama aficionados by storm" with all the "right ingredients".
Similarly, Indian newspaper The Indian Express said "the real strength of the series comes from getting up close and very personal with the women".
Social media backlash
The web series has faced a strong backlash in its country of origin over its depiction of women drinking alcohol, wearing what are considered questionable clothes in the conservative society, and using foul language.
A clip from the show, which began streaming in August, went viral on social media.
It showed one of the characters, Sherry, played by veteran actor Hina Khawaja Hayat, talking explicitly about giving sexual favours to men in order to climb the ladder of success. This particular scene infuriated social media users who said such content promoted vulgarity and should be banned.
The Muslim-majority country usually takes a strict line on content that is deemed too bold for TV and web series. The most recent example was a biscuit advertisement described as "indecent" by the country's media regulatory body Pakistan Electronic Media Regulatory Authority (PEMRA).
Supportive voices
The Pakistan government's ban on the series did not go down well with actors, filmmakers and other celebrities, evoking strong reactions.
Prominent Pakistani actor Usman Khalid Butt posted a series of tweets expressing his rage and reminding the authorities to work on solving a rape case that has made headlines in recent days.
"Oh, you got Churails banned? Congratulations. Now please focus your outrage on the fact that police have failed to arrest the prime accused in the motorway rape incident", Butt tweeted.
Popular actress Sanam Saeed also expressed similar sentiments over the curbs on content.
She tweeted: "Banning dancing ads, outspoken films and web-series will not end rape if that's the agenda. Why are we riddled with such hypocrisy? Buss bandh darvaazon kay peechay ho sub (Everything should happen behind closed doors?)".
Famous podcaster Uzair Younus wrote: "It's amazing that men in a country with one of the highest rates of porn viewership have a problem with a scene from #Churails that highlighted the grim reality of what women must deal with at the workplace. Ban action movies too as Pak [Pakistan] has had a crisis of violence and killing!"
https://www.bbc.com/news/world-asia-54629439
--------
Gilgit-Baltistan Women Won't Be Deprived Of Voting Right, Says Bilawal Bhutto Zardari
November 04, 2020
ABBOTABAD:
Pakistan Peoples Party (PPP) chairperson Bilawal Bhutto Zardari has said that his party will thwart all alleged attempts aimed at preventing women from exercising their right to franchise during upcoming elections in Gilgit-Baltistan.
"Some people say that women will not be allowed to vote in Diamir but the jiyalas and jiyalis will not allow such people to succeed," he said while addressing a women convention at the residence of his party worker Saadia Danish in Diamer on Tuesday.
Nayyar Hussain Bukhari and Qamar Zaman Kaira among other party leaders also attended the event.
Bilawal said Saadia is a follower of his late mother, former prime minister Benazir Bhutto and will win the election from Diamir because she is carrying the ideology of the great leader.
The optimistic PPP chief said his party will win the polls and "celebrate victory on November 15".
Over a dozen political and religious parties – including the country's three major parties Pakistan Tehreek-e-Insaf (PTI), Pakistan Muslim League-Nawaz (PML-N) and PPP – are contesting the polls scheduled to be held on Nov 15.
The PPP leader said that British era's FCR (Frontier Crime Regulation) system was abolished by his late grandfather and former prime minister Zulfikar Ali Bhutto in 1970s to empower the region.
In previous PPP tenures at the Centre, he said the status of the region was elevated and steps were taken to ensure democratic rights of the people. "Now PPP wants to give the people of G-B their own province, right to rule, right to choose prime minister of Pakistan and the right to own property."
He said his mother introduced democracy in the region while his father former president Asif Ali Zardari gave identity to the people of G-B.
The PPP chairman said the elections in the region are being held to bring improvements in the mountainous region particularly by empowering the region's youth and women.
Bilawal said like Sindh, his party will also introduce poverty alleviation programme in G-B for women and create employment opportunities for the locals.
"Today people are being made unemployed in the country but the PPP will provide jobs to the people of G-B. We need people-friendly economic policies to overcome challenges like unemployment and price hike."
He also urged the people of the region to vote for PPP in the November 15 election, while pledging to fulfill his election promises made to the people of G-B.
https://tribune.com.pk/story/2270982/g-b-women-wont-be-deprived-of-voting-right
--------
URL: https://www.newageislam.com/islam-women-feminism/ethiopian-woman-opens-cafe-beirut/d/123380
New Age Islam, Islam Online, Islamic Website, African Muslim News, Arab World News, South Asia News, Indian Muslim News, World Muslim News, Women in Islam, Islamic Feminism, Arab Women, Women In Arab, Islamophobia in America, Muslim Women in West, Islam Women and Feminism