New Age Islam News Bureau
03 June 2022
• Domestic Issues Dominate Inquiries of Women on Fatwa in Egypt Mosques
• Abu Dhabi Women to Get Free Crypto, NFT and Blockchain Domains
• Sarah Al-Akour: The First Saudi Woman Commentator at Camel Races
• KAUST, University Of Texas Partner to Empower Entrepreneurial Saudi Women
• Two Pakistanis Arrested For Secretly Filming Women in Turkey
Compiled by New Age Islam News Bureau
URL: https://newageislam.com/islam-women-feminism/empowered-saudi-women-mechanics/d/127165
--------
Empowered Saudi Women Move From Behind the Wheel to Under the Hood as Mechanics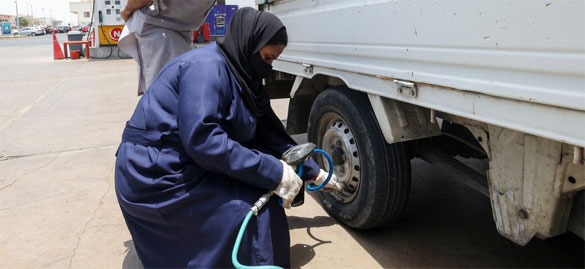 Empowered: Ghada Ahmed checking tire air at an auto quick-service garage in Jeddah, Saudi Arabia, on May 26. (AFP//Fayez Nureldine)
-----
03 June, 202
An auto repair garage in Saudi Arabia is turning to an untapped source for new car mechanics: Saudi women, who just four years ago weren't permitted to drive.
At the Petromin Express garage in Jeddah, on the Red Sea coast, new female recruits check oil and change tires alongside their male counterparts, part of a nationwide push to bring more women into the workforce.
Yet the women trainees have encountered a few barriers as they enter a field that is male-dominated the world over.
Several told AFP their first months on the job have brought flashes of self-doubt, skepticism from some relatives and disapproval from some customers.
"At the beginning, it's normal not to trust us, because I'm a woman," said Ghada Ahmad, wearing grease-streaked white gloves and a long blue overcoat.
"It's something new for them... After years of only seeing men, now comes a woman."
As she struggled to learn the basics, Ahmad had moments when she wondered if such men might have a point.
As her skills improved, so did her confidence – aided by other customers who were more encouraging.
"One man came and said: 'I'm very proud of you. You are honoring us. You are a crown on our heads.'"
Helpful husbands
Expanding women's rights is central to Crown Prince Mohammed bin Salman's Vision 2030 goal, intended to diversify the oil-dependent economy.
The highest-profile change came in 2018, when the Crown Prince oversaw the end of a decades-old ban on women driving.
The country also eased "guardianship" rules that give men arbitrary authority over female relatives.
These moves have burnished the Crown Prince's reputation as a women's rights champion.
Ola Flimban, a 44-year-old mother of four, first heard about the jobs from a social media post, and immediately asked her husband, Rafat Flimban, if she could apply.
Rafat agreed and helped his wife prepare for the interview by teaching her the names of spare parts.
"Now she has experience in different car types, how to change oil, how to check cars. She's even checking my car," he said.
The support at home has made it easier for Ola to deal with wary customers at the garage.
"They are surprised that girls work in this field, and ask us to explain how we fell in love with this field," she said.
"That is the most common question."
As she spoke, 20-year-old Mechaal drove up in his silver sedan for an oil change.
He admitted being "shocked" that the task would be carried out by a woman, but he soon came around.
"If they are here, it must mean they are trained," he said, "and maybe they understand my car better than me."
Petromin vice president Tariq Javed said his company was "confident that this initiative will encourage more women to join the automotive industry in all stages."
The company says its training covers "all express services, including oil, battery, tyres, A/C, and other automotive requirements."
'We make girls feel relaxed'
Perhaps the biggest winners from the firm's initiative are the city's women drivers.
"We make girls feel relaxed when we operate on their cars," said 30-year-old Angham Jeddawi, who has been at the garage for six months.
"Some girls feel shy when dealing with men. They don't know how to talk with them, and they don't know what will be done with the car. But with us they are free to talk a lot."
For Jeddawi, the job has fulfilled a lifelong goal she once thought impossible.
"My dream was to enter the automobile sector, but for a Saudi woman this field was not available. So when the opportunity came, I applied straight away," she said.
The knowledge she's gained has encouraged her to hit the road herself.
She has been studying for her driving test and hopes to have a license within a month.
"If I face a problem in the middle of the road, now I know how to react," she said.
Source: Al Arabiya
https://english.alarabiya.net/News/gulf/2022/06/03/Empowered-Saudi-women-move-from-behind-the-wheel-to-under-the-hood-as-mechanics
--------
Domestic Issues Dominate Inquiries of Women on Fatwa in Egypt Mosques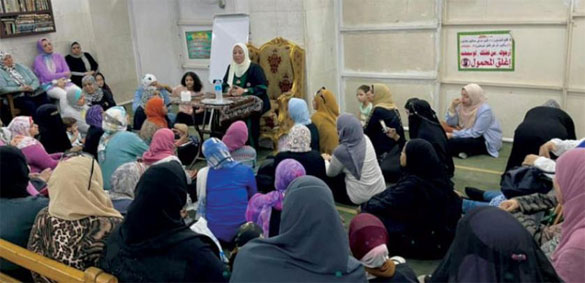 Preacher Dr. Jihan Yassin Youssef. Asharq Al-Awsat
-----
2 June, 2022
In a first-of-its-kind experience, Egyptian female preachers have been hired in mosques to give fatwas. Their mission is to listen to women seeking fatwa in religious and social matters, especially on the domestic level (marriage, love, work, family ties, friends, and relatives) in fatwa councils dedicated for women, and held every Saturday between sunset and night prayers.
These councils are aimed at giving women a shame-free opportunity to ask the questions they have in mind, especially in private woman-related topics, and consult female specialized preachers who attended trainings in fatwa, and graduated from the preachers institute affiliated with the Ministry of Awqaf.
This new experience started with four female preachers serving in four major mosques in the Egyptian capital: The Imam Hussein Mosque, Al-Sayyida Nafisa Mosque, Giza's Al Istiqama Mosque, and Nasr City's Al-Rahman al-Rahim Mosque.
Preacher Dr. Yumna Abu al-Nasr serves in the female fatwa council at the Imam Hussein Mosque, one of Egypt's greatest historic mosques. This experience has placed her in a direct contact with the complex and sensitive matters of the modern era.
"The experience of female fatwa council has seen a remarkable turnout and interaction from women. Attendees' ages range between 12 and 80, with questions and inquiries covering all aspects and challenges of our daily life, including religious matters about prayers, fasting, and Imams, as well as social topics such as divorce, marital relationship, and family ties," she told Asharq Al-Awsat.
Abu al-Nasr notes that the age difference among attendees reflects a wide contrast in questions and concerns. "The inquiries of young women focus on makeup, accessories, clothes, and marriage plans, while older women show interest in deeper social matters such as divorce, disobedience to parents, and raising children," she said.
Interestingly, according to Abu al-Nasr, more women have been asking questions about financial and economic issues, such as bank interests, loans, inheritance, independent financial disclosures for the wife, and savings.
Dr. Jihan Yassin Youssef, a preacher and gynecologist, who serves is the fatwa council at Giza's Al Istiqama Mosque, combines her medical knowledge with her qualification for fatwa, when evaluating women related matters.
"I found a connection between the medical and religious issues, as many women related problems require religious opinion. My work as a gynecologist helps me explain many scientific topics, especially those related to private women issues, like the marital relationship, and the biological reasons that exempt women from prayers and fasting," explained Youssef.
"Many women turn their counseling from religion to medicine when they know I am a gynecologist. They ask sensitive questions spontaneously and shamelessly, which transforms our sessions into conversations, medical consultations, and religious clarifications," she noted.
Source: Aawsat
https://english.aawsat.com/home/article/3679841/domestic-issues-dominate-inquiries-women-fatwa-egypt-mosques
--------
Abu Dhabi women to get free crypto, NFT and blockchain domains
by Sandhya D'Mello
2 Jun 2022
Access Abu Dhabi and the Abu Dhabi Investment Office (Adio) have partnered with Web3 identity platform and NFT domain name provider Unstoppable Domains to provide free crypto domains to all women residing in the UAE capital. The giveaway aims to provide opportunities for more women to learn about and ultimately participate in Web3, a space where only 5 per cent to 7 per cent of all cryptocurrency users are women and just 12 per cent work in blockchain.
The initiative was announced during a delegation visit to Abu Dhabi by the 'Women of Web3', a powerhouse group of disruptive female tech entrepreneurs from the United States exploring the emirate as a gateway for global expansion. The 'Women of Web3' delegation is hosted by Access Abu Dhabi, a Maven Global Access programme powered by Adio. The programme seeks to empower minority and women-owned businesses in a high-growth country where 50 per cent of the small to medium-sized enterprises are already women-owned.
Abdulla Abdul Aziz Al Shamsi, acting-director general of Adio, said: "Abu Dhabi is ensuring the future of Web3 is built around a powerful infrastructure that appeals to all members of the community. By supporting initiatives that invite and uplift women, we can champion diversity early in the Web3 era. The partnership with Unstoppable Domains to provide free crypto domains to all women in Abu Dhabi and embodies the emirate's promise of inclusion, while creating opportunities for private sector participation in a fast-growing space."
As Abu Dhabi ramps up efforts to become the Middle East's crypto hub, the emirate is ensuring the necessary tools and resources are available to encourage active participation in the Web3 space from women across all communities. One pillar of blockchain technology, which has been instrumental in fueling its popularity is its potential to offer access that transcends geographical and financial limitations that excluded groups in the past.
The initiative stands to become a life-changing opportunity for women of Abu Dhabi to capitalise on Web3 opportunities. It provides them with a decentralised web address and digital identity that gives them complete control of their data and content within a space that they fully own, as opposed to Web2 domains, which are leased for fixed periods through third-party brokers.
Sandy Carter, SVP of Unstoppable Domains and Founder of Unstoppable Women of Web3, said: "It's great to see Abu Dhabi leading the mission to bring Web3 opportunities to women in the Middle East. It has been an honour to be a part of the 'Women of Web3' delegation, and I am grateful to Access Abu Dhabi and Adio for providing such an immersive look into Abu Dhabi's business and technology ecosystem." She continued, "Providing free crypto, NFT and blockchain domains to all women in Abu Dhabi is a power move that ensures women will be included in increasing numbers within the fabric of the Web3 movement for generations to come. The immense support that we've received from Adio and Maven Global Access proves that Abu Dhabi doesn't just believe in a more inclusive and decentralised future, but is actively building it."
The 'Women of Web3' delegation hosted by Access Abu Dhabi recently concluded with the delegates exploring business expansion opportunities in Abu Dhabi. From 24-26 May, a curated group of US female entrepreneurs in Web3 technologies met with business leaders and key business enablers across the emirate's ecosystem.
Sarah Omolewu, managing partner of Maven Global Access and founder of Access Abu Dhabi, said: "In a market of expats from more than 200 countries, this initiative could potentially impact the lives of generations of women around the world." She added, "This is the legacy-building impact I envisioned for the Access Abu Dhabi programme. While the financial gap between male and female founders still exists, the game is changing, and more women recognise the value of emerging technologies in growing and funding their businesses. I'm honored and humbled to have received the support of the Abu Dhabi Investment Office and Unstoppable Domains to make this moment possible."
Ola Lind, CSO Nasdaq Listed FTFT, chief executive officer & director FTFT Capital, said: "The initiative of the Abu Dhabi government granting free domains to women in that Emirate is commendable. A rise in the number of women users and investors will result in the emergence of a completely untapped market. In behavioral finance studies, women are frequently less risk-averse than males. More women trading cryptocurrency debunks the notion that cryptocurrency investors are risk-seeking individuals. As more women invest in cryptocurrency, the industry's standing improves. Their rising participation contributes to the argument that cryptocurrencies can coexist with traditional investments."
Echoing similar sentiment, Marata Carroz Tapsoba, senior advisor, Global Acquisitions, Idoneus, said: "The move by the Abu Dhabi authorities to free cryptocurrency domains for women is timely and welcome. I believe that this initiative will not only encourage greater participation by women but also strengthen and add more credibility to the industry. Additionally, more women in business will have wider access to capital, which will subsequently boost their enterprises. This move will also further cement the UAE's position as a leading blockchain and cryptocurrency hub."
Source: Khaleej Times
https://www.khaleejtimes.com/business/abu-dhabi-women-to-get-free-crypto-nft-and-blockchain-domains
--------
Sarah Al-Akour: The first Saudi woman commentator at camel races
June 03, 2022
RIYADH — Sarah Al-Akour was chosen as the first Saudi woman commentator for camel races, after she entered the Saudi Golden Equestrian commentator competition for men and women, which was launched by the Saudi Camel Federation.
Al-Akour passed the tests through a 5-minute video commentary, and her name was announced among 27 qualified participants out of 300.
She has prior experience commenting on equestrian races, and was always keen on preparing and collecting all the information she would need for upcoming races. In her opinion, this is the most important characteristic of a successful commentator.
Despite the difficulty of knowing all the names of the participants, owners, logos and camels, she said, "Names are easy for me to pronounce because I am a daughter of this authentic heritage, and I have the know-how and awareness of how to pronounce names while commentating, a job that gives great pleasure."
Al-Akour is keen on becoming a competent commentator and uses the appropriate vocal tone at the start and finish lines. She has passion and objectivity, and she makes sure each and every participant gets their share of attention, in order for the audience and horse owners to enjoy.
She also seeks to develop her own performance style away from traditional commentating. She elaborates, "I was not influenced by camel racing commentators, I just observe, but without absorbing their style because each commentator has his own identity, culture and style, which should be like a thumbprint for every person and not a duplicate of other commentators."
She added: "The passionate commentators always have their own style, their mark and their different personal charisma, and this imprint was formed through sufficient information about camels and their owners, and keeping up-to-date on the sport since its inception until today."
Source: Saudi Gazette
https://saudigazette.com.sa/article/621323/SAUDI-ARABIA/Sarah-Al-Akour-The-first-Saudi-woman-commentator-at-camel-races
--------
KAUST, University of Texas partner to empower entrepreneurial Saudi women
June 02, 2022
THUWAL — King Abdullah University of Science and Technology (KAUST) announced on Thursday the completion of bootcamp that welcomed 45 Saudi-based female founders as part of the "Empowering Saudi Women Through Entrepreneurship" program.
The Saudi-first program has been developed in partnership with the University of Texas at Austin's Global Innovation Lab (GIL), a unit of Texas Global, and the US Consulate General in Jeddah. It aims to build the capabilities of female entrepreneurs in Saudi Arabia and the entrepreneurial ecosystem while expanding access to domestic and global markets.
Female entrepreneurs are essential for the development of advanced industries to support the creation and growth of new ventures. By supporting this important group, KAUST hopes to spur growth and diversification in the economy while encouraging the participant's ambitions — two vital pillars of Vision 2030. The women selected to participate in the program are developing innovative technologies and products with global export and growth potential to help solve pressing Saudi societal and economic challenges, focusing on issues in western Saudi Arabia.
"KAUST is committed to supporting the advancement of female entrepreneurs in Saudi Arabia. We're so excited to see the outcomes of this partnership and the real impact that participants will have in the Kingdom and beyond as they develop their skills and join this international network," Hattan Ahmed, Director of KAUST Entrepreneurship Center.
The hybrid program started online via the GIL's online Innovation Readiness® Series in March 2022 and continued in June at the GIL and KAUST Bootcamp from May 29 - June 2, 2022, where participants were fully immersed in branding and storytelling, fundraising, leadership, pitching as well as one-on-one sessions with KAUST mentors. The Bootcamp culminated in the women delivering a final pitch in front of a panel of GIL and KAUST judges, who selected which hopefuls qualified to continue and attend the final training in the U.S. at the UT-Austin campus in July 2022.
There, the finalists will join an extensive global network of UT-Austin and the city's own vibrant entrepreneurial ecosystem. Taking advantage of global networking in this way will offer new opportunities and broaden the participants' global influence and impact.
Both UT-Austin and KAUST have the shared objective and goal to promote entrepreneurship via programs that encourage skills such as problem-solving, critical thinking and teamwork. The program solidifies this mission and the U.S. Consulate, based in Saudi Arabia, is offering its full support. By empowering Saudi women and fostering collaboration between tech-centered institutions like KAUST and their American counterparts, the Consulate hopes to produce fruitful alliances to tackle pressing global issues.
"Texas Global is proud to partner with KAUST and the U.S. Consulate General in Jeddah to offer a program that advances women's entrepreneurship ," said Dr. Sonia Feigenbaum, senior vice provost for global engagement and UT-Austin's chief international officer. "The Global Innovation Lab curriculum teaches strategies to ensure the long-term sustainability of participants' endeavors, promoting entrepreneurship as a means of stimulating economic growth and thereby increasing the financial security and prosperity of the citizens of Saudi Arabia."
Upon completing the program, participants will have gained the knowledge necessary to start a successful entrepreneurial venture and build the capacity to ensure long-term sustainability. This will result in a positive ripple effect throughout the Saudi Arabian ecosphere as well as strengthen global connections through groundbreaking entrepreneurship.
"The United States and Saudi Arabia have a long history of economic, educational, and cultural exchange that benefits both countries." said Dale Lawton, Public Affairs Officer at the U.S. Consulate General in Jeddah. The U.S. Consulate General in Jeddah works to maintain this relationship by partnering with programs and initiatives that further the positive economic transformation outlined in Vision 2030. Hundreds of Saudis and Americans who have participated in our programs are an important part of the ties that bind our two nations together."
By supporting Saudi-based female entrepreneurs, KAUST reaffirms its commitment to the continued expansion of a vibrant entrepreneurial ecosystem within KSA. In nurturing and showcasing new ideas and future leaders, the university aims to stimulate economic growth, create better-quality jobs, open new markets and increase global economic security and prosperity. — SG
Source: Saudi Gazette
https://saudigazette.com.sa/article/621308/SAUDI-ARABIA/KAUST-University-of-Texas-partner-to-empower-entrepreneurial-Saudi-women
--------
Two Pakistanis arrested for secretly filming women in Turkey
Saleh Mughal
June 02, 2022
RAWALPINDI:
Federal Investigation Agency's (FIA) cybercrime cell has arrested and registered cases against two Pakistani nationals, who were involved in illegal activities in Turkey.
As per details, the suspects were involved in human trafficking and they also used to secretly film women in Turkey and upload these objectionable videos on social media.
FIA took action against suspects Mohammad Junaid and Ameer Khan on the instructions of Prime Minister Shehbaz Shrif, who is on an official visit to the brotherly country.
The shameful act of the suspects brought shame to the entire Pakistani community. Both were deported from the brotherly country.
FIA officials said that interrogation of the suspects is underway and further revelations are expected in the case.
They said that crackdown has been launched against travel agents involved in human trafficking.
An FIA spokesperson said that no one will be allowed to damage the brotherly relations between Pakistan and Turkey.
Earlier, during a joint press conference along with PM Shehbaz, Turkish President Recip Tayyip Erdogan reaffirmed his country's support for the resolution of the Kashmir dispute.
President Erdogan said that Turkey supported Pakistan in its effort against all types of terror. "The fight Pakistan has against terrorism, I definitely believe, it will triumph in it..," he added.
The Turkish president also said that Pakistan had a critical position with regard to Afghanistan. "We have provided over four tonnes of humanitarian goods and food to Afghanistan. We will continue to cooperate with Afghanistan."
He hoped that the fraternal close relations and friendship between both the countries will be further strengthened, adding that his country is ready for it.
Source: Tribune Pakistan
https://tribune.com.pk/story/2359589/two-pakistanis-arrested-for-secretly-filming-women-in-turkey
--------
URL: https://newageislam.com/islam-women-feminism/empowered-saudi-women-mechanics/d/127165
New Age Islam Islam Online, Islamic Website, African Muslim News, Arab World News, South Asia News, Indian Muslim News, World Muslim News, Women in Islam, Islamic Feminism, Arab Women, Women In Arab, Islamophobia in America, Muslim Women in West, Islam Women and Feminism