New Age Islam News Bureau
1 Oct 2017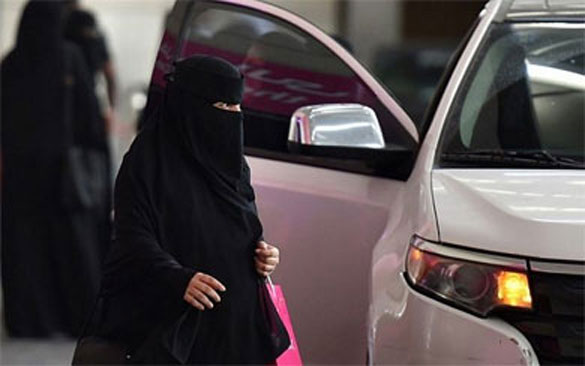 A Saudi woman walks past a car outside a hotel in the Saudi capital Riyadh, on September 28, 2017. (AFP PHOTO / FAYEZ NURELDINE)
----
• Saudi Companies and Families Plan to Hire Expat Female Drivers
• Saudi Princess Nourah University to Establish A Women Driving School
• Meet Malaysia's Millennial Muslim Women
• 'Burqa Ban' Law Signals Rightward Political Turn In Austria
• Miss World Bangladesh Result Manipulated During Announcement, Judge Alleges
• Young Muslim Women with Ambition on the Rise in Malaysia and Indonesia
• New Clause on Saudi Marriage Contracts after Decree Allowing Women to Drive
• 1,470 Saudi Women Get Driving License from Jordan
• Al-Baha Woman Driving For 40 Years and No Accidents
Compiled by New Age Islam News Bureau
URL: https://www.newageislam.com/islam-women-feminism/emirati-womans-act-using-abaya/d/112724
--------
Emirati woman's act of using 'abaya' to save driver on fire earns praise
30 September 2017
Media reports about the brave and timely action of a young Emirati woman who saved an Indian truck driver who was on fire, by covering the victim with an abaya, have gone viral.
The blaze broke out after a collision between two trucks on Martyr's Road in Ras Al Khaimah emirate.
The 22-year-old woman, identified as Jawaher Saif Al Kumaiti, was visiting one of her friends at the Sheikh Khalifa hospital in RAK, when she spotted the man on fire while driving back home.
Jawaher, an Ajman resident and an employee with oil major Adnoc, in her interview with Khaleej Times, confesses that she was at first taken aback when she saw the two trucks on fire following the accident. She also saw a man on fire screaming in pain and fear shouting for help.
That is when Jawaher stirred into action. She asked her friend who was in her car to hand over her abaya and also instructed her to stay inside.
She proceeded to the stricken driver, covered him with the abaya and spoke to calm him down, telling him that help was on the way.
Mute spectators
In her interview, she also pointed out that curiously, there were other workers at the site, but none of them came forward to help the man, remaining mute spectators.
Rescue patrols, ambulance and paramedics soon arrived offering first aid before taking the victim to the hospital.
At this point, Jawaher and her friend drove away from there.
"All thanks and praise to Almighty Allah who gave me the power and courage to act and intervene into the situation at the right time and rescue the man's life," Jawaher says in the interview.
Praise from police
Now her selfless and brave rescue act has earned Jawaher praise of RAK police who want to honor her.
The police has named the victim as Harkirit Singh.
Major Tariq Mohamed Al Sharhan, head of the ambulance and rescue section at the RAK police, told reporters that both the drivers suffered "40 to 50 per cent burns." Both were first taken to Sheikh Khalifa hospital and then to the Saqr Hospital.
Speaking to Gulf News, Major Al Sharhan said they want to honor the bravery of the "abaya woman".
The officer posted on his Instagram account a video on the accident asking for information to contact the woman. According to him, after helping the driver, "she left the scene quietly."
It was an Emirati man, a witness to the incident, who had reported the incident to RAK Police operation room told officers about the woman's heroic act, according to the police officer.
In hospital, the Indian driver also told police that the woman covered his body using an abaya to put out the flames.
On Saturday, Maj. Al Sharhan posted the woman's picture on his Instagram account hailing her as "The bravest woman in UAE".
Meets victim in hospital
Earlier on Friday, Al Kumaiti, along with her mother and sister, went to Saqr hospital and visited the driver. The hospital staff recounted that when the driver saw her, he cried out: "You're the woman who saved my life! Thank you for your brave job. Your image did not go from my mind for a moment".
"I am proud of my daughter and what she did... I always encourage my children to help people if they see anyone is in need of help," says Al Kumaiti's mother.
https://english.alarabiya.net/en/features/2017/09/30/Emirati-woman-s-act-of-using-abaya-to-save-driver-on-fire-earns-praise.html
--------
Saudi companies and families plan to hire expat female drivers
GHAZANFAR ALI KHAN
1 October 2017
RIYADH: Car rental companies, businesses and Saudi families are looking to hire female drivers from overseas in the wake of King Salman's decree last week allowing women to drive.
"The hiring of women expatriate drivers, if the regulatory provisions of the government allow, will go a long way in improving public transport and the conveyance of women and children," said Alam Razak, an agent with Arafat Recruitment in Jeddah.
"The recruitment agencies and business houses are waiting for the new regulations, which are to be released within a few months."
But in general, he said, "permission for women to drive will cut reliance on foreign drivers in Saudi Arabia, whose number currently exceeds 1.3 million."
Abdullah Elias, co-founder and chief executive of the car-booking app Careem, said he expected business to flourish. "The decision will not affect major rent-a-car companies or international companies like Careem," he said. Careem is reported to be planning to hire 100,000 female staff to capture a new market segment in the Kingdom.
"Another good aspect of it is that now perhaps expert women drivers from abroad can also be hired for families to pick up and drop off girls at schools and universities," the prominent Islamic scholar and social worker Hussain Zulkarnain said.
"Far better than male ones, as these ladies can live inside the house and also help in household chores without the need to hire separate maids." Many Saudi families will hire female drivers from abroad, especially from traditional labor-exporting countries, he said.
Nora Al-Hamdan, a Saudi businesswoman, said the environment would soon become female-friendly, once women started driving. "While there is a long way to go, improvements are being made every day," she said.
Madiha Shunan, a Pakistani teacher, predicted safer roads. "It is important to note that women are better drivers than men, which has been proved by many surveys," she said.
http://www.arabnews.com/node/1170351/saudi-arabia
--------
Saudi Princess Nourah University to establish a women driving school
1 October 2017
JEDDAH: Princess Nourah Bin Abdulrahman University announced on Saturday that they are ready to establish a driving school for women in cooperation with the relevant authorities. The university made the announcement on their twitter account, adding that their decision comes in line with the Royal directive to allow women to drive equally with their male peers in the Kingdom.
King Salman issued the decree last Tuesday, according to a royal court statement carried by the Saudi Press Agency (SPA).
"The royal decree will implement the provisions of traffic regulations, including the issuance of driving licenses for men and women alike," the SPA said.
The decree orders the formation of a ministerial body to give advice on the practicalities of the edict within 30 days and to ensure the full implementation of the order by June 2018.
http://www.arabnews.com/node/1170251/saudi-arabia
--------
Meet Malaysia's millennial Muslim women
1 Oct 2017
They are ambitious, wired and more spiritual.
WHILE many of her former university mates are searching for jobs, Zakirah Zainan, 22, is busy building her fledgling modest fashion e-commerce business @Zakeyra.
The graduating Universiti Kebang­saan Malaysia student started her online business in her final year.
"My parents were against it at first as they wanted me to focus on my studies, but now they are also pitching in to help me meet my orders," says the economics major, who goes by the name Kyra.
Her dream is to sell her own designs, but for now she is working with a supplier to get the latest trends and styles.
She cited the Indonesian sisters-in-law who started the hijabi fashion online store Hijabista, and Vivy Yusof of FashionValet as her idols.
Kyra believes the modest fashion and halal market in Malaysia and the world is growing, with a lot of opportunities for young Muslim women.
"I am inspired by FashionValet's rapid growth in the region. I have also started taking orders from Singapore," she says, pointing to technology, especially social media, as an enabler.
'Young women today are more discerning. Unfortunately, this has made some of them judgmental.' - Dahlia Nadirah Juhari Solek Cosmetics co-founder
I also feel that there is a lot of support from the society for young Muslim women to venture into business and start their own companies.
"Unfortunately, it is mostly for fashion, beauty and food. There is still not much support for women to start, say, engineering or science-­related companies."
She finds that the public is also less forgiving of "loud and strong" women.
"Just look at (cosmetics millionaire) Datuk Seri Vida. She is very successful, but people just want to tear her down because she refuses to conform to society's expectations."
Like many ambitious Malaysian Muslim women her age, Kyra hopes to get married and start her own family one day, but her ultimate goal in life is to be a good Muslim.
A study by marketing trend and research outfit J. Walter Thompson's Innovation Group, "The New Muslimah: South-East Asia Focus", shows that while the region's Muslim women aged 18 to 39 are more religiously observant than the generation before – as seen by increased adoption of modest fashion and the hijab, or Muslim headscarf – they are also more professionally ambitious and cosmopolitan in outlook.
The rise of the new generation of millennial Muslimah in Malaysia, Indonesia, Singapore and Brunei, combined with an explosion of social media, digital platforms and e-commerce, has led to the rapid development of a burgeoning market for halal fashion, beauty, technology and food, it notes.
Most, if not all, young women in the region own a mobile phone. They are on WhatsApp, Facebook and Instagram. Many shop online, mostly for clothing and beauty products, travel and groceries.
Hijabistas are not only becoming more visible in blogs, fashion and beauty campaigns, they are also launching businesses and setting trends by sharing their style on social media, reinventing the halal category with a slew of sleek, modern brands and stores, says the report.
With the number of digital consumers in South-East Asia climbing by 50% over the past year to 200 million (according to business consultancy Bain & Company) and the Internet economy valued at RM155.5bil, the number of young Muslimah shopping and selling online is a force to reckon with.
"It is setting a trend – we are stylish, we are confident and we are professionals," Sarah Shah Nor, the founder of Modvier, a modest fashion boutique in Kuala Lumpur that represents 72 Malaysian brands, is quoted as saying.
The religiosity of the millennial Muslim women – 95% say Islam is very important to them – does not stop at clothing and halal products, though. According to the report, religious classes have become very popular.
While some have described these developments as a kind of Arabisation of South-East Asian culture, many of the young Muslim women say donning the hijab and modest attire is a choice.
"I think we are creating our own fashion," says office worker Anira Sabran, 22.
Anira observes that there is also a growing trend of the use of the niqab (face veil) in the country.
"It is not compulsory for women to cover their face in Islam, but some say it makes them feel closer to God. Of course, there are also many who are only doing it for fashion," she says.
Still, she admits that there are those who believe that people wearing tudung are 100% religious and pressure others to cover up.
"We can't be judgmental," she says. "Some of their 'advice' posted online amount to cyber harassment and bullying."
Some even receive online threats of violence. Feminist activist Maryam Lee, 25, who is also the programme director at interfaith dialogue outfit Projek Dialog, had to seek refuge at a friend's house after she received death threats for taking off her hijab, which she had worn since she was nine.
Solek Cosmetics co-founder Dahlia Nadirah Juhari, 32, who counts herself as a "minority" for not covering her hair, thinks people tend to confuse Arabic culture with Islam.
"Young women today have a lot more knowledge on religious and consumer issues than their parents, so they are more discerning.
"Unfortunately, this has made some more judgmental of others," she notes, adding that she has been told her brand would sell 10 times more if she wore a hijab.
Even singer Yuna, who insisted on covering her hair while trying to break into the US music scene, has also been a trolling target of some conservative Muslims in Malaysia because she wears a turban, which they consider to be an incomplete headscarf.
Yuna has shrugged off the criticism, posting on Instagram: "They call me perempuan sampah (trashy woman) and tell me that I might as well go naked. All I can do is be patient."
As for another Malaysian singer, Takahara Suiko, the hijab has become a practicality for her, though not many people share her view on it.
"Instead of dyeing your hair blue one day or green another day, you can use a scarf of any colour and on any day.
"The tudung itself has become a fashion thing. It's an accessory. It's comfortable. I don't have to think about a bad hair day. It protects my hair from the sun," she says.
The headscarf, she adds, may say more about the wearer's fashion sense than her piety.
Dina Zaman, executive director of Iman Research, a Kuala Lumpur-based think-tank that studies society and religion, says: "While we are becoming more progressive, Muslim women in Malaysia still have a lot of questions on Islam."
"In my personal capacity, I am still asked for advice on Muslim women's rights – which lawyer should they go to, is it true that being beaten is okay, etc..."
"This is why Muslimah now turn to the Internet – to seek a brand of Islam that speaks to them. Look at the proliferation of Muslimah women's groups who turn to foreign teachers for guidance," she says, stressing that this is something the authorities need to monitor.
Studies by Iman Research show that some Malaysian women who are radicalised have not flown to Syria or Iraq, she says.
"One Muslimah we interviewed said that many people have the notion that Islamic femininity is based on purity of faith embodied in their very selves. They want to be seen as the ideal Muslimah," she adds.
Dina says that with education and social media, young Muslimah have taken it upon themselves to empower themselves.
"Now we need to be mindful that they are creating their own paradigm within an Islamic framework," she adds.
http://www.thestar.com.my/news/nation/2017/10/01/meet-malaysias-millennial-muslim-women-they-are-ambitious-wired-and-more-spiritual/
--------
'Burqa ban' law signals rightward political turn in Austria
OCTOBER 01, 2017
A law prohibiting any kind of full-face covering, known popularly as the "Burqa Ban," takes effect on Sunday in Austria, where the strong support for it portends potential political upheaval in the upcoming national election.
Parties campaigning on an anti-migrant message are poised to win on Oct. 15 and to form a coalition government. Such a rightward swing in a country that's had centrist governments almost consistently since World War II could have repercussions across Europe, emboldening politicians who take a hard line on Islam and immigration.
Last week, the right-wing, anti-migrant Alternative for Germany party won seats in Germany's national parliament for the first time after featuring posters with the slogan "Burqas? We prefer bikinis" in its campaign.
The Austrian law called "Prohibition for the Covering of the Face" forbids off-slope ski masks, surgical masks outside hospitals and party masks in public. Violations carry a possible fine of 150 euros (nearly $180) and police are authorized to use force with people who resist showing their faces.
But its popular name reflects the most prevalent association the garments some Muslim women wear to conceal their whole faces and bodies. The garments are rare in Austria even after the recent surge of migrants into Europe. Support for the law is strong nonetheless, reflecting anti-Muslim attitudes in the predominantly Catholic country.
"It's not right that those living here don't show their faces," said Emma Schwaiger, who expressed support for the ban in a straw poll on the streets of Vienna.
Five in seven of those who said they backed the law also said they will vote for the two parties that critics link to anti-Muslim sentiment the traditionally xenophobic Freedom Party and the People's Party. The People's Party avoids the Freedom Party's inflammatory talk, but has swung radically from the center under new leader Sebastian Kurz to echo that party's positions on migration.
The Social Democratic Party, currently the majority partner in the government coalition with the People's Party, has been left struggling.
Under Chancellor Christian Kern, the Social Democrats are focusing on social topics and claiming credit for Austria's recent economic upturn. But Kern's message is not coming across well.
A Unique Research poll of 1,500 respondents published on Thursday showed the Social Democrats with 27 % support, ahead of the Freedom Party at 25 % but trailing the People's Party with 34 %. The poll had a margin of error of 2.5 percentage points.
Previously associated with stagnation and lack of direction, the People's Party was trailing in third place until Kurz, Austria's telegenic 31-year old foreign minister, took leadership in May after securing party pledges of full authority.
Although the People's Party was part of the government coalition that opened its borders to more than 100,000 migrants in 2015, the party now says that "the political establishment failed in dealing with the refugee crisis."
Calling for zero illegal immigration, he says migrants intercepted on the high seas should be shipped to refugee centers in North Africa instead of Europe. Migrants waiting for a decision on their asylum applications should be forced to work menial jobs in exchange for pocket money. And instead of the normal six—year waiting period for Austrian citizenship, those receiving asylum should wait for 10 years, he says.
Mr. Kurz has something else in his favor for an electorate disaffected with the status quo. "He was able even though he was in government for more than six years to present himself as the 'change guy,'" said Thomas Hofer, a political analyst.
Mr. Kurz also attracts Austrians who support the Freedom Party and its leader, Heinz-Christian Strache, on migration, but dislike the radical way they frame the debate. Mr. Kurz, says Hofer, "uses a different kind of language, and it's not extreme language it's plain talk."
Mr. Kurz has pledged that the face-cover ban will be rigorously enforced. But Hofer dismisses the law as a "symbolic issue." Muslim women leaders see as insincere the claim the law is intended to help oppressed women.
Carla Amina Bhagajati of the Islamic Religious Community in Austria said the "handful" of fully veiled women she knows of in Vienna "now are criminalized and ... restricted to their homes."
"This open society is, in a hypocritical way, endangering its own values," she said.
http://www.thehindu.com/news/international/burqa-ban-law-signals-rightward-political-turn-in-austria/article19780614.ece
--------
Miss World Bangladesh result manipulated during announcement, judge alleges
2017-10-01
Actress-singer Shampa Reza, one of the six members of the judges' panel for the contest in Bangladesh, told bdnews24.com on Saturday night that the winner, Jannatul Nayeem Avril, was not among the two nominees on her list.
"My list had no similarity with the results announced. There were two nominees on my list, but the winner was not among them," Shampa Reza said.
"All the judges were of the same opinion."
The other five members of the judges' panel were magician Jewel Aich, fashion designer Bibi Russell, photographer Chanchal Mahmood, corporate personality Rubaba Dowla and IT personality Sonia Bashir Kabir.
The winner of the competition will represent Bangladesh for the first time in the Miss World contest in November.
A newspaper reported, citing two of the judges without revealing their names, that the first runner-up of the contest, Jessica Islam, was the judges' choice as the winner, but Avril's name was announced instead.
Jewel Aich told bdnews24.com that he would comment on the issue on Sunday as the organisers sought more time from him.
Antar Showbiz and Omicon Entertainment organised the contest to pick Bangladesh's representative for the Miss World 2017 pageant at Bashundhara Convention Centre in Dhaka on Friday. The final round is scheduled to be held in China in November.
Shampa Reza said she was introduced to the organisers just before the final on Friday.
"They are people of our country. I don't want anything bad to happen to them. But I also want no wrongdoing. As the winner is going to an international contest, shouldn't she be picked carefully?" she asked.
When contacted for his comments regarding the allegation brought by the judges, Antar Showbiz Chairman Shapan Chowdhury told bdnews24.com: "There is no scope for confusion here. As the organiser, I will deliver the judgement. It is I who have spent the money to appoint the judges."
"And I have appointed internationally renowned judges. There is no scope for me to influence them. Jannatul Nayeem has won in their judgement," he added.
He also said it was "unfortunate to create confusion about a programme of international standards".
He argued that the result of the contest depended on the total marks given by all the judges, not by some of them.
He also said Indian presenter Sheena Chowhan made a mistake while announcing the name of the winner because of the similarities in the names of two contestants.
"Such mistakes also occurred during Oscar and Miss Universe contests. We are sorry for this. But this is the final result. There is no scope for confusion."
https://bdnews24.com/entertainment/2017/10/01/miss-world-bangladesh-result-manipulated-during-announcement-judge-alleges
--------
Young Muslim women with ambition on the rise in Malaysia and Indonesia
1 Oct 2017
PETALING JAYA (THE STAR/ASIA NEWS NETWORK) - Young, dynamic and devoted - South-east Asia's young Muslim women are more career driven and "global" than the generation before, and yet, are more Islamic, says a study.
This is seen in an increased adoption of the hijab, or Muslim headscarf, by young professional women as well as students, according to marketing trend and research outfit J. Walter Thompson's Innovation Group.
Its report The New Muslimah: South-East Asia Focus showed more than half (58 per cent) of Malaysian women aged 18-39 said a career is important to them, with 80 per cent putting education first, while about one-third of the respondents travel overseas at least once a year.
Around 1,000 women in Malaysia and Indonesia were surveyed in August for the The New Muslimah report.
Religion is a major part of their life with 95 per cent saying Islam is very important to them and "halal" is a top priority when travelling, buying food (98 per cent) and personal care products (71 per cent) like shampoo and clothing.
This is posing opportunities for not only businesses but also the young women who are driving an explosion in halal fashion, beauty, technology and food.
With the global Muslim population hovering around the two billion mark - 40per cent or some 240 million in South-east Asia - the Muslim market was estimated to be worth RM5.7 trillion (S$1.83 trillion) in 2015 and is expected to grow to RM9.3 trillion by 2021.
Malaysia is seeing a rise of young Muslimah entrepreneurs.
For example, actress Noor Neelo­fa Mohd Noor, 28, is leading the pack with her Naelofar Hijab brand.
Vivy Yusof, 29, co-founder of omni­channel modest fashion platform FashionValet, is another well-known businesswoman. Both were recently named in Forbes 2017 "30 under 30 Asia" list in the retail and e-commerce category.
"Young Muslim women are showing a new set of aspirations and behaviours which represent both opportunities and challenges for brands," said The Innovation Group APAC director Chen May Yee.
"Broadly speaking, they are more cosmopolitan as consumers than the older generation of female Muslims and are also more religiously observant. These two trends - more Islamic and more global - have created a space of conflict, negotiation, adaptation and innovation that's playing out across sectors."
This can be seen in the world of fashion and entertainment where Malaysian Muslims are setting trends in the global music scene like Yuna who is trailblazing in America, Shila Amzah popping into the East Asia music scene and fast-rising indie darling Takahara Suiko of electropop band Venopian Solitude.
Many have even labelled them "hijabster" - the hijab-wearing hispter.
"You just can't stereotype young hijabis," said Dina Zaman, executive director of Iman Research, a Kuala Lumpur think-tank that studies society and religion.
Crucially, South-east Asian Muslimah are different from their sisters in the Middle East and North Africa, and are by no means homogeneous.
The New Muslimah report also showed that nearly all (94 per cent) of the respondents feel there are now more opportunities for women, although many identified a need for a stronger voice in their community and in government (93 per cent).
One avenue they are not complaining about is access to technology: four out of five spend at least four hours a day online.
"As our young women across the board become more educated and more empowered, they will seek opportunities or be part of a growing professional demographic," said Dina.
However, she cautioned that while this is a cause for cheer, "we also need to be mindful of the fact that while there is a huge number of young women who are part of this group, there are many more young Muslim women who are left behind economically and politically".
http://www.straitstimes.com/asia/se-asia/young-muslim-women-with-ambition-on-the-rise-in-malaysia-and-indonesia
--------
New clause on Saudi marriage contracts after decree allowing women to drive
30 September 2017
Marriage contracts in Saudi Arabia are expected to see an additional line included after women in the kingdom were granted the right to drive.
The section including conditions set by Saudi wives usually included three lines. Among the most popular conditions set included the provision of her own independent house, completing one's education and not preventing her from working if she chose to.
With King Salman's decree granting driving licenses for women in Saudi Arabia, a new condition of driving and owning a car is expected to be included as the fourth prominent provision in marriage contracts starting this week.
Women in Saudi Arabia will be allowed to drive their cars beginning of June next year.
One image of a marriage contract including the condition that a husband respects a wife's decision to drive has been circulating in Saudi Arabia this weekend.
For his part, President of the General Court of Buraidah Sheikh Ibrahim El-Hesni told Al Arabiya that the condition of allowing woman to drive a car should be treated as equally to other traditional conditions like an independent house, completing her education or work and will be applicable on all marriage contracts moving forward.
"As long as the senior scholars' authority has decided that women are permitted to drive a car, the condition of driving in the contract is correct, if the husband agrees to it. I not, then contract the contract would be nullified," El-Hesni said.
Conditions in marriage
The condition of completing one's education being included in marriage contracts came after a series of reluctance when schools first started accepting girls established in Saudi Arabia 50 years ago, where the education of women faced a major challenge until it was imposed by a government decision.
Since then, the education clause began as a common inclusion to marriage contracts until today.
The clause allowing a wife to work was also added as some opposed women working for several reasons. Families began adding the clause to ensure husbands respect women's right to work.
https://english.alarabiya.net/en/features/2017/09/30/New-clause-on-Saudi-marriage-contracts-after-decree-allowing-women-to-drive.html
--------
1,470 Saudi women get driving license from Jordan
1 October 2017
TABUK — Around 1,470 Saudi women have received driving licenses from Jordan in the past few years, Jordanian police sources told Okaz.
The source said that Saudi women drivers were excellent on the road and adhered to traffic regulations.
It has been reported that those women who hold international driving licenses will be exempted from driving license examination in Saudi Arabia.
More than 2,000 male and female students are studying in Jordan.
Most of the Saudi female students in Jordan said that the decision to allow women to drive will ease many of the problems they face.
This step will help the Saudi women in the job market, especially that the biggest problem they face is transportation.
Fatima Al-Awami, a student studying medicine in Jordan, said that she learned driving when she was in Jordan because the cost of transportation is very high in Amman.
She got her first driving license in 2013.
Praising the Royal decree to grant driving license to women, she said: "This decision is historical and will be remembered by many generations to come. I truly thank the King and the Crown Prince for this decision."
Fatima Al-Mahrous, another Saudi female student, received her driving license in 2014.
She said, "The decision will benefit many families, especially those women who are being constantly blackmailed by drivers to increase their salary."
Hanan Muhammad, another student, said that she takes the wheel as soon as her husband enters the Jordanian border. She said that driving is very important for women and benefit the family in general.
Nur Al-Zahrani sees the decision as good and timely.
She does not have a driver's license, but she will work on getting one in Jordan.
http://saudigazette.com.sa/article/518346/SAUDI-ARABIA/Saudi-women
--------
Al-Baha woman driving for 40 years and no accidents
1 October 2017
AL-BAHA — For 40 years, Amsa Bint Hadel has been driving her car in the rural area of Al-Aqiq in the southern Saudi province of Al-Baha away from the media spotlight. She has never met with an accident or has committed a traffic violation during her driving.
Amsa saw her driving as a necessity and not a luxury. She has been taking her sick mother from her rural district to the hospital regularly. This prompted her to buy a car. She learned driving by observing her uncle drive.
The tough living conditions in rural Saudi Arabia was motivated her to learn driving.
She told Okaz/Saudi Gazette in an exclusive interview: "I learned how to drive by observing my uncle closely, especially when he takes me with him to the city. I even learned how to fix some of the mechanical problems from him."
Amsa depended on her uncle at first and then on her expat husband, who worked and lived in Riyadh, for her errands.
The sudden death of her father put her in a dilemma. She had to take the responsibility of taking care of her sick mother. She added, "I asked my husband to teach me how to drive and he welcomed the idea and supported me, especially that he lived in Riyadh and I lived far away in the south. I had to learn how to be dependent on myself in getting what I want for my small family and caring for my sick mother."
Amsa was not criticized for driving in her province. In fact, she was supported and surrounded by people who understood and sympathized with her situation. She was not harassed on the road.
Amsa tried her best to avoid crowded roads and main streets. She took her sick mother to hospital driving along dirt roads. When she reached the main road close to the hospital, she carried her mother on her back to avoid getting caught by the traffic police.
Amsa sees the historical decision by Custodian of the Two Holy Mosques King Salman allowing women to drive as a good move that will solve many problems for women.
http://saudigazette.com.sa/article/518341/SAUDI-ARABIA/Woman-driving
--------
URL: https://www.newageislam.com/islam-women-feminism/emirati-womans-act-using-abaya/d/112724
New Age Islam, Islam Online, Islamic Website, African Muslim News, Arab World News, South Asia News, Indian Muslim News, World Muslim News, Women in Islam, Islamic Feminism, Arab Women, Women In Arab, Islamophobia in America, Muslim Women in West, Islam Women and Feminism