New Age Islam News Bureau
19 Feb 2015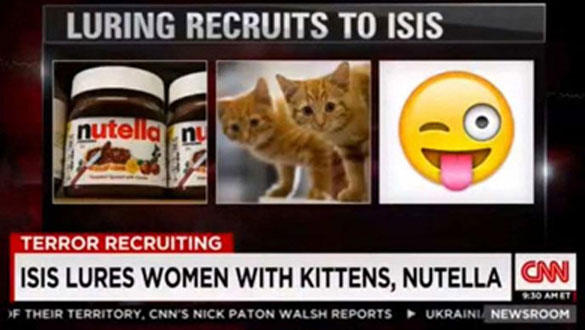 An on-air banner was accompanied with a picture of Nutella jars, kittens and emojis
----------------
• 'A quarter of marriages in KSA end in divorce'
• Women empowerment crucial for progress: Pak Punjab CM
• ISIS uses 'Nutella, kittens' to lure women recruits
• What happened to the 270 Nigerian school girls kidnapped by Boko Haram?
• In Pakistan, vaccinating children has become a deadly battle
• ISIS restrictions on women causing fear, resentment in Iraq and Syria
• Turkish women post selfies wearing black to condemn Ozgecan Aslan murder
• Woman arrested at Heathrow on suspicion of terrorism offences
• Two Pakistan women killed for 'honour'
• Islamic State Modesty Police Beat Woman for 'Exposed Eyes'
• Saudi Shoura ponders over dress code for women anchors
• Wedding Bells Toll Wildly for Kids
• Dino and Rotna, a future for the children from Dhaka's slums
Compiled by New Age Islam News Bureau
URL: https://newageislam.com/islam,-women-and-feminism/new-age-islam-news-bureau/eighty-percent-of-anti-muslim-attacks-in-france-against-women,-says-report/d/101599
------------
Eighty Percent of Anti-Muslim Attacks In France against Women, Says Report
19 February 2015
The commissioner, who produced the report after visiting France in September last year, warned of increasing attacks directed at homosexuals, Jews and Muslims and said that there should be more efforts to integrate and care for immigrants and asylum seekers.
Muižnieks recommends a national plan to promote and protect human rights as well as ratifying Protocol No. 12 to the European Convention on Human Rights on the general prohibition of discrimination in order to "further strengthen the legal framework."
Attacks on Muslims have been on the rise in France since the Charlie Hebdo attacks in January. Earlier this month the French Council of the Muslim Faith (CFCM) published data that showed that between the Charlie Hebdo attacks on 7th January and the end of that month there were 147 'acts' carried out against Muslims.
In the week following the attacks the CFCM reported that 26 separate mosques had been attacked across the country. In some cases the buildings were firebombed and in other grenades were thrown.
Fiyaz Mughal, the director of UK-based interfaith thinktank Faith Matters says that the term 'acts' covers a huge range of hostile actions. He says they have received complaints from Muslim women which include: "Spitting, general abuse, pulling and tearing at the niqab and the hijab, plus dog faeces being thrown at women, as well as bottles from passing cars and people shouting things like 'Muslim whore' 'Muslim bitch' or 'Muzzie'."
On why he believes Muslim women might face more abuse than their male counterparts, Mughal says: "All our data... shows that visible women are the ones that are targeted at a street level. This means that women who wear the hijab are the ones that are sometimes targeted for abuse and those who wear the niqab suffer more anti-Muslim hate incidents and more aggressive assaults."
He also believes that there is a gender imbalance in terms of anti-Muslim hate at a street level, saying that victim data shows that perpetrators are usually male and aged between 15-35, while their victims are mostly women and aged between 15-45.
Sahar Aziz, a professor who teaches about Middle East law at the Texas A&M University School of Law wrote an article for American news site CNN in which she condemned the lack of response to these increased attacks from French feminists who had celebrated the 2011 ban on full face veils. "As Muslim women face threats to their safety in the anti-Muslim backlash, one cannot help but notice the deafening silence of French feminists," Aziz writes.
Muižnieks's report addresses a wide-range of problems in France including racism and discrimination against a variety of people including Roma, migrants and those with disabilities.
Although the commissioner commended France for combating the issues he raised in their courts and institutions, he went on to suggest that the country "include the fight against discrimination in a national plan to promote and protect human rights".
"It is essential to put an end to such acts, including on the internet, and to punish those responsible," he wrote.
http://www.newsweek.com/80-anti-muslim-attacks-france-against-women-says-report-307389
--------
'A quarter of marriages in KSA end in divorce'
19 February 2015
RIYADH — A divorce rate as high as 25% has raised concerns among experts. "The divorce rate is too high to dismiss and is extremely worrying," said.
Princess Sara Bint Musaed, executive head of Mawadah, which operates the first office for women inside the Court of Personal Status in Riyadh. Princess Sara told Al-Hayat Arabic daily that divorce cases account for two-thirds of all court cases.
"Our legal system does not protect families from divorce. Often the couple is not aware of their rights as spouses and the legal counsellors do not do their job in educating the couple," she said, adding that divorces are often the result of domestic violence.
"That is why Mawadah has the first office for women inside the Court of Personal Status in Riyadh. The office is considered an official representative of women in court by the Ministry of Justice," said Princess Sara.
"We receive hundreds of women on a daily basis via Mawadah's office," said the head of the Court of Personal Status Sheikh Hamad Al-Zaid. "They come to receive legal and judicial advice with regard to their psychological, social, and financial statuses." He added that the office helps the elderly, poor and handicapped to write their court proposals.
http://www.saudigazette.com.sa/index.cfm?method=home.regcon&contentid=20150219234381
--------
Women empowerment crucial for progress: Pak Punjab CM
February 19, 2015
LAHORE: The country cannot progress without the empowerment of women, Chief Minister Shahbaz Sharif said.
He was presiding over a meeting of the provincial cabinet. The meeting approved various steps for women empowerment and protection of their rights, including amendments in family laws, setting up Punjab Working Women Endowment Fund and establishment of a family courts' complex in each district. The cabinet decided to observe World Women's Day on March 8. The meeting also decided to give three years' age relaxation to women in government employment. The meeting decided that all columns relating to women's rights in nikah nama (marriage deed) should be filled.
The chief minister said that more than 50 per cent of the country's population comprised women. "Women will have to display their talents and abilities. The quota resumed for women in government jobs has been increased from five to 15 per cent. Laws have been introduced to ensure that women get their share of inheritance," he said.
Fighting terrorism
The cabinet also expressed its resolve to eliminate terrorism, extremism and sectarianism from society. The members stated that all efforts would be made to root out terrorism.
Shahbaz Sharif said that terrorists had shed the blood of innocent people in Shikarpur, Hayatabad and Lahore.
"The people are united against terrorism. Victory is the only option in the war against terrorism. The government has set up a Counter Terrorism Force. It will play an important role in the elimination of terrorism from the country," he said.
He said that the Punjab government was taking immediate steps to implement the National Action Plan against terrorism. "Police have been directed to ensure foolproof security of worship places," he said.
The chief minister said that work was underway on the Safe City Project. "The project will start from Lahore. It will later be extended to Rawalpindi, Multan, Faisalabad, Bahawalpur and other cities in the next three years. Modern technology will be used for improving law and order," he said.
The meeting decided to include topics on tolerance, peace and brotherhood in school syllabi. The government will also arrange essay-writing and speech contests in educational institutions.
Chiniot-Rajwa
The chief minister said that experts had collected samples from 10 sites in an area spread over 24 square kilometres at Chiniot-Rajwa. "Besides iron reserves, copper deposits have also been discovered. According to experts, these precious reserves are spread over a much larger area. The Chinese company and German consultants are trying to estimate the reserves. The work will be completed soon," he said.
The chief minister said that natural resources could play an important role in the progress of the country. "During a dictatorship, the rulers had tried to rob the people of this precious wealth. This government has saved the project," he said.
The chief minister congratulated Minister for Minerals Sher Ali Khan, Punjab Mineral Development Company Chairman Dr Samar Mubarak Mand and Minerals Secretary Dr Arshad Mahmood over the discovery and certification of the precious mineral reserves in Chiniot.
The meeting appreciated Punjab Education Foundation Chairman Qamarul Islam over his performance.
The cabinet offered special prayers for the people who had lost their lives in terrorist attacks in Lahore, Shikarpur, Hayatabad and the Army Public School Peshawar.
A preliminary report regarding the suicide attack on the Qila Gujar Singh Police Lines was presented in the meeting.
The home secretary and inspector general of police briefed the cabinet members about the steps being taken to beef up security.
http://tribune.com.pk/story/840621/cabinet-meeting-women-empowerment-crucial-for-progress-cm/
----------
ISIS uses 'Nutella, kittens' to lure women recruits
19 February 2015
Want to win a woman's heart? Islamic State of Iraq and Syria (ISIS) militants may have the answer!
ISIS reportedly appeals to female recruits using creamy Nutella chocolate jars and pictures of kittens, according to CNN.
CNN's Carol Costello hosted a college professor in a program segment aimed at discussing why women, particularly from the West, join the ranks of ISIS.
As they both shared some insight on some of ISIS' recruitment tactics, Costello claimed that kittens and the popular Italian hazelnut spread are being used to lure women.
"ISIS is talking online about jars of Nutella, pictures of kittens and emojis," Costello told viewers on Wednesday.
"They want people to believe their life on the battlefield isn't so different than yours. They actually eat Nutella, and I guess they have pet kittens."
An on-air banner appearing on the bottom of the screen read: "ISIS lures women with kittens, Nutella," and was accompanied with a picture of Nutella jars, kittens and emojis.
Costello's remarks stole the spotlight from the guest in the segment, Nimmi Gowrinathan, who provided a more intellectual perspective on why women join the militant group.
The whole incident sparked a wave of reactions on social media.
http://english.alarabiya.net/en/variety/2015/02/19/ISIS-uses-Nutella-kittens-to-lure-women-recruits.html
--------
What happened to the 270 Nigerian school girls kidnapped by Boko Haram?
February 19, 2015
LOS ANGELES, CA (Catholic Online) - The 270 girls were kidnapped in April 2014; 219 of the 270 are still missing.
Although the brutal and publicly horrific kidnappings became global news and many organizations, including President Barack Obama and First Lady, Michelle Obama, openly spoke out against the horrors creating the hashtag #bringbackourgirls, no real progress in getting the young ladies back has been seen.
In fact, Boko Haram sees the massive kidnapping as a win for them.
"It's devastating," said Bukky Shonibare, and activist in Abjua, of the kidnappings. "It makes you wonder, what is being done."
Boko Haram has since abducted hundreds of other boys, girls and women.
At times, more than 50 teenage girls are shoved into one house where they are regularly beaten if they do not "study Quarnic verses or conduct daily Muslim prayers," explained Daily Mail. The newly captured girls are shown videos of the 219 kidnapped school girls, dressed in hijabs that only show their faces.
According to escaped captives, the militant group often brags about the Chibok girls, saying they have been converted to Muslim, married to militants and are trained to fight against women.
"They told me the Chibok girls have a new life where they learn to fight," stated a 15-year-old escaped refugee, Abigail John, to Daily Mail. "They said we should be like them and accept Islam."
John was captured by the terrorists and kept for more than four weeks before escaping after the Nigerian army liberated the town she was held in.
"They said they are doing the work of God, so they will not touch us," explains an anonymous 16-year-old on why they are not raping them.
"Do you think you are better than those Chibok girls that we kidnapped?" the militants would ask when their new captures would refuse marriage or change.
The growing number of captured young boys, women and girls adds to Boko Haram's more terrifying and violent attacks. According to U.S. Council on Foreign Relations, the group has killed more than 10,000 people in the past year. This terrifying number is compared to the 2,000 people killed in the previous 4 years.
Nigerian President Goodluck Jonathan once again promised his people the girls would be brought home alive. "Give us some time over the Chibok girls. The story will be better in a few weeks."
Chad, Niger, Cameroon and Benin have all pledged to join forces, creating a multinational force in the African Union. 8,750 troops are geared up and prepared to try to stamp out Boko Haram.
According to Daily Mail, this multinational force is expected to be formally launched in the next month, however, Chadian soldiers are already actively fighting Boko Haram militants inside Nigeria and Cameroon.
http://www.catholic.org/news/international/africa/story.php?id=58822
----------
In Pakistan, vaccinating children has become a deadly battle
19 February 2015
PESHAWAR, Pakistan — While vaccine distrust has sparked debates amid a measles outbreak in the United States, Pakistan is in a deadly battle to wipe out polio.
Long eradicated in the West, polio remains endemic in Pakistan after the Taliban banned vaccinations, attacks targeted medical staffers and suspicions lingered about the inoculations.
The persistence of this crippling, sometimes fatal virus shows just how difficult wiping out a disease can be, even amid campaigns seeing thousands of vaccinators go into the field to offer polio drops to children, sometimes under armed guard.
"When we leave in the morning, we do it at the risk of our life," vaccinator Rubina Iqbal said. "We don't know whether we will come back alive or not."
Polio is a highly contagious virus generally transmitted in unsanitary conditions. There is no cure for the virus, which mostly affects children under 5, though it can be prevented with a vaccine.
In the US, polio terrified mothers and fathers as outbreaks caused more than 15,000 cases of paralysis each year until Dr. Jonas Salk invented a vaccine in the 1950s. After eradicating smallpox in 1980, authorities turned their attention to polio. In Pakistan, the disease — and the backlash against vaccinations — is mostly in its northwest and the port city of Karachi, although the vaccination drive is country-wide.
The scope of the vaccinators' efforts in Pakistan is impressive. In January, officials targeted some 35 million children during a nationwide campaign, said Dr. Rana Muhammad Safdar, who oversees the country's polio emergency operations center. Smaller campaigns are held more frequently in areas where the virus is believed to be especially prevalent. Workers at central bus stops and train stations also vaccinate child travelers.
Neighboring India was declared polio-free in 2014 — a massive logistical feat for the country of 1.2 billion people. Many experts thought success was near in Pakistan in 2012 but then the number of cases shot up last year.
But instead of parents' groups worried about autism and celebrities relying on a discredited scientific article like in the US, Pakistan's anti-vaccine campaign has been waged at the end of the barrel of an assault rifle. The Pakistani Taliban banned vaccinations in 2012 after US Navy SEALs launched a raid in Abbottabad in 2011 that killed Al-Qaeda leader Osama bin Laden. Ahead of the raid, the CIA sent in a local doctor who claimed to be conducting a hepatitis vaccine program to collect DNA from children at bin Laden's home. That sparked widespread distrust, in a country where many also fear the inoculations are a plot to sterilize Muslim children.
By December 2012, militant gunmen began targeting vaccination teams in what became a "horrendous serial killing," said Elias Durry, the World Health Organization's point person in Pakistan on polio. An estimated 75 people involved in Pakistan's vaccination efforts have been killed since, Safdar said. On Tuesday, authorities in Pakistan's Baluchistan province found the bullet-riddled bodies of four people who disappeared on Saturday while preparing for a polio campaign.
Infected children and others who travel outside of the region can lead to fresh outbreaks in cities — and even other countries — where polio has already been wiped out. Outside of Pakistan, only Afghanistan and Nigeria are countries where polio remains endemic.
To fight polio, Pakistan's government has created emergency operations centers in Islamabad and provincial capitals where officials meet daily, a tactic that helped immensely in Nigeria. In certain high-risk areas they introduced a longer-lasting, injectable vaccine instead of oral drops.
A Pakistani military operation launched in June in the North Waziristan tribal area also allowed vaccinators to finally access children there after hundreds of thousands of people fled the region and settled elsewhere in Pakistan. Vaccinators in November also started going door-to-door in South Waziristan for the first time in two years, and the intensity of attacks against vaccination teams has slowed, Safdar said. The number of people outright refusing the vaccine has dropped, officials say.
Officials also have implemented new security strategies to protect vaccinators.
"By this time last year, nobody could go to North Waziristan. ... Vaccinators were being killed left and right," Durry said. "So those issues are improving, and have improved dramatically."
Vaccinators say they use their own arguments to convince reluctant residents, such as talking about how they give the drops to their own children. However, they can also quickly recall stories of being harassed on the job. In northwest Pakistan many people are suspicious of women working outside the home.
Bureaucratic challenges also beset the vaccination drive. Vaccinators complain they don't get paid on time. Polio workers in the Bajaur tribal area recently protested, saying they hadn't been paid for five months.
To change that, paychecks are now deposited directly into vaccinators' bank accounts, Safdar said. But delays still happen, he said.
Pakistani officials also are reaching out to the religious community for help convincing people to take the vaccine. Imams like Mohammad Israr Madni, who teaches at the influential Haqqania religious school in the northwestern city of Nowshera, are part of those efforts.
"I want to reach every madrassa, every mosque, to convince (Muslim scholars) and pave the way for awareness among people," Madni said.
http://www.saudigazette.com.sa/index.cfm?method=home.regcon&contentid=20150219234368
--------
ISIS restrictions on women causing fear, resentment in Iraq and Syria
19 February 2015
Increasingly stiff restrictions on the activities and lifestyle of women living under the rule of the Islamic State group in Syria and Iraq have caused local moderates abundant fear, isolation and resentment.
In recent interviews conducted by the British newspaper the Guardian, residents of the Iraqi city of Mosul and the Syrian cities of Raqqa and Deir al-Zor explained the harsh conditions that are enforced with threat of punishment by religious police.
Women living under Islamic State are required to wear a niqab - a full face veil, gloves and full body cloaks. They are also required to always have an accompanying male guardian when traveling outside the home, according to the testimonies gathered by the Guardian over Skype and by phone.
While many women initially objected to the rules ordered by Islamic State, the repercussions of beatings, fines and the punishment of family members caused them to comply.
"They forced women of all ages to wear a veil, even though the majority of the women in Mosul wear a hijab," 36-year-old pediatrician Maha Saleh told the Guardian.
She added that if a woman was not wearing a veil, she would be subject to a beating on the head by the Hisbah - religious police.
A mother in Mosul, Samar Hadi spoke of the strict dress code also imposed on young girls in primary schools and explained that many families have ceased sending their kids to school in light of the current conditions.
"Families are scared of Hisbah and Assad's warplanes," she told the Guardian.
Earlier this month, an all-female branch of the Islamic State issued a "manifesto" revealing what the terror group expects of Muslim women.
The document, which first appeared last month in Arabic, also sets out what is permitted in terms of education and work.
Girls may marry at nine, the "most pure" will be wed by 16 or 17 and all women should consider motherhood the purpose of their existence, according to a manifesto attributed to an all-female branch of the Islamic State terror group.
The text states that women should be hidden and veiled, stay at home and shun fashion boutiques and beauty salons as the work of the devil.
It states that a woman may leave the house if she going to study theology, if she is a woman doctor or teacher and if it has been ruled by fatwa that she must fight jihad or holy war. Although, various female doctors and teachers spoke to the Guardian of their difficulties arriving to their places of work due restrictions on travel without a male guardian.
The manifesto indicates that a girl's education ends at the age of 15.
Islamic State, an offshoot of al-Qaida, declared an Islamic caliphate across parts of Syria and Iraq last summer. It has killed thousands in what the United Nations has called a reign of terror.
The UK-based anti-terrorism thinktank Quilliam Foundation, which translated the text, said no mention is made of the abuse of hundreds of women who human rights groups say have been kidnapped, raped, tortured and forced to convert to Islam or marry Islamic State fighters in the group's drive to create a territory governed by Islamic law.
http://www.jpost.com/Middle-East/Islamic-State-restrictions-on-women-causing-fear-resentment-in-Iraq-and-Syria-391281
--------
Turkish women post selfies wearing black to condemn Ozgecan Aslan murder
February 19, 2015
TURKEY: As the United States and Canada condemn the brutal murder of a 20-year-old female student in southern Turkey after an alleged attempted rape, Turkish women have posted photographs of themselves wearing black across social media, The Telegraph reported.
Özgecan Aslan, a psychology student at Çağ University in Mersin, southern Turkey, was missing for two days before her burned body was found on February 13 in a riverbed.
Turkish media widely reported that she was killed following an attempted rape and the case has provoked anger from Turkish women's rights activists.
Following the news of her violent death, protests were carried out across the capital, Ankara, as well as Istanbul.
As well as the protests across the country, women also began posting pictures on social media wearing black, starting Monday. More than 3,000 pictures were posted on Instagram using the hashtag #ozgeceanicinsiyahgiy which means, wear black for Özgecan.
Men, parents and children also got involved in the campaign to show their support. A campaign titles 'Sende anlat' – which means tell your story as well- was also launched to encourage women to speak about their experiences of sexual harassment.
The campaign spread across on Twitter as well.
US and Canadian embassies also took to Twitter to condemn the attack and offered condolences on behalf of their countries.
http://tribune.com.pk/story/840784/turkish-women-post-selfies-wearing-black-to-condemn-ozgecan-aslan-murder/
--------
Woman arrested at Heathrow on suspicion of terrorism offences
19 February 2015
A 25-year-old woman has been arrested at Heathrow on suspicion of Syria-related terrorism offences.
The woman, from Sparkbrook, Birmingham, was detained at the airport after arriving on a flight from Turkey at around 9pm, West Midlands police said.
She was travelling with her one-year-old son and was also arrested on suspicion of child neglect and child abduction.
Her arrest by officers from West Midlands counter-terrorism unit was pre-planned and intelligence-led.
There was no threat to the safety of the flight or the airport.
The woman's son is subject to a police protection order and measures are being taken, in partnership with children's services, to ensure his welfare.
http://www.theguardian.com/uk-news/2015/feb/18/woman-arrested-heathrow-suspected-terrorism-offences
--------
Two Pakistan women killed for 'honour'
February 19, 2015
DERA MURAD JAMALI: Two women were gunned down in the name of honour in Nasirabad and Jaffarabad districts, police said.
Abdul Khaliq allegedly shot and killed his wife in Goth Nawaz Khan Umrani near Usta Muhammad area in Jaffarabad district.
At Goth Rana Khan in Nasirabad district, one Adab Khan allegedly opened fire on his sister. She died without receiving first-aid.
Suspects in both cases fled after committing the crime and police termed both murders incidents of honour killing.
http://www.dawn.com/news/1164543/two-women-killed-for-honour
---------
Islamic State Modesty Police Beat Woman for 'Exposed Eyes'
19 February 2015
Woman in Syria attacked despite wearing the veil dictated by sharia law.
The so-called 'morality police' of the Islamic State reportedly beat a woman in Syria for the crime of exposing her eyes too much, despite wearing the full-face veil which is demanded by the group's interpretation of Sharia law.
According to Israel National News, the NGO Al-Merced has documented a case in the city of Albuhamal in the province of Deir al-Zor in eastern Syria, where a woman was attacked by upholders of ISIL law for the crime of being overly exposed. Two men who tried to protect her were reportedly also arrested.
There have been repeated reports of ISIL's brutality towards women whom they deem to have transgressed their laws on appearance and behaviour, even carried out by all-female brigades of enforcers, al-Khansa, which was formed in February 2014 in the city of Raqqa.
In July ISIL issued guidelines to women in the Iraqi city of Mosul on how they should wear clothes and veils, warning that the latter should cover their entire face, threatening "severe punishment" if the law is not followed. ISIL also told women to never walk anywhere unless they were accompanied by a male guardian.
Last month an ISIL document entitled "Women in the Islamic State: Manifesto and Case Study" surfaced on the internet:- it is reported by the Quilliam Foundation to have been produced by the al-Khansa brigade. The manifesto sets out how women should behave in the self-proclaimed 'caliphate.' Describing the hijab as "the greatest of rights," it declares that the veil is "the first [garment] by which women may recover their rights, and 'protection religion' is the first and the foremost of the five necessities that the sharia came to uphold and maintain."
http://sputniknews.com/middleeast/20150218/1018429513.html#ixzz3SEcZL0Yf
--------
Saudi Shoura ponders over dress code for women anchors
19 February 2015
The Shoura Council is to review calls from media authorities for a uniform conservative dress code for women appearing on Saudi channels, Al-Hayat reported.
The General Commission for Audiovisual Media sent a proposal on Tuesday to the Shoura Council with a draft regulation for women to dress conservatively when appearing in the media.
The head of the council's media committee Ahmad Al-Zilaie said the Shoura is still reviewing the proposal and nothing has been approved yet.
He said: "If the council approves the proposal, the commission will have control over all media channels in Saudi Arabia.
"That may pose as a problem as media must be as diverse as possible and it is a very sensitive matter to have one party direct the media.
"I personally prefer moderation and don't really have anything to say about the proposal."
He added the proposal, written by Ibrahim Abu Abat and Zainab Abu Talib on behalf of the General Commission for Audiovisual Media, did not receive much opposition from the council so far.
Abu Abat gave Manal Ridwan as an example of a Saudi woman who should not appear in the media because she does not wear a headscarf.
He also complimented Iranian women in the media for wearing headscarves. Speaking at a meeting with council members, he said: "I receive a lot of questions from Muslims all over the world wondering why our women appear without their hijab (headscarf) in the media. It is embarrassing to not be the best representation of Islam.
"Saudi women must appear with their respectable hijab so we can have a Saudi media that truly represents our beliefs and values."
Shoura Council member Saud Al-Shammary was one of the few members who objected to the proposal.
He said: "The media is a sensitive platform that caters to certain audiences and follows certain policies.
"We cannot have one party decide what our hosts and anchors should wear. This can clash with some channels' internal policies or aims."
In response, Al-Zilaie added that the attire specified would not be any different from the requirements of having a passport photo taken. He said: "It is not anything extreme but it is unified.
"If the council approves the proposal we might not see the traditional clothes of Saudi culture on TV anymore. "Whatever happens, the proposal needs to be approved before anyone can protest against anything."
http://english.alarabiya.net/en/media/television-and-radio/2015/02/19/Saudi-Shoura-ponders-over-dress-code-for-women-anchors.html
--------
Wedding Bells Toll Wildly for Kids
19 February 2015
KOZHIKODE: It is official now. Every year, on an average, close to 600 child marriages are taking place in Kerala. Records accessed by Express from the ICDS (Integrated Child Development Scheme) indicate an increase in the number of child marriages in the state, which holds the reputation of being an educated and progressive society, over the last five years.
ICDS data shows that as many as 2,740 child marriages have been reported and another 545 number of attempts of child marriages were prevented by officials of the Social Justice Department in the state since 2010.
The practice is widespread among the Muslim community and majority of the victims are girls. Of the total 2,740 child marriage cases, 2,338 incidents are reported from the Muslim community. The rest is reported among certain Hindu and tribal communities. A single incident of child marriage was reported from the Christian community during the period.
With 2,619 incidents of child marriages since 2010, Malappuram district tops the list while Palakkad is a distant second with 378 under-age marriages. From Malappuram district alone, according to the ICDS, 2,186 minor girls were married off in the past five years. And, 136 children from SC and 98 girls from other Hindu community were also forced to get married in younger age in the district.
Social Justice Department Director V N Jithendran said the practice is common among certain areas in the state despite strong efforts being undertaken by the respective district administrations to curb the disturbing trend. "The only way to prevent child marriage is to make the public aware of the matter and the department is on this path," he said.
However, Jithendran feigned ignorance of the spurt in the number of child marriages in the state. According to him, no detailed data is available in his department regarding the number of such marriages. "The department is yet to collect districtwise data and I can respond only after getting it," he said.
Meanwhile, the fact that legal action has been mooted action against the wrongdoers only in a few hundred cases exposes the laxity on the part of the authorities concerned. As per data, when the state witnessed 2,740 child marriages, only 261 cases have been registered.
Besides, only 139 incidents were reported before the court. As per rule, the onus of preventing child marriages rests with the ICDS officials.
If they get intimation about the marriage of a minor, they should make efforts to prevent it by making the parents and the children aware of the matter.
Legal action must be taken against the parents if they fail to prevent the marriage.
K Naseer, acting chairman, State Commission for Protection of Child Rights, said though the Social Justice Department and other government agencies are mooting initiatives to eradicate the practice of child marriage in the state, the tendency is yet to be prevented effectively.
"It is found that the trend is common among some communities, especially backward societies, due to lack of awareness. It is also noticed that parents have been choosing child marriage as a solution to save their abused minor girls by forcing them to get married," Naseer said.
A slew of initiatives has been mooted jointly with other social organisations and government agencies such as Kudumbashree Mission towards eradicating the malpractice, Naseer added. He said that official laxity in reporting incidents of child marriage before the court is a matter of serious concern. "As per the rule, the officials concerned should report the case before the court if their intervention failed to prevent a child marriage. If the official fails to report the case, it is a punishable crime", he said.
"Even now, the Commission has not noticed such cases. Legal steps will be taken against such officers if we get any report in this regard,'' he said.
http://www.newindianexpress.com/states/kerala/Wedding-Bells-Toll-Wildly-for-Kids/2015/02/18/article2673748.ece
--------
Dino and Rotna, a future for the children from Dhaka's slums
February 19, 2015
Dhaka (AsiaNews) - Nurjahan was 13 years old when she was given away in marriage by her parents. After three months of marriage her husband abandoned her, while she was two months pregnant. The family refused to take her back. This was in 2002 and in Dhaka, in a slum of the capital of Bangladesh.
Nurjahan knocked on the door of a Catholic couple who lived nearby, for help and hospitality. Dino and Rotna welcomed her home: This is how the missionary work of these lay people began, dedicated to the women and poor girls of the city. Today their apostolate is called Friends For The Poor and includes a sewing school, a production center, a literacy school and an orphanage.
Dino, whose name in Bengali means "poor thing", comes from a very poor family from Khulna. At the time of his birth his family was in dire straits. He knew only hunger until he entered the minor seminary of a religious congregation. After completing his higher studies he married Rotna, also in Khulna. The two moved to Dhaka, where they found work as teachers.
"The experience of hunger - says Dino - left a deep mark on me. The fact that you did not eat yesterday or today, the feeling of an empty stomach and the weakness of starvation however, are nothing compared to the anguish about the future, not know if and when you will ever eat". It is this sensitivity that drives man to show concern for the poor living in the slums, especially girls, who in a very poor society like that of Bangladesh are also the most vulnerable.
The birth of a female is considered a burden to the parents, who do not see any economic advantage in sending a child to school. Most remain illiterate and are given in marriage as soon as they reach puberty, incapable of living an "adult" life and not ready to face the demands of motherhood. The husband, as in Nurjahan's case, may prove unreliable and abandon his young wife for trivial reasons.
In first helping this girl, Dino and Rotna decide to teach her to sew and embroider: teaching her a trade will allow her to become independent and so raise her child, even alone. After Nurjahan other girls begin to arrive, and receive the same help from the couple. Dino begins to exploit its contacts - especially foreign missionaries and nuns - to try to sell the girls creations (tablecloths, linens etc.) and fund young girls upkeep. In the heart of the slum, a sewing and embroidery center was born.
The initiative is successful, Dino and Rotna open two more properties in Rajshahi and Dinajpur, but the girls only succeed in selling their products abroad. At the suggestion of the wife of an Italian industrialist in Dhaka, to stabilize the revenue the center began to focus on dressmaking and tailoring, a product that is more marketable locally. The new centers soon closed, due to management difficulties and the couple decided to concentrate on the centre in Dhaka.
Over the years, the structure has changed location several times - because of a lack of water, or flooding problems, or because of a landlord demanding higher rent - always within the slums and thus becoming an integral part of people's lives.
At the same time, Dino and Rotna opened a literacy school. They rented a bigger premises and the first female students were the girls from the sewing center, whom they taught to read and write. Given the large number of poor and hungry girls that roam the slums, they decided to extend the teaching to younger girls. At first, to entice them to attend school, they gave each 10 kg of rice per month. However, when they realized that in many cases the food is sold by their parents to make money, the couple changed strategy: every day the offer the girls a hot meal at the school.
Thanks to his network of contacts, Dino managed to find all sorts of help for his little female students: not only money, but also teaching materials, often in English. Two teachers from the American School in the capital agree to give some lessons, with the result that these girls know English better than many peers who attend regular schools.
Today the center in the slums of Dhaka is divided into tailoring school, production center and the literacy school. There are 10 students per course at the tailoring school. Each course lasts three months. The environment is very friendly and meets the girls' needs: almost all are already mothers and it is very common to see them learning with their children by their side (see photo). Once they have mastered the craft, they usually go to work in shops that offer small tailoring repairs, or they buy a sewing machine and open their own.
The production center has a dozen workers, most of whom were the first young girls saved by Dino and Rotna. In fact it was with a promise to give them a job so they would no longer pose a burden, that many families allow these girls to study. The literacy school counts 120 girls, divided into three shifts a day.
The opening of the girls orphanage is a recent expansion for Friends For The Poor. It is located on the outskirts of Dhaka, with 25 little girls who attend schools in the area. Dino and Rotna now live here, along with their three daughters who were born in these years. In order to manage and organize all of their initiatives Dino has left teaching. A generous donor has guaranteed him a monthly salary, the same as he had received when teaching, provided he continues his work with the children of Dhaka.
Most of the girls are Muslim, but there are also Hindus, tribal and Christian. While living their faith in a conservative manner, being in a country with a Muslim majority, Dino and Rotna have never hidden their religion and everybody knows they are Catholic.
http://www.asianews.it/news-en/Dino-and-Rotna,-a-future-for-the-children-from-Dhaka%E2%80%99s-slums-33497.html
----------
URL: https://newageislam.com/islam,-women-and-feminism/new-age-islam-news-bureau/eighty-percent-of-anti-muslim-attacks-in-france-against-women,-says-report/d/101599