New Age Islam News Bureau
5 Jan 2020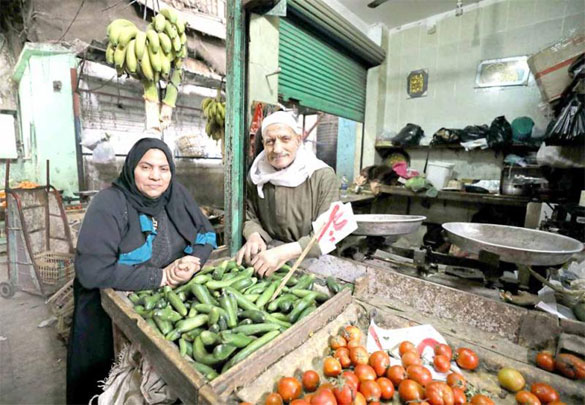 For better or worse. An Egyptian man and his wife pose at their vegetable shop in Cairo. (Reuters)
----
• Egypt's Islamists, Muslim Brotherhood, Butt Heads Over Helping Wives At Home
• Film on Daring Female Surfer Makes Waves In Bangladesh
• Woman Accused of Using Muslim Student's Hijab to Attack Her in Portland, Oregon
• Texas Restaurant Apologizes For Handling of Employee Sent Home For Wearing Her Hijab
• Yemen Women Continue Tough Fight for Rights
• Abused, Harassed and Cut Off: Bhutanese Women in Iraq
Compiled By New Age Islam News Bureau
URL: https://www.newageislam.com/islam-women-feminism/egypts-islamists-muslim-brotherhood-butt/d/120710
------
Egypt's Islamists, Muslim Brotherhood, Butt Heads Over Helping Wives At Home
Sunday 05/01/2020
CAIRO - The Muslim Brotherhood expressed disagreement with a Salafist campaign encouraging men to help their wives at home.
The drama between Egypt's two largest Islamist forces began when the Salafist al-Nour Party began an online campaign urging men to help their wives with household chores.
"Men will be demonstrating their love for their wives by helping them at home," campaign founder Abdurrahman Suleiman said.
Suleiman received positive feedback from fellow Salafists who said they liked the idea of challenging social taboos surrounding men taking on domestic responsibilities.
Some al-Nour members criticised the drive but many others began helping their wives at home. Some men posted photos of themselves washing dishes. Others were photographed cleaning floors and cooking.
Many women said they were grateful that the campaign encouraged their spouses and male relatives to lend a hand at home.
"I returned home today and could not believe it when I discovered that my father and my brother had cleaned the house for my mother for the first time," one woman wrote on Suleiman's Facebook page.
The Muslim Brotherhood responded to the campaign with ridicule and sarcasm, arguing it was a distraction from Egypt's more pressing issues and demeaning to men.
Haitham Abu Khalil, a Muslim Brotherhood member and TV host, said that, instead of addressing Egypt's deteriorating conditions, members of al-Nour were "washing dishes and chopping jute mallow leaves for their wives."
"There are 60,000 detainees in Egypt," Abu Khalil said. "Do not you care about their suffering?"
Another member of the Muslim Brotherhood mocked the Salafists for being "fossilised."
Driving the animosity between the two Islamist forces are deep political rifts that go back years.
Having united after Egypt's 2011 uprising, Salafists turned their back on former Egyptian President Muhammad Morsi, a Brotherhood leader, when popular protests broke out against him.
After Morsi's overthrow, Salafists curried favour with the Egyptian Army, further antagonising the Muslim Brotherhood.
While old political grudges are likely fuelling the rift, it is also revealing the groups' attitudes towards women, analysts said.
"Both groups harbour nothing but disdain for women," said Sameh Eid, an analyst specialising in Islamist affairs. "They have a strong belief that women are lacking at the intellectual level."
Egyptian Salafists have often faced criticism for denying women equal representation in state institutions and in the judiciary.
In 2012 parliamentary elections, Salafist parties that fielded female candidates did not include photos of the candidates in their campaign ads, using instead pictures of flowers.
The Muslim Brotherhood does not grant women equal status in the movement or allow them to vote in internal elections. "Equality between men and women as an idea is totally foreign to the Muslim Brotherhood," Eid said.
Salafists and the Muslim Brotherhood greatly influence how Egyptians view women, observers said. From the 1960s through the 1980s, the groups convinced many women attending university or employed at state institutions to cover up. The groups have been criticised for practising polygamy and marrying underage girls.
"The two groups have always marginalised women and psychologically suppressed them," said women's rights advocate and director of Egypt's Liberal Democracy Institute Dalia Ziada. "Tens of thousands of women paid dearly because of this practice and also because of the edicts issued by Islamist scholars and followed by the general public."
https://thearabweekly.com/egypts-islamists-butt-heads-over-helping-wives-home
------
Film on daring female surfer makes waves in Bangladesh
FAISAL MAHMUD, Contributing writer
JANUARY 04, 2020
DHAKA -- The new film "No Dorai" is based on the inspirational story of Bangladesh's first female surfer, who beat most of the male surfers she competed against. But the fictional name given to its lead character has stirred up a religious storm that may result in the movie being banned in its homeland.
Director Tanim Rahman, 35, was busy promoting "No Dorai" -- titled "Dare to Surf" for international markets -- when he was served with a legal notice on Dec. 10 that led to the withdrawal of the film from cinemas in the cities of Dhaka and Chattagram, where it had been showing since Nov. 29.
The problem? The film's main character is named Ayesha, the name -- sometimes written as Aisha -- of one of the wives of Muhammad, the chief prophet and central figure of Islam. Huzzatul Islam, who filed a writ seeking the film's ban as a lawyer at the Bangladesh Supreme Court, claims it portrays the prophet's wife in a derogatory manner.
"No Dorai," which means "not afraid" in Bengali, is based on the life story of Nasima Akter, now 21 and is the first production from local theater operator Star Cineplex. In the film, the character Ayesha takes up surfing in defiance of the conservative Bangladeshi community in which she lives.
"It took us four years to materialize the film from its chalkboard stage and it was doing well after its release," said Rahman, known mostly for his documentary productions for nongovernmental organizations as well as music videos. "Then all of a sudden we got the legal notice and a subsequent court order to withdraw the film from the market. The reason they cited for the withdrawal was absurd."
According to the writ filed by Huzzatul Islam, Ayesha appears in the film wearing indecent clothes. She also swims -- an activity considered taboo for women in most of Bangladesh.
"This hurts the religious sentiment of our predominantly Muslim country," Islam told the Nikkei Asian Review.
The filmmakers are due in court on Jan. 9 to argue that the film should not be banned.
Bangladesh has made considerable progress in empowering women over the last decade. In the World Economic Forum's recent "Global Gender Gap Report 2020," the nation ranked tops its South Asia. The country was ranked 50th of 153 countries globally.
Female economic participation has increased significantly in recent years, in part because women account for more than 60% of the workforce of the country's clothing factories, its largest export earner.
Bangladesh has been led by female prime ministers since 1991 and the current parliamentary speaker and opposition leader are also female. The country has enacted a number of policies to give women greater control over their lives and help them to play a more influential role in society. By law, at least 50 of the 350 members of parliament must be female.
Despite these developments, girls in rural areas, which are home to two-thirds of the country's 170 million people, are rarely allowed to go to school or choose their line of work. Their families still need to pay dowries when they marry.
Islam said he had nothing against female empowerment. "But I have a problem against using this name," Ayesha, he said. "The name has to be changed or the film has to be withdrawn."
Rahman rejects the notion that the film's lead character dresses inappropriately.
"They said Ayesha wore a bikini. It's a bizarre claim," he said. "Why should I portray a poor Bangladeshi girl wearing a bikini in the film when I tried to make the portrayal of the story as original as possible?"
"I even use the local dialect of Chattagram in the film instead of traditional Bangla language so that the film remains true to its story," he added.
Islam admits he did not actually watch the film before seeking its ban.
"I don't need to see it," he said. "I have seen its posters and billboards."
Islam said he had read in a certain local newspaper that Ayesha wears a bikini in the film, but no such article could be found by Nikkei.
Tanjib ul Alam, a lawyer representing the filmmakers, told Nikkei that he will argue in court that Islam's petition is unreasonable since Ayesha does not in fact wear a bikini, her character is not portrayed in a derogatory manner and her name is a common one in the country.
Mahboob Rahman, the film's producer, said he decided not to use Akter's real name because a documentary film has already been made about her by a foreign director. So he named the protagonist after his mother.
"I wanted to portray a strong female character through this name," he said, calling Akter an "extraordinary" personality.
Said Rahman, who is unrelated to Tanim, "I met her (Akter) in 2015 when I went to learn surfing in Cox's Bazar," often referred to as the world's longest beach.
"She was the best surfer and frequently bested her male peers in surfing," he said. "I got curious and learned about the amazing journey she had in her life."
Akter became homeless at the age of seven. After facing many difficulties, she found hope in the surfing community in Cox's Bazar.
"Nasima's story ultimately ended on a sad note," Rahman said. "She got married at the age of 19 and became a mother of two. She rarely surfs now. In my movie, I wanted the protagonist to fight back and continue surfing."
Sunerah Binte Kamal, who plays the character of Ayesha in the movie, said she was shocked to hear about the potential ban. "I did my surfing in the movie wearing salwar kameez," she said, referring to the traditional suit of loose trousers and a long shirt worn by many South Asian women. "It is absurd to claim that I wore a bikini."
"This movie is very important as in our country, women are still repressed and are not allowed to do what they like to do," Kamal said. "By showing Ayesha returning to surfing despite being forced into an early marriage, this movie sends a message that women are advancing."
Mushfiqur Rahman Gulzar, president of the Bangladesh Film Directors Association, called the movie a "trendsetter" for the Bangladesh film industry. It produces an average of 170 films a year, generating revenues of about $65 million.
"For our association, we would like to lay out support for the movie," he said. "Artists and directors must be given freedom to express their ideas."
https://asia.nikkei.com/Life-Arts/Film-on-daring-female-surfer-makes-waves-in-Bangladesh
------
Woman Accused of Using Muslim Student's Hijab to Attack Her in Portland, Oregon
5 January 2020
PORTLAND, Ore. -- Authorities issued an arrest warrant Friday for a woman accused of trying to choke a Muslim student with her headscarf and then harassing her by stripping down at a train station in Portland, Oregon.
Jasmine Renee Campbell, 23, has been indicted on hate crime, attempted strangulation, harassment and criminal mischief charges for the Nov. 12 attack at a downtown MAX station.
The warrant was issued after she failed to appear in court on Friday.
The Multnomah County district attorney's office described the attack, saying Campbell grabbed the religious head cover worn by the Portland State University student to try to choke the student with it.
Prosecutors said Campbell then stripped down and rubbed the student's hijab over Campbell's naked breasts and genitals while disparaging Muslims.
Reached by phone, Campbell told KPTV that she wasn't trying to hurt the student, had been drinking too much and is being treated for a mental health condition.
Authorities said the two women didn't know each other.
The 24-year-old Muslim woman, who is a foreign exchange student from Saudi Arabia, said she now wears a hat to cover her head because she doesn't feel safe wearing a hijab in public.
https://abcnews.go.com/US/wireStory/prosecutor-attacker-strips-muslim-students-hijab-68068867
------
Texas Restaurant Apologizes For Handling Of Employee Sent Home For Wearing Her Hijab
4 January 2020
By RALPH R. ORTEGA
A fast food restaurant has apologized to a Muslim employee who was sent home by her manager for refusing to remove her hijab.
Stephanae Coleman, who also goes by the Muslim name Folake Adebola, says the manager at Chicken Express in Saginaw, Texas took issue with her on Monday after she arrived at the branch wearing the modest head covering.
However, attorney Rhett Warren has since said that the manager's decision to send Coleman home was made due to a lack of training, and that he has been 'reprimanded'.
Coleman 'is not facing discrimination for her decision to wear a headscarf for being Muslim', Warren wrote in a statement to ABC News.
The unnamed manager, 'unfortunately did not take religious liberty into consideration,' Warren writes.
In a video taken by Coleman, her manager is heard saying: 'Your job is your job. Your job has nothing to do with religion.
In a second part of the clip, which she said was taken after he spoke on the phone with the area coach, he added: 'The job requires a specific uniform. [The hijab] is not a part of the uniform; you as a paid employee cannot wear it.'
The woman - who goes by her Muslim name on Twitter - converted in August and started working at the restaurant in October. She only debuted her hijab this week after a set she had ordered arrived in the mail.
'I converted to Islam not too long ago and I started wearing my hijab, I went to work today and was kicked out because my hijab was not apart the 'dress code' apparently and I wasn't allowed to wear it', she posted on Twitter. 'Don't come to the chicken express in Fort Worth!!'
She added in another tweet: 'This is discrimination at its finest! I will not tolerate this at all.'
Coleman has not named the boss despite requests online. The company has not named him.
The woman said: 'I told my manager that I am Muslim and that I was waiting on my hijabs to come in. And everything was cool until it was brought up again between him and another employee.'
'Once I clocked in, the manager said 'Take off anything that doesn't involve Chicken Express,' which I knew he was talking about my hijab,' the woman told CNN.
'So I didn't react, I just went to the back and took off my jacket and my purse. Five minutes later, he called me into the office telling me that I have to take it off because it's not a part of the work uniform.'
Coleman claimed that after she cut off her camera, the manager said: 'If it isn't branded by Chicken Express you can't wear it, we don't care about your religion because it has nothing to do with the store.'
In regards to issues of health and safety raised by Twitter commenters, Coleman said she works on the front counter: 'I barely deal with food'.
She added: 'In the hand book they say they have 'equal opportunity for every religion' so yes I FELT comfortable working there.'
The company's handbook states that 'only the Chicken Express hats or visors may be worn' but does not include guidelines on religious exceptions.
Coleman said she believes the manager was 'targeting' her after social media users noted they'd seen staff working at Chicken Express wearing a hijab.
In addition to the hijab incident, Coleman claimed that several weeks ago she was taken off the schedule after she had an anxiety attack at work and was having trouble breathing.
'He said it caused a slow down in the store because I had to walk off and all down,' she tweeted. 'Instead of making sure that I was okay he took me off the schedule for TWO WEEKS!'
Coleman said that by Tuesday she hadn't heard back from corporate team but the 'guy that runs the store called me this morning and apologized'.
She said he 'asked would I like to help rewrite the handbook so this doesn't happen again'.
Coleman claimed the store owner asked her to remove her social media videos that went viral with tens of thousands of views and reactions, because they have been 'getting calls from other CE stores about this situation', however she declined.
She said she hadn't gone to HR about the matter but returned to work Tuesday and faced more discrimination.
'A lady who I worked with today was making racists comments AFTER the store owner left,' Coleman claimed.
So I walk behind the counter and an employee is talking about me to another worker calling me a fake Muslim and that the Muslim community should hate me. So instead of saying something I let her talk. She continued on to say that there is no such thing as black Muslim women,' Coleman continued. 'And laughed at me while I was adjusting my hijab.'
'I cried all day yesterday because I just couldn't believe it happened to me like it's 2019 almost 2020 this needs to stop.'
Coleman reached out to Council on American-Islamic Relations (CAIR) with the videos for advice on filing a lawsuit and Equal Employment Opportunities Commission now has her case.
Claiming 'southern businesses love discrimination', one Twitter user said past and current employees should come forward with their cases of discrimination.
However Coleman tweeted: 'That's the thing nobody in my job will come forward about anything. Because they are all too scared'.
Many called for the offending manager to be fired and for Chicken Express to settle a lawsuit quickly, citing Title VII of the 1964 Civil Rights Act about practicing religion at work.
Chicken Express, which is franchised, initially declined to comment.
The restaurant said it would 'retrain' the manager who is one of three at the branch and is still employed by them.
Warren said the manager 'was using a strict interpretation of the company policy that does not allow derivations from the standard employee uniform, and he unfortunately did not take religious liberty into consideration'.
She was paid for the full number of hours she intended to work Monday and was allowed to return the next day wearing her headscarf, the lawyer said.
Coleman also was asked to participate in developing training 'so that a mistake like this will not happen again' Warren continued.
He said the manager had been with that particular restaurant location for just over a year and that the franchise owner was a Chicken Express franchisee for about 15 years.
Coleman, meanwhile, told ABC that the response to her video was '50/50', with some support for the Muslim community. She said she has received some racist comments on Twitter.
'I pay no mind to it because I know what I'm doing is right and can help other women like me'. she told ABC.
She added that she hopes this serves as a lesson 'for employees [to] be strong and fight for your rights and for employers [to] study the hijab and what it means to Muslim women'.
https://www.dailymail.co.uk/news/article-7851295/Chicken-Express-apologizes-Muslim-worker-sent-home-refusing-remove-hijab.html
------
Yemen women continue tough fight for rights
28 Mar 2013
The recent popular uprising in Yemen has brought new opportunities for women who have been under-represented for years.
Now, months after the protests of the so-called "Arab Spring", the success of Tawakul Karman, the first Arab woman to win the Nobel Peace Prize, continues to push Yemeni women to work towards ending centuries of discrimination.
Al Jazeera's Hashem Ahelbara reports from Sanaa.
https://www.aljazeera.com/video/middleeast/2013/03/2013328122149103134.html
------
Abused, harassed and cut off: Bhutanese women in Iraq
January 4, 2020
"Will the government be able to help us?"
In a hushed tone, Choden asked. She sounded desperate.
When she called Kuensel yesterday, she said she was in a kitchen of a home in Baghdad, Iraq. She had not eaten since morning. It was almost mid-day there when she made the inquiry.
Choden has gone to Iraq in September last year.
Like other similar stories, she was fiddling her mobile phone and checking social media sites when she received a message from a friend asking if she was interested to go abroad to work.
She heard many stories of people who went abroad and earned good income. She has also seen her neighbours receiving money from their children living abroad.
"I thought this was an opportunity to help my single mother and sister and make our lives better," Choden said.
Her friend then gave her a Facebook account of a woman, who sends girls abroad to work. "The moment I added her, she asked me if I had passport," she said.
The woman asked her to process her passport and to tell officials she was going to study abroad. She met two friends and went to Siliguri.
"In Siliguri, we met the woman and she brought us till Delhi. She took care of all our expenditure and bought us goods. We thought she was a good woman," the 23-year-old Choden said. "She told us Bhutanese are treated well in Iraq and that Iraq is now under the United States and a peaceful country."
Choden and her friends stayed in Delhi for a week and reached Baghdad through Dubai at night in trucks. "They brought us with loads covered under blankets."
Once in Baghdad, they were not given proper food but lots of work. "We wake up at 5am and go to bed at 11:30pm. I fell sick many times and even bled from mouth twice."
Another woman, Zangmo, also went to Iraq through the same woman, supposed to be an agent.
She said they were given leftovers, made to work without rest and did not even have clothes to change. "Our luggage was taken to the police station but we were transported in trucks under blankets."
The 27-year-old woman said four of them went together from Bhutan. She is not aware of where the other three are. "The clients confiscated all our local SIM. We are not in touch."
She said one of the clients, who found her phone, broke it.
She claimed they change clients to work for at night. "I am working with a man these days. Besides the household chores, he makes me massage him every night, touch me inappropriately and ask me to sleep with him."
It has been more than four months since she left Bhutan and she claimed that the woman who sent them lured them by saying they would be paid USD 400 a month and would get tips. "But we are not paid any salary."
She said when she told the middle woman that she wanted to return home, she asked her to pay Nu 600,000. "When I told the agent here I want to return home, he asked me to pay USD 17,000."
She said she feels like committing suicide. "If there is no way we could return home, taking my own life is the only solution."
Another woman shared a similar story of suffering in Sulamaniyah.
The 21-year-old woman from Wangduephodrang said a woman working there, who was related to her brother-in-law, influenced her sister to send her down.
"They initially told me the work is in Qatar and I only knew it was in Iraq when they handed us the air ticket in Dubai," she said. "Two other girls came with me but they are in different places now."
It has been three months since they were in Sulaymaniyah and the woman said they were made to work without food. "When we complain that we cannot work, they scold and beat us."
She said that when they told the two women, who influenced them to come down about their suffering, they have been blocked from social media. "They are from eastern Bhutan and they do not even put their real photo in social media accounts."
The woman said she comes from a poor family and only has a mother at home. "She cries when I tell her my plight."
She said they lodged a complaint to Royal Bhutan Police through social media accounts more than a month ago. "We are still waiting for the response."
Intervention
Meanwhile, the government would complete contacting all women placed in Iraq by two Bhutanese unregistered agents and make arrangements for those who want to return within a week, according to foreign minister Dr Tandi Dorji.
Last week the government, along with relevant agencies, drafted a standard operating procedure (SOP) and Lyonpo said working on the cases have become easier through the SOP.
He said stakeholders worked over the New Year and the Nyilo to profile the girls and ask them if they wished to return. "The government and the two recruiters are working to get in touch with them."
Dr Tandi Dorji said the stakeholders met yesterday afternoon and discussed the issue.
He said the government has questioned the two recruiters, one in Thimphu and the other in New Delhi. Both the recruiters are women.
"The 15 girls sent through one agent have been identified and when asked most wanted to remain in Iraq," the minister said.
He said that most of them placed in Bagdad want to stay. "It's those in Kurdistan who have problems and we're profiling each of the girls and asking them if they want to return home."
Lyonpo Dr Tandi Dorji said three women had arrived in New Delhi from Iraq of which two were pregnant and one was sick. "They knew they were pregnant only after they reached Iraq in October.
He said both the agents were also in contact with their partners in Iraq as well and they are yet to understand the terms between the agents.
Both agents were also told that their business was illegal.
The minister also said the foreign ministry has written to the Iraqi government not to allow Bhutanese girls to work as maids. "Kuwait has already banned it. Soon this restriction would extend to the whole of the Middle East."
Are agents fooling the govt.?
However, Bhutanese maids in Baghdad are worried if the unlicensed agents are trying to influence the government by saying that they wanted to stay there.
"I don't know who the government is in touch with," a maid said. "I only received message from Prime Minister and I shared my plight. I got some hope when His Excellency said the government would help us."
Another maid said that those who are suffering do not have phones and are not on social media. "I hope the government officials are not in touch with Bhutanese women working for agents here and luring others to come down."
She said one or two women, who benefited from recruiting companies should not be allowed to make decisions for them. "There are more than 41 women in Baghdad, who want to come back. There are many others in other places."
https://kuenselonline.com/abused-harassed-and-cut-off-bhutanese-women-in-iraq/
------
URL: https://www.newageislam.com/islam-women-feminism/egypts-islamists-muslim-brotherhood-butt/d/120710
New Age Islam, Islam Online, Islamic Website, African Muslim News, Arab World News, South Asia News, Indian Muslim News, World Muslim News, Women in Islam, Islamic Feminism, Arab Women, Women In Arab, Islamophobia in America, Muslim Women in West, Islam Women and Feminism