New Age Islam News Bureau
31 Jan 2016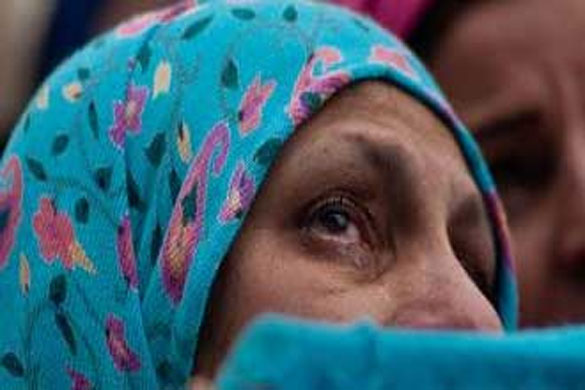 Photo: ISIS Yazidi sex slaves subjected to traumatic 'virginity tests' after escaping
-----------
• ISIS Yazidi Sex Slaves Subjected To Traumatic 'Virginity Tests' After Escaping
• Tareena Shakil: Why British Woman Is Guilty Of Joining Islamic State
• Four UAE Clubs To Participate In The 3rd Arab Women Sports Tournament
• Asian Development Bank Project For Improved Legal Literacy For Women In Pakistan
Compiled by New Age Islam News Bureau
URL: https://newageislam.com/islam-women-feminism/egyptian-writer-faitma-naoot-sentenced/d/106178
--------
Egyptian Writer Faitma Naoot Sentenced To Three Years In Prison For Talking About Animal Rights
January 28th, 2016
Fatima Naoot, an Egyptian secular writer, has been sentenced to three years in prison after being found guilty of insulting Islam. The charges related to an October 2015 Facebook post which decried the tradition of slaughtering sheep on Eid al-Adha as the "greatest massacre committed by human beings." She was also ordered to pay a fine of $255.
Her sentence comes into effect immediately, but it is reported that she will be able to appeal from prison. While she did admit to writing the Facebook post, she argued that it was in no way meant to be an insult to Islam.
"I'm not sad about the sentencing as I don't care about going to jail. I'm sad that the efforts of reformists have been wasted," she told AFP.
Sherif Adeeb, her defence attorney, expressed his surprise at the court's decision.
"Despite having hoped for an acquittal, I cannot comment on court decisions but the situation in general is odd because we have submitted proof that there were no criminal intentions on the part of my client, a claim that the prosecution authorities also supported," he said.
During the Eid al-Adha celebrations, domestic animals are sacrificed as a symbol of Abraham's willingness to sacrifice his son.
albawaba.com/loop/egyptian-writer-faitma-naoot-sentenced-three-years-prison-talking-about-animal-rights-799030
------
ISIS Yazidi sex slaves subjected to traumatic 'virginity tests' after escaping
Lizzie Dearden | The Independent | Jan 31, 2016
Yazidi women and girls who manage to escape ISIS after being captured as sex slaves have been undergoing traumatic "virginity tests" to prove they were abused.
Human Rights Watch interviewed victims who survived organised rape, captivity and forced marriage only to be subjected to the "abusive" examinations after believing they had reached safety in Iraqi Kurdistan.
Rothna Begum, a researcher at the group's women's rights division, said she spoke to a woman called Luna who had been kidnapped by ISIS as the group swept through northern Iraq in 2014, sold four times and raped by all her "owners".
She was one of hundreds of Yazidi women and girls believed to have since undergone painful "virginity tests" as a method of proving the rapes to Iraqi officials documenting ISIS crimes.
A judge told Human Rights Watch researchers that the committee gathering evidence has subsequently stopped using the examinations and that a new reporting method has been adopted by the health directorate in Dohuk, based on UN recommendations.
"This is an important step for women and girls like "Luna" who can now pursue justice for the crimes against them in a process that shows deeper respect for women's rights and a commitment to providing better care for rape survivors," Begum said.
The World Health Organisation has stated that there is no place for virginity testing in modern practice, saying the commonly-used method of inserting two fingers "has no scientific validity" and can be painful and distressing.
It is based on the inaccurate belief that all women and girls who have not had penetrative sex have intact hymens that bleed during first intercourse.
The same misapprehension has been driving former sex slaves to seek surgery to "restore their virginity" by repairing the membrane because of fears they will be shunned by future husbands or ostracised by family members and their communities.
"In the most extreme cases, women and girls were so traumatised by the fact they were no longer virgins that they were insisting on this surgery to feel whole again - they feel they have lost something," Begum told The Independent last year.
ISIS, also known as the Islamic State and Daesh, issued guidelines to its fighters last year attempting to justify the taking of non-Muslim women as sex slaves under Islamic law and even released a "price list" for the women, who have been sold for as little as a packet of cigarettes.
Zainab Bangura, the UN's special representative on sexual violence in conflict, has documented cases of victims being "sewn up" after being raped so their "owners" can sell them on as virgins.
All Yazidis have been declared heretics under ISIS' interpretation of Salafism and have been driven from their homes, enslaved and massacred in territories under the group's control.
A prominent religious leader, Baba Sheikh, decreed that returning women should be treated as victims and welcomed back into the community but that has not been the case for all.
Those women and girls face not only stigma over sex outside of marriage, whether it was consensual or not, but also the trauma of pregnancy.
Abortion is illegal in Iraq except in cases where the mother's life is directly at risk, forcing victims to turn to dangerous "back-street" doctors or bear the children of their rapists, sometimes giving birth at a dangerously young age.
Human Rights Watch is among the groups campaigning to have terminations made legal for rape victims or women at risk of suicide or honour-based violence.
timesofindia.indiatimes.com/world/middle-east/ISIS-Yazidi-sex-slaves-subjected-to-traumatic-virginity-tests-after-escaping/articleshow/50792686.cms
--------
Tareena Shakil: Why British woman is guilty of joining Islamic State
29 January 2016
Tareena Shakil has become the first woman in the UK to be convicted of "membership" of the self-styled Islamic State organisation - but she never had a membership card, says she deeply regrets going to Syria, and - in a courtroom twist - told the jury she'd even helped MI5 on her return.
So why did she face this very serious charge and end up with a criminal conviction that could see her in prison for 10 years?
She is among approximately 60 women and girls known to have gone from the UK to Syria - but she is the first to have faced such serious charges on her return.
Terrorism legislation says that membership of a banned group means to "belong" - but how could "belonging" be proved in the case of a so-called organisation like Islamic State?
Experts say that men swear an oath to IS, but the situation with women is less clear.
Islamic State has an official women's wing, known as Al Khanssah, that is said to control the lives of women who migrate to the territory - but there was no direct evidence that Shakil was part of it, only that her life was dominated by its matrons once she arrived.
Instead, the prosecution and her conviction came down to her pattern of behaviour and her own evidence about what she did and posted on social media.
The 26-year-old from Burton upon Trent, left the UK to join IS in October 2014.
Shakil began planning her journey after fleeing domestic abuse as her relationship with her partner collapsed.
After weeks of research, including talking to two key British women inside Islamic State, the court heard she had convinced herself that going to Syria was a good idea.
The prosecution said she wanted to further the aims of the banned terror group. She said she was looking for safety and peace within "an Islamic state" where there would be no alcohol or drugs.
But two of her key contacts in Syria were well-known jihadist sympathisers - Britons Sally Ann Jones, also known as Umm Hussain Britaniyya, and Glasgow woman Aqsa Mahmood.
Mahmood has published extensive diaries and guidance online, telling women how to arrive and what to bring.
Shakil spoke to both and in one message told Jones: "I wish I was there".
In October, Shakil told her family she was going on holiday to Turkey with her son, then around 18 months old. They helped her pack and saw her off at East Midlands Airport.
Days later she announced she wasn't coming back - and the family found two notes she had left behind.
"If you are reading this then I am long gone and you clearing out the house," she wrote. "I love you all, never forget that. Whatever is in the house I'll leave to you mum, have it all, it's yours. I won't say goodbye because this isn't the end."
She later confirmed her location.
"We crossed the border today so we are now in Syria living there. I love you loads… this is the hardest thing I've done x."
When she first returned to the UK, she told police she had been kidnapped. But her evidence at trial was completely different.
She admitted she had used smugglers working for IS to go on a clandestine journey from Turkey into Syria - and from there to Raqqa, the self-styled Islamic State's capital, and was being ideologically prepared as a prospective jihadi bride.
"U think I'm a terrorist lol," she quipped to people back home. "It is part of our [religion] to kill the murtadeen [apostates]. U shouldn't communicate with terrorist, they will take your phone. I can't give you personal information about how we travel because no-one can be trusted. They bomb us daily - to give u this would be silly."
She posted a series of messages professing her support for IS.
Two clearly include her son, who cannot be named for legal reasons. In one, the toddler is smiling next to a large rifle. Text superimposed over the image give him the name "Abu Jihad al-Britani".
And in mid-November she confirmed to a friend in the UK she had met a prospective husband.
But she found no happiness in Syria either.
Shakil told the jury she realised she had made a mistake when she took against the idea of marrying an American-Italian fighter with a limp. She organised a daring escape that involved a taxi ride to the Turkish border - and a run across open land and through a barbed wire fence.
So why did the jury convict her of membership?
Judge Melbourne Inman QC told the jury they had to test what membership amounted to.
He told them to not think about membership in terms of belonging to a library or a gym. Instead, they had to decide whether Tareena Shakil voluntarily went to be with IS in Syria, knowing its aims, how it would achieve them and, crucially, seeking to associate with like-minded individuals.
"Obviously if someone is associated with members of a terrorist organisation and only submits to the organisation's requirements or will because they have to and don't share with furthering the aims of that organisation, then clearly that does not amount to them being a member of it."
Tim Maloney QC, defending, urged the jury to think twice before convicting.
"Her partner was sleeping around and getting drunk… abusing her physically and psychologically," he said.
"It's breakdown time; she's vulnerable. [The IS recruiter] cultivates her and at that time she goes from nought to 60 in no time whatsoever, because she's being groomed.
"She may have been attracted to an idealised vision of ISIS [Islamic State], but as soon as she saw what it was like she came back.
"When she got back she helped the authorities. She's not in ISIS, she's someone who has done something really wrong that she badly regrets."
bbc.com/news/uk-35291347
--------
Four UAE clubs to participate in the 3rd Arab Women Sports Tournament
January 31, 2016
The UAE is taking part through four clubs in the 3rd Arab Women Sports Tournament, Sharjah 2016 (AWST), which will be held under the patronage of Her Highness Shaikha Jawaher bint Mohammed Al Qasimi, the wife of His Highness the Ruler of Sharjah, Chairman of the Supreme Council for Family Affairs, in Sharjah from February 2nd to 12th.
The tournament is approved by the Union of Arab National Olympic Committees and the League of Arab States . It is organised by the Women Sports Department and Sharjah Ladies Club, and their partners, the General Authority for Youth Welfare and Sports, the National Olympic Committee, and Sharjah Sports Council.
The list of the UAE clubs includes Sharjah Ladies Club, Baniyas Club, Al Wasl Sports Club, and the Emirates Equestrian Centre. Sharjah Ladies Club will participate in all eight sports included in the third edition, which are basketball, volleyball, shooting, fencing, table tennis, athletics, archery, and equestrian.
The distribution of competitions for the UAE clubs will be as follows: Sharjah Ladies Club and Baniyas Club will compete in basketball, Sharjah Ladies Club and Al Wasl Sports Club will compete in volleyball, Baniyas Club and Sharjah Ladies Club will compete in fencing, the Emirates Equestrian Center and Sharjah Ladies Club will compete in equestrian while the UAE's participation in table tennis, athletics, and bow-and-arrow games will be limited to the host club, Sharjah Ladies Club.
Shaikha Shamsa bint Hashr Al-Maktoum, the board member in the Arab Volleyball Federation, Chairwoman of the Women's Committee and Supervisor of Ladies Games in Al-Wasl Sports Club, stated that the strong presence of Arab clubs and participation of Emirati clubs is very significant as it serves women's sports in the UAE.
Shaikha Shamsa said, "We are looking forward to seeing our players from Emirati clubs on the various award podiums. The Emirati clubs participating in the Arab Women Sports Tournament are ready for the competitions, and most of the UAE's teams have participated in training camps locally and abroad, which has helped put the final technical touches to the tournament's organizational plan."
Major General Dr. Ahmed Nasser Al Reessy, Chairman of Baniyas Club, Chairman of the UAE Shooting Federation, noted that the 3rd Arab Women Sports Tournament is a perfect opportunity for the UAE clubs to gain exposure and interact with different levels of Arab clubs, especially since the third edition will include the participation of 17 Arab countries represented by 55 clubs.
He added that the UAE clubs that will participate in the third edition have a strong chance to win titles and awards.
khaleejtimes.com/sport/local/four-uae-clubs-to-participate-in-the-3rd-arab-women-sports-tournament
----------
Asian Development Bank project for improved legal literacy for women in Pakistan
January 31st, 2016
ISLAMABAD: The Asian Development Bank (ADB) is considering launching a capacity development project in Pakistan and Afghanistan to improve legal literacy of women, government, judicial officials and religious and community leaders on gender-based violence.
The project titled 'Regional Capacity Dev­e­l­opment Technical Assistance (R-CDTA)' will address a plethora of issues affecting gender equality in the legal and related sectors and to plug gaps among institutions.
It aims to strengthen the capacity of investigating, prosecuting and decision-making bodies and equip women with adequate knowledge of their rights to access social and legal justice, leading to a stronger and more inclusive society.
According to ADB, the project will help increase skills of government, civil society organisations, legal and judicial officers to respond to clients on gender issues, and increase awareness and support for women's legal literacy and access to legal aid and services.
It will also assist Pakistan and Afghanistan to fulfil their obligations under the Convention on the Elimination of all Forms of Discrimination Against Women. The project is likely to be expanded to cover Tajikistan.
ADB's Country Partnership Strategy 2015-2019 for Pakistan acknowledges that gender inequalities in the country are still large and states that the ADB's support has a direct impact on women's empowerment and well-being.
For the first time, the Sustainable Development Goals adopted by the UN member states includes a target on eliminating gender-based violence.
The ADB says that citizens' access to the legal system and assertion of their rights is severely constrained by poverty, lack of knowledge of rights and the law, and the complexities of the system.
A major constraint to the delivery of justice is that enforcers and administrators of the law are not adequately versed in the duties and obligations of their professions.
dawn.com/news/1236544/adb-project-for-improved-legal-literacy-for-women-soon
URL: https://newageislam.com/islam-women-feminism/egyptian-writer-faitma-naoot-sentenced/d/106178
New Age Islam, Islam Online, Islamic Website, African Muslim News, Arab World News, South Asia News, Indian Muslim News, World Muslim News, Womens in Islam, Islamic Feminism, Arab Women, Womens In Arab, Islamphobia in America, Muslim Women in West, Islam Women and Feminism