New Age Islam News Bureau
7 Nov 2012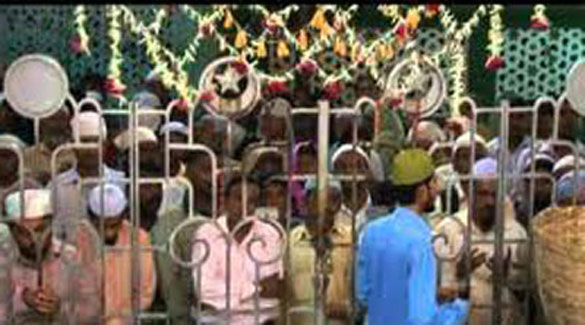 • Saudi Wife to Pay SR55, 000 for Divorce for Not Being Religiously Committed
• Debate Rages over Barring Women in Dargah Sanctum
• Asylum Seeker Fights Deportation to Gambia For Fear Of Female Genital Mutilation
• 2,000 Students Continue To Suffer As 'Blasphemy School' Still Shut
• Iraqis Spared Jail for Abusing Female Relative for Chatting To a Male Friend
• Girl Trying To Cross Over To Pok to Meet Facebook Friend Held, Released
• Pakistan Acid Attack Parents Speak Of Remorse
• Women's Status in Islam Translated in Russian
Compiled by New Age Islam News Bureau
Photo: Debate Rages over Barring Women in Dargah Sanctum
URL: https://www.newageislam.com/islam,-women-and-feminism/new-age-islam-news-bureau/egyptian-teacher-convicted-for-cutting-schoolgirls--unveiled-hair/d/9219
------------
Egyptian teacher convicted for cutting schoolgirls' unveiled hair
Teacher in Luxor handed six-month suspended sentence for punishing two girls for not wearing Muslim headscarf
6 November 2012
A court in southern Egypt has convicted a teacher of child abuse and given her a six-month suspended sentence after she cut the hair of two schoolgirls for not wearing the Muslim headscarf.
The incident last month in the village of Qurna sparked criticism from rights groups and local officials. The case falls into a broader debate in Egypt over personal and religious freedoms amid the rise of Islamist political movements such as the Muslim Brotherhood.
The teacher, Eman Abu Bakar, who wears the niqab that leaves only her eyes visible, was transferred to another school after the incident. But the father of one of the girls and a national centre for childhood rights filed a complaint, accusing her of abuse. Berbesh Khairi el-Rawi said Abu Bakar forced his daughter to stand with her hands above her head for two hours before cutting her hair.
The teacher was quoted as saying she cut her students' hair after asking them repeatedly to cover their heads. A student then handed her a pair of scissors, she said, and he and other pupils urged her to "implement" the threats.
The court also fined Abu Bakar $8.
http://www.guardian.co.uk/world/2012/nov/06/egyptian-teacher-cutting-hair-schoolgirls
------------
Saudi Wife To Pay SR55, 000 For Divorce For Not Being Religiously Committed
By Habib Toumi
November 6, 2012
Manama: A Saudi woman has pledged to pay her husband SR55, 000 if he agrees to divorce her only five days into their marriage.
The pledge was accepted by the court looking into the case filed by the husband against his wife for abandoning their home. The husband told the court that he wanted his wife back.
However, the wife said that she did not want to live with the husband after she discovered that he had a difficult character and that he was not religiously committed. She also complained that he watched immoral shows, local Arabic daily Al Madina reported.
The husband denied the charges and insisted on his wife returning home.
Attempts to reconcile the spouses by an expert committee failed after the wife said that she was adamant to obtain the divorce.
According to the daily, the SR55,000 Dh53,866 the wife was willing to pay for the divorce papers was part of the SR70,000 dowry the husband had offered.
However, the wife and her family do not have the full amount to repay and they are making lots of effort to raise the money, the daily said.
Online comments called for better efforts to reconcile the spouses and said that the court should not have granted the divorce quickly.
"This is truly amazing," a blogger writing under the pseudonym UHL commented. "A divorce after five days is a shock. How could the wife judge the character of her husband so quickly. Ample time should be given to the spouses to get along."
Saudi Arabia has one of the highest divorce rates in the region amid reports that it reached 40 per cent.
Last year, the Kingdom's Grand Mufti warned that some of the divorce cases were caused by the sordid interpretation of dreams and visions by charlatans on television channels and online sites.
"There are private channels that broadcast programmes claiming to have the ability to interpret dreams and visions," Shaikh Abdul Aziz Al Shaikh said. "They receive phone calls and they provide answers. It is a lucrative business and has nothing to do with understanding visions."
http://gulfnews.com/news/gulf/saudi-arabia/saudi-wife-to-pay-sr55-000-for-divorce-1.1099036
------------
Debate Rages over Barring Women in Dargah Sanctum
Mohammed Wajihuddin
Nov 7, 2012
MUMBAI: The move banning women from entering the astana (sanctum sanctorum , where a saint is buried) by some leading dargahs has sparked off a huge debate with liberals and conservatives in the community taking opposite sides. On Monday, TOI reported that several leading Sufi shrines in Mumbai had either banned women from going close to the sanctum sanctorum or were "sensitizing" women devotees about the future ban.
The opinion is divided and many suggest that the trustees of dargahs should fix separate timings for men and women visitors at the shrines. "The ban on women's entry to the sanctum sanctorum reeks of deep bias against women and the community must see it as creeping Talibanization in India," said Farid Batatawala of Muslim Forum. Batatawala added that he was a follower of Sufism and visits famous dargahs across the country regularly where women are not banned, but is pained by the decision of leading dargahs like Haji Ali and Makhdoom Shah Baba of Mahim to ban women's entry.
The Deobandis have welcomed the decision and say that the Shariat (Islamic laws) mandates it. "Dargahs are basically structures around graves of Sufi saints and if entry of women to normal graveyards is banned, why it should not be banned at dargahs?" asked Mumbai resident Tabrez Shaikh.
Shaikh added that any practice that is not allowed by the Shariat must be abandoned . However, Maulana Bunai Noim Hasani, general secretary of the All India Ulema Board, said there is a tradition that says Hazrat Fatima Zahra, daughter of the Prophet, visited the Prophet's uncle Hazrat Hamza's grave a couple of times.
"If the Prophet's daughter could visit a grave, why can't ordinary women visit graves of Sufis?" asked Hasani . He also questioned why the dargahs didn't do it in the past as these shrines have existed for centuries.
"If there is fear of ikhtelaat (mixing of sexes) at the dargahs, the trustees can find a solution and allow women devotees at a fixed time. Extreme position will only help those who have launched a smear campaign against Islam," said Bandra resident Zafar Sareshwalla.
http://timesofindia.indiatimes.com/city/mumbai/Debate-rages-over-barring-women-in-dargah-sanctum/articleshow/17124510.cms
------------
Asylum Seeker Fights Deportation to Gambia For Fear Of Female Genital Mutilation
Female genital mutilation is illegal in the UK, but an asylum seeker fears it will be forced on her daughter if they are deported
Rachel Pugh
6 November 2012
The first thought Binta Jobe has on waking each morning is of the day she was taken, aged nine, by family, into the bush and forced to undergo female genital mutilation (FGM). It was done without anaesthetic, by an old woman with no medical training. Now the 23-year-old Liverpool-based asylum seeker from the Gambia is fighting to save her three-year-old daughter, Aisha, from the same fate.
The World Health Organisation defines FGM as "all procedures that involve partial or total removal or injury of the external female genitalia for non-medical reasons". It estimates that up to 140 million females worldwide have experienced the procedure, including 92 million in Africa.
"I dream of blood," says Jobe, who suffers recurrent infections, sexual problems and pain as a result of the surgery. "It's an abuse. I just want Aisha to be able to grow up stronger than I am. We have no choice about it in our country. I did not understand that I had rights until I came to the UK."
Jobe arrived in the UK in 2008 to join her husband who had come to study. Within weeks of Aisha's birth, there was talk of arranging her circumcision. Jobe fled with her daughter. She applied for asylum in 2010, based on her belief that she and her daughter will be tracked down by extended family and Aisha subjected to FGM if they are forced to return to the Gambia.
FGM is still legal in the Gambia, where, according to Unicef, about 78% of the female population undergo the procedure. Under the UN 1951 Refugee Convention, fear of being forced into FGM is grounds for seeking asylum. It is also regarded by the UN as torture and as "inhuman and degrading". Yet the UK Border Agency (UKBA) refused Jobe's application for asylum and her last appeal was turned down in September 2012.
"After careful consideration, both we and the courts have ruled that [Jobe] is not in need of asylum. The court found [she] could live safely elsewhere in the Gambia and that the law provided sufficient protection for her and her daughter," says a UKBA spokesman.
The government launched the UK's first all-party parliamentary group on FGM in December 2011 to address FGM both here and abroad. FGM is illegal in the UK under the 2003 Female Genital Mutilation Act, as is sending UK residents abroad to undergo the procedure.
Jobe's case has been taken up by human rights lawyer, Peggy Layoo, who is applying for a judicial review. Layoo condemns UKBA's stance as "utter hypocrisy".
She says: "FGM is akin to rape, but it is not being taken seriously by UKBA. It is a denial of the suffering of women in the third world. We all know that FGM is going on, yet the government does not want to do anything about it."
A 2001 study estimated 66,000 African women in England and Wales had undergone FGM, and a further 23,000 girls under the age of 15 were at risk. Jobe's case is viewed by many of those working with asylum seekers as the tip of the iceberg.
Jobe's pupils dilate with fear at the prospect of returning to the Gambia. She was only 13 when she was married against her will to a family friend more than 20 years older than her. She cannot read or write. Young women like herself live in compounds in the Gambia with an extended family and she says a single woman arriving in this small country would stand out and be found by family who would punish her for going against her culture.
"If I go back to the Gambia I might as well just say, 'Here I am, come and take me.' It is a place of gossip and they will just track me down. I will just end up losing my child," Jobe says.
Sylvia Chant, professor of developmental geography at the London School of Economics and an expert on the Gambia, submitted a report as evidence to back Jobe's case. She agrees that Jobe would have few options – for example, prostitution – if she returned to the Gambia, that both she and Aisha would be extremely vulnerable to violent victimisation and neither would receive any state protection.
UKBA says the Gambia has begun making moves to change the culture around FGM, working with Gamcotrap, one of the oldest women's rights NGOs in the Gambia, and through local "dropping of the knife" ceremonies.
Lauren Butler, an immigration case worker at Rochdale Law Centre, is working on four asylum cases similar to Jobe's involving FGM. She thinks UKBA's decisions are often based on unreliable sources and are made from a middle-class, white perspective. "They are not apprehending the situation. It is something between wilful ignorance and cultural disbelief," she says.
UKBA states: "Female genital mutilation is an abhorrent crime, and we are working with international agencies to help prevent women and girls becoming victims."
But Maurice Wren, director of charity Asylum Aid, accuses the government of double standards. He says: "At a time when government is publicly promising action against FGM practised in the UK, it is appalling to think that women and girls who have claimed asylum here are being sent back to face exactly the same abuse overseas."
• Some names have been changed
http://www.guardian.co.uk/society/2012/nov/06/female-genital-mutilation-asylum-gambia
------------
2,000 students continue to suffer as 'blasphemy school' still shut
By Arsalan Haider
Nov 7, 2012
LAHORE: The blasphemy-charged Farooqi Girls High School has been unable to reopen even after seven days of the closure. Hundreds of students are suffering due to the closure. Some 2,000 students are eager to re-continue their studies.
The school was suspended after the angry mob set it on fire on October 31. The premises came under attack after an alleged blasphemy case by a teacher who, while giving an assignment to students, had unintentionally mixed words from different pages. This led to the blasphemy controversy.
Full report at:
http://www.dailytimes.com.pk/default.asp?page=2012\11\07\story_7-11-2012_pg13_3
------------
Iraqis Spared Jail for Abusing Female Relative for Chatting To a Male Friend
By David Schwartz
7 November 2012
PHOENIX (Reuters) - Members of an Iraqi family in Arizona who beat a teenage relative and padlocked her to a bed after she violated their traditional values by chatting to a male friend were spared jail time in a plea deal approved by a county judge on Tuesday.
In exchange for a guilty plea, Yusra Farhan, 51, was sentenced to two years probation on a charge of unlawful imprisonment of her daughter, 19-year-old Aiya Altameemi, at the family's Phoenix home in February, court officials said.
The young woman's father, Mohammed Altameemi, also received two years probation for disorderly conduct, and her 18-year-old sister, Tabarak Altameemi, received an identical sentence for assault, officials said.
Full report at:
http://news.yahoo.com/iraqis-spared-jail-time-arizona-abusing-female-relative-003757061.html
--------
Girl Trying To Cross Over To Pok to Meet Facebook Friend Held, Released
Sanjay Khajuria, TNN | Nov 7, 2012
JAMMU: A 22-year-old woman was detained close to the Line of Control in Jammu & Kashmir's Poonch district as she was planning to crossover to PoK to meet a man she had befriended over the Facebook.
Sources said the woman was detained on Monday evening and Rs 11,000 and a cell phone were recovered from her.
Poonch SSP Shamsheer Hussain confirmed her detention and said she was handed over to her family after some legal formalities. "It is difficult to get cellular service signals in Poonch and I wonder how come the people like the girl got internet connection in the remote area. During questioning, the girl seemed frustrated over some personal family reasons which forced her to run away," he said.
http://timesofindia.indiatimes.com/india/Girl-trying-to-crossover-to-PoK-to-meet-Facebook-friend-held-released/articleshow/17122124.cms
----------
Pakistan acid attack parents speak of remorse
7 November 2012
KHOI RATTA: A Pakistani couple who killed their daughter by dousing her in acid for looking at boys spoke on Tuesday of their regret at the attack which has highlighted the 'honour killings' that cost hundreds of women their lives each year.
The parents threw acid over 15-year-old Anusha at their home in Azad Jammu and Kashmir (AJK) on Monday last week after seeing her looking at boys. The girl died in agony two days later after suffering 70 percent burns, according to doctors.
The Human Rights Commission of Pakistan (HRCP) said nearly 600 of the 943 women killed for 'honour' last year were, like Anusha, accused of 'illicit relations' and many were raped or even gang-raped before they were murdered.
Full report at:
http://www.dailytimes.com.pk/default.asp?page=2012\11\07\story_7-11-2012_pg7_17
------------
Women's Status in Islam Translated in Russian
6 Nov 2012
The Russian translation of Grand Ayatollah Hussein Nuri-Hamadani's book on women's status in Islam has been published in Moscow.
IBNA: According to the public relations office and information centre of the Islamic Culture and Relations Office (ICRO), the translation encompasses parts of the book which has been prepared with assistance from the Ahlolbeit Research Centre in Dagestan.
The book casts a novel view on women's status in Islam based on creditable Islamic references.
Grand Ayatollah Hussein Nuri-Hamadani (born in 1926) is an Iranian Twelver Shi'a Marja.
http://www.ibna.ir/vdcb0fb88rhbs0p.4eur.html
------------
URL: https://www.newageislam.com/islam,-women-and-feminism/new-age-islam-news-bureau/egyptian-teacher-convicted-for-cutting-schoolgirls--unveiled-hair/d/9219