New Age Islam News Bureau
16 Jan 2019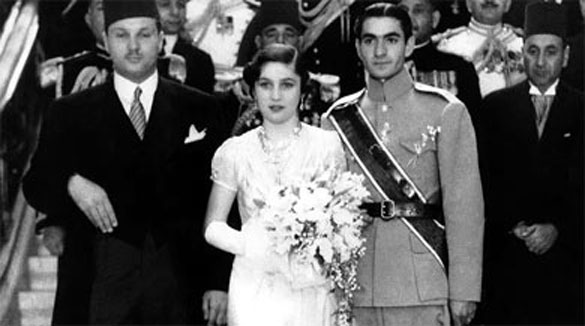 In this March 15, 1939 file photo, Prince Mohammad Reza Pahlavi, (right), 19-year-old Crown Prince of Iran, marries Princess Fawzia, sister of King Farouk of Egypt, in Cairo. (AP)
-----
• Inquiry as Islamic Channel Peace TV Urges Pushing Girls into Marriage
• In Canada, Saudi Girl Says Couldn't 'Study, Work, Live Normally' At Home
• Khyber Pakhtunkhwa Government Urged To Pass Law on Child Marriages
• Muslim Parents Speak On Banning Of 55 Hijab-Wearing Female Students In LAUTECH School
• Saudi Student Leads New Wave Of Female Uber Drivers
• Pakistan Woman Police Officer Declared the Best Crime Fighter of the Year
• From Iran to Indonesia, Muslim Feminists on Film Upend Stereotypes of Oppression
• Remarks On Girls' Education: Rights Activists Demand Legal Action against Shafi
• Afghanistan, Pakistan Join Hands for Women Empowerment
• Continuous Protests By Women In Cities Of Tehran And Mashhad
• Political Prisoner Nasrin Sotoudeh Banned From Visits In Prison
Compiled by New Age Islam News Bureau
URL: https://www.newageislam.com/islam-women-feminism/egyptian-princess-fawzia-how-her/d/117475
--------
Egyptian Princess Fawzia: How Her Marriage To Iran's Pahlavi Ended In Divorce
15 January 2019
Iran was the first country to formally recognize Egypt after its independence from Britain. It opened an embassy in Cairo to improve relations between the two countries.
In 1928, Iran and Egypt signed a trade agreement and the Iranian Chamber of Commerce was established in Cairo.
It was during this time that the Iranian ambassador in Cairo arranged a meeting between King Farouk's sister, Princess Fawzia, and Mohammad Reza Pahlavi, Crown Prince of Iran at the time. The political union was lauded by both parties.
Article 37 of the Iranian Constitution, which stipulated that the mother of the Crown Prince had to be of Iranian origin, had to be changed as a result of the union. The marriage took place in March 1939 at the Abdeen Palace in Cairo. They had another wedding celebration in Tehran.
At the time, it was believed that the marriage of Mohammed Reza and Fawzia will not only strengthen relations between Egypt and Iran but will play a pivotal role in consolidating the leadership of Egypt in the Islamic world, and recognizing them as the seat of the Islamic caliphate. "The purpose of this marriage is to revive the Islamic caliphate and choose King Farouk as the Muslim caliph," the English press had written.
The union between the two royals had proven to be difficult. Princess Fawzia did not speak Persian adequately, and was away from the rest of her family and her friends in Egypt, which led to constant disagreements with her husband and his family members.
It was reported that the relationship Princess Fawzia had with Pahlavi's sisters was that of a cold nature. Fawzia did not feel comfortable in Iran's uninviting atmosphere, and thus felt no connection to Iranians. As a result, she did not participate in social ceremonies and refused to attend gatherings even when her husband requested her attendance. Thus, her life as the Queen of Iran was difficult and unpleasant.
During her marriage to the Shah, Queen Fawzia gave birth to a baby girl named Shahnaz in October 1940.
It was often reported that the marriage was loveless and that the Shah's fideltity had been questioned numerous times, which led to her unhappiness and eventually she filed for divorce.
Dissolution of marriage
In May 1945, Fawzia moved to Cairo and filed for divorce from an Egyptian court. Although the Shah had tried to persuade her to return to Iran several times, she remained in Egypt and was adamant about the divorce. She viewed Tehran as an undeveloped city in comparison to the thriving cosmopolitan Egyptian capital.
Initially, the divorce was not formally recognized by Iran for a few years but in 1948, an official divorce was obtained in Iran and Fawzia reclaimed her title as Princess of Egypt.
In official announcements, it was said that Fawzia's health deteriorated in Iran's climate and thus she had to dissolve her marriage.
The Shah also commented saying the divorce would not affect the friendly relations between Egypt and Iran.
https://english.alarabiya.net/en/features/2019/01/15/Egyptian-Princess-Fawzia-How-her-marriage-to-Iran-s-Pahlavi-ended-in-divorce.html
--------
Inquiry as Islamic Channel Peace TV Urges Pushing Girls into Marriage
January 15 2019
A television station founded by an Islamic preacher who was banned from entering Britain is being investigated over comments made by a guest scholar on the subject of marriage.
Ofcom, the media regulator, announced yesterday that it had opened an inquiry into remarks made on Peace TV in November by Haitham al-Haddad, a Saudi-born Islamic scholar. In an interview on the religious discussion show Marriage and Divorce, he said that fathers should "push" and "convince" their daughters to get married and that it was an "alarming thing" if women wanted to complete their education before taking a husband.
Dr Haddad, who has a doctorate from SOAS University of London, also warned that women who remained unmarried into their thirties would "not receive good proposals . . . in…
https://www.thetimes.co.uk/article/inquiry-as-islamic-channel-peace-tv-urges-pushing-girls-into-marriage-sw9ndx267
--------
In Canada, Saudi Girl Says Couldn't 'Study, Work, Live Normally' At Home
Jan 15, 2019
A Saudi girl who recently fled her country and received asylum from Canada says she could not study, work, and "live a normal life" in hidebound Saudi Arabia.
Rahaf Mohammed al-Qunun, 18, attracted the attention of the media as well as rights groups earlier this month when she barricaded herself in a Bangkok transit lounge hotel room after fleeing her family on January 5.
She said at the time that she had suffered physical and psychological abuse at the hands of her family members and alleged they had tried to marry her off against her will, fearing that she would be in real danger if she was forced to return home.
"I'm afraid, my family WILL kill me," she tweeted at the time.
'The risk was worth it!'
On a request by the United Nations (UN)'s refugee agency, Canada on Friday granted the Saudi girl asylum. In her new home, she said she had been freed from the shackles imposed by the Riyadh regime on women.
Being in Canada is "a very good feeling," Qunun said during an interview with the Canadian Broadcasting Corporation (CBC) on Monday night, two days after arriving in Toronto from Bangkok.
"It's something that is worth the risk I took," she said, sitting in a classroom at a refugee center in downtown Toronto, where she had been greeted by the Canadian foreign minister and a phalanx of journalists on her arrival at the Toronto international airport on Saturday morning.
Qunun also said that she wanted to take English classes and go to college to study architecture, wondering how to harness her newly-found media stardom.
In the course of less than two weeks, she has gone from the highly restricted life of a woman in Hail, a city in Saudi Arabia's northwestern part, to the life of an independent woman on the other side of the globe.
"I felt that I could not achieve my dreams that I wanted as long as I was still living in Saudi Arabia," Qunun said, adding that she felt that she "was reborn" in her new home.
In Canada, "I will try things I haven't tried. I will learn things I didn't learn," she further said in her CBC interview.
Saudi wrath?
Meanwhile, Qunun's fleeing Saudi Arabia and receiving asylum from Canada seem to have infuriated Riyadh.
On Monday, Ahmad al-Jamiyah, the former deputy editor-in-chief of the pro-government Saudi daily newspaper Al Riyadh, said that Saudi Arabia had to expand Article 13 of the constitution so that the citizenship of all who receive political asylum from other countries and criticize the Saudi regime is revoked.
He stressed in an article, titled "The Revocation of Citizenship," that the new modified version of Article 13 had to include all who "damage the reputation" of the Arab kingdom, mentioning Qunun by name as the latest such case.
Ottawa's decision to grant the Saudi girl asylum comes at a delicate time. Canadian-Saudi relations have been strained since Ottawa demanded the immediate release of jailed activists in the Arab kingdom last year. In response, Saudi Arabia froze new trade with Canada and forced many Saudi students in the North American country to return home.
https://www.presstv.com/Detail/2019/01/15/585864/Saudi-Arabia-girl-refugee-Canada-Rahaf-Mohammed-alQunun-live-normally
--------
Khyber Pakhtunkhwa Government Urged To Pass Law on Child Marriages
January 16, 2019
PESHAWAR: The civil society organisations and human right activists have urged the Khyber Pakhtunkhwa government to table and pass the pending legislation of Child Marriage Restraint Amendment Bill, 2018 and raise the minimum age of marriage to 18 without any delay.
Speaking at a joint press conference at Peshawar Press Club, they highly appreciated the landmark step of the Saudi's Shura Council setting the best example and making it an illegal for girls' under15 years to get married. They said according to media sources Saudi Arabia's Shura Council, the top advisory body to the government, in a remarkable move has approved with the majority regulations for banning the marriage in Saudi Arabia under the age of 15 and proposed to increase the minimum age of marriage to 18 for girls and boys. According to a UNICEF report, they said 3 percent of girls in Pakistan were married before they turn 15 and 21 percent before the age of 18. They said the recent research 'Demographics of child marriages in Pakistan' (WHO), states that mostly child marriages are in practice in rural areas than in urban areas and more than 140 million girls will marry between 2011 and 2020. According to the recent "Health and Demographic Survey of Pakistan 2017 -2018 almost15 percent of child brides in KP gave birth to their first child before 18 years of age.
Qamar Naseem, Programme Coordinator, Blue Veins and Coordinator for Provincial Alliance to End Child Marriages, appreciated the decision of Saudi Shura Council and said that "proposing the raise in age of marriage to 18 is a great step forward and sets a revolutionary example for other Muslim countries that have not banned child marriage yet." He said that early and forced marriage violated human rights as well as the sanctity of marriage and family in Islam.
"It is time to open up dialogue on the role of faith and religion in protecting the rights of girls and women and how faith can help prevent a child, early and forced marriages," he added. Valerie Khan, Chairperson, Group Development Pakistan and a prominent child rights activist, said the child marriage was a harmful practice and had destructive effects on physical and mental health of contracting parties.
"The child marriage does not only violate their rights once but the consequences last a lifetime," she explained, adding that especially for a girl who is more likely to face challenges as she is expected to be ready to bear several domestic responsibilities along with childbearing. Imran Takar, a child rights activist, said that Pakistan was among the states that proposed a target to end child marriage by 2030 in discussions of the Open Working Group on the Sustainable Development Goals. Taimur Kamal, Coordinator, Khyber Pakhtunkhwa Civil Society Network said that child marriage damaging countries' economies, social and economic development and leads to a cycle of poverty in generations.
https://www.thenews.com.pk/print/419574-government-urged-to-pass-law-on-child-marriages
--------
Muslim Parents Speak On Banning Of 55 Hijab-Wearing Female Students In LAUTECH School
January 15, 2019
By Musliudeen Adebayo
Parents of female Muslim students who were barred from entering the Ladoke Akintola University of Technology (LAUTECH) International School have condemned the development.
DAILY POST gathered that no fewer than 55 female Muslim students who wore Hijab to the school were barred from entering the school premises on Monday.
But, the parents who said that they have waited for several years to ensure that their children were allow to use Hijab in the school, urged the management of the school to expedite action on the matter.
They urged the school authority to consider the issue as an emergency situation which should be treated with required expediency.
The parents under the auspices of LAUTECH Staff School and LAUTECH International College, Ogbomoso, Muslim Parents' Forum, expressed their grievances on the failure of the school management to address them early enough.
The parents in a communique made available to DAILY POST after a peace meeting held with stakeholders of LAUTECH Staff School (LSS) and LAUTECH International college (LICO), Ogbomoso, argued that "the school process is a continuum and nothing should retard the ongoing efforts of the Committee that has been put in place to address the issue of Hijab".
In attendance at the meeting were: Chairman Governing Board (LAUTECH International College, Ogbomoso), Chairman Governing Board (LAUTECH Staff School), Chairman Ogbomoso Parapo, Chairman PTA LAUTECH Staff School, Chairman PTA LAUTECH International College Ogbomoso, Chairman LAUTECH Security Committee, DSS Ogbomoso North Local Government, Principal LAUTECH International College Ogbomoso, Headmistress LAUTECH Staff School, Representative of the LAUTECH Public Relation Unit and resentatives of Muslim Parents. The concerned parents in the communique signed by the duo of Mr. Ismaheel Adigun and Mr. AbdulRahman Elegbede, Chairman and Secretary respectively, said that the process relating to the use of Hijab by willing female Muslim pupils of LAUTECH Staff School and LAUTECH International College should be concluded in earnest.
The statement reads, "Sequel to the peaceful meeting held on Monday 14th January, 2019 at LAUTECH International College, Ogbomoso (LICO) premises with the key stakeholders about the use of Hijab by the willing female Muslim pupils, the followings were the key highlights of the resolutions at the meeting.
"That the process for the consideration of the use of Hijab has dragged too long since 2011; That the parents strongly express dissatisfaction on the unruly behavior and arrant use of vulgar language by some teachers against the Muslim parents.
"The Muslim parents expressed their grievances on the failure of the School management to address the Muslim parents early enough while attack is coming from teachers.
"That it was observed that there was a communication gap between the management of the schools and the Muslim parents on the ongoing efforts of the School in respect of the use of the Hijab by willing female Muslim pupils.
"That a committee had already been put in place by the Governing Board to look at the issue of the School uniform as it relates to Hijab among other things. An appeal was made to Muslim parents to allow the ongoing process of the Committee be concluded.
"The management should consider the issue as an emergency situation and should be treated with the required expediency. That the school process is a continuum and nothing should retard the ongoing efforts of the Committee that has been put in place to address the issue of Hijab.
"We humbly appeal that the process relating to the use of Hijab by willing female Muslim Pupils of LAUTECH Staff School and LAUTECH International College be concluded in earnest".
http://dailypost.ng/2019/01/15/muslim-parents-speak-banning-55-hijab-wearing-female-students-lautech-school/
--------
Saudi Student Leads New Wave Of Female Uber Drivers
NOOR NUGALI
January 15, 2019
RIYADH: A 23-year-old Saudi university student is spearheading a new wave of women taxi drivers in the Kingdom.
Shahad Hamad has become one of the first female cabbies to work for Uber in Saudi Arabia since the lifting of the country's ban on women driving.
The English translation student has found new self-confidence since taking up her part-time role with Uber in Riyadh.
Talking to Arab News, Shahad said she was looking forward to more women getting behind the wheel and joining her in the taxi ranks.
So far the young driver has received nothing but rave reviews from her passengers and said she "felt ecstatic" about the positive feedback.
"I never would have imagined the amount of support I have received from people. It's helped me on my journey," Shahad said.
"I expected that my generation would be excited to see a young female Uber driver; what I didn't expect was the older generation to be just as enthusiastic, if not more so. It was a big boost for me when older passengers complimented me on my braveness."
On the subject of reactions from male passengers, Shahad said: "I've never had a problem with any passenger, regardless of their gender. However, male passengers always choose to ride in the back seat, although I did have an Asian passenger who sat in the front with me chatting about my experience."
Her job has also relieved transport difficulties at her family home.
"We only had one driver in my family and there was huge pressure and arguments about who went out and when," she said. "It was a struggle just to go for dinner with friends because of the lack of transport."
Uber recently rolled out a registration portal on its website specifically aimed at Saudi women.
The "Masaruky" initiative offers information to women in the country interested in taking up roles as drivers with the company.
The move follows growing interest from Saudi women looking to benefit from the earning opportunities presented to them by becoming taxi drivers.
Uber also wants to help women access affordable transportation.
A spokesman for Uber in the Middle East said hundreds of women had registered on its website and expressed an interest in becoming cab drivers.
"The Masaruky initiative aims to increase the participation of women in the workforce through access to affordable transportation, in addition to increasing their access to flexible economic opportunities through Uber's technology," the spokesman added.
As yet, Shahad has not met any other female Uber drivers, but she is encouraging her friends to join her.
"It's a fun job. There used to be misconceptions surrounding it. But all I have received so far is positive feedback and support."
http://www.arabnews.com/node/1436241/saudi-arabia
--------
Pakistan Woman Police Officer Declared the Best Crime Fighter of the Year
by Aleena Raheel
January 16, 2019
LAHORE – 2018 was a good year for women as many women found their voice by speaking up for their rights. At the same time many also stayed quiet and aloof about their problems but nevertheless there was progress, it seems. The latest is that a woman police officer has been declared the best crime fighter of the year in Lahore.
SP Model Town, Dr. Anoosh Masood Chaudhry beat ranked as the top crime investigator in the city.
Dr. Anoosh has before this achievement also made a record by becoming the first female ASP to be appointed in Khyber Pakhtunkhwa.
Dr Anoosh Masood joined this department and removed the complaints of other women. Having won a gold medal in Medicine, Dr Masood was a busy medic before she donned the police uniform. "It is good to be in mainstream policing; the job is quite challenging," she says. Dr Masood was first posted in Lahore but later transferred to the picturesque Abbottabad district to join up with her family. Her spouse is also an ASP-Under Training in Abbottabad. "I selected Pakistan as compared to the US for my specialisation," recalls the young assistant superintendent of police from the 40th CTP of the PSP. "Women are more dedicated. And being a Police Service of Pakistan officer is more a kind of an administrative job, therefore I choosed it over medicine."
Under the brilliant lady's supervision the Model Town division for investigation had successfully filed challans in court for 74% of the cases that came to them in 2018.
https://en.dailypakistan.com.pk/lifestyle/woman-police-officer-declared-the-best-crime-fighter-of-the-year/
--------
From Iran to Indonesia, Muslim Feminists on Film Upend Stereotypes of Oppression
JANUARY 15, 2019
KUALA LUMPUR (Thomson Reuters Foundation) - Travelling to cities and villages in five countries with a backpack, Sarah Zouak filmed 25 Muslim women - from single parents to fisherwomen - to dispel dated religious stereotypes.
With documentary screenings and debates across the world, the Women SenseTour tells the story of female changemakers in Morocco, Tunisia, Turkey, Iran and Indonesia through five one-hour films, said French-Moroccan filmmaker and activist Zouak.
"I researched the women on the internet, by reading books or through word of mouth," said 29-year-old Zouak, who organized three screenings in Indonesia late last year and hopes to stage similar events throughout Asia in the future.
"They had to be feminists, Muslim and have founded a project for women's empowerment," she told the Thomson Reuters Foundation by phone from Paris.
Muslim women are seen in many countries, particularly the West, as oppressed and having limited freedoms and the films aim to reshape these cliches with stories of strong Muslim women.
Crowdfunded and shot during a five-month trip by Zouak three years ago, the films include women of all ages and backgrounds, working in health, education and with refugees, as well as those helping drug users and domestic abuse victims.
Having never made a documentary before, Zouak often lived with her subjects, filming the women going about their daily routines.
"In Indonesia I met a woman who founded a feminist organization for fisherwomen - even in the fishing industry there are feminist women working," said Zouak,
"It was interesting to see that sexism is everywhere - even industries you wouldn't think."
The project has won the backing of U.N. Women and the Institut de France, which promotes the arts. It has toured schools, universities, city halls and cinemas across France and the world, with plans to make one film free to view online.
Zouak - who also formed an association called Lallab to counter Islamophobia, which has more than 300 volunteers - hopes the documentaries will challenge narratives and provide inspiration to both men and women.
"A lot of Muslim women who come, say it is the first time they have seen a positive image of themselves," she said.
"They then want to be like the women in the documentary and start their own projects."
https://www.reuters.com/article/us-rights-media-television/first-human-rights-tv-channel-vows-to-give-a-voice-to-voiceless-idUSKCN1P931K
--------
Remarks On Girls' Education: Rights Activists Demand Legal Action against Shafi
January 16, 2019
A group of labour leaders and rights activists yesterday demanded that the government take legal actions against Hefajat-e Islam's Amir Shah Ahmad Shafi for his recent remarks on girls' education.
Speaking at a human chain in front of Jatiya Press Club in Dhaka, they also said Shafi must acknowledge his mistake and withdraw the comments through apologising to the entire nation, especially women.
National Domestic Women Workers Union, a platform of domestic workers and labour leaders, organised the human chain to protest the controversial remarks of the Hefajat-e Islam leader.
Last Friday, speaking at a rally in Chattogram, Shafi made parents promise not to send their daughters to school, saying – "At most, you can allow them to study up to class four or five, so that they can maintain their husbands' accounts and can write letters to them."
His remarks ignited a firestorm of protests from various sections of society as well as on social media.
At the human chain, Jobaida Pervin, a Supreme Court lawyer, said Shafi's remarks are against the country's constitution and other international laws, and he should be brought under trial for treason.
"Fundamentalists like Shafi don't need to speak against women. They can and should control their tongues," said Jobaida, also executive president of the Workers Union.
Wajedul Islam Khan, general secretary of Bangladesh Trade Union Centre, said, "We are demanding exemplary punishment for Ahmed Shafi, through a treason case against him for making derogatory remarks on women."
If he does not withdraw his comments, people will not forgive him, Wajedul added.
Abul Hossain, president of Workers Party's Dhaka unit, said, "Ahmed Shafi is suffering from senility. He is providing false interpretations of Islam. Islam ensures equality for both men and women."
He also claimed that Hefajat-e Islam is an organisation of fundamentalists, and they "do not believe" in the sovereignty of Bangladesh.
https://www.thedailystar.net/city/news/rights-activists-demand-legal-actions-against-shafi-1688287
--------
Afghanistan, Pakistan Join Hands for Women Empowerment
January 16, 2019
Institute of Peace and Diplomatic Studies, (IPD) Islamabad hosted a two day congress under its banner initiative Centre for Women Peace and Leadership titled "Afghanistan and Pakistan- Emerging Young Women Leaders Congress." The congress is a part of a cross border/regional level initiative in partnership with Afghan Girls Debating Programme – an initiative of Institute of Business Studies Afghanistan.
Ministry of Foreign Affairs Pakistan Parliamentary Secretary Andleeb Abbass, graced the congress as chief guest. Speaking on the occasion Abbass said that women are the natural leaders and they have the key to the peace and development of nations.
Now is the right time for young women from both Afghanistan and Pakistan to realise their true potential and unleash their abilities to work toward the development of their communities. She emphasised the need to enhance and build women-to-women contacts for peace building and working together for the betterment of our communities.
While speaking on the occasion, Association for Behavior and Knowledge Transformation Executive Director Shad Begum shared the story of her struggle as a leader of her community emphasising that women must become active leaders of their own destiny.
Enhancing skills: 'Women empowerment vital for society's progress'
Shad said that you cannot push someone to do something daring unless you lead. Treasurer of Women Caucuses in Parliament MNA Romina Khurshid Alam and while talking on the occasion said that realisation of strengths, rights and responsibilities make the true leaders. She emphasised that when you are loyal to yourself then opportunities come your way.
Senator Sitara Ayyaz said that eliminating the idea of gender specific biases and accepting that women and men are equal in their capacities can help us face many challenges as a society. "Participants from Afghanistan and Pakistan will be here for the next two days and will be building synergies with each other to promote the peace, tolerance in their communities by taking joint initiatives focusing on peacebuilding and social development for our countries," she added.
https://tribune.com.pk/story/1889102/1-afghanistan-pakistan-join-hands-women-empowerment/
--------
Continuous Protests By Women In Cities Of Tehran And Mashhad
Jan 15, 2019
The continuous protests of different strata, including retirees and plundered credit depositors, continue in various cities of Iran with women actively participating. On Monday, January 14, 2019, protests were held in the cities of Tehran and Mashhad.
On Monday, January 14, 2019, the retired teachers and educators set up a protest rally in front of the Farhangian Retirement Organization in Tehran in protest to an ineffective supplementary insurance. The retired teachers and educators chanted, "Crying out to all this injustice."
At the same time, in another gathering in Tehran, the plundered credit depositors of the Samen Credit Institute set up a protest in front of the Ministry of Justice and demanded the reinstatement of their assets.
Also, a group of buyers of registered vehicles from Saipa Diesel Company gathered at the Ministry of Industry, Mine and Trade in Tehran, and protested against the company's failure to deliver their vehicles and fulfill their demands.
On Monday, January 14, 2019, in the wake of continuous protests in Mashhad, a number of plundered investors of the Caspian Credit Institute in Mashhad held a protest rally in protest to the looting of their assets. Based on the previous call, the plundered investors of the Caspian Credit Institute held this gathering in front of the Pamchal Branch of the Institute. The protesters chanted slogans against Rouhani and called him a charlatan liar.
In another development on Monday, January 14, 2019, during a ceremony at Gonbad-e Kavus in which Rouhani made a speech at the city's stadium, the people of the city chanted slogans in protest to the high cost and the economic downturn. However, the organizers of the ceremony, who were afraid of hearing the slogan which showed the suffering of the people, blared loud music from the stereo bands that were set up for Rouhani's speech.
https://women.ncr-iran.org/2019/01/15/continuous-protests-women-tehran-mashhad/
--------
Political Prisoner Nasrin Sotoudeh Banned From Visits In Prison
On Jan 15, 2019
Payam Derafshan, an attorney to female political prisoner Nasrin Sotoudeh, announced on Monday, January 14, 2019, that Mrs. Sotoudeh has been banned from visits at the women's ward of Evin Prison.
Nasrin Sotoudeh's attorney, Payam Derafshan said, "It has been some times that on the pretext of finding scissors in my client's personal belongings, they have issued orders to ban her from visits again."
According to the privatization plan of prisons, and that the prisoners are basically cooking from their own rations, all the cooking equipment, such as various knives, are available to prisoners. Now, for Nasrin Sotoudeh obtaining scissors is just a pretext for creating more pressure on this political prisoner.
Payam Derafshan added, "It's unfortunate that prison officials, under any pretext, try to ban my client from visits with her children, and, in this way, they harass my client by violating the principle of punishments of a personal nature and by imposing suffering on her young children."
In another development related to the campaign of those tortured in the regime's prisons, Asal Mohammadi, a civil activist and a student at the Department of Pharmaceutical Sciences at Azad University of Tehran, who was recently released on a 400-million-touman bail, published a content in the Gam Magazine telegram channel. She announced that she is ready to reveal the details of the torture of the representative of the Haft Tappeh workers, Ismail Bakhshi's time in prison, and guild activist, Sepideh Gholiyan, and testify to what she has seen and heard.
Asal Mohammadi referred to Ismail Bakhsh's interrogations and wrote that she had heard continuous coughs and severe dysplasia from Ismail from the nearby interrogation room and the officers mocking him.
She also wrote about the interrogation of guild activist Sepideh Gholiyan at the Ahvaz intelligence department, where she heard the screams and insults of the interrogator from the next room and witnessed the pressure by the officers to force a false confession from Sepideh Gholiyan.
https://women.ncr-iran.org/2019/01/15/nasrin-sotoudeh-banned-visits/
--------
URL: https://www.newageislam.com/islam-women-feminism/egyptian-princess-fawzia-how-her/d/117475
New Age Islam, Islam Online, Islamic Website, African Muslim News, Arab World News, South Asia News, Indian Muslim News, World Muslim News, Women in Islam, Islamic Feminism, Arab Women, Women In Arab, Islamophobia in America, Muslim Women in West, Islam Women and Feminism