New Age Islam News Bureau
2 Oct 2016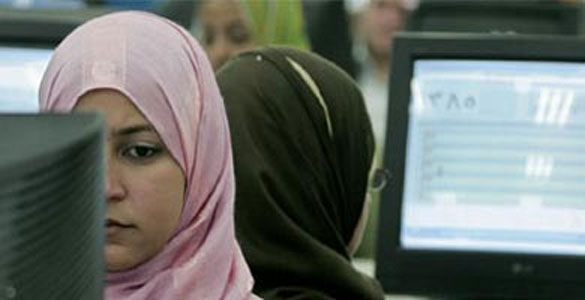 Photo: Human Rights Watch has called an end to degrading "virginity testing" of women [Getty] Date of publication: 30 September, 2016
--------
• Afghan Girls Working On Mobile App to Help Tourists Visiting Afghanistan
• Following Murder, Hundreds of Arab Women March Against Gender Violence
• American Chess Player Leads Boycott against Wearing Hijab At Iran Tournament
• Brazilian-Arab Fusion Fashion Transforms the Abaya
• Women Host Peterborough Event to Dispel 'Myths' About Islam
• Fear and Faith for Daughters of Pakistani Christian on Death Row
Compiled by New Age Islam News Bureau
URL: https://newageislam.com/islam-women-feminism/egyptian-mp-says-women-students/d/108737
-------
Egyptian MP says women students must pass 'virginity tests'
October 01, 2016
As if the SATs weren't enough, one Egyptian lawmaker says he wants to see all women interested in attending college in his country pass an additional, far more invasive examination: a mandatory "virginity test."
According to a report by the Washington Post, member of Egyptian Parliament Elhamy Agina, who advocated just last month for female genital mutilation as a means of reducing sexual impulses in women, is now calling for female college applicants to prove their maidenhood in order to be eligible to receive higher education.
Follow
Jacky Habib @JackyHabib
How about we have mandatory IQ tests for politicians who aim to mandate nonsense like this? bit.ly/2dpYeqG #Egypt #Masr
9:13 PM - 30 Sep 2016
Photo published for Egyptian MP Calls for Mandatory Virginity Tests for Admittance of Women to Universities
Egyptian MP Calls for Mandatory Virginity Tests for Admittance of Women to Universities
Egyptian member of parliament Elhamy Agina continued his recent string of controversial statements, this time calling for all women to undergo mandatory 'virginity tests' to ensure [...]
egyptianstreets.com
97 97 Retweets 118 118 likes
"Any girl who enters university, we have to check her medical examination to prove that she is a Miss," Agina said, according to a translation of a statement he gave to Egypt's Youm 7 newspapers by EgyptianStreets.com. "Therefore, each girl must present an official document upon being admitted to university stating she's a Miss."
"Miss," as the word is being used here by Agina, has been widely recognized by Egyptians on social media as a reference to a woman who is still a virgin, according to the Post.
Follow
Lebanonese @lebanonese
#US #UK #EU #World #Lebanon #Arab
Please Boycott Elhamy Agina, #Egypt MP.
NO VISA, NO INVITE, DENOUNCE HIM...trib.al/sH4jnPz
5:06 PM - 30 Sep 2016
Photo published for Egyptian MP says women students must pass 'virginity tests'
Egyptian MP says women students must pass 'virginity tests'
A controversial Egyptian MP has said that women must pass 'periodic...
alaraby.co.uk
3 3 Retweets 6 6 likes
During his interview with Youm 7, Agina suggested that the mandatory tests would act as a stopgap measure to curb "Urfi" marriages in the country — informal, inexpensive unions that have been accused by Egypt's conservative religious officials of being a cover for premarital sex.
"No one should be upset by this decision," Agina said in the interview, according to Egyptian Streets. "If you're upset then that means you're scared that your daughter is [or was] in an 'urfi' marriage behind your back."
Egyptians responded to Agina's suggestion by mocking him openly on social media, with some angrily calling for a boycott of him, and others saying that he makes uncouth United States Republican presidential nominee Donald Trump "look disciplined."
Follow
Moustafa Bayoumi @BayoumiMoustafa
Elhamy Agina makes Trump look disciplined. egyptianstreets.com/2016/09/30/egyptian-mp-calls-for-mandatory-virginity-tests-for-admittance-of-women-to-universities/ …
2:05 AM - 1 Oct 2016
Photo published for Egyptian MP Calls for Mandatory Virginity Tests for Admittance of Women to Universities
Egyptian MP Calls for Mandatory Virginity Tests for Admittance of Women to Universities
Egyptian member of parliament Elhamy Agina continued his recent string of controversial statements, this time calling for all women to undergo mandatory 'virginity tests' to ensure [...]
egyptianstreets.com
1 1 Retweet 3 3 likes
Agina has become known for his controversial, politically abhorrent statements. In addition to granting his support to female genital mutilation last month, he also said earlier this week that hundreds of refugees who recently drowned off the coast of Egypt "do not deserve sympathy" and implied that they deserved death.
mic.com/articles/155622/egyptian-lawmaker-to-women-want-to-go-to-college-first-prove-you-re-a-virgin#.7qhPjD3SF
------
Afghan Girls Working On Mobile App To Help Tourists Visiting Afghanistan
By KHAAMA PRESS - Sat Oct 01 2016, 6:08 pm
0 Comments278 viewsEmail Email Print Print
bande-amir2-bamyanA group of young Afghan girls is working to produce a mobile phone application in a bid to help the foreign nationals visiting the country for tourism.
The latest attempt by the young Afghan girls comes as several Afghan youths are busy to achieve breakthroughs in technology defying the threats posed by terrorism.
Fereshteh Forough, the found of Code to Inspire company has told PBS "It's more about showing a good image of Afghanistan that the media, unfortunately, doesn't show."
The company teaches women and girls about technology and coding amid a surge in mobile phone usage across the country since the fall of the Taliban regime.
The application to be built by the young Afghan girls will help the subscribers to take a quiz about Afghanistan and based on their selections, see a list of suggested places to visit and food to try.
Forough was born in Iran and currently lives in New York where her nonprofit is registered.
She started the school in 2015 with $22,000 raised on a crowd-sourced fundraising website and with 20 laptop computers donated by Overstock.
Forough earned her bachelor's degree in computer science at Herat University and a master's degree at the Technical University of Berlin in Germany. After finishing her education, she taught for three years at Herat University.
khaama.com/afghan-girls-working-on-mobile-app-to-help-tourists-visiting-afghanistan-01987
------
Following murder, hundreds of Arab women march against gender violence
By Haggai Matar and Hagar Shezaf
Around 500 women and men marched Friday afternoon in the city of Lod to protest the gender violence and murder of women in Arab society.
The march, which began in Lod's old city and ended in a vigil outside the old municipality building, marked a week since the murder of Dua'a Abu Sharkh — a murder that sparked the largest-ever women's protest movement, what Samah Salaime termed a "women's intifada." Both the protest and the vigil mark the height of the community involvement in Lod in the struggle against gender violence in Arab society, the result of the hard work of local women's organization, Na'am.
The daughters and family members of murder victims marched while wearing shirts with the names of the dead printed on their shirt, along with the sentence: "The murderer roams free." Joint List MKs Aida Touma-Sliman, Haneen Zoabi, Bassel Ghattas and Osama Sa'adi all marched, along with hundreds of other supporters, alongside the family members. The demonstrators shouted slogans against police inaction, blaming them for solving crimes committed against Jews only.
Dua'a Abu Sharkh, a mother of four who was 32 at the time her death, was murdered last Friday while in her car. She was shot while returning her children to her husband, from whom she was divorced. The family claims that he had threatened Dua'a in the past. The demonstrators have been holding daily protests outside Lod's police station, demanding that the police take action and catch the killer.
"Usually the media and the police claim the murder was an 'honor killing,' but people today came to say that they reject this line of thinking, one that we have been hearing for years," said Fida Shahada, one of the demonstrators. "We do not accept this message, and we demand that the real killer is found, as well as all the killers who are walking free. We ask that the media stop using the term 'honor killing.'
"We see how the police catches people who steal phones and leak privates photos. But it's impossible for them to solve a murder?" added Shayma Abu Sharkh, Dua'a's sister. "A telephone is more important than a human being? This is very painful. This demonstration is not only for Dua'a — it could potentially prevent the next murder."
"There are those who claim that Arab women do not complain, but this is not true," MK Touma-Sliman says. "Arab women do complain to the police, but the cases are very often closed. The police does not take seriously their complaints. I am tracking several cases in which a woman who was facing danger came and complained, and the police simply closed the case — one of those cases were closed 15 minutes after the complaint was filed. The police have the responsibility to protect citizens."
Murderers among the protesters?
But even during the women-led protest, women were resigned to fight for their place, as well as over the messaging of the demonstration. +972 and Local Call blogger Samah Salaime, who heads Na'am, and was one of the organizers of the event, called it a "war on all fronts."
Even at the early stages of the march, a number of men took over the microphone, stood at the head of the march, and decided that they are in charge of the messaging. Their slogans included religious themes ("there is no God but Allah"), while putting emphasis solely on police responsibility and discrimination against the Arab public. "We, on the other hand, want to remind people of the names of the dead and talk about our internal responsibility," Salaime says. "Slowly we managed to take control of the microphone, to break through the men, reach the front row, and call out our slogans, such as 'Arab women are free,' 'we won't rest until the weapons disappear,' and 'the killer is among us — the responsibility is ours.'"
The last slogan refers to a small protest that erupted inside the demonstration, when one of the women recognized a protester as the brother of someone who murdered one of her relatives. "We have the responsibility to protect women, especially because we recognize that the welfare system does not do its job, and because we have no trust in the police, Touma-Sliman said. "As long as we call on women to stand in the back during protests — women will continue to be murdered. As long as a woman says her husband hit her and she is told that it is okay because he is her husband, women will continue to be murdered. Even at this protest there may be people who murdered or who knew about a murder and kept quiet. We cannot forgive this, we cannot accept murderers, and our society must get up and condemn them and their protectors. Anyone who calls for violence of any kind has no place among us or on our stages."
"This is a large protest and there are a large number of women here who participate and fight to be in the front of the demonstration, they will take the microphone by force if needed," added Maha Saqallah-Tli, a social worker and activist. "This movement arises as a result of desperation. If we don't bring about change, it won't happen by itself."
Hagar Shezaf is a Jaffa-based freelance journalist. This article was first published in Hebrew on Local Call. Read it here.
972mag.com/following-murder-hundreds-of-arab-women-protest-gender-violence/122352/
------
American chess player leads boycott against wearing hijab at Iran tournament
| Saturday, 10.01.2016, 03:38 PM
IRAN - The world's top female chess players have reportedly been told they must wear hijabs if they wish to compete in next year's world championships in Iran.
The next Women's World Championships are due to be held in Tehran in March 2017 but several players have threatened to boycott the tournament if females are required to wear a hijab.
The country has strict laws about attire for women, and many chess players in the tournament are taking issue with it and threatening to not participate.
Chess' governing body, FIDE (Fédération Internationale des Échecs), has come under criticism for its decision to host the tournament in Iran.
However, the group said that government officials in Iran may be willing to compromise.
FIDE is "reviewing all possible solutions for the players' comfort and will discuss all the issues with the organizers in Iran during meetings in the next few weeks," said a spokeswoman.
The body's Commission for Women's Chess defended the move, calling on participants to respect "cultural differences".
US Women's Champion Nazi Paikidze also expressed her frustration that she would "have to miss her first Women's World Championship for many reasons" and tweeted a link to the US State Department's warning about American citizens still being at heightened risk of arrest.
The Georgian-born champion told The Daily Telegraph: "It is absolutely unacceptable to host one of the most important women's tournaments in a venue where, to this day, women are forced to cover up with a hijab.
"I understand and respect cultural differences. But, failing to comply can lead to imprisonment and women's rights are being severely restricted in general."
arabamericannews.com/news/news/id_13005/American-chess-player-leads-boycott-against-wearing-hijab-at-Iran-tournament.html
------
Brazilian-Arab fusion fashion transforms the abaya
Sun 2 Oct 2016
Dancer-turned-designer, Martina Cancio, has recently swapped the dance floor for the sketchbook after being influenced by the style of both the United Arab Emirates (UAE) and the Brazilian state of Bahia, her hometown.
A fascination with the two different styles led Cancio to create a fusion of them both – an abayana. The abayana blends the traditional middle eastern abaya and the vibrant style and colours from Brazil.
"Abayana is an open abaya that differs from the traditional ones, which are black and front-closed. The colours came from the Senhor do Bonfim wrist ribbons, which come in all colours but black", explains the dancer and now fashion designer.
Cancio claims that her revolutionary idea came from wanting to please women from all nationalities.
"The women like them. I want to design something joyful to please non-Muslim foreigners but like the elegance of the abaya, and also to please the Arab women, who use the black abaya in public but that can wear the abayana in their private parties, and the young women that already use the more open black abaya", she says.
There are currently three different styles being sold, with more in the process of design and manufacture.
Cancio's designs are sold in UAE for the retail price of approximately £100.
blacknet.co.uk/brazilian-arab-fusion-fashion-transforms-the-abaya/
------
Women host Peterborough event to dispel 'myths' about Islam
Sun 2 Oct 2016
A group of Muslim women have been trying to break down some of the misconceptions about their faith in Peterborough today.
The 'Celebrating women in Islam' event was organised as part of a national initiative by the World Assembly of Muslim Youth.
Pink roses were handed out by the women in the city centre and passers-by were also offered the chance to try on a headscarf.
Pink roses were a feature of the event.
Pink roses were a feature of the event. Credit: ITV News Anglia
"We just wanted to come out and share the fact that we're just like everyone else," event organiser Salma Yaqoob told ITV News Anglia.
"We're physiologically the same. We've got women who are leading their fields in Peterborough.
"We're professional women, we're mothers, we work, we organise events. So we just wanted to put a positive spin on things."
It's hoped the event will help the wider community understand more about the muslim religion as well as improving relations.
itv.com/news/anglia/2016-10-01/women-host-peterborough-event-to-dispel-myths-about-islam/
------
Fear and faith for daughters of Pakistani Christian on death row
2 October 2016
Esham and her sister Esha live largely in seclusion: fears they will be mistreated because they are daughters of the accused in Pakistan's most infamous blasphemy case make them reluctant to venture into the brimming streets of Lahore.
Their mother, Asia Bibi, has been on death row for six years in a case some have called a battle for Pakistan's soul as the state walks a razor-sharp line between upholding human rights and appeasing populist hardliners.
The family have new hope of a reprieve -- the Supreme Court has said it will hear an appeal for Bibi later this month.
Their fight has reached all the way to the Vatican, where Esham found herself face to face with Pope Francis in April last year as the head of Catholic church offered prayers for her mother.
"He gave me blessings and I can't remember more," the 18-year-old told AFP.
"I feel the Pope is praying for my mother and he will keep praying, and with his prayers my mother will be freed."
The allegations against Bibi date back to June 2009, when she was labouring in a field and a row broke out with some Muslim women she was working with.
She was asked to fetch water, but the Muslim women objected, saying that as a non-Muslim she was unfit to touch the water bowl.
The women went to a local cleric and accused Bibi of blasphemy against the Prophet Mohammed, a charge punishable by death under legislation that rights groups say is routinely abused to settle personal vendettas.
Blasphemy is a hugely sensitive issue in deeply conservative, Muslim-majority Pakistan. Anyone even accused of insulting Islam risks a violent and bloody death at the hands of vigilantes.
Bibi was convicted and sentenced to hang in 2010, despite her advocates maintaining her innocence and insisting the argument was a personal dispute.
The next year liberal provincial governor Salmaan Taseer, who spoke out in support of Bibi, was gunned down in broad daylight in Islamabad.
The state hung his assassin Mumtaz Qadri earlier in 2016 in a Supreme Court decision that was hailed by progressives, but brought hardliners into the streets supporting Qadri and demanding Bibi hang.
Security forces braced for violence which never erupted. But Qadri's execution in March shrank the already narrow boundaries of Esham and Esha's world.
"Papa used to tell me not to go out, the situation out there is very bad," Esham says of the days after the hanging. "We used to stay inside all the time."
She is afraid, she says. "Someday someone will come and ask me, are you the daughter of Asia Bibi?"
- 'Mother-daughter stuff' -
Esham and Esha travel twice a month to the south Punjab city of Multan, where their mother is held.
"We talk to our mama about the things at home," Esham says. "I share my thoughts with her, like mother-daughter stuff."
The visits begin joyfully, she says, but end each time with a new wrenching moment of grief. "She becomes sad... her daughters come to meet her from such a long distance and she cannot even hug them."
Esham and 17-year-old Esha, who is mentally and physically disabled, live with their father for now but for some time stayed with a caretaker, buried in Lahore's maze of streets away from their family due to safety fears.
According to a tally by Human Rights Watch, 17 people including Bibi remain on death row, though Pakistan has not yet executed anyone on the charge.
In 2010, Pope Francis's predecessor Benedict XVI called for Bibi's release, and her husband has written to Pakistani President Mamnoon Hussain to seek permission to move her to France.
But the years of separation from her daughters have ground on, her appeals rejected by successive courts until last year, when the Supreme Court agreed to consider her case.
Months of inertia passed before it finally announced it would hold the appeal in the second week of October, Bibi's lawyer Saif-ul-Mulook told AFP. The exact date has yet to be confirmed.
"There is no question that what is at stake is the very soul of the state and Pakistan society: does Pakistan respect the rights of the most vulnerable? Does it defend those rights against spurious allegations even where those allegations involved matters that are sacred to most Pakistanis?" Mustafa Qadri, an expert on human rights in South Asia, told AFP.
No matter the outcome, the blasphemy laws will continue to undermine human rights in Pakistan, he says.
But a decision in Bibi's favour "would send a powerful message to the world that Pakistan respects the rule of law and not the mob."
Hardliners, already bruised by the decision to hang the Islamist assassin Qadri, "would without question react angrily and likely violently" to such a decision, he warned.
Qadri is regularly hailed as a hero by clerics at Friday sermons, with a shrine recently erected in his honour in the outskirts of Islamabad. At a mosque in the capital recently, thousands heard a cleric's call for Bibi to hang.
But, several hundred kilometres away in Lahore, Esham and Esha continue to hope.
Esham clears her throat and speaks quietly. "My mom will be released," she says. "I ask you to pray for her."
dailymail.co.uk/wires/afp/article-3817966/Fear-faith-daughters-Pakistani-Christian-death-row.html
URL: https://newageislam.com/islam-women-feminism/egyptian-mp-says-women-students/d/108737
New Age Islam, Islam Online, Islamic Website, African Muslim News, Arab World News, South Asia News, Indian Muslim News, World Muslim News, Womens in Islam, Islamic Feminism, Arab Women, Womens In Arab, Islamphobia in America, Muslim Women in West, Islam Women and Feminism