New Age Islam News Bureau
14 Jun 2014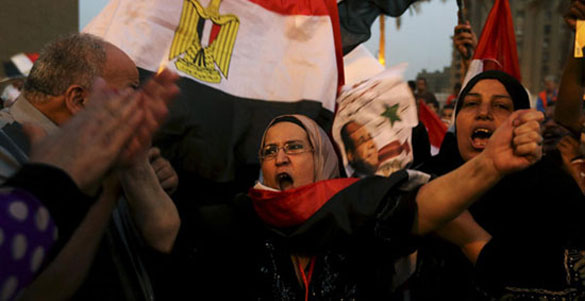 The video-sharing website – owned by Google – has removed copies of the video in which the woman is identified but allowed others which blur her face to remain on the site. (Reuters)
------------
• Nigeria Militants Demand Cattle as Ransom for Abducted Women
• Saudi Female Security Guards a Boon to Public Security
• Mauritanian Group Issues Facebook Threat against Female Activist
• Alleged Honour Killing Angers Tunisians
• Minister Commits UAE to Ending Sexual Violence
• Al- Shabaab Orders Strict Islamic Dressing Code on Women
• Abu Dhabi Women Descend On All-Ladies Beach at Al Bateen for Test Run
• Egypt Demands Sex Assault Video off YouTube
• Blackmailed For 20 Years: Haia Ends Saudi Woman's Ordeal
Compiled by New Age Islam News Bureau
URL: https://newageislam.com/islam-women-feminism/egyptian-actress-says-visit-sisi/d/87545
-------------
Egyptian Actress Says a Visit from Sisi 'Worth Sex Attack'
14 June 2014
Top Egyptian actress Ghada Abdul Razek stirred anger on social media on Friday after saying she wished she was a victim of sexual harassment so the newly-sworn in President Abdel Fattah al-Sisi would visit her, as he did on Tuesday with the victim of an earlier attack.
Sisi had paid a hospital visit to the woman who was sexually assaulted by a mob in Cairo's Tahrir Square during a weekend celebration marking his inauguration.
Abdul Razek posted a photo of Sisi visiting the woman on her Instagram account, alongside the comment: "Yesterday I saw this scene when I was on set and I told them how lucky the woman is [to be visited by Sisi], can't anyone harass us? You really are a respected president and we are glad we chose you."
Her comment offended many of her followers, who were specifically angered by her comments on being harassed. Her fans, however, supported her by explaining her comments were merely a joke.
http://english.alarabiya.net/en/variety/2014/06/14/Egyptian-actress-says-a-visit-from-Sisi-worth-sex-attack-.html
-------------
Nigeria Militants Demand Cattle as Ransom for Abducted Women
14 June 2014
Suspected Islamist militants in north-eastern Nigeria demanded 40 head of cattle as ransom for each of the 20 women they abducted earlier this week, a local vigilante group leader said.
Ethnic Fulani herders received the demand from local farmers after the women were seized near the town of Chibok, about 386 miles (622 kilometers) northeast of the Nigerian capital, Abuja, said Abba Aji Khalil, chairman of a vigilante group in Borno state. The June 8 kidnappings came two months after the abduction of more than 200 schoolgirls by the Boko Haram Islamist group from a school in Chibok.
"The terrorists were able to pass across the information to some local farmers, who in turn passed the message to some Fulani herdsmen," he said. "The Fulani herdsmen told some of our members that they are not ready to release their cattle to the Boko Haram members as they are not sure" that a swap will happen, he said.
Boko Haram has waged a five-year insurgency against Nigeria's government that has killed thousands of people. The group, whose name means "western education is a sin" in the local Hausa language, seeks to impose Shariah, or Islamic law, in Africa's biggest economy and largest oil producer.
Abubakar Shekau, the leader of Boko Haram, has threatened in video messages to sell the schoolgirls in "markets," marry them off and hold them until the Nigerian government frees imprisoned members of his group. President Goodluck Jonathan said last month that he wouldn't enter talks about swapping Boko Haram detainees for the girls.
The U.S. and U.K. sent teams to Nigeria to help the government find the schoolgirls, and Israel and France have pledged assistance. The West African nation's military said last month it knows the location of the schoolgirls and is assessing how to rescue them.
http://www.bloomberg.com/news/2014-06-12/nigerian-militants-demand-cattle-as-ransom-for-kidnapped-women.html
-------------
Saudi Female Security Guards A Boon To Public Security
14 June 2014
Ever since the Ministry of Labour began implementing a royal decree in early 2012 that banned men from working in stores that sell lingerie, cosmetics and other goods exclusively marketed to women, job opportunities for Saudi women have increased exponentially. Once marginalized, women are now participants in the Kingdom's economic development, which means many are making a name for themselves in fields traditionally dominated by men. The private security business is one such industry where women are competing against their male counterparts for jobs and finding great success.
Malls, parks and banks are some of the places where the services of female security guards are needed and women have succeeded in providing Saudi families with both security and responsible, swift action during emergencies. Umm Miteb Al-Otaibi never thought she would work as a security guard but she said her job has helped her become a stronger person who can help people during emergencies.
"Working as a security guard has given me great strength and wisdom when dealing with emergency situations. It also provides me with a steady income, something I was in bad need of," she said.
Fatima Al-Habsi said working as a security guard has allowed her to become close to families and win their trust in protecting their children, both of which come in handy when fights break out between shoppers or children at mall arcades. She believes women can be successful security guards if they are given the right incentives, pay and training.
Member of the Security Affairs Committee in the Shoura Council, Abdulrahman Al-Atawi, believes female security guards provide services that contribute to protecting lives, properties and privacy.
"Female security guards play a big role in organizing work and ensuring implementation and compliance of regulations. They also play a major role in emergencies including fires and evacuations," he said.
Al-Atawi added that forming female security and safety units is necessary due to changing social interactions where women are increasingly exposed to risks that threaten their lives, honor and money.
"This necessitates that government and private authorities and institutions that provide services to women give attention to this matter. The supervisory authorities should monitor the implementation of female security staff and penalize anyone who delays in hiring them," he added.
According to Al-Atawi, the Ministry of Interior supports security services that can be provided by the private sector to whoever requests it, including authorities that are compelled to provide security guards through the Private Civil Security Guards regulation issued in 2005. He said Article 5 of the regulation stresses that those working in private civil security establishments and companies should be Saudi nationals. Also, Article 3, of the regulation allows authorities and companies to set up security units. "This provides job opportunities to Saudi men and women in all private and public authorities. This has also helped in providing jobs to women while taking into consideration their privacy in offices, departments and stores that exclusively cater to women."
http://www.saudigazette.com.sa/index.cfm?method=home.regcon&contentid=20140614208368
-------------
Mauritanian group issues Facebook threat against female activist
14 June 2014
(Reuters) - The leader of a Mauritanian group has issued a threat on his Facebook page to "tear out the eyes" of a rights activist for demanding a fair trial for a man charged with turning his back on Islam, a U.N. official said.
The United Nations on Friday urged the Mauritanian government to protect human rights activist Aminetou Mint El-Moctar, who is well-known in the Islamic republic for campaigning for women's rights and against human trafficking.
The threat against El-Moctar was made in a posting by the leader of a little-known Mauritanian group called Friends of the Prophet and has been repeated on other social media. The group called the threats a "fatwa", or religious edict.
Lawyers have been unwilling to defend the man charged with apostasy, making it impossible for him to get a fair trial, U.N. human rights spokesman Rupert Colville said.
"The horrendous threats against Ms. Mint El-Moctar, simply for pointing this out, starkly underline the importance of her public call that a fair trial must be ensured and illustrate how difficult that will be," he told a regular U.N. briefing.
"The threats are based on a 'fatwa' issued by the leader of the movement known as Friends of the Prophet and declare that 'whoever kills her or tears out her eyes will be rewarded by God'," Colville said.
El-Moctar has asked for government protection but it was not granted, he said. Her supporters staged a rally in the Mauritanian capital Nouakchott on Sunday on her behalf.
Attempts to contact El-Moctar have been unsuccessful and there has been no comment from the government or from Friends of the Prophet, a group not publicly known before the Facebook post around two weeks ago.
Mauritania, a country of 3.2 million people straddling the Sahel region, is one of the West's key regional allies against al Qaeda. President Mohamed Ould Abdel Aziz, who came to power in an army coup in 2008, will stand in an election on June 21.
http://uk.reuters.com/article/2014/06/13/uk-mauritania-threat-idUKKBN0EO1YW20140613
-------------
Alleged honour killing angers Tunisians
14 June 2014
Horror over the death of a 13-year-old girl will bring Tunisians to the streets next week for a silent march.
Demonstrators on June 19th will trek from Mohammed V Avenue to the Women's Affairs Ministry in Tunis to commemorate the life of Eya Laaroussi El Abed.
The Tunis teenager was buried Monday (June 9th) after an 11 day struggle to survive third degree burns.
The father of the middle school student allegedly burned her alive after seeing her walk home with a male schoolmate in the Ibn Khaldoun neighbourhood.
The victim's mother said that her daughter always quarrelled with her father and would sometimes threaten to escape from home because of restrictions on her movements.
When Laaroussi's father saw her with her schoolmate, "he thought that his daughter had planned to elope with that boy," the mother said.
"He rushed to her, violently beat her in the street in front of people and dragged her to a deserted building where he set her body ablaze. He left her there facing death without any regard for her pleas and cries," she explained.
The girl's father is now in jail, while Tunisians try to make sense of what happened.
"The original principle in relation between a father and a daughter is mercy, love, and compassion, following the example of Prophet Mohammed (PBUH) who said, 'You're like a shepherd, and each one of you is responsible for their dependents,' " Imam Chiheb Telliche said.
"In this way, the parents are responsible for their children both before God and the law," the preacher added.
He explained that regardless of how society expects young people to behave, "such cases shouldn't be dealt with violently; rather, they should be cared for and raised up based on dialogue."
"Our Islamic faith prohibits the killing of human soul," he said. "This case is strange to our society."
On the Tunisian street, meanwhile, citizens are still in shock.
"I cried when I saw her picture on websites," 20-year old Marwa Moussa told Magharebia.
"I thanked God because my parents understand this stage of my life, and know all my male friends," she said.
She added, "Parents should advise their children and raise them right, and in this way, they won't fall in the trap of prohibited behaviours."
In her turn, Lobna Ben Salem, 24, said, "I was surprised with this crime in our time and our Tunisian society, which has its own traditions in mixing between the sexes."
The father must be punished for his crime, she added.
"This incident is frankly strange in Tunisia and we can't consider it to be a phenomenon," 25-year-old Youssef Chawech agreed, noting that the father was "psychologically sick, as per some of the neighbours".
In his turn, Mohamed Abdellaoui, 54, said, "I have two daughters and they have friends and schoolmates."
"They go out with some friends, with my knowledge, of course, or the knowledge of their mother because at their age (they're aged 14 and 17) it's only natural for them to have friends," he told Magharebia.
Adolescents "must live their age naturally", he said, because "it's natural for girls to have a close friend, but in a reasonable way as per our religion and the customs of our society."
"Dialogue between family members, especially mother and daughter, is very important so girls don't do shameful things without their family's knowledge," he added.
http://magharebia.com/en_GB/articles/awi/features/2014/06/13/feature-03
-------------
Minister commits UAE to ending sexual violence
14 June 2014
ONDON: The third day of the Global Summit on Ending Sexual Violence in Conflict, hosted by the UK Government, concluded on Friday in London. Reem Al Hashimy, the UAE Minister of State, headed the UAE's delegation to the conference.
The UAE is also one of the 148 countries to have signed a "Declaration of Commitment to End Sexual Violence in Conflict", which commits those endorsing the declaration to taking action on ending sexual violence in conflict.
More than 1,200 international delegates, including heads of state, heads of government and senior ministers have flown to London for the landmark Global Summit on Ending Sexual Violence in Conflict, which runs from June 10 to 13. Representatives of civil society, NGOs, the military, the judiciary, the private sector and a host of UN agencies are also taking part.
The Summit is the largest gathering ever held on this issue, and is being co-chaired by UK Foreign Secretary William Hague and Angelina Jolie, Special Envoy for the UN High Commissioner for Refugees.
The four-day summit aims to turn pledges into practical action on the ground to protect women, girls, men and boys from sexual attacks, to discuss how to improve and standardise the investigation of largescale sexual violence in wartime, and to bring an end to a culture of impunity that has severely limited prosecutions up to now.
Welcoming this summit, Al Hashimy said, "The occurrence of rape and other forms of sexual violence in conflict is a crime that affects people in the most horrific and enduring manner. The UAE hopes that all governments will unite behind the goals of this initiative and speak with one voice to express our contempt for these crimes and our common determination to hold the perpetrators accountable."
The global Preventing Sexual Violence Initiative, was launched by Hague and Angelina Jolie in 2012. The UAE's Foreign Minister, Sheikh Abdullah Bin Zayed Al Nahyan, is a Global Champion of the Preventing Sexual Violence Initiative.
Another key aim of the conference is more support for victims of sexual assault to tackle the short and long-term legacy of conflicts and violence in countries such as Bosnia, the Democratic Republic of Congo and Somalia.
The UAE recently committed $1.5 million, jointly with the United Kingdom, to support the Government of Somalia's efforts to combat sexual violence in conflict.
Speaking at the conference, where she co-chaired a ministerial session focused on Somalia with William Hague, Al Hashimy commended the Federal Government of Somalia for making significant efforts to tackle sexual violence.
"We are impressed with the commitment shown by the Government of Somalia to eradicate this heinous crime, and we look forward to working closely with them and other partners to support the implementation of the action plan on ending sexual violence in conflict that was just presented by the Government of Somalia at this conference."
Al Hashimy also announced that the UAE will commit an additional $1million to support the work of the UN on strengthening the capacity of affected countries to address this issue. She noted, however, that efforts to address sexual violence in conflict must be part of a comprehensive strategy to empower women and girls to participate fully in all aspects of society.
"The UAE is proud to be part of this effort and we will continue to support international efforts aimed at providing support for survivors, improving evidence gathering and ensuring accountability for the perpetrators," the minister said.
http://gulftoday.ae/portal/d43fe62e-209e-46f9-804d-1f53aacc41cc.aspx
-------------
Al- Shabaab Orders Strict Islamic Dressing Code On Women
14 June 2014
Somalia's Shabaab militants have ordered women in their area of jurisdiction to comply with strict Islamic dress code.
The group rounded up about 100 women in Buale which about 300 KM south west of the capital Mogadishu and ordered them to comply with a strict Islamic dress code or face the punishment which is whipping.
The women were arrested in the market, taken away and warned before being released.
Analyst said it was rare for the militant group to carry out such mass arrests in recent times since they lost several key areas to government forces backed by AMISOM troops.
The Qaeda-linked group controls much of southern and central parts of Somalia.
Al-Shabaab, whose name means "The Youth" in Arabic, advocates the strict Islamic law in the areas of operation.
They have previously stoned to death people accused of committing adultery and amputated the hands of thieves.
A UN-backed government, aided by African Union forces, has pushed al-Shabaab out of the country's main cities, but it continues to stage deadly attacks there.
http://www.somalicurrent.com/2014/06/14/al-shabaab-orders-strict-islamic-dressing-code-on-women/
-------------
Abu Dhabi women descend on all-ladies beach at Al Bateen for test run
14 June 2014
ABU DHABI // Women and children took advantage of a trial period for Al Bateen's new ladies' beach on Friday for a swim and a chance to catch some sun without worrying about the presence of men.
But many visitors said that they were uncomfortable with immodest bathing suits worn by some beachgoers.
AK, 25, said she had been eagerly awaiting the opening and "couldn't believe there was finally a women's beach".
She said: "I had to come today to see with my own eyes. My sisters and cousins have been waiting for such a beach for years."
The Emirati said she had recently visited a doctor who told her that her vitamin D levels were down and she needed exposure to sunlight at least three times a week.
"I live close by and now I can actually come to this beach and not worry about my health," she said.
"Many women also suffer from vitamin D deficiency, and I'm sure they will appreciate the beach and sunlight."
Although she was generally pleased with the beach and its facilities, she said she did not feel comfortable without her mobile phone, which was taken at the gate for privacy reasons.
"I don't understand why they have to confiscate them," she said. "We are entitled to memories, by picture or videos. I understand there is a security reason behind it but surely there should be another way.
An Emirati woman who took her children and grandchildren to the beach said she was happy with the new facility, opened by Abu Dhabi Municipality on Thursday.
"I love the beach, and so do my children," she said. "We grew up by the water and now my children have the chance to enjoy it.
"Now I can bring my daughters to enjoy and swim freely. I want to come every day."
She said her entire family was at the beach, with the girls with her in the ladies' section, and the men and boys in the other area.
The beach includes lockers, showers, a number of open wooden cabins with couches, a few swings, a playground, umbrellas and food kiosks.
Visitors pay Dh25 to enter, and Dh5 for children aged 3 to 12. Boys above the age of 6 are not permitted.
Electronic devices with cameras, animals, fishing and camping are also prohibited.
Some Arab women said they were "shocked and appalled" by the bikinis worn by some of the visitors.
"There is extreme nudity here and this is an Islamic country. We [her group] are all Muslims, and this is indecency," said Khadija Ahmed, from Syria.
"Many families are likely to come over here. It is not right for some women to wear such things that don't cover their bodies."
Ms Ahmed also said the entry fee of Dh25 was too high.
"There aren't many toilets or showers, and many of the visitors come with children. A normal family would be more than five members, and that is a lot of money for such facilities."
Ms Ahmed's Yemeni friend H A, suggested women on the beach should wear shorts instead of a two-piece swimsuit.
"I am very uncomfortable here. This is indecent," she said.
Fayha'a Mashooh, an Emirati, said she was excited to show her children a good time at the beach but was shocked with the other women's clothing.
"I used to take my children to Al Sila [in the Western Region] every now and then for the beach there," Ms Mashooh said.
"I'd rather go all the way to Al Sila, which is almost three hours from here, than come to see such indecency and disrespect.
"I don't want my children to see this. My seven-year-old daughter is more covered than half the women here."
The beach is open daily from 10am to 10pm, with swimming permitted until sunset for safety reasons.
aalkhoori@thenational.ae
http://www.thenational.ae/uae/abu-dhabi-women-descend-on-allladies-beach-at-al-bateen-for-test-run#ixzz34ezZQXJ7
-------------
Egypt demands sex assault video off YouTube
14 June 2014
Egypt has asked YouTube to remove a video of a woman being sexually assaulted in Tahrir Square during a rally supporting the country's newly elected president.
Presidential spokesman Ehab Badawy said in a statement that the Egyptian Embassy in Washington had made the request to YouTube, which is owned by Google Inc.
YouTube has removed copies of the video in which the woman can be identified, but is allowing other versions that blur her image to remain on the site because the company considers them to be newsworthy. Viewers who want to watch the blurred video also most vouch that they are at least 18 years old, according to YouTube.
"We respect an individual's right to privacy and have always removed videos entirely where there is a privacy complaint and an individual is clearly identifiable," YouTube said in a statement.
Badawy said late Thursday that the woman attacked asked President Abdel-Fattah el-Sissi during a visit he made to her hospital room to have the video taken down.
In a video of the visit, the woman told the president: "My daughter watches it every day and collapses."
El-Sissi told her: "I have come to tell you and every Egyptian woman that I am sorry. I am apologizing to every Egyptian woman."
Sexual harassment has long been a problem in Egypt, but mob assaults have increased dramatically both in frequency and ferocity in the three years since the ouster of longtime autocrat Hosni Mubarak.
Several women were assaulted during Sunday's inaugural festivities in Cairo's Tahrir Square, the epicenter of the 2011 revolt that toppled Mubarak, which has also seen numerous mob sexual assaults during demonstrations held there since.
http://english.alarabiya.net/en/media/digital/2014/06/14/Egypt-asks-YouTube-to-remove-video-of-sex-assault.html
-------------
Blackmailed For 20 Years: Haia Ends Saudi Woman's Ordeal
14 June 2014
The Commission for the Promotion of Virtue and the Prevention of Vice (Haia) has freed a woman from a person who had blackmailed her for 20 years.
Turki Al-Shulail, the spokesman of the Haia, said the agency solved the case in one week. He said the 30-year-old woman had been blackmailed from the time she was a child.
The situation had even prevented her from getting married because she was afraid the blackmailer would contact her husband, said Al-Shulail.
Al-Shulail said the Haia is taking measures to ensure people are protected from blackmailers. There has recently been an increase in cases involving men and women abusing each other. There have also been cases of women abusing their female friends, and men abusing men, he said. He said the law must be enforced, regardless of gender or age. He did not reveal any statistics about the extent of blackmail cases, but said all complaints are investigated before being passed on to branches for action.
The Haia was collaborating closely with other government agencies to protect citizens and expatriates, he said.
According to the commission, cases have more than doubled in the past eight years. However, there was considerable underreporting because of shame and fear, according to social worker Haya Al-Obaid.
Recent studies show that women and girls are behind 88 percent of blackmail cases, said Al-Obaid. She urged the Haia and other agencies to hold a conference with religious, social and psychology experts to find solutions to these issues.
http://www.arabnews.com/news/586041
-------------
URL: https://newageislam.com/islam-women-feminism/egyptian-actress-says-visit-sisi/d/87545