New Age Islam News Bureau
11 March 2016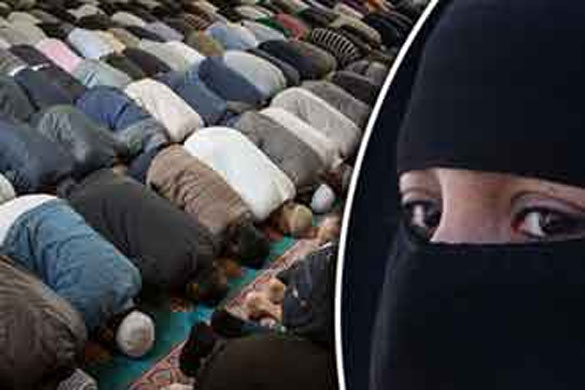 Photo: Egypt to Ban the Veil 'Because It Is NOT Islamic'
------------
• Pakistani Law to Protect Women Dubbed Un-Islamic
• Iranian MP Sued Over 'No Donkeys, No Women in Parliament' Rant
• Indian Muslim Woman Names Her Child 'Pankaj' To Thank Doctor Who Treated Her
• Muslim Woman Who Refused To Remove Her Burqa to Testify Warned By German Judge SHE Will Be Jailed
• Women Benefit Most From 'Smart Villages' In Pakistan's Hindu Kush
Compiled by New Age Islam News Bureau
URL: https://newageislam.com/islam-women-feminism/egypt-ban-veil-islamic/d/106620
-----------
Egypt to Ban the Veil 'Because It Is NOT Islamic'
By Oli Smith: Mar 11, 2016
Days after Ukip reignited calls for a ban on the burka in Britain, Egypt has now moved closer to banning the veil.
The full-face veil has long been associated with followers of Islam and typically covers all of the wearer's face other than their eyes.
Egypt, a predominately Muslim country, has placed several restrictions in recent years on wearing the niqab following a sharp rise in those wearing the full veil in the last decade.
The ban would apply in public places and government buildings.
Leading politicians argued the full-face veil is neither an Islamic tradition, nor required in the Koran.
Member of Parliament Amna Nosseir, also a member of Egypt's Supreme Council for Islamic Affairs, revealed the Niqab is instead a Jewish tradition.
She insisted "the Niqab is not an Islamic duty" and instead was "a part of Judaism".
She has argued that it is a tradition which appeared in the Arabian Peninsula prior to Islam and that a variety of Koran passages contradict its use.
Dr Nosseir added that while the Koran calls for modest clothing and for women to cover their hair, the holy book does not ask for women to cover their faces.
She said: "We seek to spread moderate Islam. Wearing the niqab in public has raised concerns in the Egyptian streets in view of the hard circumstances the country is undergoing."
Egypt, a predominately Muslim country, has placed several restrictions on wearing the niqab
Parliamentarians in the Egypt Support Coalition, loyal to President Abdul Fattah Al Sissi, said the push for a ban is also based on religious and security grounds.
Concerns over security have followed a rise in militant attacks from Islamic extremists in recent months.
Alaa Abdul Moneim, a spokesman for the Egypt Support Coalition, defended the alliance's anti-niqab move.
He said: "We are seeking to prohibit the appearance of masked faces in public."
The latest legislation follows a ban at Egypt's premier public university, Cairo University on academic staff from wearing the niqab in classrooms in response to complaints it was too difficult to communicate with students.
In January this year a court upheld the university's ban.
The University also banned nurses and doctors from wearing it in medical schools and in teaching hospitals, arguing the ban would "protect patients' rights and interests."
During the national election in October last year, women wearing niqab were told they needed to remove the full veil if they wished to vote, in order to be identified.
express.co.uk/news/world/651292/Egypt-BURKA-BAN-politicians-NOT-Islamic-Jewish-veil-full-face-extremism
-----------
Pakistani Law to Protect Women Dubbed Un-Islamic
March 7, 2016
ISLAMABAD, Pakistan -- A clash of values is playing out in Pakistan, as adherents of Islamic sharia law try to block legislation aimed at protecting women from discrimination and violence.
A new, yet-to-be-enacted law to protect women in Pakistan's most populous province has invoked the ire of conservatives who say the country's constitution and the tenets of Islamic law provide sufficient protection.
Violence and discrimination against women is rife in Pakistan, costing millions in productivity and family health care and slowing social progress.
A flame flickered briefly at the end of February, giving hope to the thousands of women subjected to domestic violence who currently have nowhere to turn.
The Protection of Women Against Violence Bill passed the Punjab provincial legislature unanimously on February 24, after about nine months of opposition.
The legislation criminalizes domestic, emotional, psychological, verbal and economic abuse, as well as stalking and cybercrime.
It would establish a 24-hour domestic abuse hotline, a network of shelters or safe houses where women could take refuge and receive basic medical aid and counseling for physical and mental abuse. The law effectively mandates intervention by local authorities on behalf of abuse victims -- and penalties for offenders.
But there are those, mostly right-wing, hard-line Islamic leaders, who are trying to snuff the flame before the law can be enacted.
Pakistan's Council of Islamic Ideology, a committee comprised of Islamic scholars that regularly advises the government on the compliance of laws with Islamic values, has declared the Women's Protection Act un-Islamic.
In a press conference last Thursday, council chairman Muhammad Khan Sherani demanded the bill be handed over for a formal review.
"It is unacceptable," he said. "The law seems to have the objective of pushing women out of the home and to increase their problems."
Sherani added that, in the view of the council, women's rights are well-protected under Islamic law, so no further legislation is necessary.
Although the council's edicts are not formally binding on the government, it does wield a great deal of influence over such mattersm, and opposition from the council -- especially if a bill is deemed blasphemous -- has doomed previous legislation.
Others who have joined the fight to block the bill complain that it violates men's rights and dignity. Some have labelled it a secular move driven by a western conspiracy.
In a recent interview, Nafisa Shah, a member of the National Assembly and vice president of the Commonwealth Parliamentary Association, called it "very unfortunate that when we enact laws for things that are our women's natural rights, as per our constitution, it is criticized."
"In my research I have seen that a lot of violence against women happens in the family," said Shah. "If there is a troubled family, the state cannot sit idle and say that because in our values we do not intervene in family affairs, therefore let the women continue suffering. That is something we cannot allow. I think there is a long way to go -- we have made these enactments but we are very far from enforcing them."
cbsnews.com/news/pakistan-sharia-islamic-council-law-abuse-women-violence-islam/
-----------
Iranian MP sued over 'no donkeys, no women in parliament' rant
March 11th, 2016
TEHRAN: Iranian women deputies have decided to sue a conservative legislator after he said in a video that parliament was no place for "donkeys and women".
Nader Ghazipour's comments during an election campaign meeting last month have gone viral on social media.
"Parliament is not a place for foxes, donkeys and women," he proclaimed before a cheering crowd in the video ahead of the Feb 26 polls.
If you elect women, "they (men colleagues) might do things to them and disgrace you", he said.
Ghazipour was elected in Orumiyeh, a Turkish-speaking province near Iran's border with Turkey.
Women MPs -- along with a number of men -- have filed complaints with Iran's prosecutor general, parliament's supervision committee and house speaker Ali Larijani, a leading woman deputy, Fatemeh Rahbar, said.
"There has been an accusation against women, and Mr Ghazipour must be held responsible," she said.
Ghazipour had sent an apology through mediators, but the plaintiffs "won't withdraw their lawsuit", Rahbar said.
"His words have gone public through media and gone viral inside and outside Iran. He should come out" and explain himself. Ghazipour's comments were "an insult not only to women but to the entire parliament", Rahbar, herself a member of the conservative camp in Iranian politics, told the reformist daily Shargh.
dawn.com/news/1244874/iranian-mp-sued-over-no-donkeys-no-women-in-parliament-rant
--------
Indian Muslim Woman names her child 'Pankaj' to thank doctor who treated her
Shayar Raval | TNN | Mar 11, 2016
AHMEDABAD: Sarah Shaikh (name changed) was suffering from a rare kidney disease called Lupus Nephritis - a disease which prevents a woman from delivering a healthy baby. On February 15th though, she delivered a completely healthy baby - thanks to the nine-month treatment she received from city-based doctor Pankaj Shah. As a gesture of her thanks, Shaikh named her baby boy after him.
Dr Shah has been treating Shaikh at a nominal charge in a civil hospital as she could not afford the otherwise high treatment cost. A resident of Juhapura area, Shaikh had previously lost two infants as her body produced antibodies which were harmful to the babies. "Women with this type of kidney disorder can't deliver healthy child. But this disorder can be cured with proper treatment, "said Dr Shah. "We gave managed dose of different medicines with steroid for 9 months to the patient. It is available at a nominal charge at the civil hospital here."
Under Dr Shah's treatment, Shaikh became a proud mother to a healthy boy and her gesture to name him after the doctor, many would agree, bodes well for not just communities but for humanity at large.
timesofindia.indiatimes.com/city/ahmedabad/Muslim-woman-names-her-child-Pankaj-to-thank-doctor-who-treated-her/articleshow/51356665.cms
------
Muslim Woman Who Refused To Remove Her Burqa to Testify Warned By German Judge SHE Will Be Jailed
10 March 2016
Amira Behari refused to reveal face at the State Court in Munich last year
Appeared to testify against man who allegedly abused her in a train station
Amira Behari (pictured) wore a long leather coat and gloves as well as her traditional Islamic garb
A Muslim woman who refused to remove her Burqa to testify against a man accused of abusing her has
been warned by a German judge she will be jailed if she does not comply.
Amira Behari, 43, refused to reveal her face at the State Court in Munich last year when she appeared to
testify against a man who allegedly abused her in a train station.
The man, identified only as Kai.O, allegedly called her an 'a******e' and told her to 'go back to where
you belong.'
Judge Thomas Mueller said at the original hearing in November he wanted to see her face to 'read her
emotions,' adding: 'I need to see you otherwise there will be considerable problems in adjudicating your
case.'
Behari refused, saying: 'I have a God at the end of the world who will see me right at the end. I will not
do this.'
In court she wore a niqab, which is an ultra-Burqa with only a gap for the eyes. She also wore gloves and
a long leather coat.
Judge Mueller gave up and said he had no alternative but to find the accused not guilty.
But his decision enraged judges anjd prosecutors in Germany who appealed the decision and have now
scheduled the case again for next week.
dailymail.co.uk/news/article-3486078/Muslim-woman-refused-remove-Burqa-testify-
against-man-accused-abusing-warned-German-judge-jailed-does-not-comply.html
------
Women benefit most from 'smart villages' in Pakistan's Hindu Kush
Mar 11, 2016
Life is tough in the remote villages of the Hindu Kush Himalayas of northern Pakistan, far from the reach
of power grids and at the mercy of floods and extreme weather. But by harnessing the glacier fed rivers
that tumble down the steep mountains, communities are transforming their lives and future prospects.
"Before the [energy from] hydropower [plants] when clothes needed washing we had to go to the river
all day. Now it just takes two hours", says Gulasim, a woman from Bumboret in Chitral, one of the most
picturesque Kalasha valleys in the north.
Nawab Ali, from Chaketal village in the nearby Swat valley, says electricity has improved the life of
children, who now have enough time to play and to help in the fields during the day because they can
do school homework with electric lights at night.
Pakistan has four decades of experience building micro hydropower plants with the cooperation of local
communities to bring electricity to these isolated regions. Since 2014, the Rural Support Programmes
Network has worked with the "Smart Village Initiative" started by a team based at Cambridge and
Oxford universities in the United Kingdom, to further expand energy.
About 70 million people have no access to electricity ─ the majority of them in rural areas. There are
about three million households where grid connectivity is not feasible, according to the Alternative
Energy Development Board. Small hydropower projects and microgrids that generate their own
electricity can plug this gap. Yet Pakistan is only producing 128 out of a potential of 3,100 MW of
electricity from small hydropower projects.
"Smart Villages"
The "Smart Village Initiative" covers six regions in Africa, South and Southeast Asia, and Central and
South America and aims to provide energy access for remote off-grid villages, where local solutions are
both more realistic and cheaper than national grid extension. It brings together scientists and engineers,
entrepreneurs, villagers and civil society organisations, policy makers and regulators through country
level workshops.
Just like a "smart city", a "smart village" means providing access to affordable, reliable and clean energy
for households and businesses. This energy access particularly benefits women who suffer from the
drudgery of collecting fuel wood and the health consequences of breathing in cooking smoke from
traditional biofuels, such as animal waste.
In Pakistan the growth of micro hydropower projects has been led by the Aga Khan Rural Support
Programme and the Sarhad Rural Support Programme, who have both received the prestigious Ashden
international award for their work. They worked with rural support programmes and local village
organisations to help communities build micro-hydropower projects across Khyber Pakhtunkhwa, Gilgit-
Baltistan, Federally Administered Tribal Area (Fata) and Azad Jammu and Kashmir districts.
Communities contribute time and labour (known as "sweat equity") which creates a sense of ownership
and helps sustain the projects. The projects typically generate between 5-100 KW of power.
Locals contribute the effort to build and maintain the power projects. ─ Photo by Sarhad Rural Support
Programme
Locals contribute the effort to build and maintain the power projects. ─ Photo by Sarhad Rural Support
Programme
By 2015, the Sarhad Rural Support Programme had constructed 166 micro-hydropower projects and
brought power to around 275,000 people. Similarly, the Aga Khan Rural Support Programme has
supported 191 micro-hydro schemes producing 14.35 MW of power.
The government and NGOs provide initial financial and technical support but the hydropower plants are
maintained by the communities in the long run for the benefit of future generations. Over 90% of these
micro-hydro systems are well maintained at affordable cost, according to follow up surveys, and these
projects have transformed the education, health and lifestyle of communities.
Obstacles remain
There are a number of obstacles to expanding access to energy. First, the lack of government policy
support hinders expansion in remote rural areas.The state regulator, the Alternative Energy
Development Board, needs to establish a framework to support off-grid energy solutions. The 2013
National Power Policy does not provide details of how the government will do this.
The second big obstacle is the lack of access to finance and capital ─ and failure to engage the private
sector. While hydropower has taken off, other technologies, particularly solar, have struggled. In this
case the lack of cheap energy storage remains one of the main hurdles.
In Balochistan, where solar power has brought electricity to remote rural communities, consistent
supply can only be ensured by better storage.
Further research and development is needed for manufacturing a low cost long life battery for energy
storage. The federal government and research institutions must develop partnerships with international
research groups engaged in such projects.
For example, researchers at Cambridge University are designing more efficient lithium-oxygen batteries
to replace the typical lithium-ion batteries. It is such breakthroughs that will transform the villages of
the region, and allow their residents to fully access to the opportunities of modernity.
dawn.com/news/1245011/women-benefit-most-from-smart-villages-in-pakistans-hindu-
kush
----------
Celebrating Muslim women
March 11, 2016
MARCH 11 ― A few days ago, PAS Ulama information chief Datuk Dr Mohd Khairuddin Aman Razali At-Takiri released a statement stating the importance of restoring the institution of the family and that wives especially should be able to perform their true function at home as wives and mothers.
In response to this statement and in commemoration of International Women's Day, in this column, I would like to talk about some of the important Muslim women in Islamic history.
Khadijah bint. Khuwaylid was the Prophet's first wife and the first convert to the new faith of Islam. Even before her marriage to the Prophet (pbuh), Khadijah was a respectable woman in her own right.
Not only did she devote herself to the upbringing of her children, but she was also an established entrepreneur. Despite being born into a patriarchal society, she received two titles: "Ameerat Quraish" meaning Princess of Quraish, and at-Tahira, meaning The Pure One. When the Prophet received the first revelation, he ran down Mount Hira afraid and sought refuge in the arms of Khadijah.
The next woman needs no introduction, for she is Aisha bint. Abu Bakr. Also a wife of the Prophet, she had the most influence on the Muslim world after his passing.
She led an army against Ali ibn Abu Talib, but after her defeat during the Battle of Basra, she played a major role as the transmitter of Islamic teachings. She was one of the most knowledgeable Muslims and carved the way for Muslim women to participate in political and public spheres.
Nusayba bint. Ka'b, also known as Umm 'Ammara, was a member of the Banu Najjar tribe. She was one of the earliest converts to Islam in Medina and was most remembered for taking part in the Battle of Uhud against the Meccans.
She was extremely skilled with the sword and risked her life protecting and defending the Prophet. She sustained 12 major wounds during the battle, fainting because of the last one, and when she regained consciousness, her first question was whether the Prophet was still alive. This goes to show her loyalty to the Prophet and Islam.
Rabi'a al-Adawiyya was one of the most important and influential Muslim saints and Sufis in Muslim tradition who spent her early life as a slave. She was known for her "pure love of God", which emphasised loving God for His own sake, rather than out of fear of punishment or desire for reward.
She founded the Sufi school of Divine Love (Ishq-e-Haqeeq). Her life of hardship eventually amounted to self-realisation, and Rabi'a lived the rest of her life devoting herself to God.
Zaynab bint. Ali was the granddaughter of the Prophet and one of the leading figures in Ahlul Bayt. After the death of her brother Husayn during the Massacre of Karbala, she became the effective leader of Ahlul Bayt and served as the primary defender of the cause of her brother.
Zainab was deeply against oppression and other forms of injustice and in her lifetime, showed pious defiance towards Yazid I, second caliph of the Umayyad Caliphate, who was known for being a power-driven, unjust and cruel ruler.
These are just some of the prominent female names in Islamic history and there are still many more that we can read about. These women have done a lot to contribute to the upholding of the religion and many times do we disregard their significance.
Dear Datuk, to say that a woman's "true function" is to be a stay-at-home wife and mother is misplaced.
In a time where women were seen as objects of inheritance, Islam gave women the rights to inheritance. In a time where women were seen as personal properties, Islam gave women the right to possess personal property.
In a time where women were seen as objects to be collected, Islam gave women the right to reject and divorce. In a time where unlimited marriages were common, Islam regulated and restricted polygyny.
In a time where women were silenced and voiceless, Islam also gave women the right to testify.
In a society that looks up to fathers, the Prophet said that Heaven lies at the feet of mothers. In a society that prized sons, the Prophet told fathers that if their daughters spoke well of them on the day of Judgment, they will enter paradise.
In a society that practised polygamous marriages, the Prophet stayed in a monogamous marriage with Khadijah RA until the day she passed on. In a society that prioritised male dominance, the Prophet allowed Umm Waraqa to lead prayers.
In a society that treated wives as possessions, the Prophet said that the best among men are those who are best to their wives. In a society that buried infant daughters, the Prophet said that daughters are a blessing; kind, helpful and good companions.
As you can see, the Prophet and Islam raised the status of women so much that your statement on limiting them to only a domestic sphere is a travesty to everything that the Prophet fought for. Women are more than just house-cleaners and baby-makers.
Would giving Muslim women more rights today than in the 7th century be considered un-Islamic?
No. Why should it? Understanding the gradualistic approach of the Quran, giving women more rights today should be seen as an improvement from the examples that have been put forth by the Prophet, his Companions, wives and early Muslims.
Instead of maintaining a stasis or regressing back to before the Islamic era, we should be building upon these examples, realising the goals that they had wanted to achieve, and that is equality, justice and fairness for all and allowing the involvement of women in public spheres, working hand-in-hand with their male counterparts.
Do not blame the crumbling of our family institution on working wives and mothers. What do you expect from a society that does not prioritise family planning and pushes forward the notion that getting married early is better?
Women should be given the choice of whether they want to be homemakers or not, without getting demonised for choosing otherwise. Either way, what's most important is that she be given the option to choose, instead of being forced into it.
Like I have mentioned before, change or reform does not happen in a day. Let us continue the Prophet's legacy and further push the women in our lives to be the best people they can potentially be.
Happy belated International Women's Day!
themalaymailonline.com/opinion/shafiqah-othman-hamzah/article/celebrating-muslim-women
URL: https://newageislam.com/islam-women-feminism/egypt-ban-veil-islamic/d/106620
New Age Islam, Islam Online, Islamic Website, African Muslim News, Arab World News, South Asia News, Indian Muslim News, World Muslim News, Womens in Islam, Islamic Feminism, Arab Women, Womens In Arab, Islamphobia in America, Muslim Women in West, Islam Women and Feminism