New Age Islam News Bureau
08 December 2021
• Afghans Make Up Half of BBC List Of '100 Most Inspiring Women'
• 'We're Not Giving Up': The Radio Station for Afghan Women
• Competing In Dakar Rally 'Dream Come True' For Saudi Driver Dania Akeel
• Despite Assurances from the Taliban Afghan Girls' Despair as Taliban Confirm Secondary School Ban
Compiled by New Age Islam News Bureau
URL: https://www.newageislam.com/islam-women-feminism/education-afghan-women-blinken-malala-yousafzai/d/125924
--------
Education for Afghan women: US Secretary of State Blinken Meets with Women's Rights Icon Malala Yousafzai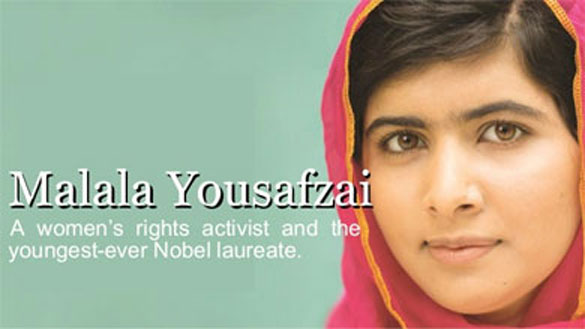 Malala Yousafzai
---
Andrew John Roesgen
07.12.2021
CHICAGO, United States
Malala Yousafzai, famously shot by the Taliban for going to school in 2012, decried on Monday the turnabout happening now under Taliban rule in Afghanistan, where freedoms of women and education opportunities have disappeared.
Facing the media, and meeting with US Secretary of State Antony Blinken in Washington D.C., the poised and newly married Yousafzai told Blinken: "You've mentioned that we're here to talk about equality in girls' education, but we know that Afghanistan right now is the only country where girls do not have access to secondary education."
It has been nearly 100 days since the US pulled out of Afghanistan after a 20-year military and diplomatic presence, a presence that saw women and girls make tremendous educational and professional strides. But the returning Taliban have taken the country back to a male-dominated society, with few educational options for girls and women.
"Girls' education is a powerful tool for bringing peace and security," Yousafzai said, quoting from a 15-year-old Afghan girl's letter to her. "If girls don't learn, Afghanistan will suffer, too. As a girl and a human being, I need you to know that I have rights. Women and girls have rights. Afghans have the right to live in peace, go to school and play."
"This is the message of Afghan girls," Yousafzai told Blinken. "We hope that the US, together with the UN will take immediate actions to ensure that girls are allowed to go back to the schools as soon as possible, women are able to go back to work and all the humanitarian assistance that is needed for education there is provided."
Blinken praised Yousafzai, calling her an inspiration to girls and women and around the world, and promised that he would share the Afghan girl's letter with President Biden.
Blinken announced in October that the US was providing $144 million dollars in aid to Afghanistan, but most of that will go towards humanitarian needs. Blinken said the money would benefit the "people of Afghanistan", not the Taliban, but it does not appear the US can force any changes to Taliban rule that would see girls and women go back to getting educations.
Yousafzai was shot in her home country of Pakistan, then went on to become the youngest-ever winner of the Nobel Peace Prize in 2014. She now resides in England.
Source: Anadolu Agency
https://www.aa.com.tr/en/americas/us-blinken-meets-with-womens-rights-icon-malala-yousafzai/2440475
--------
Afghans Make Up Half of BBC List Of '100 Most Inspiring Women'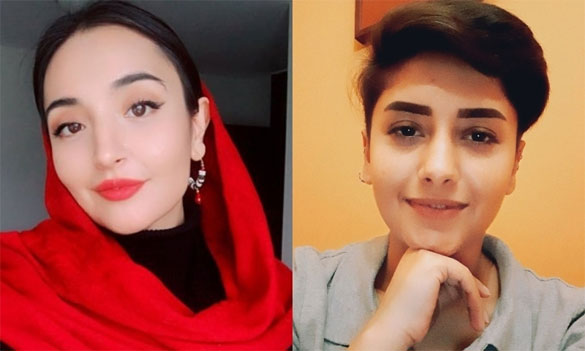 A combination photo of Afghan-Canadian entrepreneur Sara Wahedi (L) and former Afghan policewoman Zala Zazai (R). — Photos courtesy Twitter
----
December 8, 2021
KARACHI: The BBC has released a list of what it says the world's 100 most inspiring and influential women for 2021.
The list comprises women who are hitting "reset" — those who are playing their part in "reinventing our society, our culture and our world", according to the British news organisation.
Among the women on the list are Malala Yousafzai, the youngest-ever Nobel Peace Prize laureate, Samoa's first female prime minister Fiame Naomi Mata'afa, Prof Heidi J. Larson, who heads The Vaccine Confidence Project, and acclaimed author Chimamanda Ngozi Adichie.
Women from Afghanistan make up half of this year's list, some of whom appear under pseudonyms and without photos for their own safety.
The names on the list are: Lima Aafshid; Halima Aden; Oluyemi Adetiba-Orija; Muqadasa Ahmadzai; Rada Akbar; Abia Akram; Leena Alam; Dr Alema; Sevda Altunoluk; Wahida Amiri; Mónica Araya; Natasha Asghar; Zuhal Atmar; Marcelina Bautista; Crystal Bayat; Razia Barakzai; Nilofar Bayat; Jos Boys; Catherine Corless; Faiza Darkhani; Azmina Dhrodia; Pashtana Durrani; Najla Elmangoush; Shila Ensandost; Saeeda Etebari; Sahar Fetrat; Melinda French Gates; Fatima Gailani; Carolina García; Saghi Ghahraman; Ghawgha; Angela Ghayour; Jamila Gordon; Najlla Habibyar; Laila Haidari; Zarlasht Halaimzai; Shamsia Hassani; Nasrin Husseini; Momena Ibrahimi; Mugdha Kalra; Freshta Karim; Amena Karimyan; Aliya Kazimy; Baroness Helena Kennedy QC; Hoda Khamosh; Mia Krisna Pratiwi; Heidi J. Larson; Iman Le Caire; Sevidzem Ernestine Leikeki; Elisa Loncón Antileo; Chloé Lopes Gomes; Dr Mahera; Maral; Masouma; Fiame Naomi Mata'afa; Salima Mazari; Depelsha Thomas McGruder; Mulu Mefsin; Mohadese Mirzaee; Fahima Mirzaie; Tlaleng Mofokeng; Tanya Muzinda; Chimamanda Ngozi Adichie; Lynn Ngugi; Amanda Nguyn; Basira Paigham; Natalia Pasternak Taschner; Monica Paulus; Rehana Popal; Manjula Pradeep; Razma; Rohila; Alba Rueda; Dr Ruksana; Halima Sadaf Karimi; Roya Sadat; Shogufa Safi; Sahar; Soma Sara; Mahbouba Seraj; Elif Shafak; Anisa Shaheed; Mina Smallman; Barbara Smolinska; Ein Soe May; Piper Stege Nelson; Fatima Sultani; Adelaide Lala Tam; Sister Ann Rose Nu Tawng; Emma Theofelus; Sara Wahedi; Vera Wang; Nanfu Wang; Dr Roshanak Wardak; Ming-Na Wen; Rebel Wilson; Benafsha Yaqoobi; Malala Yousafzai; Yuma; and Zala Zazai.
Discussing Malala Yousafzai's inclusion in the list, a BBC article said: "The youngest-ever Nobel Peace Prize laureate… is a Pakistani girls' education activist and UN messenger of peace. She has spoken up for the right of young women to an education since she was 11.
"Her activism began with blogs for the BBC about living under Taliban rule in Pakistan and the ban on girls attending school. In October 2012, a gunman boarded her bus, looking for her, and shot her in the head.
"Following her recovery, she has continued her work as co-founder of the non-profit Malala Fund, aiming to build a world where every girl can learn and lead without fear."
Source: Dawn
https://www.dawn.com/news/1662518/afghans-make-up-half-of-bbc-list-of-100-most-inspiring-women
--------
'We're not giving up': The radio station for Afghan women
DECEMBER 8, 2021
From Taliban-controlled Kabul, Radio Begum is broadcasting the voices of women that have been muted across Afghanistan.
Station staff fill the airwaves with programming for women, by women: educational shows, book readings and call-in counselling.
For now, they operate with the permission of the hardline Islamists who regained power in August and have limited the ability for women to work and girls to attend school.
"We're not giving up," pledged 48-year-old Hamida Aman, the station's founder, who grew up in Switzerland after her family fled Afghanistan a few years after the Soviet Union invaded.
"We have to show that we don't need to be scared," said Aman, who returned after the ousting of the Taliban's first regime in 2001 by US-led foreign forces.
"We must occupy the public sphere."
– 'Vessel for voices' –
The station was founded on March 8, International Women's Day, this year, five months before the Taliban marched into Kabul and finalise their defeat of the US-backed government.
From a working-class neighbourhood, it continues to broadcast across Kabul and surrounding areas — and live on Facebook.
"Begum" was a noble title used in South Asia, and it now generally refers to a married Muslim woman.
"This station is a vessel for women's voices, their pain, their frustrations," Aman said.
The Taliban granted permission for the broadcaster to stay on the airwaves in September, albeit with new curbs.
Radio Begum's 10 or so employees used to share an office with male colleagues who worked on a youth radio station.
Now they are separated. Each sex has its own floor and a large opaque curtain has been installed in front of the women's office.
Pop music has been replaced with traditional songs and "quieter music", Aman said.
Nevertheless, staff members said working at the station was a "privilege", with many women government workers barred from returning to offices.
The Taliban have yet to formalise many of their policies, leaving gaps in how they are implemented by the group across the country.
Most public secondary schools for girls have been shut since the takeover.
But twice a day the radio studio resembles a classroom.
When AFP visited, six girls and three boys — all aged 13 or 14 — pored over their books as the presenter gave an on-air lesson about social justice.
"Social justice is opposed to extremism," said the 19-year-old teacher, a student of journalism until a few months ago.
"What is justice in Islam?" she asked.
– 'Golden opportunity' –
Mursal, a 13-year-old girl, has been going to the studio to study since the Taliban blocked some secondary schools from reopening.
"My message to girls who can't go to school is to listen to our program carefully, to use this golden chance and opportunity," she said.
"They may not have it again."
There are also on-air lessons for adults.
In one such lesson, station director Saba Chaman, 24, read the autobiography of Michelle Obama in Dari.
She is particularly proud of a show where listeners call in for psychological counselling.
In 2016, just 18 percent of women in Afghanistan were literate compared with 62 percent of men, according to the former education ministry.
"Women who are illiterate are like blind people," one woman who cannot read said on air.
"When I go to the pharmacy they give me expired medication. If I could read they wouldn't do it."
A few months after the Taliban seized power, Aman met with spokesman Zabihullah Mujahid, and told him the radio was "working to give a voice to women".
He was "very encouraging", she said.
But the future is uncertain.
In September, the country's leading independent TV station Tolo News reported that more than 150 outlets had shut over restrictions and financial troubles.
Radio Begum is no longer taking in advertising revenue.
If no funds are received within three months, the voices of these women will disappear from the airwaves of Afghanistan, Chaman said.
"My only cause for hope at the moment is knowing that I'm doing something important in my life to help Afghan women."
Source: Daily Times Pakistan
https://dailytimes.com.pk/852158/were-not-giving-up-the-radio-station-for-afghan-women/
--------
Competing in Dakar Rally 'dream come true' for Saudi driver Dania Akeel
December 08, 2021
RIYADH: Dakar Rally 2022 participant Dania Akeel's determination for motor racing has remained unwavering, despite injuries and a horrific accident she had while racing, and has called qualifying for the race in Saudi Arabia as her "greatest dream come true."
A Saudi champion, Akeel was the winner of the T3 category at the 2021 FIA World Cup for Cross Country Bajas, and is participating alongside her French co-driver Antonia De Roissard in the sixth and final stage of this season's FIA World Cup for Cross-Country Rallies in Hail on board her car "Can Am Maverick X3", which falls within the T3 category.
This participation is considered a test for her and her co-driver in preparation for the Dakar Rally and a chance she has been eagerly waiting for to represent her homeland.
Akeel also sees it as an opportunity to discover and familiarize herself with the stages' terrain and roads. Through this participation, she seeks to train and test herself, her co-driver and her car, the same car she will be driving during her most important race in January.
"The Hail rally is a great opportunity for me and my team to prepare for the Dakar Rally, which is the greatest dream that has accompanied me since I started getting into motorsports. This dream is now closer than ever and the Hail rally will be a perfect opportunity for me to train and familiarize myself with some of Dakar Rally's stages," Akeel said.
Akeel made history as the first female Saudi driver to participate in a round of an international desert rally, which was held in the Eastern Province as part of the third round of the FIA World Cup for Cross Country Bajas, along with the first round of the Saudi Desert Rally Championship.
Akeel took the first steps of her career in 2019, as she participated in races on circuits in the United Arab Emirates and Bahrain. During her first season, she had an accident on the Bahrain International Circuit. This resulted in a pelvis fracture, which made her take a break from motorsports for a while.
She says that the world of cars and motorcycles is very difficult and challenging. It requires strength, courage and a sense of adventure, especially for women, who need to have a strong will because this sport is mostly male-dominated. However, she never backed down and kept pushing forwards to fulfil her ambitions because Saudi women are currently living in the era of women empowerment. She also wished that more girls and women would get into this sport in the Kingdom.
Akeel hopes that Saudi women will fulfil their wishes in order to score achievements in the name of the homeland. She also hopes that Saudi women will be able to achieve their dreams in all sports and fields.
Source: Arab News
https://www.arabnews.com/node/1982736/sport
--------
Despite Assurances from the Taliban Afghan Girls' Despair as Taliban Confirm Secondary School Ban
December 8, 2021
Teenage schoolgirls in Afghanistan have told the BBC of their growing desperation as they continue to be excluded from school more than three months after the Taliban takeover.
"Not being able to study feels like a death penalty," says 15-year-old Meena. She says that she and her friends feel lost and confused since the closure of their school in north-eastern Badakhshan province.
"We have nothing to do apart from housework… we are just frozen in one place," says Laila, 16, whose school in Takhar province shut the day the Taliban seized power in August.
BBC interviews with students and headteachers in 13 provinces show girls' frustration at still being barred from secondary school, despite assurances from the Taliban that they would be able to resume their studies "as soon as possible".
Teachers, nearly all of whom had not been paid since June, said the situation was affecting girls' wellbeing, with one blaming the closures for the underage marriage of three of her students.
One headteacher from Kabul, who stays in touch with her students via Whatsapp, said: "The students are really upset, they're suffering mentally. I try to give them hope but it's hard because they are exposed to so much sadness and disappointment."
Teachers also reported a worrying drop in attendance among girls in primary schools, who have been allowed to return. They said that increased poverty and security concerns meant families were reluctant to send younger girls to school.
Officials have previously avoided confirming that this was an outright ban. But in an interview with the BBC, acting Deputy Education Minister Abdul Hakim Hemat confirmed that girls would not be allowed to attend secondary school until a new education policy was approved in the new year.
Despite this, some girls' schools are reported to have re-opened after negotiating with local Taliban officials.
In the northern city of Mazar-i-Sharif in Balkh province, one head teacher told us that there were no problems and girls were attending school as normal.
But another student in the same city told the BBC that a group of armed Taliban fighters had been approaching schoolgirls on the streets, telling them to make sure their hair and mouths were not visible. As a result around a third of her class had stopped coming to school.
"We have our life in our hands when we leave home. People don't smile. The situation is not calm. We are shivering with fear," she said. The Taliban government ordered boys to return to secondary school in September, but made no mention of girls.
Headteachers in three different provinces told the BBC that they had reopened schools, only to be told to close by local officials without explanation a day later. Girls had been turning up at the school gates every day asking when they would be allowed to return, one said.
Laila, who wants to be a midwife or doctor, says she keeps her school equipment clean and tidy in her room, not allowing anyone to touch it, waiting for the moment when it can be put to use again.
"When I see my clothes, books, scarf and my shoes, all new just sitting in my cupboard without being used, I get very upset. I never wanted to sit at home," she says.
Meena wants to be a surgeon, but doubts whether she'll be allowed to continue her studies.
She remembers lining up in the playground at school and laughing with her friends, where they would sing the national anthem before going to lessons.
"Whenever I think about those moments, I feel upset and hopeless about our future," she says.
Mr Hemat said the current situation was a temporary delay while the government ensured a "safe environment" for girls to go to school.
He emphasised the need for girls' and boys' classes to be segregated, something which is already common throughout Afghanistan.
Girls and women were banned from schools and universities during the last Taliban rule between 1996 and 2001.
This year's closures have already had a permanent effect on the lives of some girls, according to testimony from one head teacher in south-eastern Ghazni province.
"At least three of our girls aged 15 and under have been married off underage since the Taliban took over," said the teacher, who feared others would follow as their families grow frustrated seeing them at home "doing nothing".
Unicef has said that it is deeply concerned about reports that child marriage is on the rise in Afghanistan.
One headteacher in central Ghor province told the BBC that the issue of school closures was irrelevant compared given the other problems facing her students.
"I think many of our students are going to die… They don't have enough food to eat and they cannot keep themselves warm. You cannot imagine the poverty," she said.
Source: BBC News
https://www.bbc.com/news/world-asia-59565558
--------
URL: https://www.newageislam.com/islam-women-feminism/education-afghan-women-blinken-malala-yousafzai/d/125924
New Age Islam, Islam Online, Islamic Website, African Muslim News, Arab World News, South Asia News, Indian Muslim News, World Muslim News, Women in Islam, Islamic Feminism, Arab Women, Women In Arab, Islamophobia in America, Muslim Women in West, Islam Women and Feminism