New Age Islam News Bureau
03 March 2022
• All Appointed Egyptian Female Judges To Sit On Judiciary Podium For 1st Time March 5th
• British Council to Hosts Second Virtual Women Of The World Festival in Pakistan
• War-Related Sexual Violence Persists Despite UN Efforts
• Nigerian Women Protest Parliament Rejection of Pro-Equality Bills
• Women Up: EU-Turkish Project Aims to Bolster Female Employment
• Egypt Jumps 5 Points in World Bank Report on Women Empowerment
• 'The Conversion': How a New Film On 'Love Jihad' Touches Raw Nerves and Shakes One's Conscience
Compiled by New Age Islam News Bureau
URL: https://www.newageislam.com/islam-women-feminism/uae-lana-nusseibeh-taliban-compatible-women/d/126500
--------
Educating Women 'Fully Compatible' With Islam - UAE Envoy Lana Nusseibeh Tells Taliban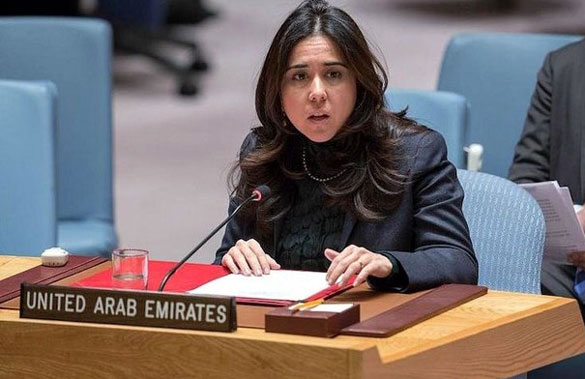 UAE Ambassador Lana Nusseibeh to UN
-----
Mar 02, 2022
The UAE's ambassador to the UN Lana Nusseibeh on Wednesday urged the Taliban in Afghanistan to let girls inside classrooms, saying educating women was "fully compatible" with Islam.
Ms Nusseibeh said the UAE "stands by the women and girls of Afghanistan", who have faced restrictions on their education and job opportunities since the Taliban routed the US-backed government and swept back to power last August.
She spoke with reporters alongside the UN ambassadors from Norway, Albania and Brazil before the UAE led its first UN Security Council meeting since taking over the 15-member body's rotating presidency on Tuesday.
"Religion cannot be used to justify extremist ideology or to excuse discrimination against women and girls," Ms Nusseibeh said in New York.
"The UAE stands by the women and girls of Afghanistan and as they demand their rights to work, to education and to participate in public life, which is fully compatible with the religion of Islam and with our culture."
The Taliban have rolled back women's rights gains made during the two decades of foreign involvement in the country, excluding many women from the workplace and limiting travel unless accompanied by a close male relative.
Most girls have been barred from attending school beyond the age of 12 or 13. The militant group says that all girls will be allowed to return to classrooms later in March.
"We're strongly committed to maintaining that women and girls have full access to education, the workplace and public life and will vigorously pursue this objective," said Ms Nusseibeh.
This could be achieved by "stressing that their empowerment and protection are not just a moral and an ethical duty, but a necessity for building a peaceful and stable Afghanistan", she added.
Later, addressing the council, the UN's envoy to Afghanistan Deborah Lyons expressed concern over women protesters who were rounded up by Taliban fighters last month and "disappeared", released only after a public outcry.
"Although they were released, another group of women was arbitrarily arrested and remains in detention," said Ms Lyons.
"We are concerned by restrictions on women and girls' fundamental rights, extrajudicial killings, enforced disappearances and arbitrary detention, respect for minorities, and freedoms of assembly and expression."
The UAE, Albania, Brazil, Gabon and Ghana joined the UN council for two-year terms beginning on January 1, meaning they can take part in meetings, vote on resolutions and help draft official statements.
Members take turns in alphabetical order to hold the council's presidency each month, during which they manage the agenda, preside over meetings and decide on topics for debate.
Source: The National News
https://www.thenationalnews.com/world/2022/03/02/educating-women-fully-compatible-with-islam-uae-envoy-tells-taliban/
--------
All Appointed Egyptian Female Judges To Sit On Judiciary Podium For 1st Time March 5th
02 Mar 2022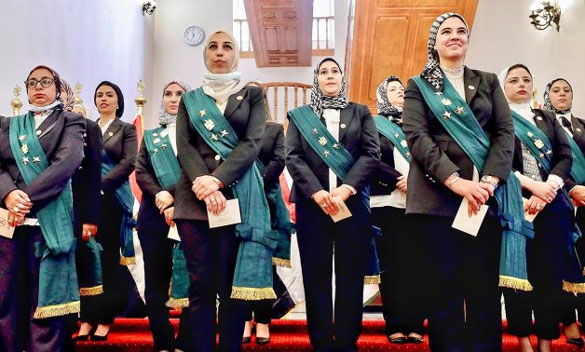 In a historic moment, 98 women in Egypt have been sworn in as the first women judges in the country's State Council, one of its main judicial bodies that had previously been all male.
-----
CAIRO - 2 March 2022: All female judges, who were recently appointed at the State Council, will sit on the judiciary podium with their fellow judges as of March 5th for the first time, marking a historic move by Egypt to empower women with powers and competencies as judges.
In October 2021, a number of women judges arrived at Egypt's State Council to sworn-in, to be the first batch of female members at the council.
In March 2021, a decision was issue to appoint 98 women judges at the State Council and the prosecution for the first time, in implementation to the directions of the President Abdel Fatah al-Sisi, and in line with the country's plan to empower women to reach different positions.
On June 3, the Egyptian Supreme Council of Judicial Bodies made the historic decision to approve women's appointments as judges and prosecutors to the Administrative Judiciary.
The appointed female judges will occupy a position of (delegate) or a position of (deputy) in the Council.
Ahead of taking the oath, women judges expressed their happiness with what they considered as a great historical incident.
"The State Council is the bulwark of rights and freedoms.. we swear that we live up to the responsibility, and preserve the rights of Egyptian citizens," said Counselor Iman Sharif before she was sworn in.
For Counselor Hind Ahmed, she said "this is a great day to us to be the first batch of female members of the council, which was established in 1946, and we hope to be a good addition to the council.. the appointment is a victory for Egyptian women."
Source: Egypt Today
https://www.egypttoday.com/Article/1/113380/All-appointed-Egyptian-female-judges-to-sit-on-judiciary-podium
--------
British Council to hosts second virtual Women of the World festival in Pakistan
March 03, 2022
Karachi: The British Council, the UK's international organisation for cultural relations and educational opportunities, in partnership with the WOW Foundation, a UK based independent organisation working to build, convene and sustain a global movement to advance the empowerment of women and girls, and curating partners Entrepreneurship and Community Development Institute (ECDI) and Olomopolo Media are set to host the second virtual edition Women of the World (WOW) festival in Pakistan, on 5 and 6 March.
With the theme of 'Rani', the two-days festival explores the many facets of the female identity, and will feature critical conversations on leadership, allyship, and accountability in a post pandemic world while also celebrating progress made toward a more equitable future.
This will be done through panel discussions, interactive workshops, talks, performances, children's storytelling and more. Like last year, WOW Virtual Pakistan 2022 will also have 'check-ins' hosted Sania Saeed and Mira Sethi in between sessions to help navigate the various aspects of the festival and will host some surprise 'guests' as well.
WOW Virtual Pakistan 2022 will be opened virtually by keynote speakers Senator Sherry Rehman and Jude Kelly CBE, Founder and director, WOW Foundation.
Commenting on the significance of the festival, Laila Jamil, Director Arts, British Council Pakistan said: We are so pleased to have put together this festival with our curators. It is a sensitively curated programme that offers great insight into contemporary Pakistani concerns and highlights the inspiring work being done by women and non-binary people across a variety of sectors.
Source: The News Pakistan
https://www.thenews.com.pk/print/938091-british-council-to-hosts-second-virtual-women-of-the-world-festival-in-pakistan
--------
War-related sexual violence persists despite UN efforts
DR. ABDEL AZIZ ALUWAISHEG
March 02, 2022
During her visit to the region this week, the top UN official in charge of combating sexual violence during conflicts made an appeal for support of the organization's efforts to deal with this scourge. Regrettably, the Middle East's many conflicts have witnessed unspeakable atrocities targeting women and girls. On Monday, when the UN Security Council adopted Resolution 2624, describing the Houthi militia in Yemen as a "terrorist group," the council cited its policy of sexual violence and repression against politically active and professional women.
The UNSC resolution condemned the Houthis' "sexual and gender-based violence, including sexual violence in conflict and torture, and particularly in detention facilities," and stressed the need for sufficient and appropriate protections for women and girls in refugee camps and elsewhere, as well as for remedy and assistance for survivors of sexual violence.
Resolution 2624 was issued under Chapter VII of the UN Charter, thus making it directly enforceable and binding on all nations. It further condemned "in the strongest terms" Houthi violations of international humanitarian law and international human rights law, as well as human rights abuses, "including those involving conflict-related sexual violence in Houthi-controlled areas."
The resolution was presented by the UK and all five permanent members voted in favor. It reaffirmed that sexual violence in armed conflict is a violation of international law and could constitute a "sanctionable act" that threatens the peace, security or stability of Yemen.
Pramila Patten, the UN's undersecretary-general and special representative of the secretary-general on sexual violence in conflict, sought support from the Gulf nations.
While gender-based violence is also prevalent during peacetime, conflicts and situations of instability exacerbate preexisting patterns of violence against women and girls because of the breakdown in law and order during conflicts and lack of police protection. The problem is further intensified when populations are driven from their homes, rendered as internally displaced in their countries or refugees in other countries.
Gender-based violence also continues even after conflicts have ended due to the weak rule of law, the availability of weapons, and breakdown of social and family structures. The trafficking of women and girls thrives in such environments. And the lack of delivery of essential services experienced during conflict and afterwards can have a disproportionate impact on vulnerable populations, including women and girls.
Conflict-related sexual violence thrived in areas under Daesh control in the Middle East, in areas where Boko Haram operated in Africa and in Houthi-controlled areas in Yemen. There have also been credible reports of sexual violence from the Congo, Central African Republic, Ethiopia, Myanmar and elsewhere. Regular forces, militias and terrorist groups have been implicated in these reports. In the 1990s, there were persistent reports of horrific sexual violence in the Bosnia-Herzegovina conflict, especially by Serbian militias.
The conflict in Ukraine has raised the alarm once again about another potential wave of sexual violence. In 2017, the Office of the UN High Commissioner for Human Rights issued a report covering conflict-related sexual violence in Ukraine for the period from March 14, 2014, to Jan. 31, 2017. While it could not find evidence that sexual violence was used deliberately for strategic or tactical ends in the armed conflict, it nevertheless documented many cases of sexual violence committed in places of detention or deprivation of liberty. It found that cases of sexual violence were usually underreported, including because of the stigma and trauma associated with it. The OHCHR noted an "overwhelming lack of effective remedies for victims of conflict-related sexual violence. Access to services and justice is particularly limited to survivors living in the territory controlled by armed groups." The problem persisted beyond that period, according to a November 2020 report by Amnesty International about what it described as an "epidemic of violence against women in conflict-torn east Ukraine."
The UN has adopted numerous strategies to combat conflict-related sexual violence on both the prevention and accountability aspects. In 2019, the UNSC strengthened justice and accountability for survivors of such violence and adopted a survivor-centered approach to the prevention and response to these crimes. Its resolution 2467 established a useful instrument in the efforts to eradicate them by stressing prevention through justice and accountability and affirming, for the first time, that a survivor-centered approach must guide every aspect of the response.
Sexual violence persists as a tactic of war and terrorism and there is, unfortunately, a centuries-old culture of impunity in many regions. To help change that, national and international efforts must be intensified to reaffirm a culture of accountability and increase the cost and consequences for those who commit, command or condone sexual violence in conflict.
The UNSC now requires that conflict-related sexual violence is addressed in all UN peacemaking, peacekeeping and peace-building initiatives, including in the context of security and justice sector reform efforts and in the negotiation of peace agreements and ceasefire verification mechanisms.
The council has called for the provision of reparations for survivors as well as livelihood support to enable them to rebuild their lives and support their families, including the children born of sexual violence in conflict, who are also stigmatized and suffer in silence and shame. Some are rendered stateless by denying them the citizenship of their mothers, leaving them vulnerable to recruitment and radicalization by armed groups.
Despite these efforts, the problem persists. As conflicts erupt around the world, the prospect of associated sexual violence is there. Financial, administrative and legal support for those efforts, nationally and at the UN level, is urgently needed to control this epidemic and, hopefully, eradicate it altogether.
• Dr. Abdel Aziz Aluwaisheg is the GCC Assistant Secretary-General for Political Affairs & Negotiation, and a columnist for Arab News. The views expressed in this piece are personal and do not necessarily represent GCC views.
Source: Arab News
https://www.arabnews.com/node/2034371
--------
Nigerian women protest parliament rejection of pro-equality bills
By Ope Adetayo
2 Mar 2022
Nigerian women have converged at the country's parliament in Abuja to protest its decision to vote against the adoption of five gender bills.
As early as 8am on Wednesday, hundreds of women showed up at the National Assembly Complex in the Nigerian capital to demonstrate against the Senate's decisions at yesterday's constitution amendment session.
''I am here [at the protest] because I am angry," Nimisire Emitomo, a 25-year-old writer, who joined others to sing and chant about Nigerian legislators neglecting their concerns at the parliament gates. "When I saw the vote yesterday, the first thing that came to my mind is why do they hate us so much? They are literally saying we are second-class citizens,''
After two years of deliberations, the legislature had voted on a series of bills to amend the controversial 1999 constitution, adopted during the transition from military rule to democracy that year.
One of the amendments, if passed, would have granted citizenship to foreign-born husbands of Nigerian women; the Nigerian constitution already confers automatic citizenship on foreign-born wives of Nigerian men. Another would have given a woman the right to become indigenes of their husband's state after five years of marriage.
There were also provisions to assign 35 percent of legislative seats to women, as well as reserve 35 percent of political party leadership, for women.
Protesters said the rejections have pushed back years of efforts by female lawmakers, lobbyists and activists.
For months, Chioma Agwuegbo, executive director of TechHerNG and other activists had held consultations on the bills with legislators, civil society groups and various other stakeholders. All of their efforts ended up being futile.
'They shut the bills down with a vehemence that actually scares us,'' said Agwuegbo, one of the organisers of the protest. ''The reason why women are out today and tomorrow and keep having this conversation is because women are not just good only for votes. You cannot lead us without us.''
Women and girls make up nearly half the entire country's population in Nigeria but are grossly underrepresented in Nigeria's political space. Only 19 of the 469 legislators currently serving in Nigeria's bicameral legislature – a meagre 4 percent – are female.
No woman has ever been elected governor or president and only a handful of cabinet appointments are handed to women. Consequently, the West African state is ranked 180 out of 190 according to the Inter-Parliamentary Union.
Tuesday's vote was the fifth attempt to review the 1999 constitution since its adoption. The latest review began in 2020 and the committee overseeing the amendments was led by Deputy Senate President Ovie Omo-Agege. It submitted a total of 68 bills last week.
Of the 68 bills voted on, 49 were passed, including a bill on financial autonomy for local governments, Nigeria's third tier of governance. A bill to cap the timeline in prosecuting criminal and civil cases was also rejected.
Activists have said the vote against bills granting women more autonomy was symptomatic of what is still a deeply conservative society.
''It is clear that [the rejection of the bills] is a continuation of patriarchal structure in the society," Ayisha Osori, director of Open Society Foundations, told Al Jazeera. "As diverse as Nigeria is, in terms of how divided we seem to be when it comes to ethnic, religious and class divides, one thing that unites Nigerians more than anything is the common hatred for women."
Sponsors and lobbyists of gender-related bills usually face an uphill battle in the legislature due to religious sentiments. Last year, a similar bill seeking to promote gender equality in employment and property inheritance was discarded for the third time after male senators from the northern region complained that such bills were ''anti-Islam".
To enact constitutional changes, the vote results have to be approved by a two-thirds majority of the 36 state parliaments and then sent to the president for assent. The protesting women are asking that Tuesday's decisions be reviewed before that step is taken.
Source: Al Jazeera
https://www.aljazeera.com/news/2022/3/2/nigerian-women-protest-parliament-rejection-of-pro-equality-bills
--------
Women Up: EU-Turkish project aims to bolster female employment
MAR 02, 2022
Turkey's efforts to boost women's employment, which still lags behind men, continue with a new project. The Social Security Institution (SGK) teamed up with the European Union (EU) for the Women Up project to give women more opportunities in the business world.
Women Up provides a maximum of 320 euros ($355) allowance to female employers for hiring women, on the condition that the cost of recruits will not exceed 65% of total costs. By 2022, employers will be provided with a monthly stipend of around $282 (TL 3,984). The project will continue for 32 months.
Donations will be available for employers and employees in the provinces of Şanlıurfa, Aydın, Kahramanmaraş, the capital Ankara, Samsun, Denizli and Istanbul. The provinces were specifically picked based on the high number of female employers. Some 8,000 employers and employees will benefit from the project, which can be applied through Turkey's e-governance website.
SGK President Cevdet Ceylan said they aim to encourage female entrepreneurs, make them stronger against the competition and decrease unregistered women labor.
Women Up primarily caters to small businesses with nine and fewer employees and seeks to boost the number of women employees.
Ceylan said unregistered labor and lack of female labor were the primary issues Turkey's social security system faced. "Women's participation in the workforce is also important for economic growth, to reduce poverty. Compared to men, both in Turkey and in the world, women are comparatively less employed. However, compared to men, women are less employed in Turkey and globally. We have a social security law to introduce affirmative action for women, and Turkey is also pursuing various projects to boost women's employment," Ceylan noted.
He highlighted that the number of women with social security had reached about 5.1 million in late 2021, compared to about 1 million in 2002.
The applications to Women Up began on Feb. 21. Female employers are eligible to apply if they have nine employees at most or none at the moment and if they set up their business after March 5, 2012. Employers whose unpaid premium debt is less than gross minimum wage are also eligible for application. Authorities plan to give away free loans to 900 employers in Ankara, 500 in Samsun and 400 each in other provinces included in the project. Employers are also required to employ women aged 65 and below and should not be pensioners or related to the employer for eligibility.
Women's participation in the workforce is around 26%, according to official figures from 2020. It is far below the average of 48% in Organisation for Economic Co-operation and Development (OECD) countries and 62% in EU countries. The majority are employed in service and agriculture sectors, though Turkey seeks to diversify the employment statistics. Female entrepreneurs flourish in the country thanks to a string of incentives provided by the government and, in some cases like Women Up, jointly funded with the EU.
Also, to encourage more women to reenter the workforce after they gave up their careers to raise children, the government offers partial coverage of daycare costs for working mothers. It also increased the length of maternity leave for working women, and grandparents looking after the children also are entitled to allowances as part of the employment scheme. Other incentives include financial support for women's cooperatives and interest-free loans for female entrepreneurs.
Ceylan said at an event to introduce the project on Tuesday in the capital Ankara that the unregistered labor rate decreased more among women compared to men but unregistered labor was still higher in small businesses. Unregistered labor means financial losses for the country's macroeconomy and a lack of access for employees to social security benefits, something essential, especially for women who often depend on their spouses for a livelihood. Economic independence with social security is also essential for women, especially in light of domestic violence cases where women are sometimes forced to stay in a troubled relationship plagued by violence inflicted by their husbands and boyfriends due to a lack of economic means.
Source: Daily Sabah
https://www.dailysabah.com/turkey/women-up-eu-turkish-project-aims-to-bolster-female-employment/news
--------
Egypt Jumps 5 Points in World Bank Report On Women Empowerment
2 MARCH 2022
Egypt has scored 50.6 points in the World Bank's Women, Business and the Law 2022 report, up from the 45 points it got in the 2021 report, International Cooperation Minister Rania Al-Mashat said on Tuesday1/3/2022.
This score puts Egypt among the list of nations that embarked on positive measures to promote gender equality and women's empowerment and eliminate any practices depriving women of their rights, to serve the country's sustainable development efforts, the minister said.
The report depends on eight indicators structured around women's interactions with the law as they move through their careers: Mobility, Workplace, Pay, Marriage, Parenthood, Entrepreneurship, Assets, and Pension.
Highlighting Egypt's policies on women's empowerment and equality, the report cited a government strategy adopted in 2021 that had resulted in the prime minister issuing Decree No. 827/2021 to establish a "one-stop shop for protecting women victims of violence" to receive any violence reports or complaints and take a decisive action to address them.
As for the entrepreneurship indicator, Egypt made access to credit easier for women by prohibiting gender-based discrimination in financial services, the report says, noting that Egypt's score in the World Bank's entrepreneurship indicator accelerated to 100 in the 2022 report, up from 75 recorded in 2021.
Source: All Africa
https://allafrica.com/stories/202203020553.html
--------
'The Conversion': How a new film on 'love jihad' touches raw nerves and shakes one's conscience
Satya Dosapati
March 02, 2022
We all hear about 'love jihad' which is an issue that comesu p often in the news. Some states in India have laws relating to it and the topic gets a lot of chat on the social media. However, unless you see the upcoming film, The Conversion, the full impact cannot be grasped by an outside observer. It touches raw nerves and leaves you shaken.
The filmmakers seem to have taken enormous pains to script and enact the whole process of 'love jihad', how it starts, and what it leads to, usually a terribly helpless situation for the girl.
This is not unique to only Hindus; in fact, there are reports on how Christian girls are victims in states like Kerala and in Mangalore. According to a Hindustan Times report, between 2006 and 2009 there were 2,868 Kerala Christian girls who were victims of love jihad as reported by the Commission for Social Harmony and Vigilance of Kerala Catholic Bishops Council.
It is not only unique to Bharat, but also in countries like the UK Sikh and white girls were trapped and abused. In Rotterdam, UK, many Pakistani-origin Muslims abused 1,400 young white girls. Recently an orthodox Jewish woman in New York was duped by a Lebanese Muslim who convinced her that he was an orthodox Jew and this is being investigated by FBI and other agencies. Just few days ago in Khandwa Madhya Pradesh, a 15-year-old tribal girl in Kandha, Madhya Pradesh, was duped into marriage; she was gang-raped which they videotaped and then pressured to accept Islam.
What is 'love jihad'? According to a Hindu activists portal, it is "a holy war carried out by Muslim males/females using deceit (hiding their identity) and love as a weapon to marry non-Muslim persons with the sole purpose of converting them to Islam". There is nothing wrong if two adults consent and marry, but there is everything wrong if deceit and fake love is used to convert a woman. Violence against women happens in all communities. However, there is something sinister about faking for purposes of conversion and the eventual abuse that follows because the marriage is not out of true love.
The movie does not just cover the act of duping, feigning, marriage and conversion. It goes far deeper on certain practices of Islam in India such as triple talaq, nikah and halala that gives excuse for male family members to commit sexual abuse. When the intent of marriage itself is based on fake premises, there is a great chance for the girl to be abused. Worst, when the girl's family disowns her, the girl is completely at the mercy of the abusers. There is no one to look after the welfare of the girl and report any abuses. Many times the girl is terrified into accepting her fate with little future and cannot even dare to request help from friends and relatives.
In covering the whole contours of 'love jihad' and certain Islamic practices that abuse women, The Conversion has made enormous contribution to highlight this issue. We should not be shy of discussing things that are not comfortable. It is such healthy discussion that leads to abolishment of triple talaq. We need to investigate the institutional practice of 'love jihad', the practice of halala and even that of polygamy. It is a tragedy that it is happening even in the 21st Century and the longer we wait to openly discuss and address the more difficult it would get. The movie also conveys a very important lesson to the girl's parents: That rather than disowning your child, it is important to accept and be engaged with her, so that she is not abused in her marriage.
This movie, which is expected to release in April, needs to be seen by every young girl and parents, administrators and lawmakers so that we can discuss and deal with this scourge against young women.
The writer is a US-based activist who has played a critical role in the introduction of a paper trail for India's Electronic Voting Machines called VVPAT. Views expressed are personal.
Source: Firstpost
https://www.firstpost.com/india/the-conversion-how-a-new-film-on-love-jihad-touches-raw-nerves-and-shakes-ones-conscience-10423091.html
--------

URL: https://www.newageislam.com/islam-women-feminism/uae-lana-nusseibeh-taliban-compatible-women/d/126500
New Age Islam, Islam Online, Islamic Website, African Muslim News, Arab World News, South Asia News, Indian Muslim News, World Muslim News, Women in Islam, Islamic Feminism, Arab Women, Women In Arab, Islamophobia in America, Muslim Women in West, Islam Women and Feminism