New Age Islam News Bureau
18 November 2021
• Educating Arab Women about Their Bodies, Shattering Myths and Misinformation
• Bangladesh Woman Judge Sacked for Her Controversial Rape Remark
• Ignored Women Slam Qatar after Invasive Gynaecological Search at the Airport to Identify the Mother of a New-Born Abandoned In a Bathroom
• ICC Wants Afghanistan Women to Rise above Taliban Threat and Play Cricket like Their Men
Encourage Women's Participation in National Legislature: Indonesian Women's Congress
Compiled by New Age Islam News Bureau
URL: https://www.newageislam.com/islam-women-feminism/arab-women-myths-sex-education/d/125797
------
Educating Arab Women about Their Bodies, Shattering Myths and Misinformation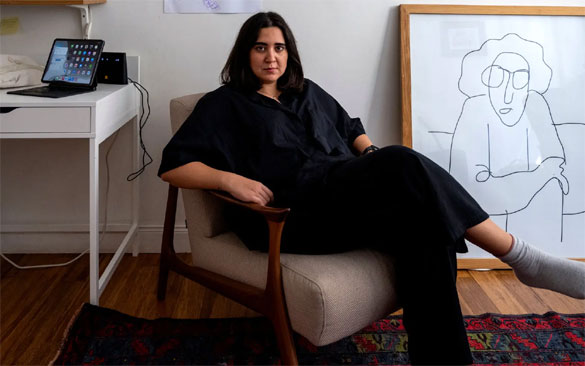 Nour Emam, also known by the web handle "motherbeing," hosts one of the leading platforms for sex education in the Arab world.Credit...Heba Khamis for The New York Times
-----
By Mona El-Naggar and Sara Aridi
Nov. 18, 2021
CAIRO — When NourEmam decided to devote herself to educating Arab women about their bodies, the subject was so taboo that one of her first challenges was figuring out how to pronounce the word "clitoris" in Arabic.
"I had never heard it," said Ms.Emam, 29, a women's health activist from Cairo. "No one uses it, so there's nowhere to find the right way to say it."
After careful research, now she knows, and so do her hundreds of thousands of followers on social media, where she hosts one of the leading platforms for sex education in the Arab world.
With formal schooling on sexuality minimal to nonexistent in much of the Middle East, and a patriarchal culture that has left many Arab women ignorant and ashamed of their own bodies, Ms.Emam and a growing number of activists have built online platforms to try to fill the gap.
Using the internet to circumvent social taboos and government censorship, they are educating Arab women about their bodies, shattering myths and misinformation, and in some cases changing women's lives.
In Cairo, Ms.Emam, known by the web handle "motherbeing," has posted hundreds of videos on Instagram and TikTok in which she discusses intimate subjects in a deliberately casual manner, sometimes while she's cooking. She started a podcast on sexual and reproductive health in March; the first episode, on orgasms, drew tens of thousands of listeners.
The website Mauj — a pan-Arab project run by women in several countries — publishes educational posts on sexual and reproductive health and sells mail-order vibrators, which are banned in many Arab countries.
"Sex Talk in Arabic," produced by a group of Arab women in the Middle East and expatriates, has drawn tens of thousands of followers on Instagram and Facebook for its sex ed graphics and videos and L.G.B.T.Q. advocacy. "Our main goal is to break down taboos and break down myths," says its founder, Fatma Ibrahim, 32.
Physicians like Dr. Sandrine Atallah, a sexologist in Beirut, Lebanon, and Dr. Deemah Salem, an OB-GYN in Dubai, United Arab Emirates, are taking to YouTube and Instagram to debunk myths and stereotypes about sexuality that are common throughout the region, like the belief that using a tampon takes away a woman's virginity.
"It's a moment," said Nancy Ali, a research associate at Sorbonne University in Paris who specializes in the study of gender and memory in the Middle East and North Africa. "Our culture and our language regarding sex is extremely euphemistic, so the idea of discussing sexual body parts in this direct way is new to us, let alone the fact that women are doing it."
At a time when social media is under fire for spreading misinformation, these initiatives and others like them are using the platform to counter misinformation, exploiting social media's ability to cut across class and national boundaries to reach Arab women throughout the region and beyond.
Taken together, advocates say, these sites and platforms may be the leading edge of a cultural shift, a kind of an "Our Bodies, Ourselves" revolution for the Arab world, but 50 years later and on your phone.
Arab states lag far behind most of the world in gender equality, including in the realm of reproductive health and sexual education.
About 40 percent of pregnancies in Arab countries are unintended, according to a 2018 study by the Guttmacher Institute. Female genital mutilation is prevalent in several countries. The region's teenage birth-rate is higher than average.
And according to a United Nations study, not a single Arab country offers comprehensive sex education in schools. Tunisia, one of the most socially liberal Arab countries, introduced a free sex ed app last year, but plans for a school sex ed program have stalled.
The new social media platforms are stepping in to provide factual information and a woman's point of view in an arena where patriarchal traditions, conservative religious doctrine and, more recently, online pornography have set the tone.
While their approaches vary, most focus on education about female anatomy, sex and dismantling mores seen as harmful to women.
One primary target is the religious belief that women have a duty to oblige their husbands' every sexual desire, a duty rooted in the saying attributed to the Prophet Muhammad that "the angels curse" a woman who refuses her husband. The activists seek to replace this obligation with a consent-based approach.
Another bubble they aim to burst is the popular conception in the Middle East that attaches family honour to a woman's virginity.
There has been pushback from conservatives, usually in the form of comments replying to the posted articles or videos.
"There's no way I'd let my sister or want my daughter to see things like that when they're still virgins, before they get married," said Ahmed Osama, 25, a computer engineer from Cairo who was upset about a post on masturbation. "Why bring awareness to things like that instead of how to be a good housewife or how to endure and tolerate and love? What happened to modesty and religion?"
Norhan Osama, 24, a customer support rep from Giza, Egypt, said that she appreciated the need for education but was concerned that these platforms take away "the shame and embarrassment" of doing something wrong.
"If you're not firm in your beliefs, you might walk away thinking it's OK to have sex when you're not married," she said. "It's sinful. That's the simple answer."
Perhaps the biggest difference with previous iterations of Arabic sex advice columns and TV programs is that the new platforms prize openness. They are without exception blunter and more explicit.
For Ms.Emam, speaking openly about women's sexuality — including getting women accustomed to hearing the word clitoris — is part of a broader mission to break what she described as an intergenerational cycle of trauma that has led many Arab women to feel like "our existence is wrong and shameful and sinful."
Not saying the word, she said, "was another way of distancing ourselves from truly connecting to our bodies, our heritage and our roots."
Ms.Emam was a full-time techno music DJ before she became a mother and developed postpartum depression, which led her to train as a doula, a professional who supports women giving birth, and from there to focus on reproductive health and sex education.
She is based in Egypt, but said that about 25 percent of her social media followers come from other countries, including Saudi Arabia, Iraq, the United Arab Emirates, Jordan and Morocco.
The effort appears to have filled a need.
Sarah el-Setouhy, 30, a petroleum economist in Cairo who attended Ms.Emam's "Mastering Your Cycle" class via Zoom, said she had suffered from painful periods. She said she had been taught "to just live with it" and, a common myth, that the pain would subside when she got married and had children.
Ms.Emam told her that the pain could be caused by a number of factors and encouraged her to see a doctor.
"She gives you the confidence to understand your body," Ms. el-Setouhy said. "I have worked a lot on myself since then."
Bit by bit, such exchanges will transform society, Ms.Emam contends.
"I think women have started to wake up," she said. "And we've amplified each other's voices."
As if to illustrate the connectedness among the various efforts across the region, she jumped up to fetch a gift she had received in the mail: a vibrator from Mauj.
Mauj ("waves" in Arabic) was founded last year by two 32-year-old women who asked not to be identified over fears of repercussions over their work. When they were growing up, the founders said, neither of them received sex education beyond a quick word on menstruation and warnings not to get pregnant.
In an effort to create "a judgment-free space" to talk about topics long suppressed, Mauj has a video series inviting women to share their experiences anonymously with issues like sex, body shaming and sexual harassment.
Unlike the other platforms, Mauj has also developed a product, a vibrator designed for Arab women who value modesty as much as sexual desire. For the sake of discretion, it resembles a tear drop and it fits in the palm of a hand.
Vibrators are not openly sold in Arab countries, and some nations strictly forbid them. The United Arab Emirates, for one, prohibits them under the ban on "items that contradict Islamic faith and public morals."
The Mauj founders see their vibrator as an extension of their educational mission: They created it to inspire women to become more curious about their bodies, they said, and to puncture the common notion that male pleasure trumps female pleasure.
Dr. Salem, a Dubai OB-GYN, created an Instagram account aimed at conservative, Muslim women who are too shy, embarrassed or afraid to see a gynecologist in person.
"In the Middle East, there is this misconception that girls really should not see the gynecologist until they get married," she said. "Many go years without visiting one — if at all — over fear that undergoing a pelvic exam would lead to a loss of virginity."
Women and girls send her questions over Instagram, and while she cannot give treatment or diagnoses over the app, she offers general advice, knowing that many of her correspondents may never visit a clinic.
Another common problem she has found is that the emphasis on celibacy before marriage, often instilled through fear, can carry over into the marriage. A virgin suddenly finding herself lying next to her husband on her wedding night, she said, may be overcome with fear and discomfort, which can manifest physically in vaginismus, a condition in which vaginal muscles involuntarily contract during penetration.
For some women, the new platforms have changed their lives in small but powerful ways.
Salma, 32, an Egyptian high school teacher who preferred not to use her last name, said a class she took with Ms.Emam left her feeling more comfortable about her body.
When she gets her period, for instance, she no longer feels the need to conceal a pad on the way to the bathroom. "Because why do I have to hide?" she said.
She has found her body to be a source of pleasure.
"I used to feel like masturbating was something shameful," she said. "But now I know that it's normal and natural, something to do and enjoy."
And she knows the name for it in Arabic.
Source: New York Times
https://www.nytimes.com/2021/11/18/world/middleeast/sex-ed-arab-women-mideast.html
------
Bangladesh Woman Judge Sacked for Her Controversial Rape Remark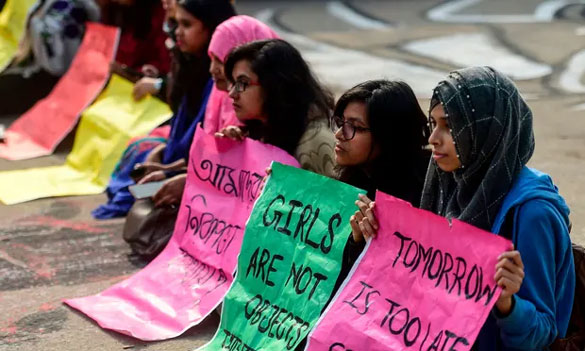 For representative purpose/ AFP via Getty Images
-----
November 18, 2021
The Supreme Court of Bangladesh has relieved a woman judge of court duties after she made a controversial observation in her judgement that the police should not register a rape case 72 hours after the offence was committed, according to media reports.
Judge Begum MosammatKamrunnaharNahar of Dhaka's Seventh Women and Children Repression Prevention Tribunal, observed while presiding over a 2017 case in which five youngsters were accused of allegedly raping two university students at an upscale hotel in Dhaka's Banani area, the Dhaka Tribune reported.
On Sunday, Supreme Court spokesman Mohammad Saifur Rahman said in a press release that Judge Kamrunnahar has been relieved of her court duties, The Daily Star newspaper reported on Sunday.
The decision to suspend the judge was taken in consultation with other senior justices, the statement said.
"The Supreme Court sent a letter to the Ministry of Law today to temporarily revoke judicial powers and withdraw her from her current workplace and assign her to the Ministry of Law's Law and Justice Department," it added.
During the hearing on November 11, Judge Kamrunnahar acquitted all the five accused, citing lack of evidence and observed: "The police officer wasted the public's time and no rape case should be filed 72 hours after the crime." The judge added that "it proved that the university students had consensual sex before the incident," bdnews24.com quoted her observation.
While addressing questions from the press at the Secretariat on Sunday, Law Minister AnisulHuq said, "This observation gives wrong instructions to law enforcement agencies. Hence, it was necessary to take action against the judge. This too will go ahead in a completely legal way." Judge Kamrunnahar will also be served a show-cause notice, asking her to explain the reasons for making such an observation, Mr.Huq noted.
Her observations triggered an uproar in Bangladesh.
"Let me make one thing clear I don't want to talk about the content of the verdict. But her observation asking the police not to record a case 72 hours after rape is totally illegal and unconstitutional," Mr.Huq said.
BNP Secretary General MirzaFakhrul Islam Alamgir said that the Banani rape case verdict is an insult to the women of this country, the Dhaka Tribune report said.
The brutal incident had taken place and we have proof of it in the case files and in the newspapers. So, why have all the accused been acquitted by the court?" he asked.
On March 28, 2017, the two victims were raped in two separate rooms of the plush Raintree Hotel, according to a Dhaka Tribune report.
On May 6, 2017, more than a month after the incident, the victims filed a case with the Banani police station.
On June 8, 2017, the police filed a chargesheet against all the five accused. Police completed recording testimonies in the case on August 22 this year.
Source: India Today
https://www.indiatoday.in/world/story/bangladesh-woman-judge-controversial-remark-rape-sacked-1878085-2021-11-18
------
Ignored Women Slam Qatar after Invasive Gynaecological Search at the Airport to Identify the Mother of a New-Born Abandoned In a Bathroom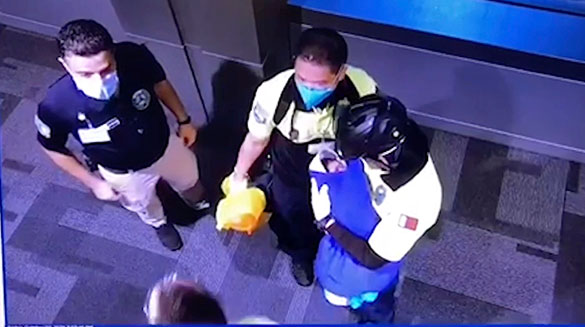 Officials care for the abandoned baby at Hamad International Airport in this security footage from October last year. (AP pic)
-----
November 17, 2021
BRISBANE: One of the women pulled off a plane at Doha airport and forced to undergo an invasive gynaecological search told AFP today that she feels "disrespected and disregarded" by Qatari authorities and is still "terrified" of travelling a year later.
The French woman in her fifties, who asked not to be named, was among a group who were subjected to intrusive examinations in October 2020 as authorities tried to identify the mother of a newborn abandoned in an airport bathroom.
Seven women are now launching legal action against Qatar Airways and Qatari authorities, seeking redress for an ordeal that sparked condemnation and global attention ahead of the country hosting the 2022 World Cup.
The woman said she remained "absolutely terrified" at the thought of travelling again.
"I don't think that there's been a single day when I haven't thought about it," she told AFP.
"It's still very much present in my mind."
She was among a group of female passengers escorted off a Sydney-bound plane late at night without explanation.
The woman said she grew increasingly nervous as they were led through Hamad International Airport and split into smaller groups, before being taken to the tarmac where armed officers stood near several parked ambulances.
"It was intimidating because there were a lot of policemen around and they all (had) heavy guns," she said.
Finally, an official told the assembled women they would be checked to see if one of them was the mother, sending her into "panic mode" at the thought of the gynaecological examination.
"I didn't feel, and I think that none of the women felt, that we had a choice," she said.
"They didn't ask for consent, they didn't say 'You have a right to say no' … they just said you do that, and then you go back to the plane."
Women on 10 Qatar Airways flights from Doha were subjected to the searches, including citizens of France, New Zealand and Australia, where the legal case is now being brought.
The woman, who was travelling alone, said the experience was "traumatic" and left the affected passengers in shock.
'We've been disrespected'
Facing potentially devastating commercial and reputational damage when the incident became public, Qatar last year vowed to guarantee the future "safety and security" of passengers.
The country's prime minister issued a public apology, while an airport police officer who oversaw the searches was reportedly convicted.
But the woman said she had not been contacted by the airline, airport or Qatari authorities in the wake of the incident, while fellow passengers had been similarly ignored.
Qatar Airways directed AFP's requests for comment to the Qatari government, while the country's embassy in Canberra did not respond.
The woman said she wanted a personal, written apology as well as compensation and evidence that Doha airport had overhauled its processes.
"We don't want retaliation, but we want to be acknowledged. Because so far we feel we've been disrespected and disregarded and we want someone to be accountable for that," she said.
Qatari officials said apologies had been conveyed through direct channels with Australia, while training was rolled out to airport staff to ensure the incident was not repeated.
The woman said she hoped the lawsuit would help bring her closure, and protect other travellers transiting through Qatar in the future.
"I would like women to know, especially women travelling on their own, that they have to make decisions about the best companies to use and the best routes to use, because there are parts of the world that I wouldn't advise them to go," she said.
Qatar is an ultra-conservative Muslim monarchy, where sex and childbirth outside of marriage are punishable by jail.
Ahead of the 2022 World Cup, the country has struggled to reassure critics that its promises on women's rights, labour relations and democracy are credible.
Source: Free Malaysia Today
https://www.freemalaysiatoday.com/category/world/2021/11/17/ignored-women-slam-qatar-after-invasive-airport-search/?_
------
ICC Wants Afghanistan Women to Rise above Taliban Threat and Play Cricket like Their Men
17 Nov 2021
Different countries and world organisations are trying to figure out how to take Afghanistan along ever since Taliban took control over the landlocked country at the crossroads of Central and South Asia.
The International Cricket Council (ICC) is no different as the world cricketing body has chalked a road map to review the status of cricket in Afghanistan.
ICC on Wednesday formed a working group, comprising Chairman Imran Khwaja, Ross McCollum, Lawson Naidoo and Ramiz Raja. The group will report back to the ICC Board over the coming months.
"The ICC Board is committed to continuing to support Afghanistan Cricket to develop both men's and women's cricket moving forward," ICC chairman Greg Barclay said in a media statement. "We believe the most effective way for this to happen will be to support our Member in its efforts to achieve this through its relationship with the new government.
"Cricket is fortunate to be in the position to influence positive change in Afghanistan with the national men's team a source of great pride and unity in a country with a young population that has experienced more upheaval and change than most. We should protect that status and continue to try to influence change through the ACB but will continue to closely monitor the situation and take any decisions accordingly."
However, the Islamic fundamentalist and military organization Taliban's take on women, that they would not be allowed to play sport, brought no good for Afghanistan Cricket Board (ACB). Subsequently, Cricket Australia postponed the historic one-off Test between Australia and Afghanistan men's teams in November. There are speculations that other cricketing boards, too, might follow suit.
"Our goal is to see men and women playing cricket in Afghanistan. Our view is that the best way to achieve that is to stay closely connected with the cricket board and try to influence through the cricket board," Geoff Allardice, the ICC interim chief executive, had told media when asked about the future of Afghanistan men's team if Taliban refuses to change their position on women's sport.
"They (ACB] have said to us that women's cricket is continuing. They certainly haven't given us an indication that it has stopped. Time will tell, in terms of how that plays out. Yes, we have been in regular communication with them from the time things changed in their country. We are hoping to have some meetings with their representatives around our board meetings."
"They're on a steady trajectory of development there and we would like to see that continue. How other members react with their bilateral arrangements with Afghanistan is up to them. We will be working through their situation at our board level and with their board as well. They are the agents for developing cricket in their country.
Geoff Allardice added that the ICC is trying to ensure that cricket is governed by the Afghanistan Cricket Board with respect to their constitution.
"Afghanistan is our member, and they are going through some change at the moment. We are just trying to liaise with them, ensure that cricket is being governed and the board is governed appropriately and in accordance with their constitution.
"The second is that their cricket is continuing to function. We've supported them and the team has performed at this event. You've seen their players in a number of events now. In terms of how our board will consider the situation in Afghanistan at its meeting next week, they will get a report on how things are travelling. They're going through a lot of change within the country and in terms of the relationship of the cricket board with the new regime," Geoff Allardice added.
Moreover, the Afghanistan Cricket Board has seen a few changes at the top.
Afghanistan all-rounder Mirwais Ashraf was appointed as the acting chairman of the ACB last week, marking it the second such appointment in four months. Azizullah Fazli assumed the role of chairman after replacing FarhanYusufzai, who left Afghanistan following the take over by Taliban.
"The government is trying to bring in more competent people with expertise in technical aspects of the game - commercial, business and marketing," a former director of the ACB told ESPNcricinfo. "If Afghanistan can produce world-class players with this broken system back home, then imagine what they can do with a competent board."
Source: Outlook India
https://www.outlookindia.com/website/story/sports-news-afghanistan-are-agents-of-developing-cricket-icc-wants-women-to-play-sport-as-well/401297
------
Encourage Women's Participation in National Legislature: Indonesian Women's Congress
Jakarta (ANTARA) - Indonesian Women's Congress (Kowani) Chairwoman GiwoRubianto called to address the issue of low women's participation in national politics, especially the national legislature, by promoting participation and boosting political education among women.
"Women's participation in national politics is very low, as their participation in national legislatures barely touches 30 percent," Rubianto stated in her opening remarks delivered during a webinar on the role of political parties in the electoral success of female party members hosted by Kowani and viewed from Jakarta on Wednesday.
Increasing women's participation in national politics will enhance gender equality and ensure Indonesian women's role in national development, she affirmed.
The chairwoman reiterated Kowani's commitment to increasing women's participation in national legislatures, as they can provide inputs on laws considered by the government, especially those regulating women and children's rights.
"Kowani is committed to fighting for and encouraging women's participation in the decision-making process in the parliament in line with the 2019 Kowani Congress resolution," Rubianto stated.
Related news: Women in politics must support Indonesia Vision 2045: researcher
The resolution necessitates the implementation of work programmes on enhancing gender equality and establishing sustainable and comprehensive women empowerment measures, she stated.
Rubianto requested women speakers invited to the webinar, being held to celebrate the 93rd National Mothers' Day and 2022 Women 20 (W20) Conference, to encourage Indonesian women to participate in national politics.
Among women speakers invited to the webinar are members of political parties' leadership council Sri Rahayu of PDI-P; HetifahSjaifudian of the Golkar Party; SumarjatiArjoso of the Gerindra Party; and National Research and Innovation Agency (BRIN) chief researcher for political research SitiZuhro, the chairwoman stated.
"I hope speakers at this webinar, who all are stellar women participating in national politics, would encourage and motivate Indonesian women participating in national politics, as their role model to fight for women and children's rights in the legislature as being essential," she affirmed.
The chairwoman also encouraged Indonesian women to unite and participate in Indonesian democracy and fulfill their duty as the nation's mothers in national development.
Source:Antara News
https://en.antaranews.com/news/200061/encourage-womens-participation-in-national-legislature-congress
------
URL: https://www.newageislam.com/islam-women-feminism/arab-women-myths-sex-education/d/125797
New Age Islam, Islam Online, Islamic Website, African Muslim News, Arab World News, South Asia News, Indian Muslim News, World Muslim News, Women in Islam, Islamic Feminism, Arab Women, Women In Arab, Islamophobia in America, Muslim Women in West, Islam Women and Feminis