New Age Islam News Bureau
3 Jan 2015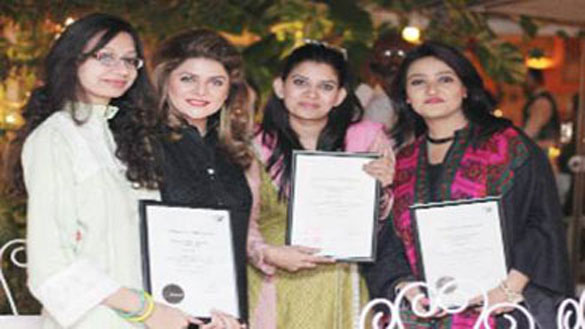 Photo: 'Educate a Girl' celebrates 500th vocational-funded scholarships for girls
-----------
• India: Woman Stripped On Orders of Tribal Panchayat for 'Eloping With Lover'
• Rise in Young Women Drug Addicts Triggers Alarm in Iran
• Desperate Parents of Abducted Nigerian Girls Turn to UN
• Palestinian TV to Tackle Violence against Women
• Muslim Woman Thrown Off Moving Train in Australia
• Morocco: Dismissed by Her School Because of Hijab, Teacher Wins Case in Court
• Egyptian TV Presenter Apologizes to Moroccans over Sorcery Accusations
• Slaves Of Genocidal Misogyny: Women's Fight for Survival
• Living With Distraction - 15 Percent of Children in the Kingdom Have ADHD
Compiled by New Age Islam News Bureau
URL: https://www.newageislam.com/islam,-women-and-feminism/new-age-islam-news-bureau/'educate-a-girl'-celebrates-500th-vocational-funded-scholarships-for-pak-girls/d/100839
----------
'Educate a Girl' Celebrates 500th Vocational-Funded Scholarships for Pak Girls
January 3, 2015
KARACHI: 'Educate a Girl' celebrated 500th vocational scholarships funded for deserving girls in Pakistan to become journalists. This is part of one-time project to educate 1,000 girls and help them find jobs, sustainability and eventually be donors themselves.
The multiple award-winning and globally recognised programme funds media studies at a local institute for journalism and further supplements the coursework with training in professionalism and grooming.
The Swiss Consul General in Karachi Emil Wyss who personally funded the 500th scholarship spoke of the unlimited possibilities of education, congratulating the winners on their achievement and urging them to make the most of the opportunity. Samir Dossal President Canada Pakistan Business Council highlighted global support for this initiative and the partnership between Dawood Global Foundation and Canada Pakistan Business Council.
Seyid shed light on helping Pakistani women entrepreneurs to market their products in Canada and how much he supported this educational initiative.
Imtiaz Seyid head of South Asia Markets Royal Bank of Canada also attended the event.
Tara Uzra Dawood founder of Initiative said, "Educate a Girl focuses on the field of journalism because we wish to remind our girls they have a voice, provide them with a platform for their voices to be heard and to encourage their freedom to say what they wish".
Out of the 500 scholarships funded, 278 girls have graduated, many receiving top placements including two become news anchors.
Winner Jaweria Ali who is currently a news anchor on HTV Pakistan has become a donor herself, educating Marwah Malik out of her paycheque. Marwah in turn has said her dream to educate a girl one day would be reality.
Educate a Girl has started project 150 and was giving out scholarships in the names of those who lost lives in Peshawar attack.
Educate a Girl is a platform of Dawood Global Foundation which is audited by a global audit firm and is eligible for tax credit in Pakistan and US.
http://www.dailytimes.com.pk/sindh/02-Jan-2015/educate-a-girl-celebrates-500th-vocational-funded-scholarships-for-girls
---------
India: Woman Stripped On Orders of Tribal Panchayat for 'Eloping With Lover'
January 3, 2015
INDORE: While the world was getting ready to party on New Year's eve to welcome 2015, back in the tribal heart of Madhya Pradesh, a tribal Panchayat (village council) in Alirajpur district unleashed a spine-chilling punishment to a married woman and her alleged young lover.
Just a few hours after the 25-year-old woman, who is a mother of two children returned with a relative and allegedly her lover, Kamlesh to their village Wadha in Alirajpur's Udaigarh area (250 km from Indore), the duo were produced before a tribal Panchayat by none other than the elected village Sarpanch (head) Dhan Singh on December 31.
Both the woman and Kamlesh were first beaten up publicly in the presence of villagers and then tonsured. Subsequently, the woman was stripped and forced Kamlesh to "wash her breasts" (breastfeed), Udaigarh police station in-charge Gopichand Patel told the TOI on Friday.
Surprisingly, the entire cruel and ugly public episode went unabated, despite the woman's husband opposing the violent and humiliating act.
The matter came to light on Thursday, when the woman reported it to the Udaigarh police. "A case has been registered against 10 accused and raids are being conducted to arrest them," SP Alirajpur Akhilesh Jha told the TOI over phone on Friday.
The in-charge of Udaigarh police station in Alirajpur, Gopichand Patel, meanwhile, confirmed about receiving the complaint from the concerned women, who alleged being beaten, denuded and tonsured publicly at the behest of tribal Panchayat on December 31.
"We've booked 10 persons under Sections 354A, 294,323, 120B, 147 and 506, but the accused are yet to be arrested," Patel added.
A week ago, the woman had allegedly eloped with her relative Kamlesh to neighbouring Gujarat and was brought back by husband and village Sarpanch on December 31.
http://timesofindia.indiatimes.com/india/Woman-stripped-on-orders-of-tribal-panchayat-in-MP-for-eloping-with-lover/articleshow/45729360.cms
---------
Rise in Young Women Drug Addicts Triggers Alarm in Iran
January 3, 2015
As a young, smart and ambitious university graduate, Mahsa could have been a model of the modern Iranian woman.
Instead, the 30-year-old symbolises a new generation of female drug users: well off, well educated and tech savvy but addicted to multiple synthetic drugs such as methamphetamine, methadone and sedatives as well as heroin.
Drug problems are not new in Iran. Opium smoking dates back to at least the 17th century, and the country has one of the highest rates of opiate addiction in the world, partly because it is a trafficking route from Afghanistan to Europe.
At least 6m out of 77.7m Iranians have drug-related problems, according to official reports.
Shisheh — a high-purity crystalline methamphetamine — has become the second most popular drug after opium among young people seeking an escape from social and economic hardship.
However, addiction is increasingly spreading across all social classes and affecting a rising number of women — a trend triggering alarm in the government.
The problem was first revealed in a 2011 study on the prevalence of addiction, says Zahra Bonianian, an adviser to the state-run Drug Control Headquarters for women and family affairs. "It was when we realised that the number of married female addicts was going up, the age of addiction going down while the educational level [of addicts] was high."
The roots of the problem lie in the social change bubbling beneath the surface of Iranian society. Young adults, steeped in new ideas gleaned via the internet and social media, are increasingly rebelling against the traditional and Islamic strictures to which their parents conformed and seeking to emulate what they see as more modern norms. In recent years, the divorce rate in Iran has risen and marriage and birth rates have fallen.
At the same time, the Islamic regime has improved women's access to higher education, and they now account for more than 60 per cent of graduates.
But young women in particular find themselves caught between increasing freedoms and educational opportunities on the one hand and the conservative values of their elders on the other.
"Girls and boys under 25 years old largely enjoy equal freedom in terms of social and educational activities, but girls have a more gloomy perspective, [seeing] more responsibilities ahead," says Amir-Hossein Yazdani, a professor of psychology.
Highly educated girls "do not enjoy equal job opportunities, or they feel under pressure to behave like a traditional woman", he says. "This is fanning fresh tendencies to addiction."
Mahsa is emblematic of this trend. "I had big dreams, but they were all destroyed," she says. Graduating from a high school for top students, her family forced her to marry at the age of 18. The couple had a son but the marriage ended in divorce after a year and Mahsa took refuge in drugs. Her ex-husband has stopped her from seeing her son in recent years.
She went to university and studied psychology but ended up at a Tehran addiction treatment centre last year with a drug habit that was costing her 1m rials ($37) a day.
After five months of treatment she is considered clean. But fearful of social pressure, she is refusing to return to her family in Arak, a conservative city in central Iran.
"I'll stay at this centre hoping that my parents will sell everything and agree to move to Tehran," she says, clad in tight black shirt and leggings and wearing make-up and orange nail polish. "In that small city, everybody knows I was an addict. I am shy to [leave the house]."
Iranian officials and experts have been warning in recent months that the speed at which addiction among women is growing are rising.
The latest official figures indicate the number of female addicts has almost doubled since 2007, with women making up 9.3 per cent of Iranians affected. More than 50 per cent of addicted women used drugs for the first time between the ages of 15 and 19.
Abbas Deilamizade, chairman of the Asian Drug Demand Reduction NGOs Association — an umbrella group for 32 regional organisations — warns that the country's social welfare system is not geared to helping female addicts.
"A lot needs to be done to help the treatment of women," he says. "We still do not have enough rehabilitation centres and prevention programmes for women, and there is no plan [for it] in the country's social security system."
Some experts argue this is because women have been seen as a lower priority than men because they make up fewer than 10 per cent of Iran's addicts.
But Ms Bonianian warns against complacency. "The addiction of women may not be as high as men's. But if fathers are like ceilings who give protection to the family, mothers are like columns who keep the family together," she says. "If columns collapsed, the ceiling would fall down too, and there would be no home to live in."
http://www.ft.com/intl/cms/s/0/bcfb34ea-3e81-11e4-a620-00144feabdc0.html#axzz3Nc31ZKCA
---------
Desperate Parents of Abducted Nigerian Girls Turn to UN
January 3, 2015
ABUJA— Parents of 200 Nigerian schoolgirls kidnapped by Islamist rebels in April said they were appealing directly to the United Nations for help after losing hope that the Nigerian government would rescue them.
A group lobbying for government action on behalf of the parents met with U.N. Women, the head of the U.N. representation in Nigeria, and with officials of the U.N. Office for West Africa last month. The group has also appealed to UNICEF, campaign spokeswoman Bukola Shonibare said.
U.N. officials were not immediately available for comment.
"If the government cannot take action, we are asking for the U.N. to come in and help and if they reject, we just don't know what to do," Reverend Enoch Mark, leader of the parents, told Reuters. Two of his daughters were kidnapped.
It is not clear what any U.N. agency could do without Nigerian government approval.
More than eight months since the abduction of the girls from Chibok, in remote northeastern Borno state, parents say they are still in the dark about what the government is doing.
A presidential spokesman said efforts to free them continue but that details of the missions are too sensitive to publish.
On April 14, Boko Haram militants raided the school while the girls were taking exams. They loaded 270 of them onto trucks. Around 50 escaped shortly afterwards.
Boko Haram, which is fighting for an Islamic state and whose name means "Western education is sinful," had been kidnapping children for more than a year, but the scale of this attack shocked the world and sparked a #BringBackOurGirls Twitter campaign that drew in celebrities including Michelle Obama.
The five-year-old insurgency has killed thousands of people, displaced more than a million and raised fears voting in presidential elections on February 14 will be impossible across stretches of the northeast.
"The Chibok community is pained, we cannot take this anymore," Dauda Iliya, spokesman for the Chibok community in Abuja, said at a New Year's Day rally of parents, adding that they had written to the United Nations to "protest this neglect and nonchalance by the government."
President Goodluck Jonathan says the government is trying to free the girls but a botched rescue mission would endanger them.
Dozens, possibly hundreds, have been kidnapped since the Chibok attack. Two weeks ago, gunmen abducted 172 women and children from Gumsuri, 24 km from Chibok.
http://www.voanews.com/content/reu-desperate-parents-abducted-nigerian-girls-chibok-united-nations/2583348.html
---------
Palestinian TV to Tackle Violence against Women
January 3, 2015
A non-profit Palestinian news organization will be airing a new comedy series and a TV show to discuss the prevention of violence against women and young girls as part of its 2015 program list, the Guardian reported.
The Ma'an Network, based in Bethlehem, will use a grant from the British government worth $1,134,709 to air shows that raise awareness of violence against women over the next three years.
The programs also aim to tackle taboo topics such as marital rape, the British daily added.
The shows will also be accompanied by a series of workshops in rural areas across the Occupied West Bank and the Gaza Strip to raise anti-violence awareness. They will be aimed at women, men, and children.
The network has already established a gender unit, staffed by three people – a journalist, a lawyer and an education expert – to oversee content.
"Violence against women in my country is still widespread," said Raed Othman, founder and general director of Ma'an, as quoted by the Guardian.
One program will resemble a court room where actors will simulate real-life cases of violence which will be brought before a professional judge and lawyers.
While the comedy sketch "Put yourself in my shoes" will have women and men switching roles.
"Women are still killed because of 'honour'… if families think they have a sexual relationship outside of marriage. Still in my country there is significant violence against women – economic violence against women, social violence, and verbal violence against women.
"So in the court we will choose real stories. Serious issues that don't come up, like the rape of a wife. No woman will go to court and declare her husband raped her. What we will do is discuss these issues in court, let women in society understand their rights in law and how they can deal with it.
http://english.alarabiya.net/en/media/television-and-radio/2015/01/02/Palestinian-TV-to-tackle-violence-against-women.html
---------
Muslim Woman Thrown Off Moving Train in Australia
World Bulletin / News Desk
January 3, 2015
A 26-year-old Muslim woman suffered injuries after being racially abused, assaulted and thrown off a moving train in Australia's Melbourne last week, in an alarming Islamophobic attack.
Detective Senior Constable Michael Potter was quoted by 9News on Monday saying the attack had a "massive effect" on the victim, calling it "totally unacceptable."
The victim had her head bashed into the wall of the train a number times by an unknown woman who was shouting abuse before being pushed off the train, a Victorian police spokesperson told the Daily Mail.
Prominent Australian Muslims say their community is being unfairly targeted by law enforcement and threatened by right-wing groups, as the government's tough new policies aimed at combating 'radicals' threaten to create a backlash.
Authorities are on high alert since massive counter-terrorism raids last week thwarted what the government said was a plot by the ISIL militant group to publicly behead a random member of the public.
Prime Minister Tony Abbott is seeking broad new security powers and policing has been tightened in public places such as Parliament House, sporting events and airports.
Abbott insists the measures are not meant to target Muslims, but Sydney-based criminal defence attorney Adam Houda says it is already clear that they have resulted in racial profiling.
He gave as one example three bearded Muslim men detained in Sydney at a rugby game after a spectator told police they were using their mobile phones "suspiciously".
"The objective facts are they were pin-pointed because of their appearance," Houda told Reuters. "If they were spoken to because they were playing with their phones, well then that's just ridiculous."
Local Muslim leaders privately say racial tensions could spiral quickly out of control. In 2005, brawls between locals from the largely white Cronulla neighbourhood and Lebanese Muslim youths from the western Sydney area at the centre of the current security crackdown quickly degenerated into days of bloody riots involving thousands of people.
Australia's Grand Mufti, Ibrahim Abu Mohammad, said he was considering legal action after a senior imam was detained for more than two hours, causing him to miss his flight to Saudi Arabia for the annual Haj pilgrimage.
"It is totally unacceptable for any Australian citizen, let alone a senior member of ANIC to be subjected to this seemingly random yet profiled manner causing severe stress and unwanted inconvenience," he said in a statement, referring to the Australian National Council of Imams.
http://www.worldbulletin.net/news/145500/muslim-woman-thrown-off-moving-train-in-australia
---------
Morocco: Dismissed by Her School Because of Hijab, Teacher Wins Case in Court
January 3, 2015
Rabat – Moroccan Justice ruled in favor of a Kenitra teacher whose former employer tried to force her into removing her veil inside her place of work, according to news magazine Telquel.
The teacher, Malika Bennour, a former teacher at Don Bosco School in the city of Kenitra, filed a complaint against her former employer who tried to force her to remove her headscarf in the workplace.
According to her lawyer Rachid Ait Belarabi, the judge in charge of the case felt that the dismissal of the teacher in such a way was unfair and, therefore, ordered the school to pay for the damages inflicted on the teacher.
The judge in charge of the case felt that the director of the Don Bosco School went 'against the principles of the constitution which guarantees the free exercise of religion.'
Bennour, who worked in the catholic school Don Bosco since 1986, was under pressure from the school principal to remove her veil since the start of the 2013/2014 school year.
At the time, the management of the school had offered her a new contract but in which it was stipulated that she had to come to school with her head uncovered.
The teacher refused to sign the document and as a result she was laid off and denied access to the school by its director.
http://www.moroccoworldnews.com/2014/12/148508/morocco-dismissed-by-her-school-because-of-hijab-teacher-wins-case-in-court/
---------
Egyptian TV Presenter Apologizes to Moroccans over Sorcery Accusations
January 3, 2015
Rabat – Egyptian anchorwoman Wafaa ElKilany apologized to Moroccans following her description of Morocco as the 'land of sorcery'.
In a series of posts on her official Facebook page, the Egyptian anchorwoman said she did not intend to offend anyone. She added that Morocco is a country that she "respects" and that her words "were not understood correctly."
In her show broadcasted on MBC network, Wafa ElKilany said that Morocco and Africa are the "land of sorcery".
Known for her treatment of sex-related topics, the Egyptian anchorwoman described Morocco and Africa as the land of sorcery and black magic, overlooking the fact that Egypt is also an African country.
ElKilany's recent statement sparked controversy amongst the Egyptians themselves, who demanded that she apologize and called upon the Saudi group MBC to take immediate action against her.
In this regard, a group of Egyptian journalists sent a complaint to the Egyptian Journalists Union on Tuesday evening to protest the offensive remarks of Egyptian TV presenter Wafaa ElKilany, who said in her show on the MBC network that Morocco and Africa are the "land of sorcery."
http://www.moroccoworldnews.com/2015/01/148625/egyptian-tv-presenter-apologizes-to-moroccans-over-sorcery-accusations/
---------
Slaves Of Genocidal Misogyny: Women's Fight for Survival
January 3, 2015
THE image of Islamic State is the face of a terrorised girl. The weeping Yazidi child enslaved by jihadist men, the torment of a woman stripped naked as Islamists cut her throat, the decapitated body of a Christian child held by her grief-stricken father.
Islamic State's thirst for violence is so insatiable that survivor testimonies are flooding international agencies less than a year after its reign of terror began. ­Amnesty International's report Escape from Hell documents ­Islamic State's burgeoning speciality: the torture of women and girls.
The UN recently disclosed survivor accounts of jihadist brutality, among them an adolescent girl who had been raped repeatedly by Islamic State soldiers before being sold at market. The caliphate has reportedly established an outlet where enslaved women and girls are fitted with price tags and sold to jihadists.
Women who disobey Islamic State's dictates are routinely murdered. A female doctor who participated in a strike against wearing the Niqab was killed for her disobedience. The Iraqi Ministry of Human Rights reports 150 women, including pregnant women, were slaughtered in Fallujah because they refused to marry jihadists.
Some captured women are resorting to suicide to escape sexual enslavement. A 19-year-old girl hanged herself after being captured with 20 other girls, as young as 10, and instructed by jihadists to bathe and put on dance costumes.
Yazidis have reported that 3500 women and girls are being held captive by caliphate fighters. Open slave markets selling dozens of women and girls are frequented by jihadists who view slavery as Quranically derived and Islamically correct. Their view is supported in Dabiq magazine, where Islamic State lauds a medieval-style system of institutionalised female slavery under the caliphate: "We will conquer your Rome, break your crosses and enslave your women, by the permission of Allah, the Exalted."
In the pamphlet, Questions and Answers on Taking Captives and Slaves, Islamic State sets out rules for its caliphate slave system. Translated by the Middle East Media Research Institute, it concludes that while Islamist scholars demur on some matters of slavery, there is firm consensus that "unbelieving" women and girls are legal chattel. The fatuous pejorative "unbeliever" is applied to people of all faiths except for Muslims, and Muslim men are given licence to rape prepubescent girls ­captured in war.
The institute also has exposed the depraved misogyny of foreign fighters in Islamic State. Online conversations between French and British jihadists reveal their amusement at the sexual enslavement of women, one writing: "They are idolaters, so it's normal that they are slaves, in Mosul they are closed in a room and cry, and one of them committed suicide LOL."
While most jihadist slavers are Syrian and Iraqi, there have been several reports citing the involvement of foreign fighters. Amnesty International reports that four women and girls were imprisoned by two Australians of Lebanese origin, one of whom shared a home with his wife and children.
Australian Mohamed Elomar reportedly shared his virulent ­hatred of women in a tweet offering a Yazidi "slave girl" at a price of $2500 with the execrable comment: "don't worry brothers she won't disappoint (sic)".
Despite the genocidal misogyny of Islamic State, between 200 and 300 women have left the West to join the group. An Australian woman, Zehra Duman, left last week to marry a jihadist after reportedly spouting hatred of non-Muslims on social media.
Islamic State women have formed a morality militia, al-Khansaa, to conduct border patrol checks and enforce Sharia law. According to the International Business Times, the Syrian branch comprises 50 women, many of whom are wives of immigrant ­jihadists from Britain, France, Morocco and Tunisia.
The Sharia militia is sadistic, committing violence against women who do not submit to sharia law. The militia also operates the brothels where enslaved women and girls are raped by ­jihadists. Researchers from the International Centre for the Study of Radicalisation believe at least four English Muslims have joined the Sharia brigade. Among them is Khadijah Dare, whom London's The Telegraph reports celebrating the decapitation of James Foley and inciting violence on Twitter: "You Christians all need beheading with a nice blunt knife and stuck on the railings at Raqqa … Come here I'll do it for you!"
Despite widespread condemnation of Islamic State violence the fact is its constitutional ideology and beliefs, including the validity of theocratic Sharia law, are shared by Islamist regimes and some Western-based organisations. On its website, the Islamic Association of Australia provides advice on Zakah, a mandatory form of Sharia taxation whose proceeds are purportedly given to charity. The advice illustrates the considerable conflict between even apparently beneficent principles of Sharia and the foundational values of modern Western society in polytheism, freedom of belief and human equality.
The IAA advises that charity must be paid only to Muslims, excluding "non-religious sects or institutions". Its advice on slaves is of even greater concern. The ­association stipulates that Zakah can be used for "ransoming of slaves" and that all Muslims, ­including "free and slave", must pay it.
A succession of bloody civil wars and revolutions across the Western world ensured the establishment of secular law and the prohibition of slavery. Why then would an organisation in the 21st-century West presume the ­existence of slavery, counselling the treatment of slaves in a Sharia-derived practice?
The idea that secular liberal democracies should tolerate the return of theocratic governance and jurisprudence under Sharia law is becoming manifest. In Britain, the Law Society established guidelines last year that effectively enshrined Sharia as legal practice, introducing Sharia-compliant wills that allowed bequests to Muslims only and denied women an equal share of inheritance.
Caroline Cox, a Tory peer appointed by Margaret Thatcher, is fighting to prevent the return of theocracy to Britain and said of the Sharia-compliant wills: "This violates everything that we stand for. It would make the suffragettes turn in their graves."
Despite the problematic nature of Islamism, demonstrated by its extreme manifestation in Islamic State, many Australian univer­sities have courses on Sharia ­finance and law, while Muslim student associations across Western colleges frequently demand that critics of Islamism are ­censored.
And despite Islamic State's genocidal misogyny, many people wonder why the feminist response has been so muted. Brandeis University recently withdrew its offer of an honorary degree to Islamist critic Ayaan Hirsi Ali after the Muslim Students Association joined with academics and the Council on American-Islamic Relations to petition against her. In its letter to the university president, CAIR denounced her as a "notorious Islamophobe".
The University of Massachusetts censored a film critical of Islamist practices, Honour Diaries, after it received a complaint from CAIR calling it Islamophobic.
The result was the silencing of Muslim women who were trying to expose the harms of honour killings, ­female genital mutilation and forced marriage in Islamist contexts.
Islamic State is betting that once the caliphate has been cleansed of "unbelievers" and the blood has stopped running, when the dissenters have been silenced and the world has moved on, it will claim and win recognition as a legitimate state.
If the West continues to capitulate to Islamist ideology, allowing the erosion of the liberal democratic state and core freedoms to pacify theocrats, it will have little choice when the caliphate comes knocking on the UN door but to open it.
Jennifer Oriel is a political scientist and commentator.
http://www.theaustralian.com.au/opinion/slaves-of-genocidal-misogyny-womens-fight-for-survival/story-e6frg6zo-1227172974234
---------
Living With Distraction - 15 Percent of Children in the Kingdom Have ADHD
January 3, 2015
THE Saudi ADHD Society has reported that between 1.6 and 2.5 million children in the Kingdom have Attention Deficit Hyperactivity Disorder and there are only 60 specialists in the field working in the country.
Experts describe ADHD as a psychological disorder developed during childhood. Children with the condition often have difficulty following direction, controlling their actions and paying attention.
Due to these symptoms, experts classify ADHD as a learning disability. According to statistics, between 3 and 5 percent of children around the world have ADHD or Attention Deficit Disorder (ADD).
The rate of children with ADHD in the United States is 10 percent while the rate in the Kingdom is 15 percent.
However, researchers say ADHD is not quite as bad as previously believed. Some of the greatest minds in the world had learning disabilities.
Co-founder of Apple Inc. Steve Jobs had ADHD and was dyslexic. Alexander Bell, who invented the telephone; Thomas Edison, who invented the electric bulb; and Walt Disney, who founded the Disneyland, have all had ADHD.
Recent studies have confirmed that ADHD offers some benefits to those who have the condition. It has been found that those with ADHD have an easier time getting through emotional outbursts.
Studies also show that those with ADHD have increased perception, which helps them notice things that others may not.
And they are good at multi-tasking. People with the disorder have trouble on focusing on any one task and jobs involving a single task are an ADHD sufferer's nightmare.
Many modern jobs require employees to take on multiple responsibilities and this is where those with ADHD can outshine others.
In the West, children with learning disabilities are labelled as "children with special abilities" and they go on to lead normal lives in advanced countries.
In the Kingdom, however, 30 percent of children are unable to complete their high school education, according to a study published in 2011.
Experts commented that this is an incredibly high rate in comparison to other countries around the world.
They reported that the Kingdom lacks the specialized facilities and qualifications to deal with children with ADHD and other learning disabilities.
A more recent study revealed that the Eastern Province reported the highest rate of children with ADHD.
Reports show that 21 percent of people charged with criminal offenses last year reportedly had ADHD.
Three years ago, the story of a child suffering from ADHD in Al-Jouf Province was widely reported.
He was unable to advance past the first grade and kept repeating the same grade year after year until he turned 11.
His parents then found out that their son had ADHD and were in dire need of support. Okaz/Saudi Gazette conducted a survey among schoolteachers and found out that most teachers are untrained to identify children with ADHD and cannot differentiate between children with learning disabilities and children with poor academic performance.
Okaz/Saudi Gazette also met with parents of children with learning disabilities and they said no care is given to children with learning disabilities such as ADHD and dyslexia, which is a general term for disorders that involve difficulty in learning to read or interpret words, letters and other symbols, but do not affect general intelligence.
These lack the educational, social and medical support to give them the opportunities to achieve their full potential.
King Saud University Special Education faculty member Ibrahim Al-Othman said medical services and recreational facilities for children with learning disabilities are not fully integrated into the educational system.
The Ministry of Education stated in its strategic plan for special education that it will equip 90 public and private schools with classes for special education.
The head of Special Needs Department in the Ministry of Higher Education Fawziyah Akhdar said children with learning disabilities need services and facilities different from children with sensory and motor disabilities.
"Children with learning disabilities are often undiagnosed. Even when they are diagnosed, there are no specialized schools and centers to address their cases.
Often times, you find families relocating to other countries just to offer their children their rightful education," said Akhdar.
Dr. Suaad Yamani, neurology consultant at King Faisal Specialist Hospital and Research Center and head of Saudi ADHD Society, said the high rate of ADHD children in the Kingdom is alarming.
"In 92 percent of the cases, the causes are genetic. There are other causes for ADHD such as the mother having a stroke or an infection while she is pregnant.
Consuming unhealthy products or smoking during pregnancy is also harmful and may lead to the development of ADHD in the infant," said Yamani.
Yamani added that children with ADHD can be treated if diagnosed at an early age. She advised families to consult specialists that can provide the necessary medical care.
http://www.saudigazette.com.sa/index.cfm?method=home.regcon&contentid=20150103229296
---------
URL: https://www.newageislam.com/islam,-women-and-feminism/new-age-islam-news-bureau/'educate-a-girl'-celebrates-500th-vocational-funded-scholarships-for-pak-girls/d/100839