New Age Islam News Bureau
15 Jan 2018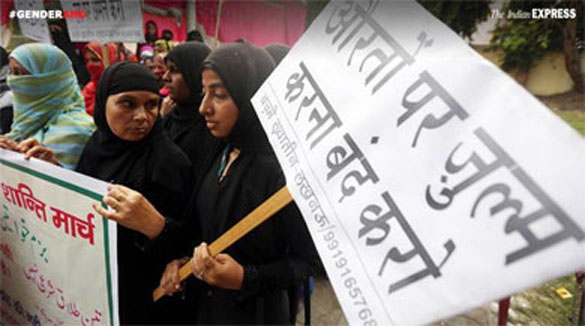 GenderAnd: Howsoever late, Muslim women have welcomed the Bill as a step forward.
-------
• Muslim Women Are Entitled To A Law Against Triple Talaq
• Project Launched To Transport Female Teachers across Saudi Arabia
• How Saudi Women Interacted With the First Mixed Public Sporting Event
• Women Political Activists Become Active in Peshawar
• From Garrison State to Women Empowerment
• Women's reproductive freedom in Pakistan
• Pakistani woman Farhat wins N-Peace Award
Compiled by New Age Islam News Bureau
URL: https://www.newageislam.com/islam-women-feminism/east-london-top-school-bans/d/113941
--------
East London Top School Bans Muslim Girls under Eight From Wearing Hijabs
January 15, 2018
One of the best rated primary schools in the UK has banned girls aged under eight years old from wearing hijabs.
St Stephen's primary school, in Newham, east London, has also forbidden Muslim pupils from fasting on school days during Ramadan.
Arif Qawi, chairman of governors at St Stephen's, which topped the Sunday Times school league tables in 2017, said the Department of Education should "step up and [take the issue] out of our hands".
He told The Sunday Times: "We did not ban fasting altogether but we encouraged them to fast in holidays, at weekends and not on the school campus.
"Here we are responsible for their health and safety if they pass out on campus...it is not fair to us."
Mr Qawi claimed some students were fasting when they were as young as eight years old, despite Muslim clerics typically advising they not start until they have reached puberty.
He said that, although some parents had been critical of the new rules, it had received broad approval from many Muslim parents.
A spokesman for the Department of Education told The Sunday Times: "It is a matter for individual schools to decide how to accommodate children observing Ramadan, and to set uniform policies.
"We issue clear guidance on uniform and to help schools understand their legal duties under the Equality Act."
https://www.standard.co.uk/news/uk/top-school-bans-muslim-girls-under-eight-from-wearing-hijabs-a3739656.html
--------
Muslim Women Are Entitled To A Law Against Triple Talaq
January 15, 2018
It was a historic day for Indian democracy when the Lok Sabha passed the Muslim Women (Protection of Rights on Marriage) Bill 2017. Muslim women are entitled to legal protection in matters of personal law as much as all Indian women. But thanks to the alliance between patriarchal conservative religious bodies and the political class, Indian Muslim women have faced discrimination in personal law matters.
The Muslim womens' movement against triple talaq in the last few years has made this change possible. It is equally significant that the Bill tabled by the government was supported by the Congress and other opposition parties. Indian democracy has certainly evolved since 1986 when a lone Shah Bano was silenced by the patriarchal leadership with support of the political leadership. This latest development is the outcome of the consistent and courageous struggle of ordinary women for gender justice. "My Allah has made me equal," has been the motto of this struggle. It is equally significant that ordinary Muslim women have clearly demonstrated faith in democracy and democratic institutions such as the courts.
Before considering the merits and demerits of the Bill, a few facts need to be highlighted here. The Constitution grants right to religious freedom to all citizens. It also allows for personal laws to be based on respective religious texts of different faith communities. That is how we have the Hindu Code comprising the Hindu Marriage Act, 1955, the Hindu Succession Act, 1956 and a few more laws. The amendments in Christian Marriage Act have enabled justice for Christian women in marriage and divorce matters. Patriarchal Muslim bodies have stonewalled any discussion on reform in personal law. Muslims are governed by the Shariat Application Act, 1937 which is silent on important issues such as age of marriage, procedure of divorce, nikah halala, polygamy, women's share in property etc. This has led to injustice to women in the form of the abhorrent practice of instant triple talaq, which was set aside by the Supreme Court in August 2017. But despite the SC judgment, triple talaq continues to take place and women continue to be thrown out of their marital homes in an arbitrary manner. A duly codified law laying down the procedure of divorce, support for the divorced woman and penalty for violations is imperative.
In this regard, at least two amendments are necessary for the present Bill. The proposed law should lay down a detailed procedure of divorce based on the talaq-e-ahsan method involving reconciliation, mediation between the couple lasting for a period of minimum 90 days. While the proposed law says that triple talaq or talaq-e- bidat is illegal, it should also suggest what the legal way to divorce is. This would be somewhat similar to the mandatory six month cooling off period in the divorce of a couple married under Hindu marriage law. At the end of this mandatory process of arbitration and dialogue, divorce can happen if the matters can't be resolved.
The Quran emphasises on a just and fair divorce, meaning the wife should get shelter, maintenance support, custody of children etc. The law should provide greater clarity on the support allowance mechanism. Violation of law should invite punishment, as any law is meaningless without deterrence. The offence of talaq-e- bidat should be a non-cognisable and bailable offence. The final choice of registering an FIR followed by a legal case should rest with the wife. Marriage is a matter of civil law and should be viewed as such while furthering gender justice. Bigamy is an offence both as per the Hindu Marriage Act and as per 494 of the IPC punishable by imprisonment up to seven years. This means that if a Hindu, Jain, Buddhist, Sikh, or even Christian man commits bigamy, he commits a non-cognizable offence punishable up to seven years in jail. The proposed law must draw from the bigamy law, dowry law and the domestic violence prevention law where the offence is punishable.
Howsoever late, Muslim women have welcomed the Bill as a step forward. The elected representatives cutting across the political spectrum have supported its passage in the Lok Sabha. It is hoped that they would collaborate constructively in strengthening the bill with suitable amendments and make this law a reality.
Some patriarchal religious bodies are expectedly opposing the Bill. But certain expert academics working overtime-writing articles to find only faults with the Bill is rather amusing. For one, these experts never spoke out in support of the Muslim women's struggle against triple talaq. They were silent when stories of untold hardships and suffering of women were surfacing all across the country. They chose to trivialise the painful realities of women by starting a false debate around the rate of divorce in the Muslim community. In reality the debate was about the method of divorce and not the incidence per se. They need to recognise the historic shift where the ordinary Muslim woman has understood the patriarchal game and mansplaining is not working anymore.
The opponents of the bill must understand that it cannot be rejected just because the BJP government introduced it. For some, the time for gender justice is never right. The government and opposition need to work together to enable legal protection for Muslim women. This is the message from ordinary women who have fought against all odds with courage and determination against triple talaq.
http://indianexpress.com/article/gender/muslim-women-are-entitled-to-a-law-against-triple-talaq-5025133/
--------
Project launched to transport female teachers across Saudi Arabia
15 January 2018
RIYADH: A project for providing transportation facility to female teachers of public school will be launched across the Kingdom for the first time with the beginning of the new semester on Jan. 21.
The project, which aims to serve 6,000 teachers, is currently focused on making the service available in Makkah, Madinah, Tabuk, Asir, and Jazan, where 36 different routes will be covered using 61 buses with 732 seats to serve 64 schools for three-and-a half years.
Tatweer Educational Transportation Services Co. (TTC), the executive arm of the Ministry of Education for school transportation, will hire contractors to execute this project and will ensure the highest levels of comfort and safety.
The project is expected to cover 62 routes defined by the education minister last September to transport more than 1,000 teachers across the Kingdom.
The project serves teachers who work in schools 150-250 km away from their residences at a nominal fee of SR500 ($134) per month.
The TTC pointed out that it has hired three contractors committed to providing new buses manufactured less than three years ago to start providing services next semester.
It will also allow teachers to rate the service through its electronic registration portal. The buses will be equipped with GPS to provide immediate data about a bus' speed, location, route and trip duration, in addition to front cameras to monitor the road's condition, automatic fire suppression systems, and comfortable, well-installed chairs that are made of non-flammable material and contain safety belts.
Teachers who wish to get themselves registered for the service should visit the TTC website to benefit from the facility.
http://www.arabnews.com/node/1225826/saudi-arabia
--------
How Saudi women interacted with the first mixed public sporting event
13 January 2018
Women in black abayas and fluorescent orange vests stood at the gates at King Abdullah Stadium, welcoming people into the family section that, for the first time in Saudi Arabia, allowed women to attend a men's soccer match.
As the two teams al-Ahli and al-Batin faced each other in the city of Jeddah, women showed up to their first public sporting event in the Kingdom to support the sides with their spouses, children and friends.
The General Sports Authority announced in October that stadiums in Jeddah, Dammam and Riyadh will be set up to accommodate families starting in 2018.
"Honestly this decision should have happened a long time ago," said Muneera al-Ghamdi, an attendee. "But thank god that it came in the right time, and hopefully what's to come will be even more beautiful for women."
The decision to allow women to attend a mixed public sporting event is one of many changes the country has undergone in recent months, hailed as proof of a new progressive trend.
On Thursday, Jeddah held Saudi Arabia's first car exhibition aimed at women, a few months after Saudi Arabia announced it would grant them the right to drive..
A soccer match on Saturday in the capital Riyadh will also be welcoming women fans.
"Today the percentage of those who participate in exercise and sports is only 13 percent," said Hayfaa al-Sabban, who heads a sport organisation.
"We aim god willing to raise it to 40 percent by 2030, through several events, and today's is one of these events."
The presence of women in the sports stadium underscored a wider effort to integrate women in society and grant them more public visibility in a country where gender segregation is widely enforced and where most women cover their faces and hair with black veils and don loose-flowing black robes, known as abayas.
The first stadium to open its doors to women was in the Red Sea city of Jiddah. The stadium in the capital, Riyadh, will open to women on Saturday, followed by the western city of Dammam on Thursday.
At the Jiddah stadium Friday, young Saudi women wearing bright orange vests over their abayas were deployed to help with the female crowds. "Welcome to Saudi families," read a sign in Arabic erected across the section of the stadium reserved for women.
"It's very festive and very well organized. A lot of people are just really happy to be here. I think there's a lot of excitement when you walked in, especially among the children," said Sarah Swick of the match between Saudi soccer teams Al-Ahli and Al-Batin.
To prepare for the change, the kingdom designated "family sections" in the stands for women, separated by barriers from the male-only crowds. The stadiums were also fitted with female prayer areas and restrooms, as well as separate entrances and parking lots for female spectators. Local media said women would also have their own designated smoking areas.
Although only 20 riyals ($5.33) a ticket, the family section for Friday's match was still less than half full.
"A lot of people wanted to wait and see how it is. Some thought it wouldn't be very safe or organized," said Swick, who attended the game with her Saudi husband and son, and her American mother.
Swick, who grew up in Maryland and has been living in Saudi Arabia for the past nine years, has attended football games in the U.S. and soccer matches in France, but said she was impressed with how organized Friday night's match was.
"I definitely think we will come back," she said.
An Arabic hashtag on Twitter about women entering stadiums garnered tens of thousands of tweets on Friday, with some using the hashtag to share photos of female spectators wearing their team's colors in scarves thrown over their black abayas.
Saudi Arabia's Crown Prince Mohammed bin Salman is the driving force behind the loosened restrictions on women.
Set to inherit a country where more than half the population is under 25 years old and hungry for change, the young crown prince has implemented reforms, which include allowing movie theaters to open in March after a more than 35-year ban.
In a one-off, the stadium in Riyadh allowed families to enter and watch National Day festivities in September - marking the first time women had set foot inside.
The move was the first of Saudi Arabia's social reforms planned for this year to ease restrictions on women, spearheaded by the kingdom's 32-year-old crown prince. The kingdom has also announced that starting in June women will be allowed to drive, lifting the world's only ban on female drivers.
https://english.alarabiya.net/en/News/gulf/2018/01/13/-How-Saudi-women-interacted-with-the-first-mixed-public-sporting-event.html
--------
Women political activists become active in Peshawar
Abdur Rauf Yousafzai
JANUARY 14, 2018
Dozens of burqa-clad women political activists are roaming in the streets of Sulaiman Khel, located on the outskirts of Peshawar. These women spend a few minutes in every home. Begum Nasim Wali Khan was the first female who contested elections in 1977 on a party's ticket. After her glorious career in Pashtun belt, it is a rare to see women asking their colleagues to stand for their rights and support a woman candidate. The Afghan war erupted in the region and the inhabitants of the region transformed the secular Pashtuns into religious fundamentalists.
It took almost four decades for Pashtun women to be in active politics. These political activists gather women in different homes to convince them to register for voting and also to participate in the upcoming general elections. Jamaat-e-Islami (JI) former MNA Razia Aziz is leading the contingent in the dusty streets in middle of mud houses.
"In 2018 general elections, women votes would make a big difference. Therefore, all parties, including the JI, have started their homework and preparation to utilise the opportunity," she adds.
JI has announced a massive campaign of women registration in Khyber Pakhtunkhwa (KP) and Federally Administered Tribal Areas (FATA). The 2017 electoral law is a step for making the Election Commission of Pakistan (ECP) an autonomous body and its awards more powers to it. The new law's emphasis is on more space for women in legislative body. The Election Commissioner can declare results void if the ratio of women votes remains under 10%. The law further instructs all the political parties would have to award 5% general seats to women. In Pakistani male-dominated society this development towards women empowerment is historical.
Unexpectedly, the right-wing JI welcomed women empowerment in electoral procedure. To meet the purpose and bring the deprived half population in active politics and teach them procedure of vote casting, JI started a campaign of registering one million women in Pashtun belt.
The JI leadership has reservations over the arrangements for women polling stations. Keeping in view the previous experiences, Mushtaq Ahmad Khan, the JI Khyber Pakhtunkhwa (KP) chief, sent a detailed letter to the chief election commissioner, to address problem facing women in the upcoming elections. The letter asks the ECP to arrange equal polling stations both for male and female in KP and Fata. Beside this women staff is always a huge problem on the elections day. That is also one of the reasons of the low women turnout in conservative areas.
The administration must ensure women staff for the day, the letter says. There are 127,096 registered voters in the PK-95 constituency of Lower Dir. Out of them, 53,000 of the registered voters are women. For such a huge number of women voters [53,000] there were only six polling stations and 12 female staff, the letter states.
In by-election at PK-95 after the resignation of JI Ameer Sirajul Haq in Lower Dir, the local politicians of all political parties unanimously decided to stop women from casting their votes.
ECP took notice and issued instruction for re-elections in the constituency. However, the order was challenged in Islamabad High Court. Resultantly, the IHC dismissed the ECP decision due to absence of such law. Now after the new law is introduced, political parties will not be in a position to exploit the rights of half of country's population.
Former JI chief Munawar Hassan is known for his stance. However, he asks all the political parties to bring women in the process of decision-making. "Now after making the law, the state should address women's grievances in remote areas before the general elections," he said.
It wouldn't be possible for parties in limited resources to make it successful and bring all of the women in the process, but state institutions should take responsibilities in women's mainstreaming, he said. "Although it should be done before passing the bill," he said.
According to the latest census, 49.05 population of the province comprises female. According to the ECP, there are a total of 12,311,001 voters in KP. Out of them, 26,1736 are women voters. As per the census data, 1.78 million women voters are not registered yet.
Razia Aziz is attached with JI for the past 28 years. She was an MNA during the Musharaf era. She is now and is now leading the massive campaign of one million women registration. She believes in the empowerment of women. She has convinced the JI leadership for giving more space to women in policymaking. "It's insane how half of the population can be ignored? Without women, the dream of an everlasting and fruitful democracy won't be achieved," she said.
The JI women's wing has organised 120 gatherings in various parts of the province. "Our goal is to educate and motivate women about vote casting and power of their votes in far flung as well as in urban areas of KP," Razia says.
JI Media Coordinator Muhammad Iqbal calls the step towards greater democracy, inclusive and prosperous Pakistan. "Without women's participation, the country can't progress," Iqbal said. To a question, Iqbal said that actually the new law paved the way towards the founder of JI Maulana Maududi.
There are speculations about the reshaping of Mutahida Majlis e Amal (MMA) before the upcoming general election. MMA was the amalgamation of religious political parties which had provided shelter to Musharraf while supporting the Legal Frame Ordinance (LFO).
JI has been supporting women's rights historically. The state and society have deliberately ignored women," Provincial Media Coordinator Iqbal Khan said. "The religious law doesn't ask us to keep the women deprived. Women have from their basic rights whether it is democratic, economic, education or social."
Culturally, a particular segment of this conservative society is trying to keep the half of the population in the dark. Razia Aziz is of the opinion that while giving democratic rights to the women and increasing women participation in national and provincial assemblies is the remarkable step from the government.
"JI wasn't against the women participation in any aspect of life, but always struggles for their rights in a separate spectrum. We will never support to make example the western society, Munawar Hassan points out.
https://dailytimes.com.pk/180535/women-political-activists-become-active-peshawar/
--------
From garrison state to women empowerment
January 15, 2018
LAHORE - The day 2 of the Afkar-e-Taza Think Fest 2018 at Alhamra Arts Council had a good array of subjects and speakers and it was well attended by people not only from Lahore but outside also.
A discussion on Ishtiaq Ahmed's book, "Pakistan: Still a Garrison State," moderated by Najam Sethi of the Friday Times and the Chairman of Pakistan Cricket Board was very well attended and the audience evinced great interest in the topic. Pervaiz Iqbal Cheema from NDU was of the opinion that the word 'still' was disputable especially in view of the democratic regime for the past 12 years with hardly any intervention to give the impression of a "garrison state."He quoted the efforts of Generel Pervaiz Musharraf to bring a semblance of normality to Pak-Indo relations which however did not meet the approval of some segments of civil society.
Ishtiaq Ahmed from Stockholm and GCU was of the opinion that tacit interference by the military had been there all the time which often undermined the efforts of the elected government to govern Pakistan with a free hand.
The audience during question answers was divided about the viability of the topic especiallyin view of what was alluded to as "policy statements"by the army chief on various fora, and the battle of Tweets on social media. On the whole it was an inconclusive debate;some people from the audience had a post session discussion with the presenters which at times were heated.
Another session was to discuss the book "Aye Pure De Wah," (The East Wind Comes) by Nain Sukh an author and lawyer. The panel was moderated by journalist and publisher Aamir Riaz and comprised Iqbal Haider Butt, translator and columnist and Zubair Ahmed, author.
The session started with Nain Sukh reading excerpts from three stories in the book and elaboratingupon the efforts he made to collect the material to pen down the six stories in the book.
Iqbal Haider Butt spoke on his impression of the stories, his interaction with Nain Sukh, and how the stories although based on facts where presented in a semi fictional mannercovering a period of almost a hundred years.
ZubairAhmed said that books and authors should be studied and analyzed not based on our notions of the subject matter but keeping in view the way the author has gone about weaving the stories together. All the panelists said that similar stories written previously and which continue to be written use the actual names of the characters in the story. However, in view of the socio-cultural and other factors this is not the case in Aye Pure De Wah.
A segment of the crowd disturbed the proceedings by shouting and interrupting with their comments about the book which the panel and the organizers handled ably. However, two members of the audience had to be escorted out of the halls by the security staff due to their unwillingness to keep quite.
The commotion was about one of the stories in the book about a female personality which in the opinion this audience segment was misrepresented. However, Nain Sukh and the other panelists highlighted the fact that the subject person had in her writings and poetry talked about the matter which was being disputed by the audience and it was narrated in the story with quotes of her poetry and writings.
In a lighter mood Nain Sukh said someone had written against him and when asked about what was the actual issue in the story, the writer sheepishly told Nain Sukh that he had not read the book but his opinion was based on hear say.
On the whole, apart from the disruption, it was a good interactive session in which some new aspects of the six personalities were brought out. However due to the disruption and unforgiving attitude of a segment of the audience Nin Sukh tore out the disputed story from the book and said that he would withdraw it, upon which the audience said that this would set a wrong precedence for new writers and allow negative dissent.
The third session on "Sati, Honour Killing and Fate of Women in South Asia,"was canceled by the organizers as two of the panelists Farida Shaheed, from Shirkat Gah and Nafeesa Shah MPA, had not reached. The third panelist Fauzia Viqar, Chairperson Punjab Commission on the Status of Women asked the audience if she could conduct an interactive session on the issue of Gender discrimination and disparity which the majority agreed to.
Fauzia Viqar talked about her work and how her commission had created a data base about women related issues which was probably one of its kind in South Asia. She also spoke about the difficulties of data collection as the figures reported by the media and various government organizations and activities were usually did not tally. She also informed the audience about Amendments to the inheritance act and family laws made in the Punjab.
Other issues discussed included allowing women folk freedom of movement, access to education, exercising their voting rights and in a lighter but serious vain many girls became doctors not so that they could practice but for them to be able to get matched to a boy from a good family. The reserved seats in the legislature and the women's quota in various departments was also discussed.
On the whole it was agreed that while in some areas disparity had lessened yet scope for improvement and the necessity of involving elders and parents in the process was highlighted.
https://nation.com.pk/15-Jan-2018/from-garrison-state-to-women-empowerment
--------
Women's reproductive freedom in Pakistan
Haider Rifaat
JANUARY 15, 2018
Reproductive freedom for women is an incredibly tough subject matter to discuss openly in Pakistan. Simply put, an abortion is a deliberate act of ending an infant's life to discontinue pregnancy. At least one million abortions take place in Pakistan on an annual basis. That said, the intensity of this problem has magnified in the country in recent years and unsafe abortions are being opted to 'get things done' instantaneously.
Article 388 of Pakistan's penal code 'Isqat-e-Haml' clearly states that 'whoever causes a woman with child whose organs have not been formed, to miscarry, if such miscarriage is not caused in good faith for the purpose of saving the life of the woman, or providing necessary treatment to her, is said to commit isqat-e-haml.'
It has become easier for women to access health facilities and carry out abortions in secrecy in contrast to times when they would used hangers or unsafe means of terminating an infant's life on their own. Abortions date back to medieval history when infanticide was commonly practiced and children, usually identical twins, were intentionally killed as it was believed that they were products of adultery.
There is a clear line of distinction between the two schools of thoughts; prolife and prochoice. A prolife person believes that abortion is unethical and morally wrong, whereas a prochoice individual advocates the right to choose life or death for an infant under exceptional circumstances. The two perspectives are independent of each other and have caused upheaval among people who adhere to anti-abortion or freedom to choose.
Women's reproductive freedom is a right to legal and safe abortions, birth control, access to good quality reproductive healthcare and education. Unless these rights are not ensured, social equality for women cannot be achieved.
As far as the anti-abortion perspective goes, no individual reserves the right to end a child's life — it is not abortion, it is murder. I am not debating who is right or wrong however, I believe that unprotected sex and lack of family planning contribute to ignorance and irresponsibility. If prochoice advocates scream 'right to choose' withstanding the fact that an abortion is justified barring exceptions (rape or sexual abuse), is a gross miscarriage of justice.
Furthermore, the drawbacks of an abortion are far more devastating than we think. From a psychological standpoint, life-long regret and depression post abortion — PTSD is a common aftershock.
Similarly, abortions increase the likelihood of cancer, particularly of the breast and reduce fertility. Instead of solving problems for families, abortions create further problems namely suicide ideation and stress.
Where do we find common ground? I believe that liberalising the media to discuss abortion openly can make a stark difference. It can help many women, who have no idea what they are doing to opt for the right alternative. Secondly, pre-marital sex leading to pregnancy and young women opting for abortions as a substitute is unethical. As alternatives, protected sex and adoption should be considered.
Perhaps, the most important factor to take into account is financial aid rendered by the government of Pakistan for women who cannot afford to give their unborn child a quality life. Above all, unexpected pregnancies should be avoided and education on human biology and reproduction can put things in perspective.
The accepted ritual of having teen marriages in Pakistan needs to change as it is a grave cause of abortion. As Mother Teresa rightfully said, 'It is poverty to decide that a child must die so that you may live as you wish.'
https://dailytimes.com.pk/180950/womens-reproductive-freedom-pakistan/
--------
Pakistani woman Farhat wins N-Peace Award
January 15, 2018
MIRPUR - Farhat Asif, a Kashmir-born Pakistani activist has won this year's N-Peace Award given by UNDP in partnership with the Government of Canada and the Institute for Inclusive Security, Washington DC in Bangkok Thailand.
Farhat Asif received this award in the category "Campaign for Action" for her tireless services as a prominent academic who brings together government officials, NGOs, think-tanks and educational institutions to raise the importance of women's involvement in peace negotiations. This award recognises individuals who have worked at the policy and decision-making levels to advance the Women, Peace, and Security (WPS) Agenda, specifically at the sub-national levels.
One woman and one man across all N-Peace countries is recognised under this award. N-Peace stands for "Engage for Peace, Equality, Access, Community, and Empowerment." Through her initiate Institute of Peace and Diplomatic Studies and Centre for Women Peace and Security, Farhat ensures women's participation in different Pakistani social, political and economic aspects.
" At the core of everything I do I the desire to establish collaborative thinking to arrive at solutions that are inclusive, and that positively affect women in conflict zones," The N-Peace awards recognise peace builders' efforts for women at the grassroots level.
The winners support services for women affected by post-conflict violence, access to education and training services, campaigning for more women in local and national leadership positions, and advocating for women's rights in conflict-ridden areas in the Asia-Pacific region.
This year,11 winners under three categories were recognised from seven participating countries (Afghanistan, Pakistan, Myanmar, Nepal, Indonesia, Sri Lanka and the Philippines).
https://nation.com.pk/15-Jan-2018/pakistani-woman-farhat-wins-n-peace-award
--------
URL: https://www.newageislam.com/islam-women-feminism/east-london-top-school-bans/d/113941
New Age Islam, Islam Online, Islamic Website, African Muslim News, Arab World News, South Asia News, Indian Muslim News, World Muslim News, Women in Islam, Islamic Feminism, Arab Women, Women In Arab, Islamophobia in America, Muslim Women in West, Islam Women and Feminism