New Age Islam News Bureau
22 March 2013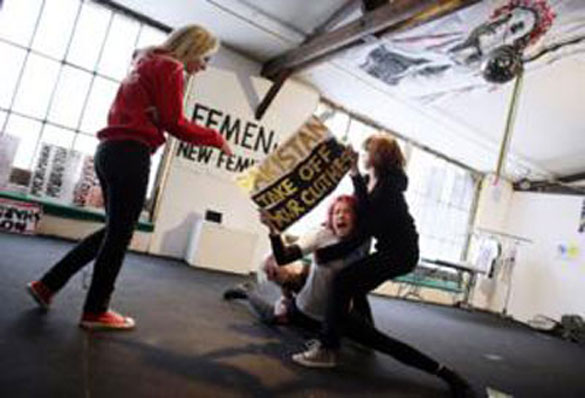 Photo: Islamist Hacks Femen Tunisia Page over 'Debauchery'
-----------
• Nigeria: Hijab Controversy - Kids Also Face Persecution
• Islamist Hacks Femen Tunisia Page over 'Debauchery'
• Afghan Woman Fights To Educate Young Girls; Speaks At ASU Wednesday
• Nigeria: MICA Wants End to Discrimination Against Muslim Women, Girls
• Indonesian Army to Welcome Female Cadets for First Time
• Egypt's Official Women Rights Council Criticizes Islamists' Opposition to UN Document
• Maldives' Tourism Reputation on Target over Flogging Sentences of 15 Year-Old Rape Victim
• Insurgent Violence against Women, Girls in Afghanistan Jumps 20%
• Malala Yousafzai inspires students in Essex
• Michigan Growing Muslim Girl Scouts
• Japan Funds Major Upgrade to Al-Jazeerah Girls' School
Compiled by New Age Islam News Bureau
URL: https://newageislam.com/islam-women-feminism/early-marriages-blamed-dar-es/d/10863
-------------
Early Marriages Blamed for Dar es Salaam High Adolescent Fertility Rates
BY ABDULWAKIL SAIBOKO
22 MARCH 2013
Kampala — EARLY marriages and school dropouts have been singled out as major forces behind the persistent high adolescent fertility rates in Tanzania.
This was revealed here during the ongoing media advocacy workshop on the African Union's Campaign on Accelerated Reduction of Maternal Mortality in Africa (CARMMA).
The United Nations Population Fund (UNFPA) Technical Advisor for East and Southern Africa Region (ESAR), Dr Asha Mohamud, said while presenting a paper titled 'Responding to the needs of adolescents and young people in ESAR' that Tanzania adolescent fertility rate seems stagnant.
"According to UNESCO Diagnostic Report based on World Bank's World Development Indicators, Tanzania adolescent fertility rate from 2007 to 2010 has remained persistently high and stagnant," she said. Dr Mohamud clarified that the situation would have been a result of early marriages as Tanzania is among countries in the region allowing marriage of girls at young ages.
The Tanzania Law of Marriage Act of 1971 encourages early marriages on the part of girls. It allows girls to get married at the age of 14 or l5 which is unacceptable as girls at the said ages are still in adolescent stages. She added that the fact that girls are dropping out of schools after being impregnated and there are no programmes in place to make sure that they go back to school, is another reason why fertility among youths is high.
"It is, however, important to note that Tanzania has significantly reduced the new HIV/AIDS infection but much should be done to address the issue of adolescent fertility," she said. Earlier, the Assistant Representative for UNFPA Uganda, Dr Wilfred Ochan, said the main driver of high fertilities in African countries is adolescent fertility as many girls are giving birth at young ages between 15 to 19 years.
"There are very high adolescent birth rates in Central and Western Africa. In East Africa, Tanzania tops the list with 150, this means that in every 1 000 young girls in Tanzania 150 aged between 15 and 19 years are mothers," he said. He added that the Democratic Republic of Congo (DRC) is at 201 in Central Africa whereas Niger is the highest at 207 in West Africa.
"There are questions to ask ourselves when it comes to these fertility rates among adolescents because people at this age bracket are supposed to be in school, but we should also be curious to know whether they do get any kind of sexuality education," he said.
He added that in Africa, any pregnancy is a risk but it doubles when it comes to adolescents, hence posing a danger of having increased maternal mortality. "Rural and uneducated women are the ones who have more number of children than they want. A woman giving birth at the age of 15 years is likely to have so many children when she reaches 30 years," he said.
http://allafrica.com/stories/201303220146.html
-------------
Nigeria: Hijab Controversy - Kids Also Face Persecution
BY ISHOLA BALOGUN
22 MARCH 2013
As a demonstration of modesty and obedience to Allah, Muslim girls and women wear head coverings called "Hijabs," particularly when in public. Q24:30-31. For Muslims, wearing a headscarf is not only about religious expression, it is strictly religious obligation; and if the constitution freely provides for freedom to exercise one's faith according to section 38 (1) of the 1999 constitution, then where lies the tolerance so claimed by non-Muslims?
A couple of years ago, the administration of Governor Fashola outlawed flogging, beating or physical torture of students in schools and apprentices in workplaces, there were commendation that it was one of the progressive and profoundly humane steps towards ensuring sanity in the society especially in cases of abuse of children.
The Principal of Kadara Junior Grammar School, Ebute Meta, Lagos has been in the news for a couple of weeks now over alleged flogging of one of her students, Miss Aishat Alabi, a 16-year-old student for daring to wear Hijab after the official closing hour. She was said to have been flogged 43 times as disclosed by one of the students: "At about 4pm on that day; we had closed before we heard that there was an emergency assembly.
"The principal addressed us and warned that if we didn't stop putting on religious outfit during the school hours, we were going to get into trouble. She subsequently called on Aisha and gave her about 43 lashes. Some of us started crying on the assembly. Her body was covered with marks of the cane. The principal had warned us before, but that day was more serious," she said.
Two things are fundamentally wrong. One is the denial of Miss Alabi's right even after the official school hour against the provision of section 38 (1) and (2) of the 1999 constitution. Secondly a breach of "The Criminal Law of Lagos State 2010" which provides prison terms on anyone found guilty of beating or flogging of children. Under this law, it states that striking any adult /young person with a stick or other weapon constitutes a violent criminal offence for which jail sentences can be imposed after a fair trial. The House which instituted a probe into after so much public outcry is yet to submit its report.
This is just one of the cases of undue persecution of young Muslims in muslim minority environment, especially amidst bombings and killings in other parts of the country.
Recall the story of Nashala Hearn, an American kid who wore Hijab to her school. A couple of years after the September 11 attack on the United States of America, Nashala Hearn, 11 years old then, was suspended twice for wearing Hijab to school in Muskogee, Oklahoma. The Benjamin Franklin Science Academy school authorities claimed it violated their dress code, which she attended.
After wearing the Hijab to school for several weeks, Nashala was told by school officials that her headscarf conflicted with the school's "no hats" policy, and that she could not continue to wear it. She and her parents told school officials that wearing the hijab was required by her faith and that she could not stop wearing it.
Her parents filed a suit against the Muskogee School District and Civil Rights and government lawyers supported her.
After the legal battle, Nashala Hearn won the case with a ruling that she can wear a head scarf to school as part of her fundamental human rights. The court also requires the Muskogee Public School District to change its dress code to allow exceptions for religious reasons.
This same way, Muslims in Nigeria are beginning to face various kinds of hatred, discrimination and persecution; a subtle way of condemning the religion amidst the barbaric and heinous act of the Boko Haram members which has no religious underpinning.
I say without equivocation that children should not have to choose between following the requirements of their faiths and their right to a public education. It is their fundamental right to exercise their faith just as they have the right to education. Government must then as a matter of urgency rise to this challenge in order to stop this subtle fundamentalism.
Students should not face discrimination or harassment because they exercise their faith, beliefs, religious expression, or distinctive religious dress.
We know that there are private schools where students are dismissed for not carrying a bible or attend a church service while in school but this kind of fundamentalism should not extend to Public schools.
There should be mutual respect for both religion, Islam and Christianity are not competing for identities. What Muslims demand is their right to freely practice their religion as entrenched in section 38 (1) of the 1999 Constitution.
Aishat Alabi: MICA urges Fashola to intervene
The Movement for Islamic Culture and Awareness (MICA), an association of Muslim professionals and undergraduates, lent its voice on a 12-year-old student, Miss Aisha Alabi, who was flogged 43 times by the Principal of her school for wearing hijab after school hours.
The association through its secretary, Sulaiman Olokodana made a four-point request which include immediate investigation of the matter to ensure that justice is done under the 1999 Constitution and the Laws of Lagos State; review of all administrative policies and programs that inhibit religious pluralism; consult with and convey a summit of faith leaders to identify and address the concerns of various groups; and take practical steps to uphold and facilitate the multi-religious status of Lagos State and implement/enforce programs and laws that protect vulnerable people from abuse and discrimination.
MICA urged Governor Fashola, his deputy, Adejoke Orelope-Adefulire and the Attorney General of the State, Mr. Ade Ipaye including all stakeholders to act without delay in bringing justice to bear on the issue.
Boko Haram is the creation of govt--Muyideen Bello
Erudite and international preacher, Sheikh Muyideen Ajani Bello lampooned the federal government over the activities of Boko Haram which has remained intractable saying that the terrorist group was a creation of the government itself.
He made this assertion at the Fidau Prayer for Late Ahmoullah Folorunsho Fagba/Maolid Nabiyyi organised by Ahamoullah Isalmic Group recently. The occasion which was held in Oreta road, Lagos, drew a list of Islamic scholars from far and near. Among them were the Chief Imam of Ikorodu, Sheikh Seifudeen A. Olowooribi, Sheikh Lukman Al-Mubarak, Imam of Ansar-Ud-Deen, Igbogbo, Sheikh Kalejaiye of Aenur-Rahma among others.
Feilding question from Vanguard, Sheikh Bello who refused to elucidate on the amnesty being canvassed for the Boko Harram group said: "it is government who created Boko Haram and they should find a way of ending the menance."
Extolling the virtues of the late Fagba who died four years ago, the renowned scholar said Sheikh Fagba was very steadfast and followed the tenants of the religion to the letter: "He did not fight with the non-Muslims, he was very tolerant, his relationship with God manifested so much that he was so much sought after for supplication to God for immediate result. But we cannot see this kind of people until after 50 years and this is simply because people have refused to follow the way of God," he stated.
The chief host, Sheikh Ishaq Folorunsho Fagba, the Founder of Hamoullah Islamic Group and son of the late Scholar said it was not difficult getting the presence of great scholars for the annual prayer of his late father and celebration of 1434AH Maolid Nabiyyi because they had good relationship with his late father.
http://allafrica.com/stories/201303220476.html?viewall=1
-------------
Islamist Hacks Femen Tunisia Page over 'Debauchery'
22 MARCH 2013
TUNIS - An Islamist activist on Thursday hacked the Facebook page of feminist group Femen's Tunisian branch and posted religious messages after images of two members of the group posing topless were published on the Internet.
"Thanks to God we have hacked this immoral page and the best is yet to come," read one message signed by "Al-Angour".
"The page has been hacked and God willing, this debauchery will disappear from Tunisia," read another.
The hacker also posted videos showing Quranic verses and images of the Islamic profession of faith in Arabic.
The site itself had not published photos of the young Tunisian women, who nevertheless posted topless pictures of themselves elsewhere, with "My body belongs to me" and "Fuck your morals" written in black across their breasts.
The Ukrainian group Femen, which has inspired woman to bare their breasts in Moscow, Paris and even St Peter's Square in the Vatican, has been making headlines since 2010 for its topless feminist, pro-democracy and anti-corruption protests.
Femen Tunisia has never organised topless protests, with possible jail terms for indecency, but for weeks there has been speculation in the local press about Ukrainian and French feminists staging such a demonstration in the Muslim country.
Tunisian women have since the 1950s enjoyed legally backed equality of the sexes in several domains, a unique right in the Arab world, but they are still discriminated against in areas, particularly in inheritance cases.
Feminist NGOs have often accused the Islamist party Ennahda, which came to power after the revolution that overthrew Zine El Abidine Ben Ali's regime in 2011, of seeking to roll back women's rights as part of its efforts to islamise society. They say those rights must be enshrined in the new constitution.
http://www.middle-east-online.com/english/?id=57688
-------------
Afghan woman fights to educate young girls; speaks at ASU Wednesday
March 20, 2013
PHOENIX -- She attended a secret school in Afghanistan while under the Taliban rule. Now, she's fighting to educate other young Afghan girls.
Shabana Basij-Rasikh is the co-founder of SOLA, the School of Leadership Afghanistan. It's a non-profit organization dedicated to furthering educational and leadership opportunities in Afghanistan and the world for the new generation of Afghanistan, especially for women.
Basij-Rasikh stopped by "Good Morning! Arizona" Wednesday to share her story. She talked about the power behind educating women.
"For instance, if India sends one more percent of its girls to school, their GDP will raise by $5.5 billion," she explained.
Kaley O'Kelley asked her about what it was like to go to an underground school.
"It was obviously not easy because the fear of being caught by the Taliban was constant," she said. "My parents have been my source of inspiration. Every time I felt frustrated it was them who always reminded me that you can lose everything in your life, but your education can never be taken away from you. It's the biggest investment in your life."
That's why she founded SOLA.
"If we want to see Afghanistan prosper and have a great future, we need to invest in educating the next generation, particularly women," she said.
Basij-Rasikh's schedule Wednesday at Arizona State University is as follows: arrive at ASU Memorial Union at 11 a.m., go to the Cereus Hall FM #101 Student Leadership Class and speak. At 3 p.m., Shabana will speak to the Coalition of International Students.
You can go online to find out more information about her cause.
http://www.azfamily.com/news/Afghanistan-woman-educating-women-in-at-ASU-Wednesday-199181871.html
-------------
Nigeria: MICA Wants End to Discrimination Against Muslim Women, Girls
BY ADEBAYO WAHEED
21 MARCH 2013
The Movement for Islamic Culture and Awareness (MICA); an association of Muslim professionals and undergraduates, has called on Lagos State governor, Mr. Babatunde Raji Fashola, to intervene in the matter of Miss Aisha Alabi, a 12 year old student flogged 43 lashes by the principal of her school for adhering to her faith.
The association's secretay, Sulaiman Olokodana, in a statement in Ibadan on Wednesday, urged the governor to investigate and ensure justice under the 1999 Constitution and the laws of Lagos State.
Full report at:
http://allafrica.com/stories/201303210207.html
---------
Indonesian Army to Welcome Female Cadets for First Time
Markus Junianto Sihaloho | March 22, 2013
The Army plans to allow women to train as officers for the first time in the force's history, as part of sweeping reforms that the Army chief has vowed to usher in ahead of his retirement later this year.
Gen. Pramono Edhie Wibowo, the Army chief of staff, announced on Thursday that of the 192 Army cadets that the Military Academy planned to recruit this year, 16 would be women.
He said the move was part of efforts to improve gender equality in the Army.
Full report at:
http://www.thejakartaglobe.com/news/indonesian-army-to-welcome-female-cadets-for-first-time/581203
-------------
Egypt's official women rights council criticizes Islamists' opposition to UN document
March 21, 2013
Associated Press
CAIRO – Egypt's official women's rights council says Islamists who reject a U.N. blueprint to combat violence against women and girls are promoting the idea that Islam favors violence against women.
Last week, 131 countries at the United Nations approved the non-binding document to combat violence against women and girls. Egypt's ruling Muslim Brotherhood strongly objected to the document, saying it clashed with Islamic principles and sought to destroy the family.
Full report at:
http://www.foxnews.com/world/2013/03/21/egypt-official-women-rights-council-criticizes-islamists-opposition-to-un/#ixzz2OGhQEh6B
-------------
Maldives' Tourism Reputation on Target over Flogging Sentences of 15 Year-Old Rape Victim
By JJ Robinson | March 21st, 2013
Petition website Avaaz.org has launched a campaign targeting the reputation of the tourism industry in protest over the sentencing of a 15 year-old rape victim to 100 lashes for the offence of fornication.
"It's hard to believe, but a 15-year-old rape survivor has been sentenced to be whipped 100 times by a court in the Maldives! Let's put an end to this lunacy by hitting the government where it hurts: their tourism industry," declared the site.
Full report at:
http://minivannews.com/society/horror-in-paradise-avazz-launches-campaign-to-target-maldives-tourism-reputation-over-flogging-sentences-54958
-------------
Insurgent violence against women, girls in Afghanistan jumps 20%
03/21/2013
Violence against women and girls in Afghanistan is growing. A UN report says crimes against females jumped by 20 per cent last year, adding that the Taliban and other insurgent groups were responsible for 81 per cent of civilian casualties in 2012.
The annual report on the Protection of Civilians in armed conflict, released Tuesday, said that more than 300 women and girls were killed in 2012 as a result of targeted killings by insurgents. More than 560 were injured.
Full report at:
http://www.rawa.org/temp/runews/2013/02/20/insurgent-violence-against-women-girls-in-afghanistan-jumps-20-un.html#ixzz2OGmm8DnL
-------------
Malala Yousafzai inspires students in Essex
22 MARCH 2013
Malala Yousafzai has done more to shake up this planet in the first 15 years of her life than many people manage in a lifetime - and her story has resonated with young people thousands of miles from her Swat Valley home.
The schoolgirl from Pakistan was shot by the Taliban in October near her home for campaigning in support of female education, before being flown to the UK for life-saving surgery.
Full report at:
http://www.bbc.co.uk/schoolreport/21843628
-------------
Michigan Growing Muslim Girl Scouts
22 MARCH 2013
DEARBORN HEIGHTS — A growing number of young Muslim girls are joining Girl Scout troops in southeast Michigan, forming new friendships based on faith and aspiring for taking new leadership roles when they get older.
"We want them to be strong and take on leadership roles in the future," Rana Alaouie, who's a volunteer and has two daughters in the group, told Arab American News on Thursday, March 21.
Full report at:
http://www.onislam.net/english/news/americas/461921-michigan-growing-muslim-girl-scouts.html
-------------
Japan Funds Major Upgrade to Al-Jazeerah Girls' School
21 MARCH 2013
Khartoum — The recent handover ceremony of Al-Jazeerah state's Al-Komor Village Girls' Primary School, which has undergone a series of extensive refurbishments, was attended by a number of foreign and Sudanese dignitaries.
The project was funded by the Japanese government through its grant assistance scheme for grassroots and human security projects (GGP).
The Japanese ambassador to Sudan, Ryoichi Horie, state minister of education Abdalla Alturabi and commissioner of South Al-Jazeerah locality Mohamed Alnor Omer Abu Hassan were among those to attend the event on the 18 March.
Full report at:
http://allafrica.com/stories/201303220623.html
-------------
URL: https://newageislam.com/islam-women-feminism/early-marriages-blamed-dar-es/d/10863