New Age Islam News Bureau
10 Feb 2019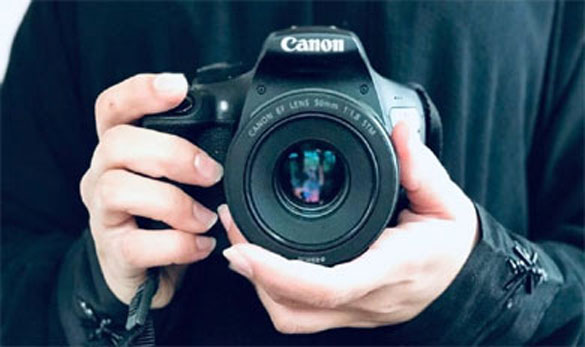 Jomana Al-Zaydani describes photography as a good investment opportunity that can generate a decent income while enjoying a passion.
-----
• The Politics behind the Hijab in the Arab World
• Saudi Women Carve Their Name In Photography
• How to Succeed in Hollywood as a Muslim Woman Filmmaker
• 'Asia Bibi Still Can't Leave Pakistan', Claims Friend
• App Tracks Saudi Women, Hosts Slammed
• Saudi Women And Weightlifting
• HRDF Sets 3-Year Limit For Women Transport Service
• UAE Officials Offer Support To Woman In Distress
• Boom for Women In Business In UAE, But Few Reach Company Boards
• Iraqi Women Artists Face Many Obstacles, Receive Little Support
Compiled by New Age Islam News Bureau
URL: https://www.newageislam.com/islam-women-feminism/e-database-absher-app-prevent/d/117706
--------
E-Database, Absher App Prevent Saudi Women from Escaping
02/09/2019
Riyadh (AsiaNews) – Saudi Arabia has created an immense electronic database on the country's women to enable their male relatives - father, husband, son - to track their movements and prevent them from fleeing.
Technology is thus used to crack down on women fighting for their freedom and the rights. For human rights groups, the monitoring system, whose existence came to light thanks to an investigative report by Insider, is simply an extension of the extant male guardianship system.
In fact, the database has existed for years and was recently reinforced, following the case of 18-year-old Rahaf Mohammed al-Qunun, who fled her family after abandoning Islam, for fear of being killed.
Stuck for days in Thailand waiting for a visa to Australia, her story became frontpage news all over the world. After a while, the United Nations intervened granting her refugee status and Canada accepted to take her, angering Saudi Arabia.
In the kingdom, women continue to be repressed for their activism, despite the limited "reforms" of Crown Prince Mohammad bin Salman (MbS), like lifting the ban on women drivers.
Male guardianship is a form of gender apartheid, which binds women to a male guardian. It applies to what women do online and in social media, as well as in real life.
The digitised guardianship system works thanks to the use of a mobile app called Absher, Arabic for preacher, which also allows people to pay fines or renew licenses, interacting directly with the Ministry of the Interior.
The system – little known among Western media – contains a registry of the country's women and the means to ban them from travelling abroad or seize them should they try to escape.
The country's borders are in fact integrated with the Absher alert system. Whenever a passport is used (authorised or not), a text message is sent.
This way male guardians can determine when, from which airports and for how long women travel, giving them the means to trap women in Saudi Arabia if they wish.
At least a thousand women try to flee Saudi Arabia every year. experts told Insider that text alerts have enabled many men to catch family members before they make it out.
One of the many stories cited by Insider is that of Shahad al-Mohaimeed who took advantage of a family holiday at a Turkish tourist resort on the Black Sea to flee.
The young woman left the hotel in the middle of the night, after taking her relatives and guardians' cell phones to avoid being discovered.
Today she lives in Tbilisi, Georgia. "When we decide to leave," she explained, "we decide to put our lives on the line. Because if we don't succeed, our families are going to kill us. It's shameful to have a daughter leave."
"There is no support for the beaten," she added, "even when it's reported, police are always on the man's side."
http://www.asianews.it/news-en/E-database,-Absher-app-prevent-Saudi-women-from-escaping-46207.html
--------
The Politics behind the Hijab in the Arab World
9th February 2019
Veteran Arab journalist Abdel Bari Atwan analyses the phenomenon of several high-profile Arab women abandoning their hijabs and explains the possible political reasons behind it.
In Egypt, Lebanon, Jordan and other parts of the Arab world, newspapers and social media have devoted much attention to the way some well-known female performers have been giving up the hijab.
This is as much a political as a personal phenomenon. It mirrors political and attitude changes in Arab societies that have been promoted by some ruling regimes, with direct support from external, and especially Western parties.
Secularism v Islam
In Gamal Abdel Nasser's Egypt in the 1950s and 60s, it was unusual to see any woman donning a hijab, whether on university campuses or on the streets.
But when Anwar Sadat came to power and allied himself with the "Islamist" current to confront the Leftist and Arab nationalist tide that was prevalent at the time, the country began to change, as did most other Arab capitals.
Hijab-wearing became increasingly common, even in countries ruled by supposedly secular or socialist regimes or governments.
The burqa/niqab was prevalent in Egypt and most other Arab countries until the start of the 20th century. With the spread of what was termed at the time as "cultural openness," and the powerful promotion of secularism and Leftist ideas by forces opposed to the Ottoman Empire and seeking to end Turkish rule, the situation changed.
The niqab became less common, and magazines were published that urged Egyptian women to get rid of the attire. The nationalist politician Saad Zaghloul did the same as part of his political campaign for freedom from British domination and for Egyptian independence.
Saudi Arabia
The oil boom in Saudi Arabia and other Gulf states in the 1970s and 80s played a major role in effecting big social changes in Arab societies. "Wahhabi" Islamic associations proliferated in these societies, and vast sums of money were pumped into promoting them in countries whose governments were of a secular or Leftist persuasion, especially Egypt, Syria, Iraq and Jordan.
Millions of skilled and qualified people moved with their families to Saudi Arabia and the Gulf states to work. Many of them were influenced by Wahhabi thinking and attitudes and brought it back to their home countries, either during their annual holidays there or after returning once their employment contracts had ended.
The phenomenon of well-known female performers, especially in Egypt, adopting the hijab took off during that oil boom period. Saudi and Gulf businessmen reportedly played a major role in promoting it, either via the religious charities and preachers they sponsored or by offering cash rewards and inducements as compensation for women who would renounce the professions of acting, singing or dancing.
This was presented as part of a campaign to combat licentiousness and immorality and promote genuine Islamic values as they and their school of thought saw them.
Wahhabi ideology began receding in its place of origin, Saudi Arabia after Crown Prince Muhammad Bin Salman came to power. He curbed a number of religious bodies, notably the Association for the Prescription of Vice and the Promotion of Virtue – the so-called "religious police."
Instead, an "Entertainment Commission" was set up, and mixed-sex attendance at concerts and sports events was encouraged. These were radical changes, and they did not only affect Saudi society but spread to neighbouring Arab countries, especially Egypt.
By adopting a policy of openness and embracing Western cultures, Muhammad Bin Salman wanted to counter Western charges that his country sponsors hard-line Islamist groups and promotes Wahhabism – the kingdom and its government's sole creed since it was founded 70 years ago.
He said in an interview with Time magazine a couple of years ago that such charges were fabricated by extremists and by the Iranian regime with the aim of tarnishing his country's image. He insisted there was no such thing as Wahhabism, only the four traditional schools of Sunni Islamic jurisprudence and the ideas promoted by extremists.
Syria
Hijab-wearing is on the decline in some parts of Syria too as part of a popular backlash against Islamist political groups and armed factions designated as terrorist. Groups such as Islamic State (Daesh) and the Nusra Front are thought to have imposed their hard-line views by force and fear in the areas that came under their control. The same can be said, albeit to a lesser extent, about Jordan.
So far, the hijab has been abandoned by a total of 14 high-profile Egyptian performers who have worn it for years or abandoned acting, singing or dancing altogether – including veterans such as Suheir Ramzi and Shahira or younger artists like Hala Shiha.
Many observers see this as evidence of the ebbing of the tide of political Islam, whether as a consequence of repression and persecution of its leaders – especially the Muslim Brotherhood in both Egypt and Saudi Arabia – or because of its abandonment by its original sponsors – Saudi Arabia and other Gulf states – and their professed adoption of Western liberal ideas.
The big problem, of course, is that Western liberal ideas are linked to democracy, political freedoms and respect for human rights. These values and principles are considered a red line by most of the Arab governments that are combating political Islam. This calls for some reflection. This iron fist may later prove to be counterproductive, or so many people believe.
Today it is Suheir Ramzi, Shahira, Hala Shiha and the dancer Dina. Who knows who will be next to abandon the hijab– or whether history will repeat itself?
https://5pillarsuk.com/2019/02/09/the-politics-behind-the-hijab-in-the-arab-world/
--------
Saudi Women Carve Their Name In Photography
2019-02-09
JAZAN – Photography is one of the professions that women can take up in Saudi society.
Many women today take photography courses to become professional photographers, and some of them have carved a successful name for themselves in the field, Al-Madina newspaper reported.
Maryam Msh'hoor is one of these women. Although she started taking courses only a year ago, she mastered the profession within a short time because of her passion and self-motivation.
"I like photography, especially taking pictures of models and brides and bridegrooms. I make a good living from it. There are different types of photography. It is not an easy job as it requires precision and professionalism," she said.
Wijdan Hamdi, a Saudi, started as a wedding photographer in Jazan and slowly developed her skills and ventured into creative photography. Her family supported her along the way. They were always there for her and spurred her on to open a photography-cum-café business.
Today, Hamdi trains amateurs and sometimes volunteers to teach girls how to choose the right angle and where to focus to take a picture.
Jomana Al-Zaydani, a Saudi, describes photography as a good investment opportunity that can generate a decent income while enjoying a passion.
Many young Saudi women have proved that they are excellent photographers who know how to capture beautiful pictures, Al-Zaydani said. Her advice to every photographer is never to stop and always continue improving their skills and taking more courses in different fields of photography.
http://saudigazette.com.sa/article/558784/SAUDI-ARABIA/Saudi-women-carve-their-name-in-photography
--------
How to Succeed in Hollywood as a Muslim Woman Filmmaker
February 09, 2019
LOS ANGELES —
Wearing a headscarf and a smile, Muslim movie director and writer Lena Khan stands out when she walks in Hollywood circles.
"It's very hard to be a female filmmaker in Hollywood, that is for sure," she said. "I think they feel like you don't have as much authority, or you can't command a set as much. And for the Muslim thing, I think they are still trying to process that."
Khan is a child of immigrants from India. Born in Canada, she moved to the United States with her family when she was 2 years old and settled in a neighborhood east of Los Angeles. In school, she explored several career options before deciding on filmmaking.
"I had wanted to become a teacher. You look around and you're like, 'Nobody learns from teachers anymore,'" Khan joked. "Sometimes it feels like it," she added. "And at least people learn so much from movies and films, about people, about social issues, about everything."
However, Khan's decision to pursue a career of writing and filmmaking sparked some criticism.
"When I was starting out, people in the community, South Asians most of all, they're like, 'Why are you entering such a stupid career?'"
Stories have value
But Khan persisted. Her first success was a movie she co-wrote and directed called "The Tiger Hunter." The 2017 comedy is about the immigrant experience of a man from India in the U.S. Khan said the movie's success surprised people in her community.
"People who are South Asian or Muslim can't seem to believe that our stories have really real value. And so, the moment you start talking about, 'Oh, you know such and such person from this company' — aka white person — 'said this movie is good.' That's when their eyebrows raise. That's when they feel like, 'Oh, OK, somebody else validated this brown person's story, and thus it has something to say.'"
Khan said the film's universal themes and the coincidental timing of its release helped draw attention to it.
"The Muslim ban happened right when the movie came out," she said, referring to President Donald Trump's executive order that temporarily barred people from seven countries, most with a predominantly Muslim population, from entering the U.S. "That was never intended. It's not a good thing, but it became very, very relevant."
Her own path
"The Tiger Hunter" opened doors to opportunities that Khan never had. She is now working on a TV comedy and directing a movie for Disney. She said she surprised many people during Hollywood meetings.
"The first thing when you walk into a room in a lot of places is them kind of looking at your head — sort of just a quick eye-glance over there. And then, when you say things like how I play the drums, and they were just very shocked," she said. "They want people who they feel like they can hang out with that are part of their club. And you really don't look like you're a part of their club."
But Khan said she will not compromise who she is. She just creates her own path.
"I'm not going to hang out in a bar until 2 a.m., which sometimes a lot of business gets done that way, and sometimes meeting those people on TV that you need to meet. So, you kind of have to make up for it in other ways," she said. "For me, I've always had to make up for it, part of it. That's how I started making my own movies."
What keeps her going, even with obstacles from Hollywood and within her own community?
"I like what I'm doing," she said. "I like it. I feel like it has some value. It's incredibly fun. Then, I'm also a faithful person, whereas it's always for me, it's about sort of like how you went about your day, and kind of what you tried, and the results are up to God."
https://www.voanews.com/a/how-to-succeed-in-hollywood-as-a-muslim-woman-filmmaker/4779732.html
--------
'Asia Bibi Still Can't Leave Pakistan', Claims Friend
FEBRUARY 10, 2019
Asia Bibi, a Christian woman acquitted of blasphemy after spending eight years on death row, has been transferred from a secret location near the capital to another in Karachi, but is still unable to leave the country to join her daughters in Canada, a friend said Saturday. Aman Ullah, who spoke to Asia Bibi by telephone Friday, said the 54-year-old Bibi is being held in a room in the southern port city. He said Bibi is frustrated and frightened, uncertain of when she will be able to leave Pakistan. "She has no indication of when she will leave … they are not telling her why she cannot leave," said Aman Ullah,.
Aman Ullah has been a liaison between Bibi and European diplomats, who have sought to assist her. The Associated Press spoke to Bibi by telephone with Ullah's assistance following her October acquittal, which was upheld last month. The acquittal should have given Bibi her freedom, but Aman Ullah said diplomats were told that her departure from Pakistan, where she feels her life would be in danger, would come not in the short term, but "in the medium term." He said Bibi told him she is locked in one room of a house. "The door opens at food time only," said Aman Ullah, and she is allowed to make phone calls in the morning and again at night. He said she usually calls her daughters. Bibi's husband is with her, he said. "She is living with her family and given requisite security for safety," Information Minister Fawad Chaudhry said in an email. He said the government was responsible for taking "all possible measures" to protect her and her family, adding that "she is a free citizen after her release from jail and can move anywhere in Pakistan or abroad." Aman Ullah, a rights activist, first began aiding those falsely charged with blasphemy when his wife was wrongly accused, and has since helped several people gain their freedom.
https://dailytimes.com.pk/353126/asia-bibi-still-cant-leave-pakistan-claims-friend/
--------
App Tracks Saudi Women, Hosts Slammed
FEBRUARY 09, 2019
Apple and Google are facing criticism from human rights activists for hosting an app that allows men in Saudi Arabia to track and control women's movements.
According to a media report, the app called Absher allows men to give women permission to travel, and also get SMS when a woman uses her passport at the border.
For making the apps available on Google Play and Apple's App Store, the U.S.-based tech giants have been accused of facilitating misogyny and helping "enforce gender apartheid."
Amnesty International, Human Rights Watch, and a women's rights activist urged Apple and Google to reconsider hosting the app, Insider reported, adding that . The two tech giants did not respond to requests for comment, said the report.
Under Saudi law, it is essential for women to have a legal "guardian" who can restrict their travel.
While Absher, a government service, offers other functions like paying parking fines, its travel features have been targeted by activists as it makes it difficult for women to leave Saudi Arabia. "Apple and Google have rules against apps that facilitate threats and harassment," Human Rights Watch was quoted as saying.
"Apps like this one can facilitate human rights abuses, including discrimination against women."
Amnesty International called on Apple and Google to demand changes to the app so that it can be stopped for being used to harm women.
Yasmine Mohammed, a critic of Saudi Arabia, told Insider that the companies are "facilitating the most archaic misogyny" and help the Saudi government to enforce "gender apartheid."
https://www.thehindu.com/news/international/app-tracks-saudi-women-hosts-slammed/article26225476.ece
--------
Saudi Women And Weightlifting
2019-02-10
Areej Aljahani
THE number of Saudi girls practicing weightlifting has increased lately, whether at homes or in specialized gyms. This is after many years of fear and superstition in our society that practicing weightlifting will make the girls aggressive.
Through personal observation and research, I discerned that those who were against the idea were not objecting to weightlifting alone but to women sports in general.
These people were indeed promoting obesity. This is how women in the previous generation were raised, separated from the concept of fitness and health.
These women lived under an illusion. Men who once praised them did not hesitate to marry other woman once they lost their fitness and shape and gained weight after giving births. These men had no compunction in searching for the fit and healthy second wife, who will soon join the club of the first wives and so on. Yes, there were ignorant minds that saw the value of a woman in her weight and they did not hesitate to disrespect her and insult her.
Throughout the year I was thinking how this superstition about women sports spread in the generation of the 80s. Indeed women of that generation are slowly regaining their health and becoming part of the decision-making process.
I believe awareness about the importance of health and sport is growing. Recently, the General Sports Authority announced that people practicing sports in Saudi Arabia increased by 23 percent in 2018, compared with the past. There is a good understanding of the importance of sport as a way of life among the new generation of young men and women. But what about the type of sports practiced? What about nutrition?
Sadly, girls are the ones suffering. There is a shortage of women›s gyms. There is shortage of qualified fitness trainers. It is not enough to open a hall, install some equipment and then call it a gym. I think we are taking slow and reluctant steps toward increasing health awareness.
What shocks more is the over-exaggerated membership fees charged by the fitness centers, whether for men or women. For women it is much more expensive. Here I want to ask: Why is the gym membership fee for a year SR10,000 or SR12,000 in Saudi Arabia, while in the UK it starts at SR5,000 and reaches a maximum of SR7,000 in gyms with specialist trainers.
The gyms in the UK are of high standard and operate 24/7, even during weekends and holidays. Where is the regulatory role of the Ministry of Commerce and Investment here?
Lifting weight is for sure an important physical activity, but it is practiced randomly here, despite its positive impact on body and mind. The same is the case with boxing and self defense sports. Is anyone following up with these sports? What is the role of the Health Ministry? I believe that the recent campaign by the ministry on displaying the amount of calories on the menu cards in restaurants is one of the most successful campaigns in the history of the Saudi health. These are needed corrective steps. They even provided free links to increase awareness on calorie intake. I believe it should be more transparent and we need to discuss the issue of obesity.
A person will be shocked on the information of obesity in Saudi Arabia if he or she starts searching about it online to see the ratio and the number of deaths. Burning calories does not mean just a fit body. It also means preventing diseases and saving huge amounts on medical bills.
What one needs is to seek advice of a person who is specialized in nutrition and a qualified fitness trainer. Sadly, many people who have succeeded in losing weight are giving free fitness advice, which could put lives in danger because every fitness regimen does not suit all. If someone decides to live a healthy life, then he or she should seek advice from a specialist to determine how many calories they need to burn each day and the type of physical exercise they need to practice. They should also coordinate with trainers in gyms, despite the fact that they are rare, especially in women's gyms. This will also open the door for new job opportunities in the profession.
Finally, the health of humans comes with awareness. We need to work on increasing this awareness among the Saudi citizens. It should start from understanding what one wants to be. Yes, your health, your role and your identity are one system, so be healthy.
http://saudigazette.com.sa/article/558781/Opinion/Local-Viewpoint/Saudi-women-and-weightlifting
--------
HRDF Sets 3-Year Limit For Women Transport Service
2019-02-09
By Zain Anbar
JEDDAH – Many Saudi women employees have criticized the Human Resources Development Fund (HRDF)'s condition that they should have been registered with the General Organization of Social Insurance (GOSI) for less than 36 months in order to benefit from Wusool, the transportation program for female employees.
Ministry of Labor and Social Development spokesman Khalid Aba Al-Khail said the 36-month period was important for a female worker to ensure job stability and the purpose of the Wusool program was to enable female workers to retain their jobs in the private sector.
Around 1 million rides to and from work were carried out by the Wusool Program last year, benefiting 2,851 female workers, according to the HRDF.
The requirements pertaining to the registration in the Wusool program have been amended to ensure that females employed for more than three years do not use the service. Also, the monthly salary of the employee registered in the GOSI should not exceed SR8,000 in order to benefit from the program, according to HRDF.
It said several amendments had been made to the monthly financial support, which was at 80 percent of the cost or a maximum amount of SR800. The duration of the support has been increased to 12 months.
The female employees were angry because the HRDF allowed only those who had spent less than 36 months in a job to benefit from the program.
Some of the women with more than 36 months of work history have circumvented the condition by registering their siblings or relatives in the GOSI and using the service in their name.
One of the employees, who requested anonymity, says she has been working for a company for four years now and has registered her sister, who has just been employed, in the GOSI so that she can benefit from the Wusool program.
Dr. Amal Shirah, human resources consultant, said the GOSI registration period and the salary limit do not support the empowerment of women.
"The Wusool program is excellent but it is restricted to female employees with less than three years of service. It is a little bit frustrating for others with longer work duration. A third of an employee's salary goes into the transportation cost, so the program is important for empowering women employees," she said.
Shirah called upon the HRDF to cancel the three-month registration requirement with GOSI and allow all female workers to benefit from the Wusool Program regardless of when they started their employment.
Employees circumvent rule by registering relatives with GOSI
http://saudigazette.com.sa/article/558787
--------
UAE Officials Offer Support To Woman In Distress
February 09, 2019
Dubai: The officials have come forward to help a woman who claimed on social media that she was forced to flee from Dubai, leaving her children there, and seek asylum in Macedonia to escape from the alleged abuse from her family.
The UAE Embassy in Rome, which is responsible for diplomatic and consular affairs in the Republic of Macedonia, said it was aware of "Mrs Albolooki's social media posts." The embassy will collect any evidence of illegal threats made against her and pass it to police so that it can be fully investigated, said a statement posted the embassy's twitter handle on Friday.
"Domestic abuse is a serious crime, and has no place whatsoever in the UAE; Emirati women are protected and fully empowered under UAE laws." The embassy said crimes involving harm against women are prosecuted under UAE law, and these allegations should and will be fully investigated.
A senior Dubai government official also offered help to the woman.
"I was recently made aware of the case of @HAlbolooki. I am writing this to publicly demonstrate my support to this case. Everyone is entitled to have freedom especially women. Dubai and the leadership have set clear policies and laws to protect women in these circumstances," tweeted Afra Al Basti the director-general of the Dubai Foundation for Women and Children on Friday.
"I have personally selected lawyers that are ready to assist @HAlbolooki and guide her through this process. My top priority is to safely reunite @HAlbolooki with her children," Al Basti tweeted.
The distressed woman named Hind Al AlBolooki (@HAlbolooki) has alleged in a video posted on social media that she ran away from Dubai and went to Macedonia, after her father, brother and uncle threatened her after she demanded divorce from her husband. She further claimed that she left her children behind as she had no other option.
https://gulfnews.com/uae/uae-officials-offer-support-to-woman-in-distress-1.1549741824075
--------
Boom for Women In Business In UAE, But Few Reach Company Boards
February 10, 2019
LONDON: The number of registered businesswomen in the UAE grew by about 20 percent last year, although females are still underrepresented on company boards, according to statistics quoted by the state news agency (WAM).
A report by the Federation of UAE Chambers of Commerce and Industry, quoted by WAM, found that the number of businesswomen registered with the chambers increased to more than 25,000 in 2018 compared with 21,000 in 2017.
More than 50,000 trade licenses were issued to women entrepreneurs last year, with Emirati businesswoman now holding a combined 28,000 commercial licenses with investments of 30 billion dirhams ($8.2 billion), the report found.
Yet the proportion of women who are acting as chairs of the board in private sector companies in 2018 stood at just 4 percent — compared to 2 percent in 2013 — and the number of female board members stood at between 9 and 14 percent.
Hamid Mohammed bin Salem, secretary-general of the Federation of UAE Chambers of Commerce and Industry, also informed WAM that the UAE is now the regional hub for for more than 24 percent of the world's 500 largest companies.
http://www.arabnews.com/node/1449686/business-economy
--------
Iraqi Women Artists Face Many Obstacles, Receive Little Support
10/02/2019
BAGHDAD - For more than a decade, Iraq's rich history of art has been undermined and overshadowed by politics, war and destruction. The art scene suffered as collectors fled the country and artists who could afford it followed suit.
However, on entering the hall of the Iraqi Plastic Artists Society in Baghdad's Mansour neighbourhood, one is amazed by the quality, quantity and diversity of artwork available in the country today.
The society revived its annual art exhibition in 2008 to help rebuild the country's shattered cultural scene. Baghdad's biggest cultural event was suspended after the US-led invasion in 2003. The works of approximately 160 artists were showcased at this year's exhibition.
That nearly 90% of the work on display was by male artists points to the poor female representation on the Iraqi arts scene.
"Only 17 women artists featured in the show. Their participation was very low compared to last year's," said society President Qasim Sabti. "This is not due to the lack of Iraqi women's artistic capacities or talents but because many are not ready to take part in such a major event, in addition to the limitations placed on participation criteria that include age and experience."
Sabti, a celebrated painter who has been a pillar of Iraq's art scene for decades, said that there are many women artists who are preparing to burst on the scene "like a tsunami."
"We have many young and talented female artists, much more than in the past. Some have already been able to carve a niche for themselves on the arts scene, surpassing well-known artists and this is a great achievement for Iraqi culture," he said.
The society is planning an exhibition for women artists only in March.
"There are as many as 420 women engaged in different branches of fine arts today, a big number compared to the '80s of the last century when we had 70 female artists, among whom only 30 could excel and establish a name for themselves," Sabti said. "Artistic competition is very harsh at present, which shows that the art movement is regaining momentum and moving forward."
Painter Yusra Alabadi, who was among the few female artists featured in the show, said obstacles before the art scene in Iraq were immense, even though the Iraqi Plastic Arts Society and the Academy of Fine Arts boast thousands of members and students nationwide.
"Women's contributions have dwindled on the cultural arena because they have lost the feeling of belonging as well as creativity. Some 50% of those who claim to be artistic are trying to imitate others and they eventually slip into repetition and redundancy, which is neither appreciated nor sustainable," Alabadi said.
She downplayed the effect of the security and economic situation in Iraq on artistic performance, saying: "Despite the fact we are living in very difficult conditions and our country is still under occupation, it should not affect creativity but, on the contrary, arts and culture constitute a safe haven for artists and writers."
Contributions by Iraqi women extend past the fine arts to other genres, including theatre and drama, said actress and director Awatef Naeem.
"There are many reasons for that, including the demotion of culture in Iraq in general and the absence of cultural awareness among women," she said.
"However, the main reason is the rise of social conservatism and religiosity which imposed strong restrictions on women's participation in cultural activities, especially drama and theatre."
For her latest stage production — "The Slaves of Baghdad," which she said was inspired by the Islamic State's enslaving of women — Naeem recruited some actresses who agreed to participate without remuneration. "This shows that Iraqi actresses are committed to their art, are respectful and want to have a presence on the cultural scene despite the many challenges," she said.
"Drama production, as well, has been undermined and almost halted for several years to the exception of a few TV series which would only employ a handful of actresses."
Sabti, who is also the owner of Hawar Gallery, one of the last bastions of art open in Baghdad, said the art market dried up after the 2003 invasion that toppled Saddam Hussein and the outbreak of sectarian violence and insurgency.
Wealthy and middle-class Iraqis who once bought art moved away; Western diplomats who bought local works disappeared into the Green Zone and nearly all the Saddam-era galleries closed their doors for good.
Under Saddam, art was publicly funded, though within strict political constraints.
Now, for the artists, there are fewer constraints but less support.
https://thearabweekly.com/iraqi-women-artists-face-many-obstacles-receive-little-support
--------
URL: https://www.newageislam.com/islam-women-feminism/e-database-absher-app-prevent/d/117706
New Age Islam, Islam Online, Islamic Website, African Muslim News, Arab World News, South Asia News, Indian Muslim News, World Muslim News, Women in Islam, Islamic Feminism, Arab Women, Women In Arab, Islamophobia in America, Muslim Women in West, Islam Women and Feminism